I feel I know too many people whose only gustatory experience with squid is coated in thick batter and deep fried before being served with a hot sauce as fried calamari. I wouldn't want to undermine this satisfying bar snack which can be quite tasty given the proper seasoning, but most times I actually want to taste the squid… and feel like I'm eating a bit healthier too.
Besides being fairly cheap, squid is one of the most environment friendly seafood choices you could make at the market as it is on every sustainable fish list. A lot of people shy away from cooking squid at home, thinking only restaurants can properly prepare it to get the appropriate texture, taste, etc. That's nonsense. As this recipe proves, it's super easy to make yourself as there are really only two ways to cook squid: for one minute or an hour.
With only 10 minutes required on the stove, this unusual mix of tender squid, crisp sugar snap peas and salty pancetta is an ideal weeknight dinner as well as a perfect intro to your first foray into squid cooking, and it sure won't be the last. It feels super healthy while still bringing a little dose of indulgence with the pancetta (point goes to everyone who says everything tastes better with bacon!) and you'll have the good conscience of having helped the environment a bit while satisfyingly filling your stomach in a mere 30 minutes.

Summer Squid Sauté
Adapted from Food and Wine magazine
Active time: 30 minutes
Total time: 30 minutes
Makes 4 servings
    2 1/2 tablespoons extra-virgin olive oil
1 pound sugar snap peas, trimmed
Salt
Freshly ground pepper
4 thin slices of pancetta (1 1/2 ounces), finely diced
1 1/4 pounds cleaned, small squid—bodies cut into 1/4-inch-thick rings, tentacles left whole  

In a large skillet, heat 1 1/2 tablespoons of the olive oil. Add the snap peas, season with salt and pepper and cook over moderately high heat, tossing, until blistered in spots and crisp-tender, about 3 minutes. Transfer the snap peas to a bowl.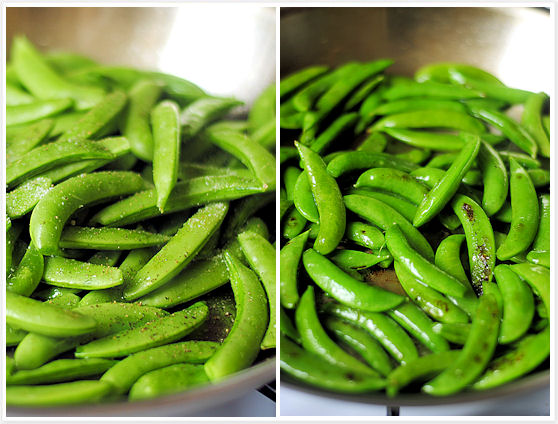 Add the remaining 1 tablespoon of olive oil to the skillet along with the pancetta. Cook over low heat until the pancetta fat has rendered and starts to brown, about 3 minutes. Add the squid, season with salt and pepper, and cook over high heat, tossing, until just cooked, about 2 minutes.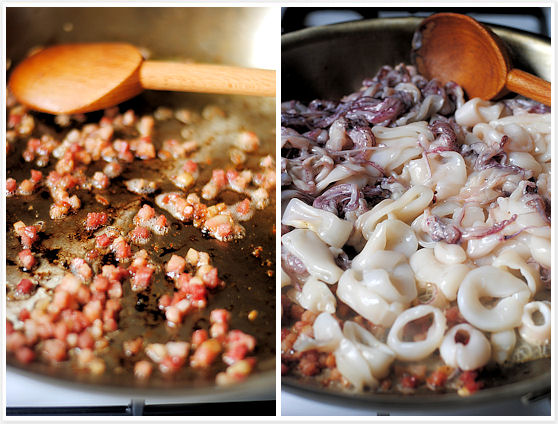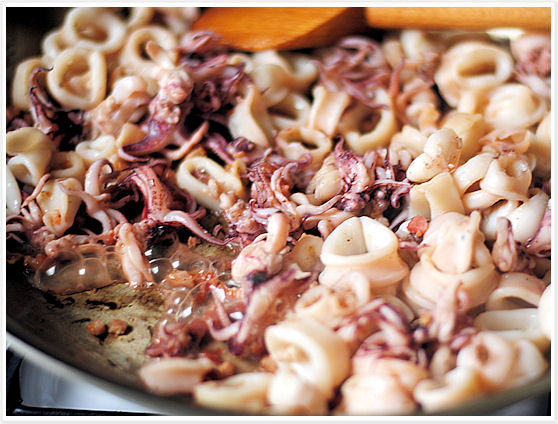 Return the snap peas to the skillet and toss for about 1 minute. Serve right away.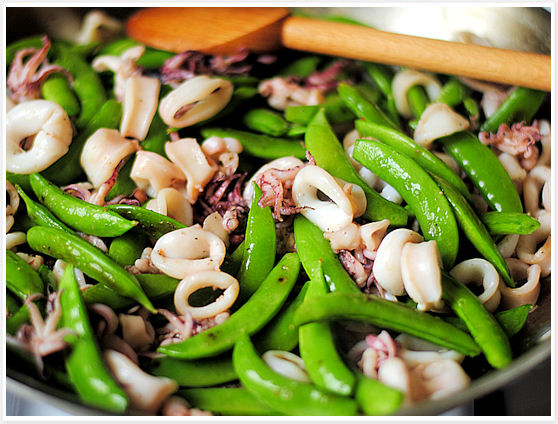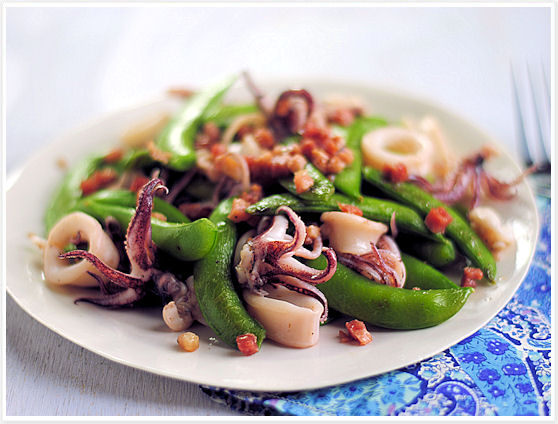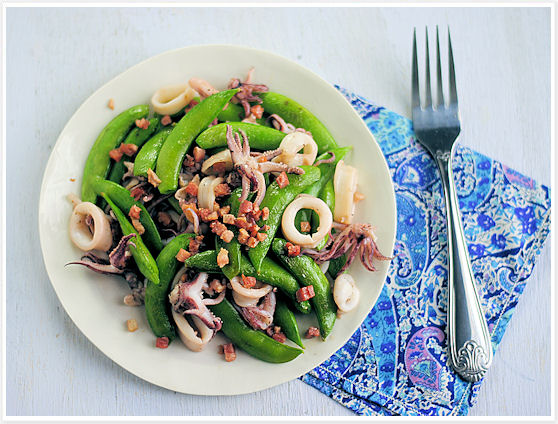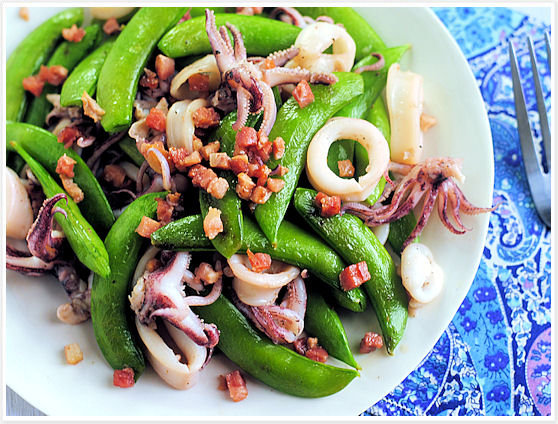 Print This Post