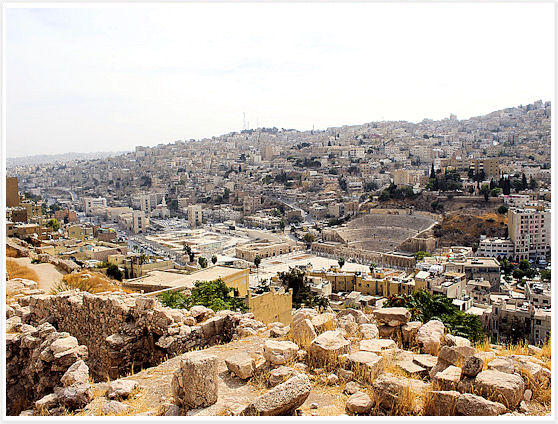 I just returned from a two weeks holiday in Jordan, having luckily missed the wrath of hurricane Sandy over New York City and now facing freezing temperatures which only makes me want to go back right away to this hot, dry, and beautiful country. I had been wanting to visit Jordan for a while now, in part because I knew it not to be highly sought by tourists  and had heard rumors of its stunning natural beauty and hiking potential. Most people have only heard of Petra if anything at all and use it as a quick stopover on a Middle East tour to check it off their list, a huge mistake if you ask me. Two weeks wasn't nearly enough to cover it and I intend to prove you why with a few good looking posts ahead…
I booked a trekking holiday with a friend taking us through the desert and wilderness of Jordan and stopping at some of the main sites. We had a bit of free time at the beginning and end of our trip and chose to explore the capital, Amman. Often overlooked in favor of noisier and dreamier capitals of the Middle East such as Cairo and Damascus, Amman's 20th century makeover from a muddy farming village to a buzzing and increasingly modern city is a sight you shouldn't miss. What it lacks in history it makes up for with a palpable energy coming from its inhabitants: beautiful people and definitely the most warm and hospitable I've ever met. Our taxi driver from the airport invited us to dinner at his house and you're likely to not be able to count the amount of times a Jordanian will invite you for tea. The concept of 'open house' is truly felt here like nowhere else.
While I'll go about some more cultural traits in later posts, I've summarized below a few highlights from Amman, sights not to miss and obviously where to get a tasty bite! The main sites could be visited in one busy day but you'd be missing on a lot of the lesser known charms of the city. Two or three days is what I would recommend. Good to know also that the city is built on seven hills (or jabals) so wear comfortable shoes! Another thing to note is that very few places have addresses here, street names having just been introduced to the city surprisingly! Locals rely on main sites nearby to identify a specific place so bring your map along, it'll help!
For easing yourself in, have a filling breakfast at Blue Fig (Amir Hashem St), located in the upscale area of Abdoun. The global coffeehouse attracts a young clientele of expats and wealthy locals and the ambiance is hip and cool. I usually prefer more authentic places but as a first stop this is a totally relaxed place and you simply have to try their Manaeesh for breakfast, the Lebanese flat bread. You can have it the traditional way topped with Za'atar (a mix of dried herbs, sesame seeds, sumac and salt) or go sweet with cream cheese and honey.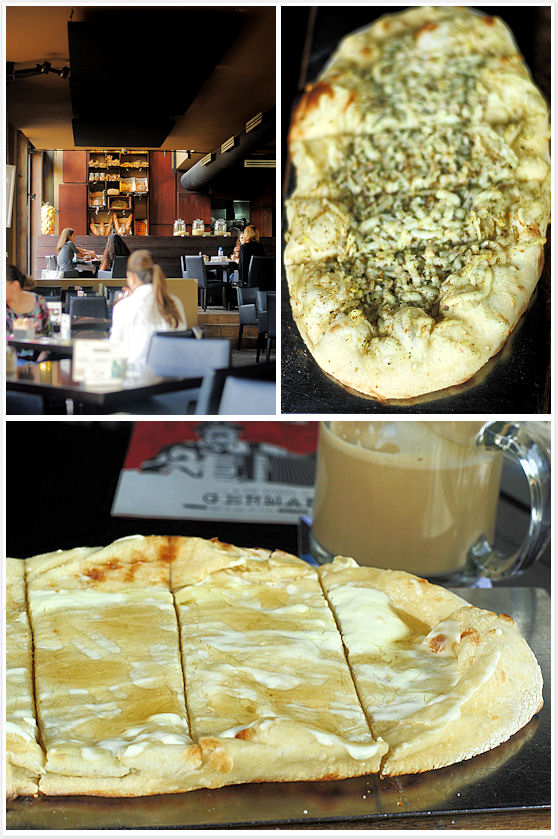 As far as sightseeing goes, Amman doesn't have that many ruins and historical sites to visit and you can manage them all in just a few hours by heading first thing to Citadel Hill (Jabal al-Qal'a). Take a taxi, it'll save you from climbing all the way up and they're super cheap ($2-$5 should get you pretty much anywhere across town). It's a great way to start your visit as it's the highest hill in Amman and offers sweeping views of the city.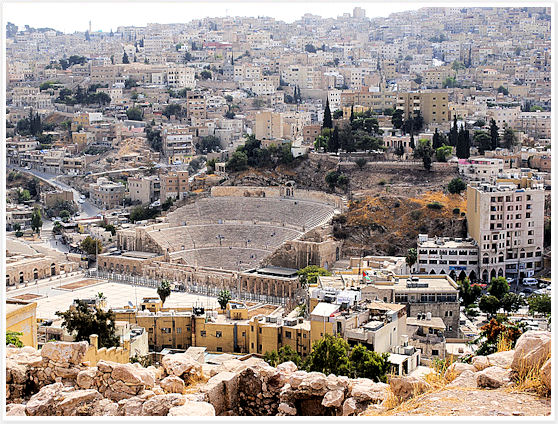 Apart from being one of the oldest places to be continuously inhabited in the world (there's an archaeological museum if you want to look at Neolithic artifacts), it sets the stage for two important structures worth wondering around:
The Roman Temple of Hercules (well what is left of it) stands tall at the top of the hill and can be seen from around town.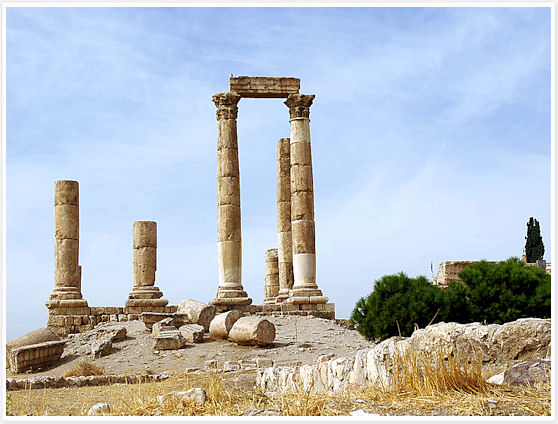 The huge Umayyad Palace (al-Qasr) was supposedly the residential quarters of  the governor of Amman back in the 700s. Beyond the palace lay a grand plaza with a colonnaded street and ruins of residential buildings, most of which have yet to be excavated.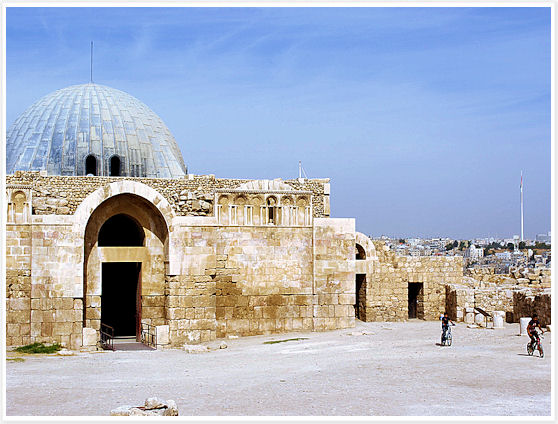 After taking in the views one last time, you can start making your way down by walking east at the exit of the Citadel for an insight into Amman's inhabitants. You'll be going through a quiet residential area, passing by schools and houses with kids running up to you, smiling and shouting 'Welcome to Jordan!', a phrase you'll hear a thousand times while you're here, with the most genuine smiles you can imagine. They'd pose and ask me to take their picture with my big camera, seemingly happy to play the model for a second.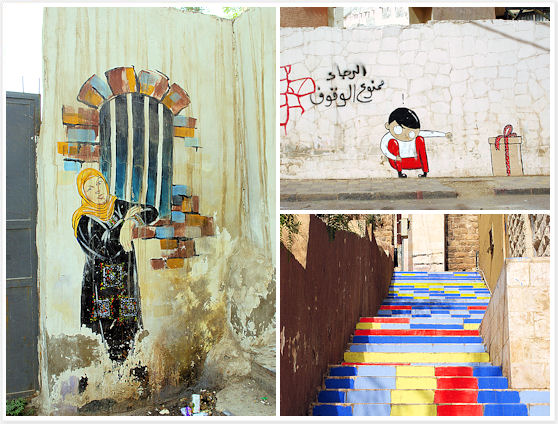 You'll past a viewing platform with stairs leading down to Hashemi St, opposite the Roman Theater. Just make your way through the traffic (the roads are always busy and jammed so don't bother looking for a crossing light, just walk straight across one line at a time and you'll make it alive on the other side!) and step onto the esplanade facing the unmissable Theater, the most impressive relic of Amman's past. It can accommodate up to 6000 spectators and is still being used in the summer for cultural events. Climb to the top for a nice view of Citadel Hill and to get an idea of the acoustics… Locals (who have free access to all the sites) hang out on the shaded benches and play on the stage.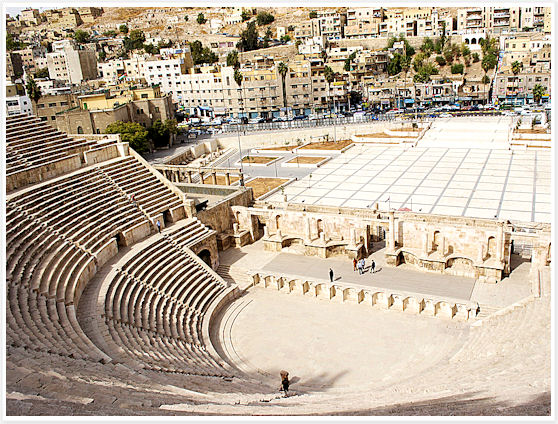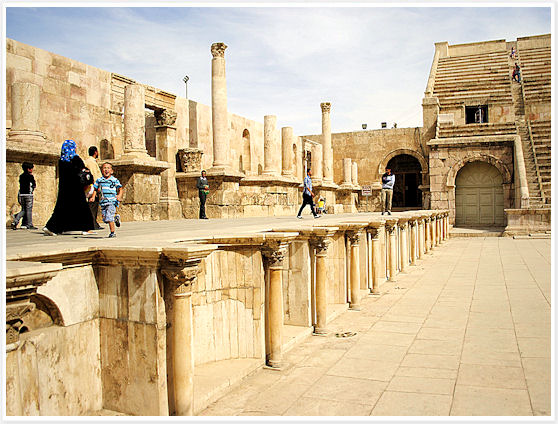 Heading southwest from the theater, it's only a short stroll to the Ottoman-style King Hussein Mosque, the heart of downtown Amman as proven by the hustle and bustle around it.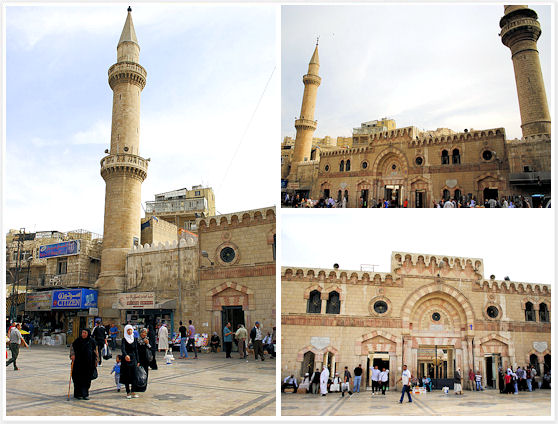 Around the mosque you'll find numerous colorful markets (souqs) well worth getting lost in for a glimpse into Jordanians' eating and shopping habits.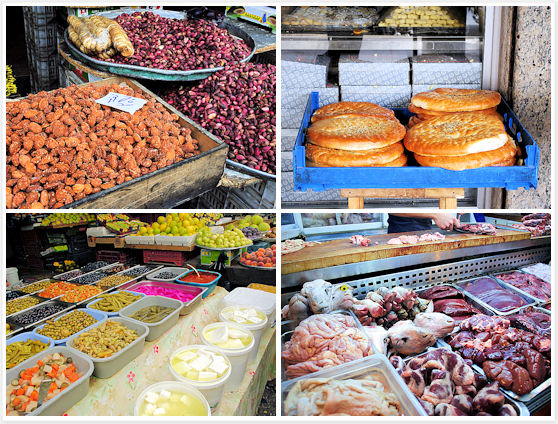 All this walking and food gawking will surely have opened your appetite a bit so it's time for a stop at the legendary Hashem (Al-Amir Mohammed St), the best place in Amman to get your fix of falafel, hummus and fuul (fava-bean paste), since that's all you'll get here! There are no huge signs pointing to its location so just look for a bunch of tables spilling into an alley just off King Faisal street, everyone knows it here so they can direct you. The 'restaurant' is incredibly popular with locals who flock here for a deliciously filling and dirt cheap meal.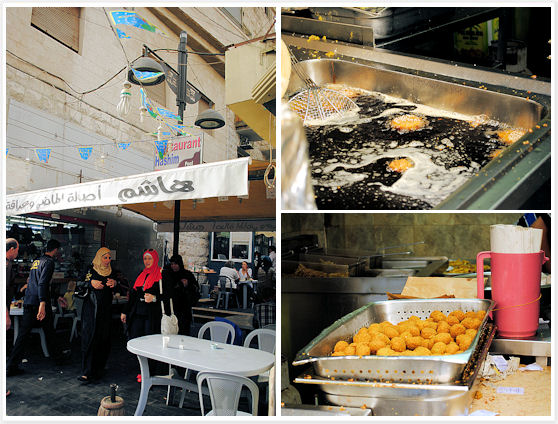 $2.50 will get you some bread, falafel, hummus, fuul and a drink, more than you can ingest and of the freshest quality. You can see your falafels being made in front of you, a machine dropping ping-pong sized balls of the chickpea batter into a fryer. The proper way to eat this feast is to tear off a bit of bread, dip in fuul or hummus, and eat it with a bit of tomato/onion/mint and a falafel – sooo good!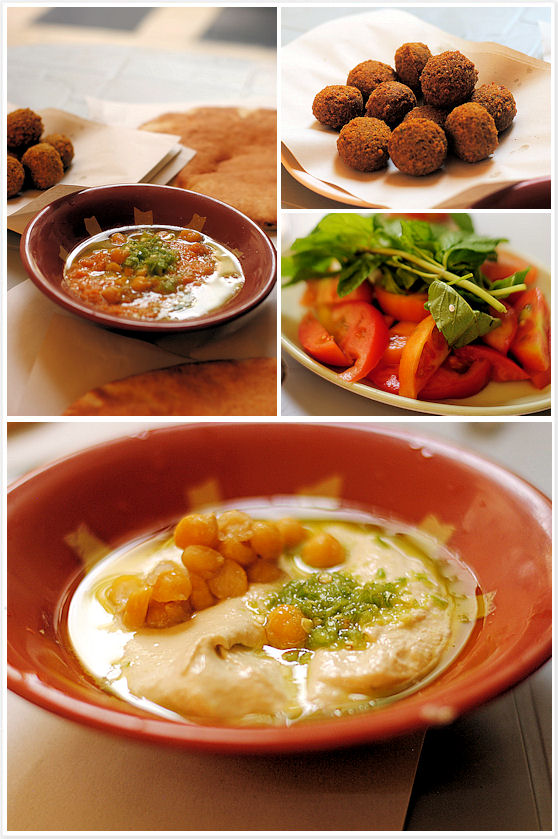 You'll probably be really full now, but you must leave some space for dessert! A few steps away from Hashem is the sweet shop Habibah (King Hussein street), another legend worth a stopover or at least a takeout. Jordanians have a very sweet tooth, another reason why I like them so much (!), and this place is their holy temple of sugar, syrup, phyllo dough and pistachio. While it would be tempting to try any of the great looking baklavah displayed on the counter, the main reason people come here is for the knafeh – a traditional Arab cheese pastry soaked in sweet syrup and topped with crushed green pistachios. You'll easily spot it, it's always going to be in the almost empty tray since they go through them at the speed of light here.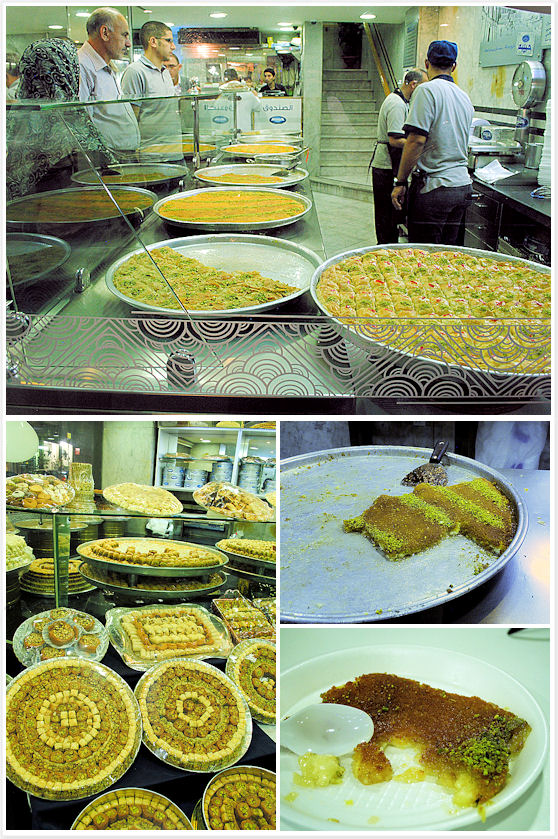 Across the street and going up is the historic area of Jabal Amman (yes, another hill). Time to lose all that hummus and sweet cheese pastry and climb up to this quiet oasis in the middle of downtown, perfect for an afternoon stroll. It used to be the neighborhood of the elite and royalty and its leafy streets are still lined with a few examples of fine villas from the '20s and '30s. It's also a good excuse to witness Amman's burgeoning arts scene by stopping at the beautiful Nabad art gallery housed in a charming old villa on Uthman bin Affan Street.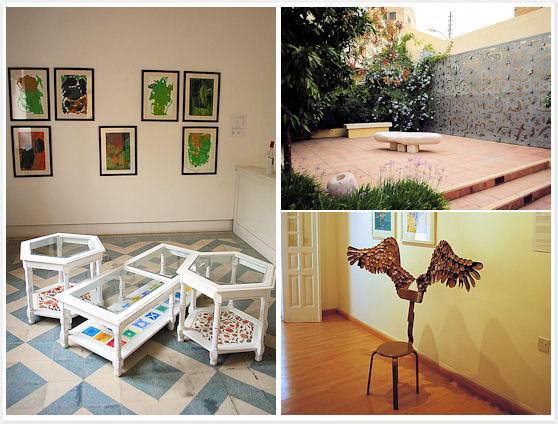 A few doors down from the gallery is the striking Wild Jordan centre from the Royal Society for the Conservation of Nature. Inside you'll find info on how to visit Jordan's nature reserves (we would be starting our trek from one of them in a few days) as well as a nature shop selling crafts made locally and organic herbs/spices grown on the reserves. A great place to do some gift shopping. There's also an excellent cafe here with one of Amman's best views from its shaded balcony serving healthy and organic food and smoothies.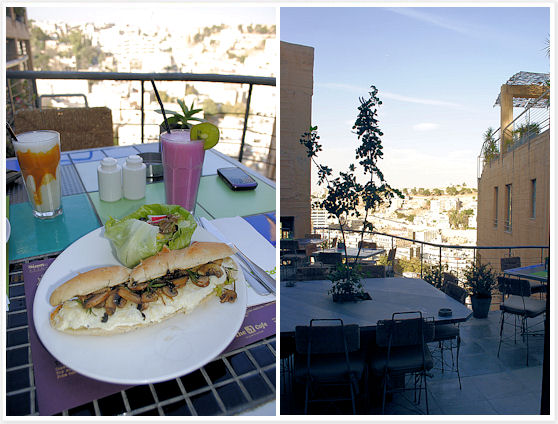 Following that same street up after the bend will lead you straight down to Al-Pasha Turkish Baths (Al-Mahmoud Taha St), the perfect pampering after all this hill walking and a must try Middle East experience. It is the most recommended and traditional in the city. You'll spend about 1.5 hours getting steamed, soaked, showered, steamed again and then scrubbed and massaged in a superb building architecturally made like a traditional Turkish hammam. Evenings are for men and women are allowed only between 10am-4pm every day, reservations highly recommended. It's worth every minute and penny (costs a mere 25JD so about $35) and you'll leave refreshed with skin as smooth as a baby's bum!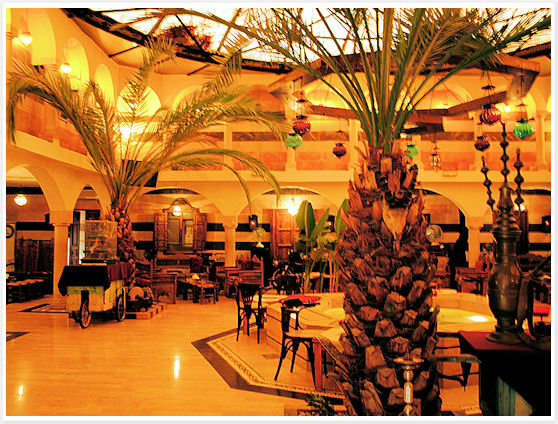 Nearby Rainbow Street is lined with shops, cafes and westernized food – clearly the expats epicenter in Amman. There are quite a few attractive buildings along it and hip hangouts to while away the hours. Our favorite, Cantaloupe (10 Rainbow Street), a fairly new gastro-pub, has stunning 360 views of Amman in one of the most relaxing setting I've seen. We loved it so much we went back another time to sip a few cocktails as I can hardly think of a better place to watch the sunset over the city.
Sunset is by far the best time to enjoy Amman as it casts everything from the pale buildings to the top of the Citadel with the warmest of glow, truly spectacular. And then if you're lucky enough to be there during the beautiful call to prayer which echoes from the majestic minarets in a transcending melody…you're bound to get as awestruck as we were. We both had to film it as we knew words and pictures just wouldn't be able to describe this moment of intense beauty.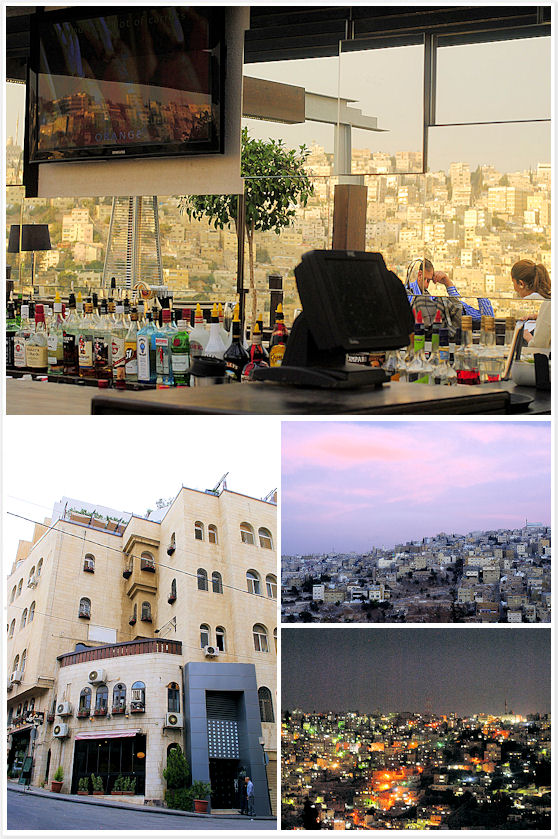 After sundown Amman is still bustling with shoppers and dinner goers who eat relatively late (most restaurants don't open until 7:30pm).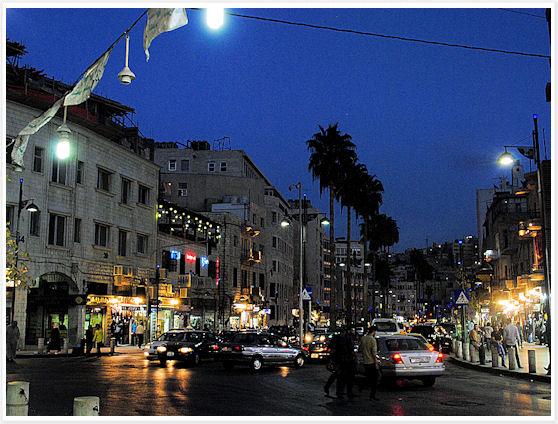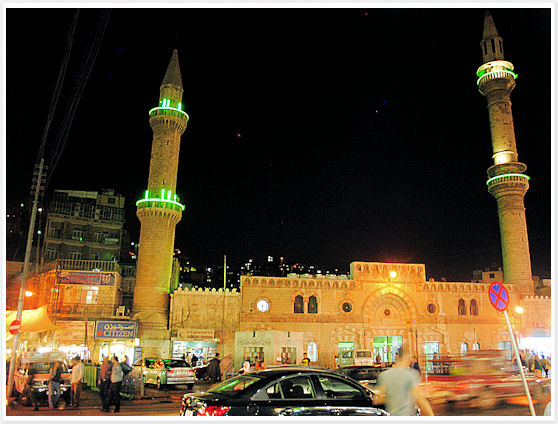 One last recommendation and this time for a formal dinner: Fakhr El-Din (40 Taha Hussein Street). Located between the 1st and the 2nd circle, behind the Iraqi embassy, this highly praised Lebanese restaurant is set in a gorgeous 1950s villa and is packed every night. The vast menu and exceptional service makes this a real treat for anyone wanting to try fine Lebanese food and the sheer number of choices will leave you scouring the menu for a little while.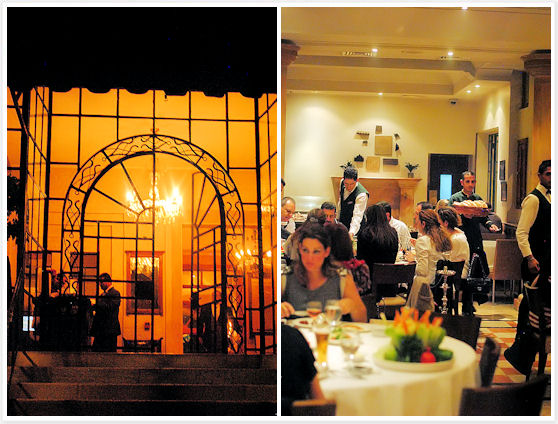 As we weren't extremely hungry (understandable considering the amount of food we've been ingesting here!) we opted for a light meal of mezze and starters; a smart choice to try the different traditional offerings and makes for a pretty decently priced meal in such a setting for around $20 each. We had the fattoush salad, artichokes in olive oil, stuffed vine leaves, grilled halloumi cheese, lebanese sausages and complimentary candied figs and apricots for dessert. Every fine restaurant we went to was offering free dessert at the end…definitely liking it here more and more!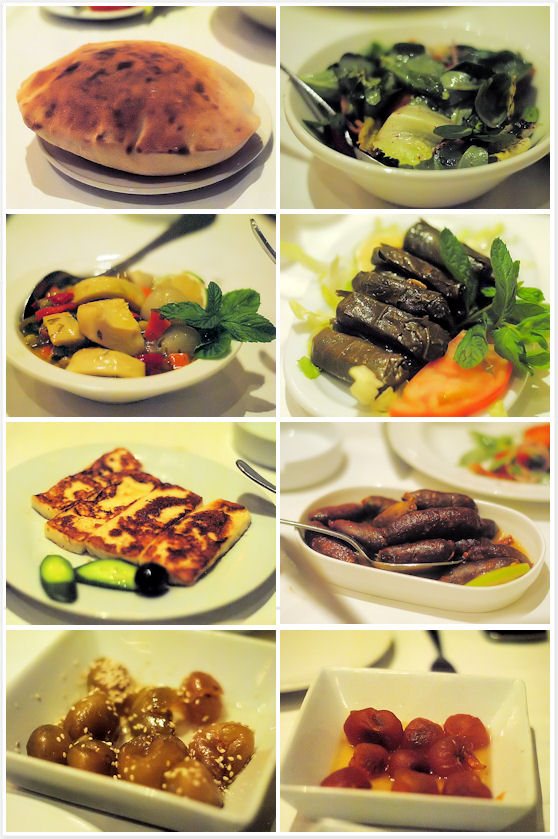 Now we're off, leaving the dynamic city for a 10-day adventure you'll hear more about in a few days…