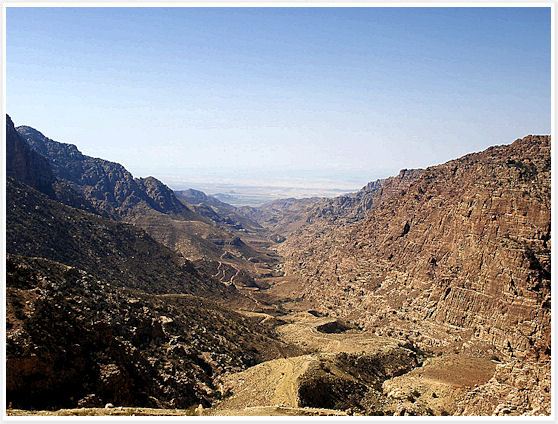 We were finally starting our Dana to Petra Trek today, the main reason I decided to come to Jordan. Rated as one of The World's Best Hikes by the National Geographic, our five-day trek officially began when we arrived at Dana Village after a 3 hours drive south on the Desert Highway from Madaba. This 500 years old village is perched atop the cliffs of a large natural gorge, Wadi Dana, and offers spectacular views over Jordan's largest nature reserve which we were soon to cross on foot. Covering just over 300 square kilometers, Dana Biosphere Reserve is a system of wadis (valleys) and mountains which extend from the top of the Rift valley where we were standing down 1,600 meters to the desert lowlands of Wadi Araba where we'd later set camp for the night.
We met with our local Bedouin guide in the village, Abu Zaid, and its trek companion, a donkey named Shafi, who were both to lead our way from Dana to Petra for the next four days.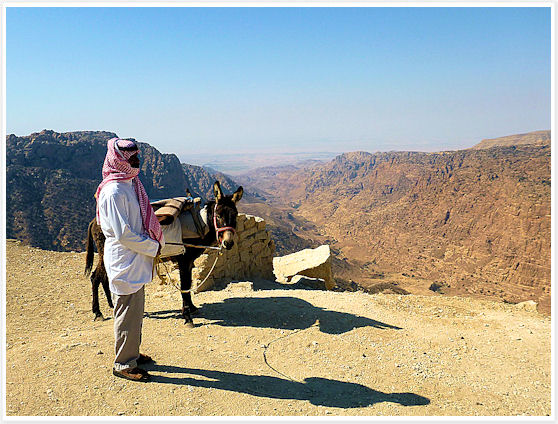 From there we set up on the Wadi Dana Trail and started our 15km hike of the day which would lead us to our camp about 6 hours later.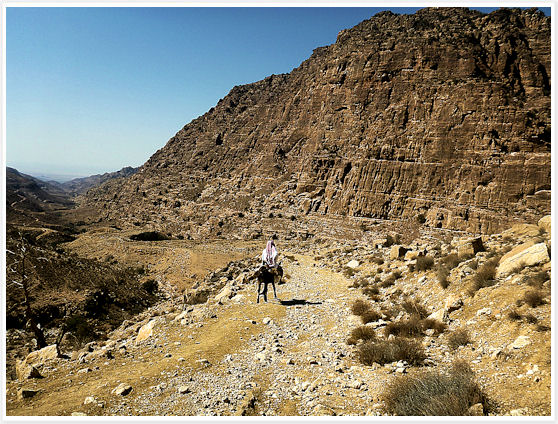 The trail is an easy one down, passing through sandstone gorges and a rugged landscape of rock formations and dry river beds.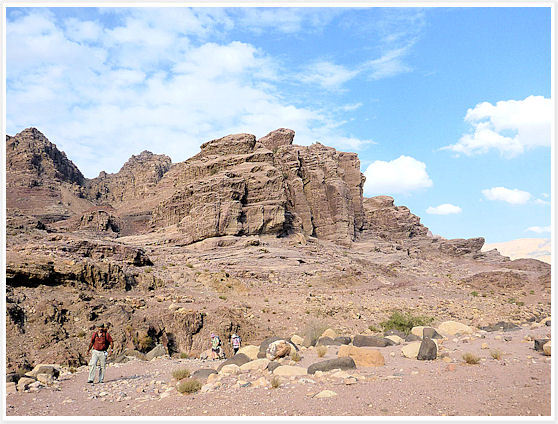 Orange-stained escarpments become more vivid as the daylight fade, casting a warm hue throughout the valley, sparse bushes contrasting in the shade.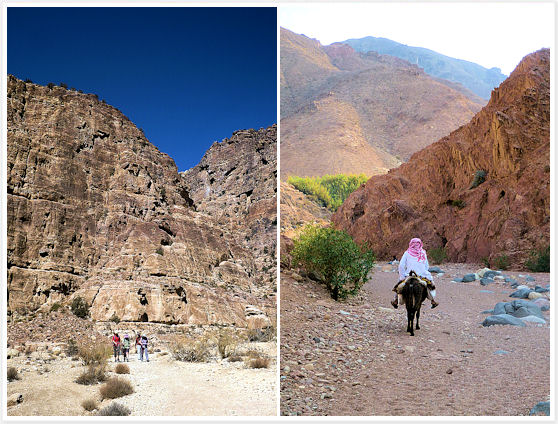 About four hours in, we started seeing some hints of humanity, goats herds grazing, the occasional camel…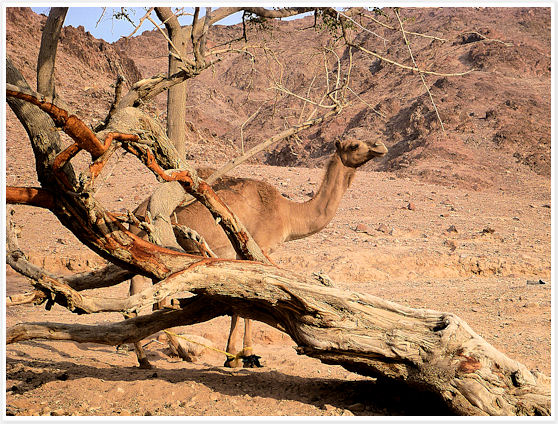 Sure enough, we soon walked by a Bedouin family camp in the rosy glow of the valley.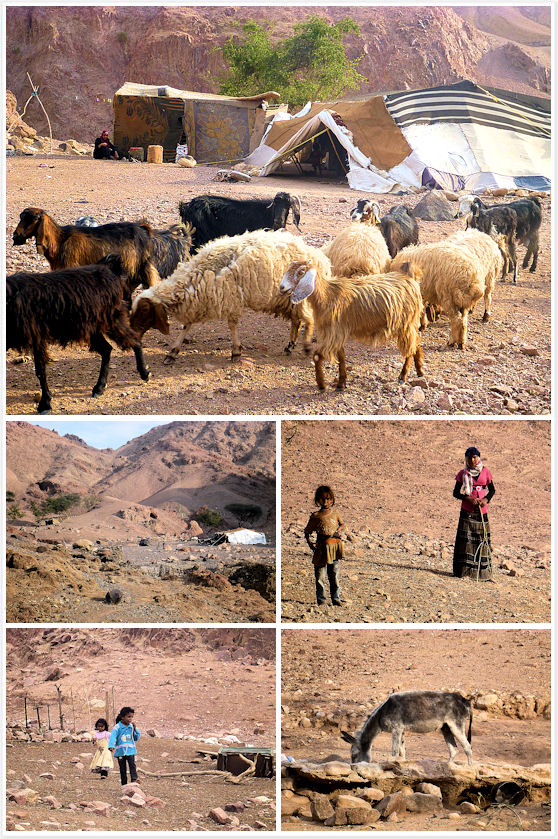 A bit further, where the mountains meet the desert, we came across Feynan Ecolodge, an award winning, solar-powered and candlelit property. It is the only accommodation in these parts though we were not staying there tonight…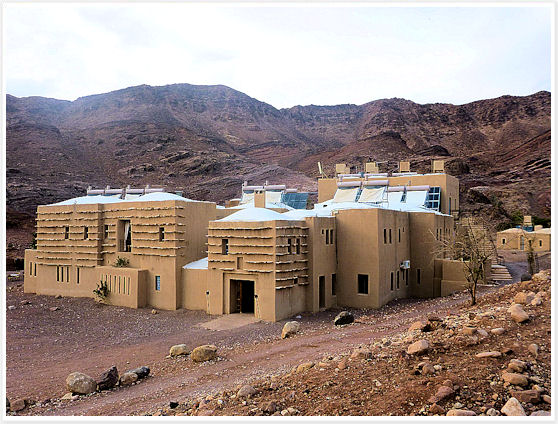 We kept on walking for another half hour towards a mountain range and took a little break to admire the views before heading to our camp.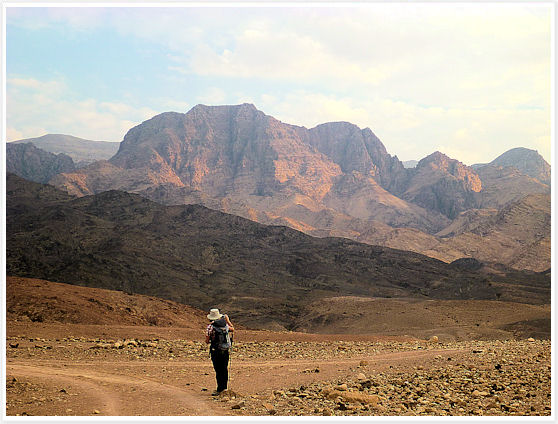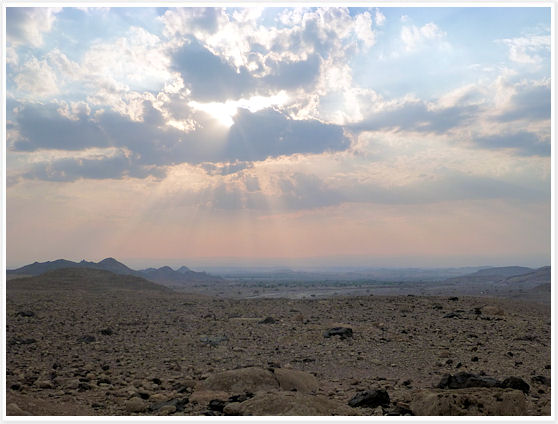 We arrived at sunset to our camp in Wadi Feynan and quickly collapsed in our tents, slightly exhausted, immediately after a hurried dinner. We'd leave the fire camp chatter for another day!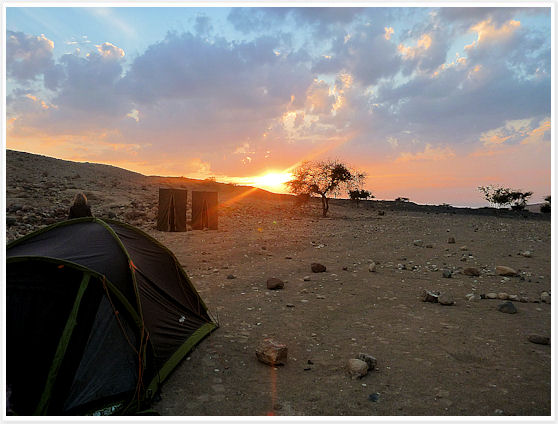 Our second day was a very hot one. Essentially seven hours of walking through a stony desert with expansive views of the high mountain ranges to the East…
…and the plains of the vast Wadi Araba Desert to the West.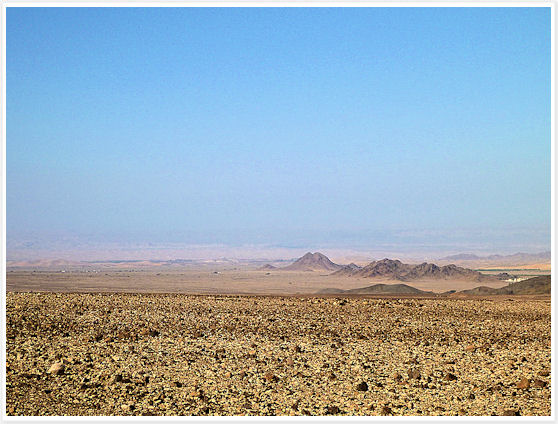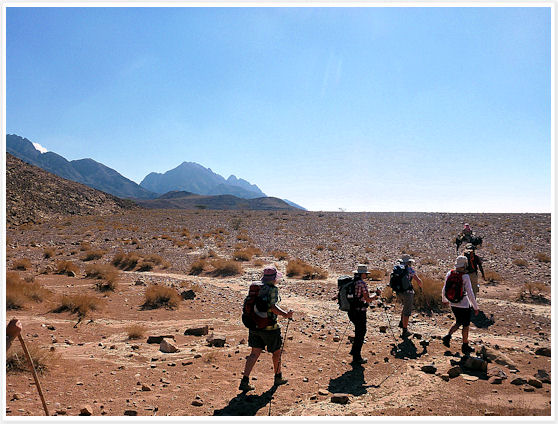 There was no shade whatsoever and the sun was scorching hot which meant we had to stop about every half hour to drink water. Apparently a trekker from the last group who did this route suffered a heat stroke that day so we were extra careful! We did find a barren tree at some point and made a rest stop with the usual Bedouin tea break, a much appreciated sweet beverage Abu Zaid would prepare for us many times a day.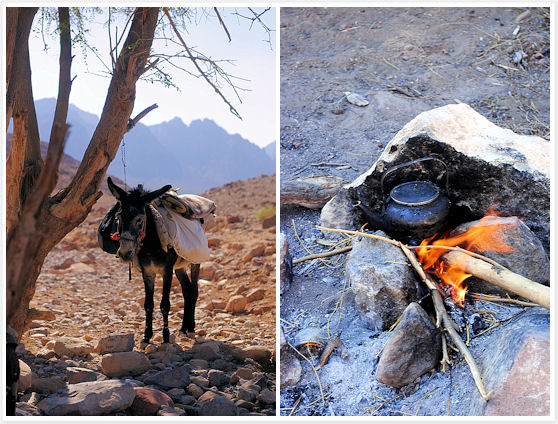 The views didn't change much for most of the day so we were quite happy to reach camp a bit earlier today, especially as it was in a great setting, at the foot of the mountains.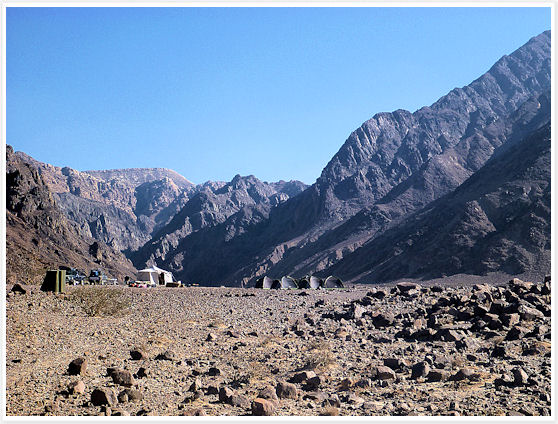 We immediately seeked the only shaded spot offered by the Bedouins' truck to chill out, take our hiking boots off and again enjoy some delicious tea.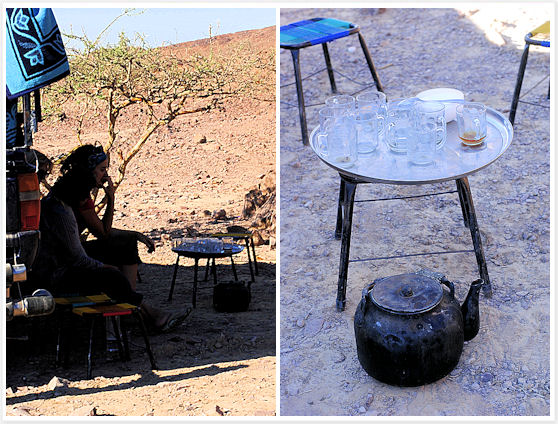 We were soon taken by surprise by a family of camels who just happened to pass through our camp, not minding us the least and just slowly going their own way towards the open desert.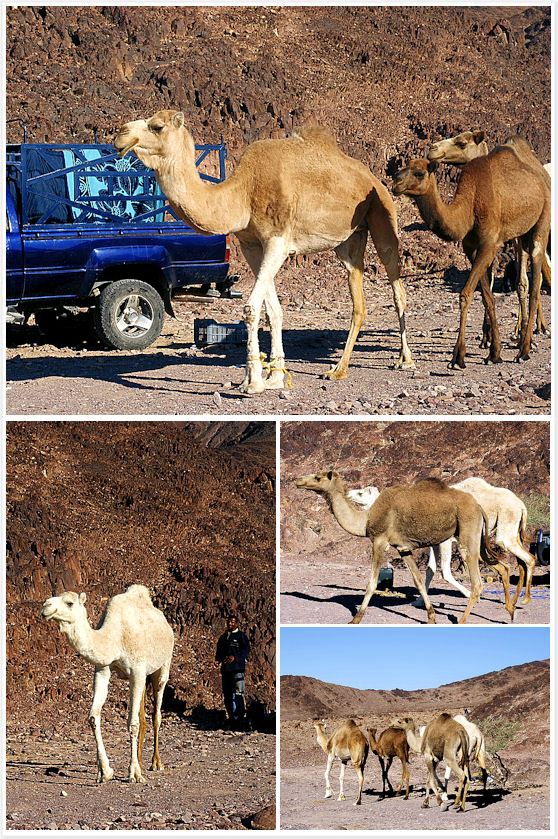 They had left the slow one behind who soon made an appearance as well and walked straight through our tea party. It's definitely the kind of random encounters that I just love and makes this whole living and sleeping outdoors truly worth it.
After the camels left we went back to setting up our tents and enjoying a bit of free time to read, chat, and admire the superb views as the sun was slowly setting.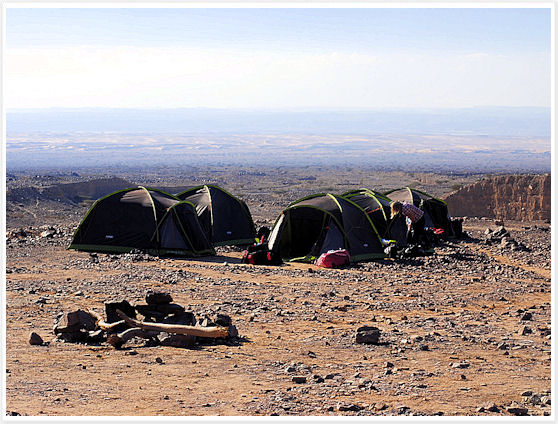 That magic hour had come where the colours of the desert just burst out, more than any of these pictures could realistically show.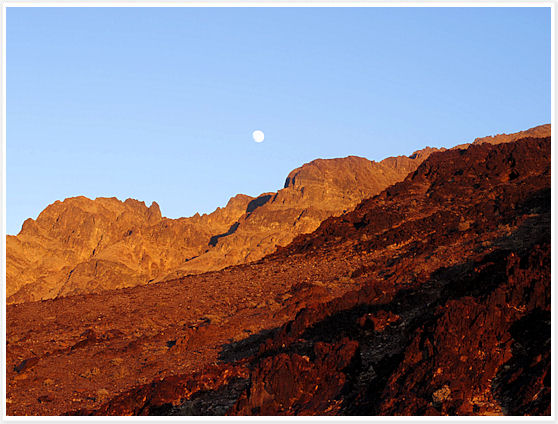 Even Shafi seemed to be affected by the phenomenon…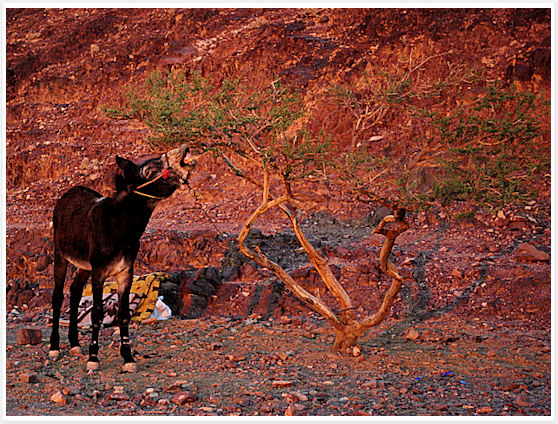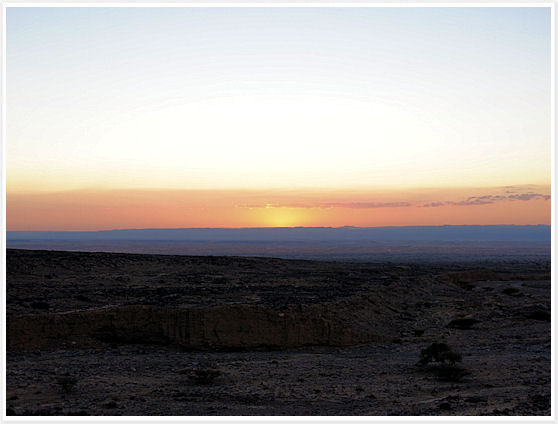 They had set up candles in paper lanterns around camp for dinner, a truly gorgeous scene as the moon was rising behind.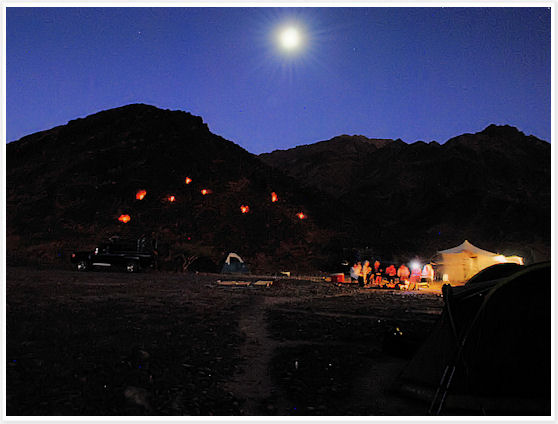 This time we did hang out a while around the fire, telling tales and filling our bellies with a fantastic lamb pilaf and middle eastern salads and spreads.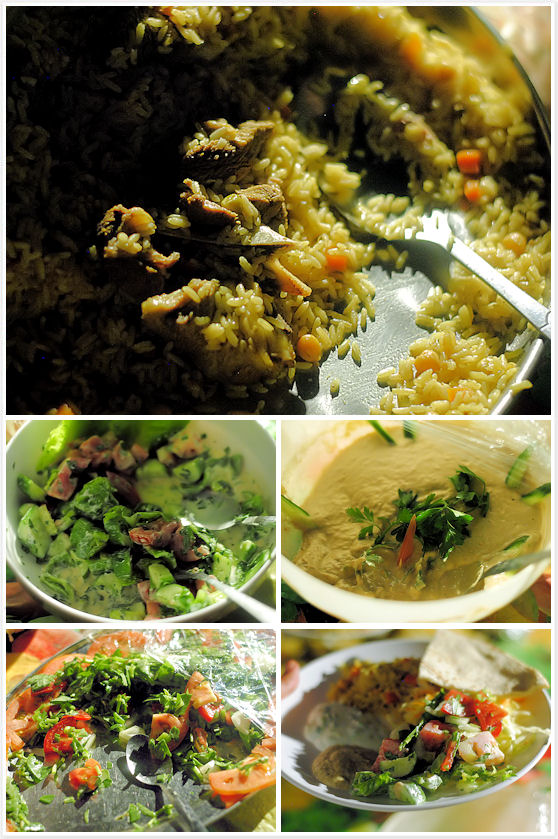 Still, we couldn't linger on for too long as tomorrow was the longest day with a 5:30am wake-up time. Off to bed at a relatively late 8:30pm…!