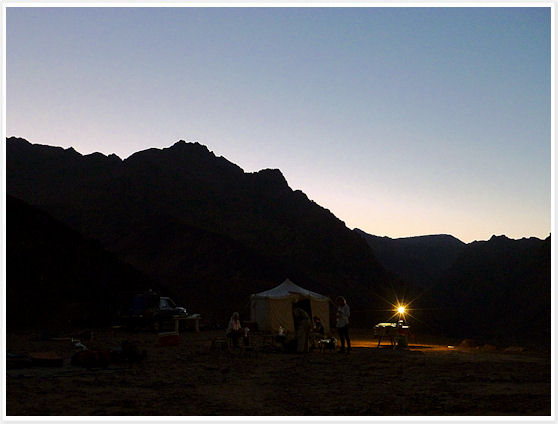 We got up at the crack of dawn on Day 3 of our trek, eating a filling breakfast by the glow of our headlamps while looking up at the mountains surrounding us that we were soon to cross. In the cool morning air, we started ascending steeply ("up, up, up!" as Abu Zaid would repeat throughout the day!) across rocks and small boulders, following a twisting track going high into the mountain.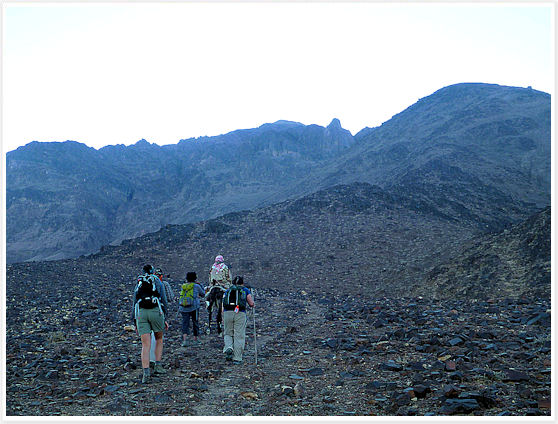 The lack of sun made it possible for once to pay attention to the ground, noticing the colorful stones usually washed out by the blinding light, and witnessing other forms of life than our own.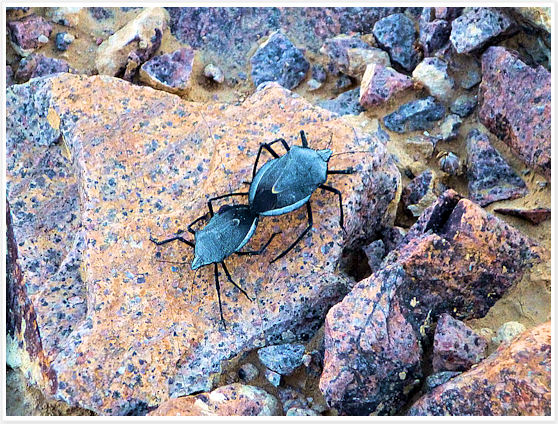 Every once in a while we'd take a peak behind us, the views of Wadi Araba becoming more and more rewarding as we climbed higher and the sun started to rise.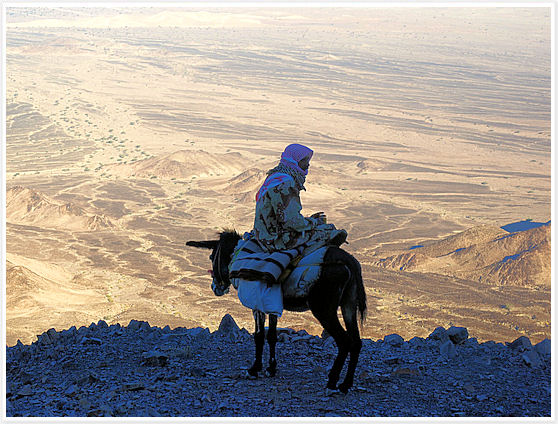 We continued up over a high saddle, passing through an artistically lit scrambling path, thanking our guides for having us do this steep section before the sun hits it completely!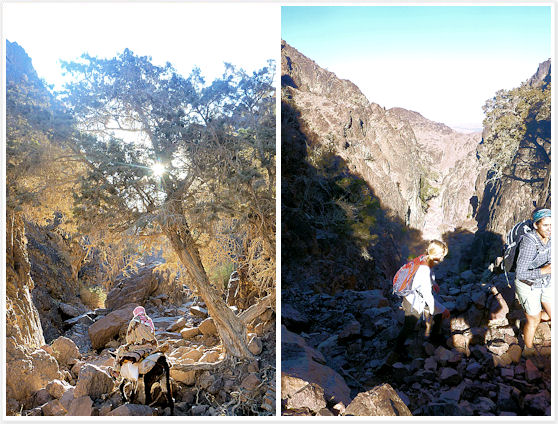 We reached the summit about 3 hours after leaving camp and immediately started our walk down to the river valley of Wadi Feid, following a small goat track.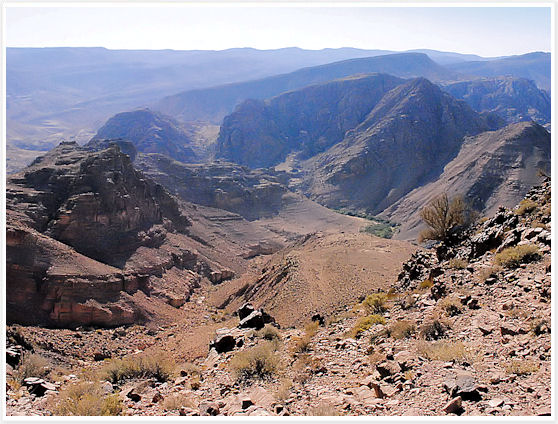 A giant tree half way down was the obvious choice for our morning tea break which had already been considerably delayed due to a lack of a proper spot and decent shade. Getting closer, I suddenly realized the tiny red-brown seeds were actually Juniper berries which I've used in the past in my cooking. They're mainly known to be the primary flavoring in gin (and gave the popular alcohol its name) though in Jordan they're also used to help with diabetes by boiling the leaves and drinking the infusion.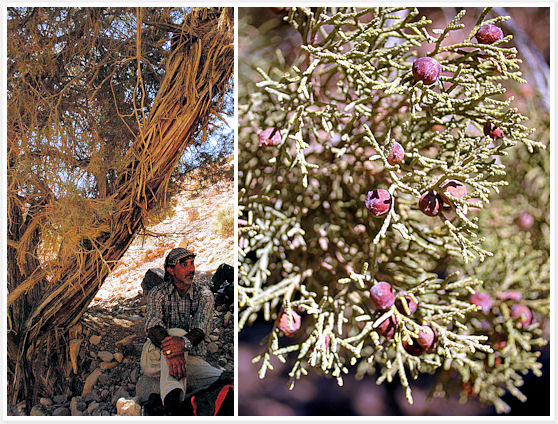 Reaching the bottom of the valley at midday, we were thrilled to not only find plenty of spots to cool down but also an actual 'river' (I should probably say stream here) and our very first tropical jungle as we hunched under thick bamboos and skipped stones over crystal clear water.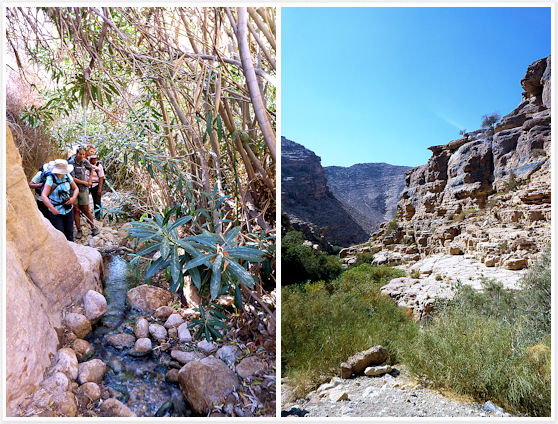 Coming up on the other side, we started climbing gently again through a stunning scenery of high orangey sandstone cliffs lining our sides, keeping us cool and offering plenty of gorgeous details to look at as the erosion effects on the stones tickled our imagination.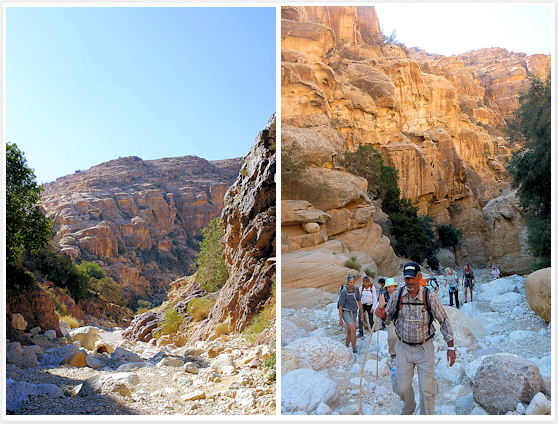 Abu Zaid was getting more comfortable around us, dancing and swirling his stick in the air while playing his favorite Arabic music on his phone. We soon joined in and had quite a few more dancing gigs with our Bedouin guide in the little time we had left with him…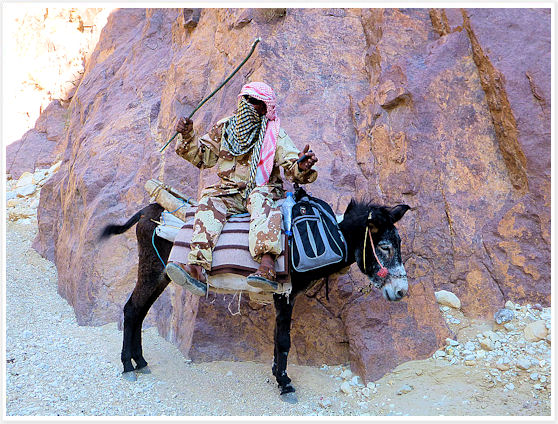 Once up high over the cliffs, we had another long and very hot walk to reach the camp at Ras el Feid, altitude of 800m. The 4 o'clock sun can be especially grueling when you've been walking for so long and are now that much closer to it!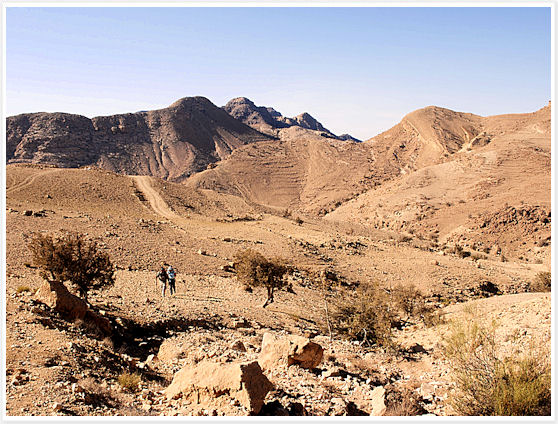 My tent for the night, totally exposed as we would later discover, served as my pre-dinner shelter. I think we all went for cover and a nap after a particularly challenging day, though we all admitted it was the best one so far, the diversity of the landscapes and physical level more than making up for our early wake-up call.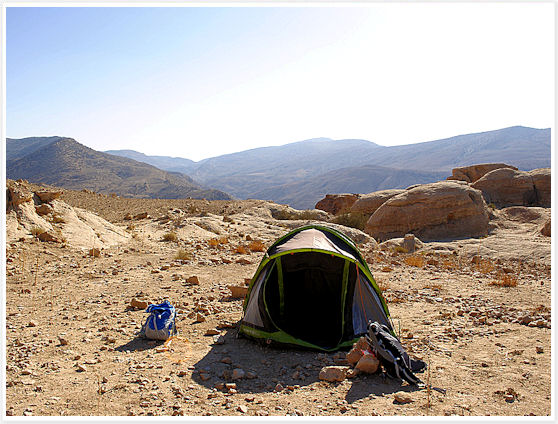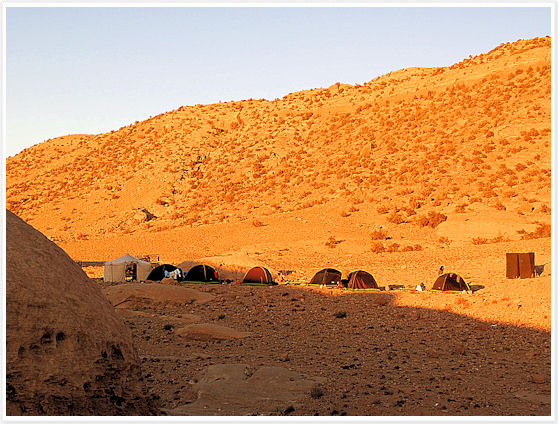 As usual, our cooks prepared a huge and scrumptious dinner which should have knocked us out for the night… but mother nature had something else in mind.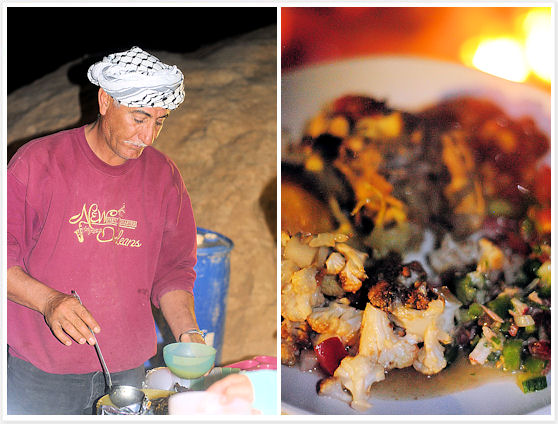 Shortly after calling it a night, the winds started picking up unexpectedly and quite strongly, shaking our tents to the point where I thought they would all lift up. The walls kept flapping in our faces all night so none of us actually got a good night sleep…
We got out of our tents early morning, looking miserable and still battling against gale force winds – it was not going to be an easy start! The morning trek involved some more uphill walk over gentle peaks which felt more like an uphill battle today as the winds slowed us down for the first few hours. Coupled with our total lack of sleep, this was the toughest morning by far. At least the sky was clear and the sun was shining…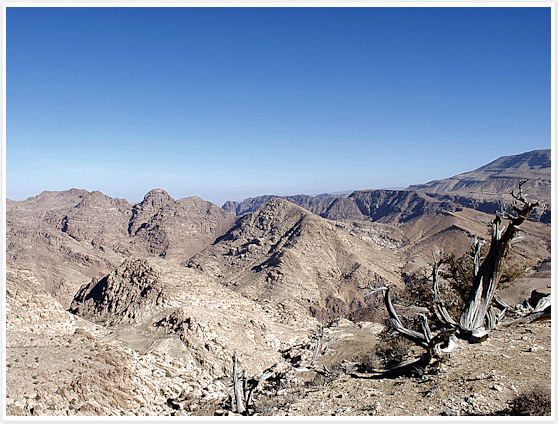 Strong desert winds inevitably means sand in the air as well as in your eyes, nose, and lungs. Looks like Abu Zaid had been through this before, we were all jealous of his ingenious attire today!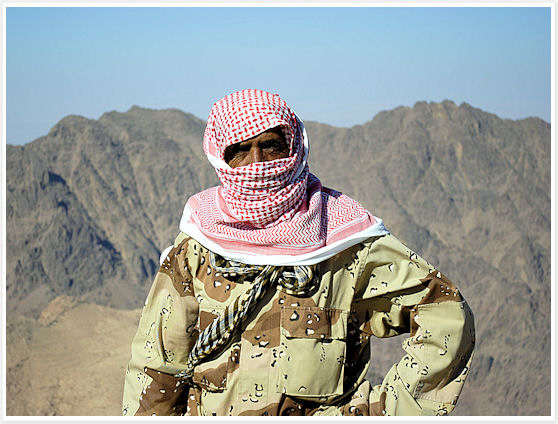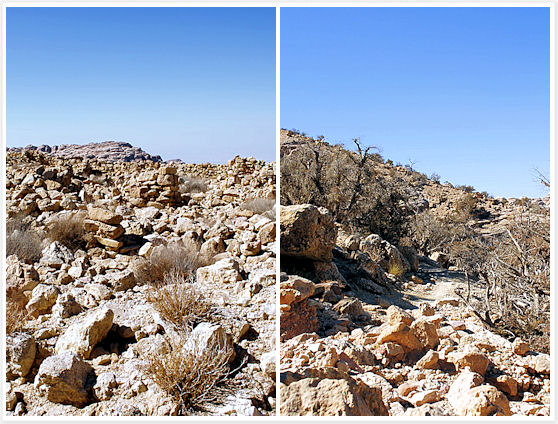 The landscape suddenly changed from rocky mountaintops to Star Wars look-alike rock formations and the wind eventually died down. We left the trail to have a long lunch break under a big rock and enjoy a much appreciated stillness.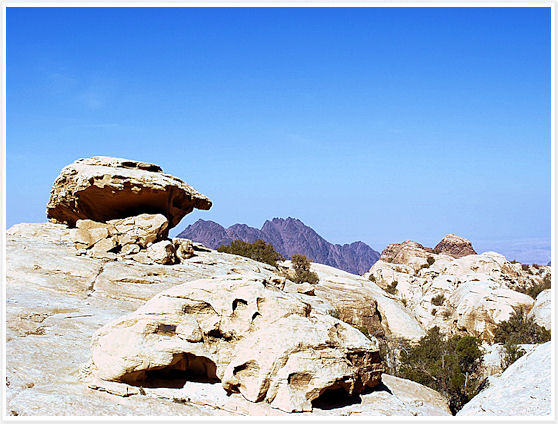 I took the occasion to question Abu Zaid on his tea making prowess, determined to bring new skills home with me and some of that delicious brew. I had already mentioned Jordanians have a sweet tooth and their tea is a clear expression of that. They start by heating water with lots of sugar in the kettle, and when it starts to boil they throw in black tea (mostly ceylon) and let it boil for about two minutes. They then take the kettle off the fire and add a handful of wild sage leaves for extra flavor which they let infused a few minutes more, voila! A fantastic taste, an uplifting beverage and a true representation of wild Jordan… priceless.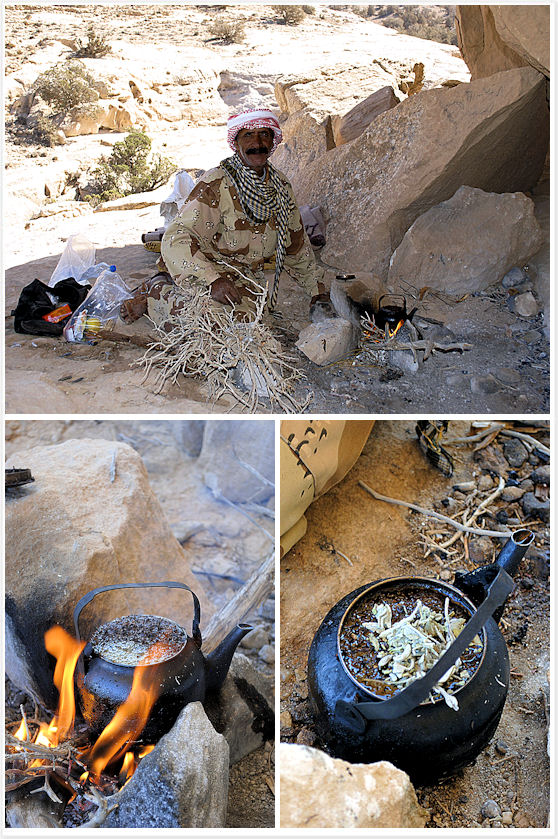 We picked up the trail again after lunch which continued to climb gently in an ever-changing scenery.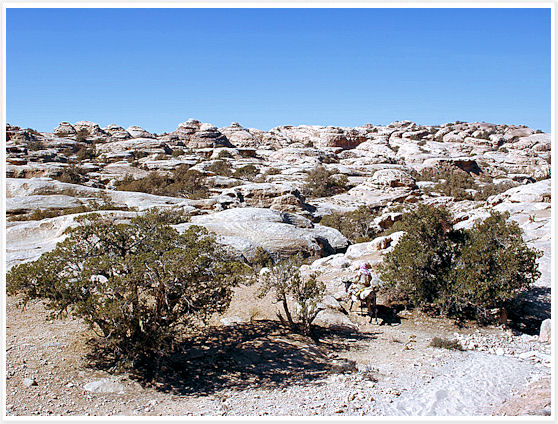 The washed out and mostly flat rocks soon morphed into the now familiar orangey sandstones of the previous day.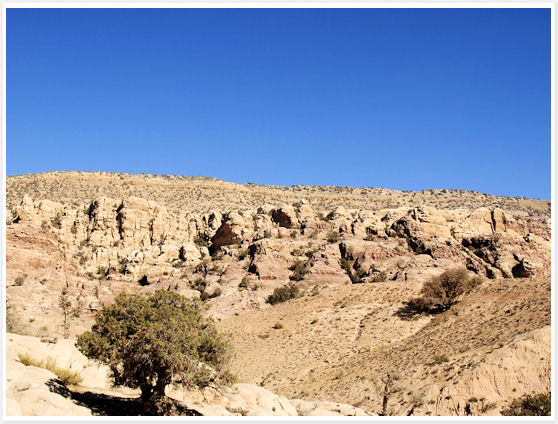 As they got bigger, the rock formations started to resemble what I picture the Cappadocia region to look like in Turkey (another trekking destination on my list) – imposing yet beautiful and almost fairy-like in their shape.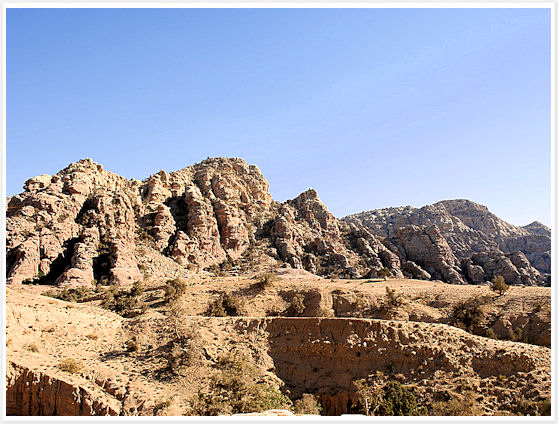 We reached our camp at Shkaret Msei'd, our highest of the week at 1000m, in the mid-afternoon sun with plenty of free time in front of us.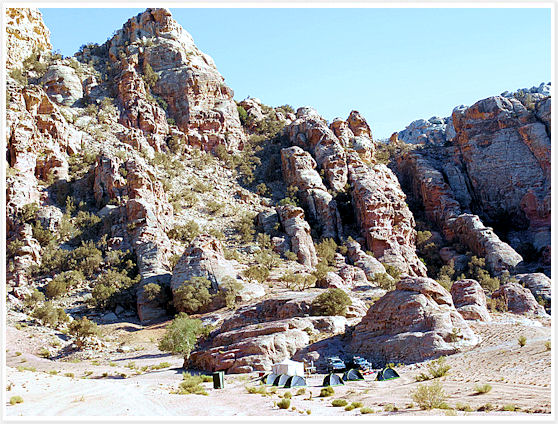 Napping under the sun felt like a real luxury after last night and the giant cliffs surrounding us guaranteed history wouldn't repeat itself tonight.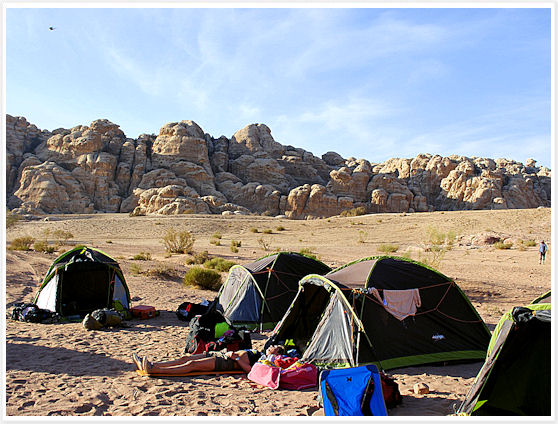 We had a really good night under the brightest full moon I can remember, excited with tomorrow's prospect of getting near Petra and staying at our first Bedouin camp…