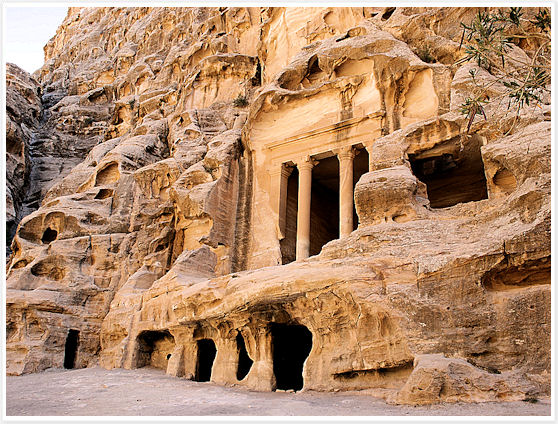 With pristine weather conditions and a fairly short hike ahead of us to reach our next destination, our fifth day on the trek started beautifully. Shortly after leaving camp we were following a 4WD track sinuously cutting through the wadis with signs of modern day living sporadically appearing. Patches of the deepest green would dot the familiar arid landscape, proof that farming was indeed well established here, tomatoes and potatoes among other things being cultivated in the desert.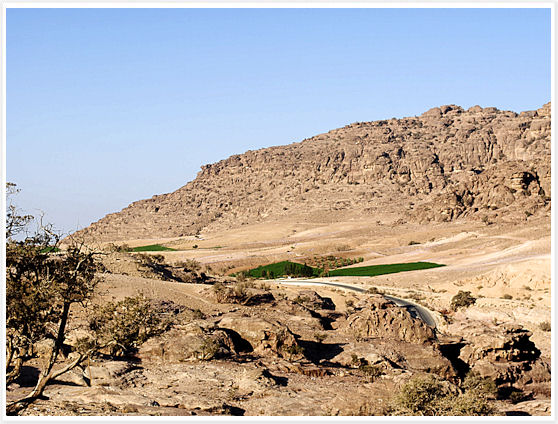 We left the well-marked trail to venture once again up into a sandstone cliffs valley, this time noticing a stunning change as the stones began to undress and reveal their gorgeous reddish and purplish colors.  Our guide Awad even showed us how the Bedouin women use the colorful powder as makeup.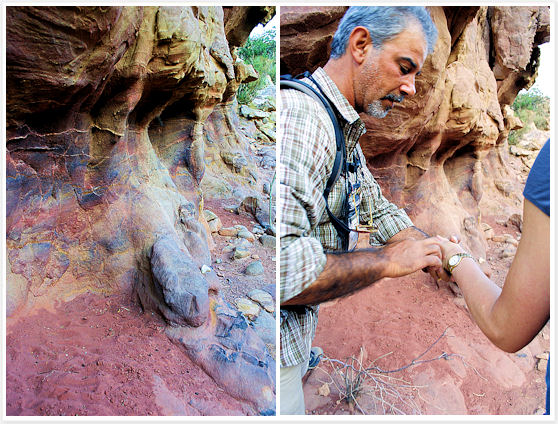 Walking in a narrow gorge and looking up at the walls is the best way to fully appreciate the entire color range… and to enjoy some more of Abu Zaid's dance moves.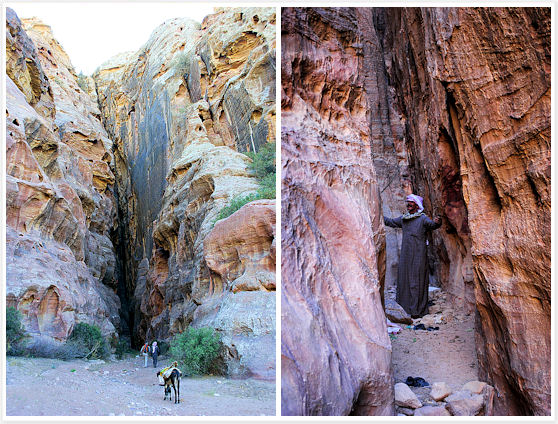 Scattered  over the ground were small acorn nuts fallen from a nearby tree – no squirrels around to consume them here, though we've been told Bedouins have been using the nuts to treat men's infertility for quite some time…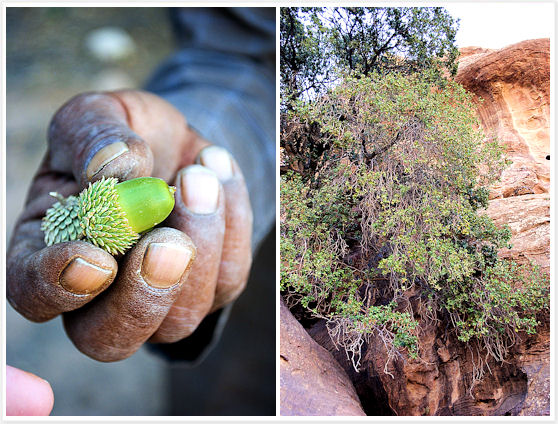 By mid-morning the signs of civilization were increasing with abandoned tools lying around and soon the view of our first tourist facility since four days, The Rock Camp.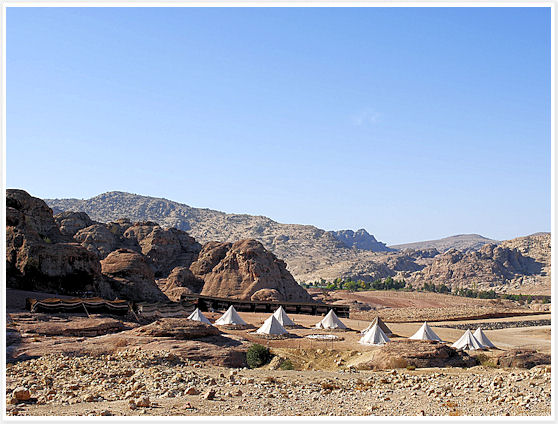 A bit further out we passed a few more farms, a water treatment facility and a concrete road… we were definitely no longer in no man's land!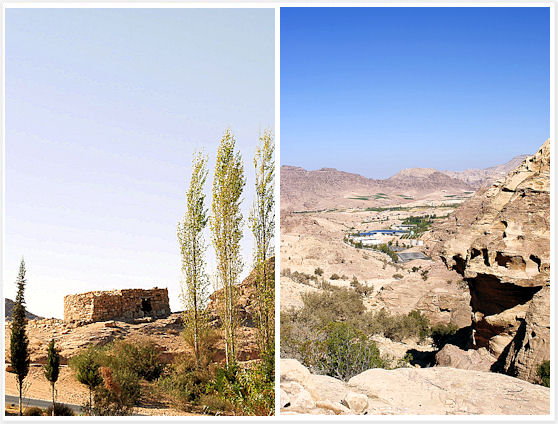 We kept on climbing for a while until we came to a most joyful view – our Bedouin camp for the night laying there at the bottom of the valley, waiting for us less than an hour's walk away.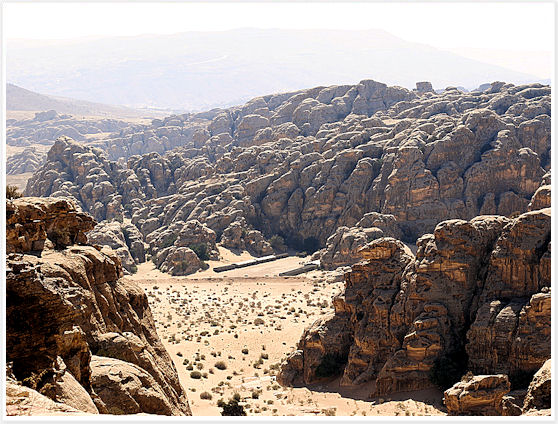 We hiked down zigzagging through small boulders and sandstone domes for a short time before reaching the bottom, still over 1000m in altitude.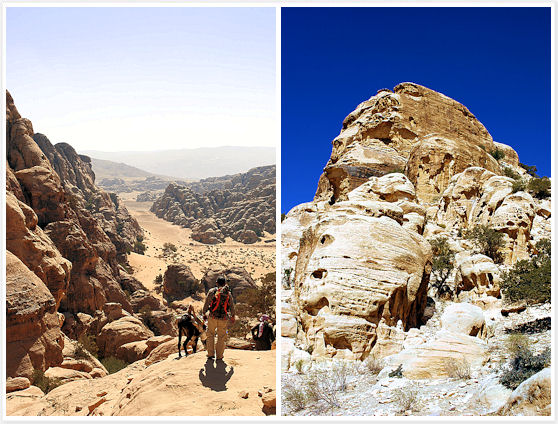 Our first sand dune was a vision of beauty, yet our tired feet preferred not to climb it this time and we went around to quickly reach camp.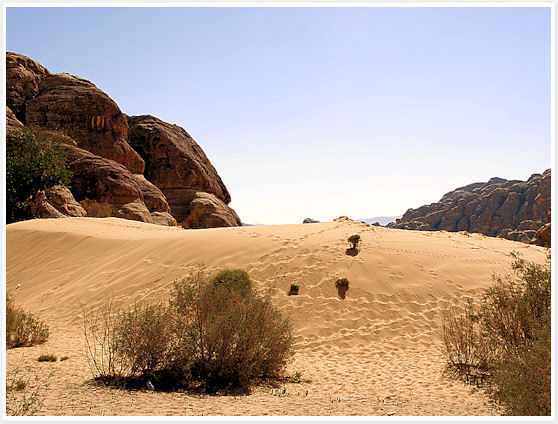 The Ammarin Bedouin Campsite welcomed us in a beautiful and tranquil setting at the foot of the cliffs. Run by the Ammareen tribe, the site exudes traditional charm with a series of the typical long, low Bedouin goat-hair tents that would house us for the night and plenty of communal areas to linger, stare at the gorgeous surroundings and partake in the familiar hospitality of our hosts.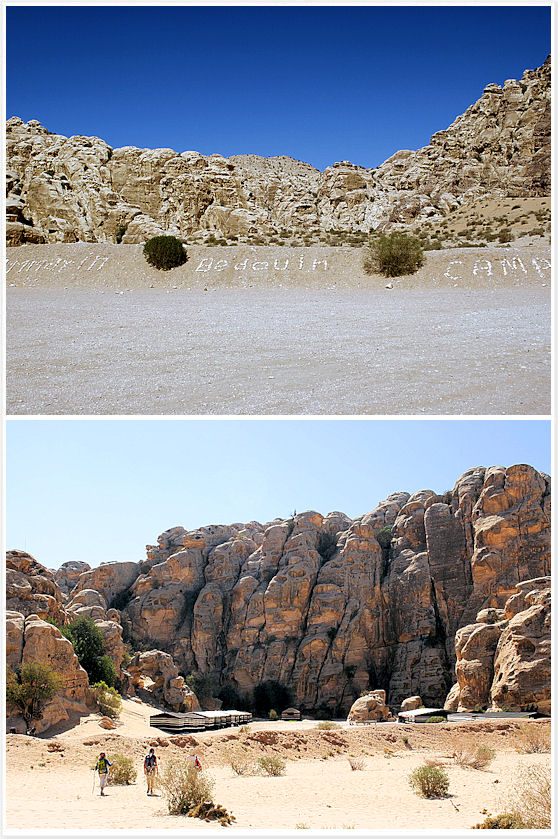 Lunch in the shaded courtyard with cushions on the floor and tea served in real glass felt like a real treat and a 4 star hotel experience after the last few days.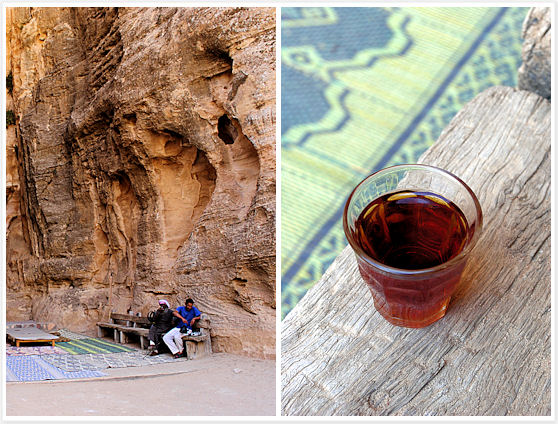 We didn't linger for too long though as we wanted to visit Little Petra (Siq al-Barid) which was only a 10 minutes walk from the camp. Meant to be sort of a teaser before tomorrow's big day, Little Petra has quite a lot of character itself and is definitely worth a tour, its quietness leaving you free to wander around and fully appreciate the site without Petra's notorious maddening crowds.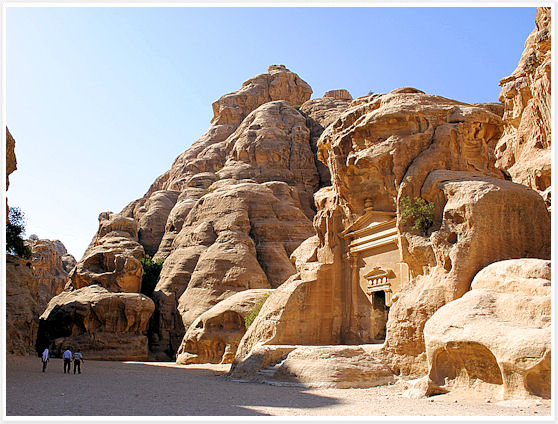 The striking facade of the temple on your right as you enter the site is enough to stop you straight in your tracks. Such grandeur in the middle of nowhere is bound to provoke a certain awe and make you seriously think about those Nabatean who lived here a long time ago and built all this. Their presence is felt in every corner and you'll soon look at every carved holes and quaint rock-cut stairs as the cutest hobbit-like habitations there is.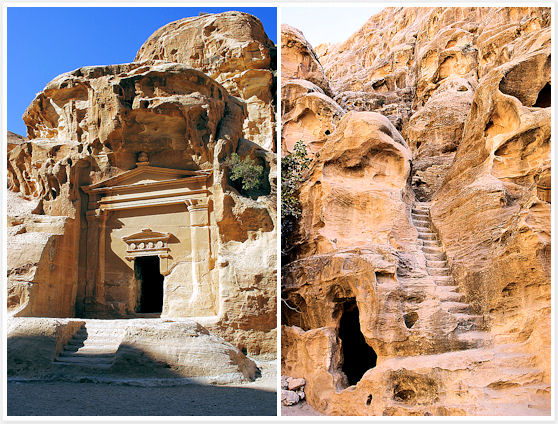 Once you've walked through the narrow Siq and properly entered the 'city', you realize how it got its name of 'Siq al-Barid' which translates to 'cold siq' – there's not a trace of sun that reaches inside.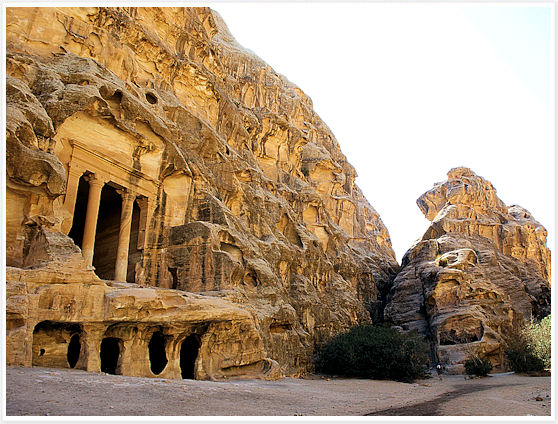 The whole area isn't more than 350m long and the first section showcases another temple fronted by a large portico, sitting on top of a little house.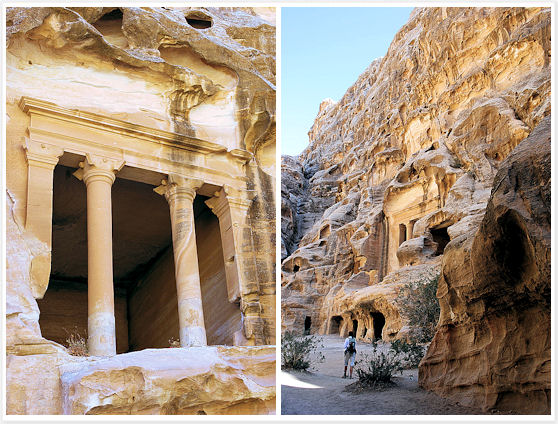 Further down is probably where most of the action took place. The density of carved houses and triclinia (dining rooms) is such that you can almost hear the hustle of the passing merchants being wined and dined here on their way to Petra many centuries ago.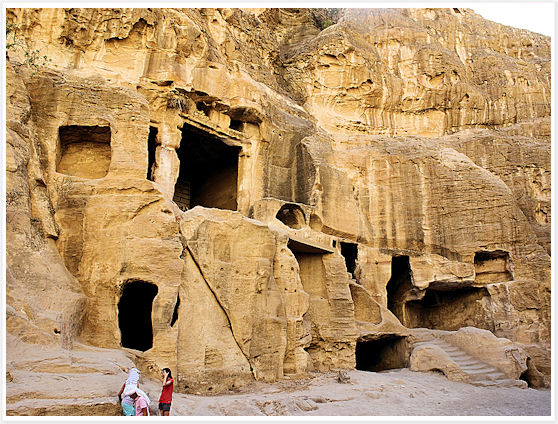 Needless to say this visit really revved us up for our tour of Petra tomorrow and it's with an excited grin that we made our way back to the Bedouin camp late afternoon. I must admit our excitement was also provoked by the prospect of taking at last our very first shower in 5 days (!) as the camp had running water. What we failed to enquire about though was that the hot water was only turned on in the evening so in our urge to get cleaned up we courageously suffered through an ice cold shower… invigorating to say the least! We prepared our 'rooms' for the night which consisted of sections separated by curtains with reasonably comfortable mattresses set on concrete floors.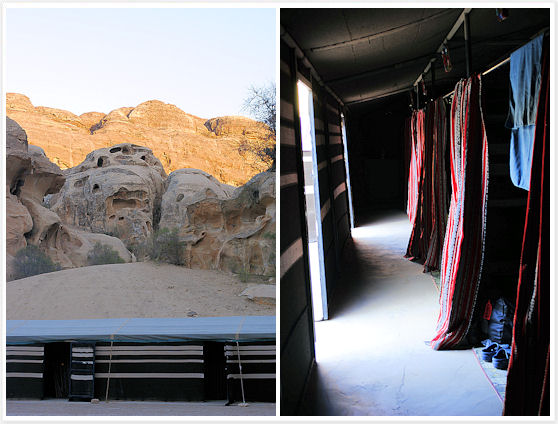 Pre-dinner hours were spent at leisure doing the usual reading session around the fire and watching the camp's evening lights slowly adorn the place with a festive atmosphere.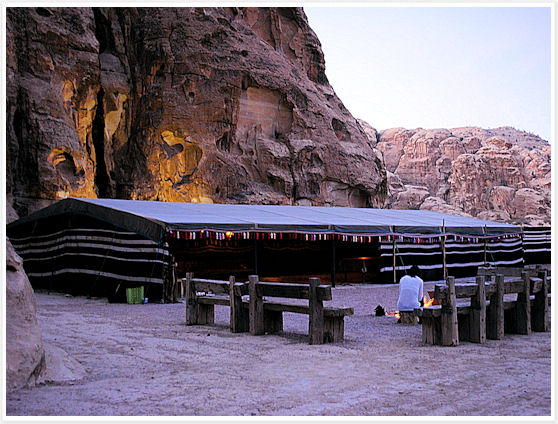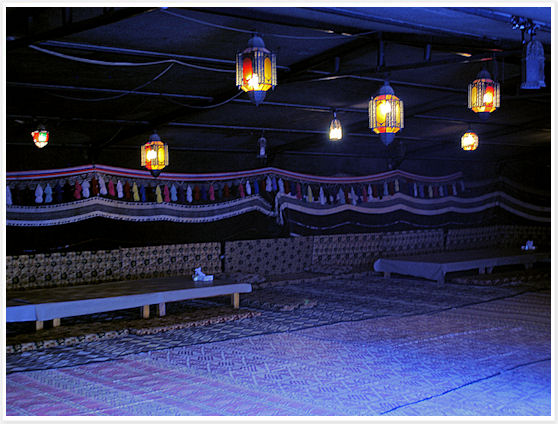 Dinner was taking place in the large communal tent with other guests and that night we feasted on a traditional and hearty maqloobeh – an upside-down dish of chicken with rice.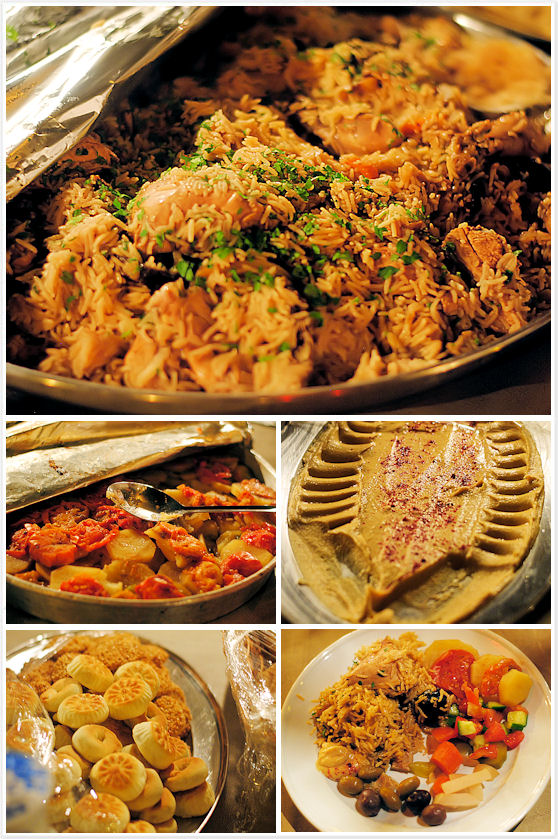 To add to the festive atmosphere, the dinner ended with the camp's manager playing the rababah (Arabic fiddle) and singing a popular Bedouin song which would continue to haunt us for the rest of the trip…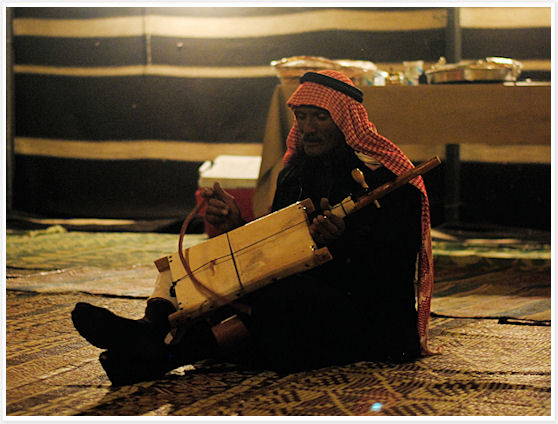 The party kept on going but as we had a big day tomorrow, as usual we called it an early night and went to bed to the sound of Bedouin music.