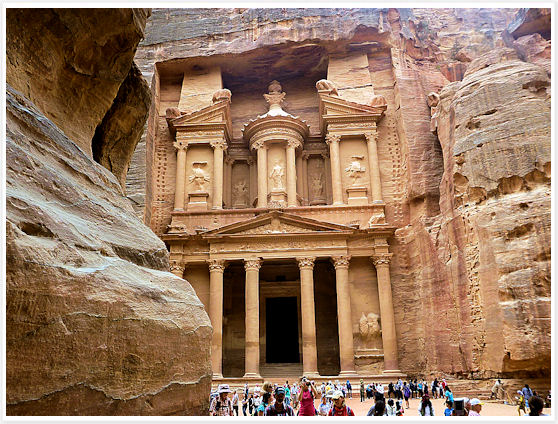 After my best night of the week (those Bedouin goats hair tents are incredibly dark and cool), it's fully revitalized that I joined the others for a hearty breakfast of bread, cheese, labneh, and za'atar before heading off to Petra. Of course, this being a trek we still had a good 3 hours walk before reaching the famous city so we got off to a good pace, high up in the quiet mountains.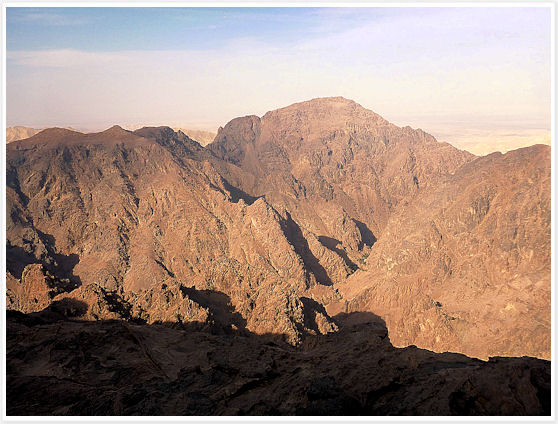 There was little traffic apart from the occasional donkey though we did have to cross a road in front of a cheerfully painted truck…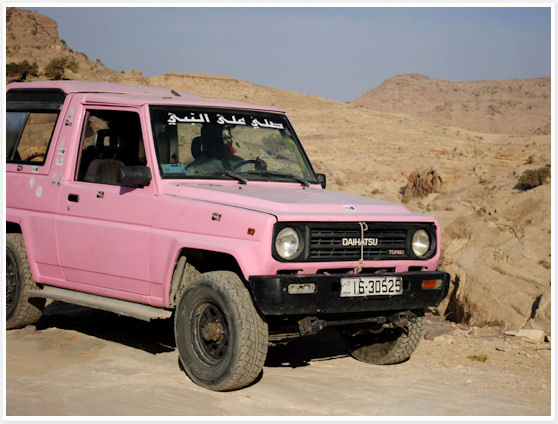 After a few hours walking a mostly flat trail, we arrived at an ancient stairway carved into the mountain leading way up – the back door access to Petra. It felt like a privilege to take this path which sees little tourists as its access is out of the way and has a tricky bit most tour companies deemed too unsafe to cross. We essentially had to walk on a 3-inch wide ledge over a steep fall at some point, not for the faint of heart but we managed it pretty well and the reward is so worth it!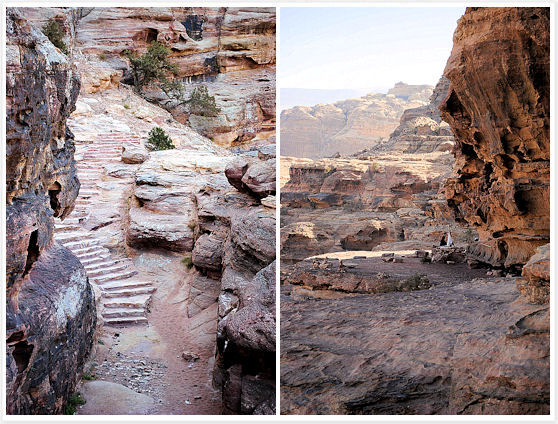 Some forgotten toys and tables made for a pleasant break in the middle of our climb.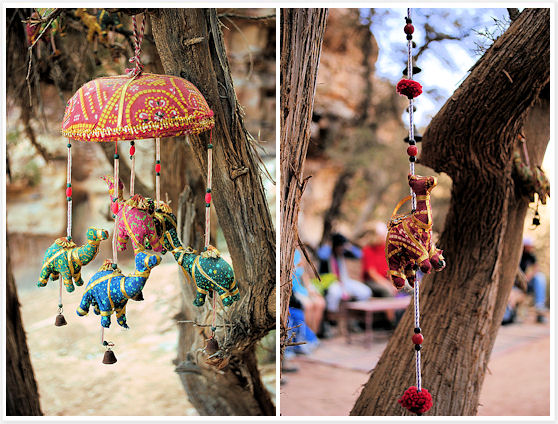 After a few more sinuous and sharp turns along the red-colored cliffs, we were suddenly stopped in our tracks as the exquisite facade of the Monastery (Al Deir) suddenly appeared right in front of us.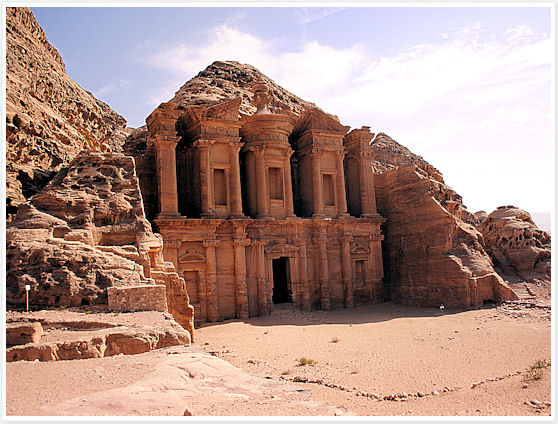 To go from staring mostly at mountaintops and rock cliffs for hours to standing in front of Petra's grandest monument is simply breathtaking. Seeing as we had the place almost all to ourselves, the whole purpose of what we had been doing for the past five days struck us there and then. The conclusion of almost a week of walking in the rugged wilds of Jordan to reach this stunning city made perfect sense now and was so worth it we wondered why there was just a handful of us standing there.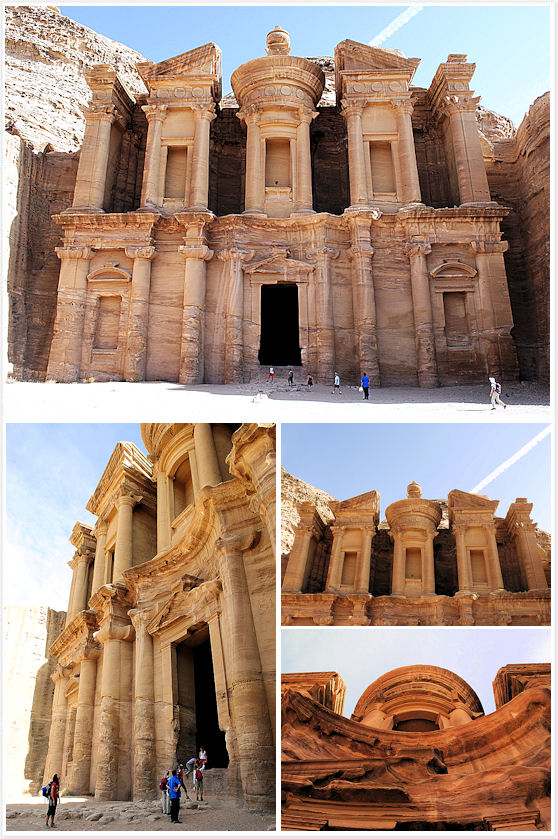 Flushed with excitement, and after bombarding the imposing facade with our cameras, we circled the Monastery, looking at his 50m height in full admiration from every angle imaginable (hint: it doesn't have a bad one!). There's a comfortable cafe just in front if you want to take in every details, the beautifully hand-carved columns, the graceful signs of aging of the colorful stones, the enormity of it all… An astounding sight.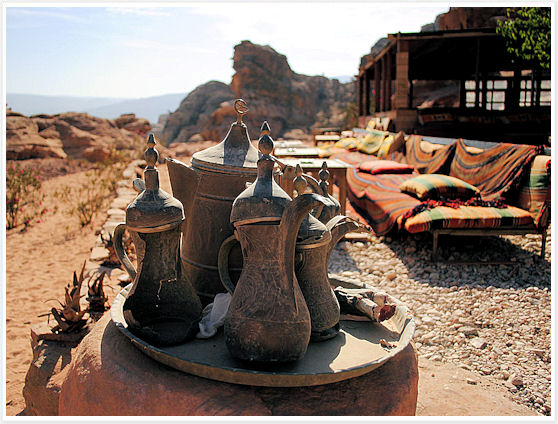 The beauty of seeing the Monastery first is that the rest of the visit is on the way down… Regular visitors to Petra must climb over 800 steps in the blazing sun to get up there, some opting for what looks like a very uncomfortable donkey ride and others valiantly sweating it until the very end. As we started going down and the view opened up in front of us, we were stunned by the sheer size of the city laid out below – it is massive!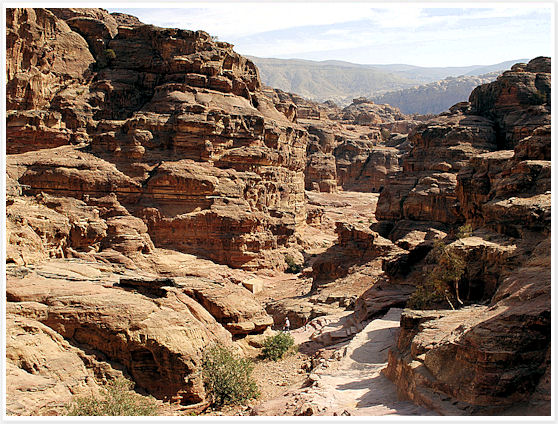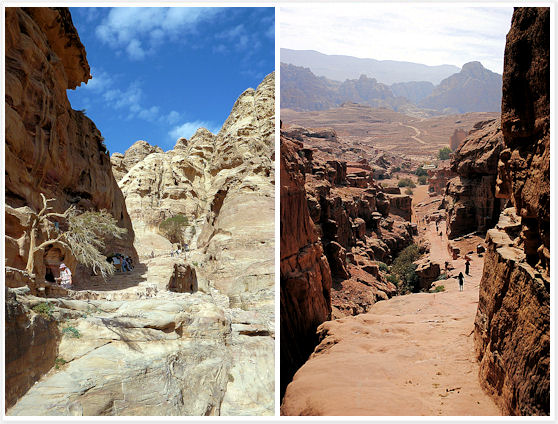 The ground level is where city life was concentrated and everywhere you look around will be former cave houses and little shops.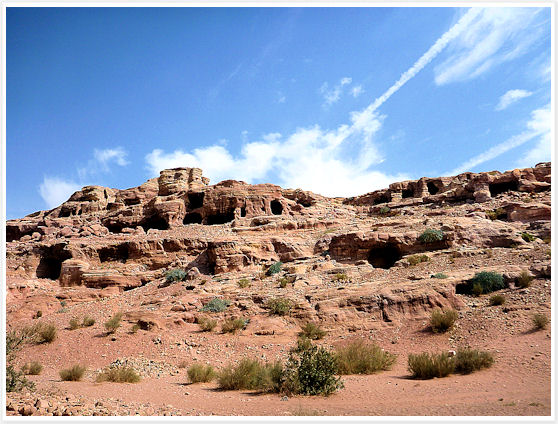 The central path led us right in the middle of the vast city center where we got a sweeping view of Petra's natural drama and unforgettable grandeur – no wonder it inspired legends and made Unesco's World Heritage Site list. It's impressively gigantic and you know there's no way you can see it all in one day so if you only have a few hours, you do like us and admire the stunning sandstone buildings from the main road with little to no down time!
The first building to stand out as we made our way down is Qasr al-Bint (or 'Palace of Pharaoh's Daughter'). It's the only freestanding building in Petra to have survived the numerous earthquakes and floods over the centuries and is thought to have probably been the main temple of the city.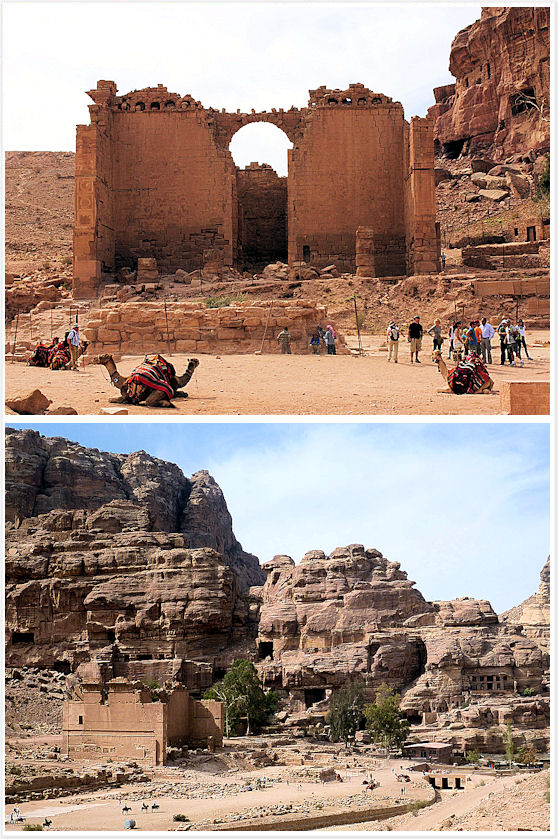 Next to it stretches the Colonnaded Street, a beautiful street lined with columns and flanked by temples, public buildings and shops. There are still many ongoing excavations and you can easily picture Petra in its prime and fill in the missing houses all around which are probably buried under tons of sand. Must have been quite the downtown area back in the days…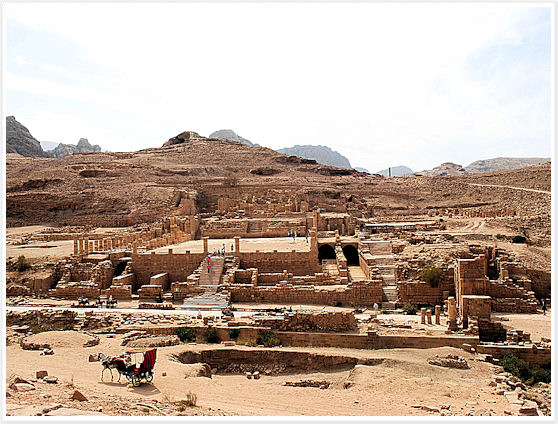 At the end of Colonnaded street (or the beginning for most people since we're doing the path in reverse, remember!) you'll find some of Petra's most impressive facades known as the Royal Tombs which still look magnificent despite the obvious erosion.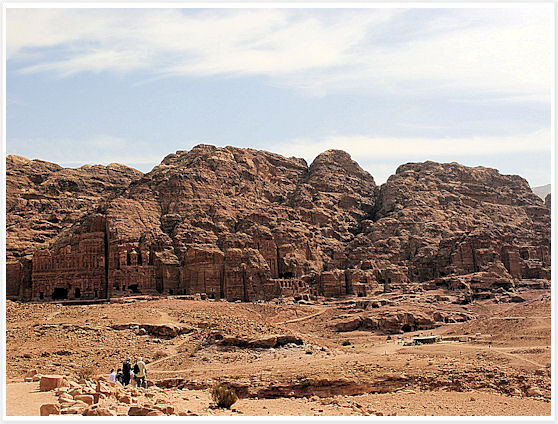 They're an ideal backdrop for a photo and for the occasion I had donned my perfect replica of Indiana Jones' outfit, making me feel very much in tune with the place – the large brimmed hat and loose long sleeves seemed like the only decent thing to wear in this crazily hot city!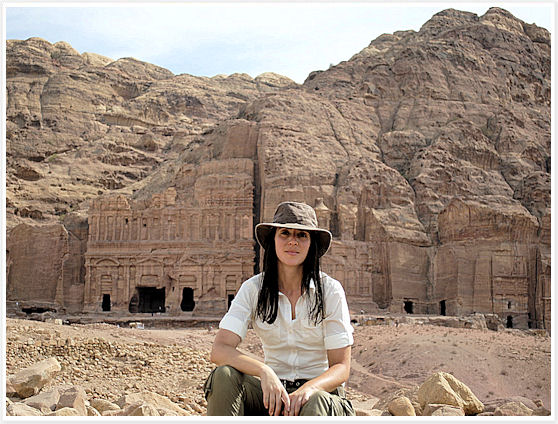 Walking in front of the impressive tombs and their stunning colors as you get up close, you soon end up in the middle of an energetic plaza where merchants and tourists happily mingle. Although the Bedouins no longer live in the city their presence is everywhere, having been given sole rights to run the various tourists shops and rides on the site in return for moving out to a nearby village in the 80s.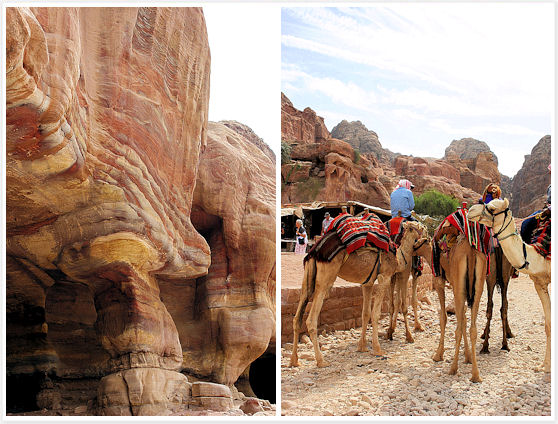 I knew about that already as I've always loved to read about my destinations prior to a trip and this time, among a stack of guidebooks and political essays, I thoroughly enjoyed reading a memoir titled 'Married to a Bedouin'. A New Zealand girl, Marguerite van Geldermalsen, while visiting Petra back in 1978, is charmed by the enchanting city and her Bedouin host and, as you can guess it, decides to stay in Petra and gets married. She raised her family while living in the caves on the Petra site with the Bedouins (i.e. until they were asked to move) and reading her stories really helped me picture perfectly how it was back then and how the Bedouin lived which was highly useful for this trip.
Well, as luck would have it, Marguerite was there that day, selling handmade Bedouin jewelry by the side of the main road and telling her wonderful story to her readers like myself, which there were a lot of! It was great to meet her and see that despite losing her husband many years ago she still very much felt at home in Petra.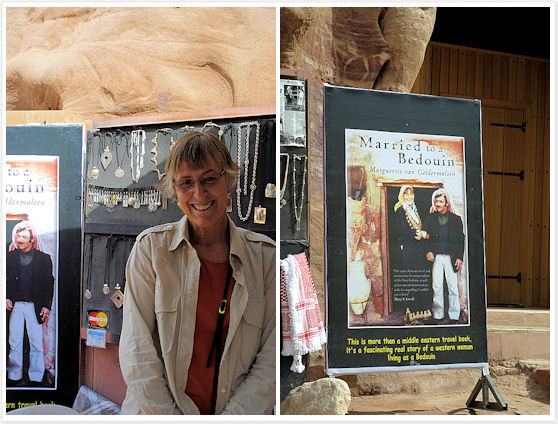 Back on the main path, we passed many little shops and cafés and stopped in one to have lunch, facing the massive Roman Theater which used to hold as many as 8500 people.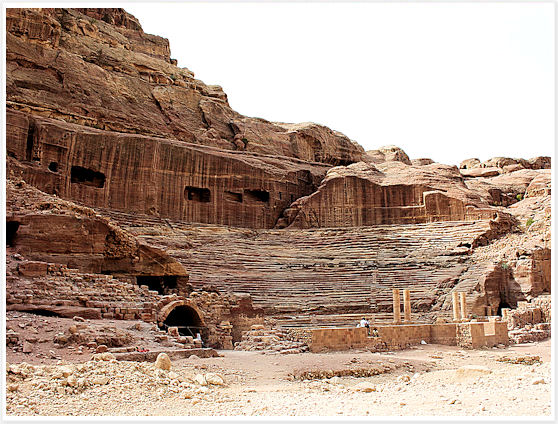 Past the theater on the way up is a broad path called the Outer Siq (or Street of Facades), a large canyon lined with the facades of numerous tombs in varying states of erosion.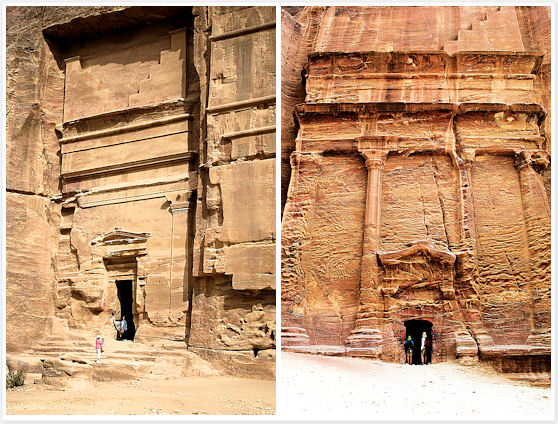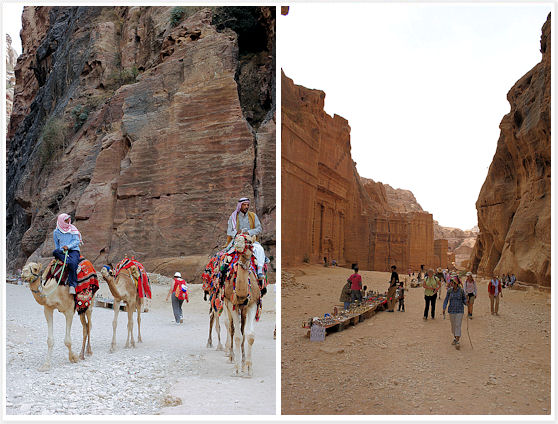 The Outer Siq eventually ends at yet another bustling plaza, but this time it's the one we've all been waiting for. As you slowly emerge from the shaded corridor and turn your attention to what everyone's staring at on your right, nothing can really prepare you for the dramatic effect of seeing the Treasury for the first time.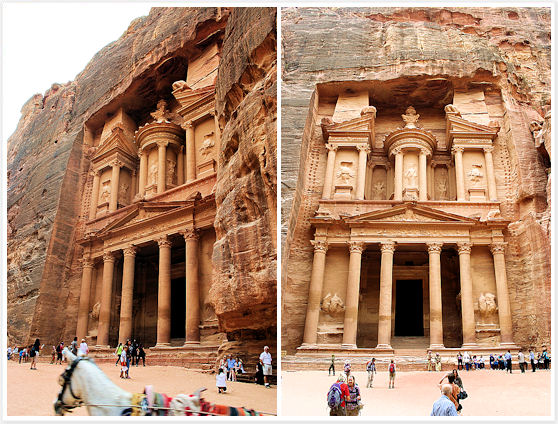 Famous for having been featured in Indiana Jones and the Last Crusade, the Treasury is designed to impress and will leave you with lasting memories for the rest of your life – it is after all the pride and joy of Jordan. Although smaller in size than the Monastery from this morning, what strikes you is how well preserved it is and the ornate details of the carvings on the facade which are still crisp and discernible even after two thousand years. Its location clearly protected it from wind and rain throughout the centuries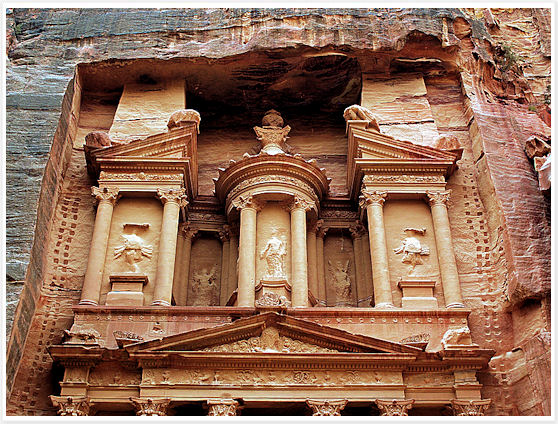 It takes some time to take it all in, and to find a way to fit the gigantic structure into your camera's viewfinder. When you're ready to go, there's only one way out and it's through the Siq that is right behind you. The ancient main entrance into Petra, the Siq is an impressive 1200m long, deep and narrow gorge and a stunning frame for a few last photographs of the Treasury.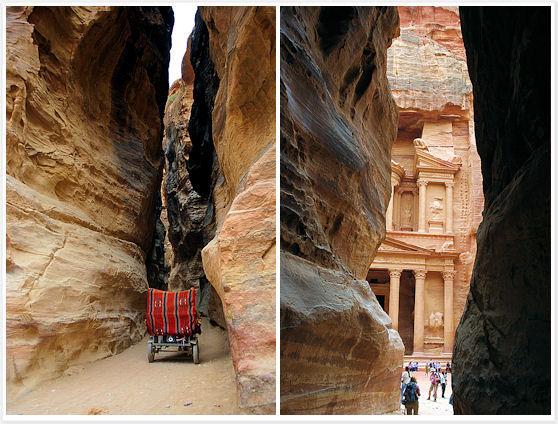 Even here the natural beauty of the site is stunning as you slowly make your way up the Siq between soaring cliffs and get to witness remnants of this highly trafficked passage such as water channels cut through the cliffs, dams, votive niches, carved shrines, etc.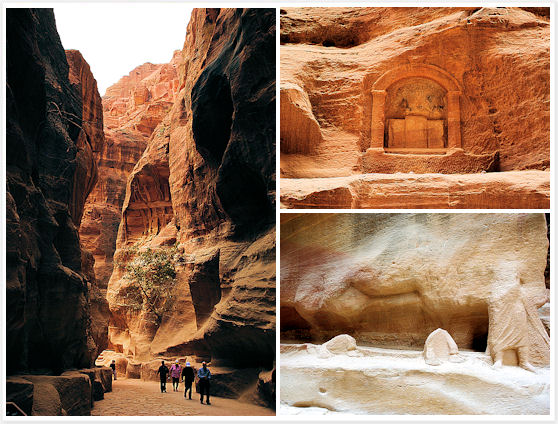 Bizarre-looking rock formations are dotting the path, leaving your mind wander even more than it already is…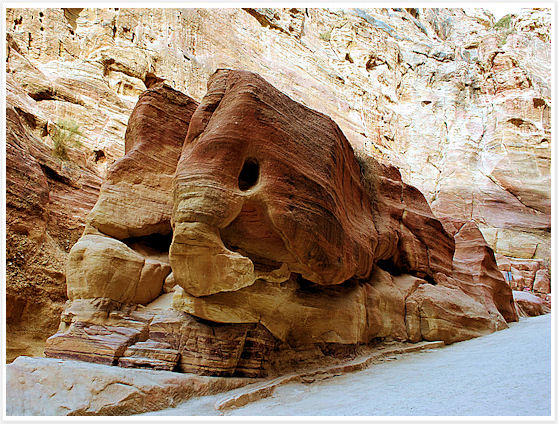 Bright daylight will greet you as you finally exit the Siq onto a large plaza flanked by a souvenir shop and tons of horses ready to take you to the main gate of the site, which is still about 800m away. Before getting on our four-legged rides, we checked out the shop which was known for carrying myrrh and frankincense as well as a bunch of other souvenirs and antiques.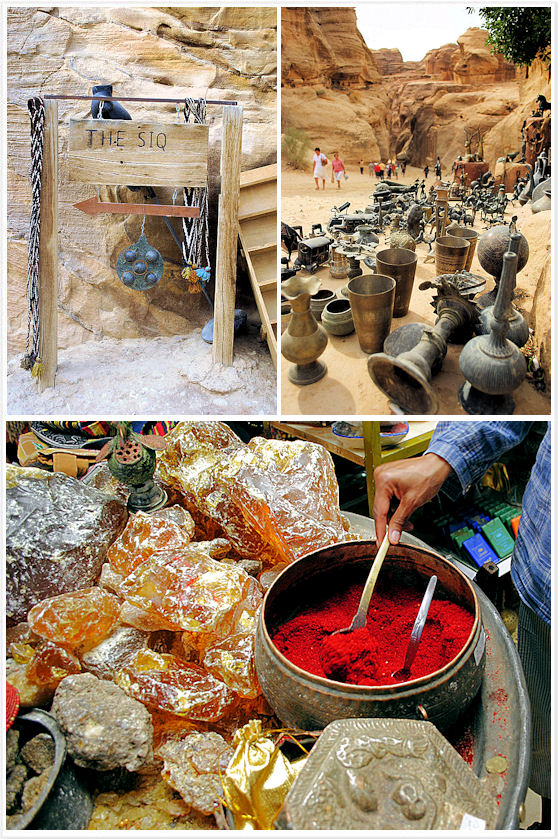 Leaving Petra, we checked into our hotel (yes, we were sleeping in luxury that night) and quickly got ready for our late afternoon treat – a Turkish bath. Our guide Awad knew just the place to go, called Salome, for an authentic experience and to soothe our aching muscles. It was like nothing I've ever experienced before and better to leave the surprise (!), but let's just say it was a succession of steaming sessions, cold water slapping, intense scrubbing and oily massage…we all felt reborn afterwards and ready for some more adventure.
We had big dinner plans at Deeretna restaurant and I was thrilled to be able to try Jordan's national dish, Mansaf. A large platter layered with a thin flatbread is filled with rice and big pieces of lamb, then garnished with almonds and pine nuts. They then bring to the table a fermented yogurt sauce which you pour all over the dish before eating it.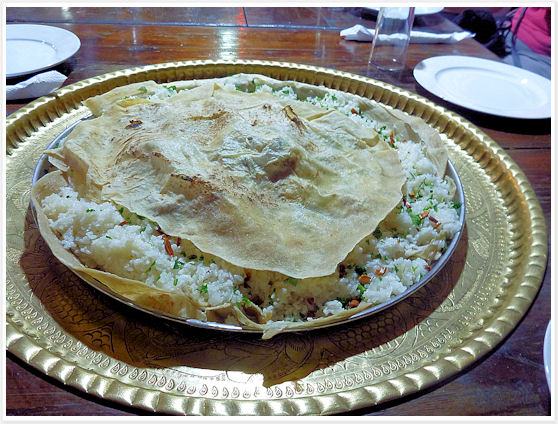 There is a trick though: no forks and knives allowed so we had to learn their way of eating with our hand (right one only) out of the same platter, communal eating at its best! The technique of rolling the sticky rice in one hand to form a nice looking ping-pong size ball before popping it into your mouth without your fingers ever touching your lips is harder than it sounds…and took a few attempts to master, if we ever did.
Nevertheless, the dish was out of this world and my favorite of the trip. Too bad this fermented yogurt sauce seems complicated to replicate at home, I'll have to try and find a substitute as this is just too good. And very filling. I wondered how much rice can one person really consumed but then I got reminded of the 80km+ we had walked this week so it's all good…bring on the carbs!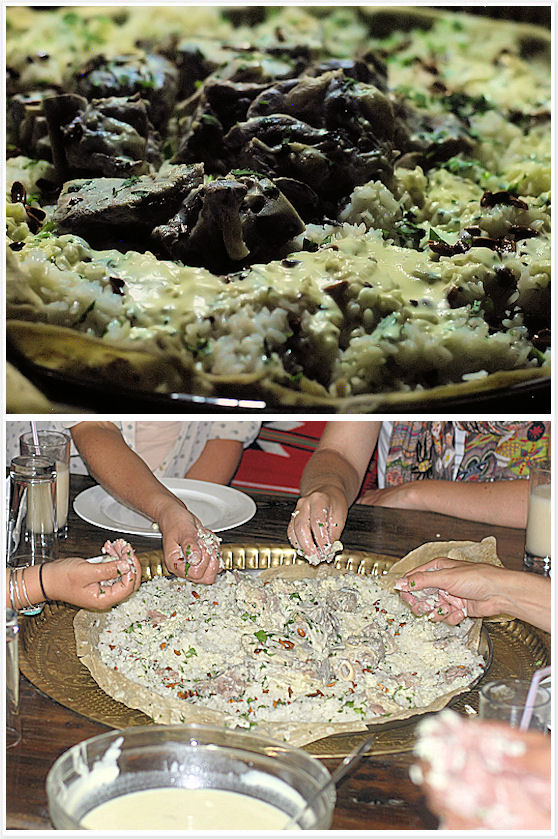 We had one last thing to do before concluding this amazing day – see Petra By Night. It is essentially a candlelit walk along the pitch-dark Siq and is truly magical. You walk in total silence surrounded by hundreds of candles placed a few meters apart lighting your way, the moon shining above, and the breathtaking vision of the Treasury plaza basking in the warm glow of flickering candles illuminating its facade soon emerges in front of you.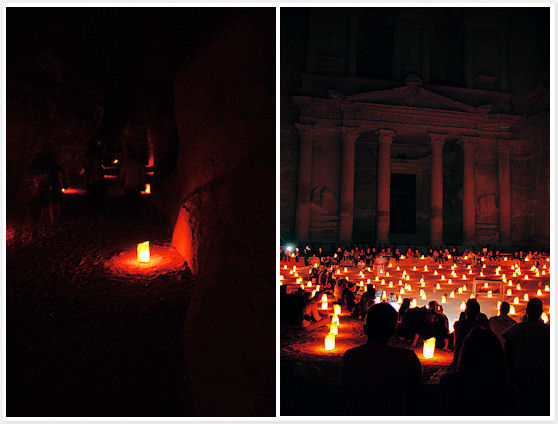 You take a seat and indulge in the sights and sounds of the show, which consists of a few Bedouin musicians playing various instruments and a local guide telling a short story of Petra while you're being served tea.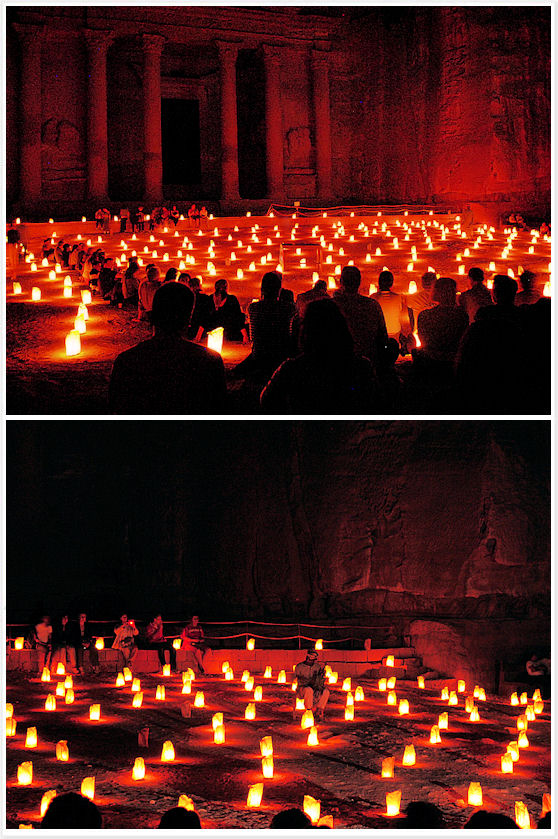 It doesn't last for very long but the effect is everlasting and the walk back up the Siq like a slow procession is somehow the perfect atmosphere to end this historical day.