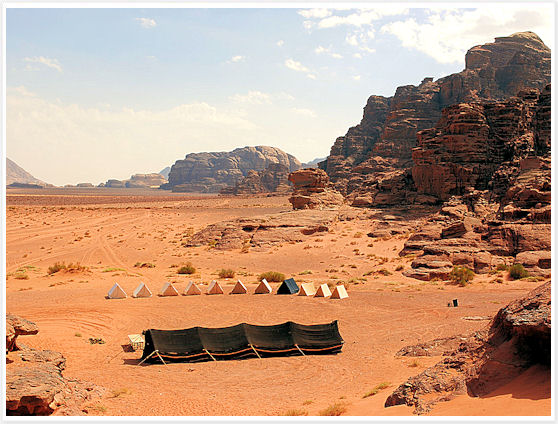 About 1.5 hours drive from Petra in Southern Jordan lies the vast and spectacular semi-desert of Wadi Rum. Also known as The Valley of the Moon due to its moonscape resemblance, the breathtaking scenery has made it the most stunning desert space in the world. Uniquely shaped massive mountains rise vertically out of pink desert sand and you can't help but feel as if you were on a different planet, slightly dwarfed by the immensity of it all.
Less popular and visited than Petra, Wadi Rum is best known for its connection with the enigmatic British officer T.E. Lawrence, who was based here during the Great Arab Revolt of 1917-18, and as the setting for the film that carried his name "Lawrence of Arabia". Whether you come here as a history buff or an outdoor enthusiast, you'll be rewarded with the chance to experience desert life and Bedouin culture in its most natural state as the whole area is totally unspoilt with barely any infrastructure in sight.
The only infrastructures you'll see are concentrated in Wadi Rum Village which is the only village inside the protected area and consist of a few shops and a school. It's also from there that most tours start so you'll inevitably have to pass through it.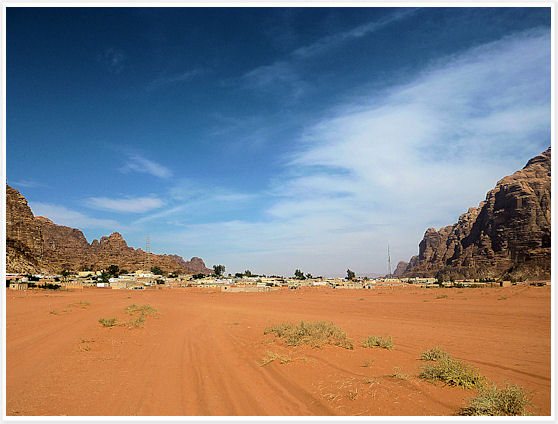 The main attraction of Wadi Rum is the desert itself which is best seen by four wheel drive, on camel or by hiking. While some visitors only spend a few hours here, it's definitely worth taking a guided trip for a few days and staying overnight in Bedouin camps – quite a memorable experience. All the people living in and around Wadi Rum are of Bedouin origin and have for the most part slowly made the switch from their past nomadic lives to living off eco-adventure tourism, now their main source of income. We met with our Bedouin guides in the village and hopped in our trucks for a very scenic drive.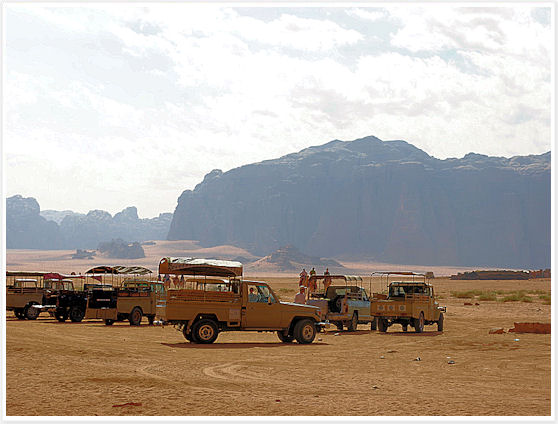 Everywhere you look are huge mountains of sandstone and granite against a bright blue sky, creating more photo opportunities than you can manage.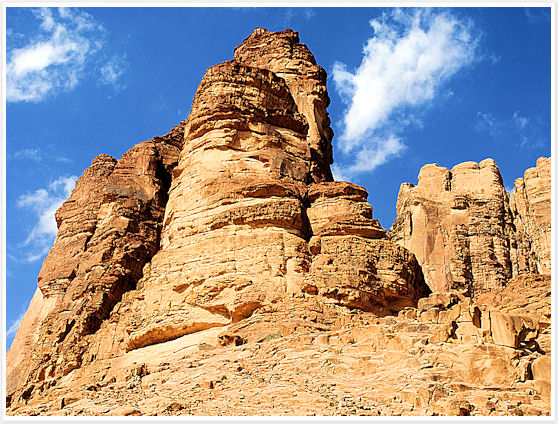 What really caught my eyes though were the giant red sand dunes, too pretty to resist. Sloping up alongside an equally vivid mountain, they're a tough but really fun climb (hint: use small steps) and the run down towards the open valley is pure, unadulterated joy.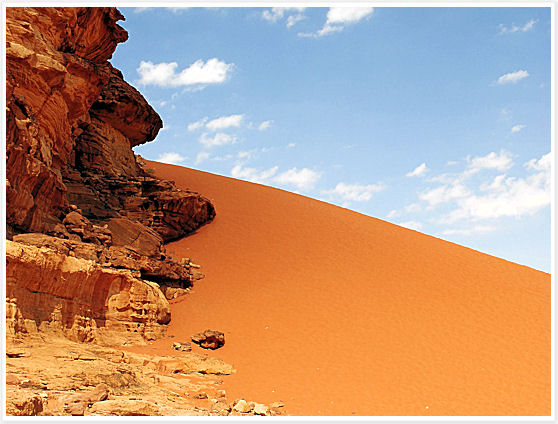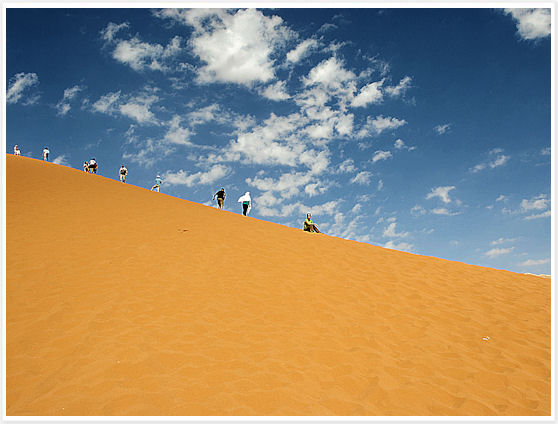 The view from the top isn't all that bad either and makes the cardio workout pay for itself.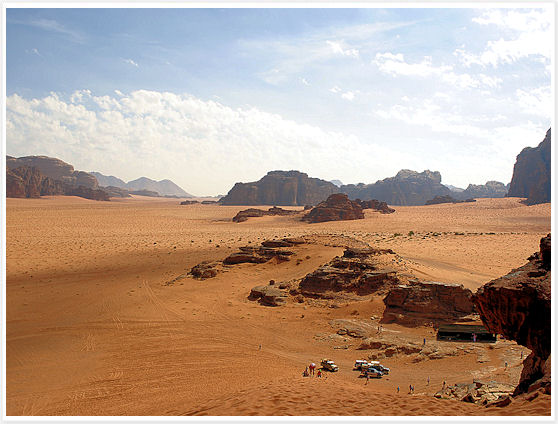 Camels had become a familiar sight on this trip but never had they appear to fit in so well than amidst the dunes and cliffs of Wadi Rum.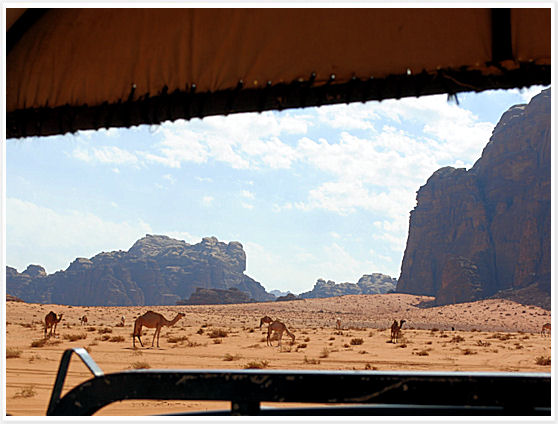 As you get closer to the cliffs, their intense red-orange color is nothing short of mesmerizing and you start noticing their other qualities too such as their ability to grow trees and their eroded sides mimicking almost perfectly a giant mountain of melted ice cream… Nature is art.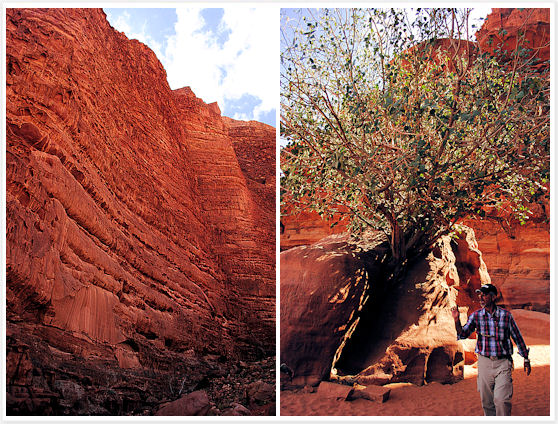 Narrow canyons and fissures cut deep into the mountains are worth exploring for their obviously very vivid palette but also to take a look at concealed ancient rock drawings etched thousands of years ago.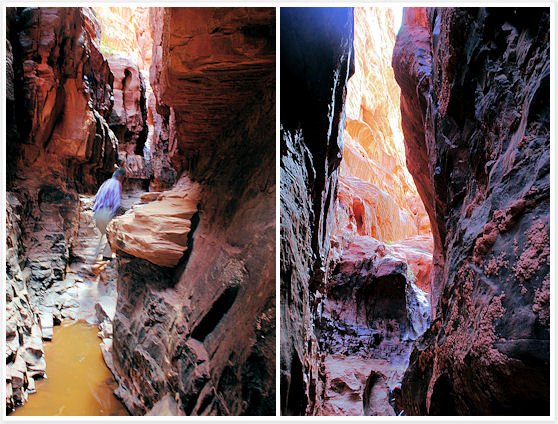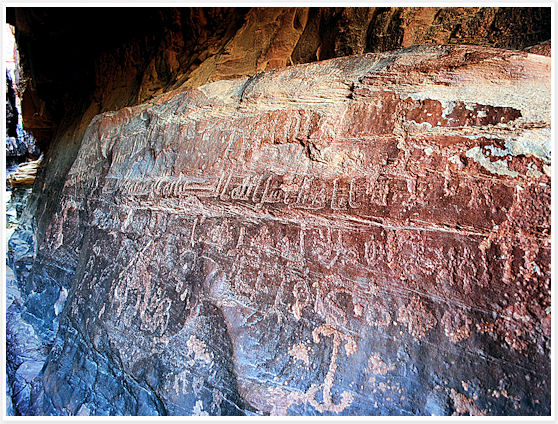 You'll see a lot of places in Wadi Rum where the white and red sands meet, adding to the already artistic landscape.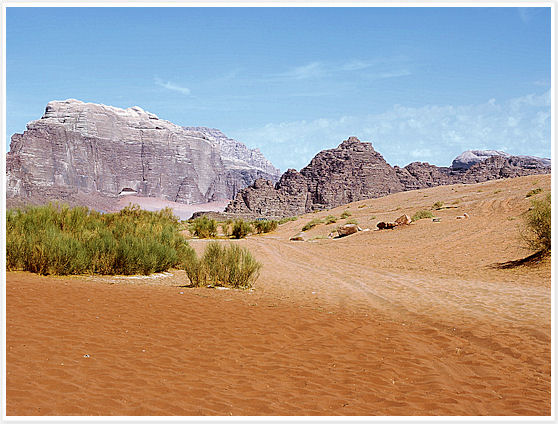 There are several rock bridges here that can be easily scrambled onto, and some that require a bit more work as you'll see shortly. They all make for pretty pictures essentially and a bit of exercise.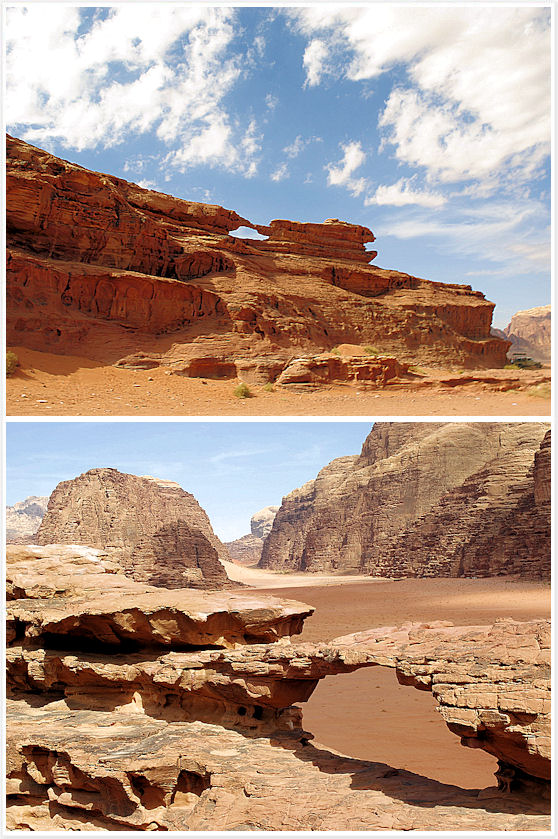 Walking through a canyon has become a real pleasure. Maybe it's the sudden closed quarters after being out in the open for so long, or maybe it's just the occasional shade and glimpse of sky that makes it special. This time we had been told lunch was being served on the other side so a reason more to enjoy the walk.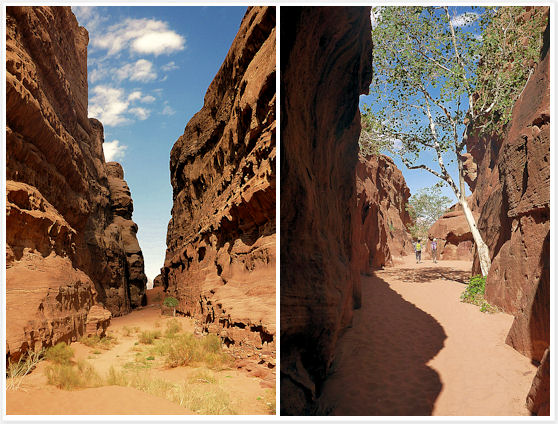 Of course, nothing comes easy to a group of trekkers so we had to manage going down through a section of rocks and boulders before finally seeing our guides in the distance, kettle on the fire and picnic blanket waiting for us.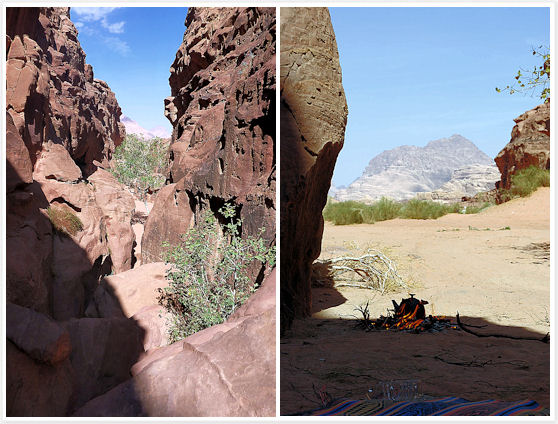 Then it was back on four wheels to reach our next destination.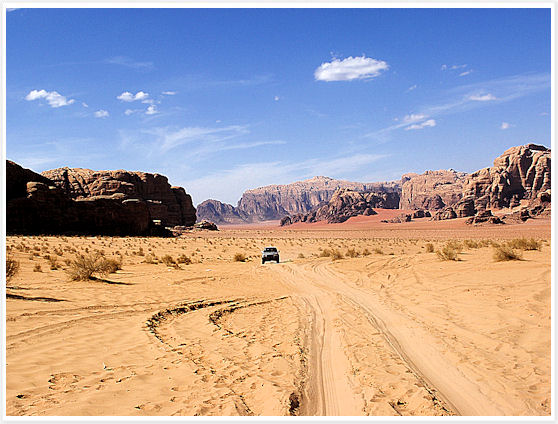 Burda Mountain is a must on any visit to Wadi Rum, and for anyone in relatively good shape, climbing to the Rock Bridge in the middle is an experience you won't forget.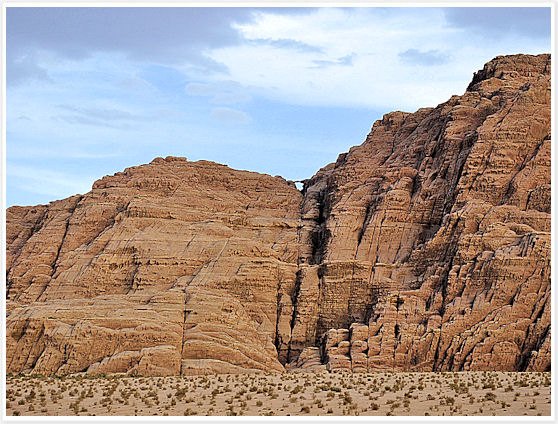 Provided you have a qualified mountain guide with you and a rope, this climb is wonderful and exciting and the views from the top are among the best in the whole area. The route is marked by arrows on the rocks pointing you in the right direction though at the speed we were going, the only thing we had time to see was our guide all in white jumping barefoot from one boulder to the next, us trying our best to keep up with his pace. It's a fairly moderate climb apart from a few bits on exposed ledges and extremely fun to do if like me you love using your hands and knees to propel yourself up steep and narrow passages.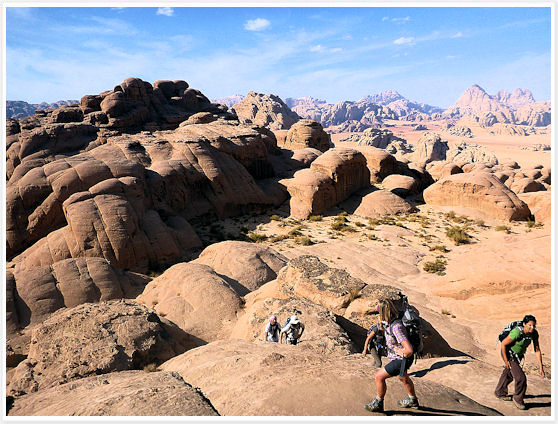 After about one hour and 1.7km of climbing up you finally see the stone bridge as you emerge just below it. A vertical cliff of about 3 meters high is all that stands between you and the top.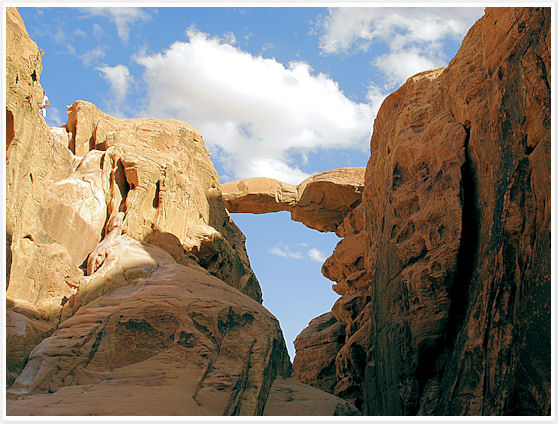 Our guide quickly set up a fixed rope all the while continuously smoking (Jordanians smoke like chimneys and frankly at this point we weren't sure whether to be impressed by their extraordinary fitness level or genuinely concerned for their long-term health!) and one by one we climbed up the slippery slopping boulder to reach the plateau at the top.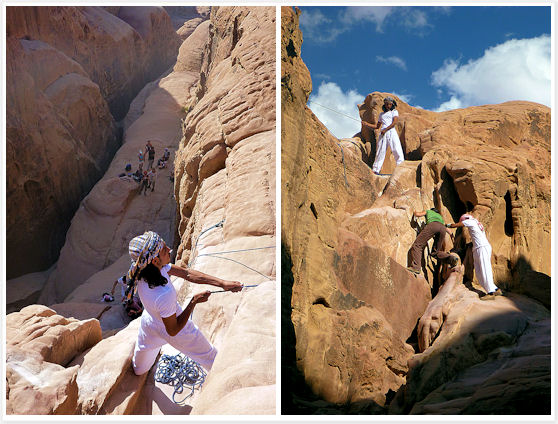 As expected, the view from the bridge was awe-inspiring…and slightly 'Mars-like'!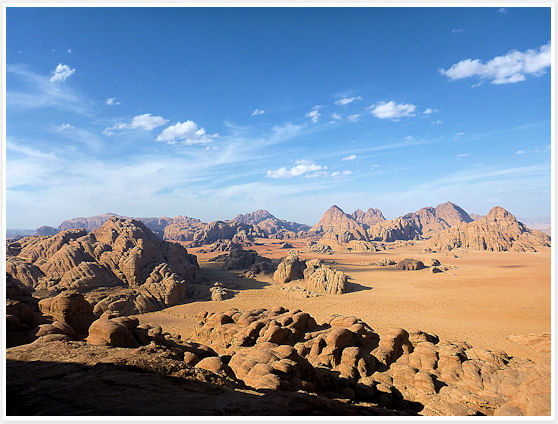 The way down is the same way though obviously it goes a lot quicker! We could see the sun starting its descent and were hurrying up not to miss the show as sunsets in Wadi Rum are famous. We picked up an extra trekker along the way too, an athletic local dog who befriended us and jumped in our jeep for a ride back to camp.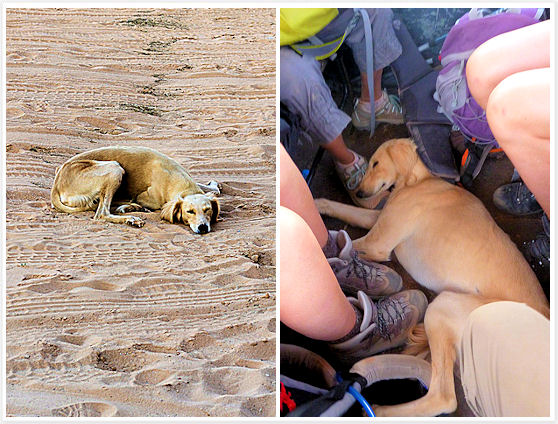 Tonight we were staying at Rum Stars Camp, a permanent Bedouin camp in the Burrah Canyon Area.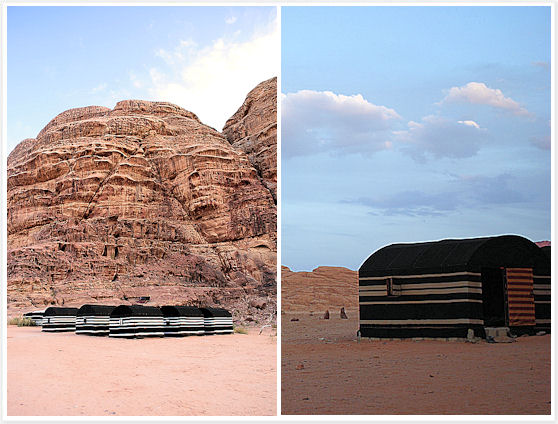 If you're looking for tranquility it doesn't get better than this secluded camp set at the foot of the cliffs. The now familiar goat-hair tents were smaller this time and offered some more privacy, the majority of them being for double or quadruple occupancy. There wasn't much time left for the sun to set so I immediately wandered around, camera in hand, trying to capture the magical play of light.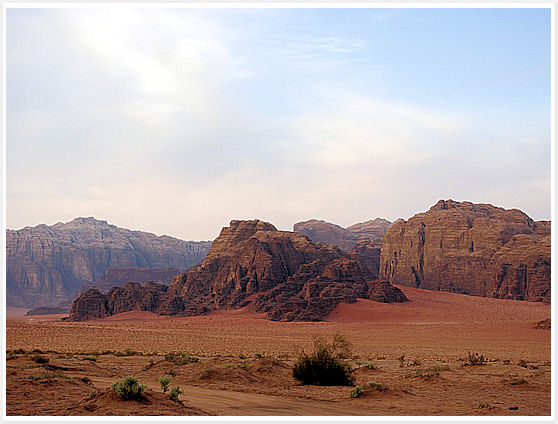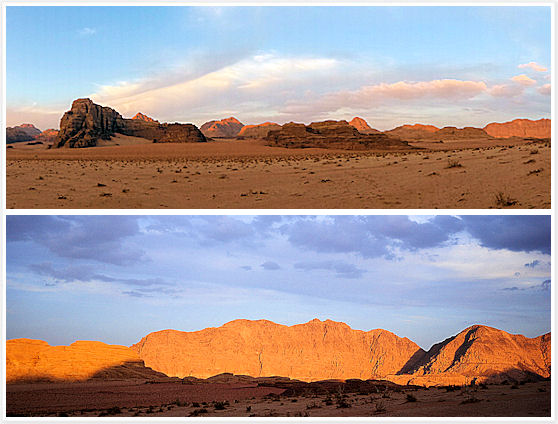 The communal tent was the perfect place for a bit of conversation and tea while waiting for dinner. Lounging on floor cushions by the fire with the sky slowly filling up with a gazillion stars above is one of those uncapturable moments only Wadi Rum can deliver…was I glad to be there!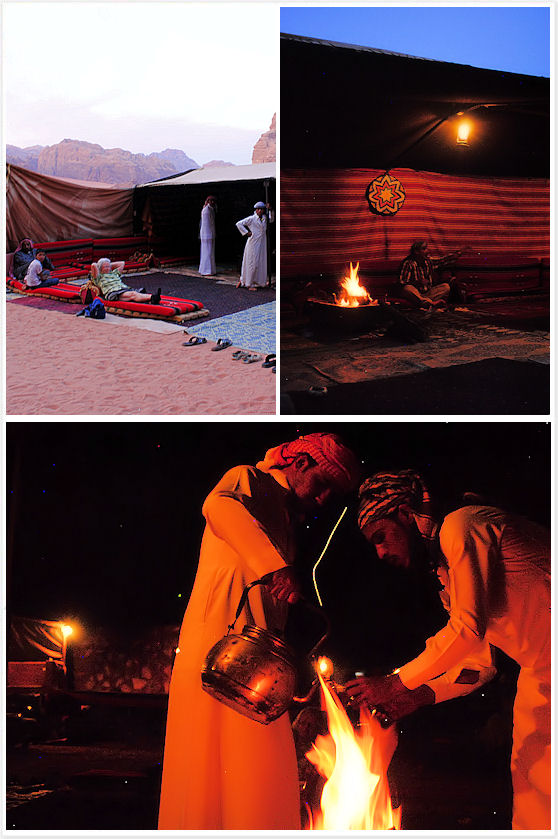 We got called for dinner or more precisely to watch our dinner being 'unearthed' in the backyard. Tonight we were to feast on our hosts specialty of 'zarb' – a Bedouin barbecue which consists of meat and vegetables cooked in an underground pit. The chicken was super moist with meat falling off the bones and had, along with all the vegetables, an unmistakable bbq flavour to die for.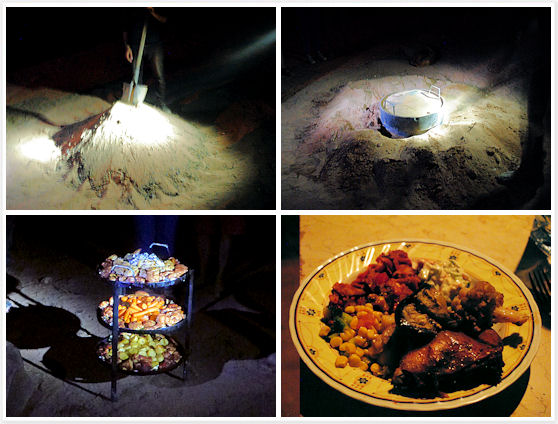 The rest of the evening was filled with traditional songs and dancing (yes, that famous Bedouin song from our first camp in Little Petra was the headlining tune!) but what I'll remember most is the sky as I was walking back to my tent. With no artifical light anywhere near, the sheer number of stars above is impossible to describe and the spectable was like nothing I had ever seen. I was tempted to bring a blanket and sleep outside but a little thought about the snakes and scorpions wandering around put a stop to it somehow…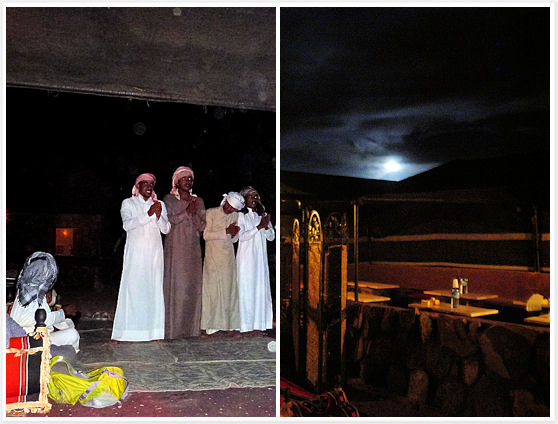 After the beautiful sunset of last night, Wadi Rum wasn't done impressing us with its jaw-dropping scenery as we stepped out early of our tents to admire the sunrise.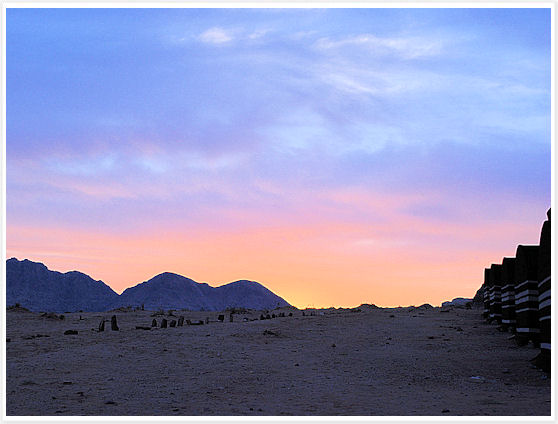 Breakfast was a spread of labneh, babba ghanoush, za'atar, local goat cheese, hard boiled eggs, sweet halva and bread.
Other guests were heading off on various tours of the wadi, some in jeeps and others opting for the slower pace of camels.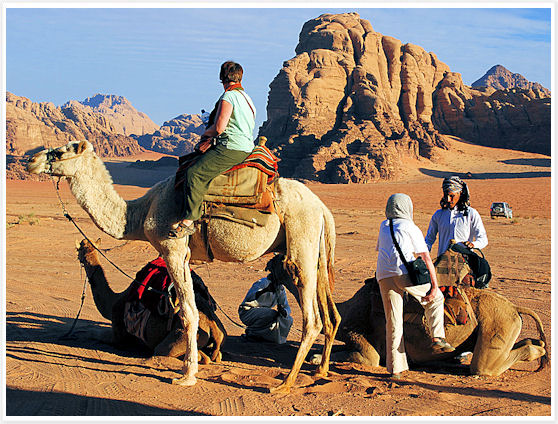 But not us of course! We had a 4 hours walk in front of us to reach the village where a bus would take us to the sea. Until then, it was a whole lot of gorgeous cliffs…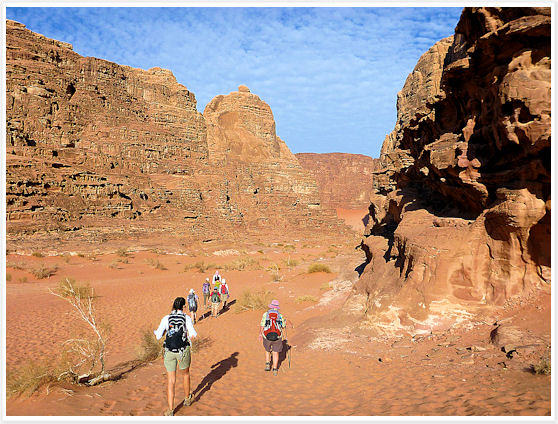 …red sand dunes…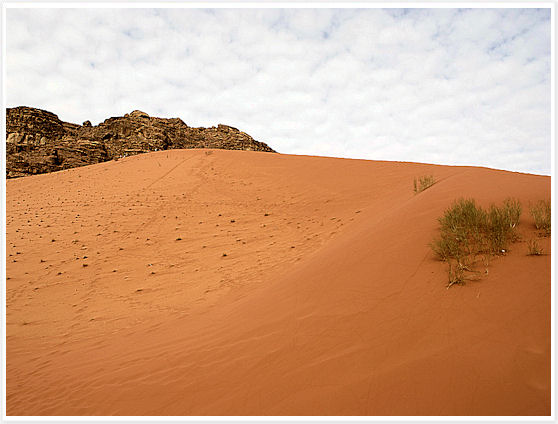 …camel tracks…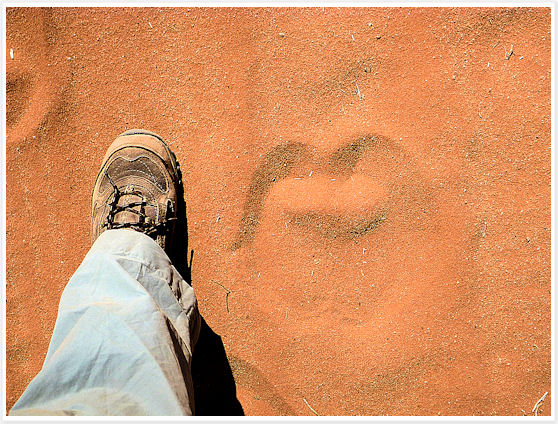 …and a bit more of that 'Nature is art' perception and feeling like walking in a surrealist painting. I'll keep on saying it but Wadi Rum was truly out of this world…