Weekends away are one of those precious things that make your stressful city life a lot more bearable, especially when they involve a warmer destination! I finally decided last week to visit my friend who moved to Atlanta and can say that the food, springlike weather, and southern hospitality made for a very pleasant time-off.
For those who think long brunch lines are synonymous with New Yorkers willing to wait hours for a filling hangover cure and decent eggs Benedict, I can say the trend as far outstretched the city limits. Both times we had to queue to get in a space that's usually twice the size of what you'd find in NYC. Granted, we had picked the best spots in Atlanta for our morning cravings, my top favorite one being Ria's Bluebird (421 Memorial Drive Southeast). A hippie diner opposite beautiful Oakland cemetery, Ria's Bluebird would be well at home in Williamsburg, NYC with its quirky charm and comfort food for the masses.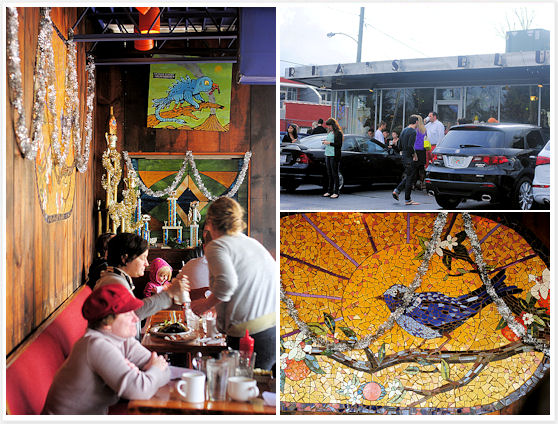 We were smart enough to show up early (i.e. 9:30am!) as the long lines when we exited are probably the only negative point I can say about the place. They're known to serve the world's best pancakes so we obviously had to oblige and order a stack. While you can have them plain or topped with caramelized bananas or chocolate chips, we went for the daily special (specials are always worth ordering apparently at Ria's). Today, the warm and wonderfully fluffy confection was filled with mini white chocolate chips and orange zest and topped with chai whipped cream…god!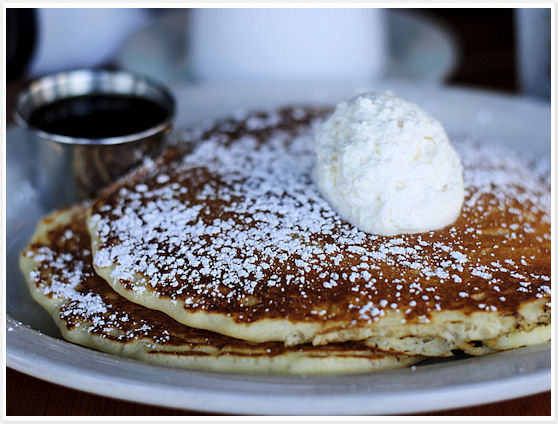 To balance things out, we also shared the usual breakfast called here Early Bird Special which comes with two eggs, a sweet potato cake (my pick and it was fantastic, highly recommend over the other sides), biscuit and bacon. Everything just perfectly executed, the mix of salty and sweet hitting all the right notes – this is a brunch worth queuing for!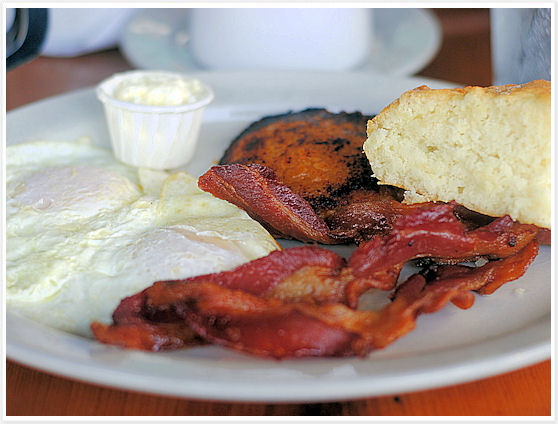 The real highlight of my weekend though was dinner at Holeman & Finch (2277 Peachtree Road Northeast), a gastropub of sorts which packs in crowds everyday and offers a refreshingly unique spin on American comfort food with amazing success. As you can expect, the no reservation policy means you'll inevitably have to wait for a table though the chic and buzzing bar makes it almost enjoyable. The cocktails are top-notch and you'll soon find yourself sipping happily in the middle of the packed room, staring in awe at the dishes coming out of the even tinier kitchen right in front of you. The smell of all this meat and sinful goodness is pure torture…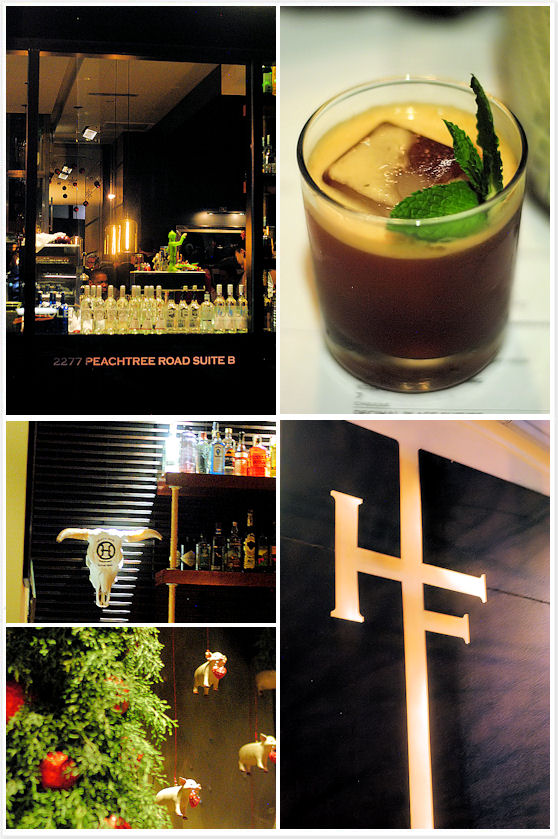 The meat heavy menu is filled with small plates meant for sharing and the expansive selection means you can have any kind of night you want – light nibbles for a reasonable fee or an all out dinner you'll remember for a long time. Go with a group as you'll want to try as many dishes as you can, a few of which are presented below. The winners for us were the hot dog (yes, amazing combo of taste and texture here!), the fried kale (with candied bacon…intense and definitely not light but one of the best side dishes), the salad (again, sounds so simple on the menu but everything was just crazy good from the dressing to the local goat cheese), the country gentlemen (think of a spin on a croque-monsieur) and the sticky toffee pudding.
Bread co. soft pretzel with ballpark mustard and Shrimp roll – georgia white shrimp, bacon, bread & butter pickle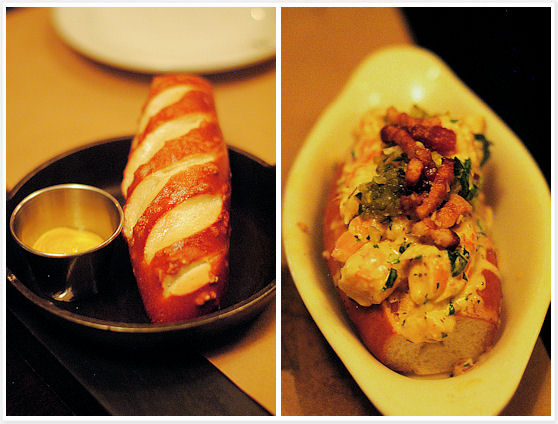 Mixed  greens salad – croutons, breakfast radishes, buttermilk dressing, goat cheese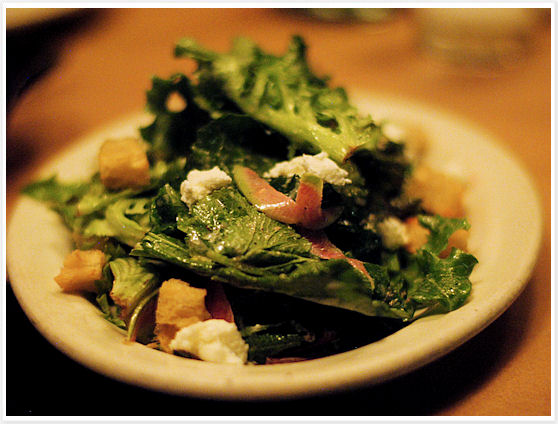 Crunchy gentlemen – black forest ham, gruyere, dijon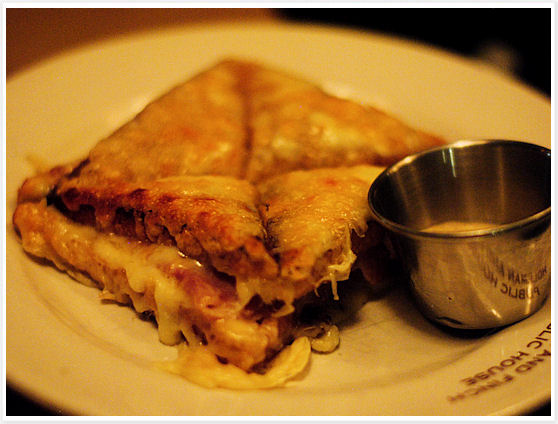 Hot dog – pickled jalapeno peppers & ballpark mustard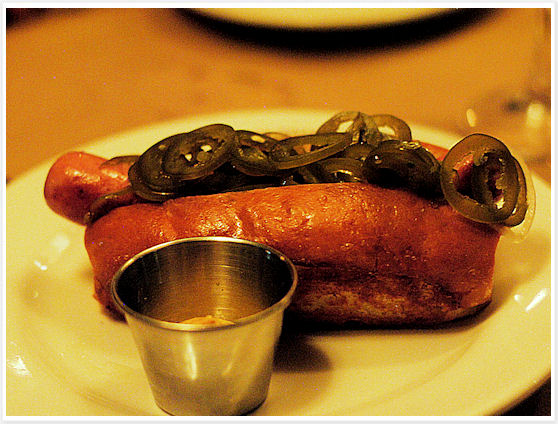 Veal cheeks – bourbon barrel miso, carrots, turnips, potatoes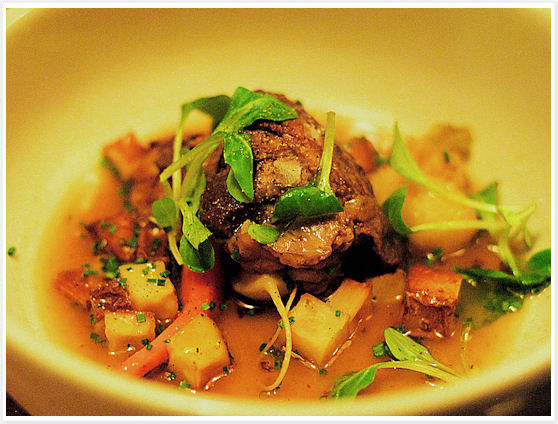 Lamb fries – mustard greens, apple marmalade, mint, warm vinaigrette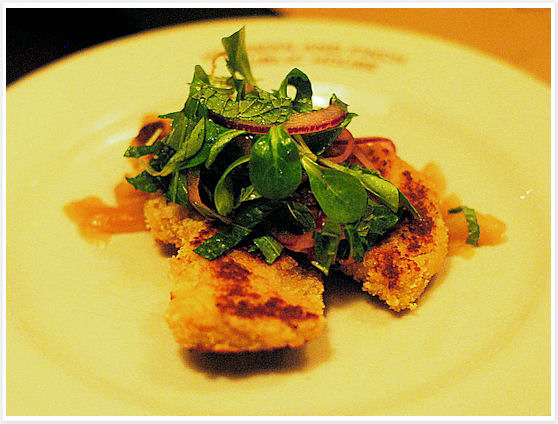 Fried kale – sunchoke pickle, candied bacon, buttermilk dressing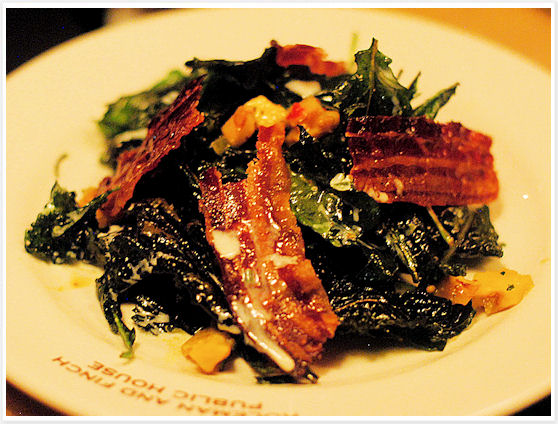 Sticky toffee pudding with whipped cream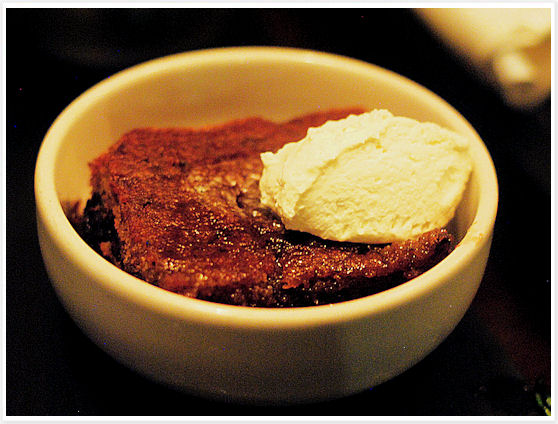 One of the best dinners I've had lately and definitely makes me want to come back and try their famous burger. They sell it in 'limited quantities' of 24 every night at 10pm…which people line up for around 9pm…talk about creating a craze, and it's working! If you're not a late night burger kinda guy, they serve it all day on Sundays, but what's the fun in that! 😉
Another brunch we add was at Highland Bakery (655 Highland Avenue Northeast #10), an institution in Atlanta for awesome breakfasts and baked goods. The vibe and menu were distinctly more Southern than at Ria's and the heaping portions at low prices makes it an obvious favorite amongst locals.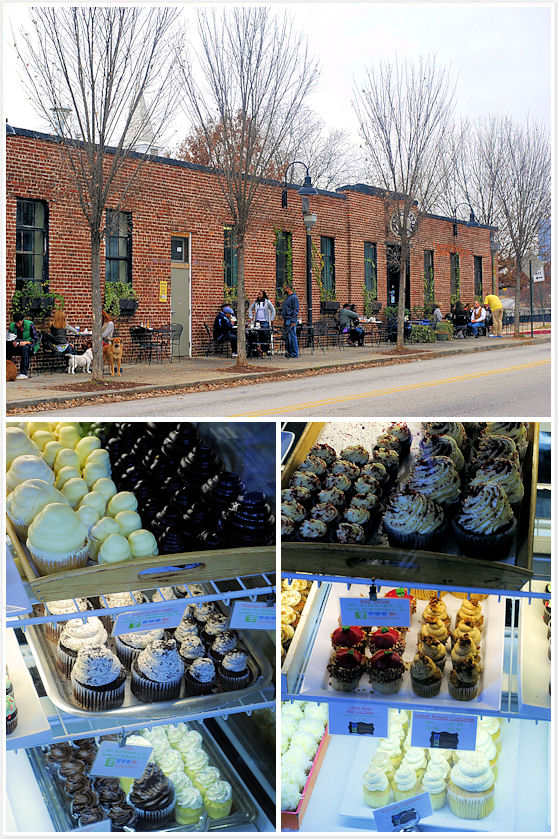 Although I wasn't as impressed here as I was with Ria's, it's well worth filling your belly with huge plates of eggs, beans, grits and other favorites such as the sweet potato pancakes and french toasts.
Cowboy Benedict – Two quesadillas, with seasoned black beans, eggs poached medium and Hollandaise with a spicy corn relish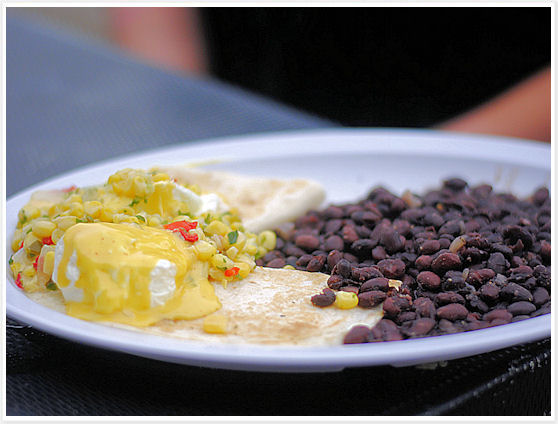 Cilantro Corn Pancakes – Served over black beans and topped with 2 eggs fried medium, sour cream, salsa, shredded cheese, and cilantro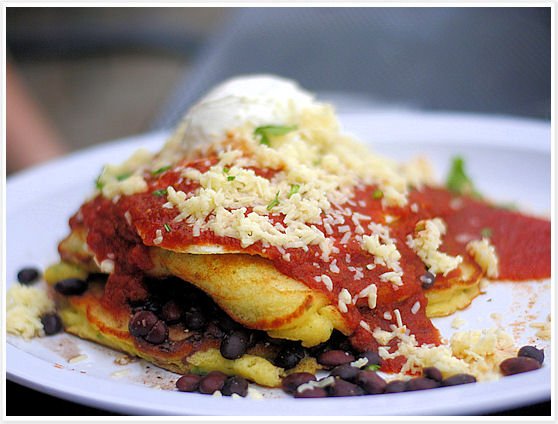 Fried Chicken Benedict – Eggs poached medium with fried chicken topped with jalapeno cheddar cheese sauce on a toasted biscuit, with grits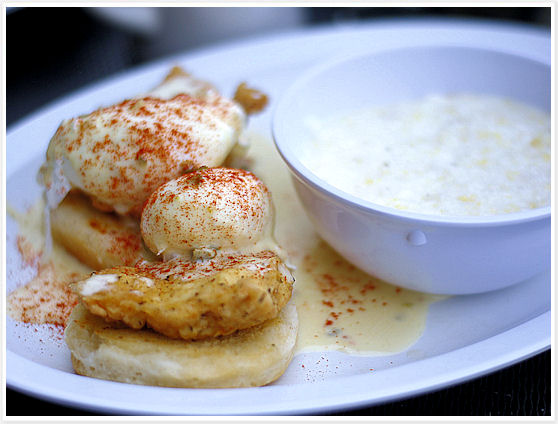 Peanut Butter French Toast – Challah bread filled with peanut butter, dipped in batter, encrusted with bran flakes and topped with caramelized bananas…yes, as crazy as it looks, and a bit too sweet for our friend who could barely eat 1/3 of it… but the images sure are worth it!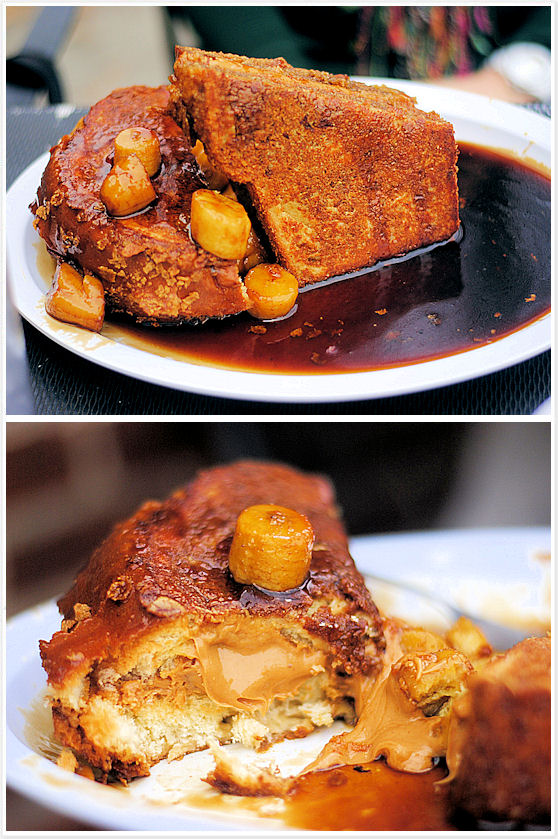 I had high hopes for my dinner at The Spence (75 5th Street Northwest), the newish restaurant from Top Chef's fourth season runner-up Richard Blais, but was left on my appetite a bit, sadly. One can definitely have a superb night here – ambiance is happening, lighting is perfect, bar area has the best views of the room, and the open kitchen brings an exciting energy throughout. It was just one of those nights where we didn't order the best things…voila! It happens, that's why getting some recommendations come handy sometimes… hint!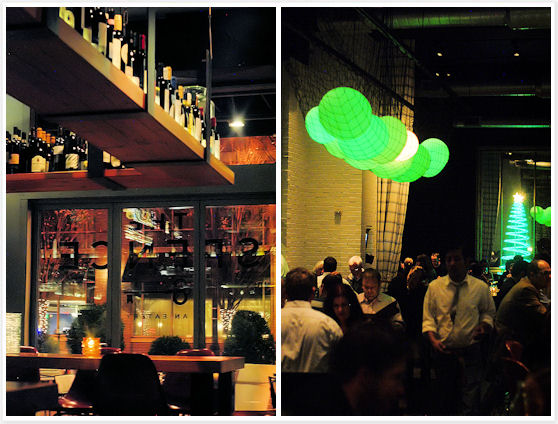 Fresh house rolls arrived at our table with a generous smear of butter mixed with freshly shredded coconut – a surprising and delicious take on the usual bread & butter. Then came our appetizer of beets, soft boiled egg, blue cheese, and wasabi, probably the most balanced and accomplished dish of the night. Next came the smoked rigatoni with octopus and bottarga, pretty tasty though you wished you had more of the octopus and bottarga, wasn't as powerful as it could be but good enough. The big letdown was in the only main dish we ordered: pork belly with sweet potato, bacon and radish. Everything sounded so good about it, it's shocking we got served a piece that was really only a huge slab of fat with barely any meat on…worst pork belly I've ever had and I do like fat from time to time. Thankfully the sides of bacon and sweet potato outshone the pile of fat which we left half eaten on the plate. We finished with a pecan treacle tart with milk jam ice cream, another 'quite good but not impressive' menu item, think I was craving biting into big chunks of pecans and was surprised by the ground treatment here, just not as satisfying. All in all, a cool place to try but you might want to sit at the bar and snack on appetizers which wouldn't be so bad…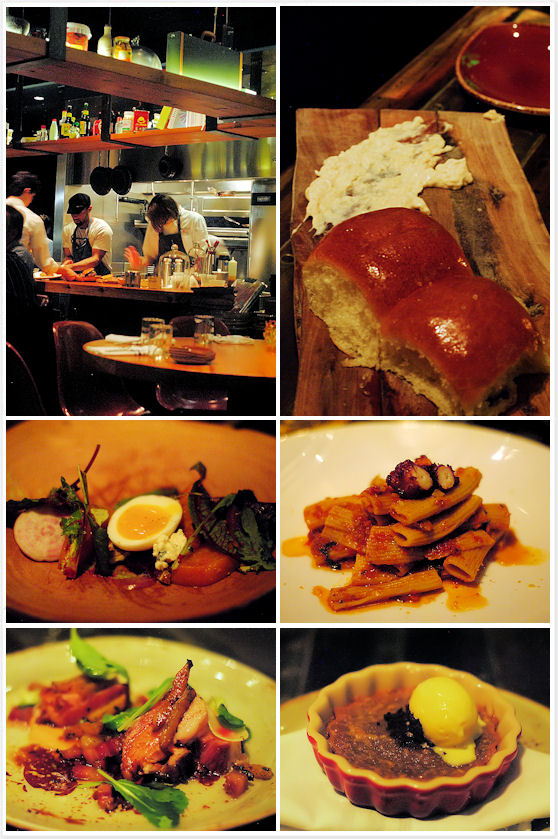 With only a few hours left to my foodie weekend in Atlanta, I was fortunate enough to hit the farmers market at Grant Park which was soon closing for the winter season.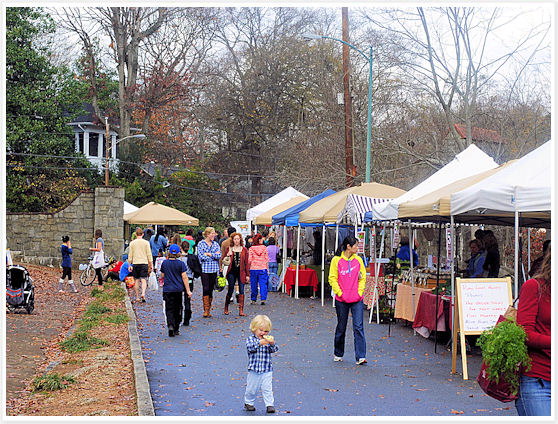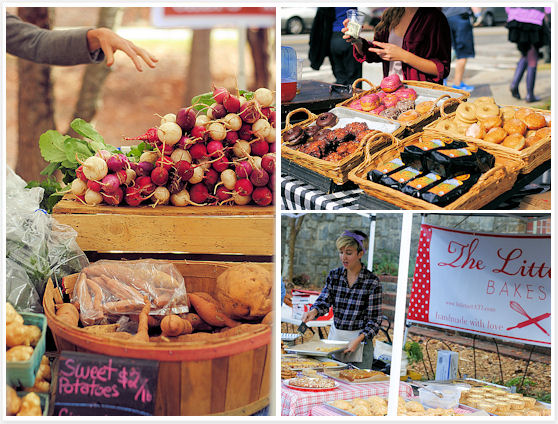 We got in just in time for the weekly Chef Demo, today showcasing Steven Satterfield from Miller Union, another restaurant I would have loved to try. He prepared a seasonal market salad and roasted butternut squash toasts which we all got to try…and yes this was right after a big brunch!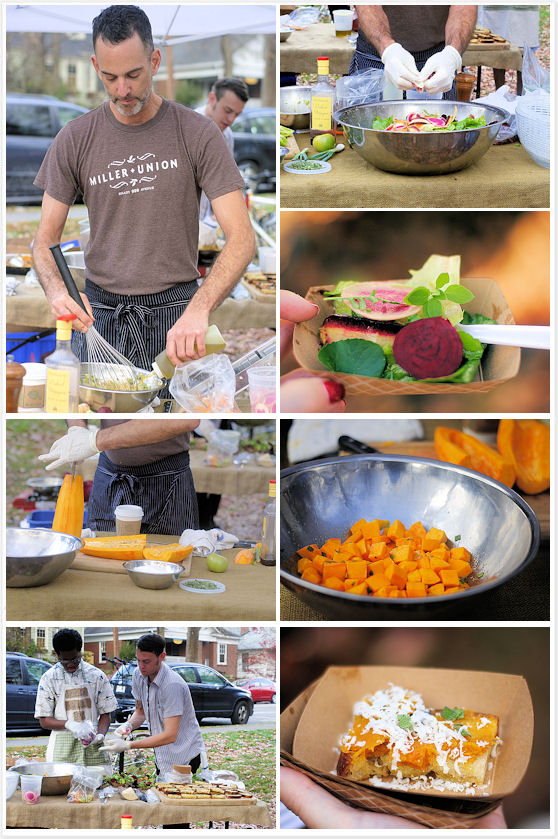 The setting was beautiful on the edge of the park with colorful leaves coloring the grounds and a crowd of happy shoppers and hungry snackers taking in the unusually warm weather. It even got some jumping for joy barefoot in a rain puddle for the greatest pleasure of the passersby…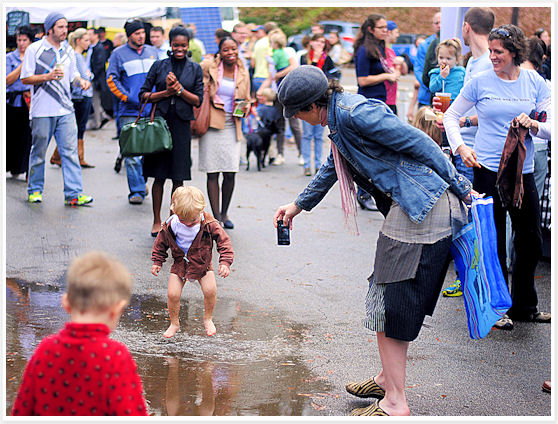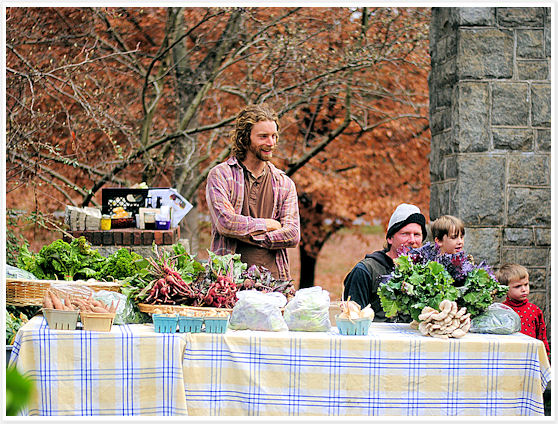 I couldn't really do my grocery shopping there but I did get a tub of that bacon-caramel popcorn we ate the night before at Holeman & Finch. They just happened to have a stand and I had to restrain myself from getting a lot more…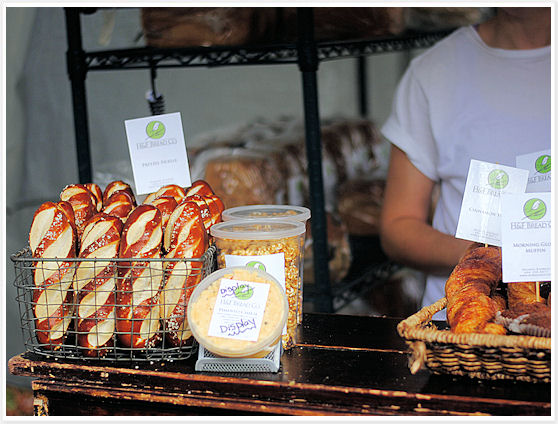 Right, so I had my snack for the flight back to New York in a few hours and plans to come back here in the heat of summer to try all these terraces I've seen spread all over the city and try a few more Southern specialties. So far so good Atlanta, but now I need to get back to my crazy New York, healthier habits and cooler temps…