Still basking in the souvenirs from my recent trip to the Middle East, I find myself looking for unusual tastes to transport me back somehow. While their cuisine is one of sunshine, mezze, and exotic spices, it's easier than one think to incorporate some of it into a winter appropriate comfort dish.
Few people have ever seen the combination of pasta and yogurt before, a classic and delicious pairing in Lebanese, Turkish, and Greek cuisines. Thick yogurt gives creaminess without the fat and calories of a cream-based sauce and the caramelized onions round out the depth and richness of the dish, which can be consumed hot or at room temperature.  This is a healthy, easy to make meal and a great way to put a Middle Eastern twist to your usual spaghetti dinner.

Spaghetti with Caramelized Onions and Yogurt
Recipe from Martha Stewart's Living Magazine
Active and Total time: 1h30
Makes 6 servings
  2 tablespoons extra-virgin olive oil, plus more for drizzling
3 pounds onions, halved and cut lengthwise into 1/4-inch-thick slices
5 sprigs fresh thyme
1 bay leaf
Coarse salt and freshly ground pepper
3 tablespoons dry white wine
1 pound whole-wheat spaghetti
3/4 cup fresh flat-leaf parsley leaves
2 cups plain low-fat yogurt  

Combine oil, onions, thyme, bay leaf, and 1 teaspoon salt in a large saute pan.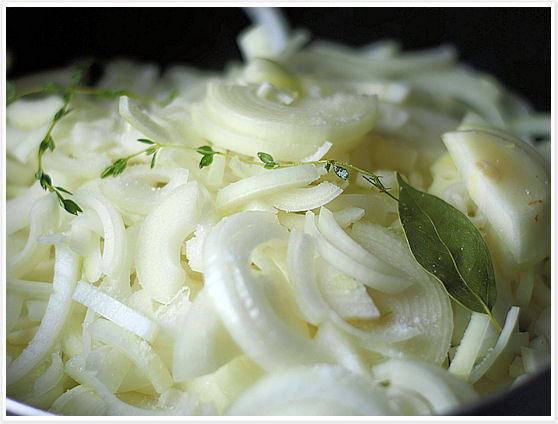 Cook over medium heat, stirring occasionally, until onions are tender and golden brown, about 1 1/2 hours. If the pan becomes dry, add water, 1 tablespoon at a time, to prevent onions from burning.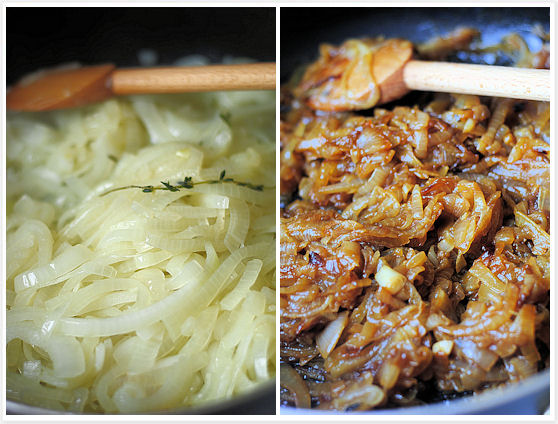 Add wine, and bring to a boil, scraping up browned bits with a wooden spoon. When wine has evaporated, remove pan from heat; discard thyme sprigs and bay leaf.
Meanwhile, bring a large pot of water to a boil. Add pasta; cook until al dente. Drain. Stir pasta, parsley, and 1 teaspoon salt into onions; season with pepper.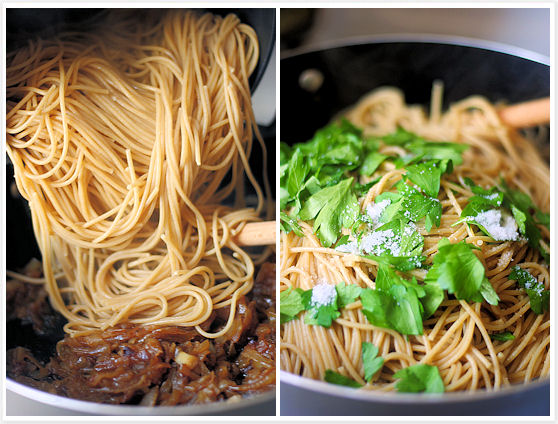 Divide pasta among 6 bowls. Top each serving with 1/3 cup yogurt, drizzle with oil, and season with pepper.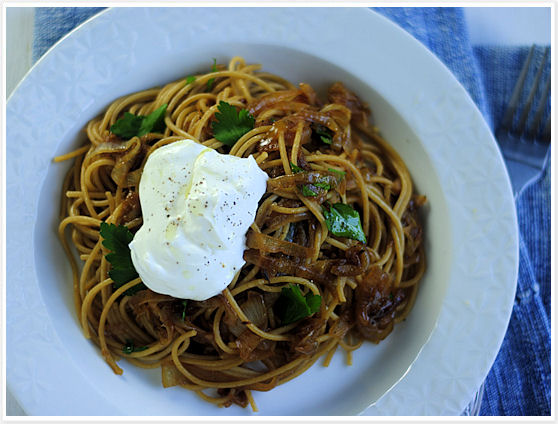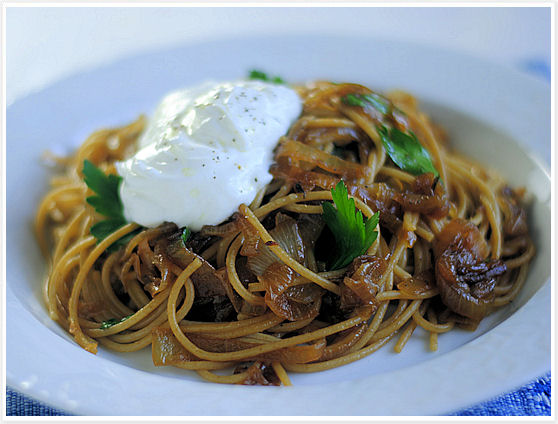 Print This Post