Having just gotten back from a short trip home in Quebec in sub-zero temperatures and a massive snow storm (20 inches in one day!), no wonder I've been craving all kinds of comfy food that reminds me of home in the wintertime. I could have made a number of things such as tourtière or ragoût de boulettes, but somehow the idea of cooking up a batch of homemade pâté on a lazy afternoon while enjoying the last few days of my Christmas tree and festively decked out apartment seemed a lot more appropriate.
Cretons are probably the favorite spread of Quebecois all over, usually eaten at breakfast but enjoyable any time. They're essentially a pork spread, delicious served on toast or crackers and can even make a decent sandwich, any way you like. They're similar in ingredients to French style rillettes, the main difference being in the way they're finished: one by hand (rillettes) and the other by machine (cretons), resulting in two very different texture and taste. I do love a bit of variety so how perfect that I found a recipe that would combine the two!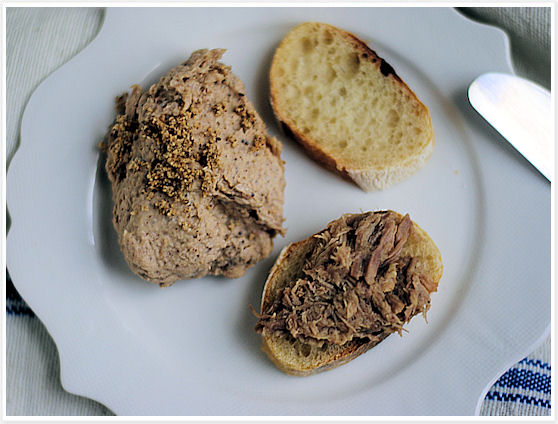 Surprisingly, they're incredibly simple to make and the only thing you need to consider is the time investment (i.e. better done on a weekend). Essentially you'll be slow-cooking a pork shoulder in a flavorful broth and then reducing the broth to bind the cooked meat together, easy. Traditionally some lard is added to the pot, leaving the pork to poach in its own fat, though we've omitted this step here, making a lighter version for those post-holidays resolutions!
What you'll end up with is two versions of unctuous 'pig jam', tasting nothing but pure, unadulterated pork and leaving you with only the tough decision of choosing between the creamy cretons or rustic and coarser rillettes…or why not mix the two! They're better served at room temperature, and adding a bit of onion jam or any other sweet fruit jam or jelly as topping is always a good idea. Make them for yourself when you're in need of some old fashioned French fare, or better yet serve them at your next dinner party – it's crazy how a simple pot of homemade rillettes will get you impressed stares on a 'I can't believe you made this' level.

Pork Rillettes
Adapted from 'Cuisine Revisitee' by Ian Perreault
Active time: 45 minutes
Total time: 8 hours
Makes 12 servings as an appetizer
  1kg pork shoulder, cut into big pieces 250g mirepoix (finely diced celery, carrots, onions, leeks) 2 bay leaves 10 black peppercorns 4 juniper berries ½ bunch of fresh thyme Salt and pepper, to taste 50ml extra virgin olive oil Juice of two oranges   *Optional: 50ml hazelnut oil 80g powdered, roasted hazelnuts  

Put all of the ingredients (except for the hazelnut oil and powdered hazelnuts if using) in a large saucepan.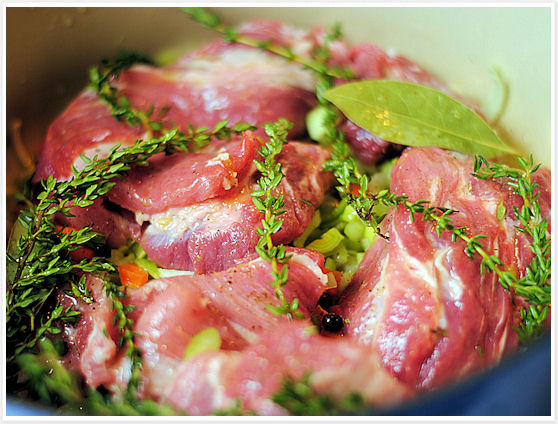 Add water up to 7.5cm (3 inches) above the meat. Cook for about 3 hours over medium heat while regularly skimming the surface to remove impurities.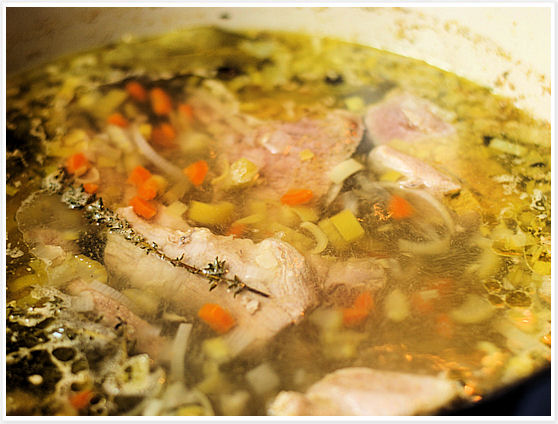 Remove the cooked pieces of meat from the saucepan and finely shred them, discarding the fat. Set aside.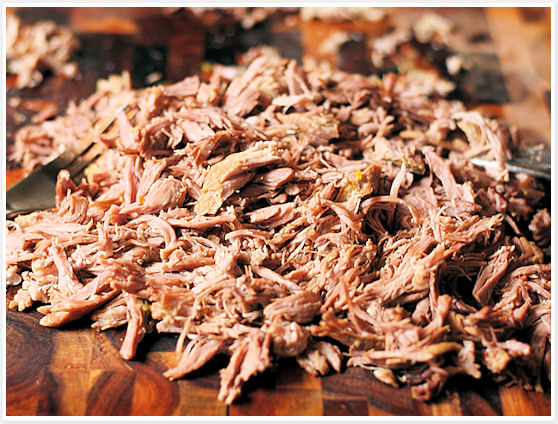 Skim the broth and reduce to about 1/6  of its original quantity, slowly, while regularly skimming the surface.
Mix the reduced broth with the meat in a mixing bowl (you might not need the entire broth but make sure the meat is very moist and tender). Season to taste with salt and pepper and store in a plastic container for a minimum of 4 hours. They are then ready to be eaten!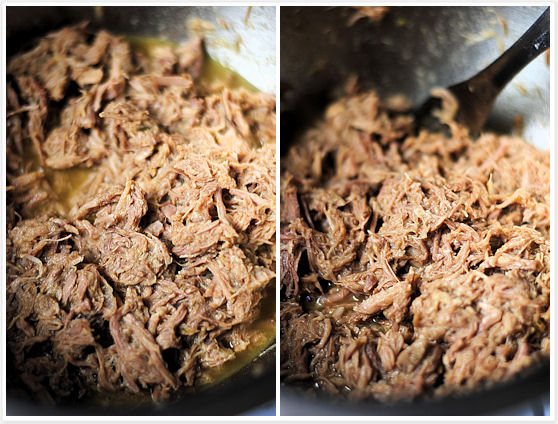 If you want to try a different texture, put half of the prepared rillettes in a food processor with the hazelnut oil and powdered hazelnuts. Mix well until very smooth and serve with a good baguette.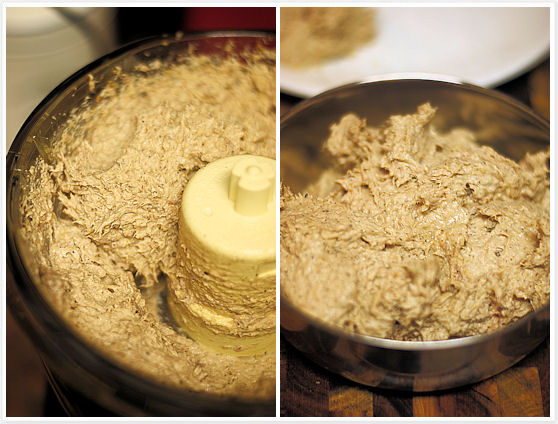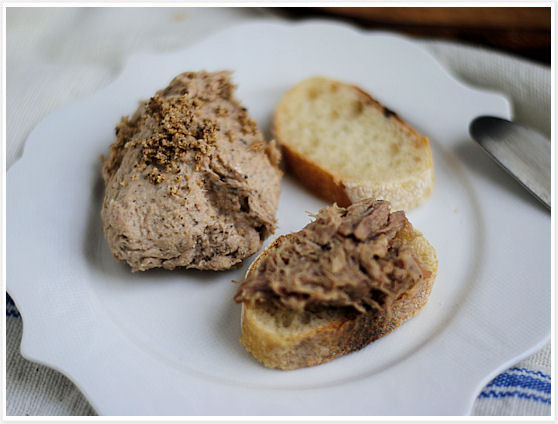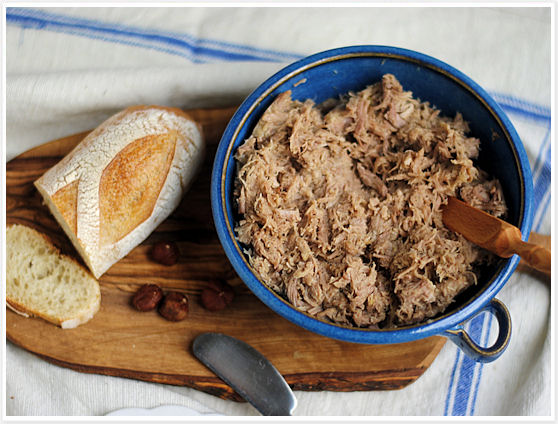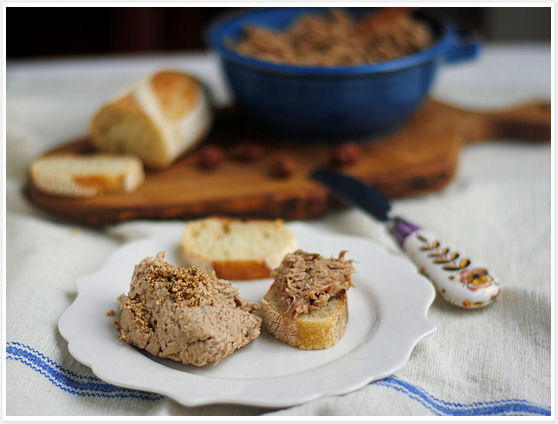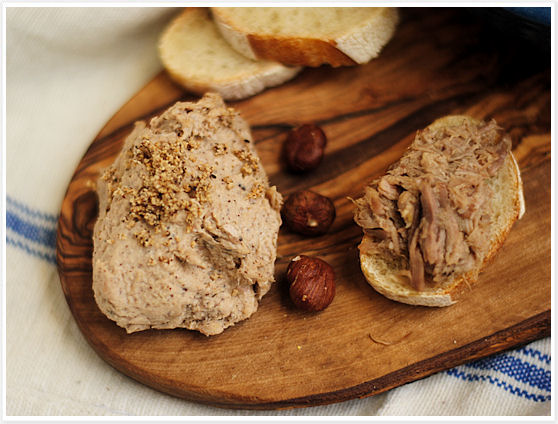 Print This Post