While the world seems to have chosen the wings as their favorite chicken parts to snack on, I've always preferred the humble drumstick. From my days as a kid eagerly scooping them out of the bucket of KFC to today's more grown-up versions I make at home, their superiority is still unrivalled. Let's be honest, they require a lot less work, are a lot less messy to eat, are pretty cheap and their huge chunks of fatty meat makes them really hard to overcook.
Instead of the usual BBQ sauce, this recipe is packed with classic Asian sweet and tangy flavors and is a perfect make-ahead dinner. Let them marinate overnight and just pop them in the oven when you're ready. Apricot preserves are the secret weapon for making quick and tasty glazed chicken drumsticks (or wings or breasts…you could use it on anything here, even pork). The chicken ends up nicely charred and moist, fall off the bones tender with a rich, deep flavor which will pair nicely with some steamed broccoli florets, spinach, or green beans.

Apricot-Glazed Chicken Drumsticks
Recipe from Gourmet Magazine
Active time: 30 minutes
Total time: 9½ hours
Makes 8 servings
  1/2 cup finely chopped shallots (2 large)
1/4 cup finely chopped peeled ginger
2 tablespoons vegetable oil
1/2 cup red-wine vinegar
2/3 cup soy sauce
1½ cup apricot preserves
16 chicken drumsticks (4 1/2 pounds)  

Cook shallots and ginger in oil in a small heavy saucepan over medium heat, stirring occasionally, until softened and golden, about 5 minutes. Stir in vinegar and boil until reduced by about half, about 2 minutes. Add soy sauce, preserves, and 1/4 teaspoon each of salt and pepper and simmer, uncovered, stirring occasionally, 15 minutes.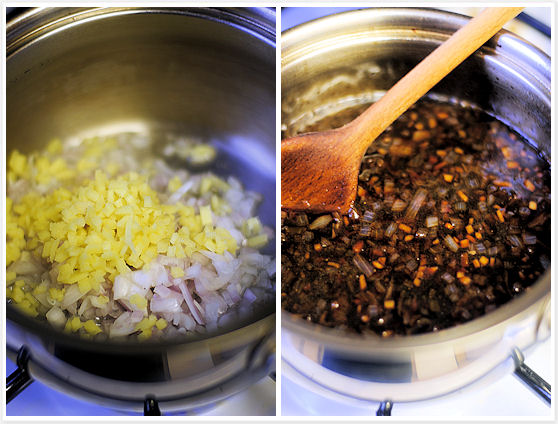 Purée sauce in a blender until smooth (use caution when blending hot liquids), then cool to room temperature.
Divide chicken between 2 large sealable bags and pour marinade over chicken. Seal bags, pressing out excess air, and marinate, chilled, turning bag over occasionally, at least 8 hours (can be marinated up to 24 hours).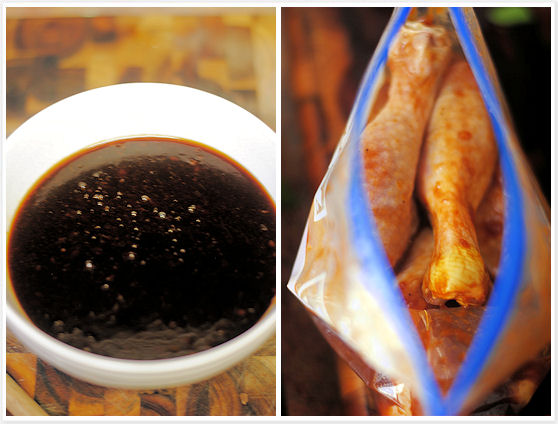 Preheat oven to 425°F with rack in middle.
Line a 17- by 12-inch shallow heavy baking pan with 2 slightly overlapping sheets of foil, then lightly oil foil. Arrange chicken (with marinade) in 1 layer in pan.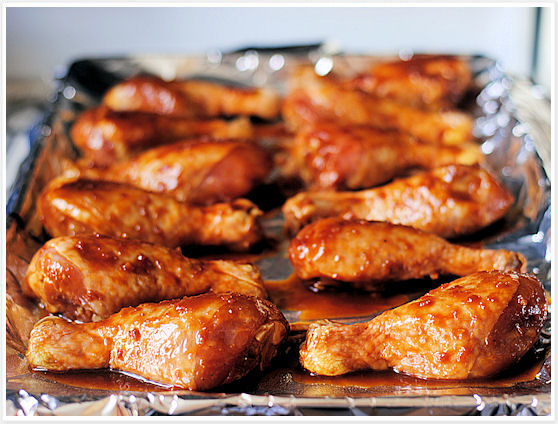 Roast chicken, turning once, until deep brown, cooked through, and glazed, about 40 minutes total.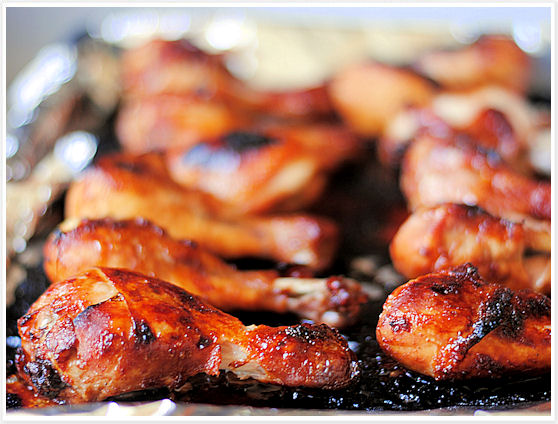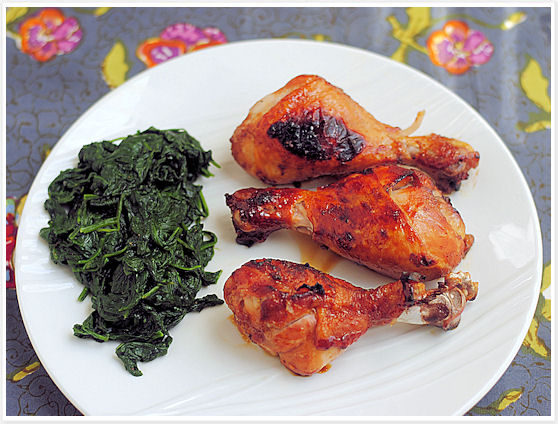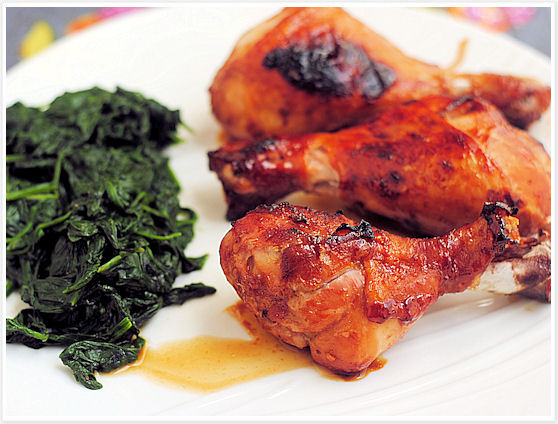 Print This Post