London in January is unsurprisingly grey and cold and more so this year with bitter cold temperatures and a sudden 'snowstorm' taking over Old Blighty. A getaway to Lisbon seemed like a good cure and I happily convinced a friend of mine to fly from Stockholm (equally freezing!) and meet me in the 'City of the Seven Hills' one Friday morning for a few days of seafood and wine.
I firmly believe that a 5am departure for the airport is easily bearable as long as an epic lunch awaits you at your destination, and I made sure it did! After checking in at the hotel we headed straight to Cervejaria Ramiro (Avenida Almirante Reis 1), a locals favorite 'beerhouse'. Always crowded, the noisy place is a heaven for fresh seafood at reasonable prices which they love to eat with a beer or a cold bottle of Vinho Verde.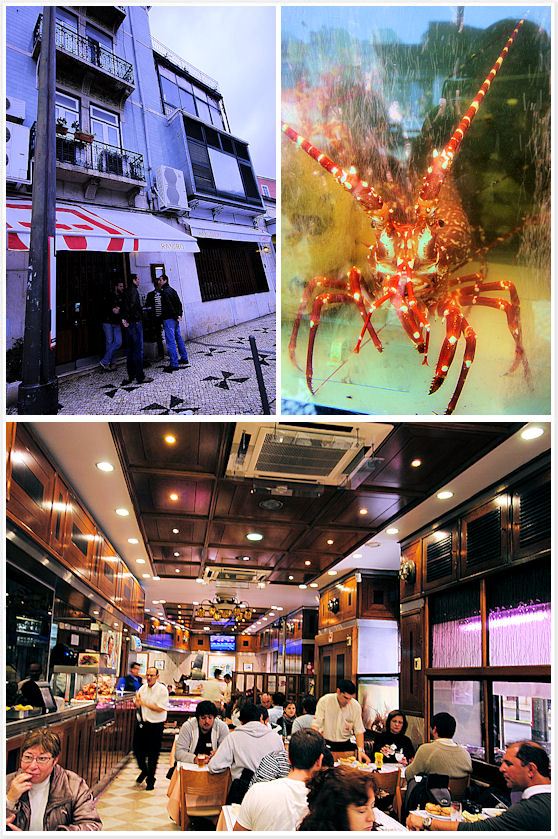 Wanting to try something new, I handpicked from the menu some strange-looking sea creatures called Percebes (or gooseneck barnacles). These tube-like crustaceans live attached to rocks and boats and are an expensive delicacy widely consumed in Portugal and Spain. They require a bit of know-how to eat (our waiter had to show us to twist and break the leathery barnacle before slurping the grayish flesh) and are quite messy (watch out for the unavoidable squirt!) but it's one taste I won't forget anytime soon. Despite their ugly exterior I have to say they're some of the most delicious seafood items I have ever eaten – sweet and slightly briny flesh, texture close to an octopus, with a fresh and intense taste of the sea…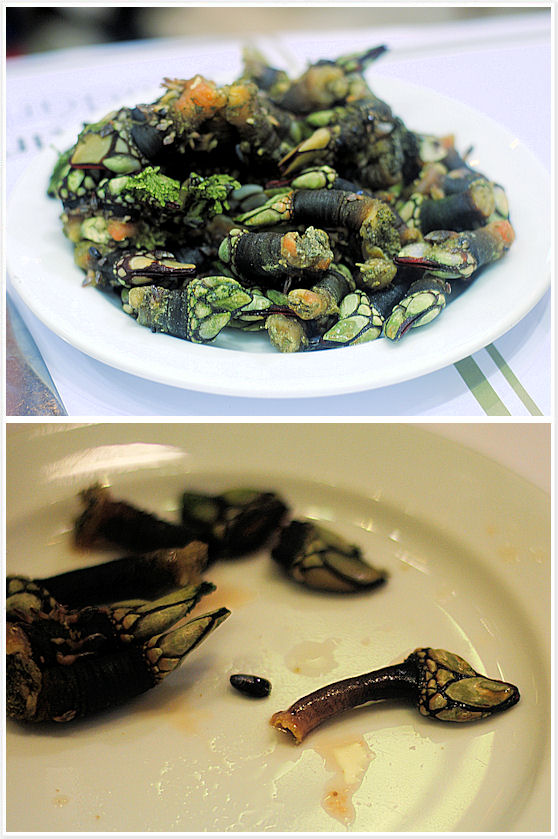 Next came the Amêijoas à Bulhão Pato (clams with white wine) which is one of the most popular first course found all over Portugal and shouldn't be missed. Use plenty of the delicious Pao con mantega (bread with butter) to soak up the amazing garlicky sauce.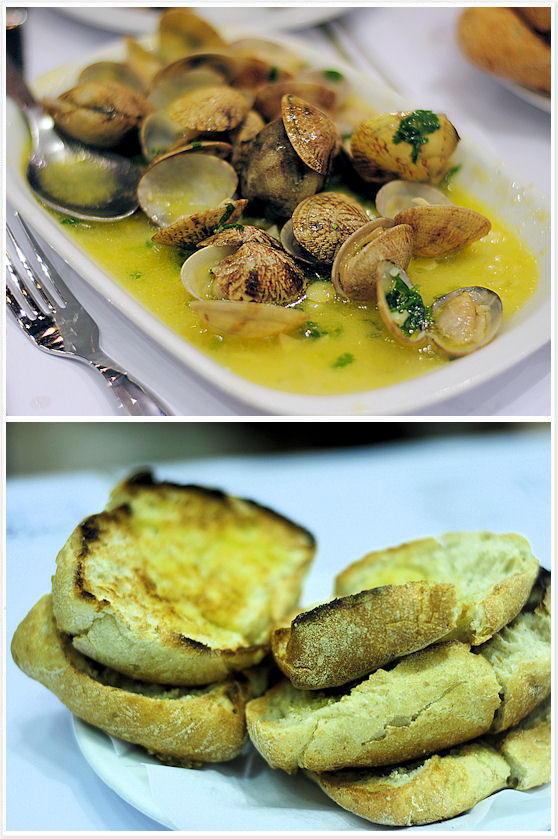 Lastly, a big lavagante (lobster) – which our waiter showed us still alive to make sure we were happy with the selection – arrived at our table, cut and broken into giant morsels of exquisite flesh, the perfect complement to an amazing sea-centric lunch. They brought over mayonnaise so you can even whip yourself a small lobster roll with the hot buttered bread (which I did…divine!).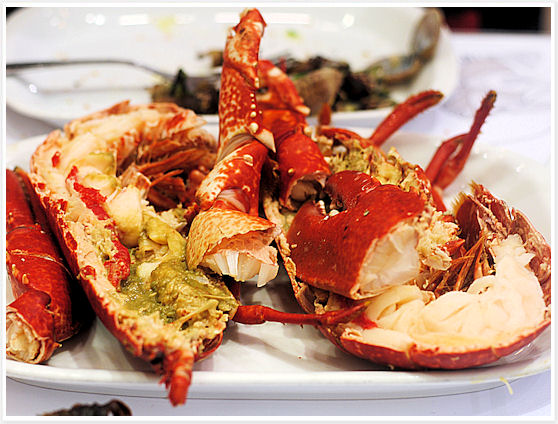 The restaurant is downtown though not in the nicest of neighborhoods so we ventured further south for a few minutes before hitting the real heart of the city: Baixa. The business and shopping district of Lisbon, Baixa stands relatively flat between two hills and is where you'll find a plethora of 18th-century neoclassical buildings (all built after the devastating earthquake of 1755) and the city's main squares, Rossio and Praça do Comércio.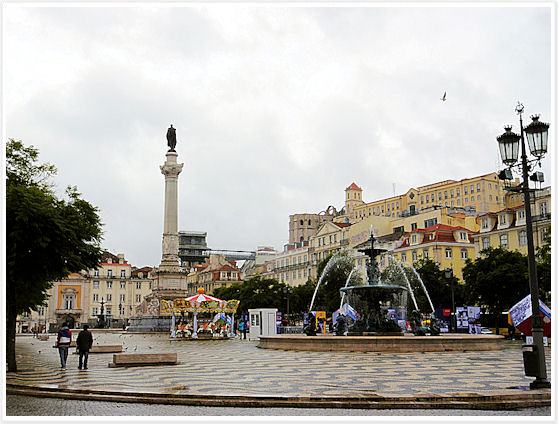 In search of an older side of Lisbon and in need of some exercise, we looked up towards the hills to the West and headed for the top. From Praça dos Restauradores, you can take the Elevador da Glória, a funicular (the city has only three) that links Baixa with Bairro Alto if you don't feel like climbing up the steep hill. We decided to walk up after spotting some cool graffiti Lisbon is famous for dotting the way.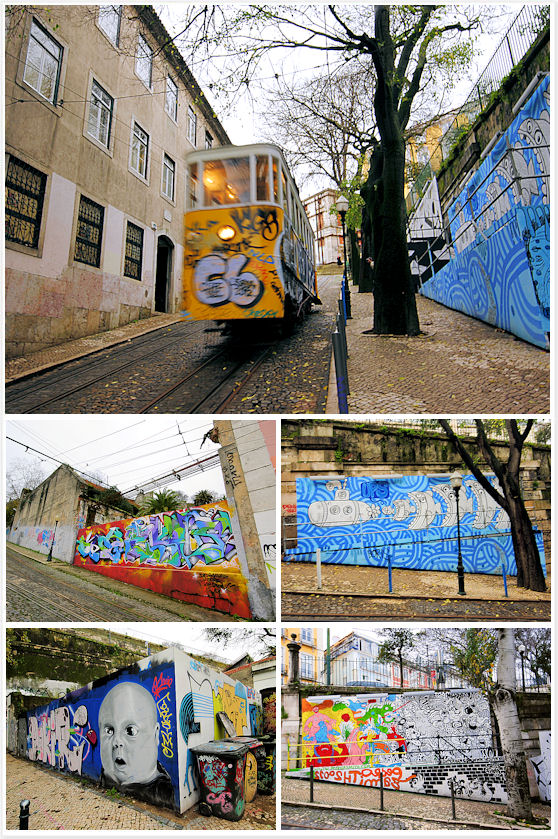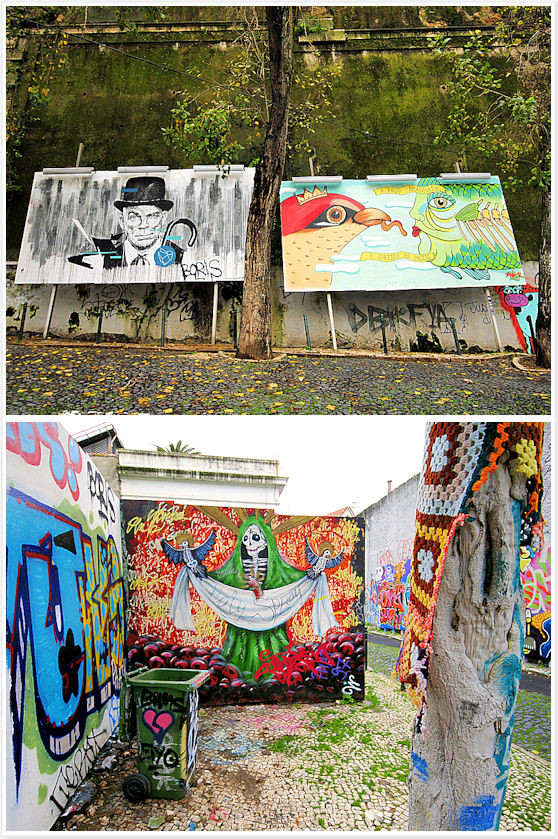 However you choose to go up, the real draw is the superb viewpoint that awaits you atop the hill, the Miradouro de São Pedro de Alcântara. The belvedere offers panoramic views of Lisbon with St. George's castle in the distance and a perfect place for a short break.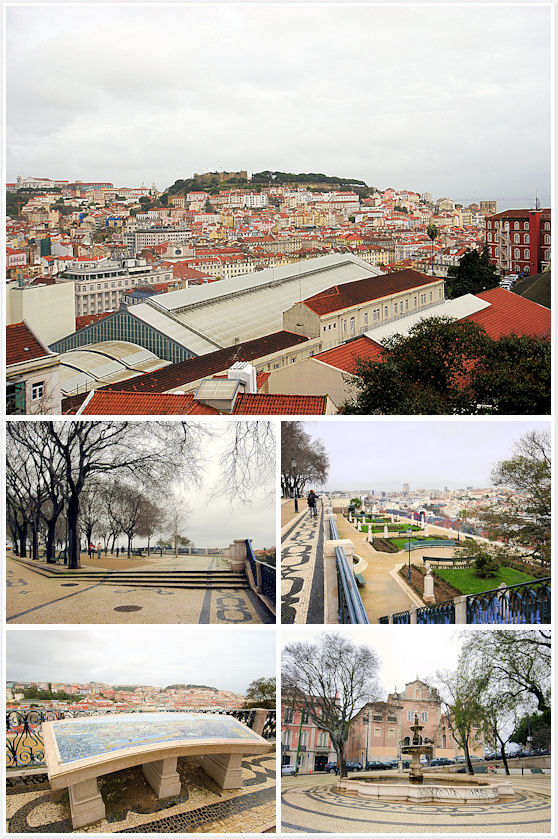 Now you find yourself in Bairro Alto, the bohemian neighborhood sitting up high and filled with cute shops and bars. This section of town survived the earthquake in 1755 so you can catch a glimpse of pre-18th century Lisbon architecture and gorgeous churches and wander around the colorful cobbled lanes. Quiet during the day, it turns later on into the city's vibrant nightlife quarter with people spilling onto the streets.
Walking down the hill you find the elegant district of Chiado, the cultural and shopping hub of the city with its theaters, old school cafes and glamorous designer boutiques. Stop by Café A Brasileira (Rua Garrett 120), one of the oldest and most famous cafés of Lisbon (poet Fernando Pessoa was a regular) to admire the art deco style and step back in time for a while. Yes it's jam-packed with tourists but the spirit of the place, still frequented by writers,  is worth the hassle.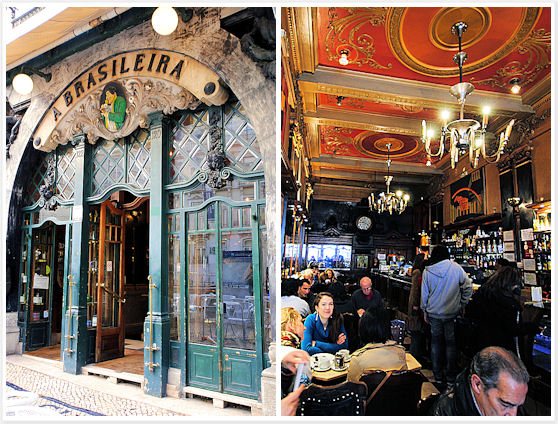 Up a bit from Rua Garrett (via Carmo Square) is yet another fantastic viewpoint over the city offered by the Santa Justa Elevator. The only remaining vertical lift in the city, it connects Carmo Square with the lower streets of Baixa and the panoramic views from its terrace and walkway are some of the best in the city.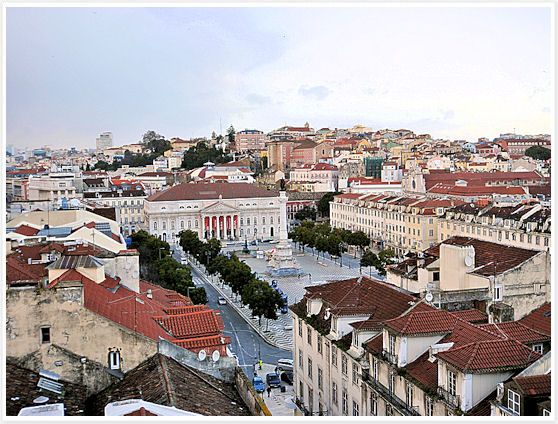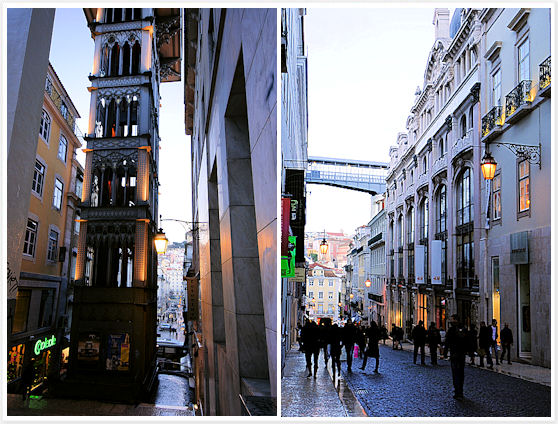 Back down in the middle of all the shops, a bright storefront will definitely lure you in. Rua do Carmo is home to Lisbon's most famous ice cream shop, Santini, which was highly recommended by the locals. Stop by the cute, retro-looking red and white shop for an amazing gelato like they've been doing for over 60 years…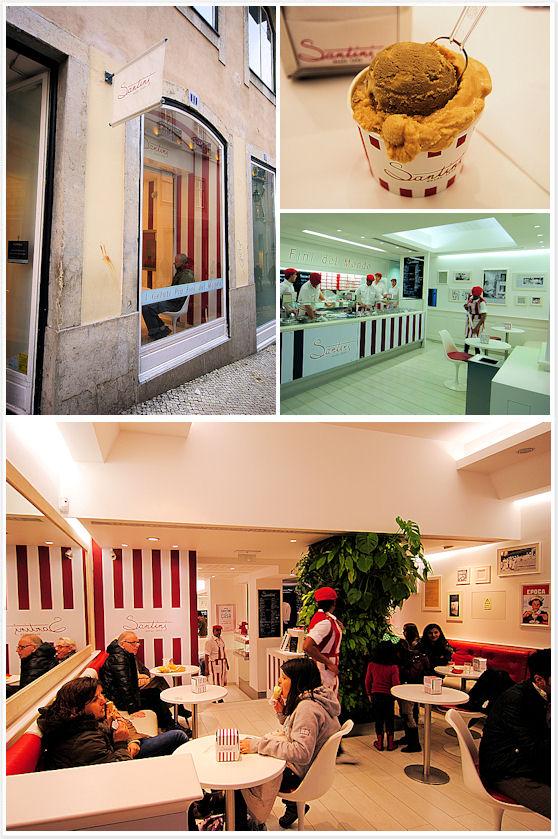 Although modern designer shops abound, the neighborhood still has a few old-fashioned testimonials to the city's past and none more adorable than A Vida Portuguesa (Rua Anchieta 11). Set in an old warehouse, the shop sells all kinds of vintage and hard to find Portuguese household items, handicrafts, cosmetics, etc. in the most beautiful general store setting I've ever seen.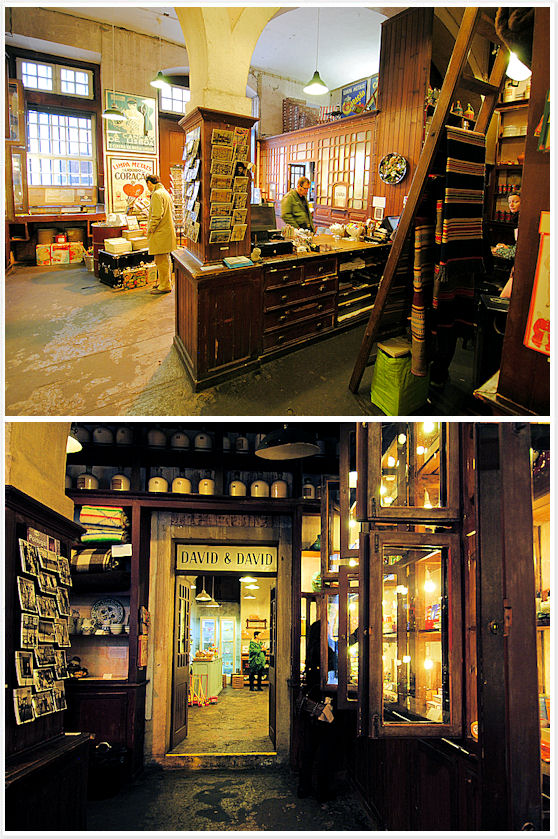 Just a few steps away from the crowd, down a quieter street past the Teatro Nacional de São Carlos, you'll find Cantinho do Avillez (Rua Duques de Bragança 7), my top Lisbon restaurant from this trip. Think relaxed atmosphere with simple but sophisticated cuisine and you have a winner in my book. It helps that Cantinho is the latest project from a famous Michelin Star chef, José Avillez, and his talent really shines in the creative Portuguese comfort food we indulged in – highly recommend it!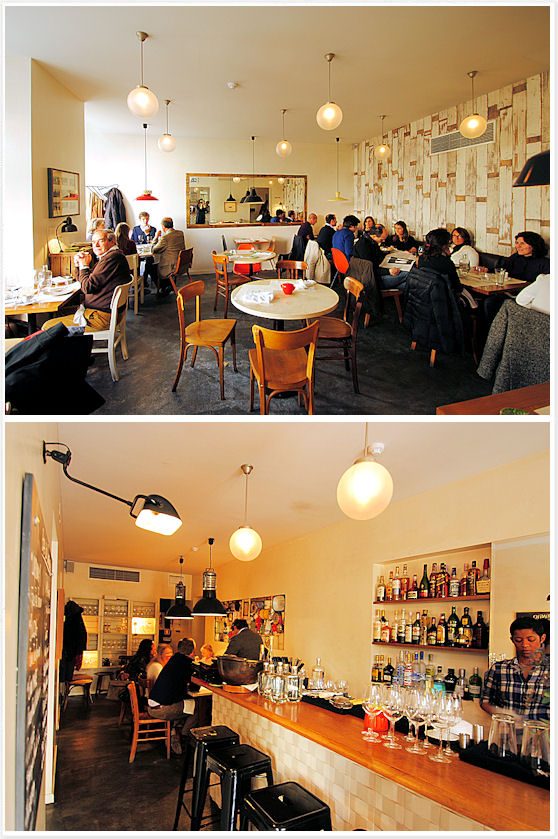 Broth cod with poached egg and bread soup, Alentejo style: my top discovery on this trip, such a flavorful soup where they drizzle crusty bread with olive oil and then drown it with a hot broth made with cod, salt, garlic and coriander…and with the poached egg it just became amazing…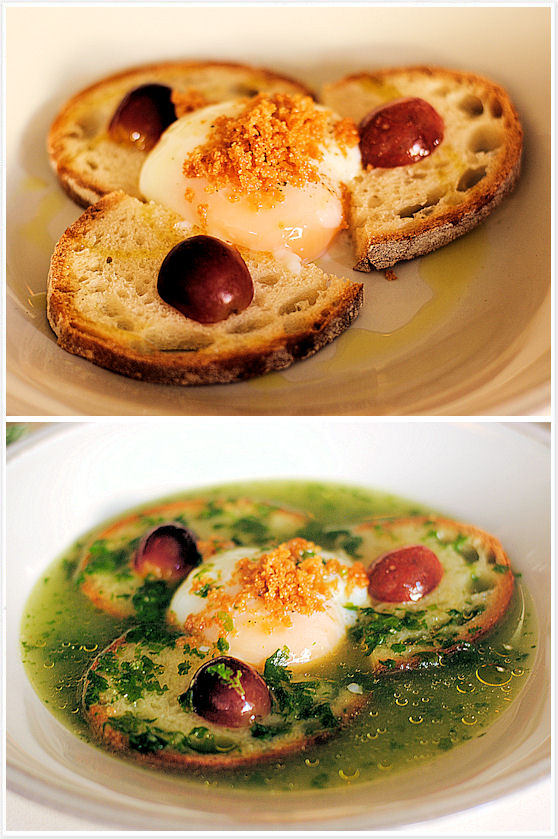 Marinated scallops with avocado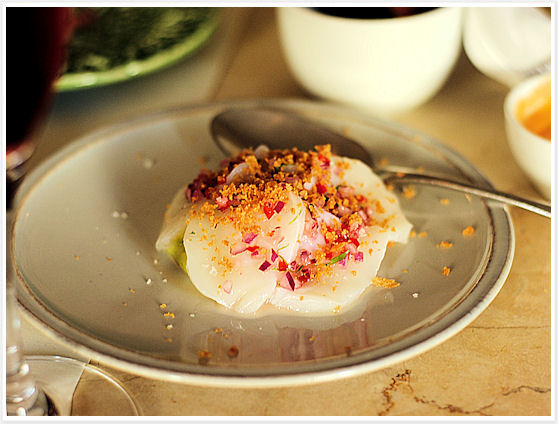 Fried green beans and a nice bottle of rosé!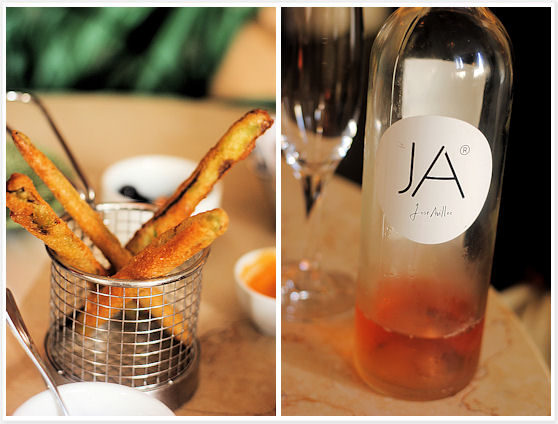 Lisbon doesn't come with a long-list of must-see museums which is refreshing as what you should be spending most of your time doing is wandering aimlessly in its streets and getting lost. I highly recommend though that you pay a visit to the National Tile Museum outside the city center; an homage to the beautiful decorative art that adorns the city's buildings and makes Lisbon so distinctive. It truly is one of a kind.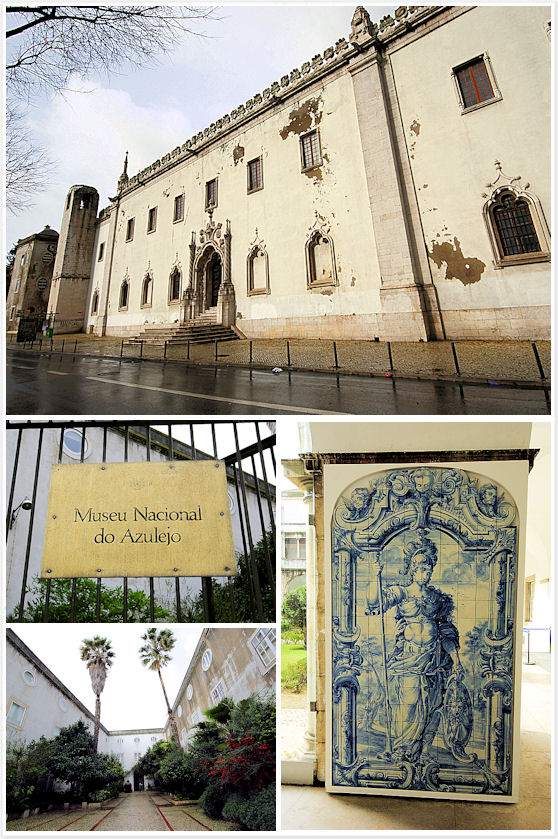 Although the over 7,000 tiles exhibited are the main draw, I found just walking around the atmospheric building (the museum is housed in a 16th century convent) and visiting the adjoining church, cloisters and choir to be even more impressive.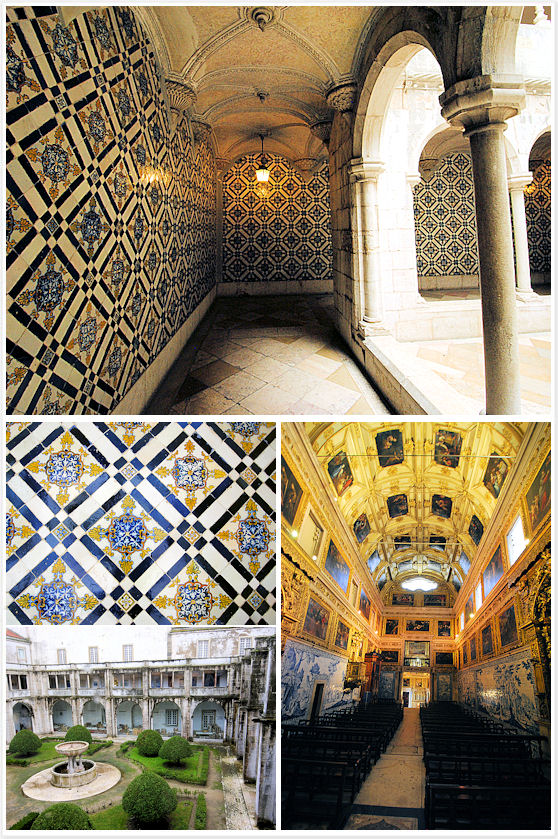 When dinner time comes, choices are numerous around the Baixa-Chiado area but we opted to step out of the center a bit and went to the highly praised Alma restaurant in Santos, a trendy waterside quarter next to Bairro Alto. An all-white and elegant canvas for celebrity chef Henrique Sá Pessoa, Alma has quickly become one of Lisbon most popular restaurant offering modern cuisine at gentle prices. Go for the exquisite and eclectic cuisine, a wonderful way to have a taste of Lisbon's burgeoning nouvelle cuisine movement.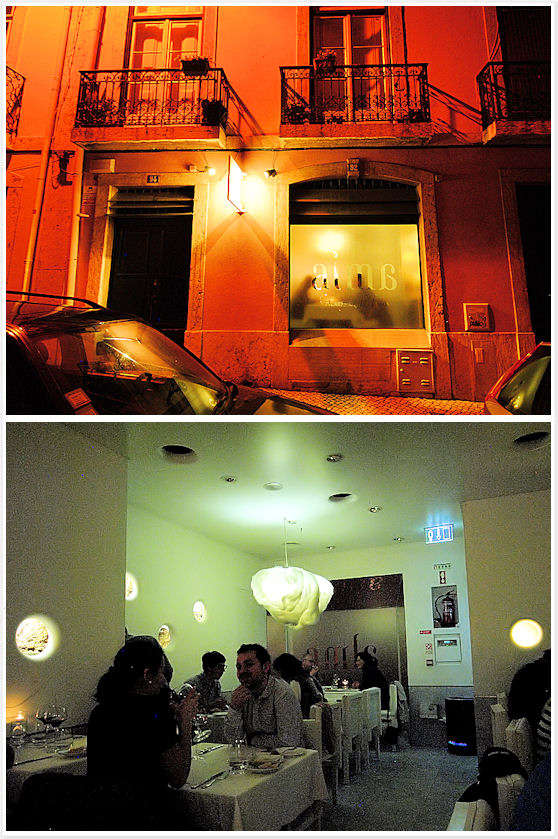 Squid and prawns sauteed in chilli and garlic with cherry tomato compote, rocket and parmesan salad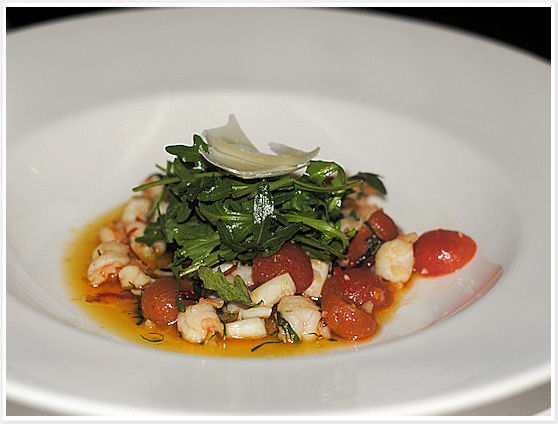 Seared scallops with white bean puree, cauliflower, chicken liver jelly, balsamic reduction – definitely the highlight of the meal!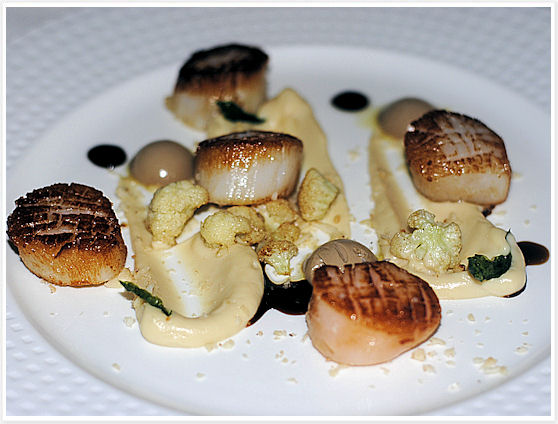 A Spanish stew with shrimps and scallops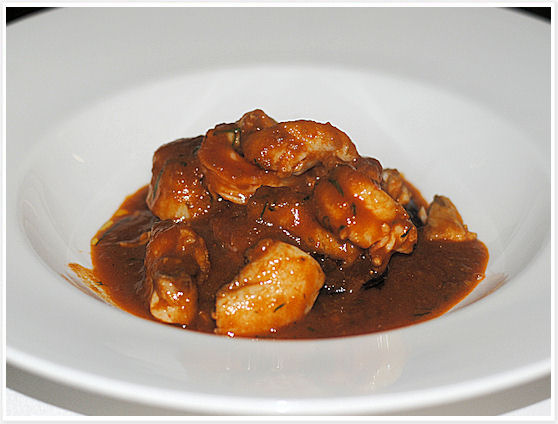 Roast fillet of salted cod with chickpea puree and chickpea vinaigrette, oven roasted tomato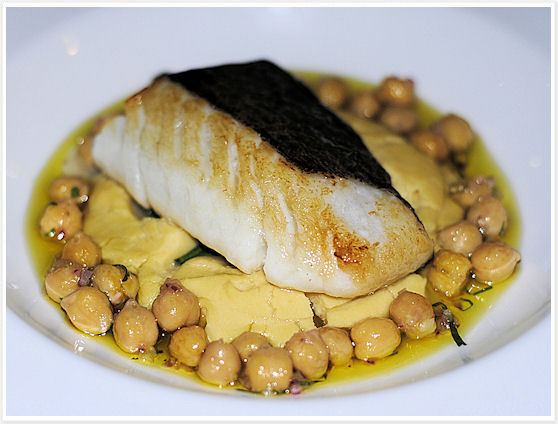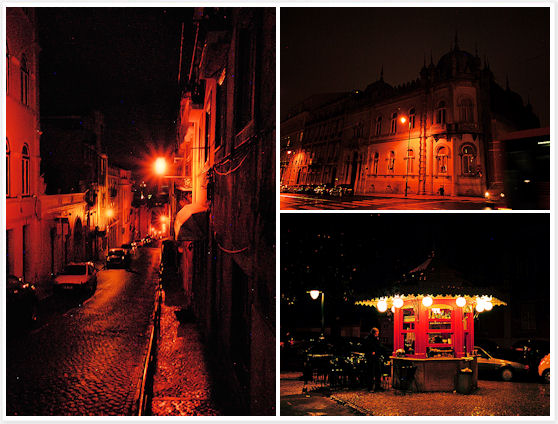 Another day in Lisbon starts the colorful way with more graffiti and this time they are epic. Derelict buildings are becoming canvas for international artists and one not to be missed can be found just outside the Picoas Metro Station. The massive mural was created by Os Gémeos and Blu.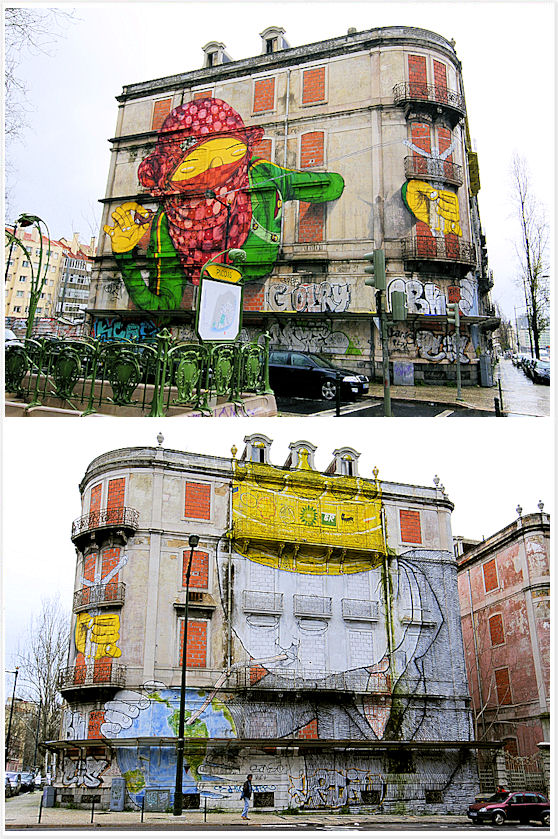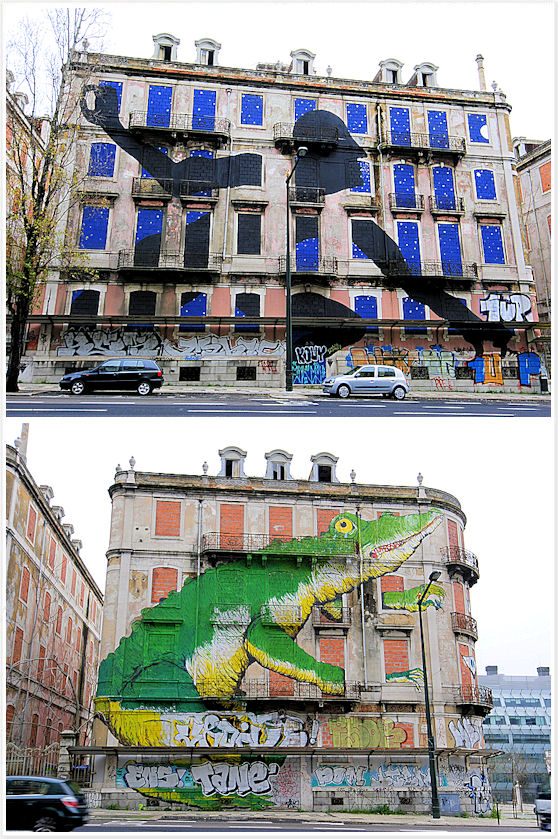 Jumping in a cab, we made our way west to reach Belem, Lisbon's historical area. It was from here that many of the great Portuguese explorers such as Magellan, Vasco de Gama, etc. embarked on their voyages and many important and fascinating monuments are worth a visit. But before that, breakfast is calling and in the area you simply can't avoid the famous Pastel de Nata at Pastéis de Belém (Rua Belém 84), the king of all Portuguese pastries.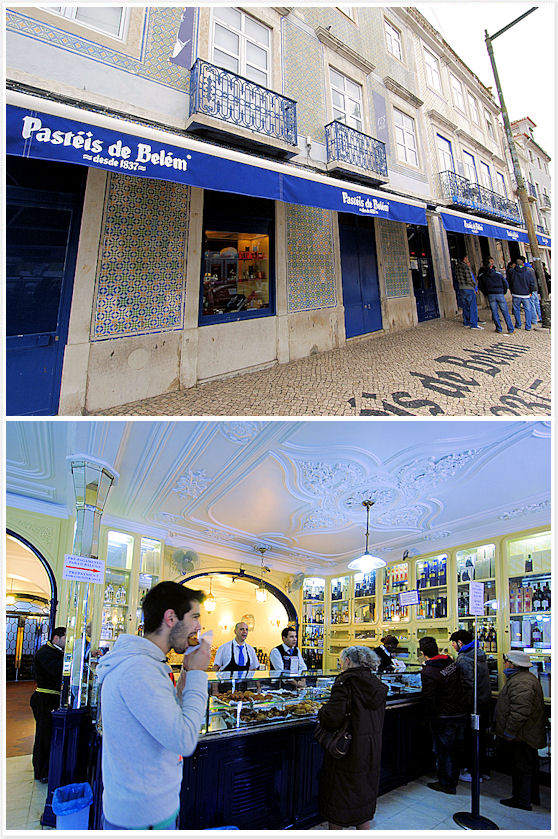 It is believed that the egg tart pastries (which I've first encountered in Hong Kong) have been created next door by monks from the Jerónimos Monastery (see below) so you really can't get more authentic than this. People line up to take theirs to go but we ventured inside, curious about the feel of the institution that's been serving the delectable custard tarts since 1837. As expected, beautiful tiles mosaic line the walls and locals chat over coffee and pastries as if no time had passed at all.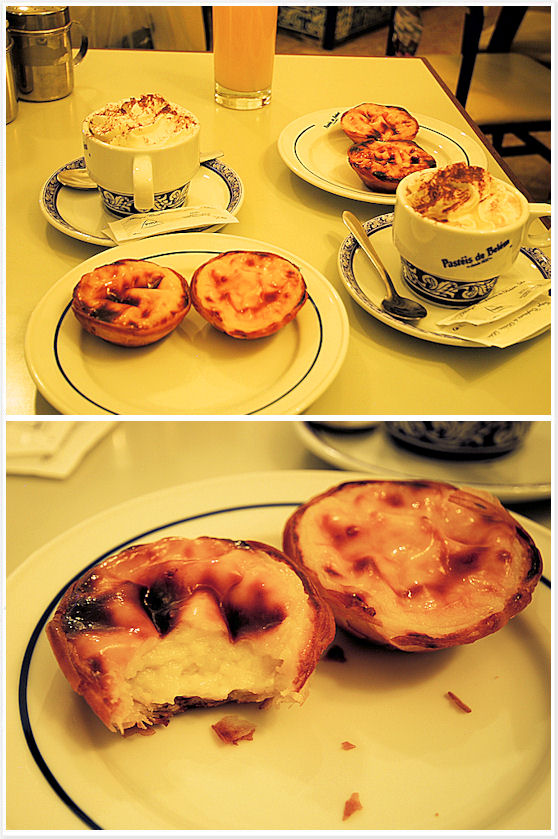 We got out in time to witness the monthly Changing of the Guard which occurs every third Sunday of the month in front of the Belém Palace.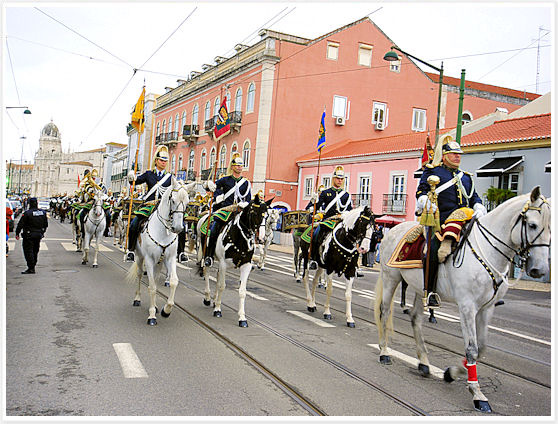 The Jerónimos Monastery is visually stunning, a fascinating example of a peculiarly ornate Gothic style of Portuguese architecture known as Manueline.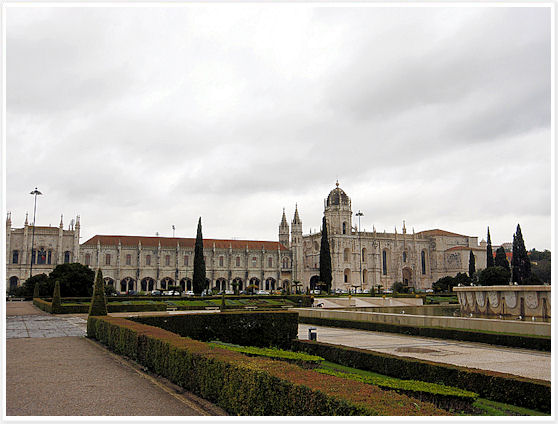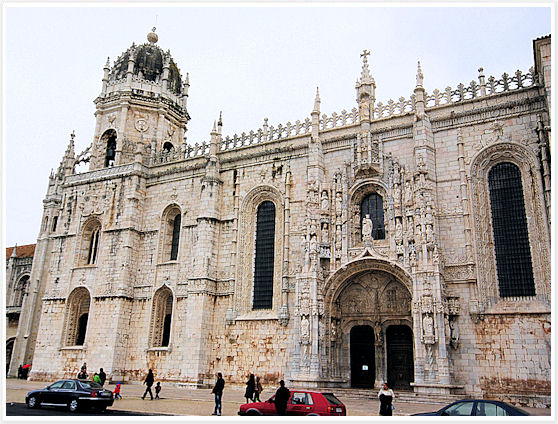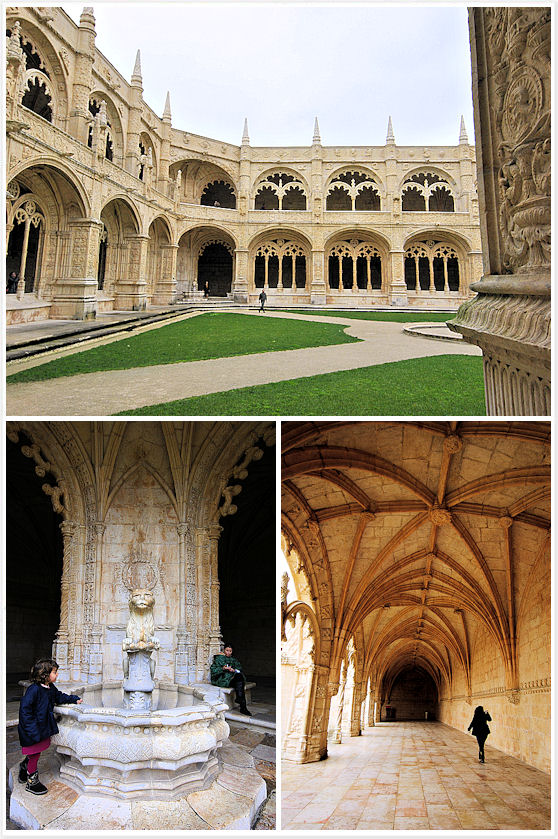 The nearby Tower of Belém was built to commemorate Vasco da Gama's expedition and is a much photographed symbol of Portugal's maritime glory.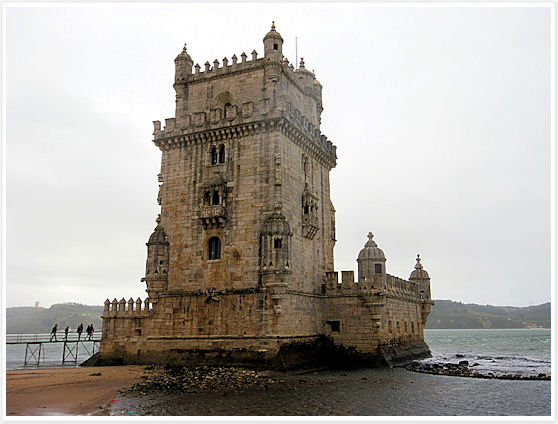 Heading back towards the city centre, our last remaining hours were devoted to visiting Lisbon's oldest and much beloved Alfama neighborhood.  The Casa dos Bicos (or House of Spikes) at the bottom of the hill, from early 16th century, is famous for its curious facade and hosts a few exhibitions inside.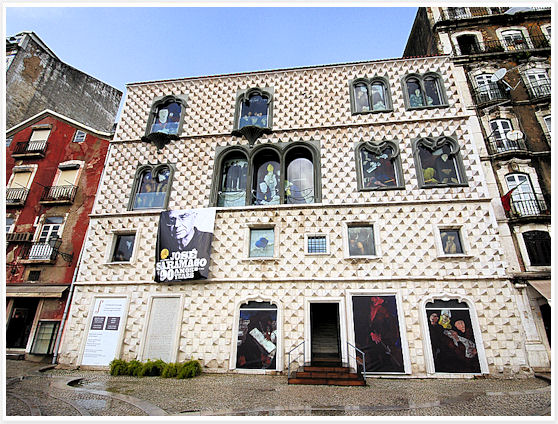 Just down the street is the one foodie address I'm glad I discovered: Conserveira de Lisboa (Rua Bacalhoeiros 34). There really isn't any obvious gifts or souvenirs one must absolutely bring back from Portugal apart from Port and other wines, but I think I found one at this adorable shop. An old cannery store that's been in business for over 80 years, la Conserveira sells the cutest tins of preserved-fish I have ever seen, I literally wanted them all! Hundreds of colorful and vintage looking tins are lining up the walls and all you have to do is point and buy…which is how I ended up with cod in olive oil, smoked octopus, sardines in escabeche, mussels, mackerel, etc. I'm already salivating at the idea of savoring them back home with a good bottle of Vinho Verde!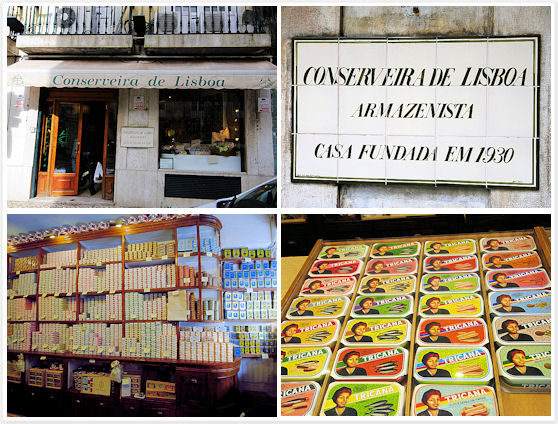 The best way to see the Alfama is to get to the top with the Tram 28. Take it from the start at Martim Moniz near Rossio and enjoy the ride as it winds its way up the hills of the old Moorish neighborhood.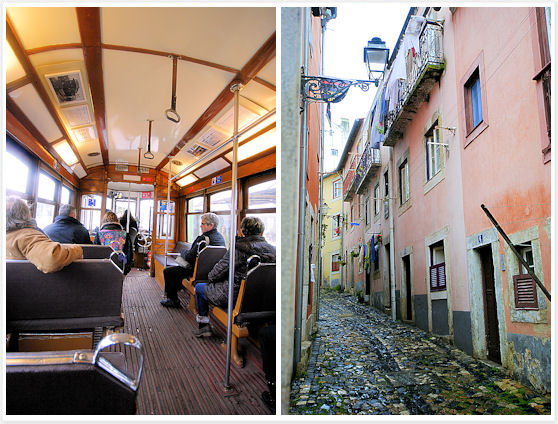 It unfortunately started raining quite a bit but we still got off the tram near the Castle and wandered in the picturesque old twisting alleys for a while before hiding in a cute wine bar waiting for the rain to stop (it didn't…).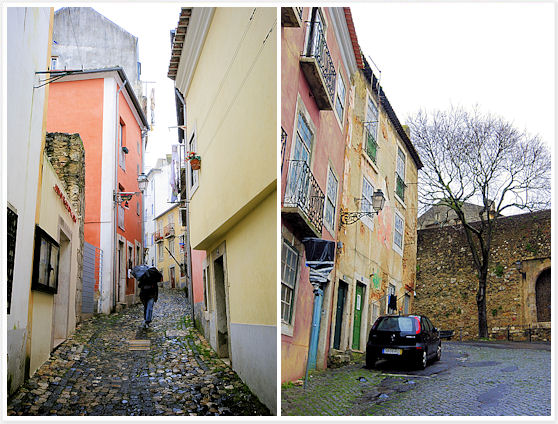 Even in the downpour and foggy hills though, Lisbon is breathtakingly beautiful and is sure to see us returning again.