Lunch on a workday is often a hurried affair involving a local deli or neighboring sushi shop though if you want to stretch your hour a bit and be greatly rewarded, look no further than Momofuku Ssam Bar's fantastic duck lunch. Only offered on weekdays, it's the best reason you'll find to get out of midtown and discover this unbelievably good protein in all its delights.
Count on David Chang's Momofuku Empire of restaurants to bring such a splendid idea 'to the table' and to do it so tastefully you'll wonder how you've ever gone without it. The menu is an odd to the versatility of duck and offers many tempting treats such as fried duck dumplings, duck pot pie, smoked duck liver mousse, etc. though for your first visit there really is only one way to go – the house specialty of rotisserie duck over rice.
Before digging into the main dish, we started off with the highly recommended pulled duck buns. Momofuku being well known for its pork belly buns we thought it was the way to go and it certainly didn't disappoint! The steamed bun was airy and super soft, perfect cushion for the luscious pulled duck meat confit and tzaziki sauce liberally falling off as we took each bite. A slight hint of mint and harissa rounded out the clean though indulgent taste – this would make a perfectly acceptable lunch with a side dish.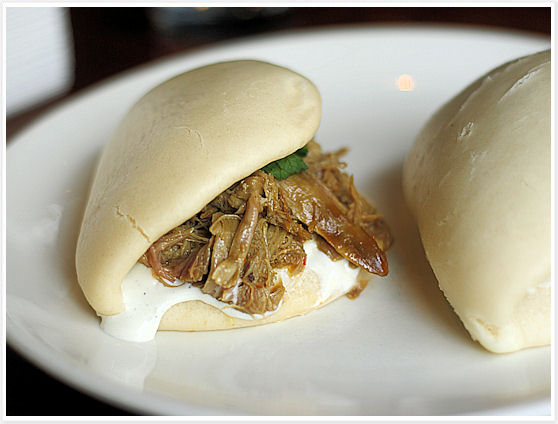 Next we jumped straight into the duck over rice lunch set which includes the rotisserie duck, rice, a chive pancake (a must), lettuce, sauces, and a side dish of your choice (we picked broccoli to have something 'healthy' though if you're going all out the fingerling potatoes would make a very filling accompaniment). The broccoli, though not the healthiest, was addictively covered with a creamy smoked bluefish vinaigrette and crispy duck skin as topping.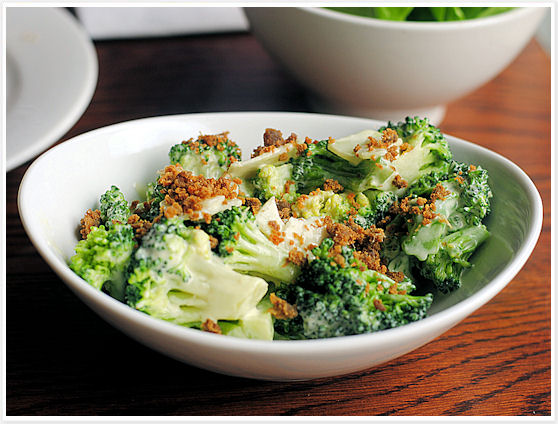 The duck arrives in all its pinky juicy glory, cooked to perfection with a slightly crispy skin and on the side a bit of the shredded duck confit we had earlier in our steamed buns. At $20 this is a lunch bowl on the higher side of the scale but a single bite will be a succulent reminder that you should be treating yourself more often…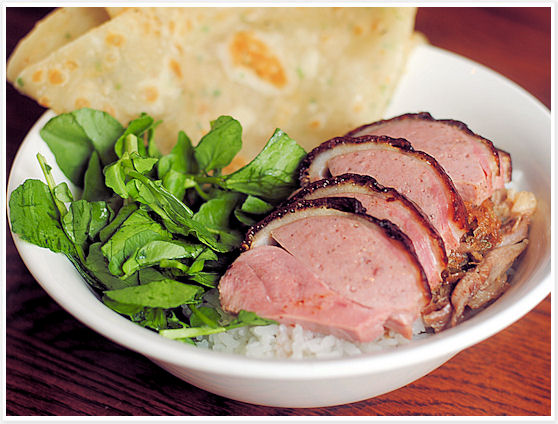 A trio of chili sauce, hoisin sauce, and fried shallots is set on the table as well as a bowl of Bibb lettuce, ready for your foodie masterpiece.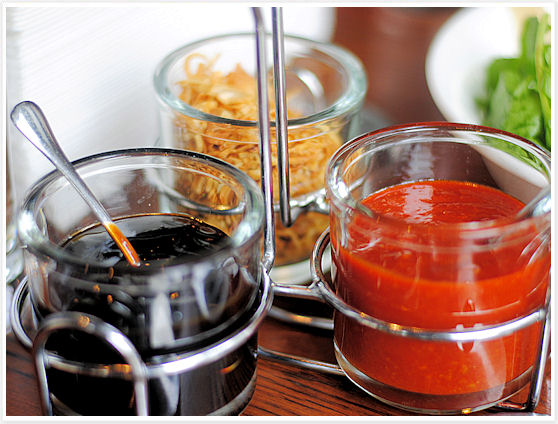 Whether you decide to tear up the savory chive pancake, use a lettuce as the main vehicle or do like I did and combine the two (!), just dab a little bit of your favorite sauce, sprinkle liberally with the fried shallots, roll it all up and be ready to be mesmerized.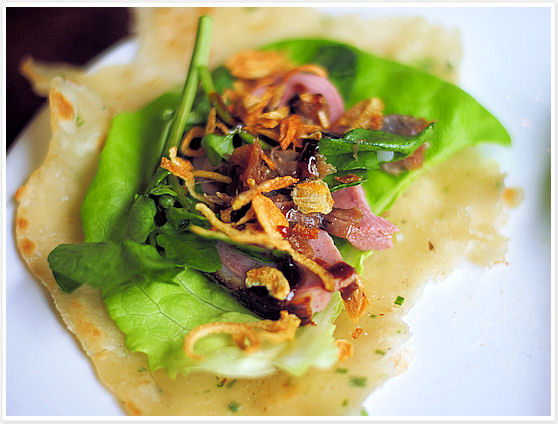 Momofuku Ssam Bar
207 Second Ave at 13th St New York, NY Duck lunch served Mon – Fri, 11:30 am – 3:30 pm T: (212) 254-3500
map