'Cacciatore' was one of those cooking terms I'd seen often enough and yet didn't have a clear definition for, until I decided to get into the kitchen, my true classroom, and created the dish myself to see what it was all about. The Italian translation of cacciatore is 'hunter' and imply a meal prepared 'hunter-style' which means a slow cooked meat with tomatoes, onions, and herbs and sometimes other additions like peppers and wine. It's usually made with chicken but as I'm trying to vary my meat consumption I opted for a Veal Cacciatore instead (out of boredom yes and the fact that there's something truly exciting about buying a huge piece of veal shoulder roast, all tied up and pretty looking… we just don't do that enough!).
This time of year I yearn for simple and rustic food which is exactly what this meal delivers. Slowly braising the meat makes it as you would expect very tender and the hearty tomato sauce is enriched with wild mushrooms, pancetta, and olives for a kick of flavor you wouldn't expect in this popular Italian-American dish. The large quantity is ideal for a dinner party or a week of leftovers, as it is even better the next day if at all possible! Now all you need is a good bottle of wine and a roaring fire…

Veal Cacciatore
Recipe from Gourmet Magazine
Active time: 1 hr
Total time: 4 hr
Makes 8 servings
  2/3 cup dry white wine
1/3 cup broken dried porcini (1/4 ounce) or other wild mushrooms
1 (5-to 6-pound) boneless veal shoulder roast
1/4 cup olive oil, divided
1/4 pound sliced pancetta, chopped
2 medium onions, chopped
2 medium carrots, chopped
2 celery ribs, chopped
3 garlic cloves, finely chopped
1 (28-ounce) can whole tomatoes in juice
1 1/2 (6-inch) rosemary sprigs
2 Turkish bay leaves or 1 California
1/3 cup small brine-cured black olives such as Niçoise   Accompaniment: polenta or pasta  

Preheat oven to 325°F with rack in middle.
Bring wine to a simmer in a small saucepan. Stir in porcini (or any dried wild mushrooms you're using) and remove from heat. Pat veal dry and season with 3/4 teaspoon salt and 1/2 teaspoon pepper.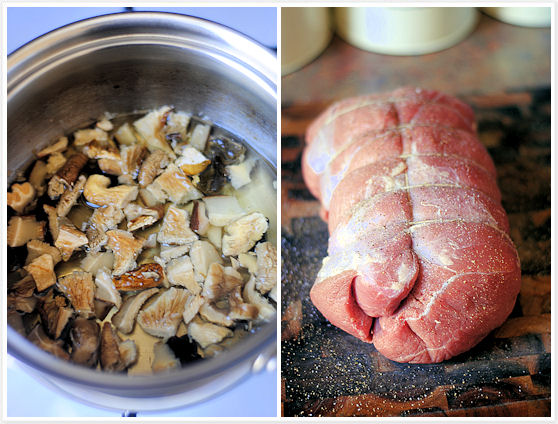 Heat 2 tablespoons oil in a wide 6-to 8-quart heavy pot over medium-high heat until it shimmers, then brown veal, turning, about 12 minutes.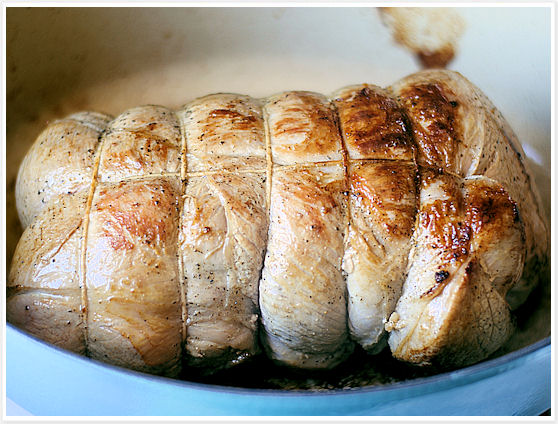 Transfer veal to a plate. Discard fat from pot and add remaining 2 tablespoons oil. Add pancetta and sauté over medium-high heat until it begins to brown. Add onions and sauté until softened, about 8 minutes.
Drain porcini in a fine-mesh sieve set over a bowl, pressing on mushrooms and reserving wine. Coarsely chop porcini and add to pancetta mixture with carrots, celery, and garlic. Sauté until softened, about 8 minutes. Stir in wine and cook until most has evaporated, about 2 minutes. Coarsely chop tomatoes and add to pot with their juice. Simmer, stirring occasionally, until thickened, about 15 minutes.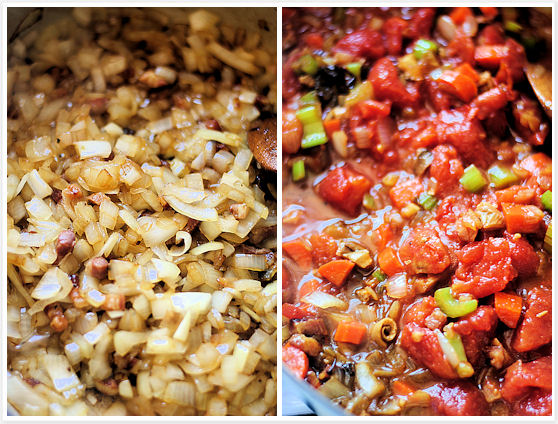 Add veal with meat juices from plate, rosemary, bay leaves, and olives. Cover pot and braise veal in oven, turning roast occasionally, until center of meat is fork-tender, 2 3/4 to 3 hours.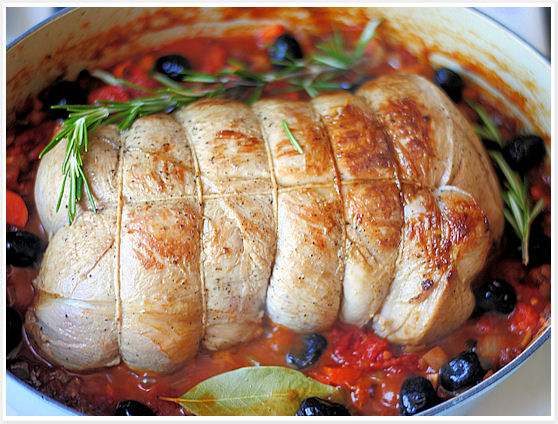 Transfer veal to a cutting board and let stand, loosely covered. Simmer sauce over medium heat, stirring occasionally, until thickened, about 10 minutes. Season with salt and a pinch of sugar if desired. Cut off strings from roast and discard bay leaves and rosemary. Thickly slice veal and return to pot, basting with sauce.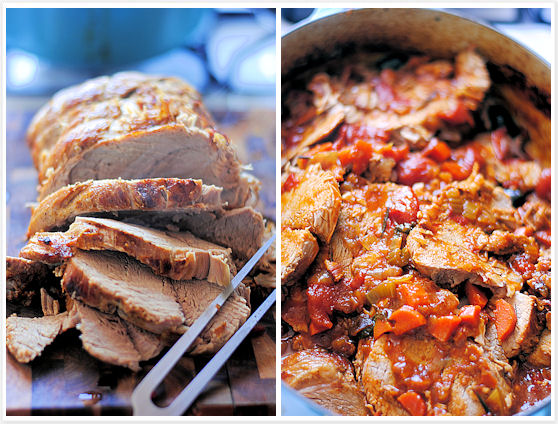 Serve over polenta or any other  starch you like!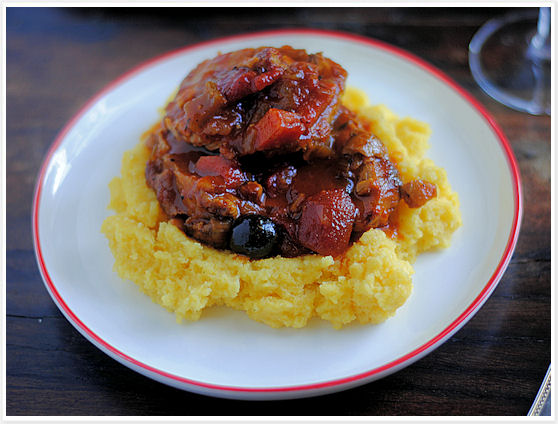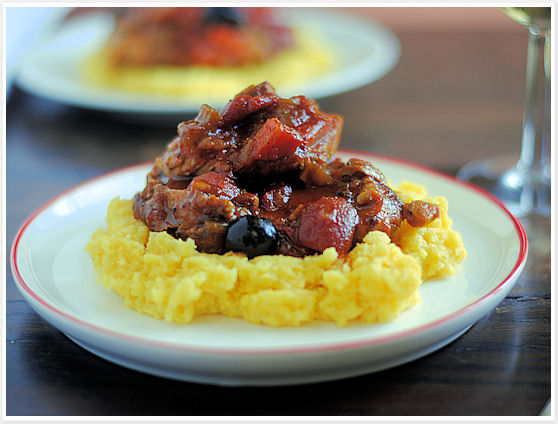 Print This Post