New Orleans has certainly gone through a lot these past years after the devastating Hurricane Katrina but for travelers it still boasts its irresistible Southern hospitality, filled with a love of culture, good food, and live music. I took a recent long weekend to 'go down south' and see for myself the party town affectionately called N'Awlins.
The heart of it all is Jackson Square, New Orleans's most famous public space made lively by the multitude of artists, street performers and musicians circling it every day.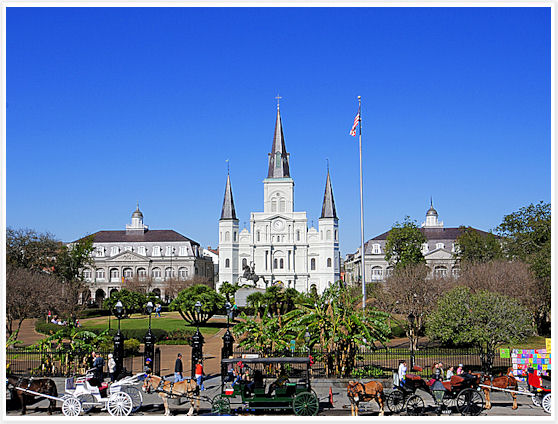 Overlooking the Mississippi river and beautifully laid out with historic buildings on three sides, the park is the anchor of the city and the ideal location to start exploring the French Quarter.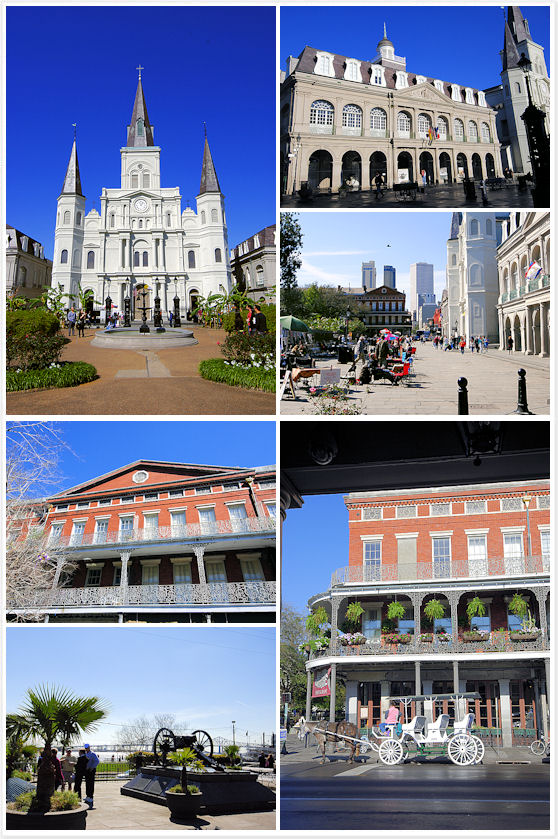 Before you start walking around though, you shouldn't miss fueling up at New Orleans' landmark Cafe du Monde – an iconic coffee shop open 24/7 and serving amazing beignets and cafe au lait right across from Jackson Square.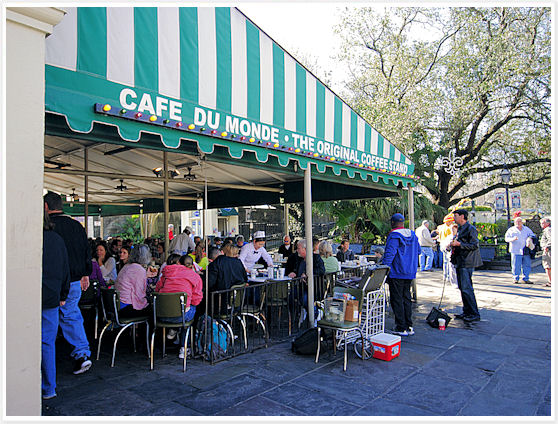 The addictive square donuts arrive piping hot and hidden under a pile of powdered sugar just the way they have been for over 150 years – definitely the number one item you should eat if you ever go to New Orleans!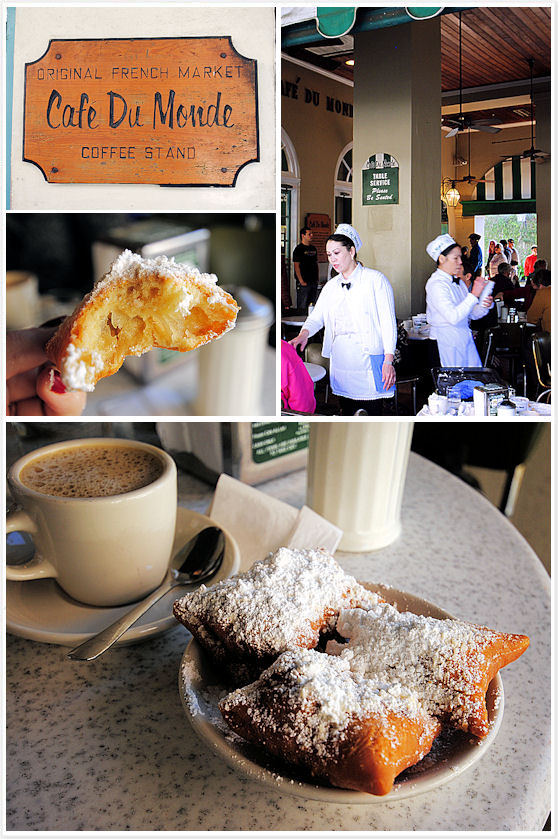 Walking off those delicious sweets couldn't be more pleasant than wandering around the old French Quarter (le Vieux Carré) and letting the atmospheric neighborhood soak in. There's something to see at every corner whether it'd be some colorful architecture…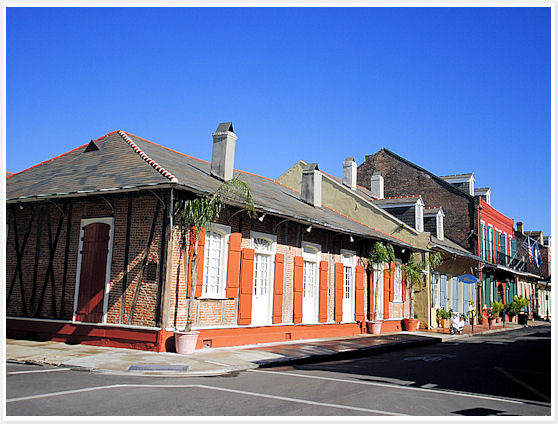 …some old relics from the past…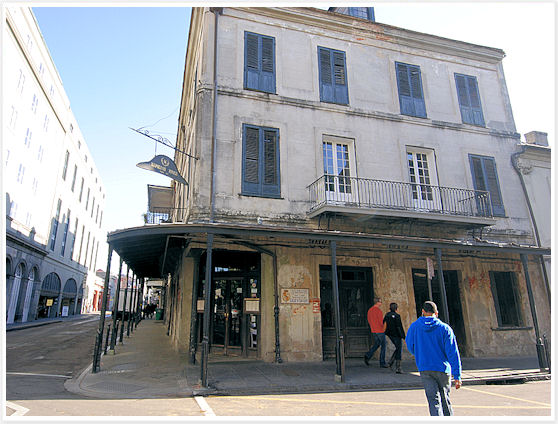 …magical shops and festive attire…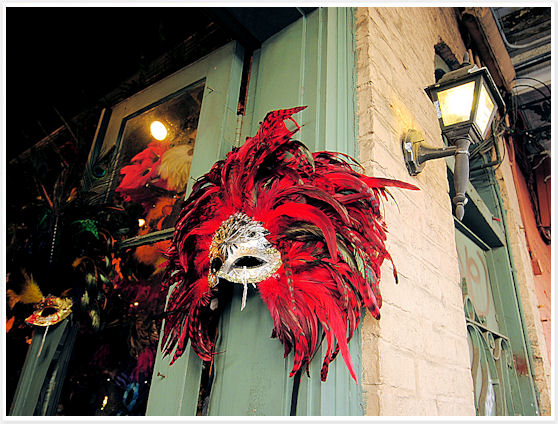 …and of course the real reason many comes to this party city: Bourbon street and its heap of boozy bars!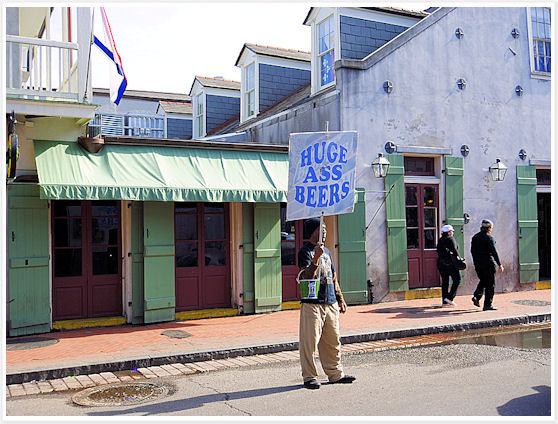 It was impossible not to notice the remnants of the festivities surrounding Mardi Gras which took place just a few days before we arrived: flags everywhere but mostly beads, tons of colorful beads hanging from just about everything…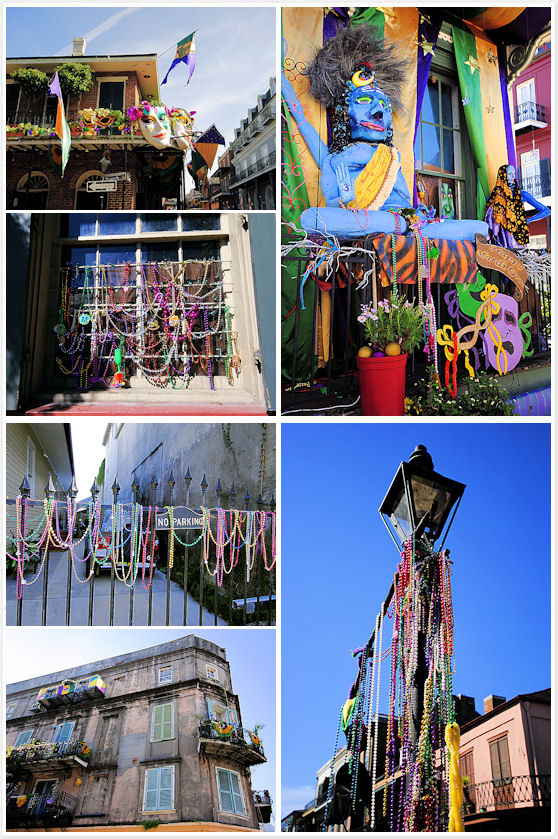 When you feel like you've seen the French Quarter from top to bottom, there are still some adjoining neighborhoods worth venturing into. We started going East to the increasingly popular Marigny neighborhood, best known for its multitude of live music venues on Frenchmen Street (we went back late at night for some epic Jazz scene…).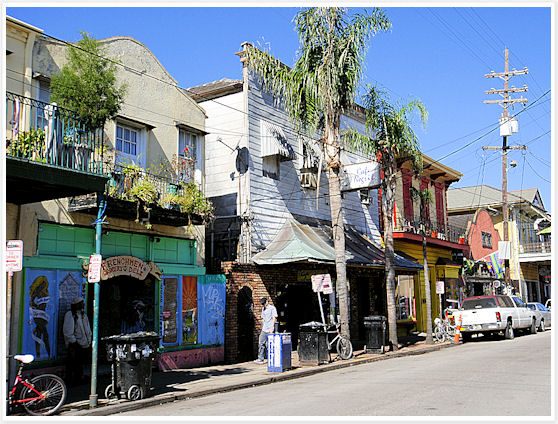 It's peaceful during the day and has the bohemian air of what the French Quarter probably looked like many years ago before mass commercialization. Cute Creole cottages and beautifully aging buildings line the residential streets amidst a few coffee shops, restaurants, and B&B.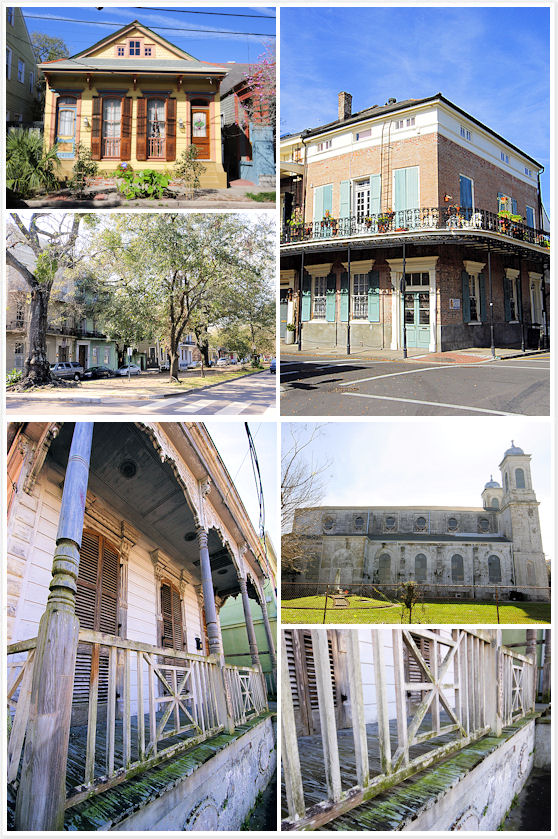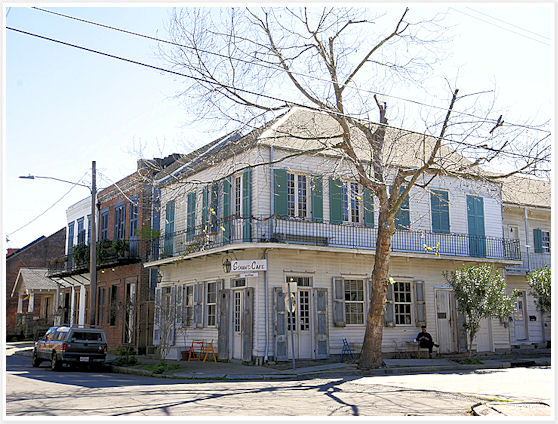 If you keep on walking East, you'll eventually hit the railroad tracks which mark the beginning of another neighborhood: Bywater. Even more residential and definitely edgier, Bywater has seen artists and musicians moving out of pricier neighborhoods to established themselves in this quirky enclave, lending it an undeniably hip and cool vibe. For New Yorkers, you immediately think of Williamsburg (probably more East Williamsburg now!) as you walk through the quiet streets, noticing edgy art objects scattered randomly throughout, passing a few punks and musicians on the way to a dive bar/gallery, and thinking you've just discovered the most laid-back and funky urban renewal you've seen.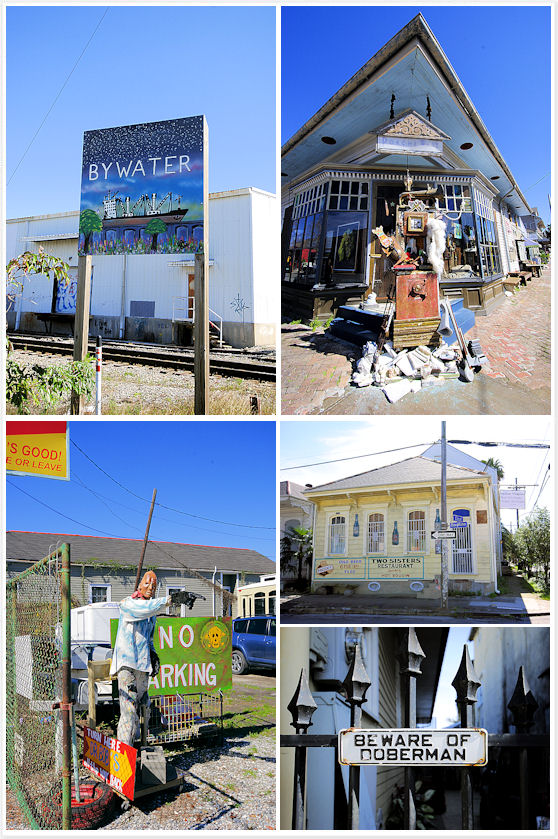 Such a cool neighborhood is obviously going to attract equally interesting eateries and it is the case with Maurepas Foods. When you're in need of a good cocktail and a few tasty snacks (as we were), you could hardly find something better in the area than this 1-year old creative tapas bar. Maurepas serves Southern bites with a local provenance and imaginative bend as well as extremely well crafted cocktails, a farm-to-table place at low prices that seems right where it should be.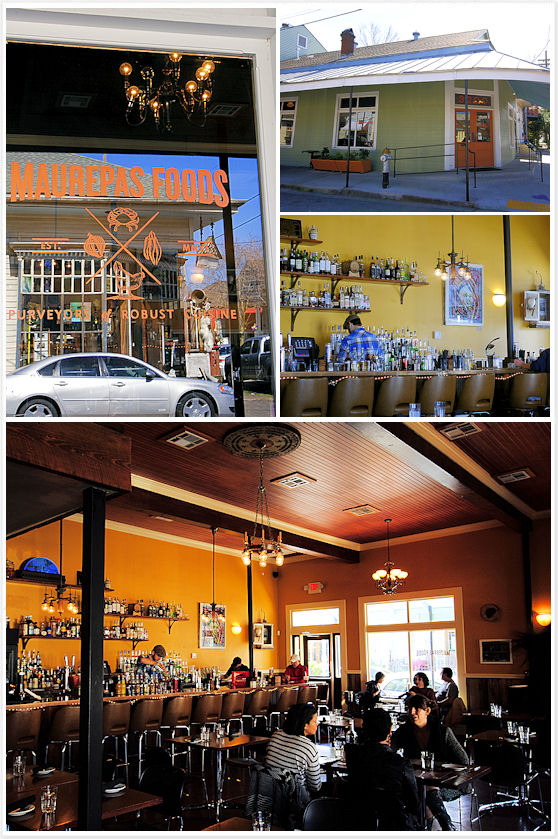 We enjoyed delicious cocktails and a light lunch of roasted beets with blood orange marmalade, side of market greens, and goat tacos before heading back to the French Quarter, happy to have seen this upcoming corner of New Orleans in all its delicious whimsicality.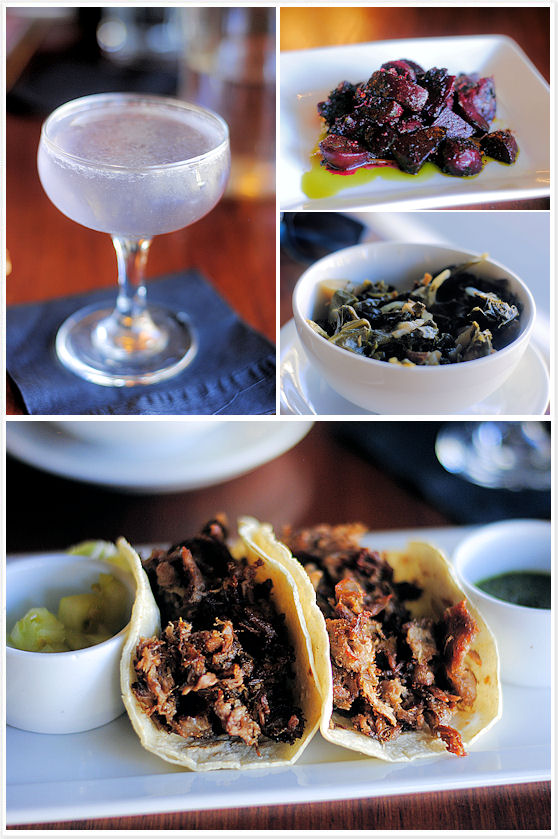 It's a bit of a long walk back to the center so some more eating was needed on arrival! The Green Goddess, tucked in an alleyway called Exchange Alley in the middle of the French Quarter, serves up comforting eclectic fare and a lot of vegetarian dishes, though we opted instead for their famous bacon sundae…!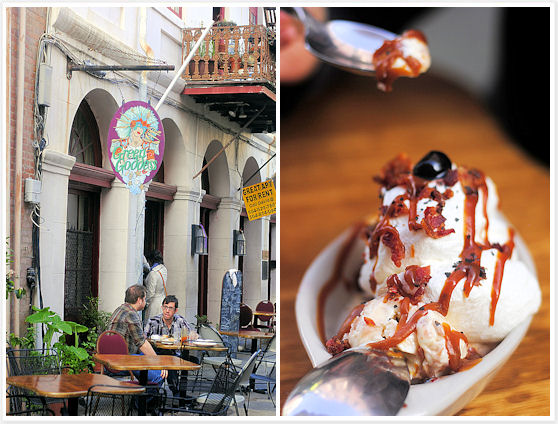 Back at the W Hotel which sits around a lovely courtyard in the middle of the French Quarter for a quick later pm rest before a packed evening…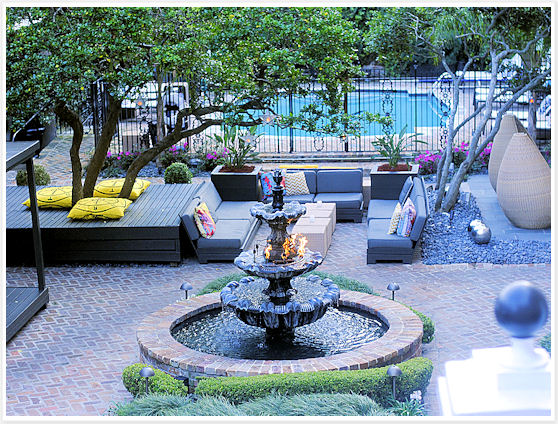 Music is such a big part of a night out in New Orleans that you'll probably have a hard time deciding where to start, though one pretty good bet is the old school Preservation Hall. The dusty old building offers one of the most intimate setting for a night of true old-time jazz and is where you'll hear the sweetest, most traditional New Orleans tunes. People line up at least an hour before each night's performances so you can easily spot the venue by the crowd gathering in front.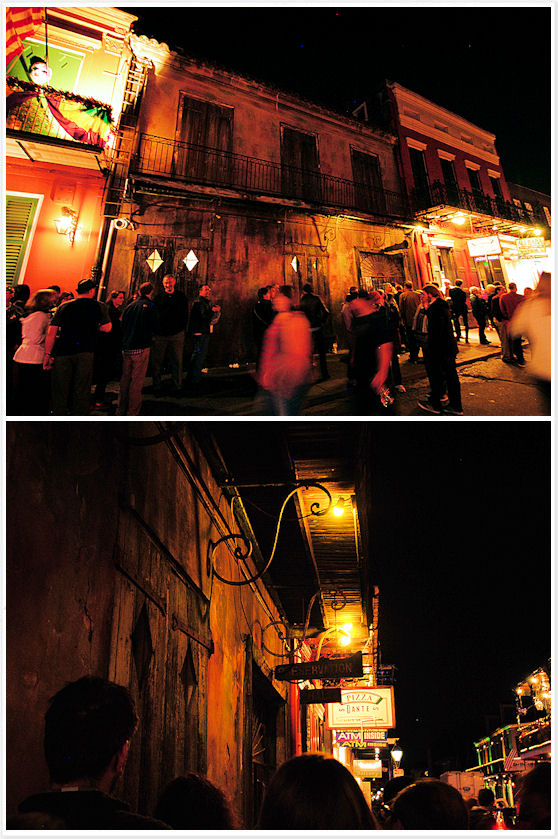 The tiny space feels like you just entered someone's home and seating is scarce so most will be standing. Despite the cramped confines and lack of comfort (no drinks, AC, etc.) you'll immensely enjoy the 45 minutes of classic and joyful sounds which will convince you that you just took part in history…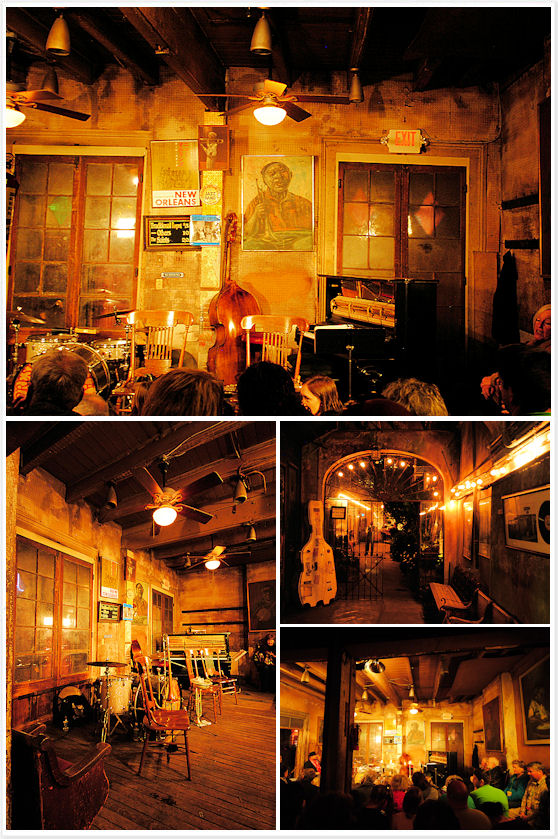 In contrast to the traditional concert, dinner took on a  more modern take at Root in the Warehouse District.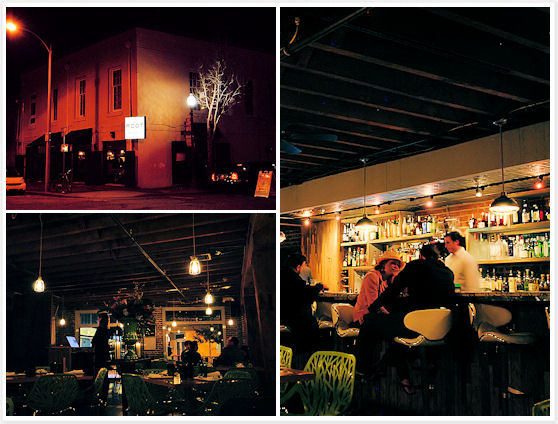 House-made charcuterie is a staple here and their charcuterie plate will leave you swooning. Ours included a generous portion of chorizo, pork and duck rillettes, mojama (cured and dried tuna), and their specialty called 'CBD' (chicken, beef, and duck-poached ballotine). The gigantic platter also arrived heaping with pickles and condiments to accompany our selections, from kimchi-style vegetables to pickled blood oranges, satsuma and butternut squash. This would have been enough for our meal though we had also ordered the Petite Greens Salad (herbed ricotta, candied smoked pecans, citrus) and Louisiana pickled shrimps with shrimp-stuffed deviled eggs and truffled egg yolk mousse…let's just say we rolled out of there and when straight to the hotel!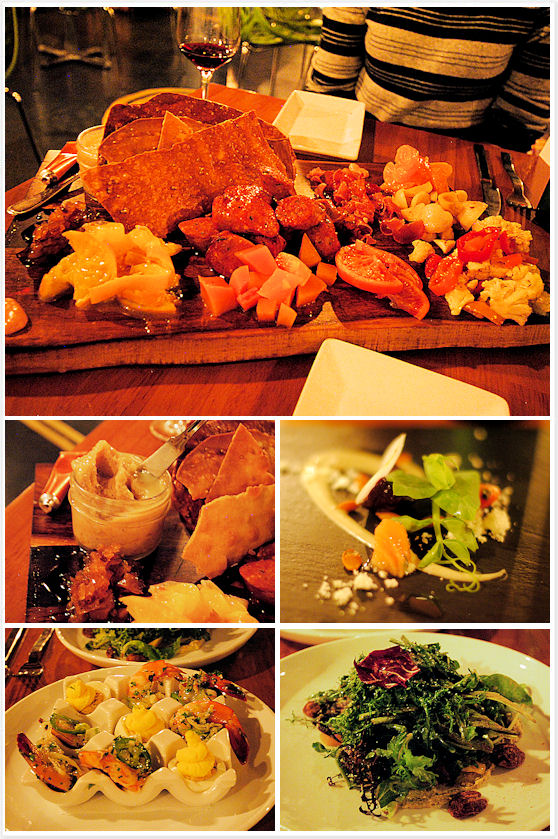 Next morning started with a quick cab ride to Surrey's in the Lower Garden District. Expect a wait at this popular breakfast spot though it'll be worth it for cheap grubs in a funky setting with local art adorning the walls. They make delicious freshly squeezed juices, homemade bagels and tasty Southern staples such as biscuits and gravy.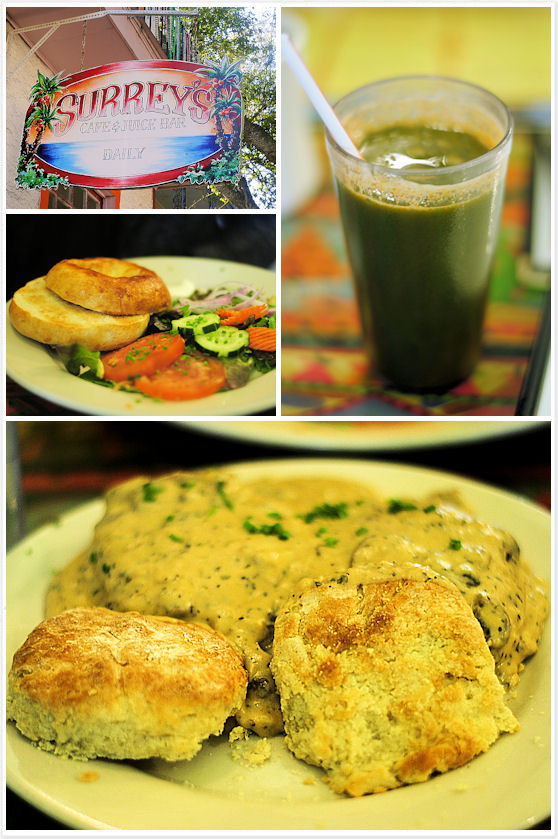 Then it was off to a pretty stroll along always buzzing Magazine Street which stretches for 6 miles between the Garden District and Uptown. It's the main shopping thoroughfare outside the French Quarter and features gorgeous mansions amongst the countless antique stores, cafes, art galleries, and boutiques.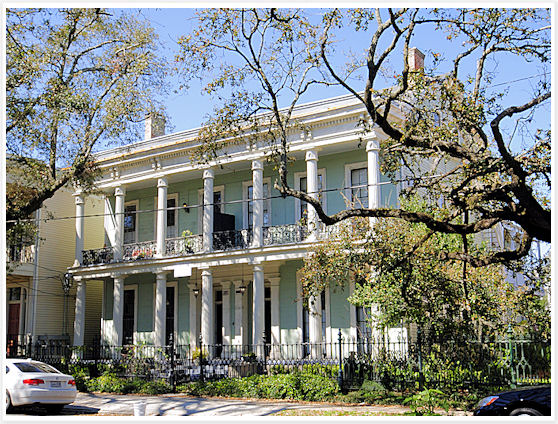 Lunch was at Mahony's, also on Magazine street, where we had to wait 45 minutes for our massive Po'Boys to arrive. It is New Orleans' signature sandwich so we had to have it, though the enormity of my fried oyster po'boy soon got the best of me… Decent sandwich, plump, cornmeal-crusted fried oysters with a remoulade slaw on a French baguette, it was good but really knocked us out for the rest of the afternoon!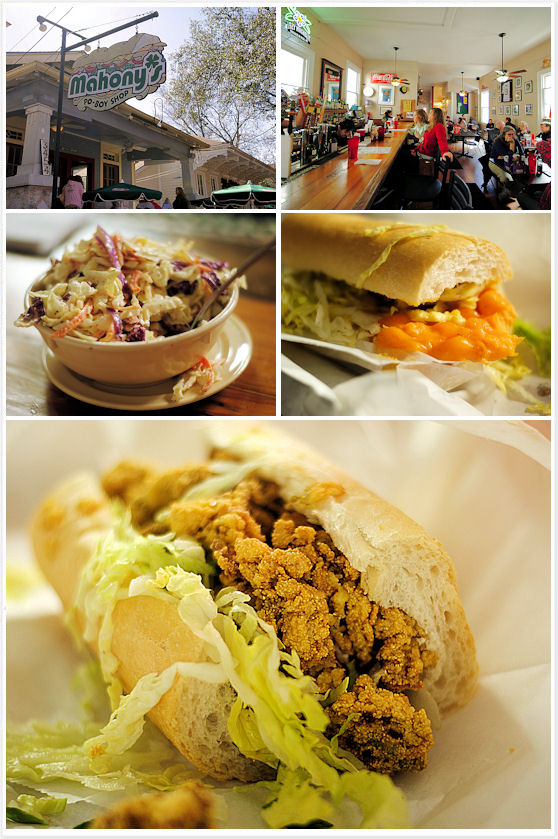 We walked a few blocks north to catch a glimpse of the St. Charles Avenue Streetcar, the oldest continuously operating streetcar in the world, which you can board at any of the numerous stops for a pleasant ride admiring the historical mansions lining the route.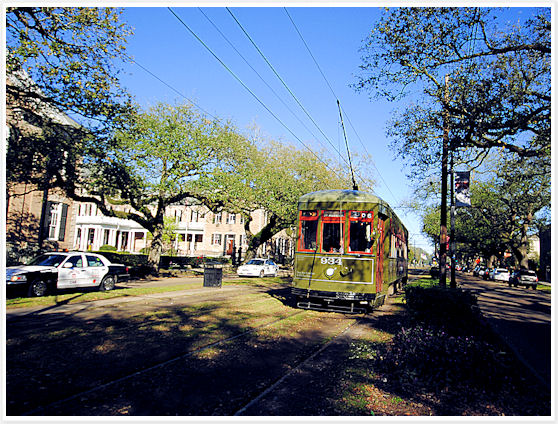 As the sun sets, the city takes on a festive atmosphere and it was especially true as we ran into this traditional wedding procession at the corner of Canal Street. The brass band led the bride and groom through the streets to the sound of jazzy tunes, followed by all their guests dancing and waving white handkerchiefs in the air – a memorable sight!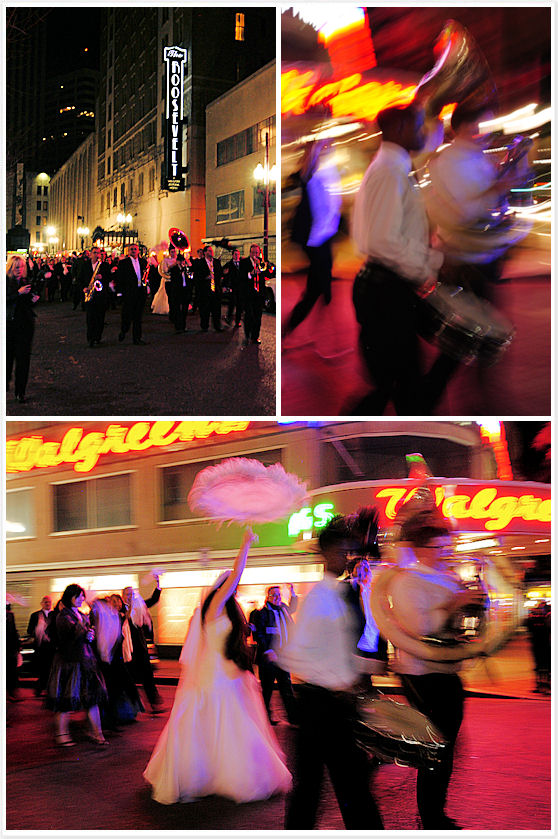 Tonight again we started the evening with a slice of history by checking into the Sazerac Bar at the Roosevelt hotel. As the name implies, the drink to get here is a Sazerac which is supposedly the 'oldest known American cocktail' and was created here in New Orleans. You could hardly find a classier place in the city to savor this historical drink and while you're at it, I suggest you get the other local specialty, the frothy Ramos Gin Fizz.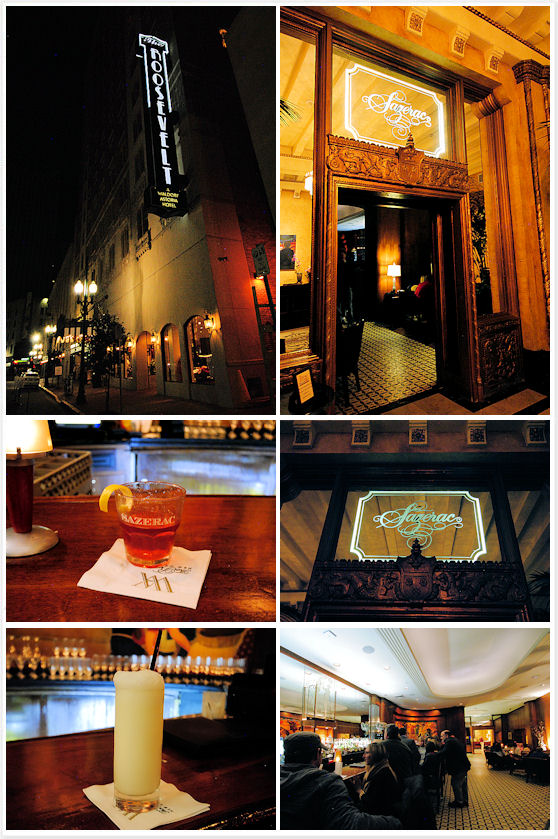 Dinner at the highly praised Herbsaint was a definite highlight of the weekend. The 'lightened' New French and New American cuisine was a welcomed change from the heavier Southern fare we had indulged in since we arrived. The casually elegant bistro is all about sharing wonderful small plates while enjoying impeccable service and a nice view of St. Charles Avenue through the restaurant's huge windows.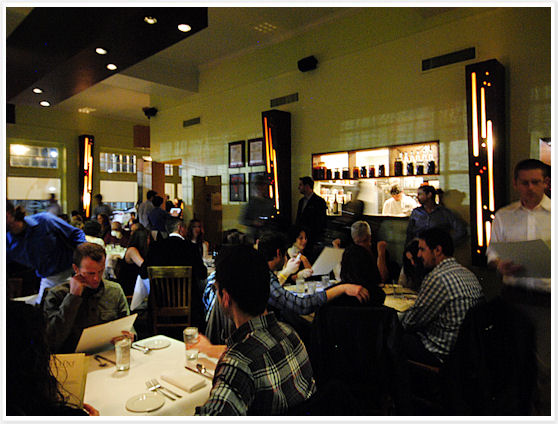 The quality of the food was excellent and although we skipped the popular dishes of duck confit and pork belly which are supposedly standouts here we had an amazing meal:
Baked Asiago with Oregano and Lemon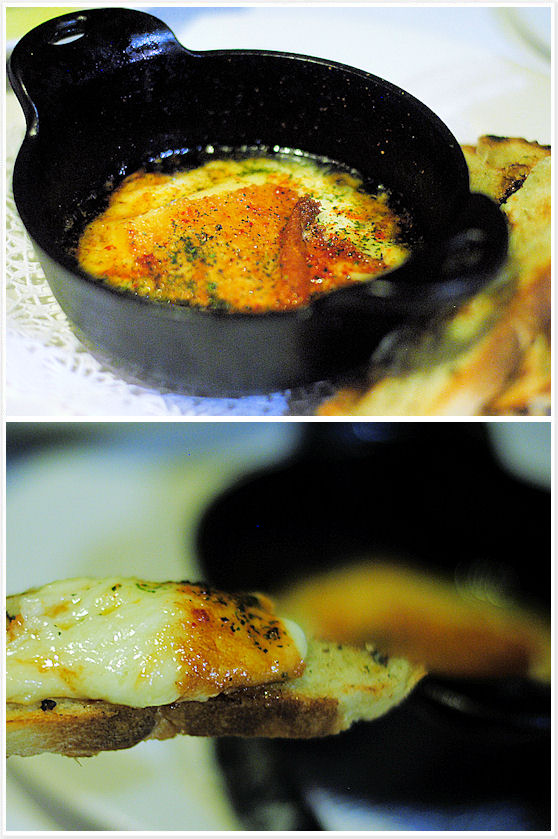 Beef Short Rib with Potato Rösti and Salsa Verde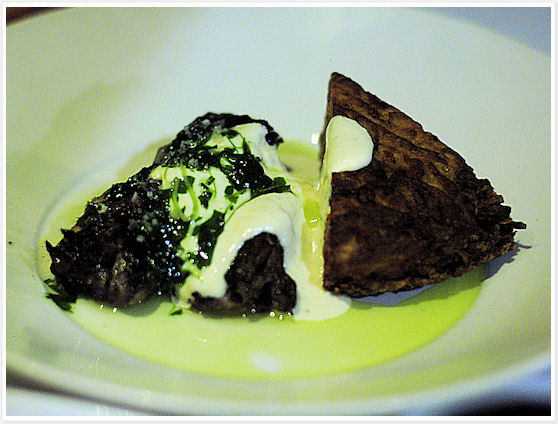 Butter Poached Gulf Tuna with Pickled Chilies and Mint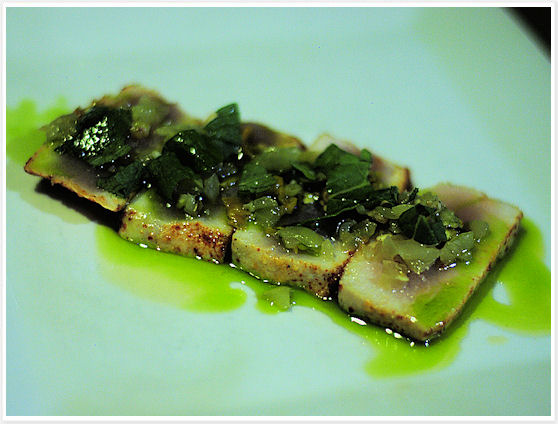 Banana Brown Butter Tart with Fleur de Sel Caramel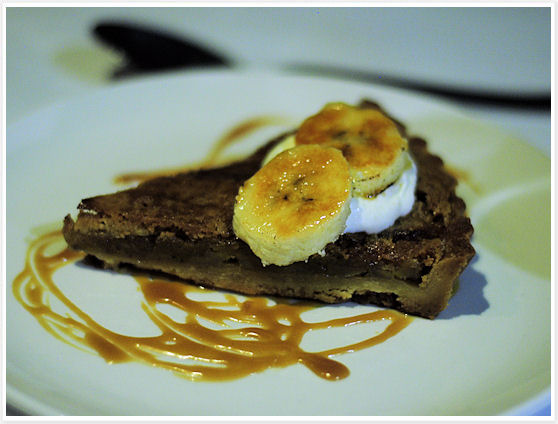 The night ended on Frenchmen Street where locals congregates to hear some pretty awesome live music and dance the night away. It's a compact two blocks that is filled with bars with live bands and all you have to do is follow the music… We pushed our way into The Spotted Cat just in time for the next set of the terrific band that was playing that night, getting crammed into a ridiculously small space. You'll forget all about your close neighbors as soon as the music fills the room…this is Jazz that is hard to not stomp your feet to and shake it 'til somebody kicks you out. The true New Orleans is definitely somewhere around Frenchmen street…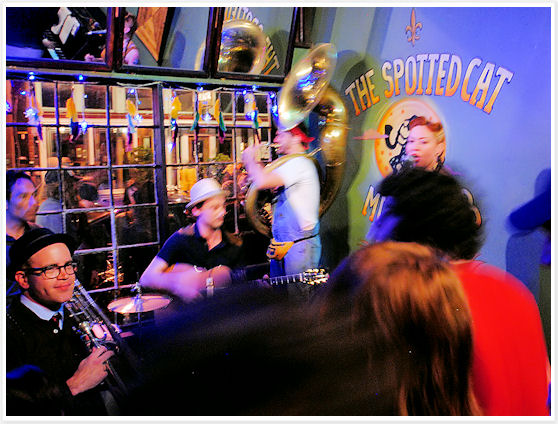 Last breakfast was a homey affair in the adorable Eat restaurant set in a quieter corner of the French Quarter. The locals favorite serves up Cajun style dishes in a charming and sunny converted house.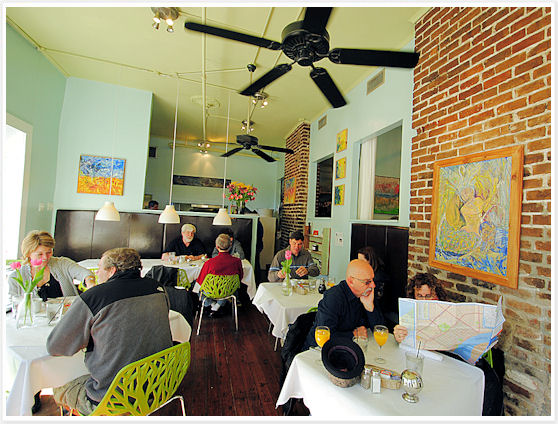 Eggs special of the day served over black eyed pea cakes and andouile sausages with a creole sauce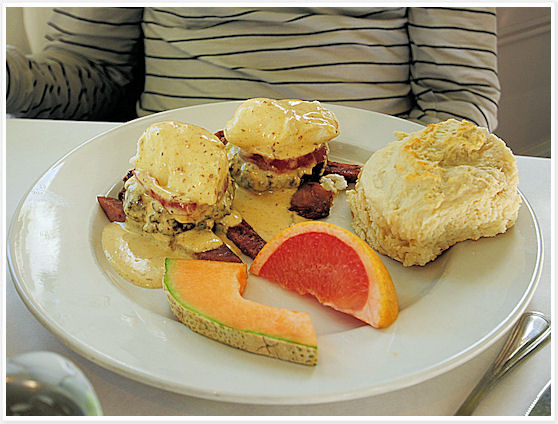 The Fried Green Tomatoes Breakfast comes with three fried green tomatoes, eggs of your choice, grits, bacon, and a giant homemade biscuits…needless to say I barely got through half of it!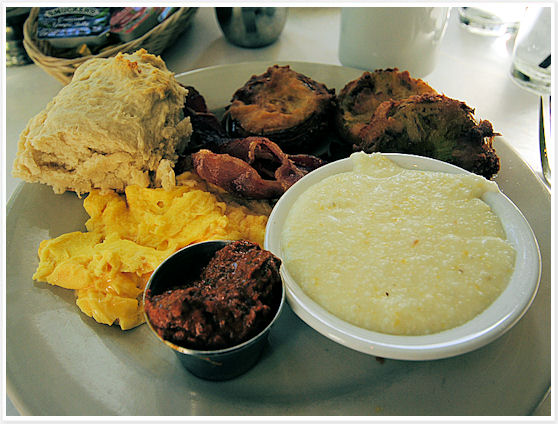 A long walk is recommended after every meal here (!) so we headed to nearby Louis Amstrong Park, perfect for wandering around its lagoons, jazzy sculptures and grassy open spaces all in hommage to New Orleans's favorite son.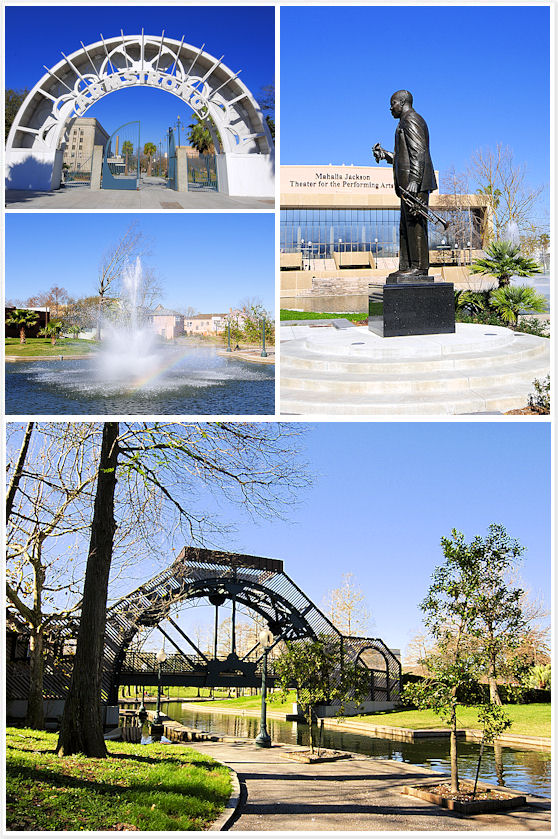 Practically next door lay the Saint Louis Cemetery Number One, a beautiful and quite unique aboveground cemetery which is also the oldest of its kind in the city.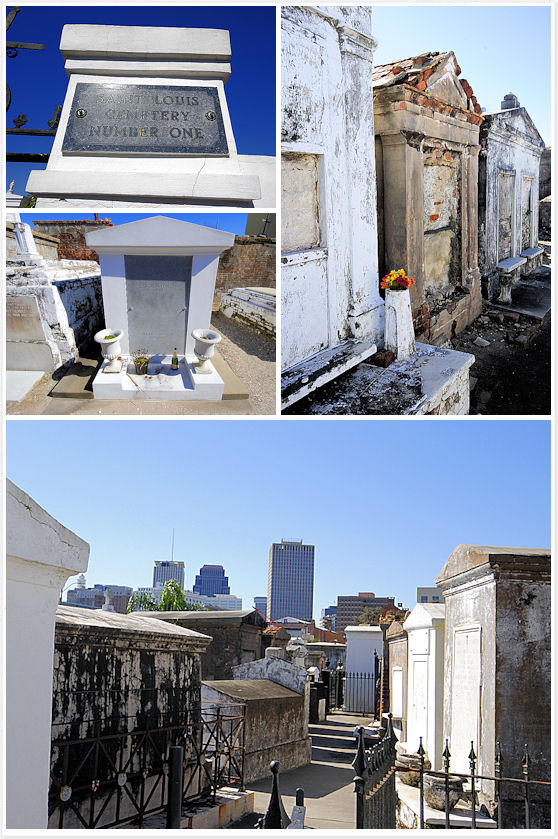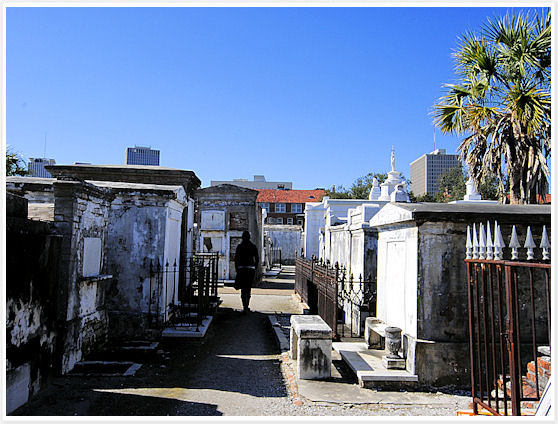 One of the city's most intriguing places to visit, it somehow oozes charm as you start noticing the antique details, growing life amidst the rubbles, and stunning beauty of the flowers against the aging stones.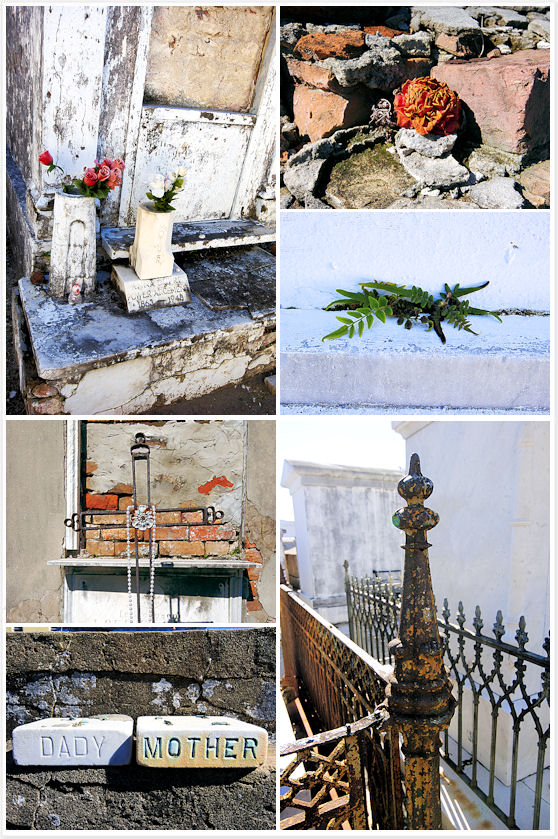 Just like New Orleans, it manages to seduce subtly while still showing its rough exterior… a great ending to a weekend of contrasts and old school charm.