Chocolate pasta… really? This is the kind of dish that raises some eyebrows which makes it even more fun to try as you'd really be stepping into unknown territory here. It's kinda hard to picture what it would taste like or how it would be served outside of a Willy Wonka dreamland which made it even more tempting for the sake of my culinary curiosity.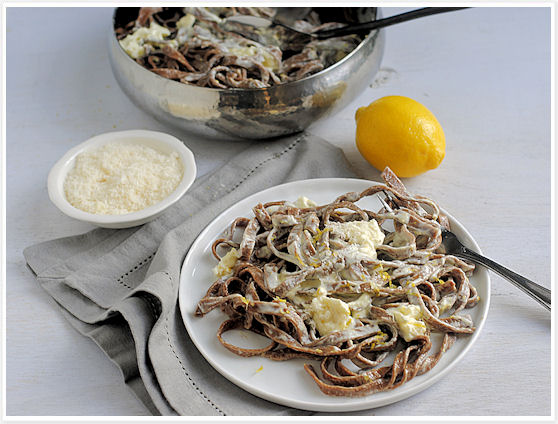 I had seen 'dessert chocolate pasta' before served with sweet toppings though what I was mostly interested in was the savory adaptation which isn't that crazy after all… Chocolate has been sparingly used in savory dishes for a long time, think of mole sauce in Mexican cuisine and Europe has paired it with rabbit in a stew. Here it takes on an even subtler approach by simply flavoring delicately fresh pasta for an unusual dish.
There is no sugar added (the main difference with the chocolate pasta used for desserts) and the amount of cocoa in the dough is pretty small so you don't get the sweet taste you would expect. Instead you get beautiful brown dough that feels like suede and has a delicate aroma of cocoa which only intensify as you cook the pasta. The sauce is a simple mix of butter and mascarpone, the latter proving it works as magically in this savory context than it usually does in any kind of chocolaty dessert – they're just such a good match.  Lemon zest lightens up this decadent dish though you'll want to serve smaller portions than usual…it's still pretty rich! This meal is ideal for either impressing your guests and throwing a dinner party on its head, or when you just feel like trying something novel and stepping out of your cooking comfort zone which it inevitably will. Let's face it, as rich and good as this is, chocolate pasta is still kind of weird…

Chocolate Fettuccine with Mascarpone and Lemon
Recipe from The Cheesemonger's Kitchen
Active time: 45 minutes
Total time: 1h15 minutes
Makes 6 servings
For the pasta
3½ cups (440g) all purpose flour, plus more if needed
3 tablespoons cocoa powder
4 eggs
For the sauce
4 tablespoons (55g) unsalted butter
1 lb (455g) mascarpone cheese
2 lemons, for zesting
Freshly cracked black pepper
For assembling the dish
¾ cup (75g) grated Parmigiano-Reggiano

In a large bowl, whisk together the flour and cocoa. Make a well in the center. Break the eggs into the center and beat with a fork, gradually incorporating a bit of the flour from the sides of the well until a sticky dough is formed.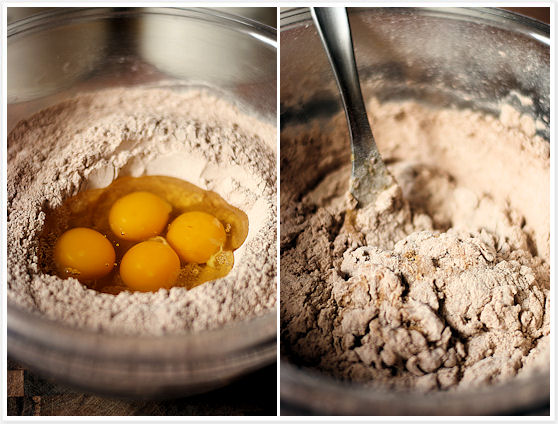 Turn the dough out onto a lightly floured work surface and knead, adding a bit of flour if needed, until the dough is smooth and elastic, 3 to 5 minutes. Cover the dough in plastic wrap/cling film and let sit at room temperature for at least 30 minutes.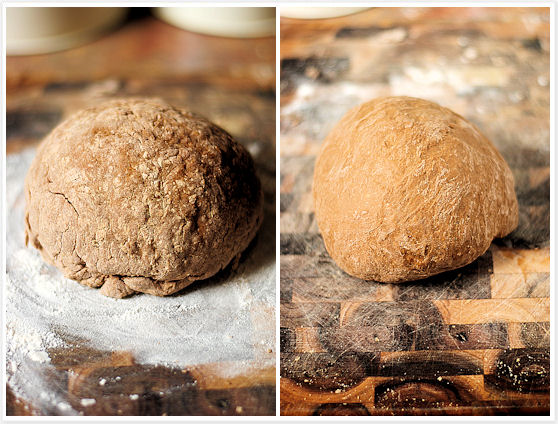 Working with half of the dough at a time, use a pasta maker to roll out long sheets 1/16 in (2mm) thick onto a lightly floured surface. Cut into sheets about 10 in (25cm) long. Cut the sheets into fettuccine with the appropriate attachment. Continue with the remaining dough.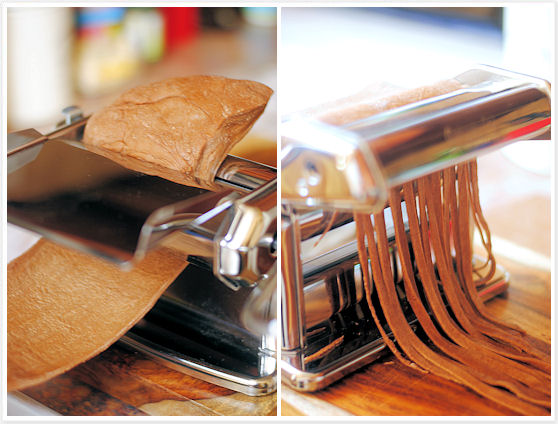 In a large pot, bring plenty of salted water to a boil. Gently heat the butter in a large frying pan until just sizzling but not turning brown. Remove from the heat and add the mascarpone all at once. Do not stir. Pour the butter and mascarpone into a large, preheated serving bowl. Zest the lemon into the bowl along with a few grindings of pepper.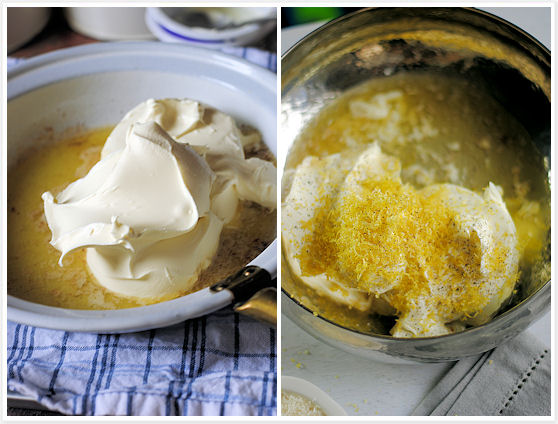 Cook the pasta in the boiling water until al dente, anywhere from 45 to 60 seconds. You may have to do this quickly in two batches, depending on the size of your pot of boiling water. Drain and add the pasta to the serving bowl along with half of the Parmigiano.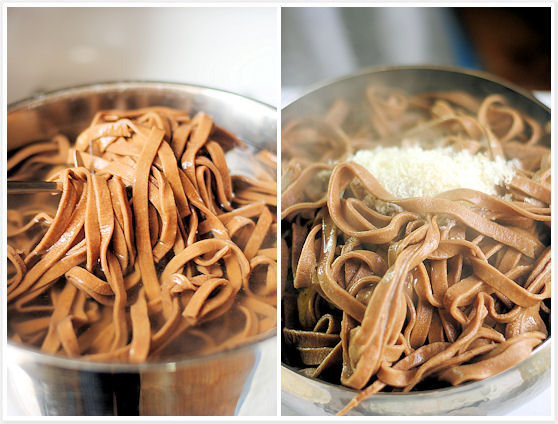 Stir quickly to combine and melt the mascarpone into a velvety sauce. Serve immediately in the bowl at the table topped with the remaining Parmigiano.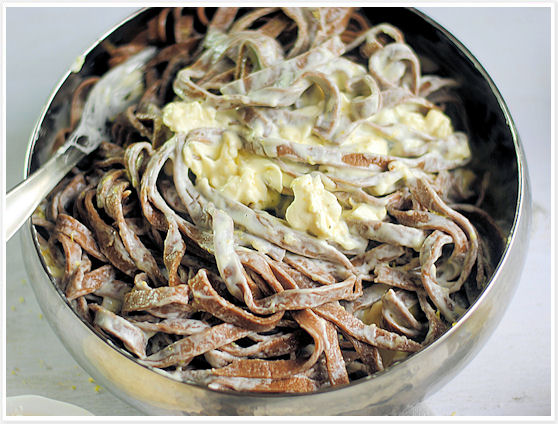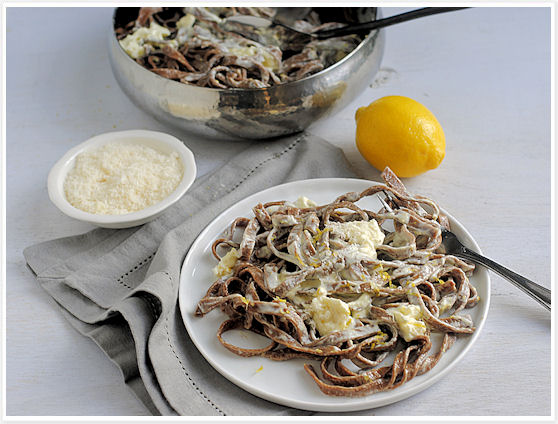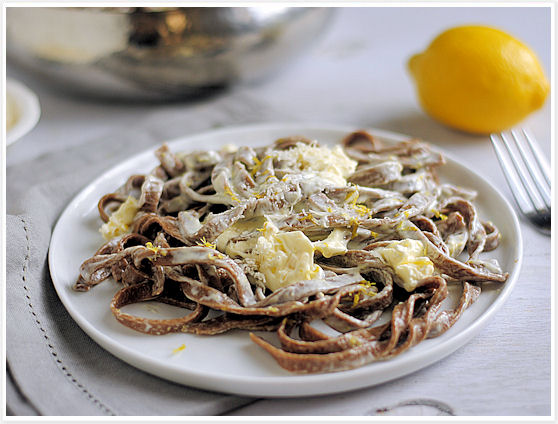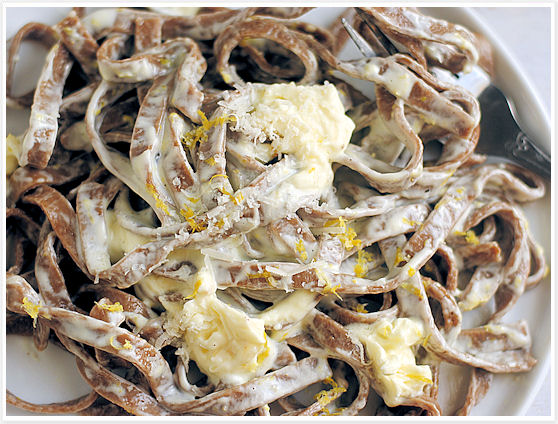 Print This Post