It's the first day of Spring today even though it really doesn't feel like it. Nevertheless, it does mean that we can start thinking of warmer days and beach vacations, which for a lot of Northeasterners are often associated with seafood shacks along the coast. Lobster rolls are my fave but fish cakes come in close second and these lightly spicy ones are some of the best I've ever made.
The preparation is super easy, 10-15 minutes and you're done, and the best part is these will benefit from being prepared in advance. Making the patties in the morning and leaving them in the fridge until frying time helps them hold their shape better.
Using meatier fish such as hake or cod means you have some large flakes to bite into, a much more satisfying experience I think than the usually creamier crab cakes. They have a bright taste and the paprika lemon mayo is to die for. Served over a bed of greens with a squeeze of lemon and a cold beer and I swear the sunny days won't seem so far away…

Fish Cakes with Paprika Lemon Mayonnaise
Recipe from Gourmet Magazine
Active time: 15 minutes
Total time: 30 minutes
Makes 4 servings
For fish cakes
3 garlic cloves
1 cup coarsely chopped onion
1/2 teaspoon ground coriander
2 large eggs
1/2 cup fine dry bread crumbs
2 tablespoons mayonnaise
3/4 teaspoon ground cumin
1/2 teaspoon salt
1 1/2 lb skinless hake or Pacific cod fillet, cut into 2-inch pieces
6 tablespoons olive oil  
For mayonnaise
3/4 cup mayonnaise
1 teaspoon finely grated fresh lemon zest
1 tablespoon fresh lemon juice
Rounded 1/4 teaspoon hot paprika
1/4 teaspoon salt   Accompaniment: 1 (5-oz) bag baby salad greens such as herb salad, Asian mix, or mesclun  

Make fish cakes:
With motor running, drop garlic into a food processor and process until finely chopped. Add onion and pulse until finely chopped. Add coriander, egg, bread crumbs, mayonnaise, cumin, and salt and pulse until combined.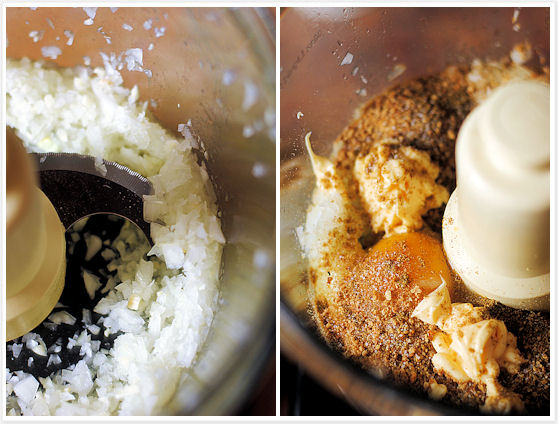 Add fish and pulse until coarsely chopped.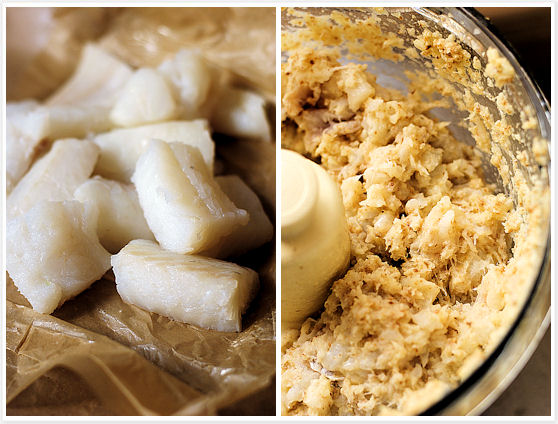 Line a baking sheet with wax paper. Quickly form fish mixture into 8 (1/2-inch-thick) patties (about 3 inches in diameter), transferring to lined baking sheet as formed.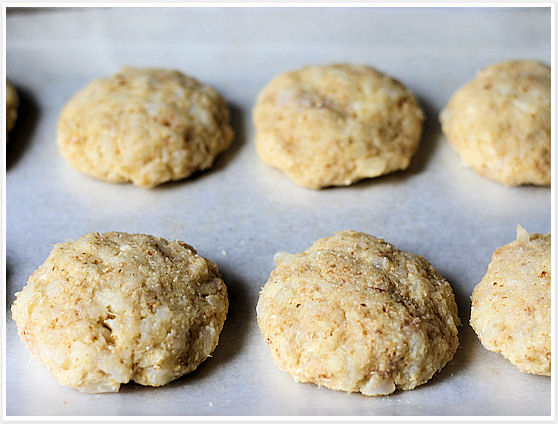 Heat 3 tablespoons oil in a 12-inch nonstick skillet over moderate heat until hot but not smoking. Cook 4 cakes, turning over once, until golden brown and just cooked through (reduce heat if cakes brown too quickly), about 6 minutes total. Transfer cakes with a slotted spatula to a plate and keep warm, loosely covered with foil. Wipe out skillet and cook remaining 4 patties in remaining 3 tablespoons oil in same manner.
Make mayonnaise while fish cakes cook:
Whisk together all mayonnaise ingredients in a small bowl until smooth.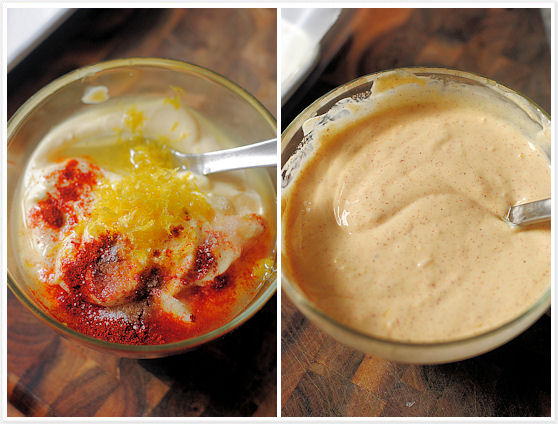 To serve:
Divide fish cakes among 4 beds of greens and top with paprika lemon mayonnaise.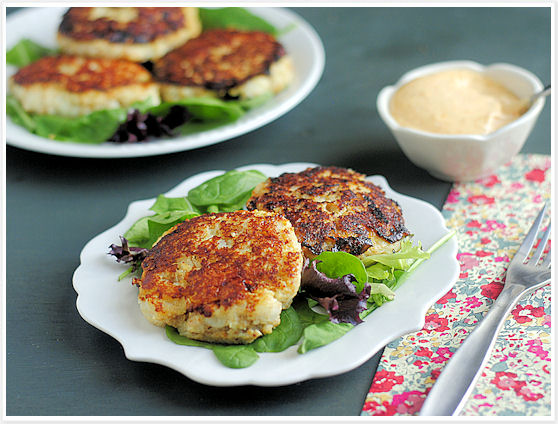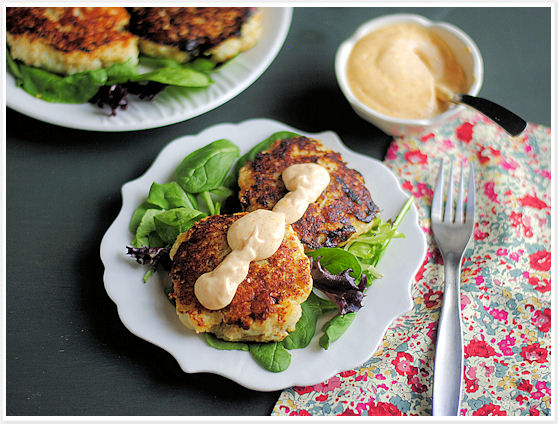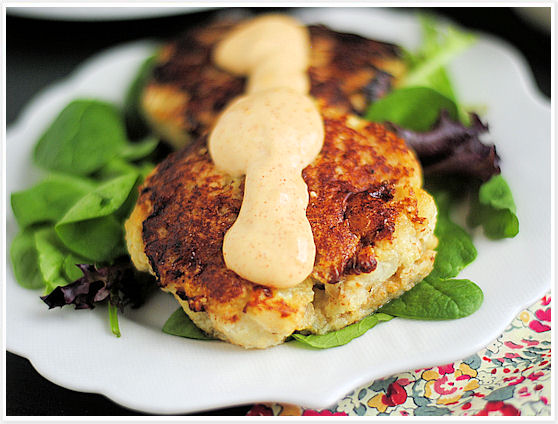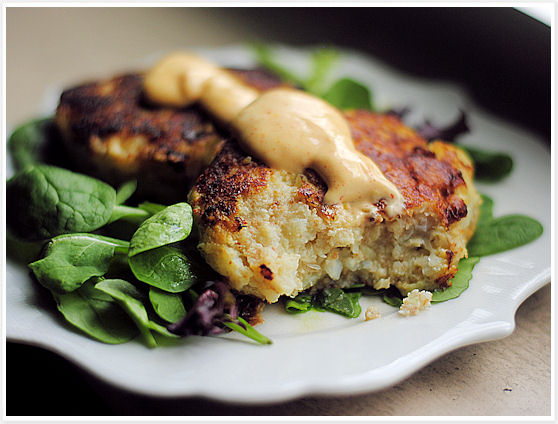 Print This Post