Attention all meat lovers out there, there's more than steak houses to get your carnivorous fix and I might have just found my favorite place for when the craving strikes. Like a lot of people these days I really try to limit my red meat consumption for now obvious health and environmental reasons, which means that when I decide to treat myself I want something beyond good. I want the utmost quality and freshness and a cooking so perfect the one bite will render me speechless for a few delectable seconds… and this is exactly what I got at Takashi in the West Village.
A Japanese-Korean BBQ, Takashi takes the nose-to-tail eating trend very seriously and offers adventurous eaters an unbelievably good occasion to ingest every single piece of the cow, from heart to tongue, balls to tendons, eye to stomach and everything in between. The not-so-daring types will also find plenty to love with exquisite cuts of skirt, ribeye, shoulder and belly, all sourced from small farms that sustainably raise their cattle…and you can taste it! It would be hard to find a fresher way to eat your meat too as here it's 'cook-your-own' as often seen at Korean BBQs around town.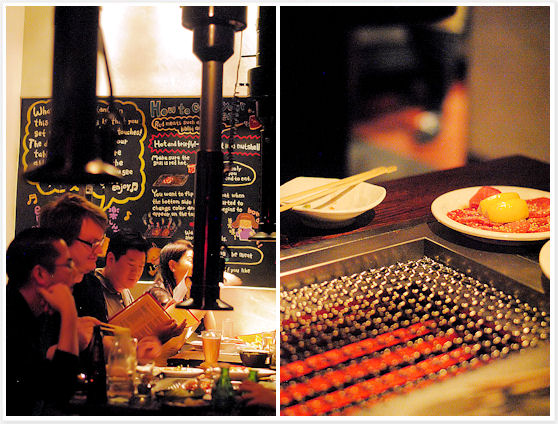 First you'll nibble on some complimentary plates of kimchi and cabbage salad dressed with miso while perusing the menu and deciding on how crazy you'll go tonight. It helps to look at the walls then which are adorned with cutesy cartoons of beef cuts and innards. When you order, you'll be asked if you'd like your beef either marinated in Takashi's special soy-based sauce, or a simple mix of sesame oil, lemon and salt – I went with the latter.
We started off with their most popular appetizer, Niku-Uni,  a raw stack of nori (dried seaweed,) fresh shiso leaf,and chuck flap topped with sea urchin. A show-stopper though I found the shiso leaf and sea urchin to be a bit overpowering, hiding the taste of the meat altogether.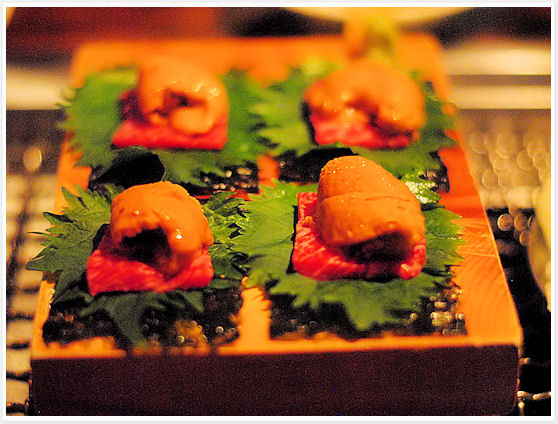 Right after the black exhaust hood above our table was lowered, and the tabletop electric grill switched on, ready to receive our chosen cuts. Each comes with precise instructions on cooking time (like 45 seconds on each side!) and you'll soon see everyone with their iPhones out, timer in hand, happily counting the time before they can bite into some of the most delicious beef morsels I've ever had… We played it real safe for our first visit (I know, shame on me!) and now I'm dying to go back and try the more obscure side of the menu.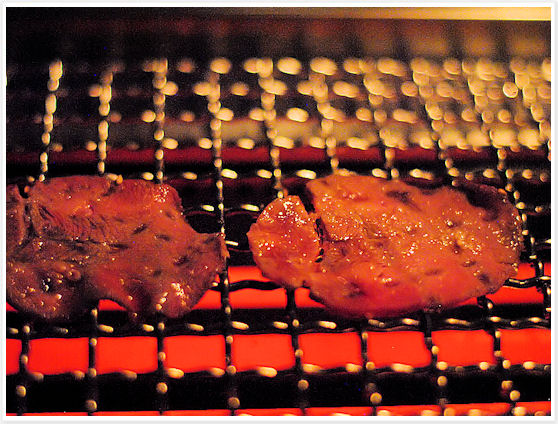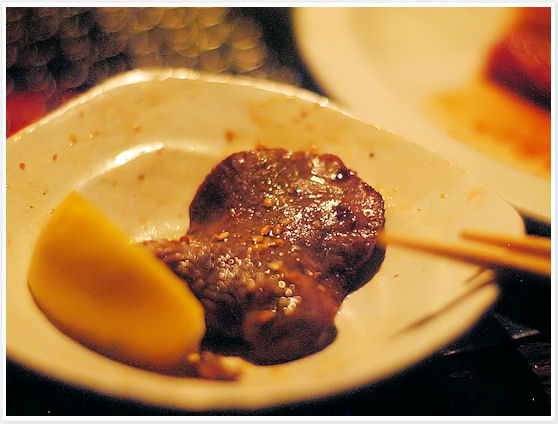 They only have one dessert but it's a perfect ending to the amazing meal we just had – homemade Madagascar Vanilla soft-serve ice cream topped with Hoji syrup… how can you not love that!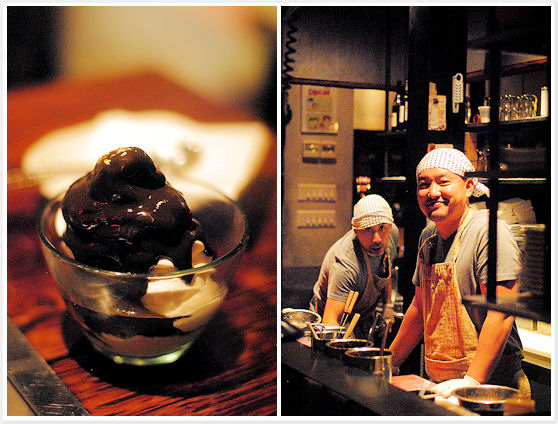 Takashi
456 Hudson St New York, NY T: (212) 414-2929
map