One should never need an excuse to eat foie gras, or so I was telling myself recently while buying half a fresh lobe at a fancy grocery store for my very own guilty pleasure. Never mind the expense, the grin on my face as I was contemplating the many ways it would make it down to my belly was enough to justify the impulse purchase (and it wouldn't be the first time!).
Foie gras is one of the rare ingredients that I find almost impossible to ruin. No matter how it is done (pan fried, torchon, pâté, etc.) its richness will make you drool and eclipse anything else on the menu that night. I do have a preference though for its simpler preparation and tend to favor eating it raw to get the purest and cleanest flavor which is why I chose to make this fabulous salad.
Not only is it hearty and one of the most delectable salad you could dream of this early Spring, it's also to me a vivid memory of many sunset dinners in the south of France with my girlfriends, particularly in the Dordogne region where foie gras, duck and truffles abound. Nothing can beat those traditional southwestern French flavors when you get a big mouthful of foie gras, walnuts, Perigord black truffles and smoky duck breast – indulgence at its best!  While they're not the easiest to find this side of the Atlantic, it's totally worth seeking them out at your specialist French groceries, though I won't blame you if all you really want is the foie gras over a simple slice of lightly toasted bread…that's how the rest of my fresh lobe ended!

Foie Gras and Smoked Duck Salad
Adapted from La cuisine du Périgord
Active and total time: 20 minutes
Makes 4 servings
  300g mixed salad 180g smoked duck breast (or smoked duck magret) 120g foie gras 20g truffles 50ml
Armagnac
24 whole walnuts A handful of cherry tomatoes 1 shallot 5 tablespoons walnut oil 2 tablespoons white wine vinegar 2 teaspoons Dijon mustard A few chives, chopped 1 stem of flat leaf parsley, chopped Picked leaves from 2-3 thyme stems Salt and Pepper to taste 4 slices of bread  

Thinly slice the truffles and poach them in a small saucepan with the Armagnac for a few minutes. Set aside.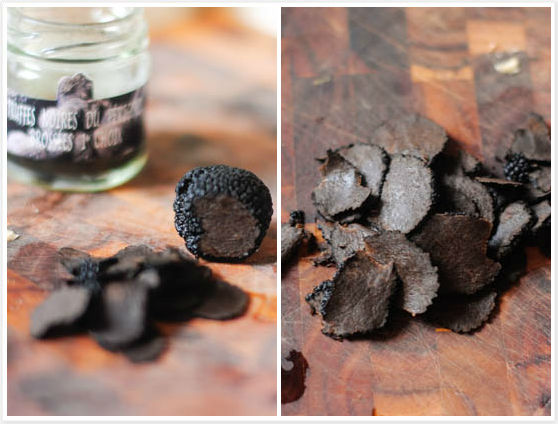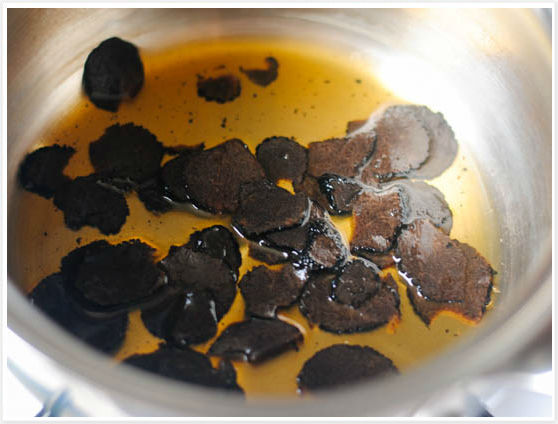 For the dressing, mix in a small bowl the mustard, vinegar, salt, pepper, shallot, parsley, chives, and thyme. Slowly add the walnut oil until well mixed and homogeneous.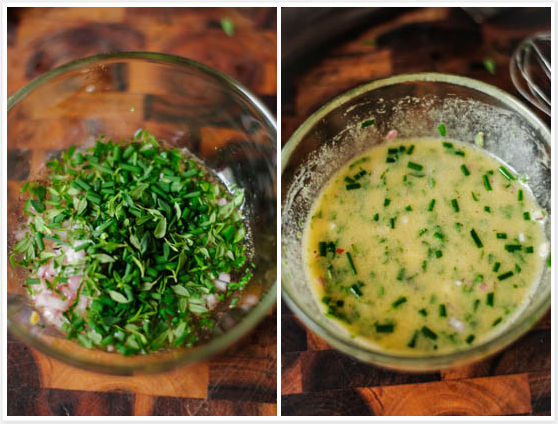 Rinse and dry the salad mix. Divide it between four salad plates and drizzle with a bit of the dressing. Keep the rest of the dressing in a saucer. Garnish each plate with a slice of foie gras (tip: run your knife under hot water to help with slicing thinly the foie gras), a few slices of thinly sliced smoked duck breast or magret and a few slices of truffles, drained.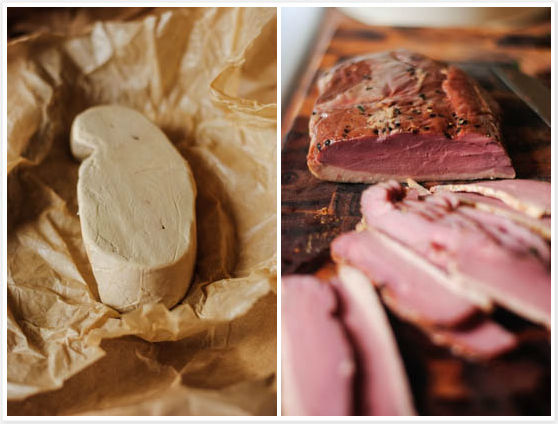 Decorate with a few walnuts and cherry tomatoes sliced in half.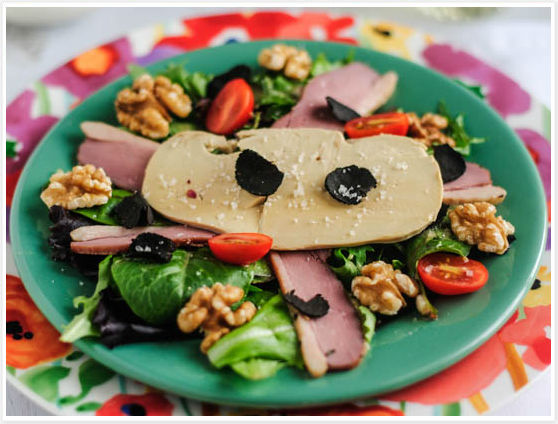 Toast the bread, cut each slice in half and place around each plate. Serve immediately with the rest of the dressing.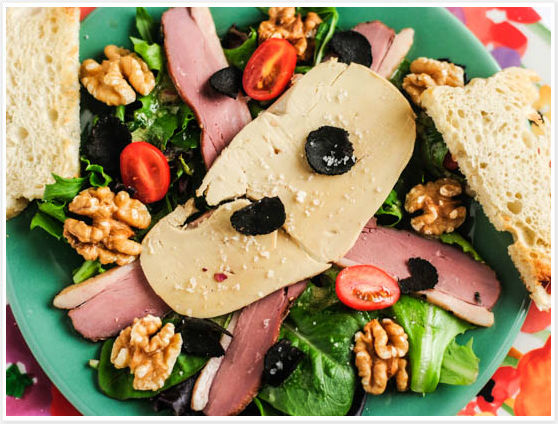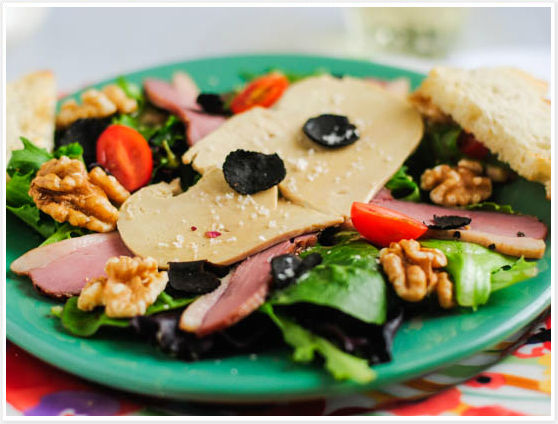 Print This Post