Forget about the tourists packed beaches and overdeveloped towns of Bali's South Coast – the paradise is to be found in its almost intact Eastern region where great mountain scenery, picturesque villages, and gorgeous beaches make it a symbol of natural beauty you'll rarely encounter these days.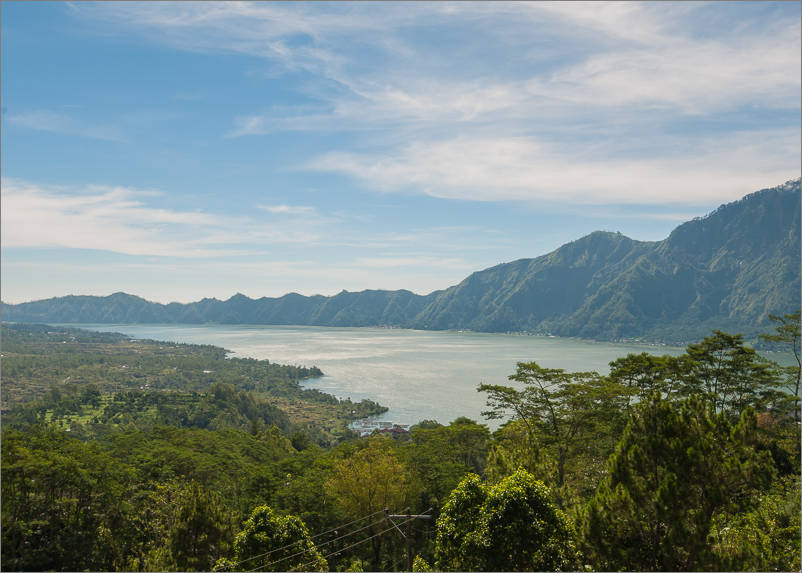 Biking the rice paddies
The small roads going down through charming villages make for one of the most scenic bike rides on the whole island and one of the best ways to see the 'real Bali'. I had a hard time not stopping my bike every two minutes to capture the stunning rice terraces, lush forested hills and colorful postcards of farm and rural life surrounding this magical area.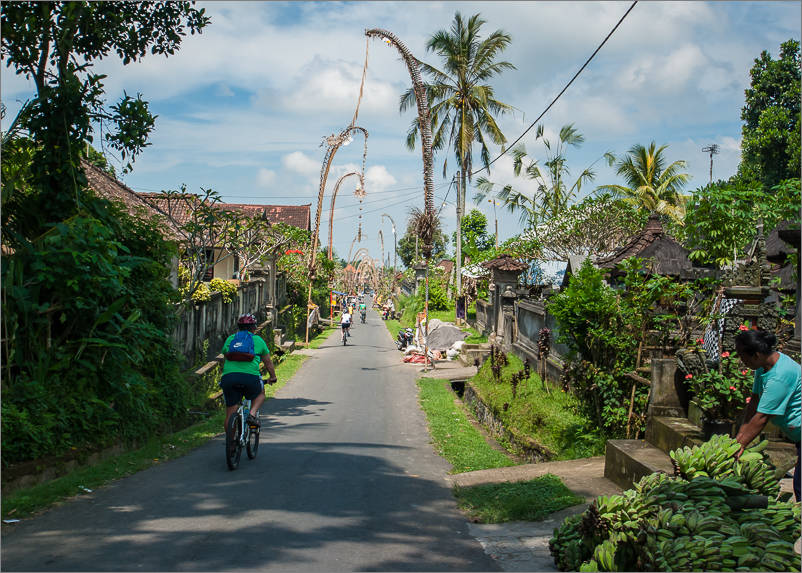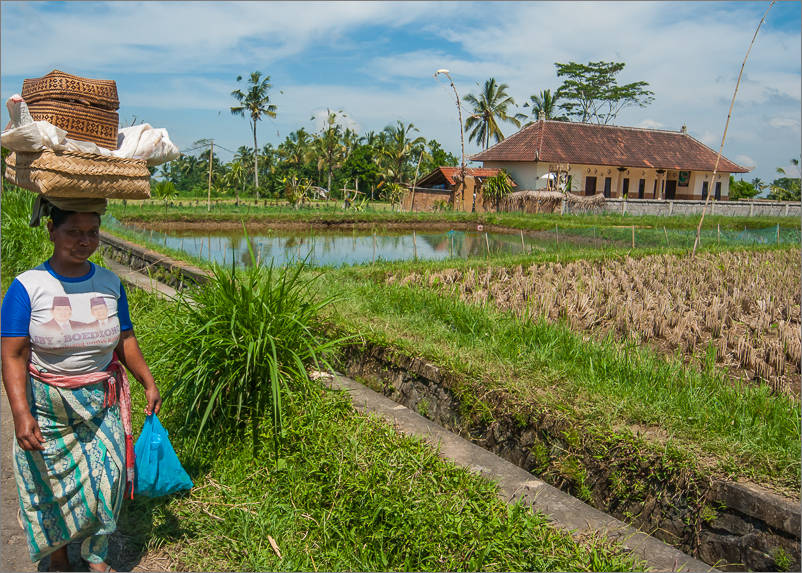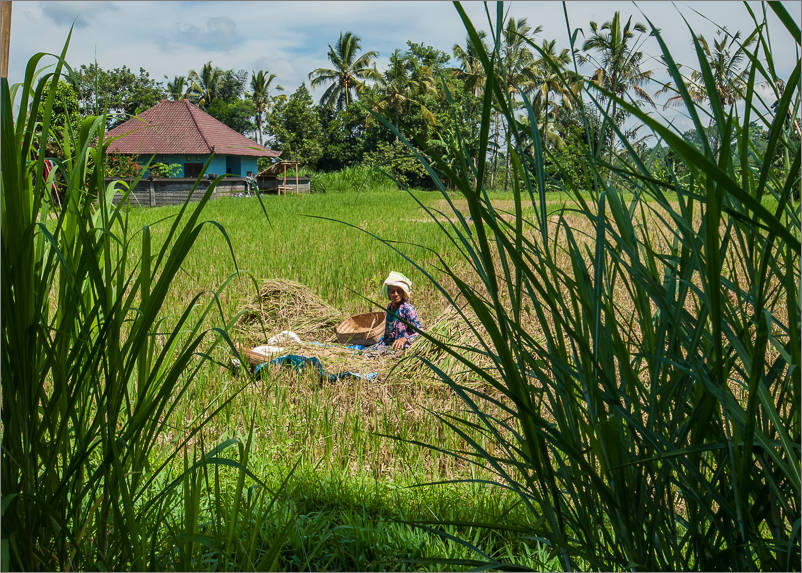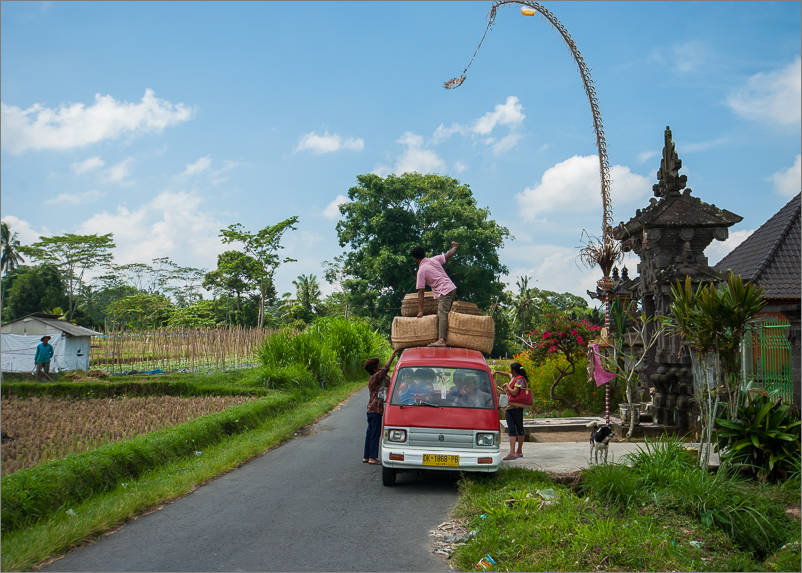 Rice drying on the side of the road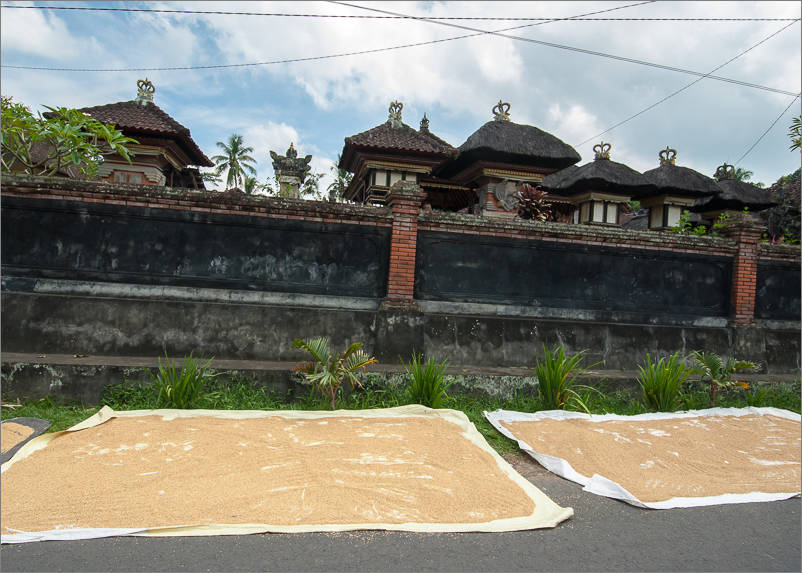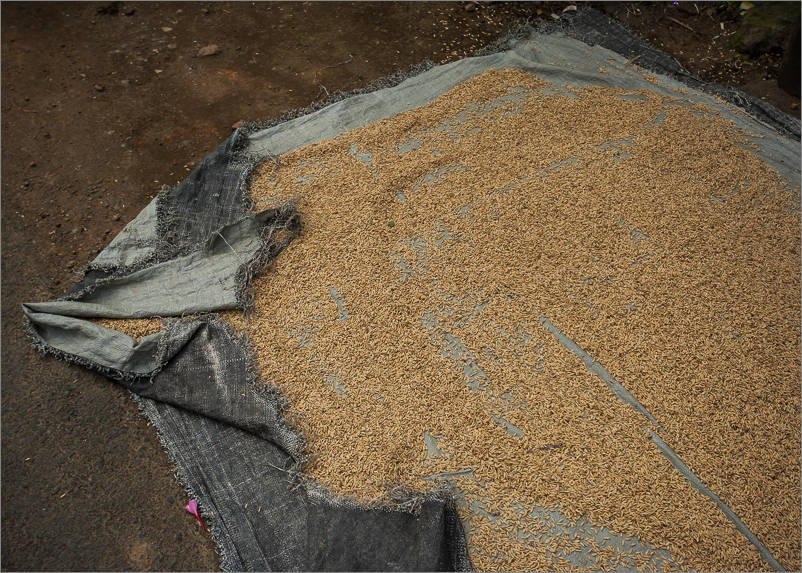 Young village boys loved posing for pictures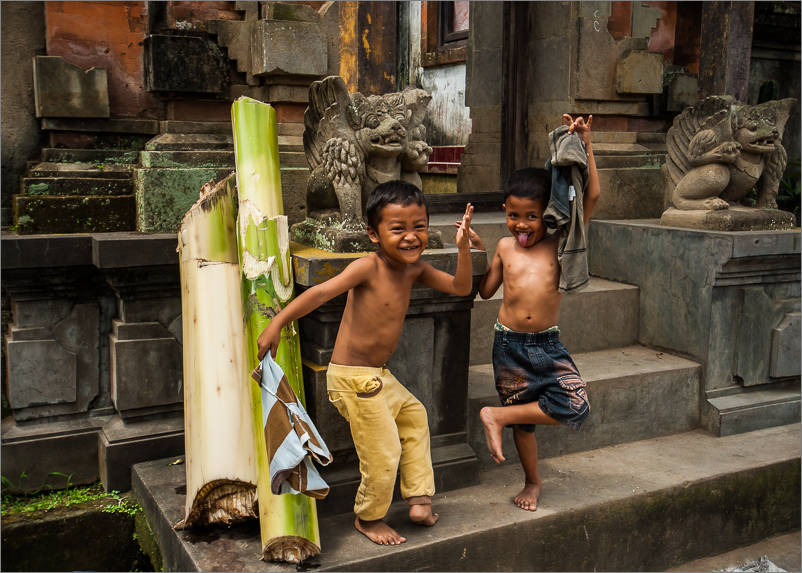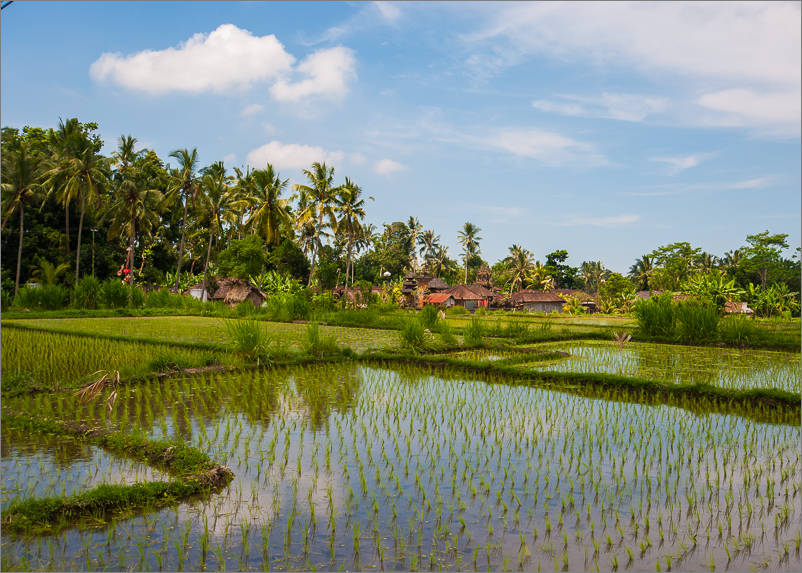 Lunch in a Balinese home – local specialties of fried crackers, chicken satay…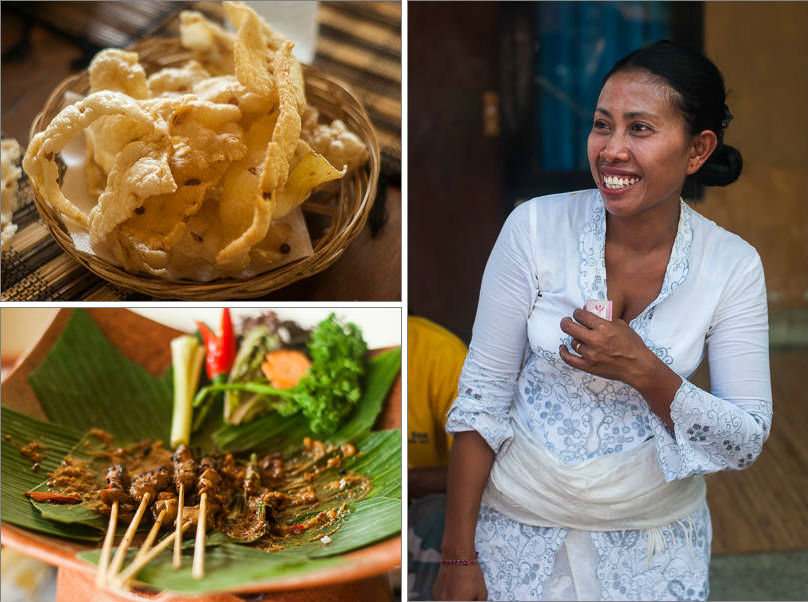 …tempe, long beans and green coconut, smoked duck, tofu and vegetables with peanut sauce, etc.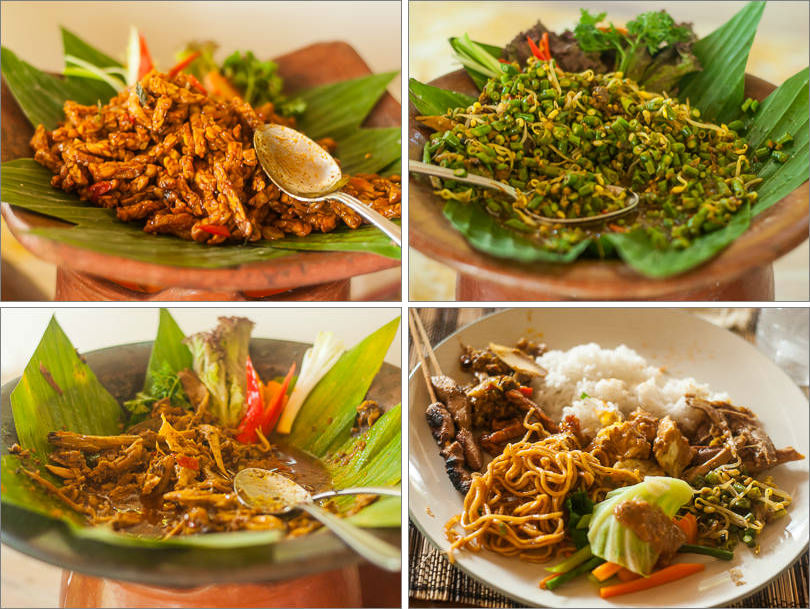 Agriculture
The locals here largely rely on agriculture for income and the fertile valleys are filled with not only rice but a slew of other crops as well.
A lot of plantations open their doors to the public so you'll get a chance to see first hand what grows in the region and what makes the basis of Balinese cuisine.
Cacao pod, vanilla beans, sweet ginger and salak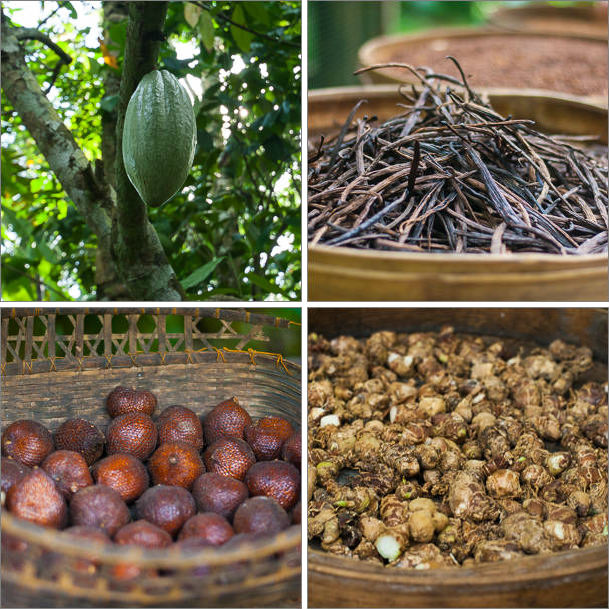 Cloves, cacao beans, and chili peppers

Kopi luwak (or poop coffee)
Kopi luwak is the rarest, most unique and highly coveted coffee in the world. The reason why? The sweet, ripe 100% Arabica coffee cherries are eaten, digested and fermented by wild civets (a bobcat-like animal native to Indonesia), before being collected, washed, and roasted. In other words, some wild animal is known to pick for his diet only the best coffee berries and therefore is used as a collecting and fermenting agent. The defecated coffee beans are known to have a special taste (I tried it, wasn't bad though wasn't the best either!) and are highly priced around the world, reaching up to $600 for 1lb!
Here's the process illustrated:
Coffee cherries growing in abundance in Bali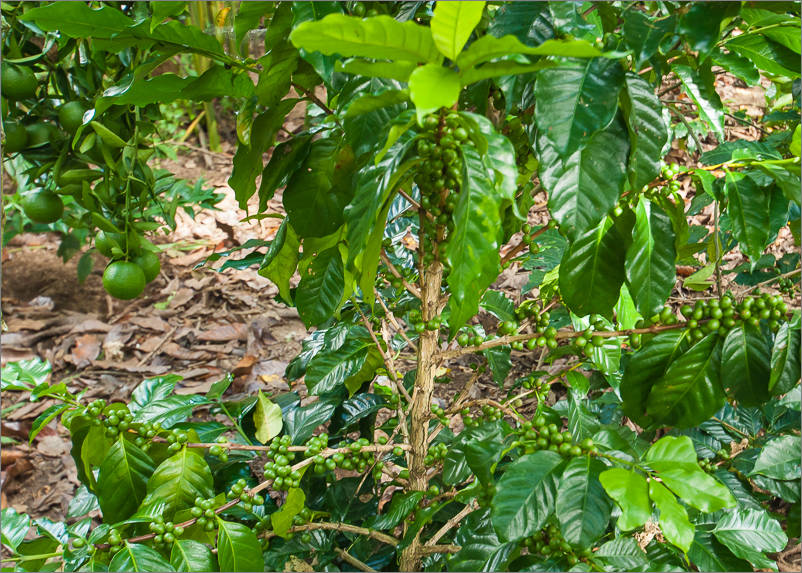 Asian civets feast on them daily…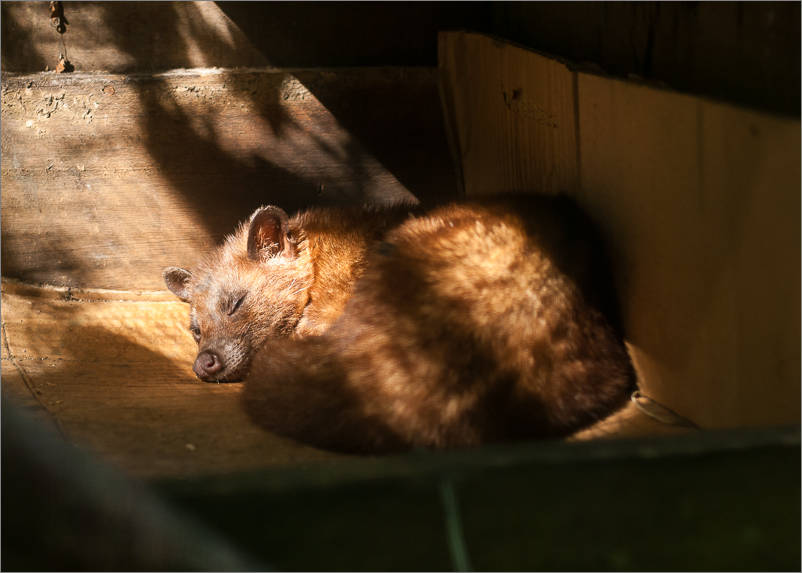 The natural result of their digestion is then collected (beans have stayed intact)…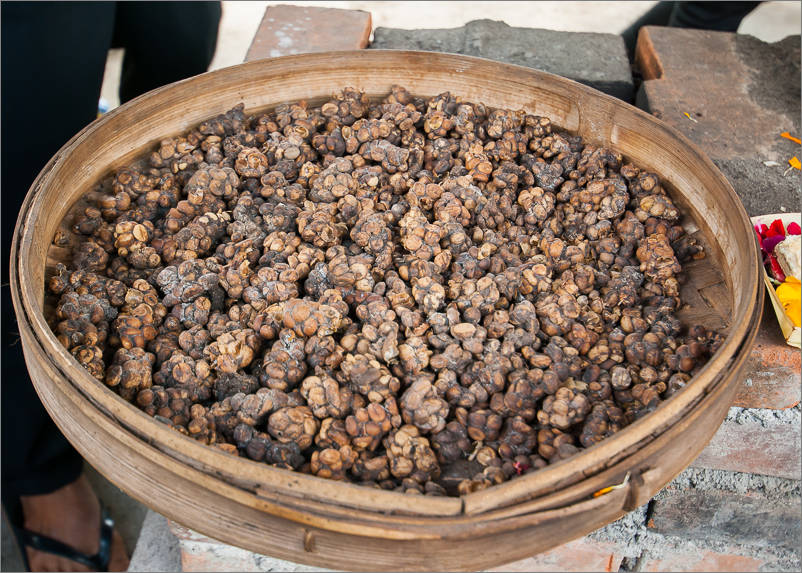 …washed thoroughly and then dried…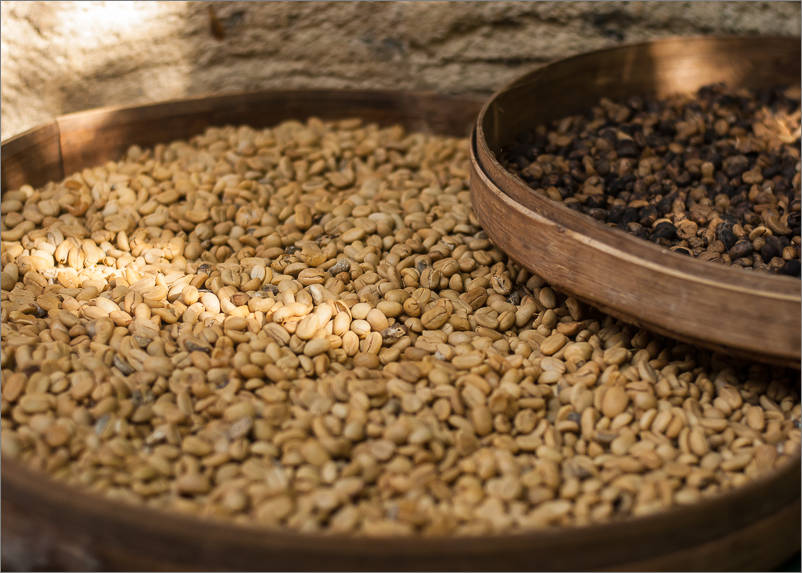 …and finally roasted for maximum flavor! Miam!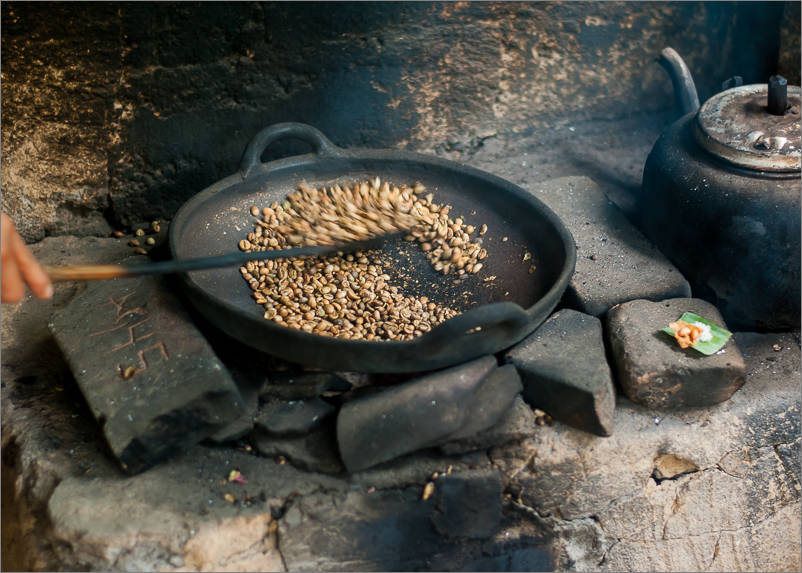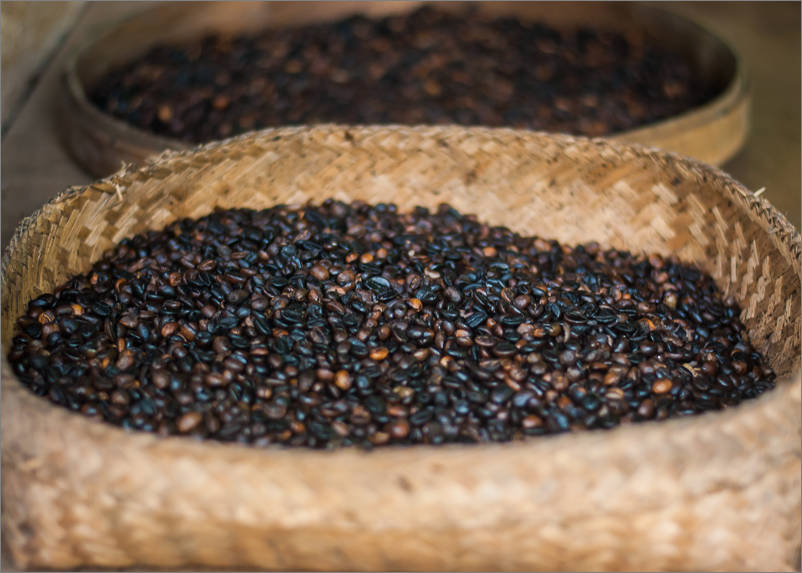 Most plantations you visit offers free tasting at the end so you not only get to enjoy fresh coffee and cocoa but also a bunch of different teas such as ginger, lemongrass, cinnamon, mangosteen, etc.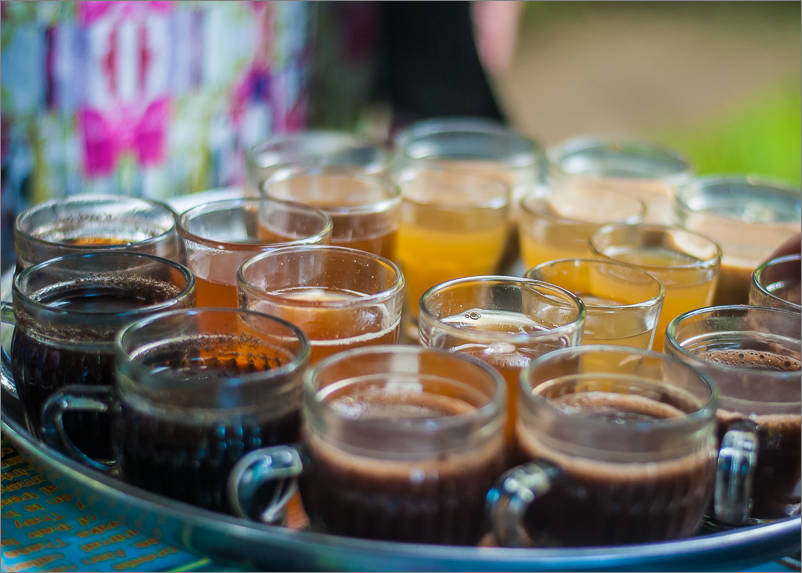 Mount Batur
Few know that Bali is home to several active volcanoes – Mount Batur (1771m) and Mount Agung (3142m) being the two highest. Located in the Kintamani region of North-East Bali, Mount Batur is a popular hiking destination. Paths to the summit are steep and volcanic rock hard on the feet but other than that it's a very accessible hike and can be done in half a day.
Although accessible all day, the still active volcano is most famous for its sunrise trek, i.e. hiking to the summit in time to watch the sunrise. What would compel anyone, especially when on holidays, to scale an active volcano in the middle of the night? I guess I have to blame it on my insatiable appetite for adventure and slightly masochistic nature because I did it…
Climb began at the fresh hour of 3am in order to make the 2 hour trek to the peak for sunrise. You just turn on your torch and follow your Balinese guide through the dark and steep path, occasionally stopping to look back at how far you've come and admire the flickering lights on the lake below and the approaching dawn piercing the night sky.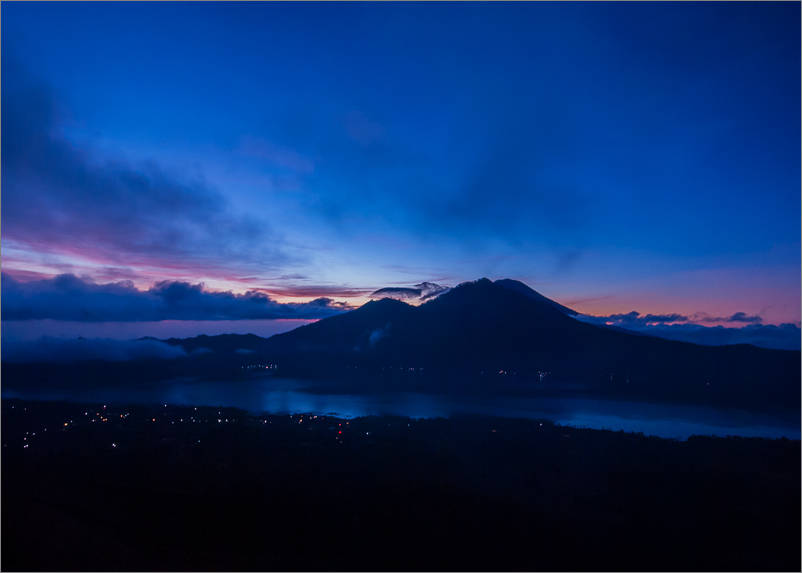 Several makeshift huts near the summit offers weary hikers warm drinks and breakfast (banana sandwiches) as you try to warm up from the cool temperatures and strong winds waiting for the color show to finally lit up the sky. Once it does, take your camera, sit back and bask in the luminous glow of the Bali sunrise, you've greatly earned it!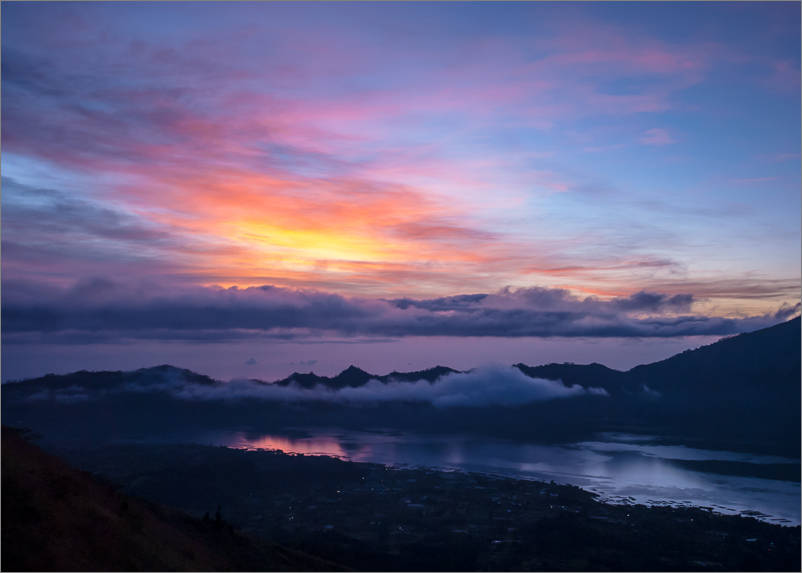 We ended up watching ours from the lower summit as the top of the volcano was covered in clouds. Once the sun was up, we wandered around to admire the dreamy landscape and hissing sulphur rising from the craters before making the final ascent.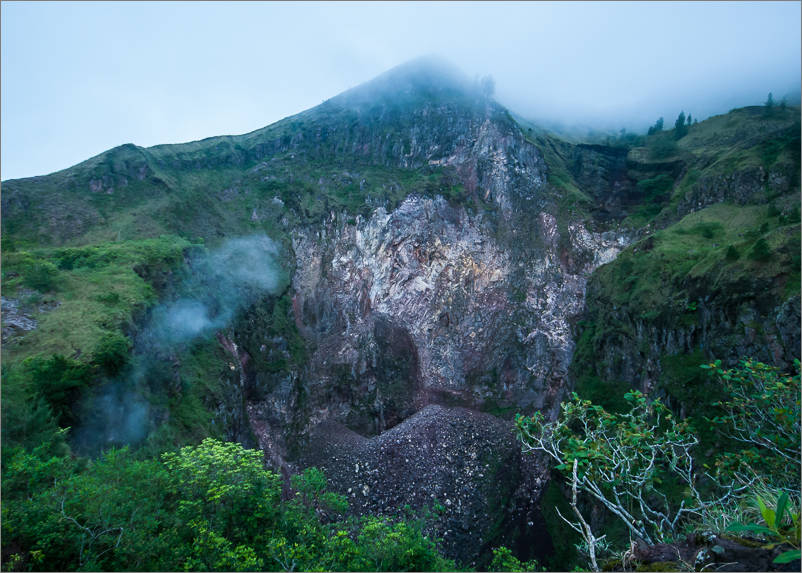 30 more minutes of climbing before reaching the summit!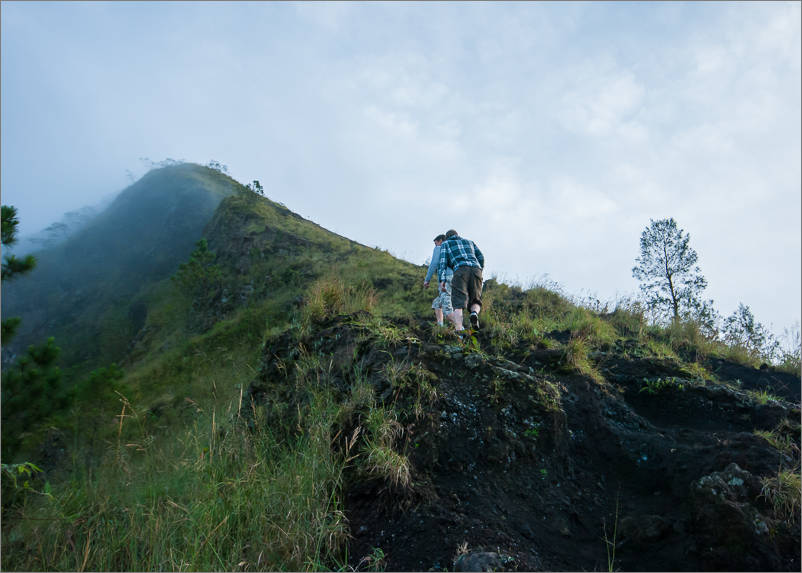 The view from the top – standing in the clouds…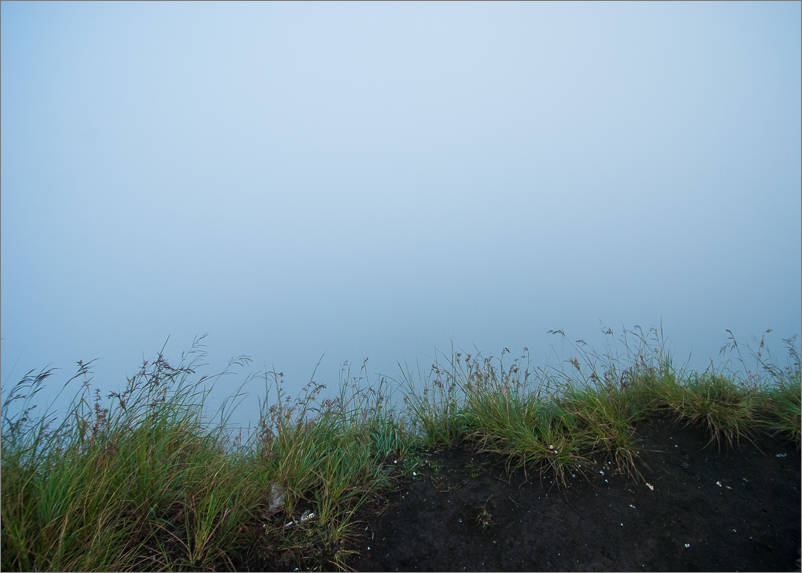 The eerie and tranquil setting soon got a lot more action when we were surrounded by a small community of monkeys.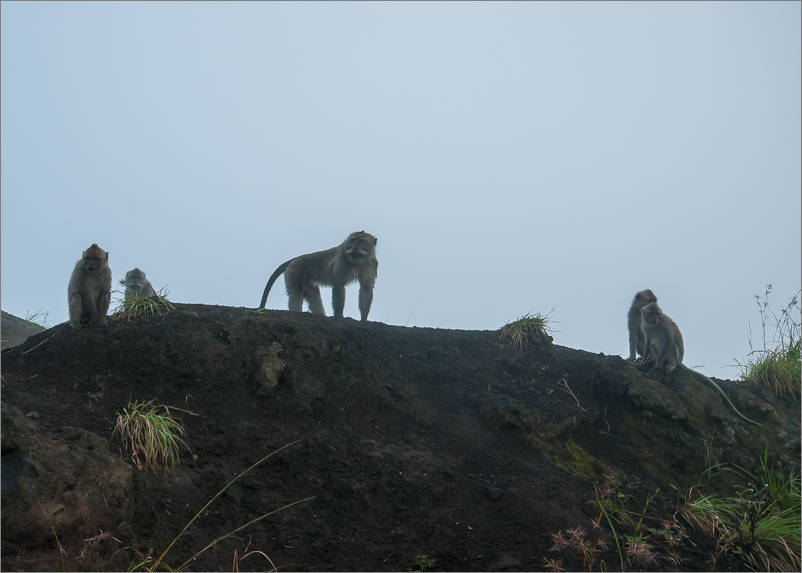 We lingered for a while, feeding them with leftover bread and just enjoying their playful nature before starting our descent. With the sky clearing up with finally had a great view of the valley and lake below us.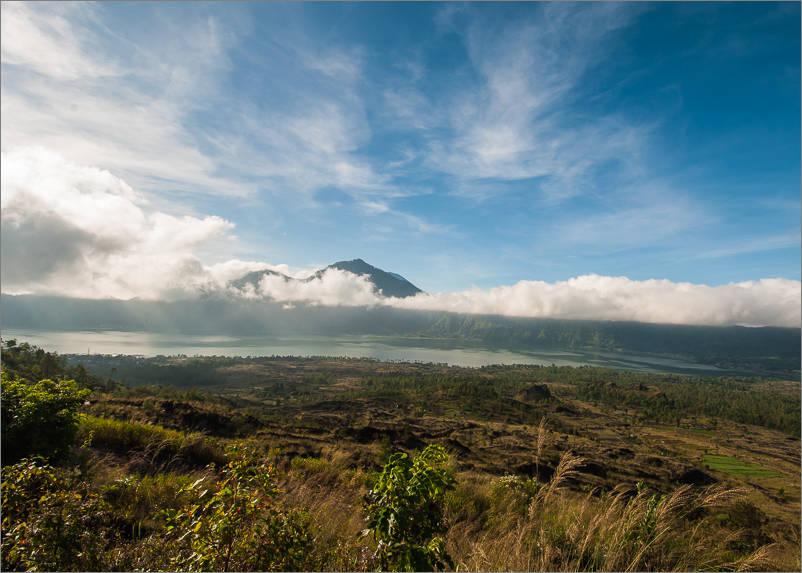 Tenganan

In the hills just 4 km from the coast lays the village of Tenganan, the most famous Balinese village for it has kept its ancestral ways of living almost intact for centuries and is a great site to visit.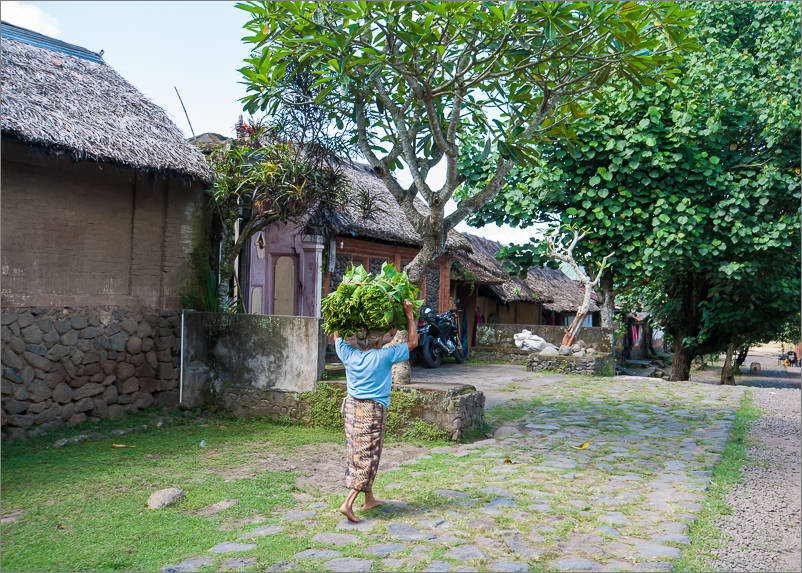 The villagers strictly adhere to a rigid social organization, always living inside the village, marrying from within and keeping it closed to outsiders after dark.
One thing never changes though – little boys love having their pictures taken!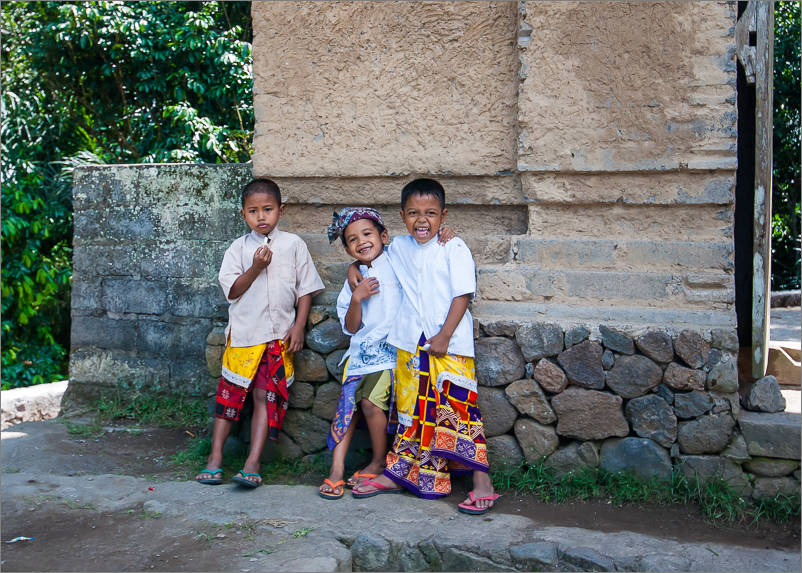 They also worship their ancestors and cosmology, though the one thing that's most interesting to visitors is probably their quality craftsmanship which is prominently displayed across the village.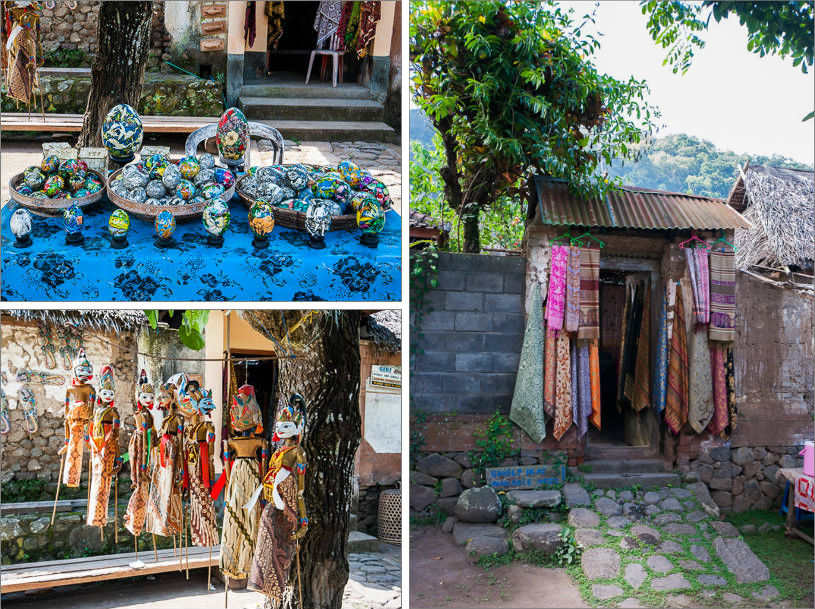 Tenganan produces the unique double weave ikat fabric called Geringsing (of which I purchase a beautiful sarong), nice bamboo carvings (now sold as bookmarks and wall hangings) and some of the best basketwork in all of Indonesia.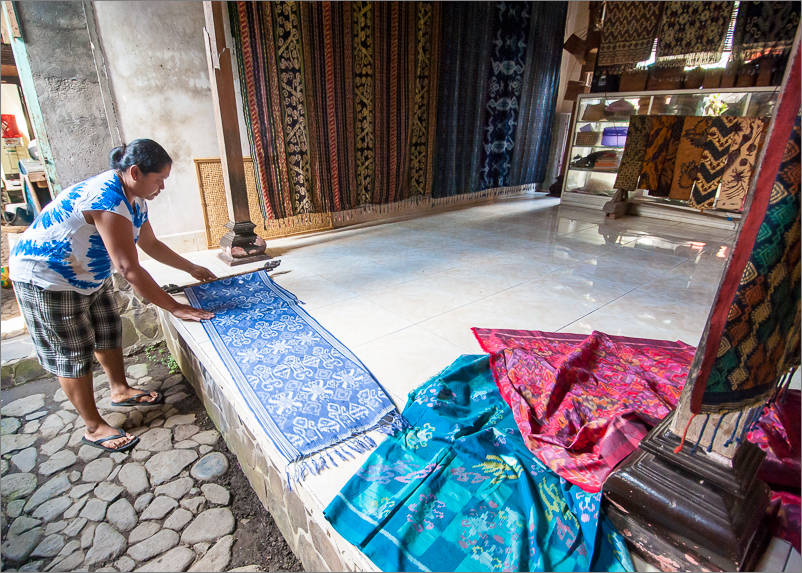 Architecturally, the village is very different from what you normally see in Bali and you'll be able to step in many homes which are almost all selling their craft to the public, making it seems like an endless row of shops in a unique setting.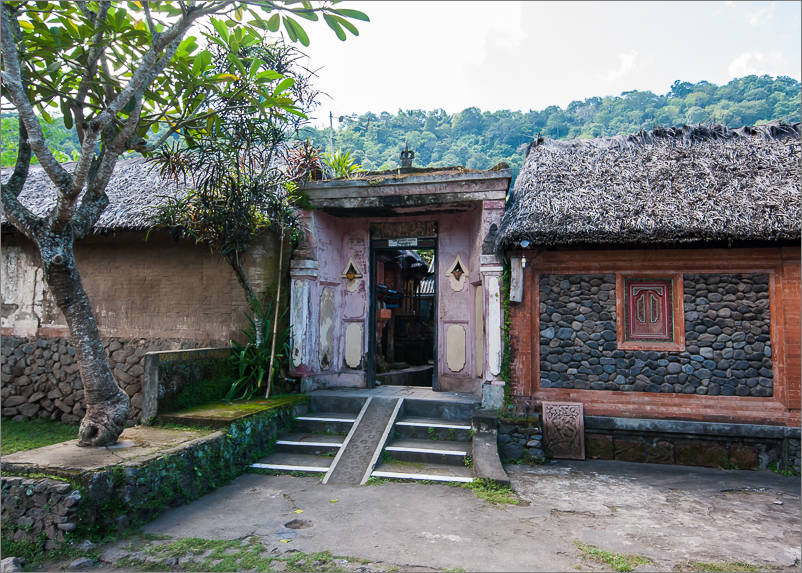 A nice cultural experience to have before hitting the beach…
White Sand Beach
East Bali is also home to some of the most picturesque and least visited beaches on the island. The beautiful Pantai Pasir Putih (White Sand Beach) used to be a well kept secret due to its somewhat hidden location (the access is restricted by a downhill dirt road or a half-hour boat ride from Candidasa nearby) but words got out and it's now listed in almost every guide books. Nevertheless, it's still the closest thing to your idea of a paradise beach and development and crowds have been kept at bay for now.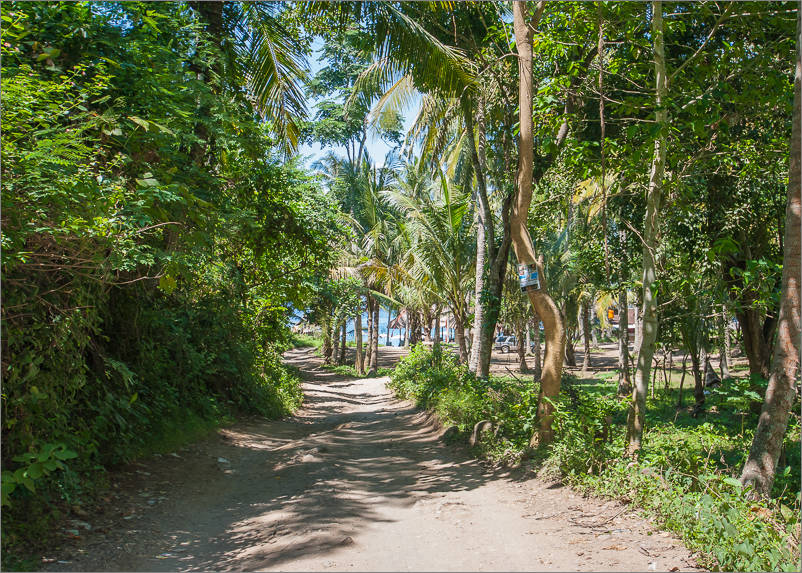 Once you get there you're quickly rewarded with a stunning setting of crescent shaped beach going on for about 500m and separated from the world by green cliffs on all sides.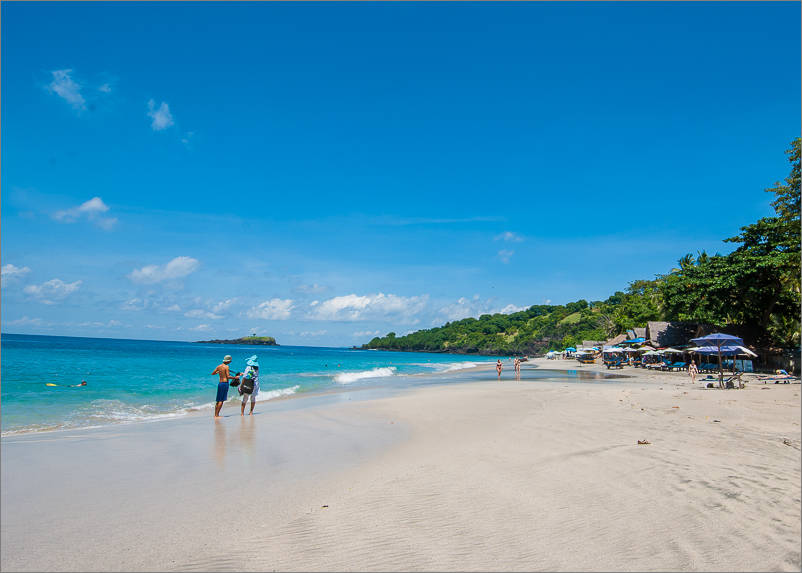 Though not of the whitest of sands, it is the whitest on all the island and along with the glistening turquoise of the water and swaying palm trees it gets pretty close to picture perfect, tropical island postcard scenario. Just set yourself up on one of the available beach chairs and marvel at the view for a few hours, slowly falling into a peaceful slumber to the sound of the rolling waves.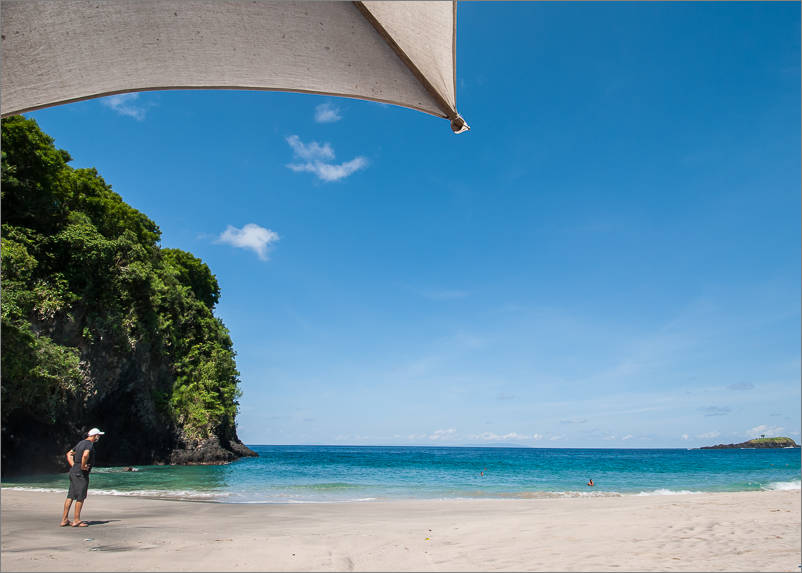 When hunger strikes, just choose from the row of casual warungs (cafés) lining the beach and enjoy a fresh seafood lunch in the shade with a view to die for. I savored there one of the best fish I've ever had – lightly curried mahi-mahi, grilled and smoked over charcoals, served alongside rice and a small salad with the ubiquitous side of delicious sambal matah, a must of almost every Balinese dish. It was fresh, slightly spicy, really healthy and went down extremely well with an avocado smoothie… total food bliss.