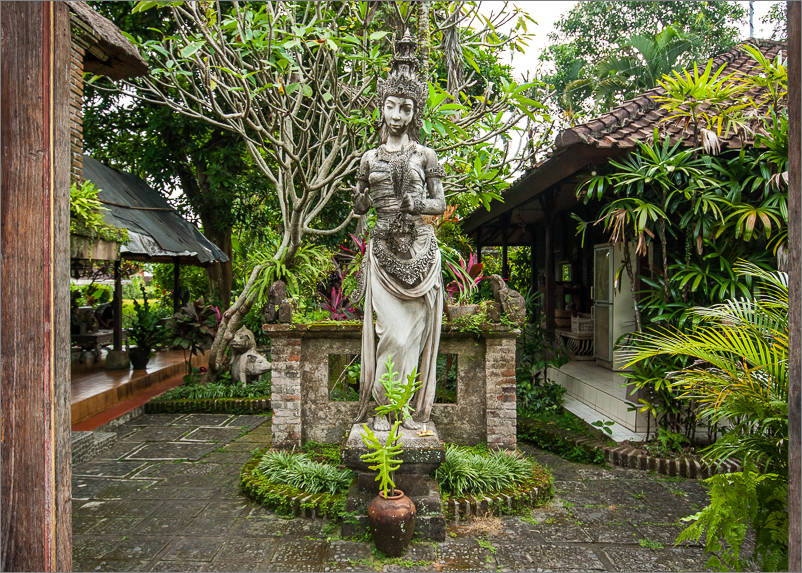 Whether you've read the book, watched the movie or have a bunch of girlfriends who have, good chance you've heard about this famous trip to enlightenment from Italy to Bali via India that Elizabeth Gilbert took a while ago. Needless to say countless of women have followed in her path since, searching for something or just wanting to visit those magical places she shared with the world, myself included. The third of the journey (the love part), and most will say the culminating one since she met her current life partner there, happened to be based in Bali's spiritual capital, Ubud. While I sadly didn't meet my Javier Bardem (!), I did fall in love with the town, its people, the food, and the overall sense of serenity that exudes from just about everywhere.
Unsurprisingly, within moments of arriving there, I was charmed. Hypnotized by a way of life we've all unsuccessfully tried to make our own, relieved that the obvious hike in tourism has left most of the beauty and spirits intact, and most of all utterly gleeful for the chance to live here for a week, no matter how hard it will be to go back… Though I can hardly communicate the intangible nature of what makes Ubud so magical, I hope the following highlights will give a good idea of its beauty and why I so want to pack my things now and move there.
Settling into Ubud, one has two choices: an array of gorgeous and luxurious resorts perched above the river some 10-20km away from town, or an even bigger selection of family-run guest houses smack in the middle of it, offering a comfortable local experience at crazy inexpensive prices. Guess where I went… I spent a week a Puri Bayu Guest House where for a mere $25/night I had a big bedroom, lovely outdoor bathroom to shower with the local flora and fauna, …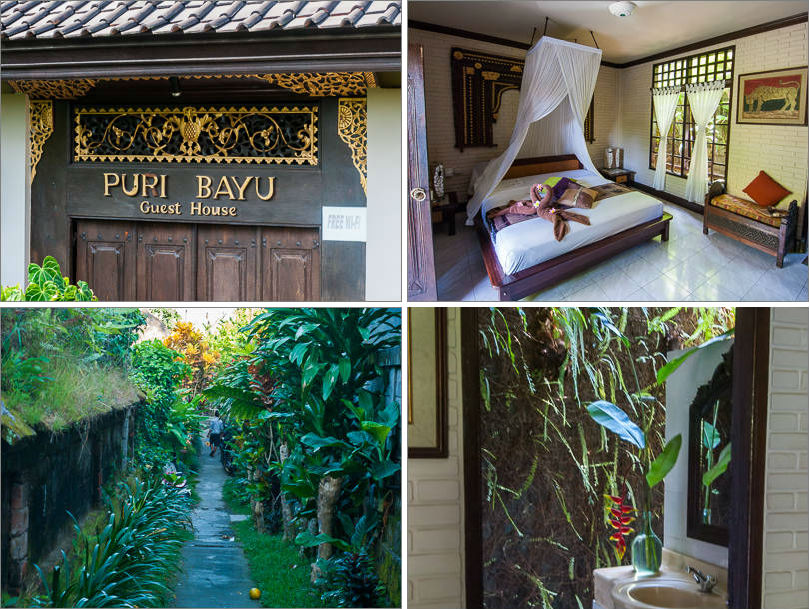 …and a big terrace where they would serve my breakfast every morning. This is some serious bargain, especially considering that this is an intimate and quiet 4 bedrooms private house located right outside the center (no noise!) facing the rice paddies, and accessible via a narrow path. You feel secluded though are still within minutes of everything…bliss.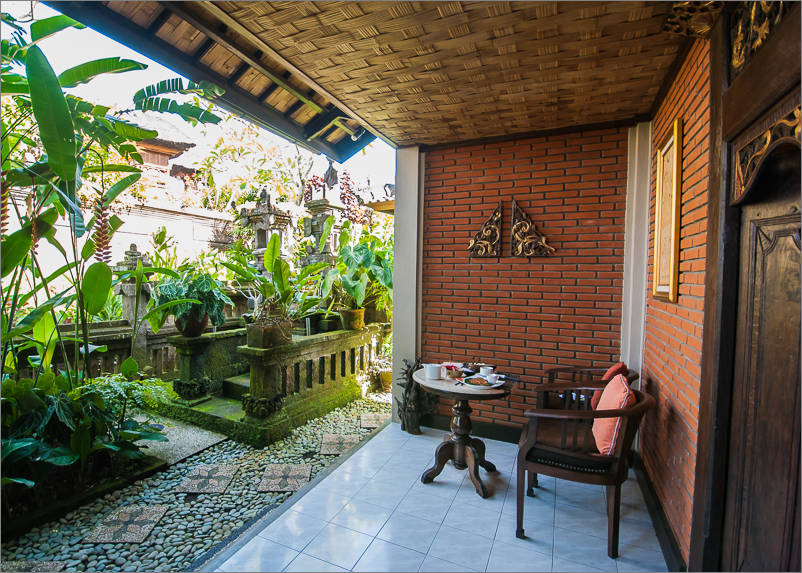 Breakfasts were amazing and different every day, always accompanied by fresh flowers, beautifully cut fruits, tea/coffee, and a scrumptious main dish.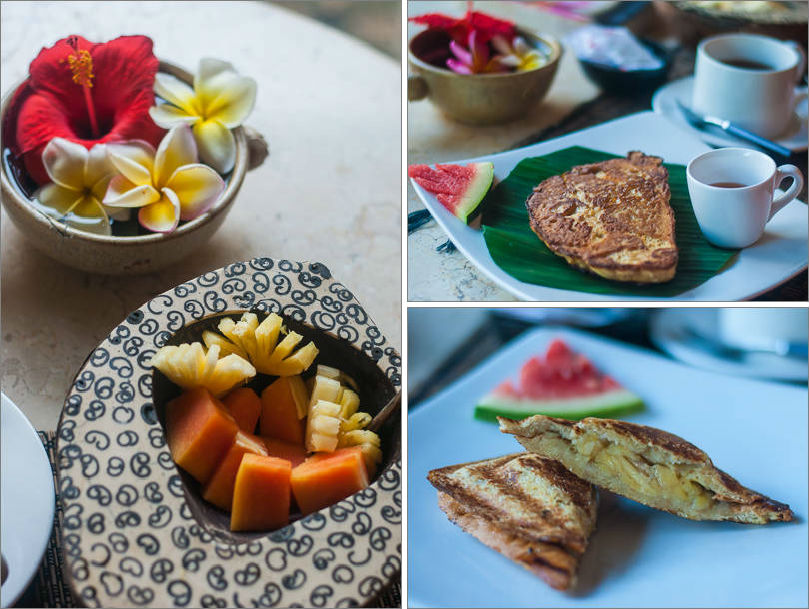 I hope you like bananas as they have them everywhere here. Stuffed in French Toast was lovely but the real deal is the local specialty of green banana pancakes topped with fresh coconut and cane sugar…I feel I could start every day like this.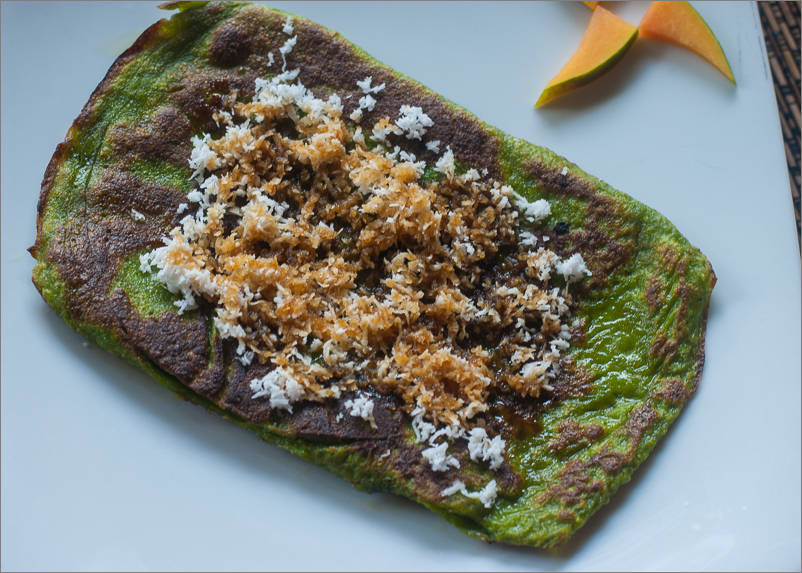 Another winner was their savory chicken porridge (bubur) served with shredded chicken and roasted peanuts, a very filling start to the day!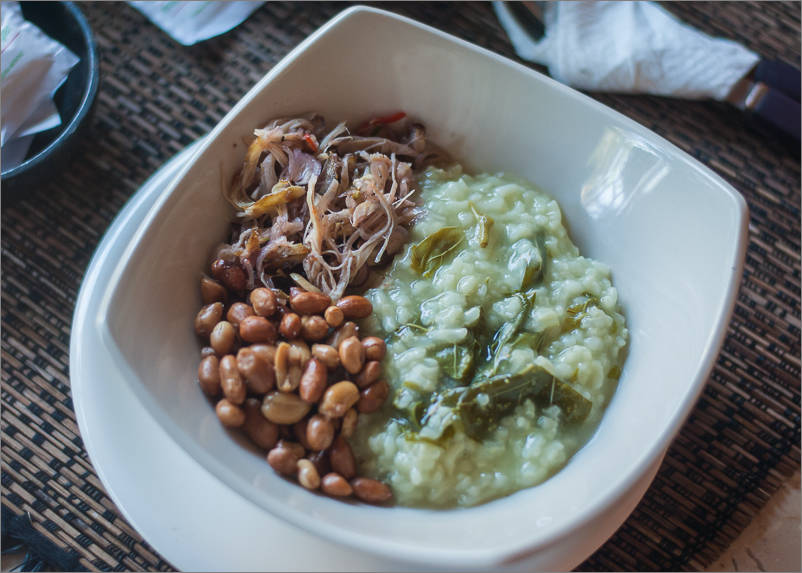 Like in most places, the day starts early in Ubud and you should too if you want to make the most of it. Just across from the guest house was this extensive rice field that would greet me day and night, though I always thought it looked its best in the early dawn, around 6:30am…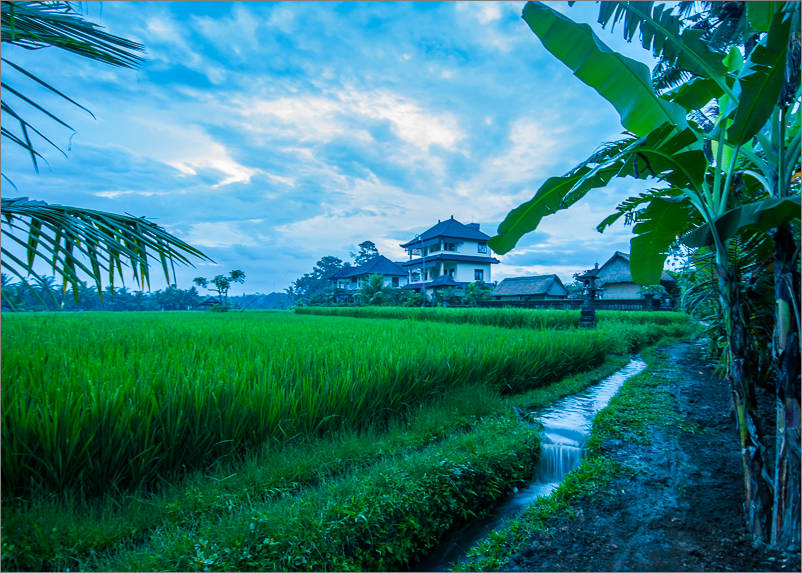 Another reason to wake up that early is for the chance to go to the market, and by that I mean the real market. Ubud's market is usually a place for tourists packed high with cheap souvenirs and clothes which you can bargain to your heart's content. Locals don't shop there during the day so if you want to immerse yourself and get an insider's view of their morning rituals, you have to show up between 6am-8am when the local food market is taking place (before they clear everything up to make place for the sarongs and wooden statues).
It's a real feast for the senses and I literally lost myself in there, the only tourist for about an hour, trying to capture as much as I could, taste local delicacies, and enjoy the hustle surrounding me.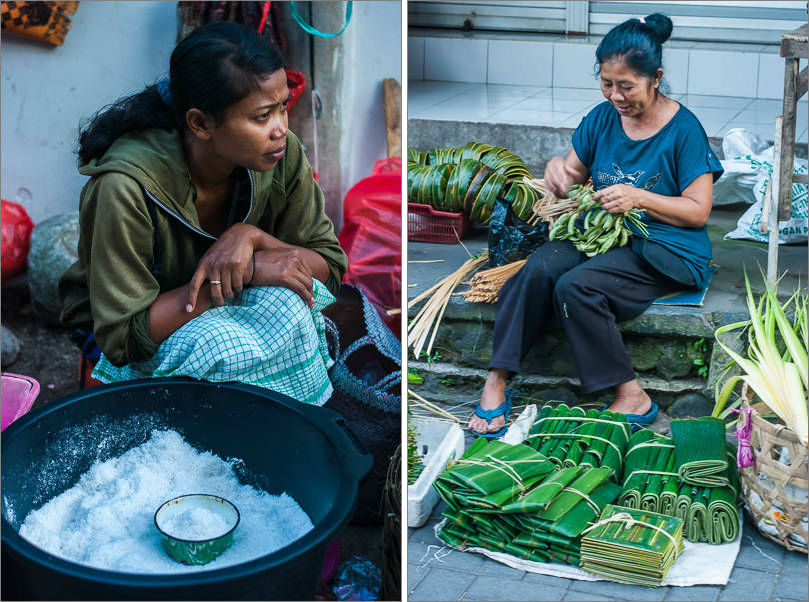 Mangosteen, chilis, lemons, bananas, and jack fruits.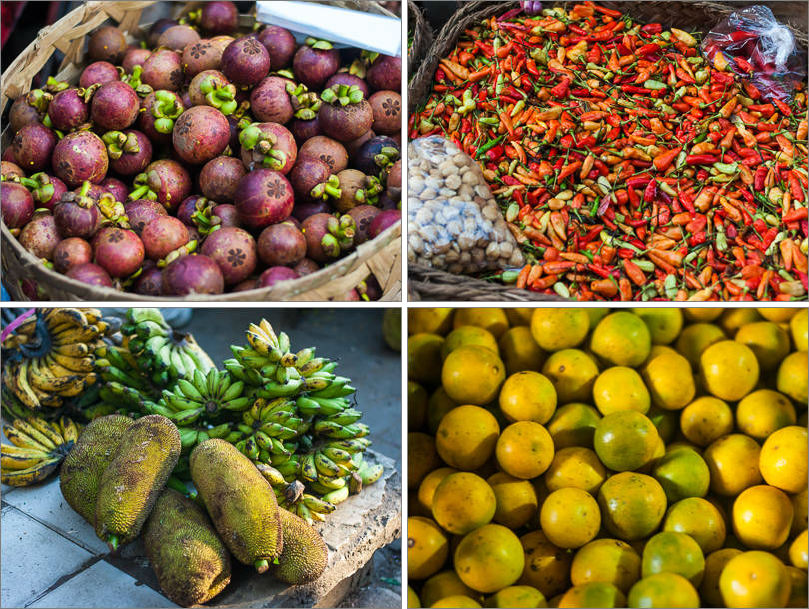 Flowers are an important part of life in Ubud, and Bali in general and are used as daily offerings to the gods (and visiting guests too!).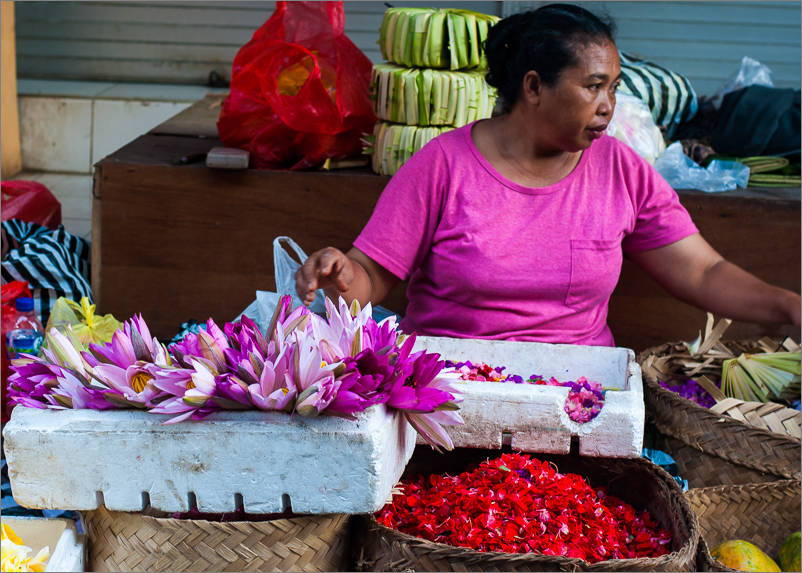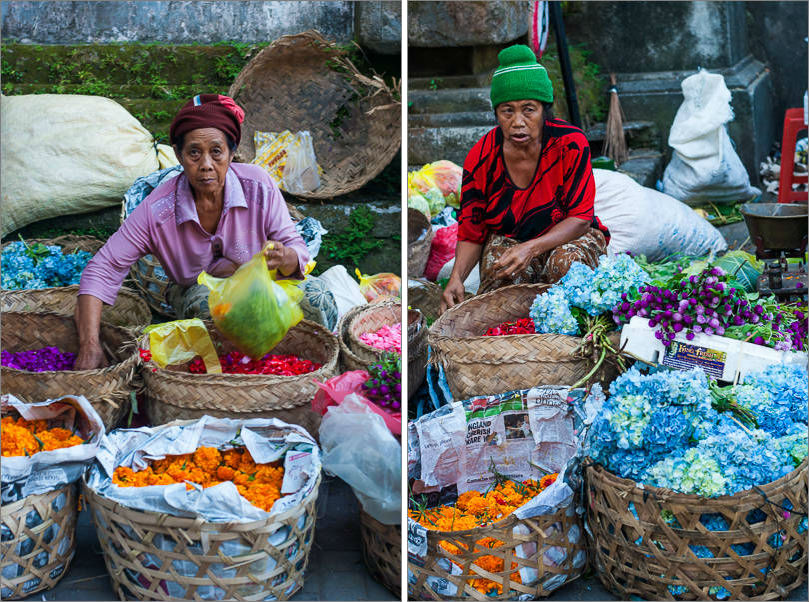 Food stalls offer a delicious and cheap way to compose an enormous breakfast.
Mini pancakes freshly baked (addictive, I carried a bag while wandering around).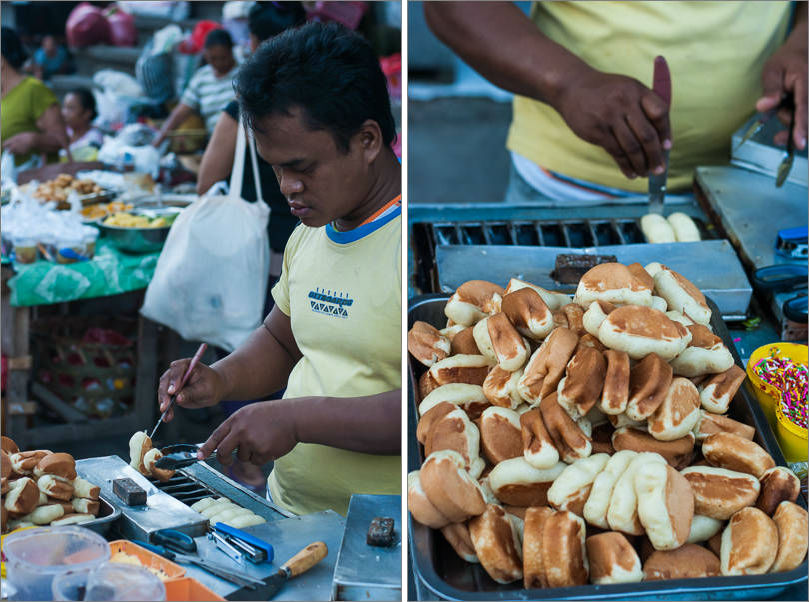 Sweets of all kinds, mostly made with coconut, rice, cane sugar and other natural flavors.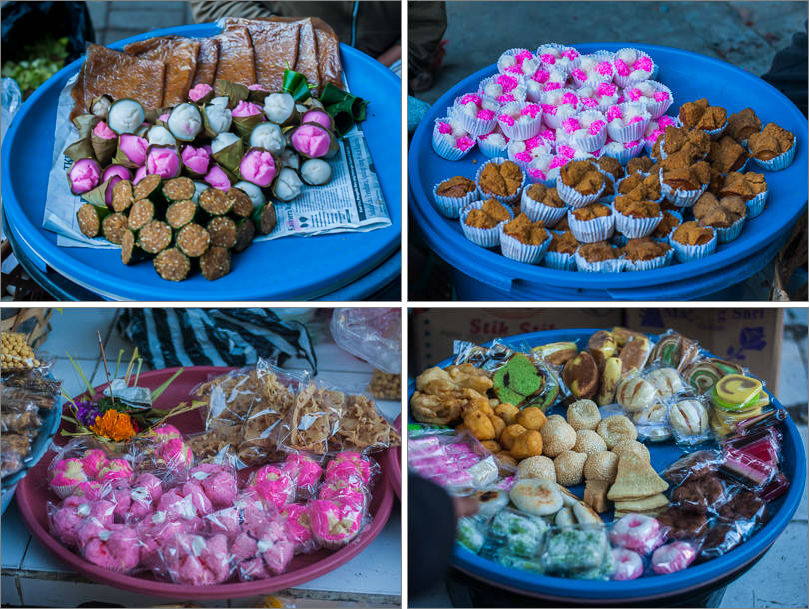 While the main market at street level is for fruits, veggies, sweets and breakfast bites, you should not miss the downstairs, covered area which is the meat and groceries market. You'll find everything for a gargantuan feast from whole grilled chicken to suckling pig and every animal parts you can imagine, not nearly as intimidating as certain Chinese markets I've visited in the past. Despite being that early, the meat grilling over flaming coals smelled like heaven and venturing through the dark alleys only brought up more delicacies such as homemade tofu, fresh vanilla pods, and spice mixes.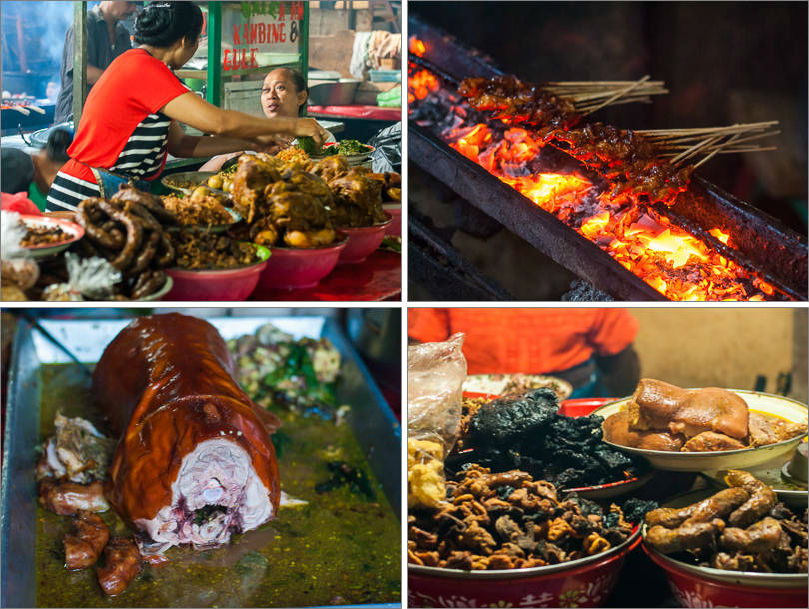 Back on the main floor, it's time to grab something a bit more substantial to eat as to mini pancakes are long gone. I wasn't feeling the fish too much but I loved the porridge at the house so much I looked out for something similar.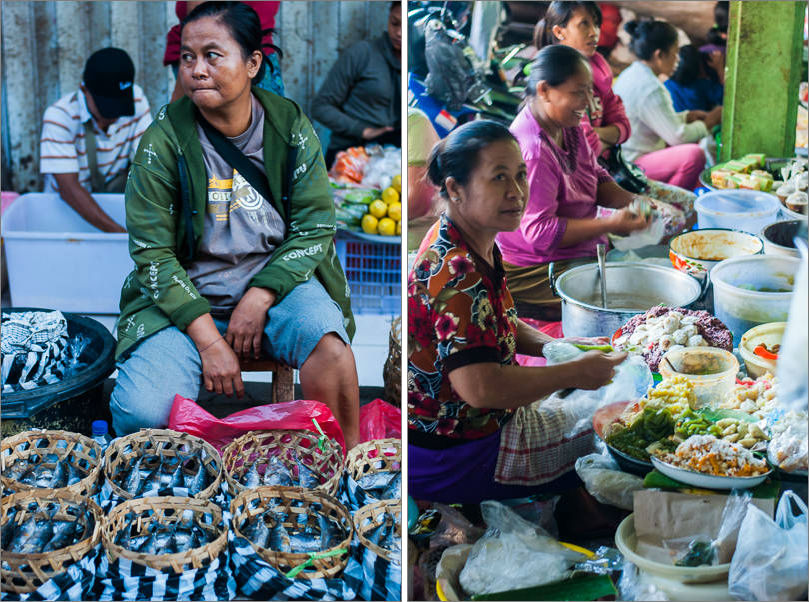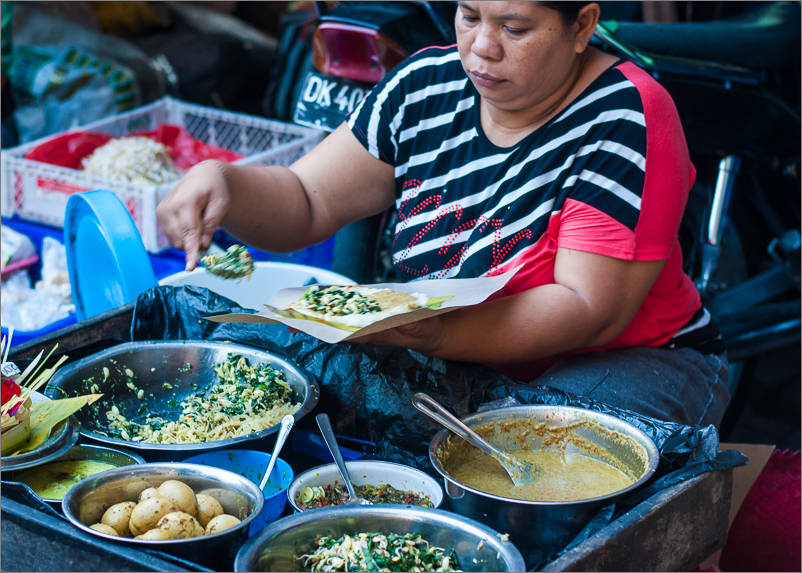 I settled on a sweet version this time, very typical, made with red rice and sweetened with coconut milk and cane syrup which I savored back at home on my balcony.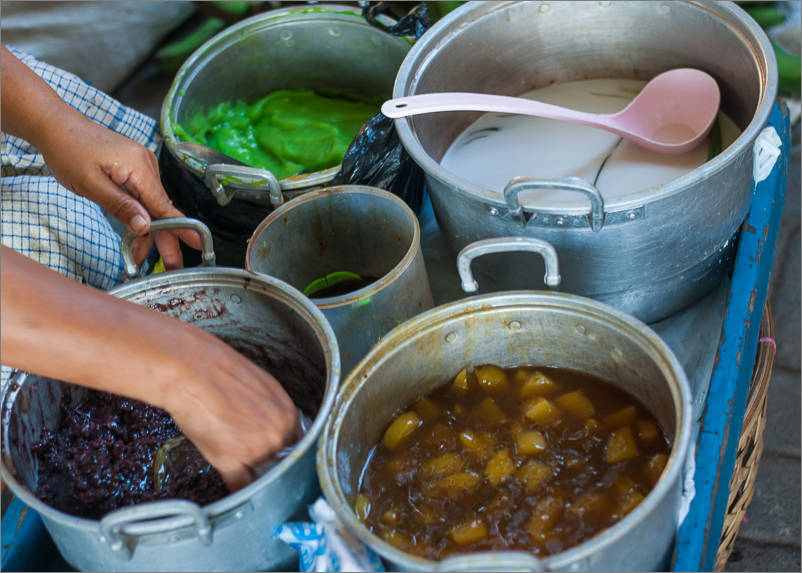 Staying with the food theme, Ubud has of course many wonderful restaurants and I've listed my favorites here. Most popular are the local warungs, family-owned casual cafes which serve Balinese cuisine for the most part in a very casual setting and at very reasonable prices. It's nice that it's where the locals eat too and if you stick with them you'll rarely pay above $10 for a full meal.
Warung Sopa advertises itself as 'the friendly cafe for vegetarian' and is a lovely place to hang out for a while and feel good about what you're eating.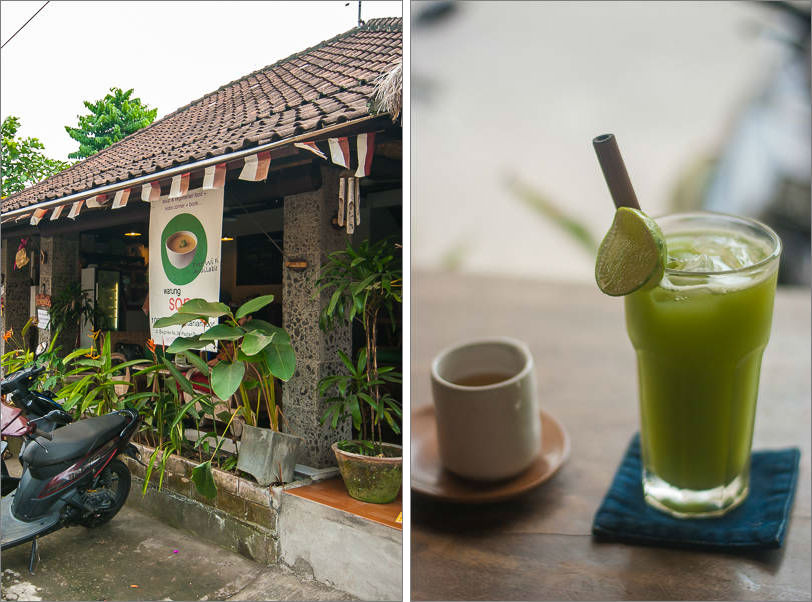 A fresh and minty limeade was a godsend in the midday heat (did I mention every day was incredibly sunny and warm?) and as everything looked so good I opted for their Nasi campur which is a local dish of rice topped with your chosen sides (vegetarian in this case though Nasi campur usually includes meat). I had ratatouille, banana flowers, eggplant curry, and crispy tofu miso cubes with organic red rice.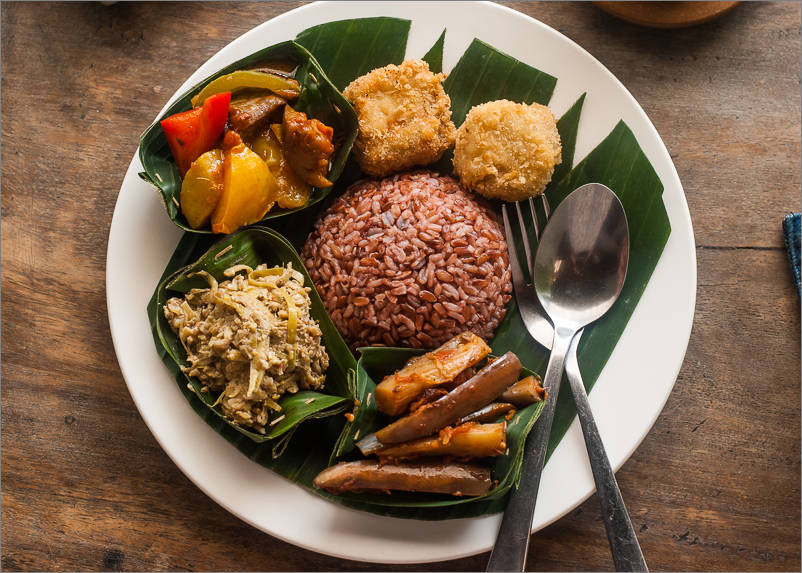 All of it very slowly consumed as I read my book laying on a cushioned bench… no idea how long I stayed there but that proves how comfortable and relaxed the place is!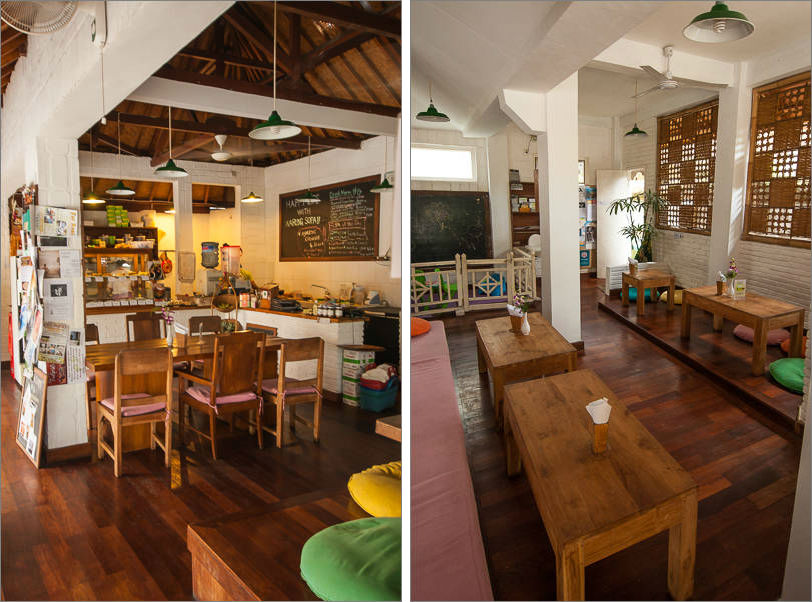 At the other end of the spectrum sits an equally tasty though definitely not vegetarian warung dedicated to one thing only – suckling pig! It became hugely famous when Antony Bourdain filmed its No Reservation show at the roadside joint and declared it the best suckling pig he's ever had… and I concur!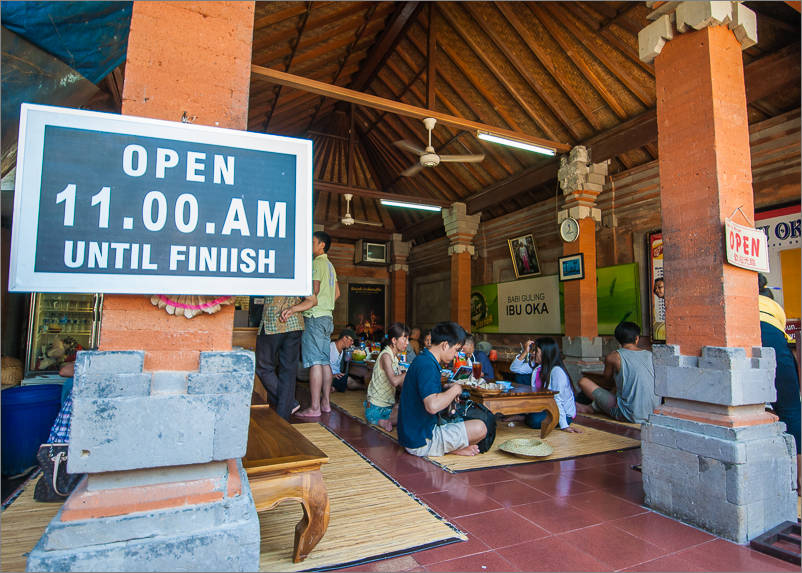 Constantly busy, you just grab a seat on the floor and order 'the special' (i.e. you want to go early as they run out by mid-afternoon usually). What you'll get is a heaping paper bowl filled with a mound of rice, topped with a generous portion of tender and juicy roasted pig, a spicy sauce, a big chunk of fatty skin, some insanely crispy and to-die-for cracklings, and a small piece of blood sausage.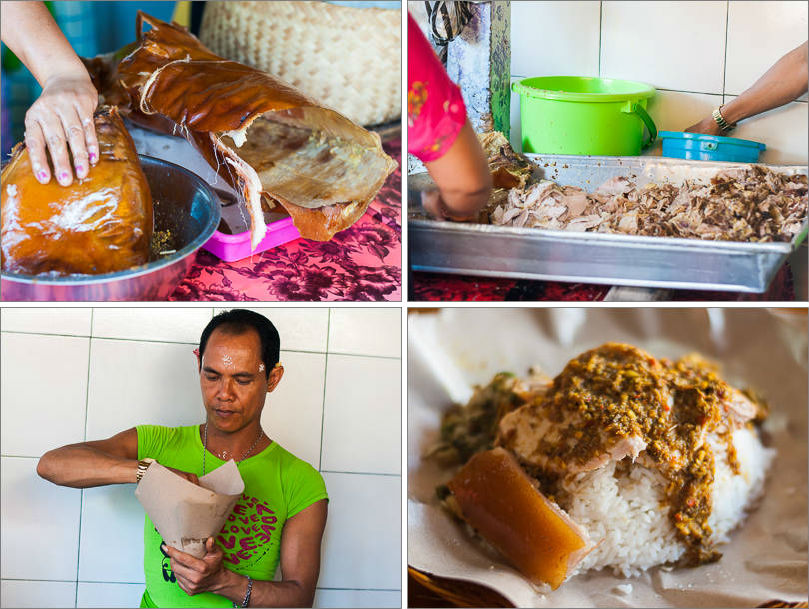 It's considered the most famous dish in Ubud, a bit strange for a town so popular with vegetarians, but you'll soon realize why once you've taken your first bite. I still dream about it…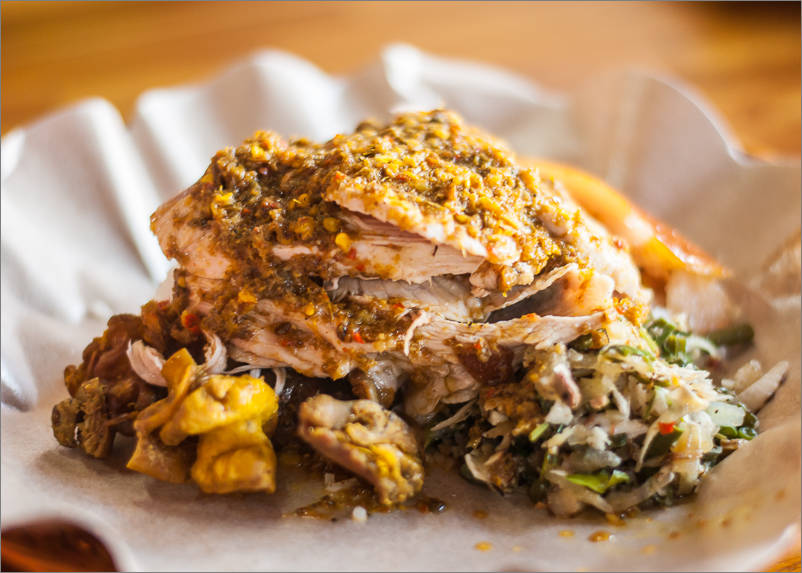 With such good weather, afternoon breaks in the shade are much appreciated and every other place seems to be serving amazing fresh juices and smoothies so take advantage of the vitamin boost at many of the roadside cafes. Ice cream is harder to come by though a few gelaterias are there to curb your cravings – I even found a dragon fruit flavored one.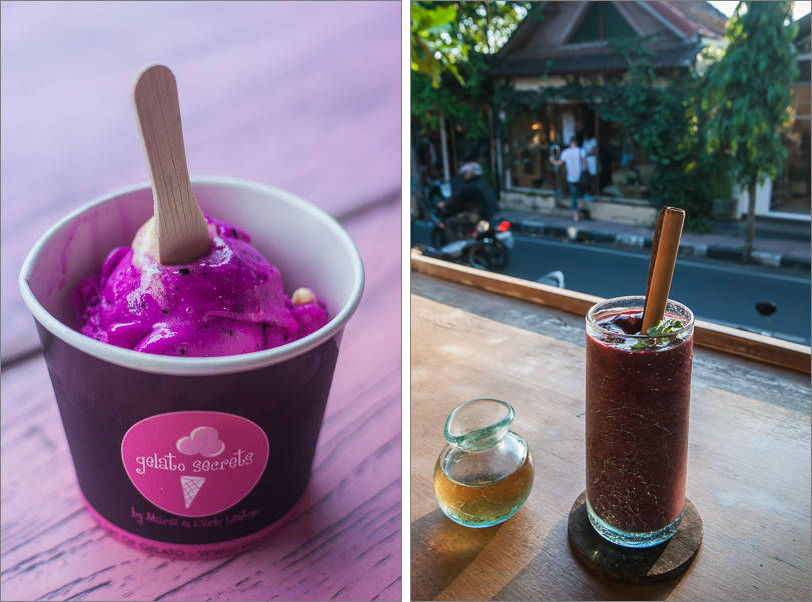 Another favorite restaurant of mine was Clear Cafe, probably the most happening while I was there since it was pretty filled up every night with beautiful locals (i.e. Aussie expats wearing tattoos, dreads, an incredible tan, a toned yogi body, and a gleeful expression surely acquired by the simple fact of living here every day…ah!).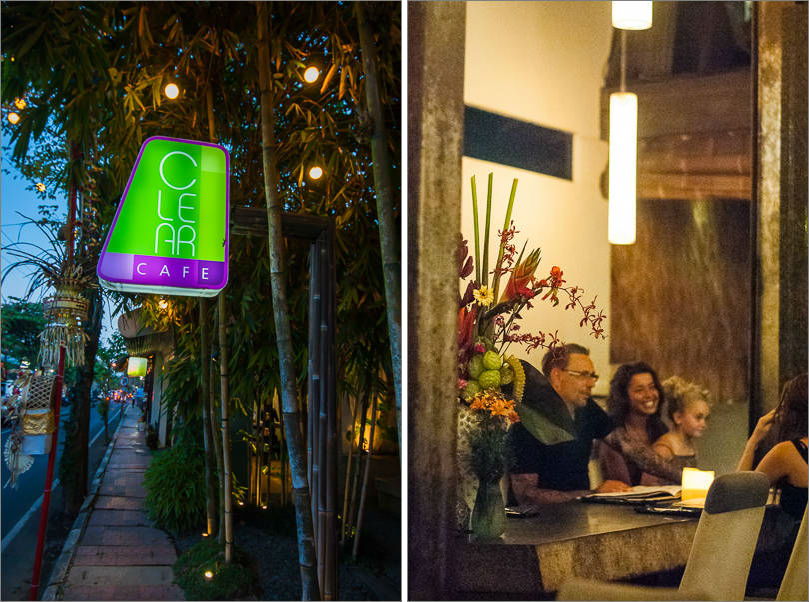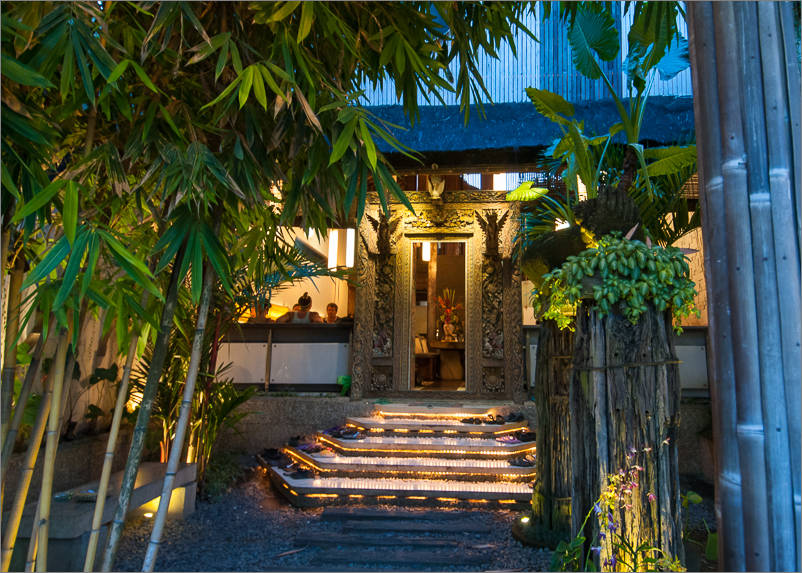 Though not vegetarian, it's another health conscious eatery serving organic food, fresh fish, and some raw menu items. As delicious as it was, what really makes it truly great is the sophisticated and clean interior, as if you were in a spa's relaxation room, and the incredibly gentle prices with most entrees not topping $10. I'd definitely be a regular if I lived here…and I think I could even pull the tattoos and dreads!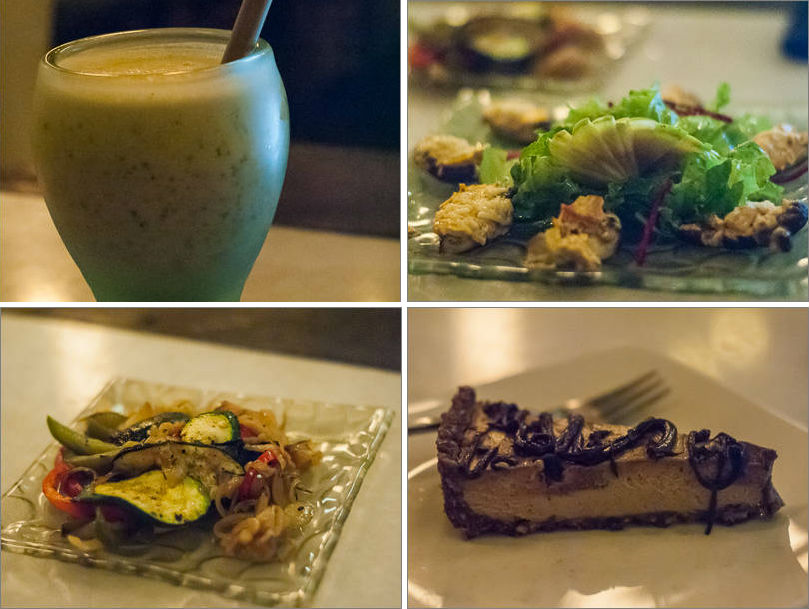 When you're in the mood for a more casual setting and need to do some quick groceries as well than you won't find better than Bali Buddha. A small health food store on the ground floor is the perfect place to grab a few items for tomorrow's picnic (all these rice paddies around are begging to be explored) – they have amazing baked goods, some fruits, chocolates, etc. Upstairs is their lovely cafe where you can enjoy a bite or a full meal. I had a veggie burger made with beets and some fries, healthy comfort food, while checking the yoga schedule of the studio across the street (yoga studios are as numerous as warungs around here).
You get an idea now that the casual cafes and restaurants are what I preferred about Ubud, though the serious foodie that I am could hardly pass the chance to be so near one of the top restaurants in Indonesia. Mosaic is the most upscale restaurant in Ubud and a chance to try what gastronomic Balinese cuisine with French technique tastes like (very good indeed). I could have just sat there and ordered a tasting menu but since I had the time, I decided instead to join their cooking workshop! I signed up for an afternoon in the restaurant's demo kitchen with the Chef and another student – probably the most rewarding way for me to spend a few hours.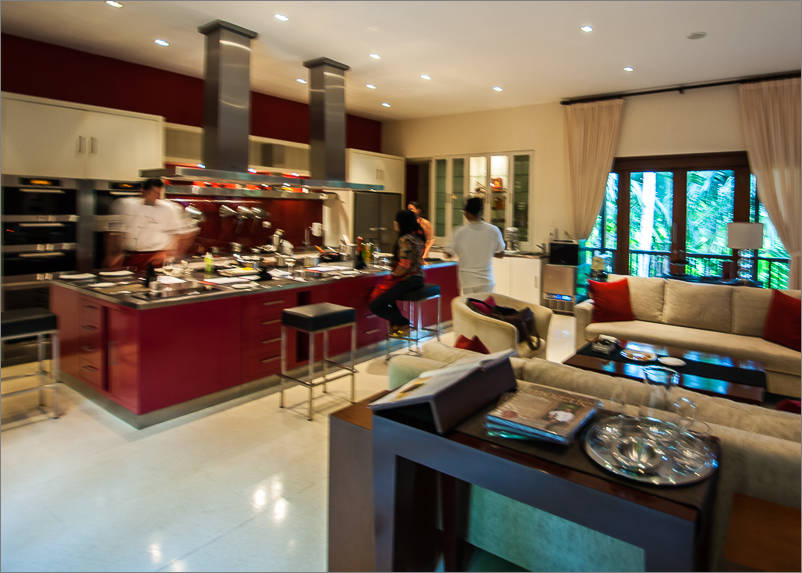 We first started in the gardens where we learned about specific Balinese ingredients we were to use a bit later – no better way than to see them in their natural state, touch them and taste them to remember them. Most of them I know will be hard to find fresh back home but it was fascinating to taste them and think of ways they could be integrated in Western cuisine (which was the title of the workshop: 'Balinese ingredients in Western cuisine').
Kalamansi lime (sweeter than a lemon), carambola (mini star fruit… super sour!), fresh vanilla beans, fresh turmeric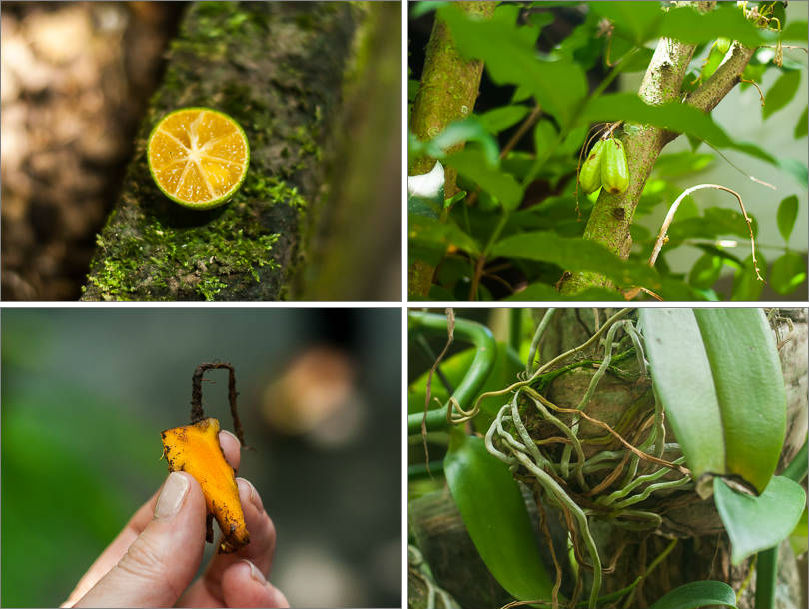 Then it was off to the kitchen to start prepping our 3-course meal using mostly local ingredients. Never have I learned so much technique and tips in such a short period of time – it did help we were only two therefore having full attention of the Chef!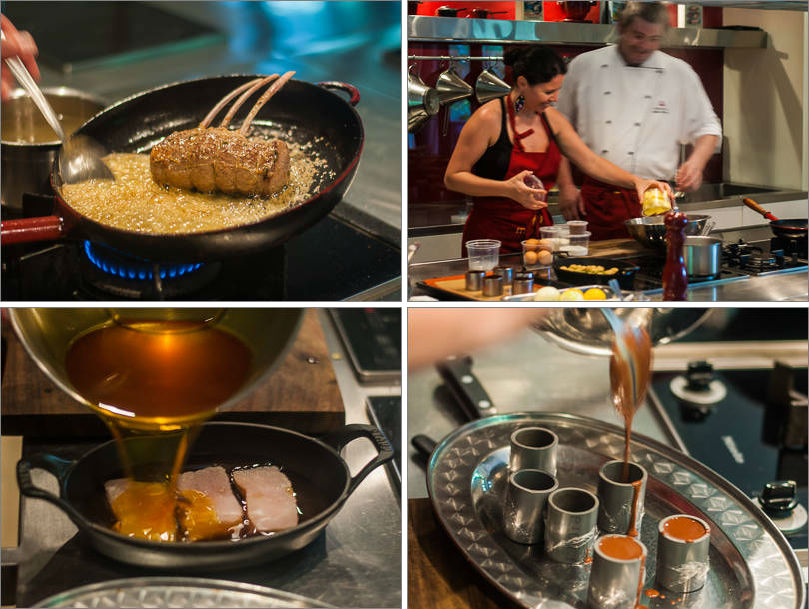 2.5 hours later we were sitting down to enjoy the fruits of our labour – definitely deserving of the praise the restaurant has been getting. I have all the notes and recipes to bring back home so this calls for a special dinner at my house sometimes soon…practice makes perfect!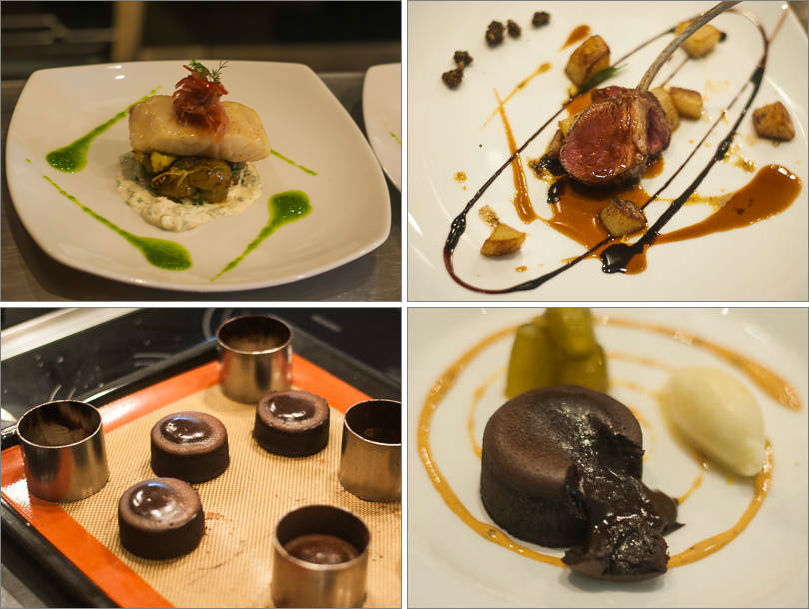 On top of recipes or cooking books, I always love bringing back home some food items (pending immigration approval!) and in Ubud you'll have the choice between the obvious coffee (get the Kopi Luwak as I described here) and the chocolate. For something unique and that you'll enjoy a lot back home I'd suggest stopping by Confiture Michèle, a lovely shop selling homemade jam made with local ingredients. You'll get to try fruits you'll never find back home and the small jars make for the most adorable gifts. I left with 'spicy guava' and 'vanilla-passion fruit', looking forward to many summery breakfasts back home.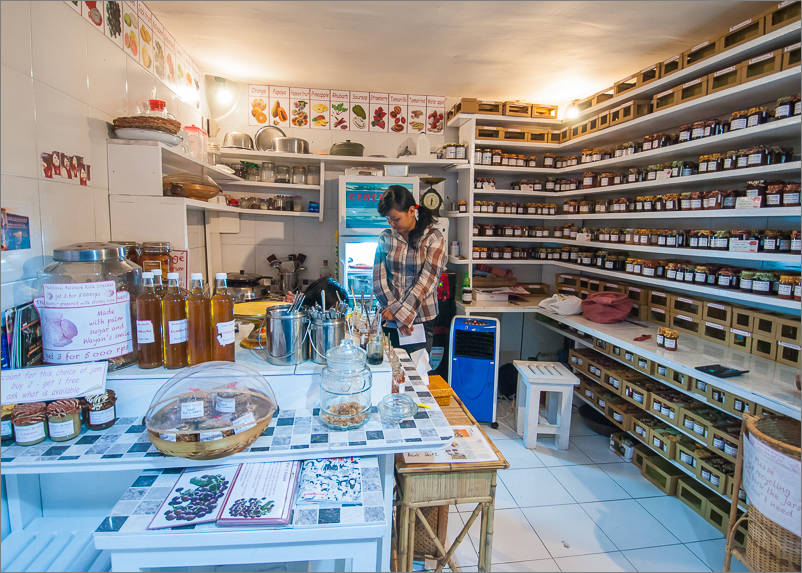 After all this food, no matter how healthy it is, one needs a break and Ubud is filled with temples welcoming you to do just that. Wandering the streets you can easily duck into any side alley and find yourself in another world, suddenly cut off from the bustling city center and feeling like you just stumbled upon your own little piece of paradise.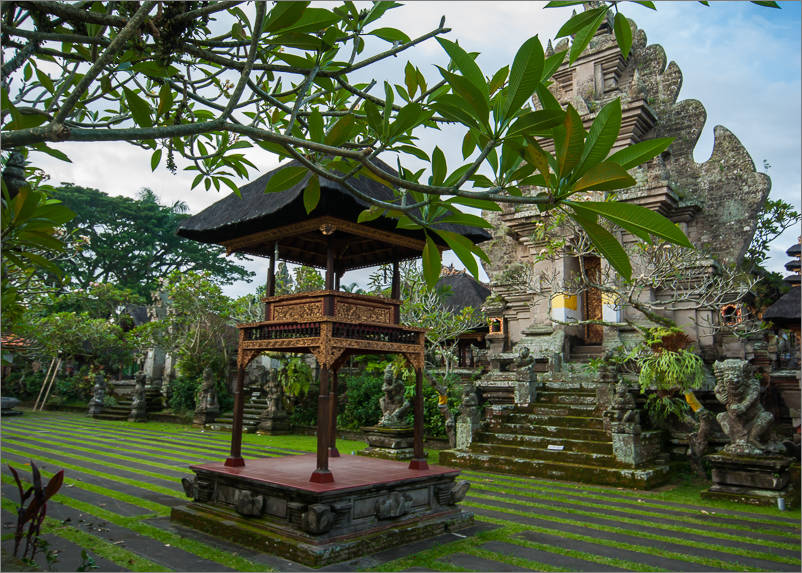 Though not as hidden as many others, the Water Temple just off the main street is a sight to behold and one of the most peaceful places you'll find around. Surprising how long can someone stare at waterlilies… they just have such a calming effect.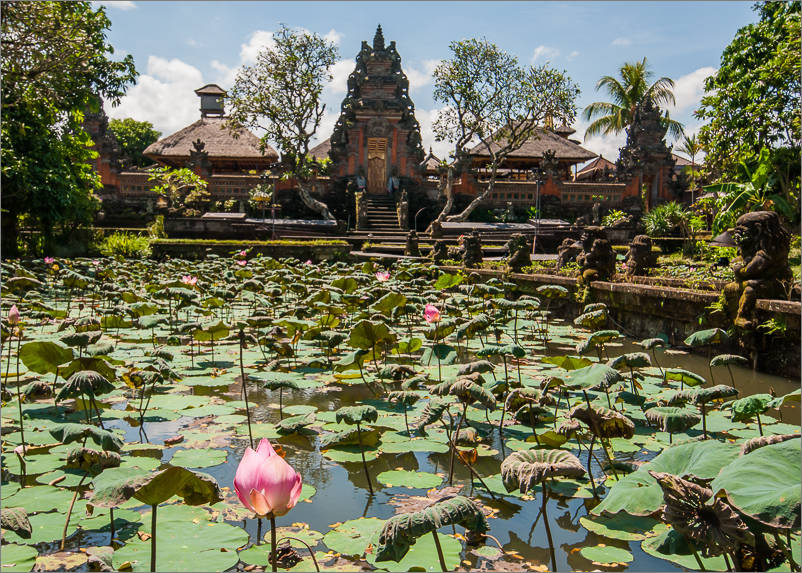 Balinese don't need temples to pray though as they do so multiple times a day at home, in the streets, in their shops, etc. Fresh offerings made of flowers  and burning incense in tiny banana leaves baskets are deposited every day at the feet of the numerous statues of gods and goddesses, family shrines, as well as in front of homes and shops to bring good karma and please the spirits.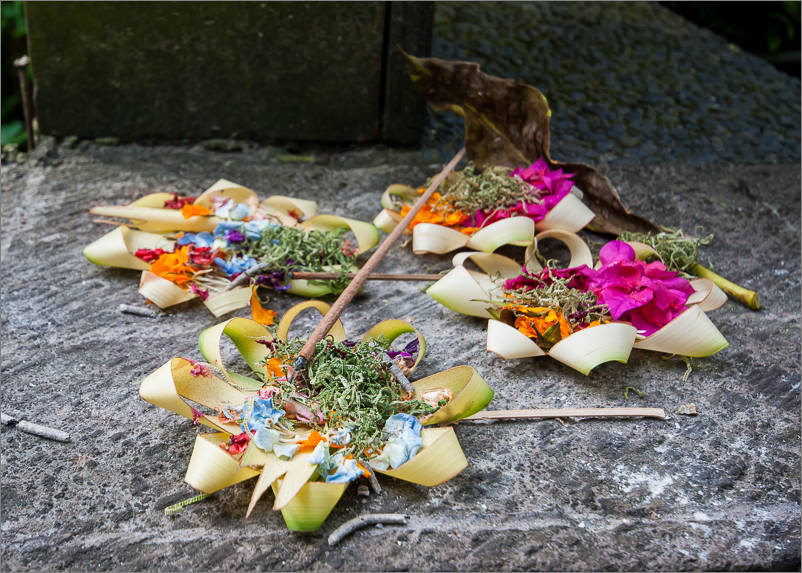 Besides its temples, Ubud counts many other places of beauty and rest including a handful of interesting museums. The Blanco Renaissance Museum is a must see as it shows all the eccentricity and flamboyance of its creator, painter Antonio Blanco, and lets you enter his unique home, now housing over 300 of his sexy and humorous artworks.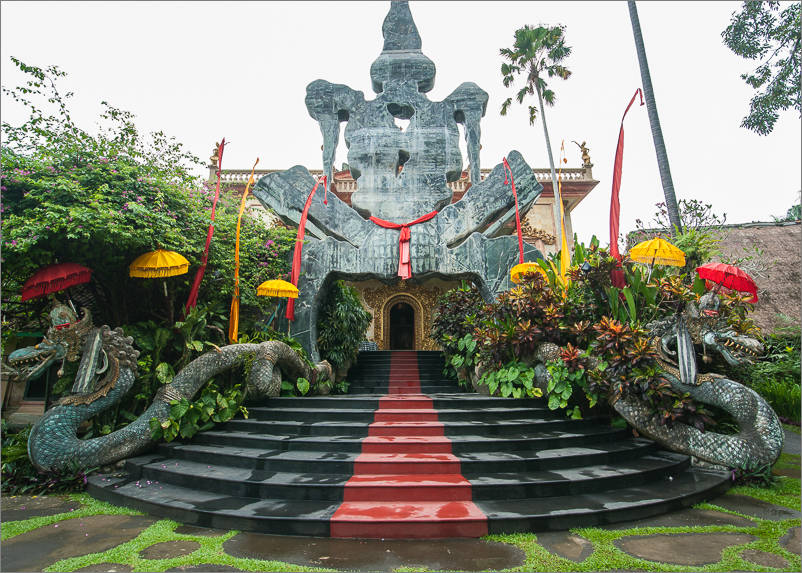 The building and paintings are worth seeing though just wandering around the property and its gardens is reason enough to visit.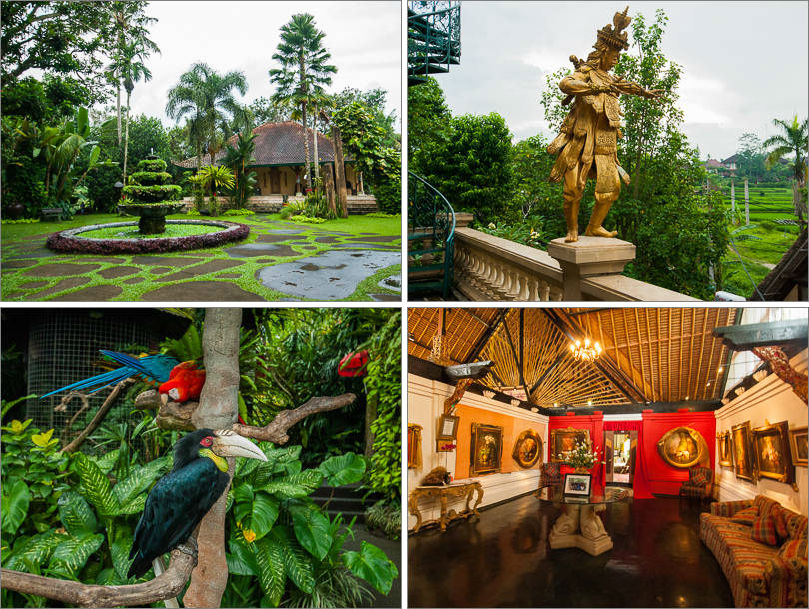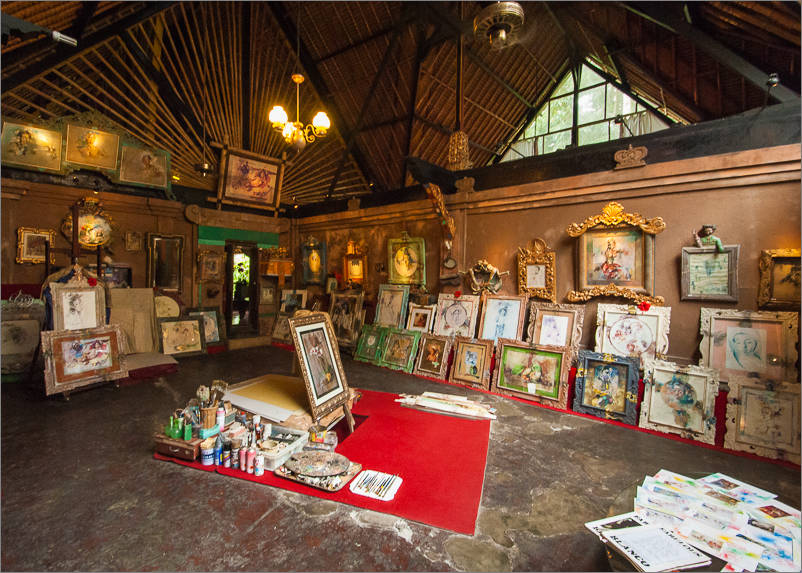 Slightly outside the city center, the ARMA Museum (Agung Rai Museum of Art) is the best place to get familiar with Balinese art from the classical to the modern. Housed in beautiful traditional buildings set amidst pleasant gardens, the  museum also serves as cultural center and you're sure to witness during your visit either a dance practice, music lesson, or wood carving session – I happened to see all three!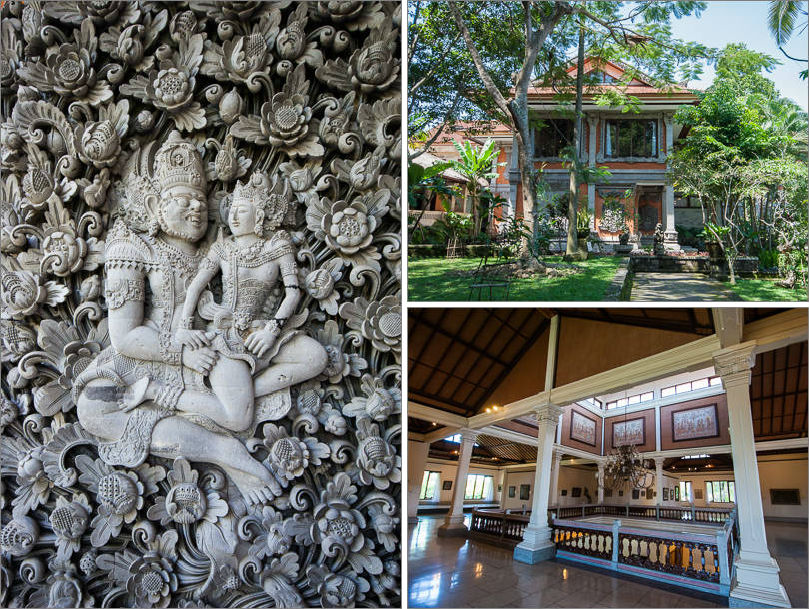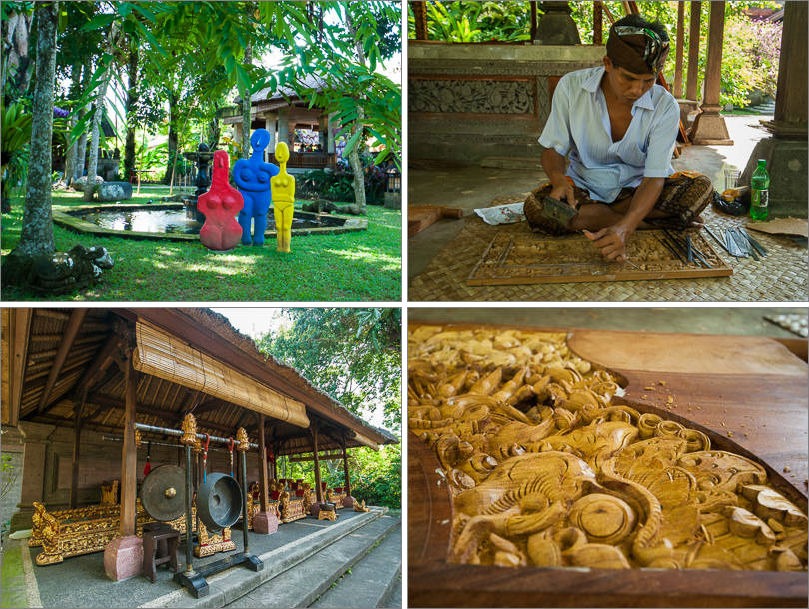 One cannot come back from Bali without mentioning the massages… Spas are probably the most abundant of businesses in Ubud and you should take full advantage of it like I did! With prices hovering around $10-12 for an hour of Balinese massage to $25 for a 2 hours extravaganza of massage-scrub-floral bath, there is absolutely no shame in booking one every day and trying a different one each time.
I particularly loved Kayma Spa which is hidden in the middle of the busy Monkey Forest Road in the town center yet is such a peaceful place with views of rice paddies right from your treatment room you'd forget you're in the city altogether.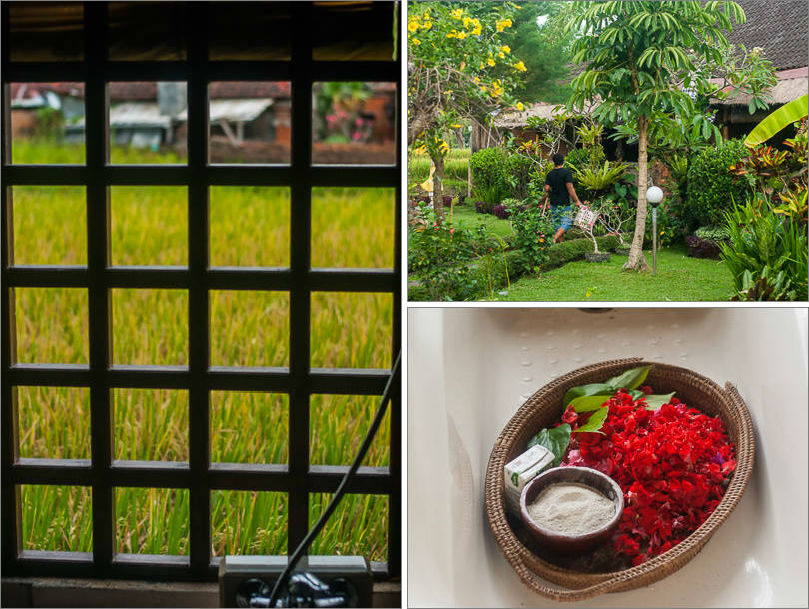 Once you're all rested and feeling like a million bucks, a stroll through the smaller streets of Ubud is an ideal way to spend the rest of the afternoon, peeking into little shops and galleries. Jalan Kajeng is a particularly picturesque one.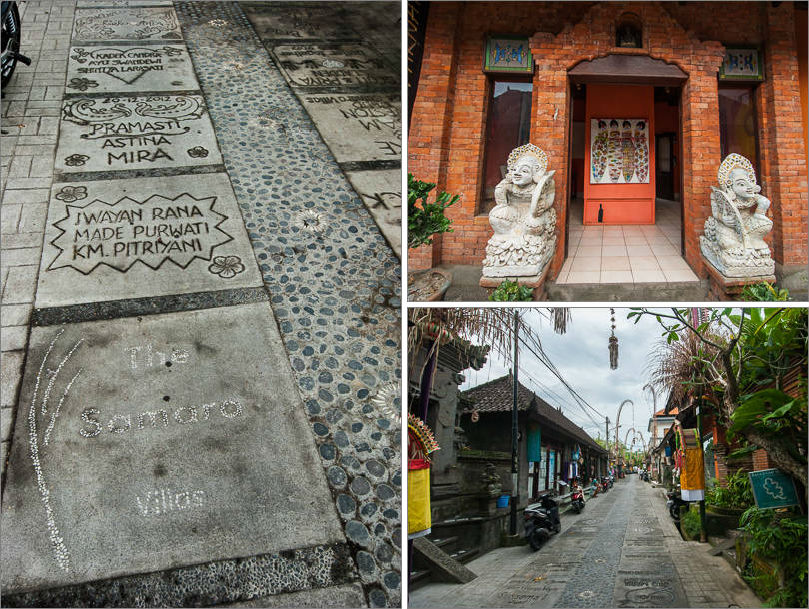 If shopping is on your mind, then look no further than Jalan Hanoman street which stretches North-South with an endless array of clothing and jewellery stores, yoga shops, textiles and homewares stores and cute little cafes for breaks in between.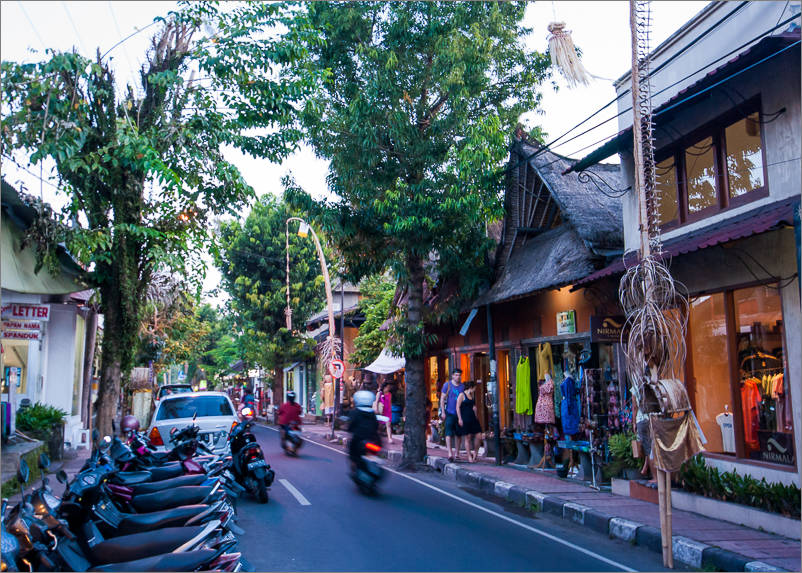 Evenings are quiet around here and the town goes to bed early in contrast with the party meccas of the coast such as Kuta and Seminyak. The only form of entertainment, and one you shouldn't miss, are the daily dance performances that take place around Ubud in enchanting outdoor theaters. It's a cultural experience you won't get to see anywhere else and well worth the $8 admission fee. Most shows start around 7pm and last for 1.5 hours and the Tourist Office can point you to the most popular ones and give you a complete schedule.
I saw the Legong and Barong Dance in the middle of the Ubud Palace one evening, thoroughly enjoying this intensely expressive and dynamic dance tradition.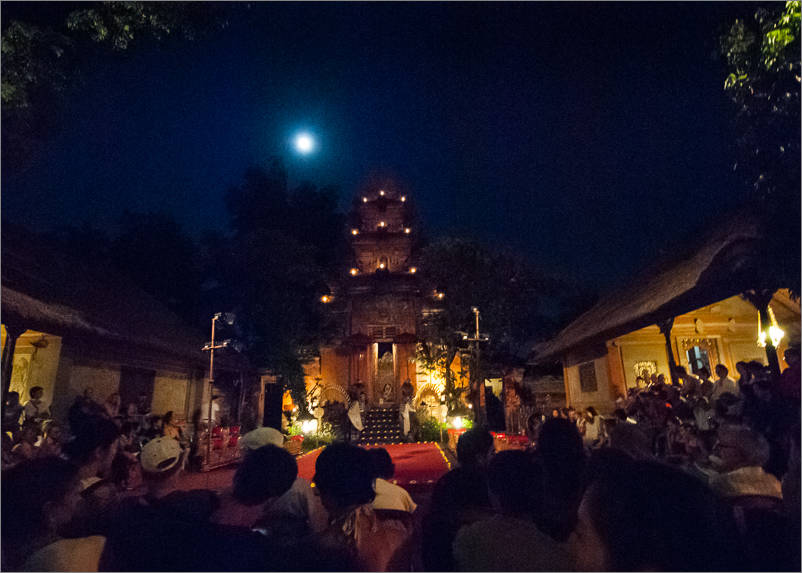 Girls start training at a very young age to master the intricate bodily gestures with fingers, hands, body, head and eyes all moving with stunning angularity. This form of artistic and religious expression is sure to be one of the highlights of your stay and I only wish I could have seen many more.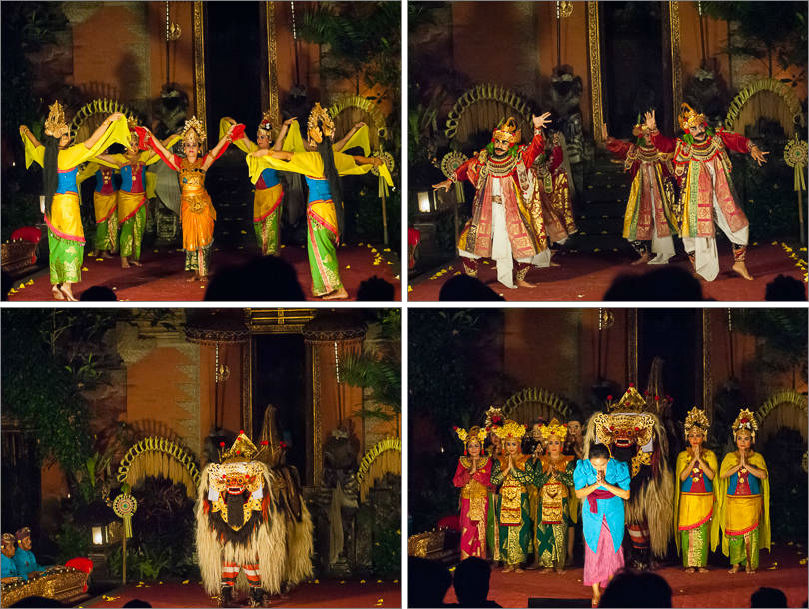 To end yet another blissful day in nothing beats stopping by one of the many temples to stare at the starry sky and thank the spirits for giving you your own little Eat, Pray, Love journey…feels like no other place would have succeeded like Ubud did.