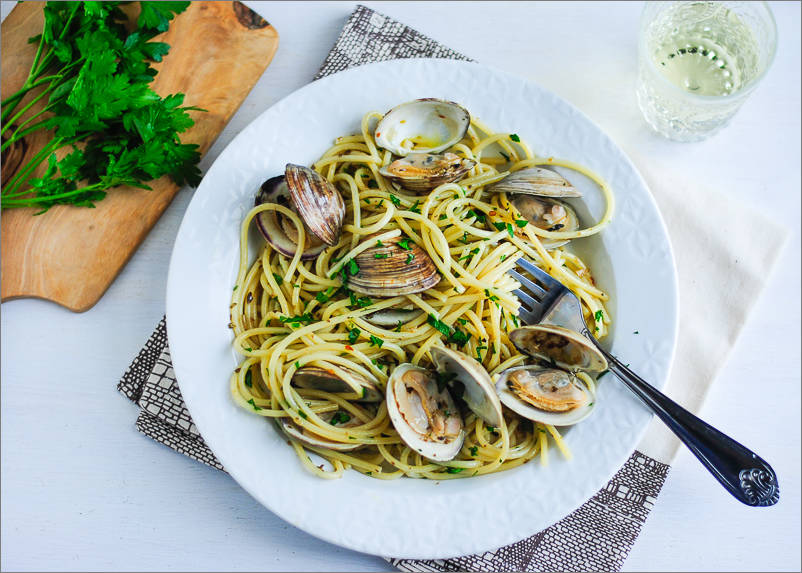 Pasta dinners are an easy go-to option year-round but when summertime comes, I want none of the heavy sauces and especially nothing canned in mine. One of my favorite ways to recreate an Italian summer's evening at home is to go back to the classics like Spaghetti alle Vongole which truly emphasizes the 'less is more' approach. It's one of the lightest pasta dish I know, one of the easiest as well, and with only a few simple ingredients you'll be tasting the Mediterranean Sea in no time!
Like most of the classic pasta dishes, there are a lot of versions out there for Spaghetti alle Vongole though I'm definitely a fan of the one called 'in bianco', meaning no tomatoes are added. I have nothing against tomatoes per se but here all I want is to taste the perfect balance of plump briny clams, white wine, lots of garlic and spicy red chili flakes. As with any simple dish, quality ingredients are key so get the best fresh clams you can find and open a nice bottle of wine.

Spaghetti alle Vongole
Recipe from The New Brooklyn Cookbook
Active time: 35 minutes
Total time: 45 minutes
Makes 4 servings
2 dozen Manila or Littleneck clams
Coarse salt
12oz spaghetti
½ cup extra-virgin olive oil
1 large shallot, finely diced
4 tablespoons finely chopped garlic
1 teaspoon crushed red pepper flakes
1 tablespoon dried oregano
1 cup dry white wine
2 tablespoons chopped fresh flat-leaf parsley
Freshly ground black pepper

Fill a large bowl with salted water. Add the clams and soak for 10 minutes. Drain, then scrub the clams with a brush to remove any remaining grit.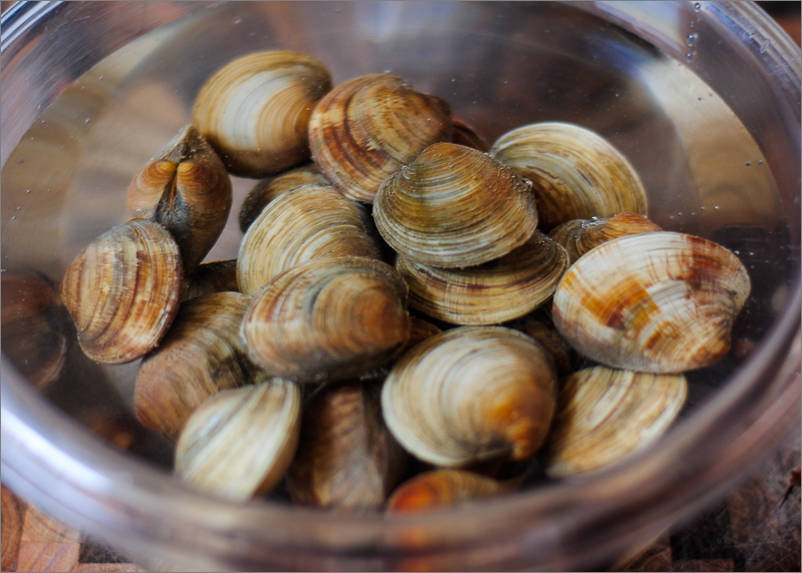 Discard any clams that have broken, cracked, or open shells that do not close when tapped firmly.
Bring a large pot of salted water to a boil. Add the spaghetti and cook until just al dente, about 9 minutes.
Heat the olive oil in a 12-inch sauté pan. Add the shallots, garlic, red pepper flakes, and oregano.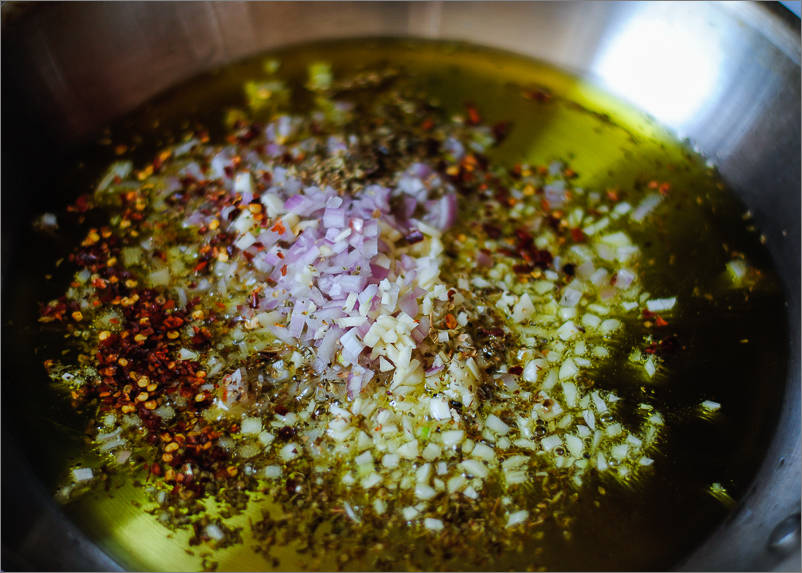 Sauté until the garlic is just beginning to turn a light golden brown and the mixture is very aromatic, about 2 minutes. Add the clams to the pan and mix well.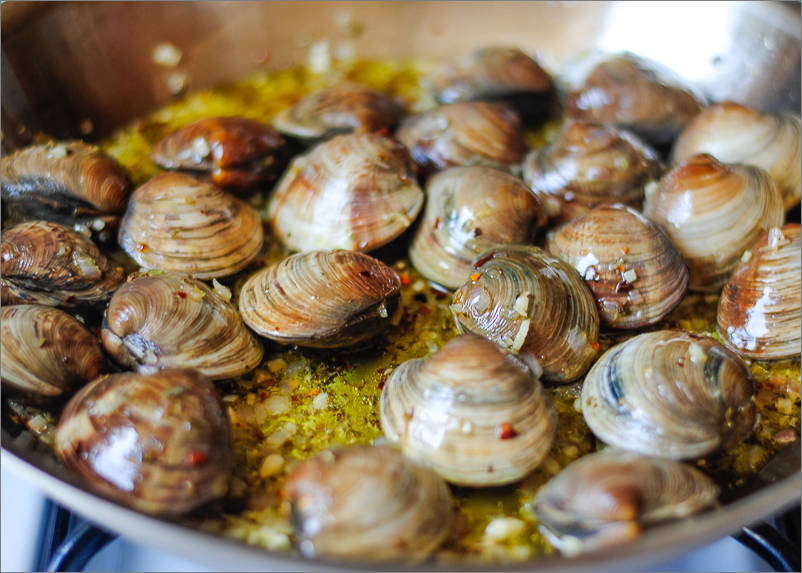 Add the wine and cook over high heat until the clams begin to open, shaking the pan occasionally to cook the clams evenly. As each clam starts to open, transfer it to a large plate, leaving the liquid in the pan; the clams will finish opening and won't be overcooked. Discard any clams that do not open. Bring the pan liquid to a boil over high heat and cook until reduced by half. The sauce should be reduced enough to cling to the pasta, with a little extra for mopping up with bread.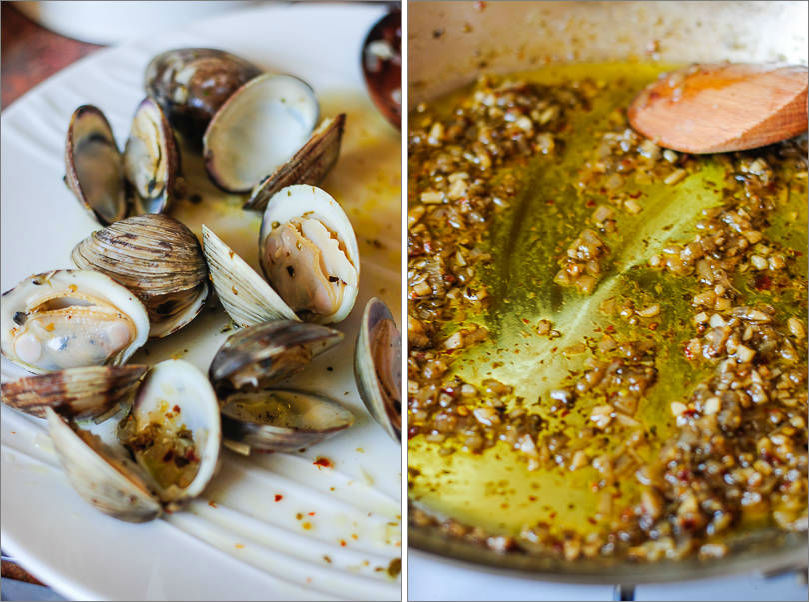 Drain the pasta and add it to the reduced liquid. Top it with the reserved clams and the parsley and season with salt and freshly ground black pepper to taste. Toss well, then divide among 4 plates and serve immediately.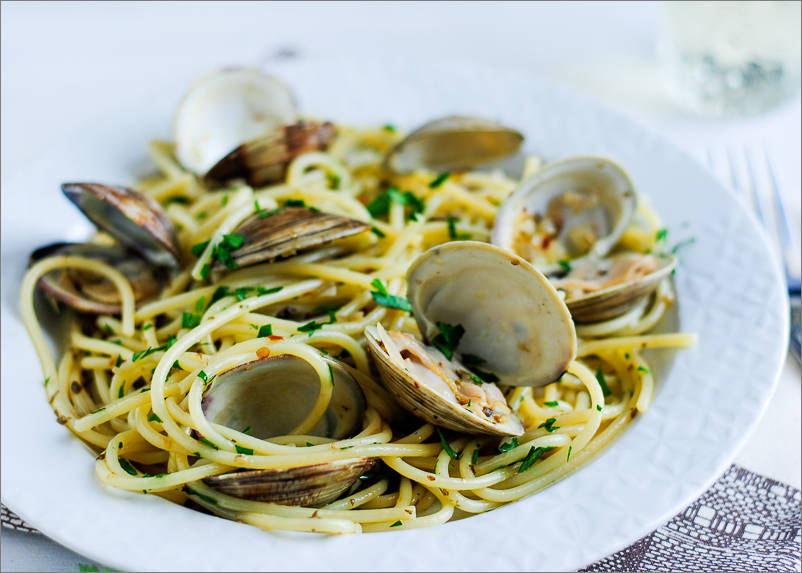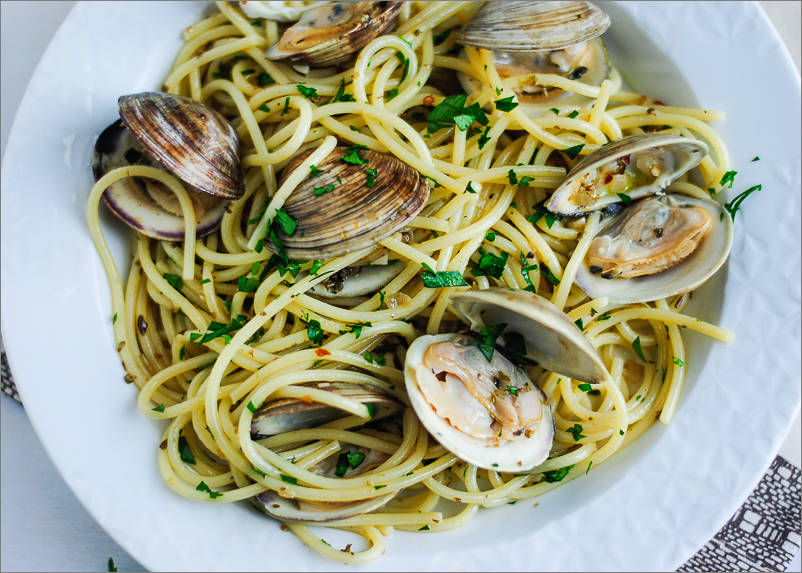 Print This Post