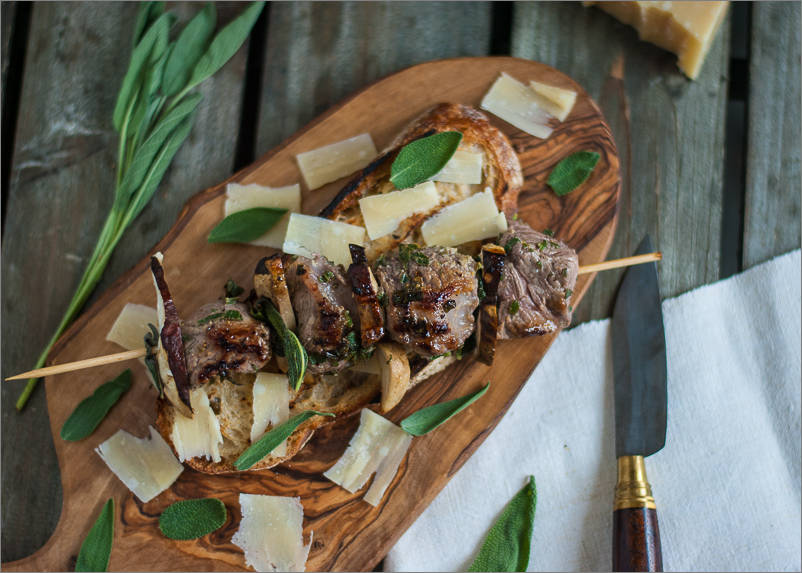 BBQ season is on and once you've had your fill of burgers and hotdogs, I suggest you turn your attention to the simple though marvelous kebab. I adore kebabs just as I love all things Middle Eastern and though I've had some pretty amazing and heavily seasoned skewered meat in the past bursting with exotic spices and herbs, for the hot summer days I'm craving less heat – and less prep time in the kitchen!
Lamb is the best meat for kebabs with its succulent fatty flesh. The simple flavoring of fresh sage, oil, lemon and garlic in this recipe only contributes to highlight its wonderful taste. No need for a heavy yogurt sauce either, a simple sprinkling of Parmesan shavings and a few sage leaves are really all you need as garnish and to make it feel very summery.
The addition of fresh porcini mushrooms (use dried ones reconstituted in water if you can't find fresh ones) and their earthy tones goes so well with the lamb and if you have truffle oil on hand like I always do it'll just be stunning. Instead of the traditional flat breads, some thick slices of grilled sourdough bread make a great vehicle for this easy and awesome summer entertaining recipe.

Lamb and Porcini Kebabs with Sage and Parmesan
Recipe from Food and Travel magazine
Active time: 25 minutes
Total time: 2.5 hours
Makes 4 servings
450g tender lamb, from the leg or shoulder, cut into bite-sized chunks
2 tablespoons olive oil
Freshly squeezed juice of 1-2 lemons
Leaves from a bunch of fresh sage, finely chopped (reserve a few whole leaves)
2 garlic cloves, crushed
4-6 fresh medium-sized porcini mushrooms cut into quarters or thickly sliced (or dried porcini reconstituted in water)
Truffle oil
Parmesan shavings
Grilled or toasted sourdough

Put the lamb pieces in a bowl and toss in half the oil and lemon juice. Add the sage and garlic and season with salt and pepper. Cover and leave to marinate in the refrigerator for about 2 hours.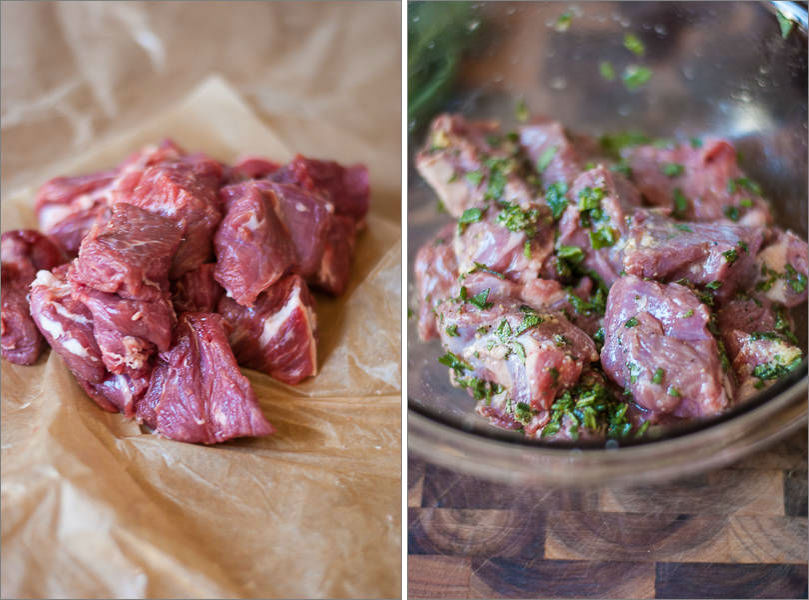 Thread the lamb onto 4 long skewers, adding a quarter of porcini every so often with a sage leaf.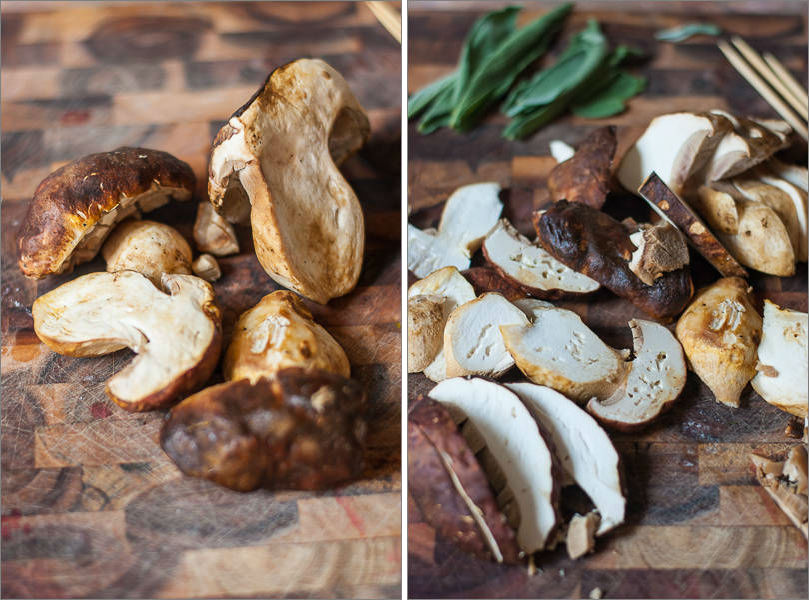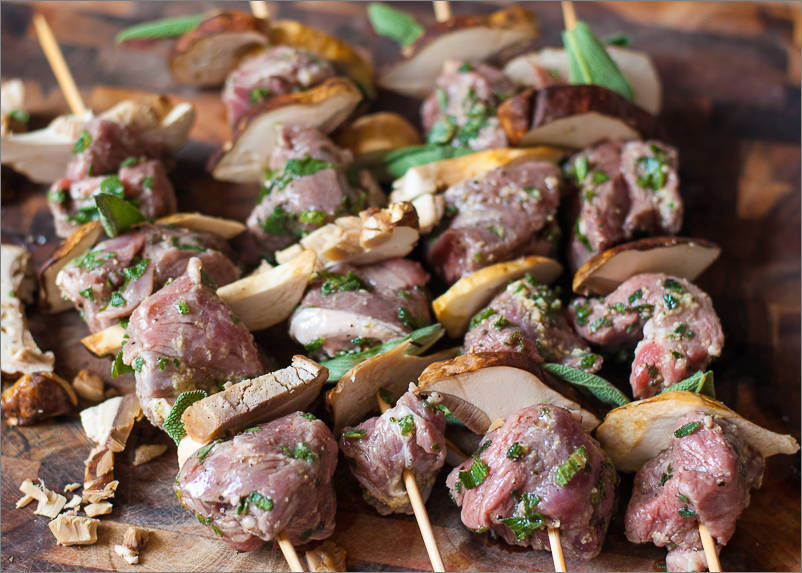 Brush with any of the marinade left in the bowl. Prepare a charcoal or conventional grill. Cook the kebabs for 3-4 minutes on each side.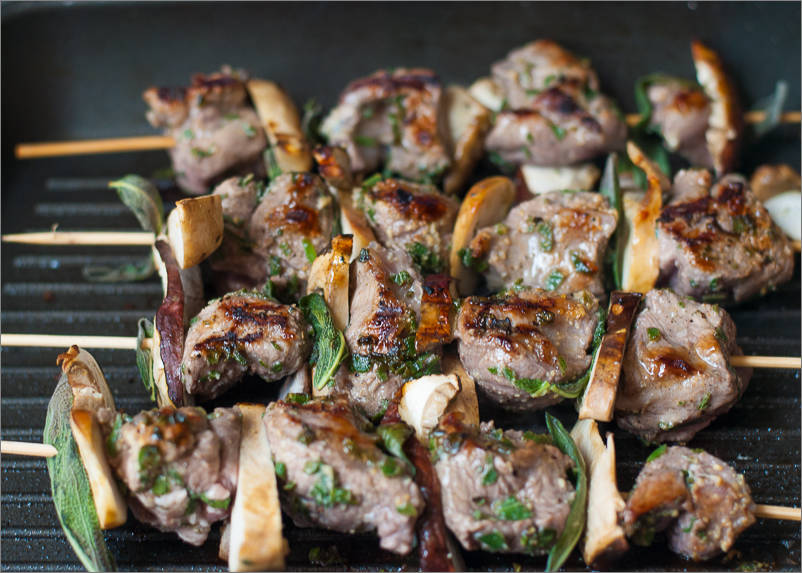 Serve immediately with a drizzle of truffle oil and Parmesan shavings and toasted sourdough.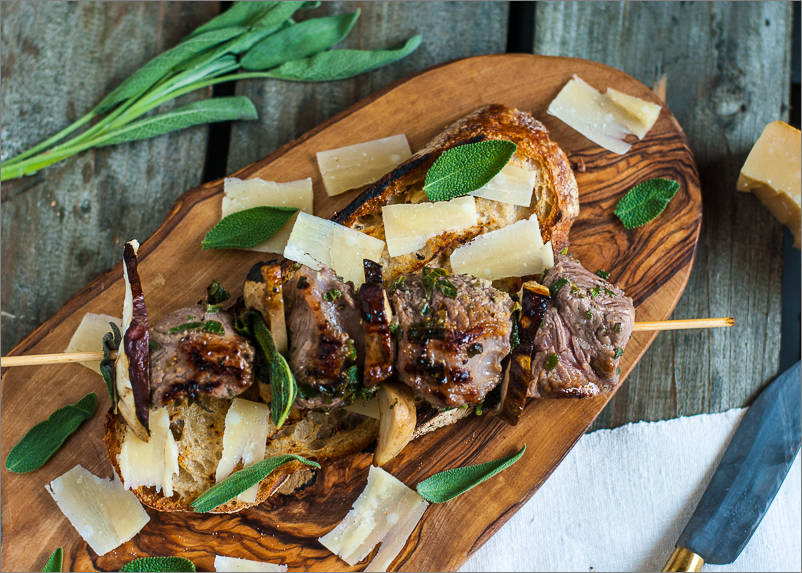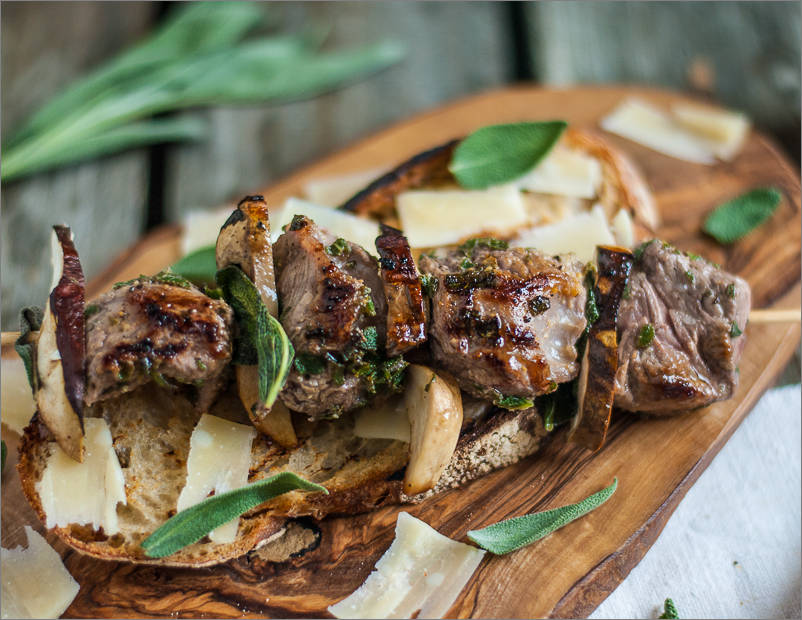 Print This Post