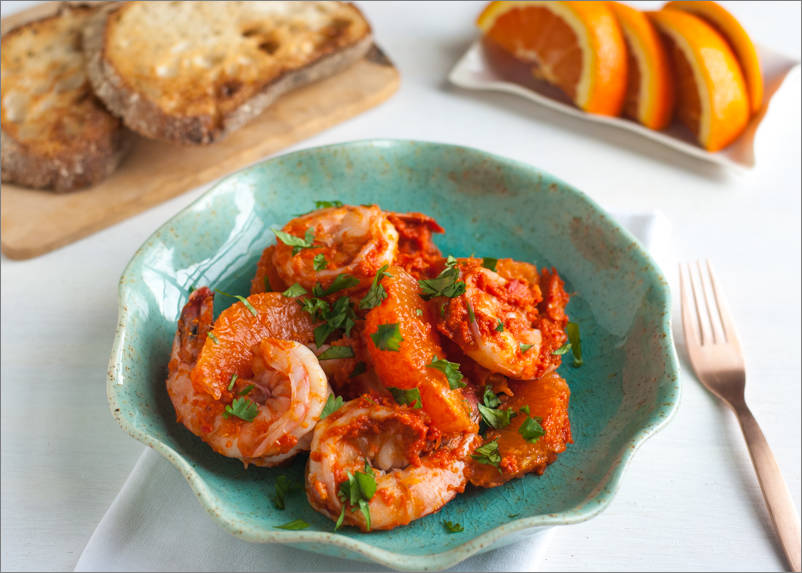 A major heat wave like the one we have right now quickly narrows down your meal options to either cold soups or light salads as nothing else seems bearable while you're desperately trying to bring your body temperature down. While I'll never get tired of a simple green salad with tomatoes from the farmers market, I do like something a bit more refined for dinner and eating cold seafood is for me a true summer delight, best enjoyed with a chilled glass of rosé.
I found this refreshing summer salad while flipping through my Middle Eastern recipe books and thought it looked perfect for the weather. It's true that it calls for blood oranges which are not in season right now though I was able to find nice Cara Cara oranges and their pinkish flesh works wonderfully here. You can of course substitute regular oranges with great results. Jumbo shrimps just like lobsters are probably the best way to make you feel like you're eating something substantial and 'meaty' while avoiding heavy meats and sticking to a light meal.
Charmola is a popular spice and herb paste from North Africa used to flavor fish and seafood and is really simple to make. The sundried tomatoes, cumin, paprika, and cilantro definitely liven up this salad and give it that exotic, Moroccan look and taste. It's perfect served in small, tapas size portions with big slices of crusty bread with some fruits on the side – that's really all you need in such heat!

Jumbo Shrimp and Blood Orange Charmola Salad
Recipe from Purple Citrus and Sweet Perfume
Active time: 25 minutes
Total time: 1 hour
Makes 4 servings (appetizer)
12 jumbo shrimp
2 large blood oranges or any other oranges, peeled and segmented
8 sun-dried tomatoes, soaked in warm water for 30 minutes
2 large shallots, chopped
1 garlic clove, chopped
1/4 cup olive oil
1 teaspoon ground cumin
1 teaspoon sweet paprika
1 inch piece of fresh ginger, peeled and finely chopped
sea salt
ground pepper
3 tablespoons coarsely chopped cilantro

Cook the shrimp in a large saucepan of boiling water for 3-–4 minutes, until they turn opaque. Drain and cool.
Place the shrimp and oranges in a large bowl.
Combine the sun-dried tomatoes, shallots, garlic, olive oil, cumin, paprika and ginger in a food processor and blend into a smooth paste. Add the paste to the shrimp and oranges.
Toss together and season. Sprinkle with the cilantro and serve with crusty bread.