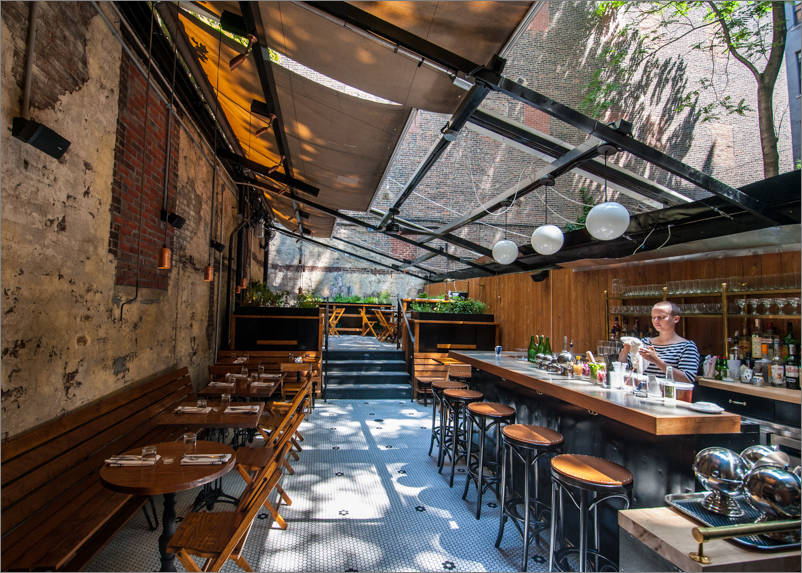 Another French bistro hardly seems like a novelty or even worth talking about, except if it's coming from the Little Wisco empire which has been churning hot spots all over the West Village. After the success of  Jeffrey's Grocery, Joseph Leonard, Chez Sardine, Perla, and Fedora, it's French cuisine they're giving a shot at with the opening a few months ago of Montmartre in Chelsea.
Unsurprisingly this is not your usual classic bistro fare and decor and as with all their other restaurants you should expect the unexpected, served with a side of fun and somewhat reasonable price tags. Skip the tight dining room for the beautiful garden and bar at the back which is one of the main draw here and is sure to be filled to the brim during these hot summer days.
Any visit here should start with a cocktail as they are excellent, expertly prepared with enough variety and whimsicality to suit everyone's tastes. We tried and loved Cards with Uncle Larry, a playful spin on Pimm's  with Pimm's, Pineapple syrup, Lime, Pilsner Beer and T-Model Train Dreams which mixes Gin with Cucumber, Club Soda and Timmy Bitters for a refreshing summer drink.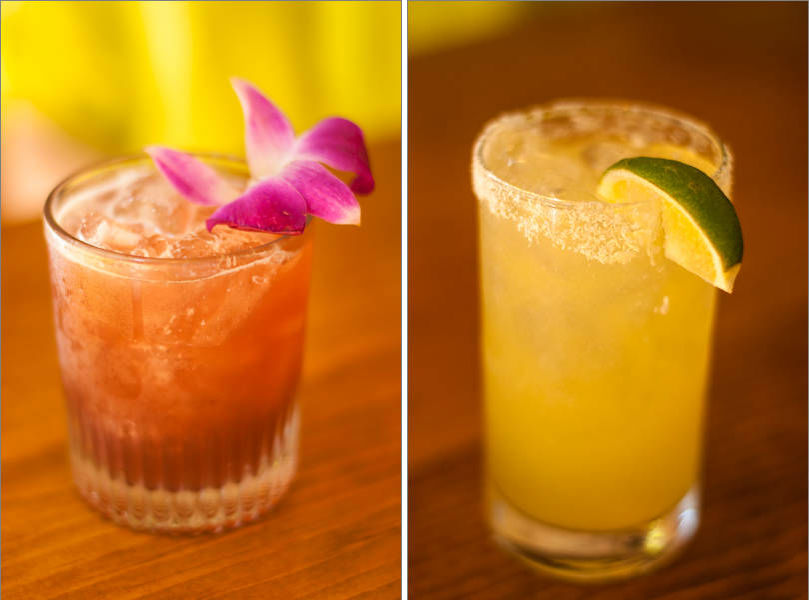 The food is French at its core with pretty unique twists at time borrowed from Asia, North Africa, and the Middle East thanks to Chef Tien Ho, a Momofuku alum. Dinner service sees bolder flavors  and fancier dishes of course though the lunch we sampled was a good introduction to the dynamic at play here, crossing the familiar and unfamiliar in very pleasant ways. A croque monsieur with smoked salmon and salmon roe was a delightful surprise and classics of duck confit and burger were well executed, leaving us happy and pretty well-fed! With such a cool outdoor space, delish cocktails and food, I'd say the empire has struck again!
Starters of Chicken Liver Toasts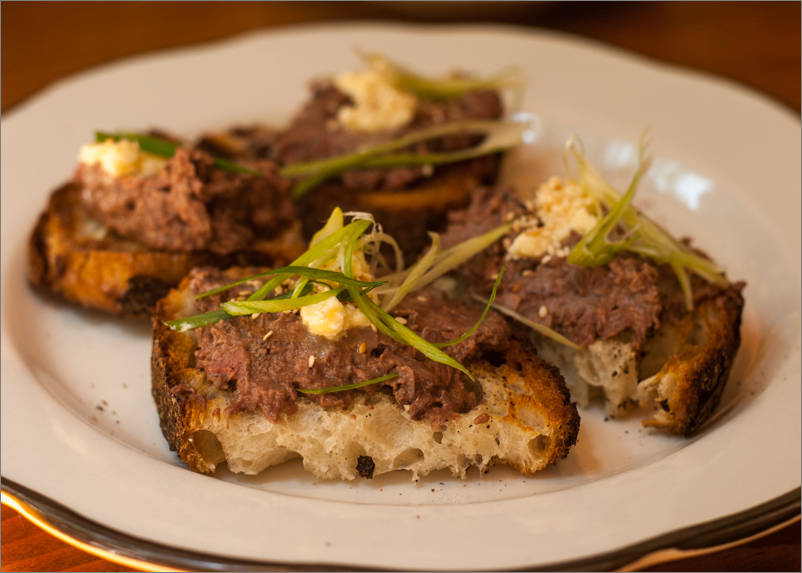 The Duck Confit – a very popular menu item – is served with roasted fingerling potatoes and topped with watercress and fig vinaigrette.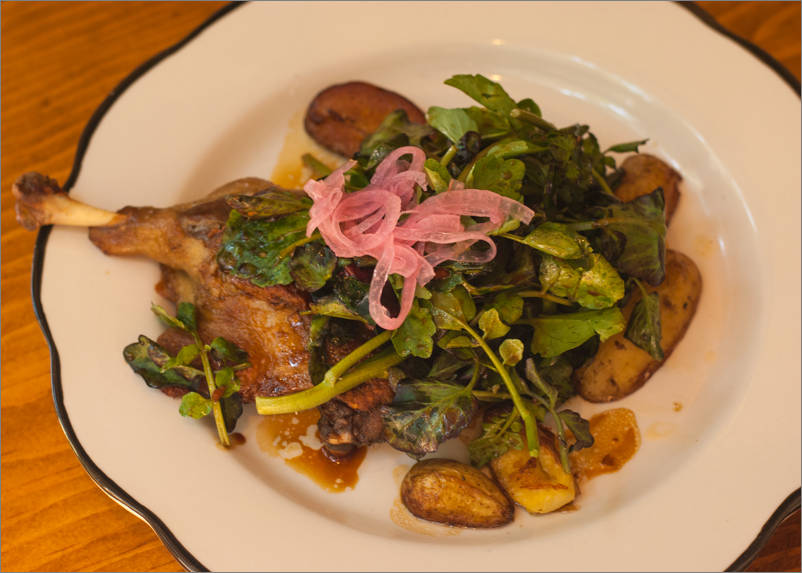 'Le' Burger – topped with Camember cheese, peppercorn mayonnaise and peppercress is another favorite, and the French Fries are addictive.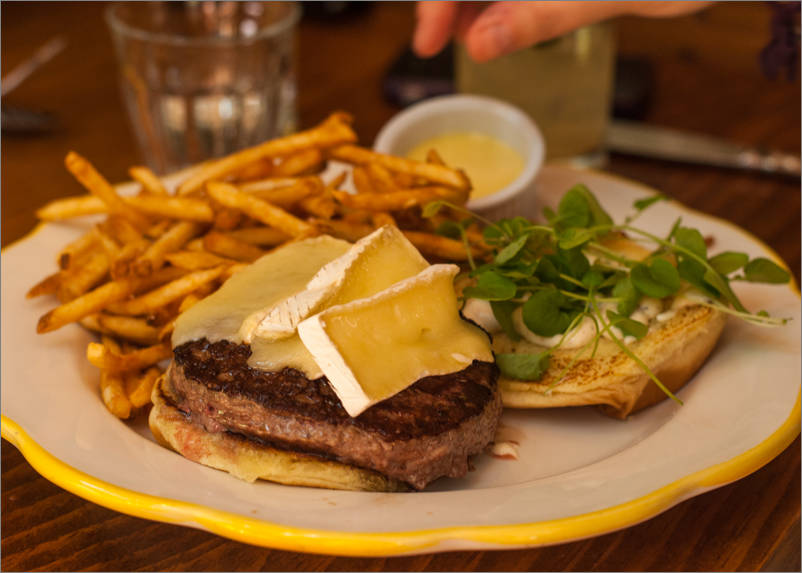 A Croque Monsieur Saumon Fumé arrives garnished with salmon roe and radishes – the mark of Tien Ho no doubt.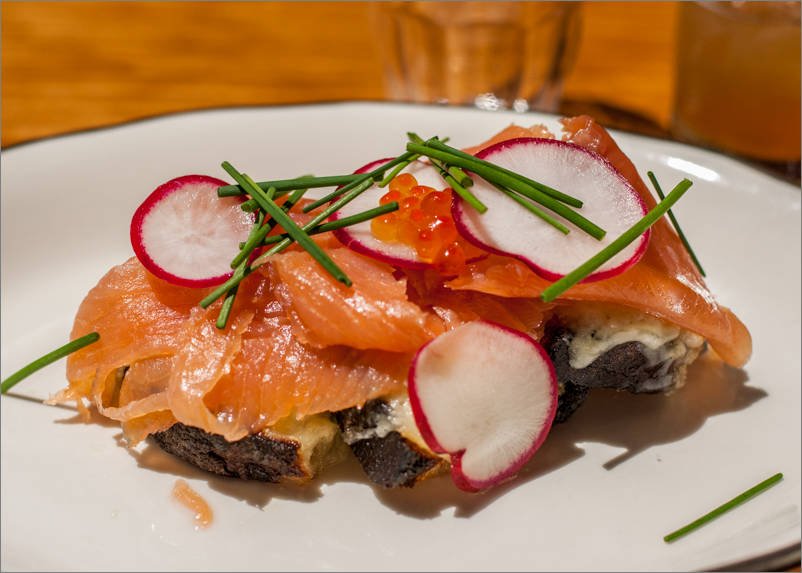 Only one choice for dessert (deception in a French restaurant!) – an unimpressive Rhubarb Crumble with lime crème fraîche was light and pleasant enough though pale in comparison with the rest of the meal.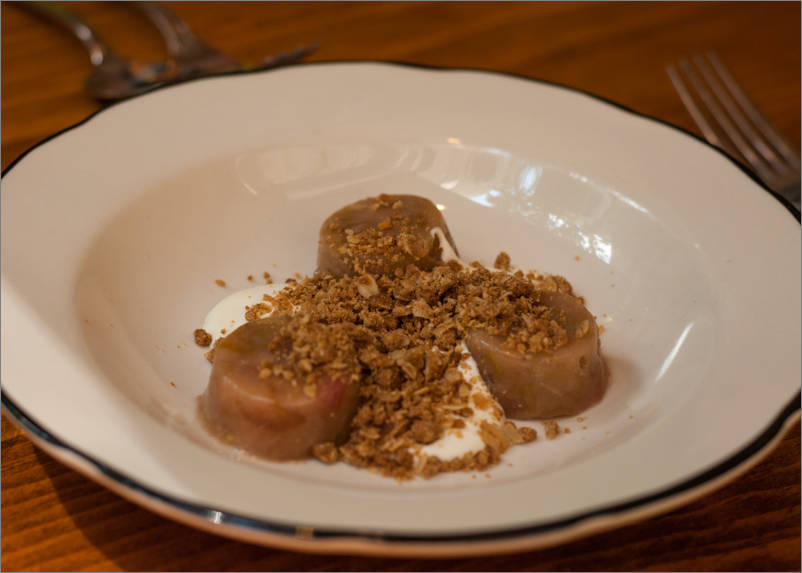 Montmartre
158 8th Ave, New York, NY
T: (646) 596-8838
map