Watermelon is my all-time summer scorcher savior and there's always a huge half chilling in my refrigerator ready to be cut up and devour as the temperature rises. I can't think of anything more refreshing on a sweltering day than biting into a cold, juicy slice of watermelon and perhaps sipping a chilled gazpacho.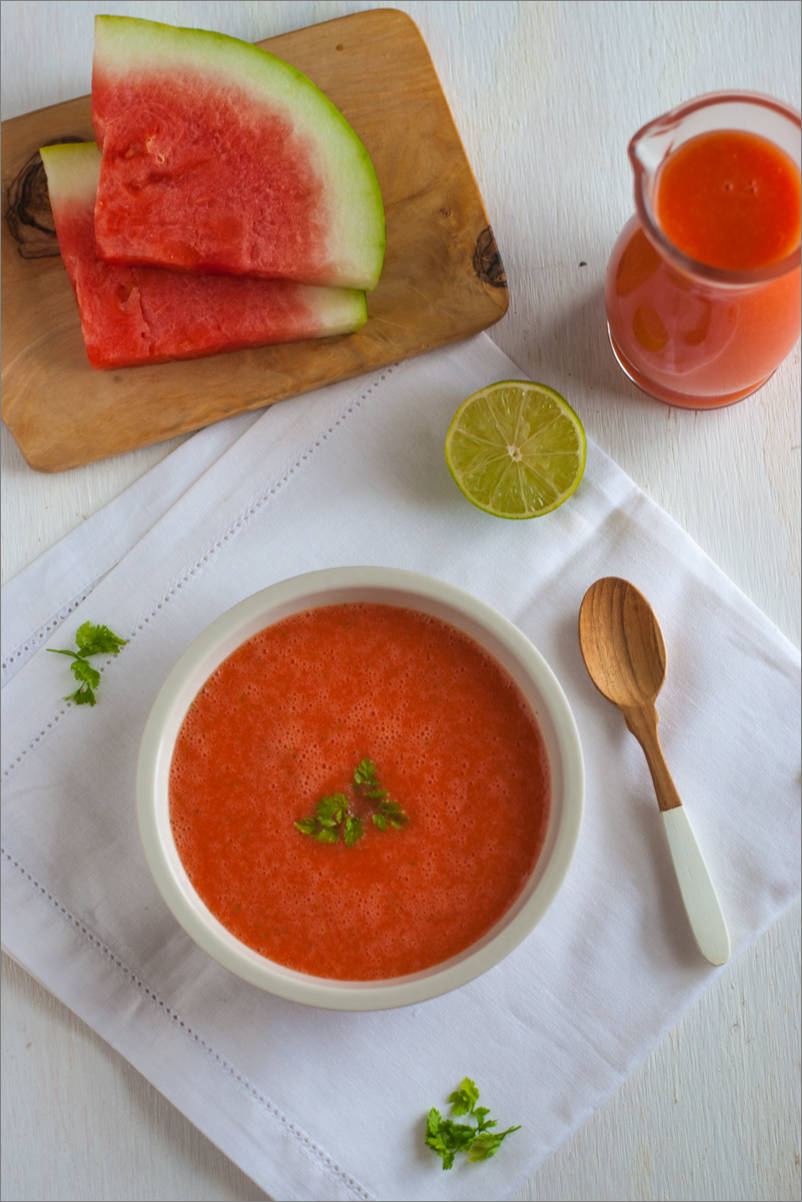 The idea of a watermelon soup might not seem the most obvious but it's such a simple and brilliant dish you'll want that in your kitchen arsenal for those crazy hot summer nights where you just get bear the thought of turning your stove on.
This no-cook recipe is definitely not as flavor packed as a gazpacho and doesn't constitute a meal but is perfect as a light first course or a quick snack in between meals, and I'd even consider it for dessert! Watermelon juice has a pretty mild taste and the use of xanthan gum here as a thickening agent allows the flavor to come through without overpowering it like starches would. Just like any cold soup, the chilling part is important and will improve the taste so leave it to cool for as long as you'd like. The resulting color is bright and cheerful and will lighten up your summer meals and most importantly leave you cool…

Cold Watermelon Soup
Recipe from Food and Wine magazine
Active time: 20 min.
Total time: 40 min.
Makes 4 servings
5 cups (1.5 pounds) diced seedless watermelon, chilled
2 tablespoons freshly squeezed lime juice
1 tablespoon plus 1 teaspoon chervil leaves
2 teaspoons extra-virgin olive oil
2 grams xanthan gum ( 1/2 teaspoon)
Tabasco
Salt
Chervil or shredded shiso leaves, for garnish

In a blender, puree the diced watermelon with the fresh lime juice, chervil leaves and extra-virgin olive oil until the mixture is very smooth.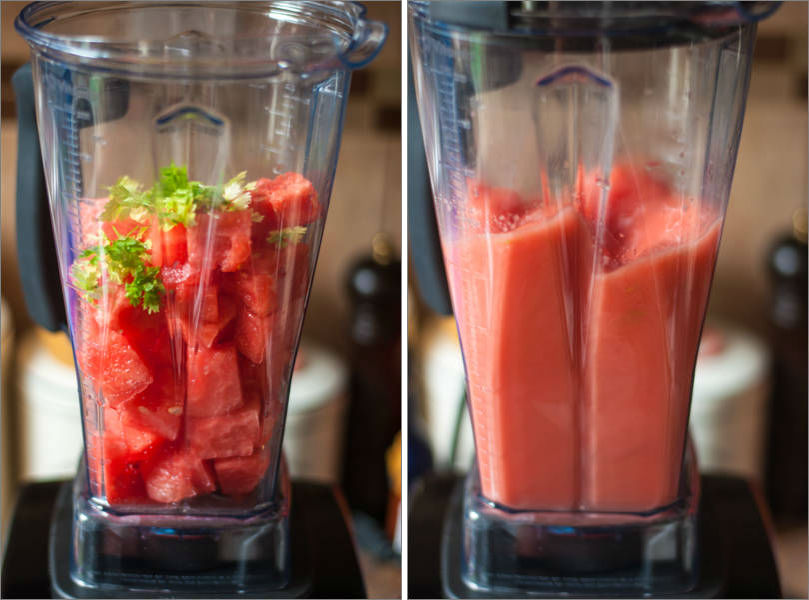 Set a fine-mesh strainer over a large bowl and strain the watermelon puree, pressing very lightly on the solids to extract the watermelon juice without pushing the pulp through.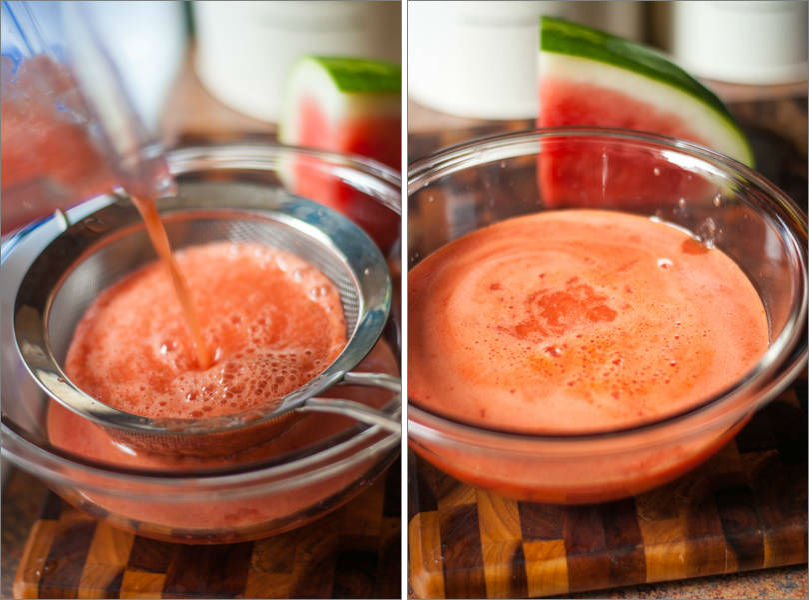 Rinse out the blender and return the strained watermelon juice to it. With the blender on, add the xanthan gum and blend until slightly thickened, about 15 seconds. Transfer the watermelon soup to a pitcher and season with Tabasco and salt. Refrigerate until the soup is well-chilled, about 20 minutes.
Serve the soup in bowls, garnished with chervil or shredded shiso leaves.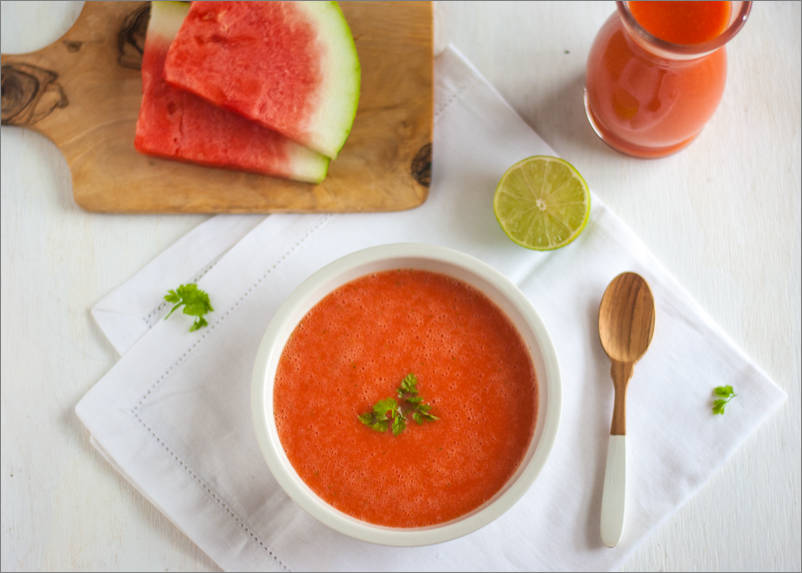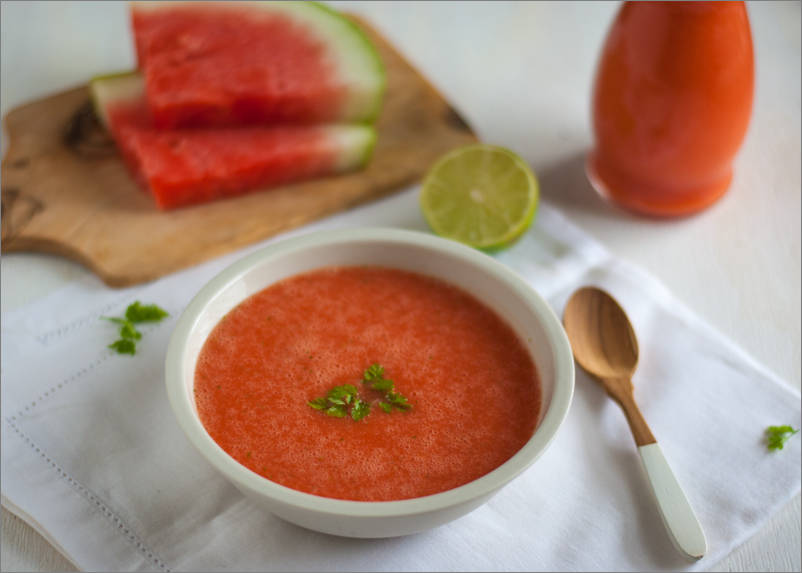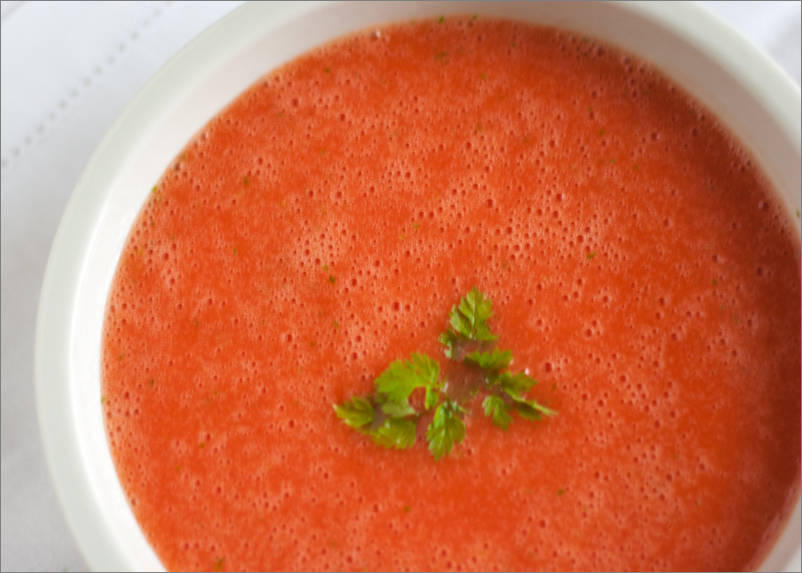 Print This Post