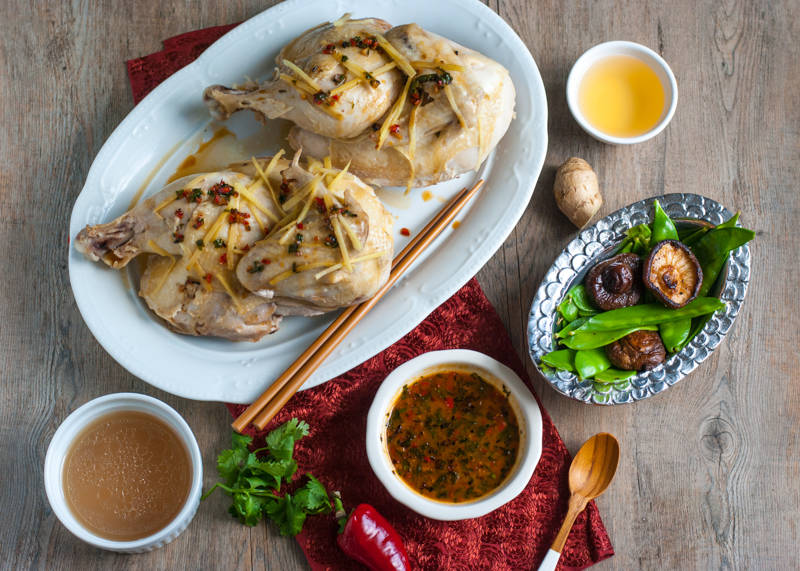 Steaming is a traditional cooking method in Asia and its benefits are well known – no need for any use of oil or fat and it preserves nutrients. While few people outside of the region use it on a regular basis, probably thinking those bamboo baskets look a bit complicated, the speedy results and healthy dishes it produces should convince anyone to give it a try.
Simple steamed chicken is a favorite in many Chinese households and this recipe showcases just how deceptively easy it is to make an authentic, light, and flavorful Chinese supper at home. The ginger adds impact to the plain though super moist and tender chicken and the spicy dipping sauce transforms it into an amazingly luscious meal. It's true that steamed chicken isn't the most beautiful dish but for such easy comfort food you'll quickly forget about it. Serve with Asian vegetables for a super healthy weeknight dinner.

Steamed Chicken with Xiao Fan's Special Sauce
Recipe from Gourmet Magazine
Active time: 25 minutes
Total time: 1 hour
Makes 4 servings
For chicken:
1 chicken (about 3 1/2 pounds), halved lengthwise
2 tablespoons thin matchsticks of peeled ginger
For sauce:
1 1/2 tablespoons peanut or vegetable oil
4 garlic cloves, minced
3 to 4 (2-inch) fresh hot Thai chiles, minced, including seeds
1/2 cup coarsely chopped cilantro
1/4 cup water
1 teaspoon soy sauce
1 teaspoon rice vinegar (not seasoned)

Steam chicken:
Fit a large steamer rack inside a large wide pot. Add enough water to reach within 1/2 inch of bottom of rack. Bring to a boil.
Pat chicken dry and put, skin side up, in a shallow bowl (that will fit on steamer rack inside pot). Sprinkle with ginger and steam, covered, over high heat, until chicken is just cooked through, 30 to 35 minutes (replenish water if necessary).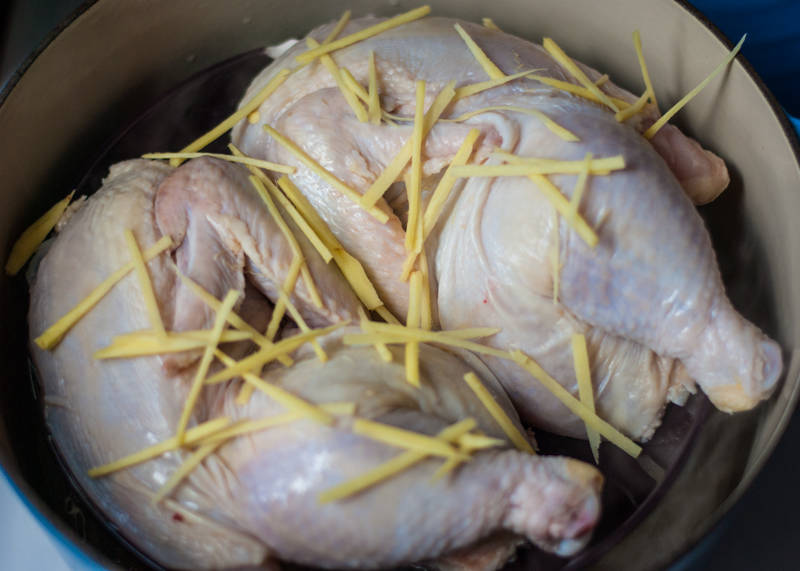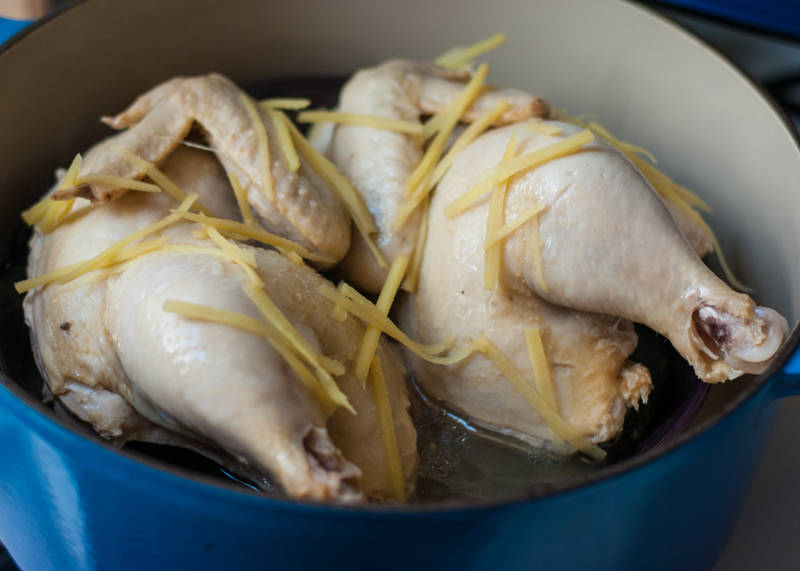 Carefully remove bowl with chicken. Pour off juices into a glass measure and set aside 1/4 cup (reserve remainder for another use). Return chicken in bowl to pot and keep warm, covered, off heat.
Make sauce:
Heat a wok or large heavy skillet (not nonstick) over high heat until smoking, then drizzle oil down side of wok and swirl to coat. Reduce heat to medium, then add garlic and stir-fry 15 seconds. Add chiles and stir-fry 15 seconds. Add cilantro and stir-fry 1 minute. Stir in remaining ingredients, 1/4 teaspoon salt, and 1/4 cup chicken juices and simmer 1 minute. Transfer to a bowl.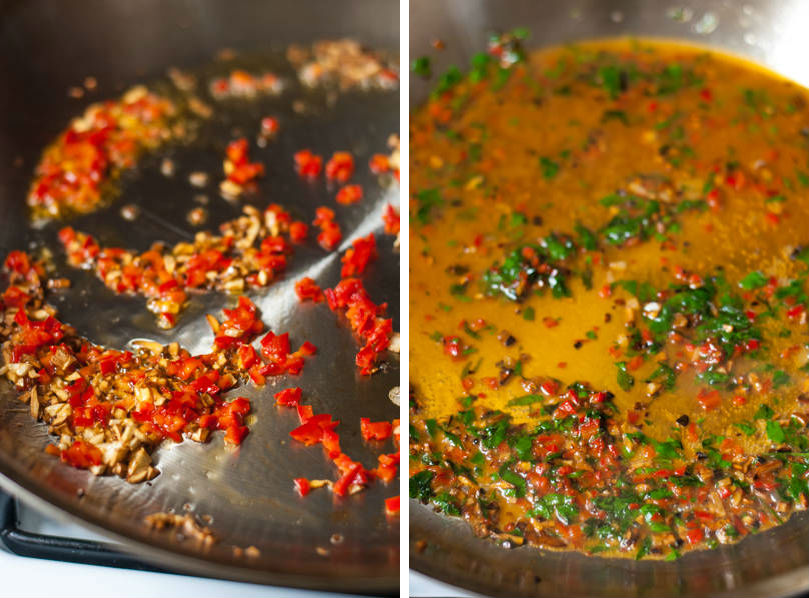 Drizzle some sauce over chicken (include some solids for a spicier sauce); serve the rest on the side. Season chicken with salt.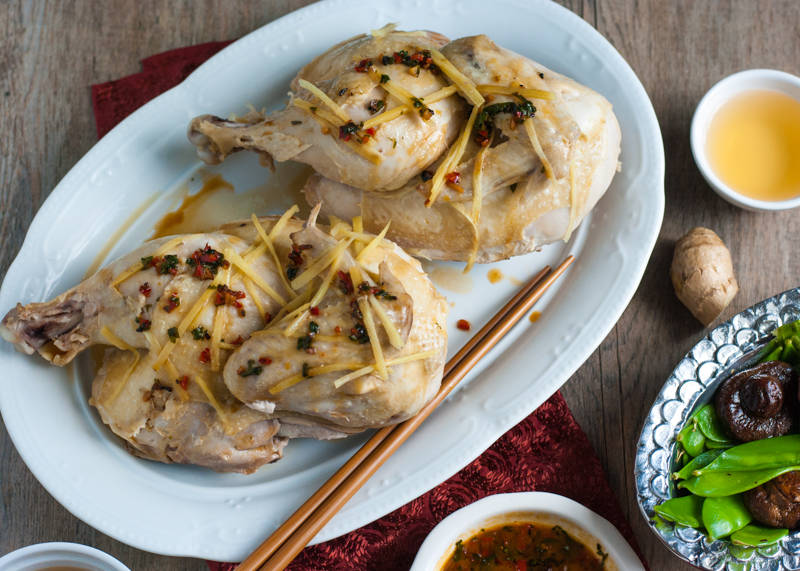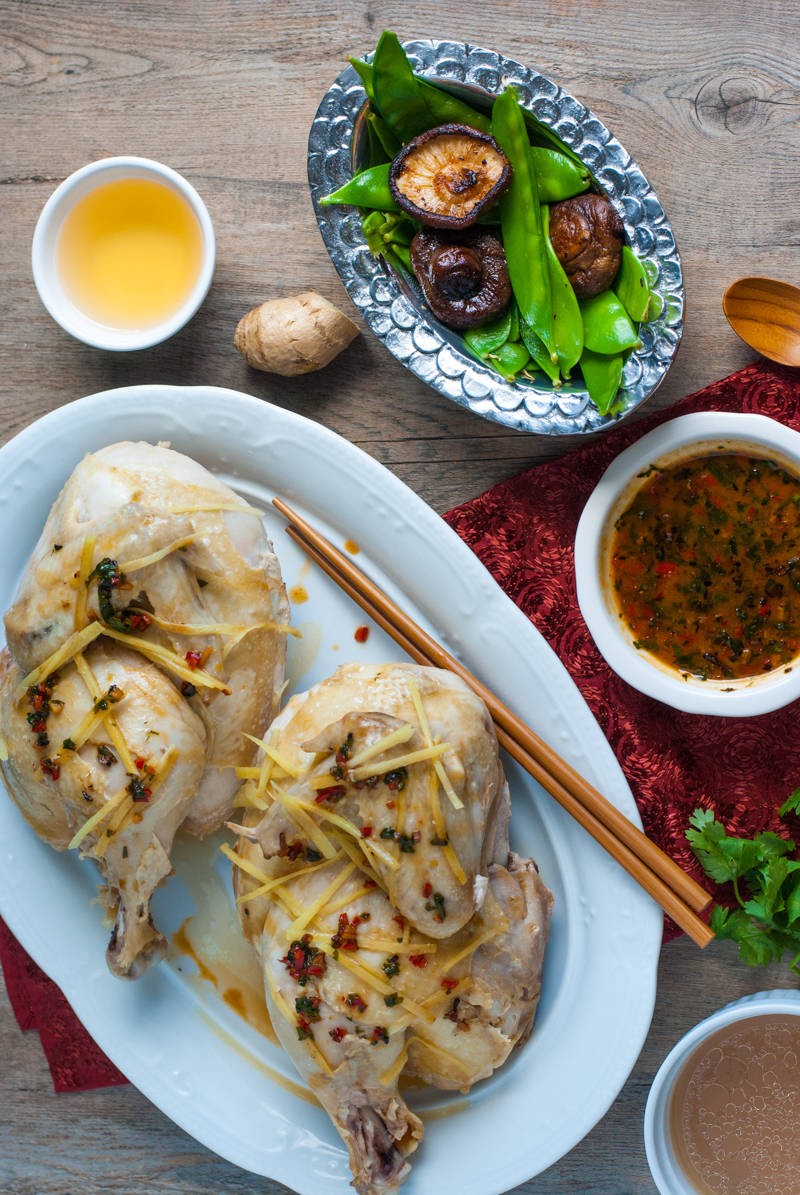 Print This Post