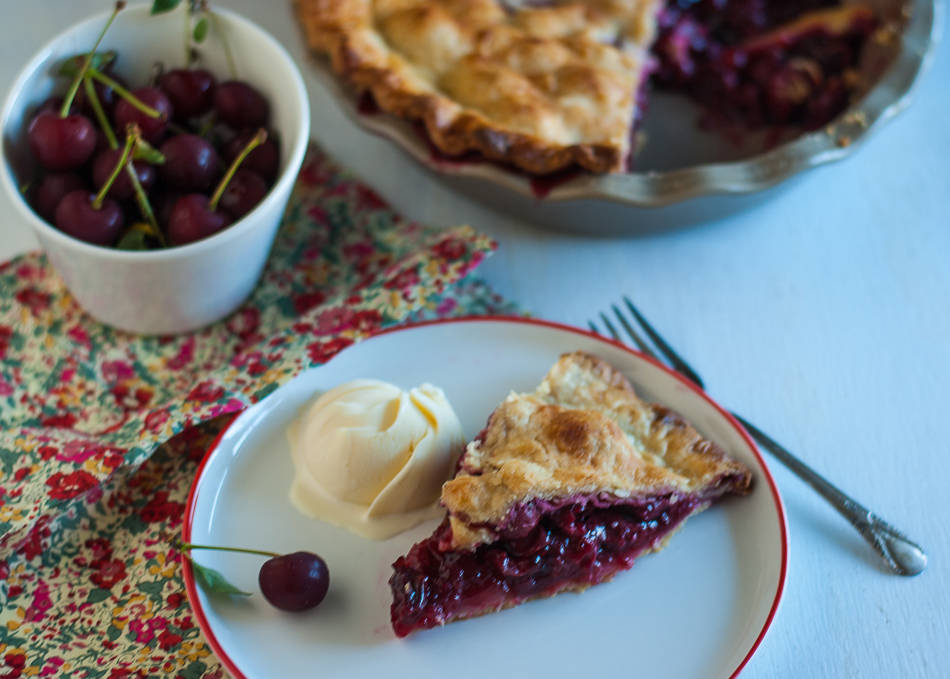 Few desserts yield such a sense of victory and satisfaction as homemade sour cherry pie. Not only are sour cherries incredibly hard to get, the job of pitting them individually is as tedious as it gets.  Also called pie cherries or tart cherries, their exceptionally short season lasts only for about 2-3 weeks (at most!) in June or July depending on where you live and forget about finding them at your local grocery store – the farmer's markets are your only chance at grabbing a few pints of these tart little jewels.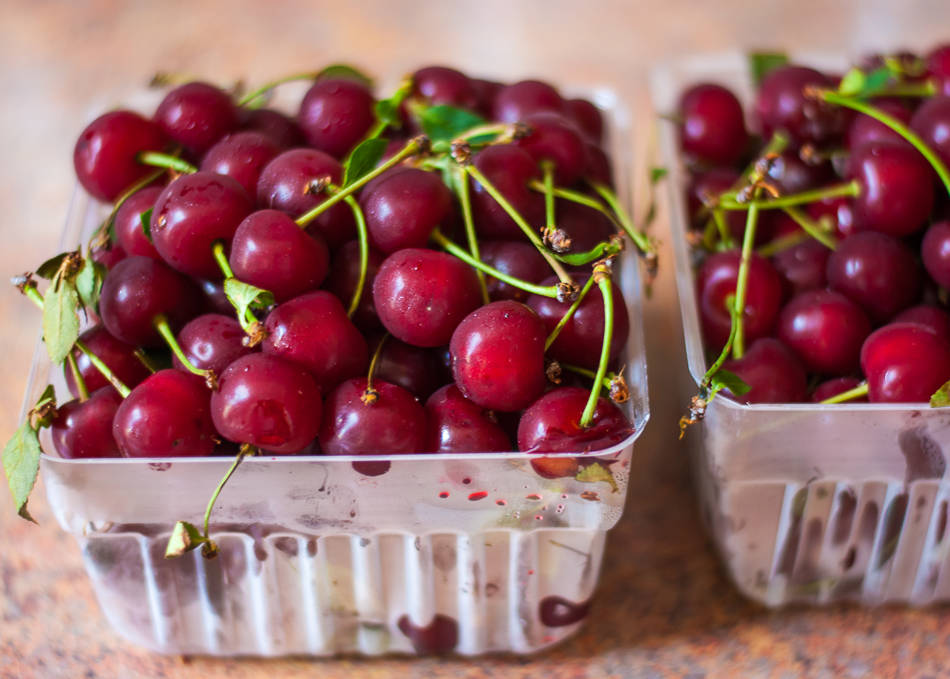 Rounder, smaller, and softer than sweet cherries, they make wonderful pies as they're best when sweetened and cooked and their punchy flavor isn't dulled by heat or sugar (eaten raw they're pucker inducing and some say unpalatable).  Besides the time required to pit the cherries, this is a really simple pie to make and the filling only requires besides the cherries some sugar and a thickener like tapioca (preferred over cornstarch which makes the cherries a bit gluey).
This all-American version of the cherry pie gets a little update with a hint of cinnamon in the filling and a buttery and flaky crust. The resulting pie is a scrumptious mix of tart and sweet, begging to be served with vanilla ice cream and eaten slightly warm. All that hard work will soon seem trivial and beyond worth it for that once-a-year treat.

Cherry Pie
Recipe from Gourmet magazine
Active time: 1 hour
Total time: 8 hours
Makes one 9-inch pie
For pastry
2 1/2 cups all-purpose flour
1 1/2 sticks cold unsalted butter, cut into 1/2-inch cubes
1/4 cup cold vegetable shortening (preferably trans-fat-free)
1/2 teaspoon salt
5 to 7 tablespoons ice water
1 tablespoon sugar
For filling
3 tablespoons quick-cooking tapioca
1 vanilla bean or 1 1/2 teaspoons pure vanilla extract
2 tablespoons cornstarch
1/2 teaspoon cinnamon
1/4 teaspoon salt
1 1/4 cups sugar
6 cups fresh or frozen (not thawed) pitted sour cherries (2 pound)
Whole milk for brushing
Special equipment: an electric coffee/spice grinder; a pastry or bench scraper
Accompaniment: vanilla ice cream

First, you'll have to pit the cherries which is by far the most time consuming task in any cherry pie recipe. I use a cherry pitter as it's a lot easier but feel free to use any tool you want, just prepare to devote some time to it – turn on the radio or the TV!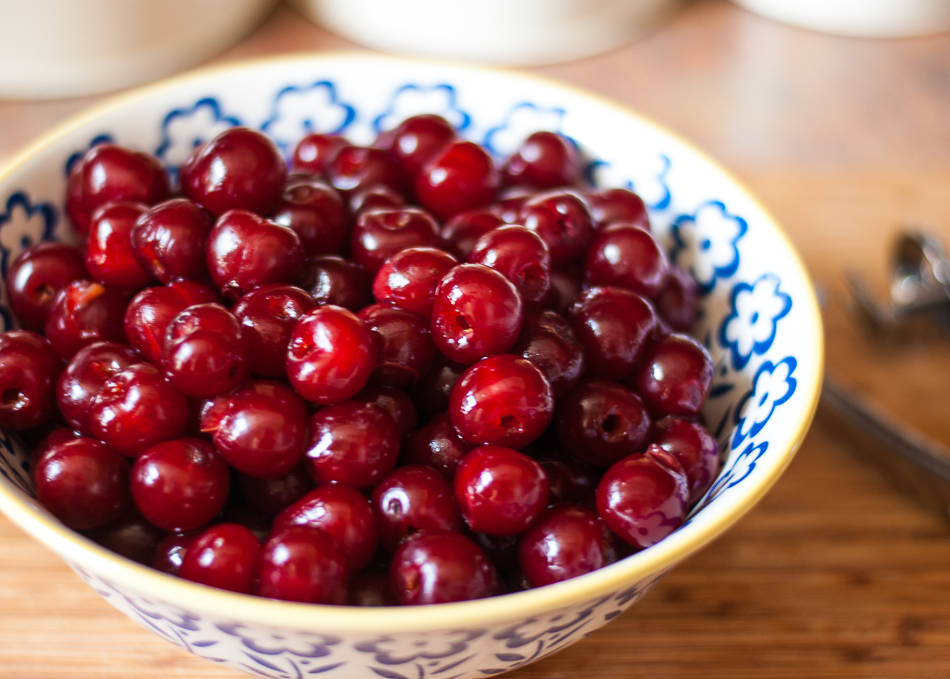 Make dough:
Blend together flour, butter, shortening, and salt in a bowl with your fingertips or a pastry blender (or pulse in a food processor) just until mixture resembles coarse meal with some roughly pea-size butter lumps. Drizzle 5 tablespoons ice water evenly over mixture and gently stir with a fork (or pulse) until incorporated.
Squeeze a small handful of dough: If it doesn't hold together, add more ice water, 1 tablespoon at a time, stirring (or pulsing) until incorporated. Do not overwork, or pastry will be tough.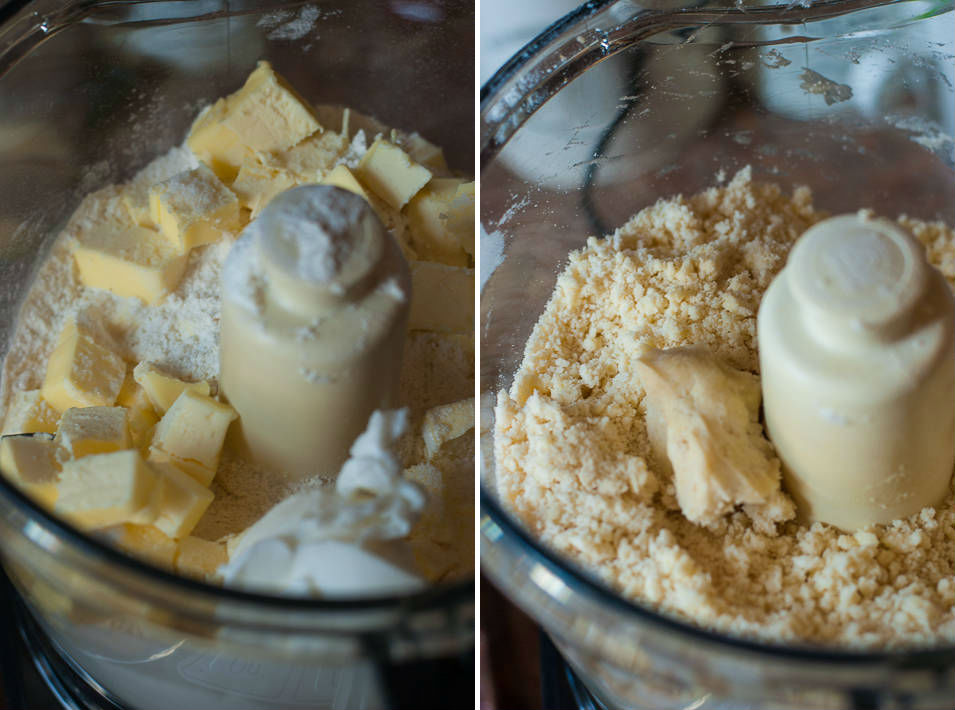 Turn dough out onto a work surface and divide into 8 portions. With heel of your hand, smear each portion once or twice in a forward motion to help distribute fat. Gather all dough together with pastry scraper. Divide dough with one half slightly larger, then form each piece into a ball and flatten each into a disk. Wrap each disk in plastic wrap and chill until firm, at least 1 hour and up to 2 days.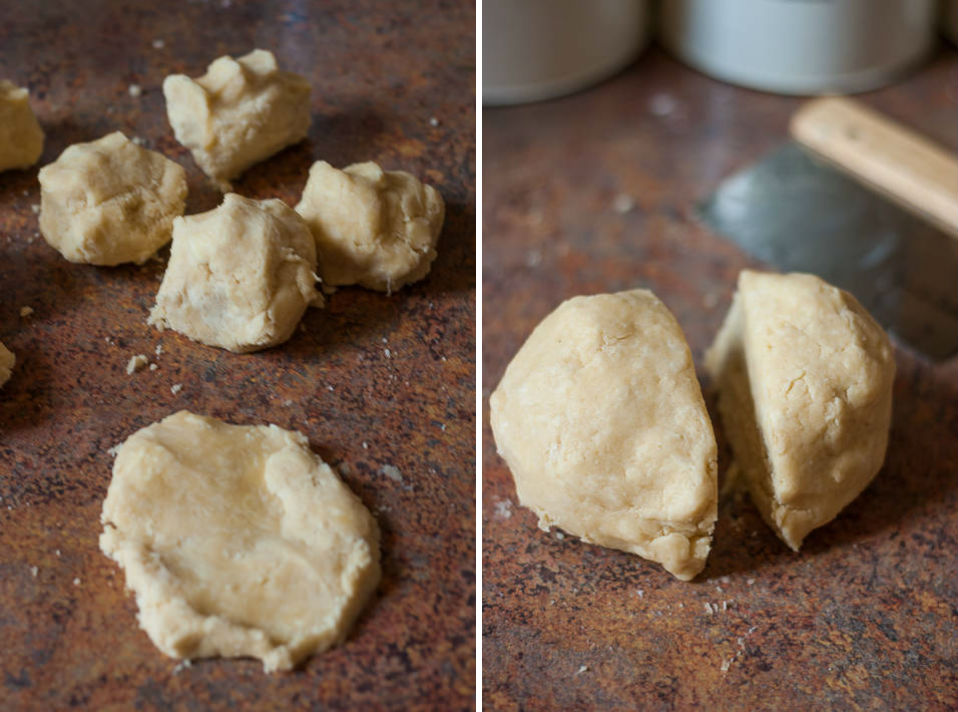 Make filling and bake pie:
Preheat oven to 425°F with rack in middle and put a large baking sheet on rack.
Finely grind tapioca in grinder.
Split vanilla bean lengthwise and scrape seeds into a large bowl with a small knife. (If using extract, add with fruit.) Whisk in ground tapioca, cornstarch, cinnamon, salt, and sugar, then add cherries and toss well. Let stand 30 minutes.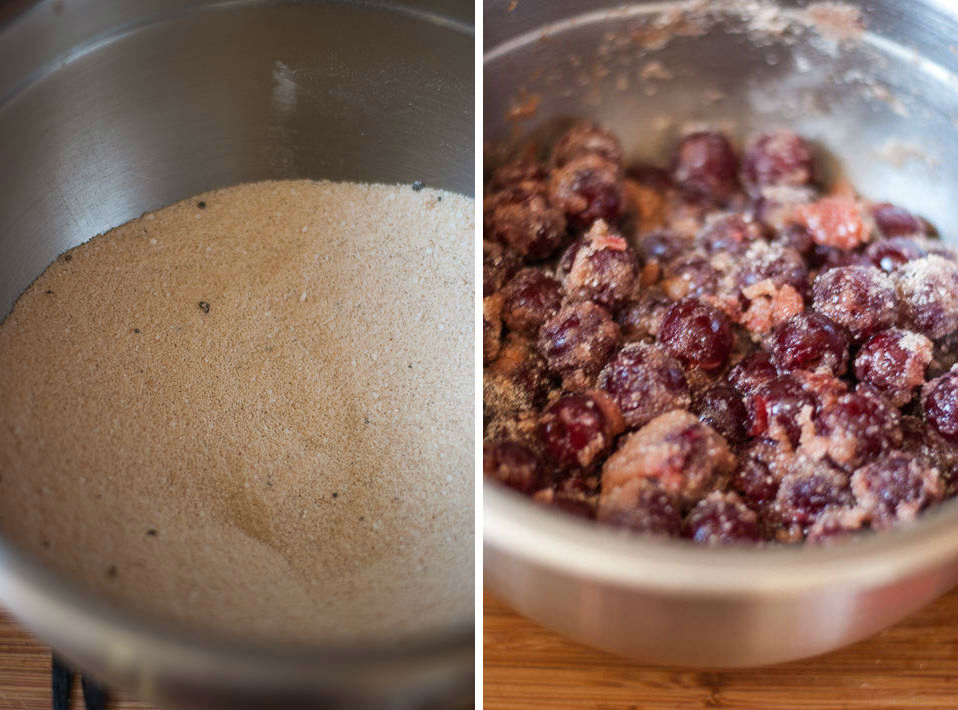 Roll out larger piece of dough (keep remaining piece chilled) on a lightly floured surface with a lightly floured rolling pin into a 14-inch round. Fit into a 9-inch pie plate. Trim any excess dough to leave a 1/2-inch overhang. Chill shell while rolling out top crust.
Roll out remaining dough on a lightly floured surface with a lightly floured rolling pin into a 12-inch round.
Toss cherries well again, then add to shell and cover with top crust. Press edges of crust together, then trim, leaving a 1/2-inch overhang. Fold overhang underneath, then crimp decoratively and brush top crust with milk. Cut out 5 (1- by 1/2-inch) teardrop-shaped steam vents 1 inch from center and sprinkle with sugar (1 tablespoon).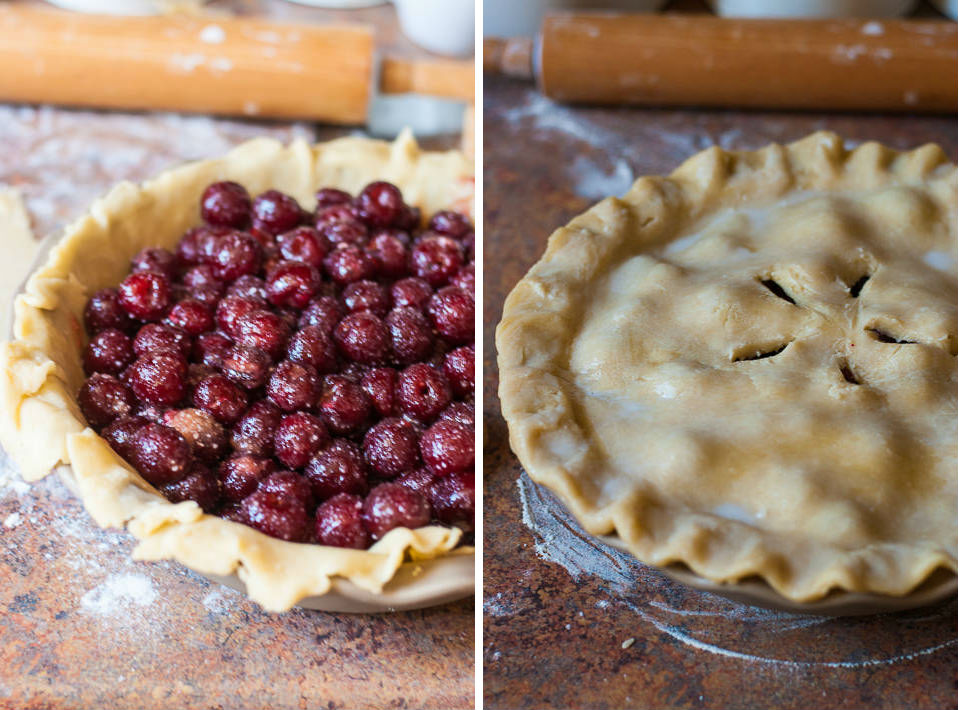 Bake pie on preheated baking sheet 30 minutes, then cover edge with a pie shield or foil and reduce oven temperature to 375°F. Continue to bake until crust is deep golden and filling is bubbling in center, 50 minutes to 1 hour more. Transfer pie to a rack to cool completely, 3 to 4 hours.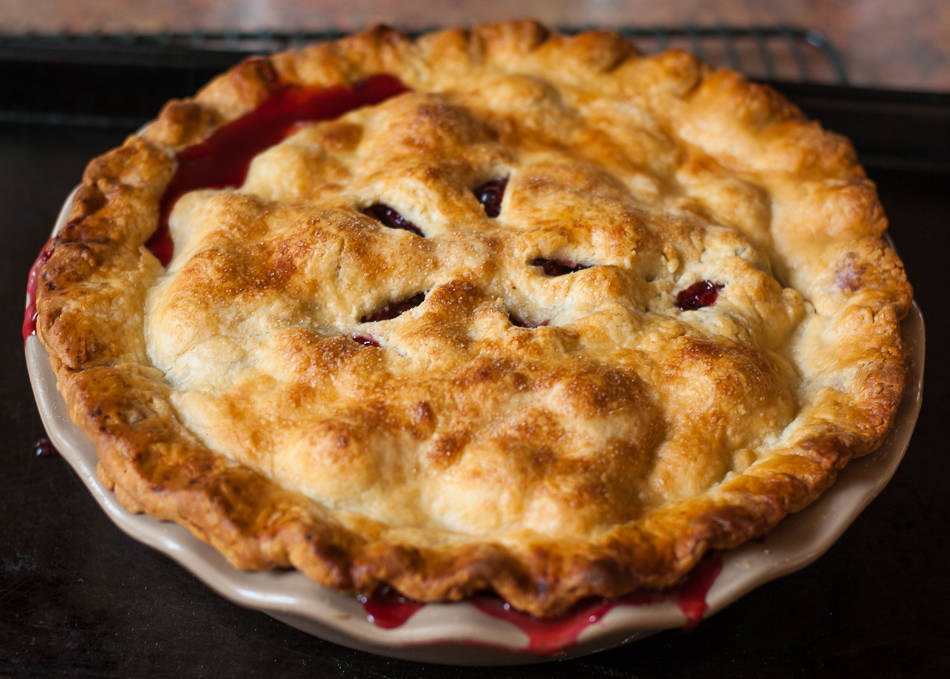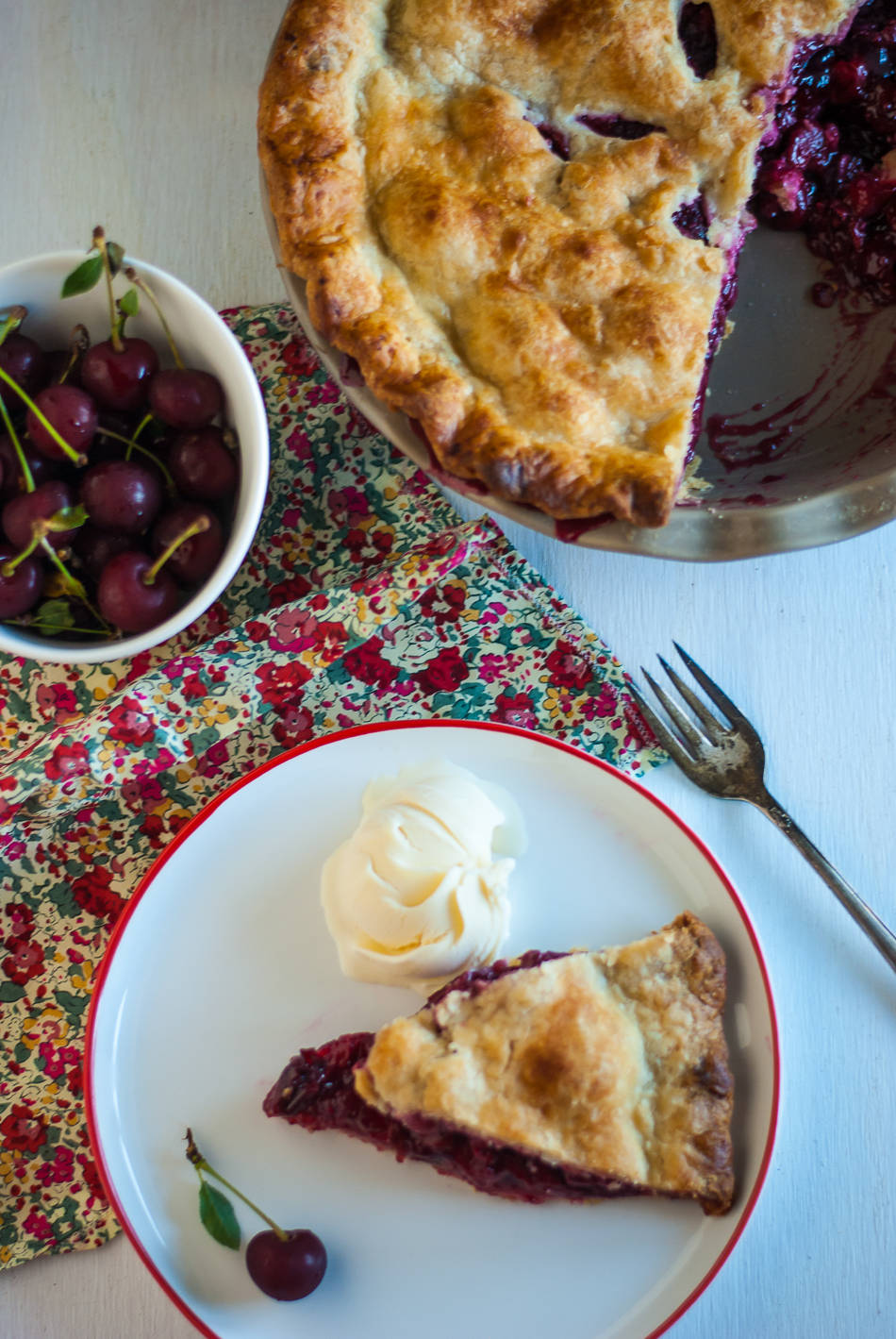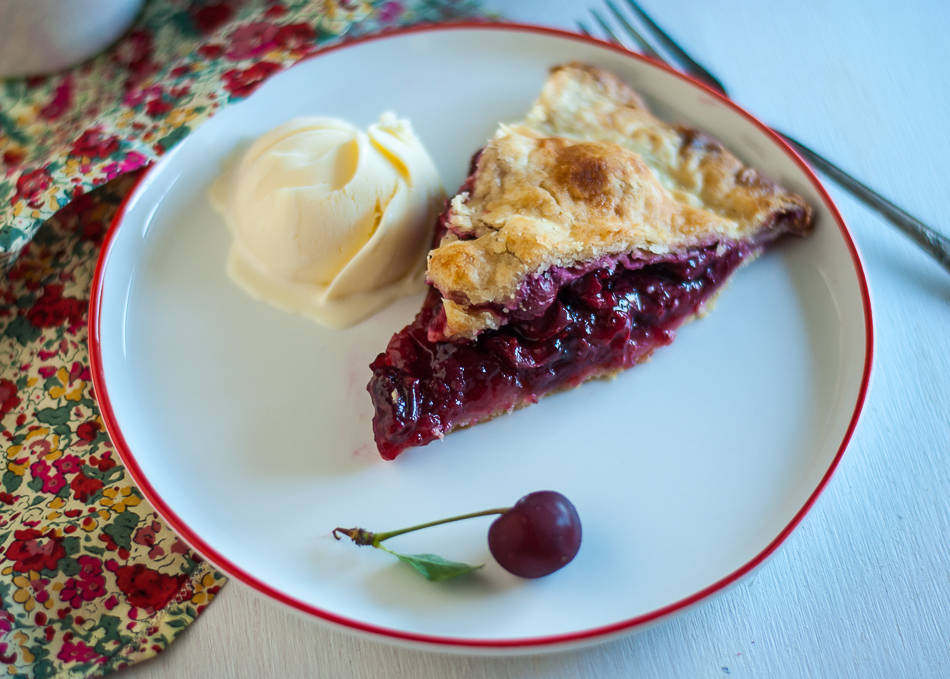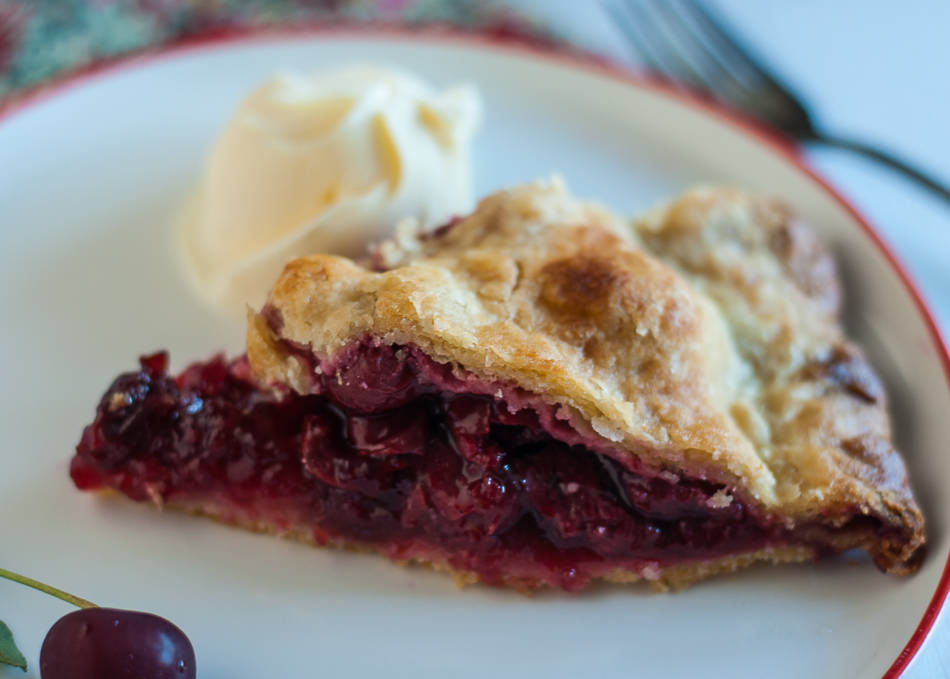 Print This Post