I've always primarily discovered a country through its sights and food, but now I'm truly discovering Africa through its craft and culture thanks to the wonderful fair trade organization I'm volunteering for. Global Mamas has been empowering women in Ghana for 10 years now, providing sustainable work for women entrepreneurs and much happiness to their families by helping them reach prosperity.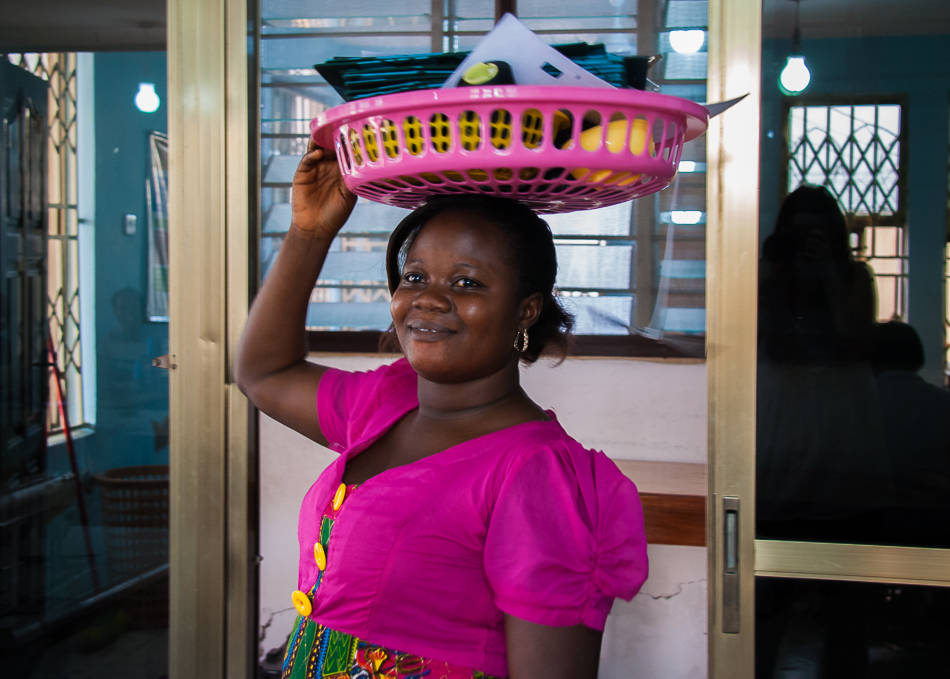 By creating unique, high-quality, hand-made African products for export, being paid a fair wage, and getting the training needed to expend their business, these women can become financially independent and get their family out of poverty.
I recently traveled to one of Global Mamas production facility in Ashaiman, a municipality outside of Accra, where batik products are being produced from beginning to end. A fascinating process to watch, it really does give meaning to buying fair trade products and will surely impact my shopping habits as I got to see where it all came from and most importantly the great impact it has on these women. Here's a visual insight into the beautiful and labor intensive art of African Batik:
A batiker is preparing the first dye bath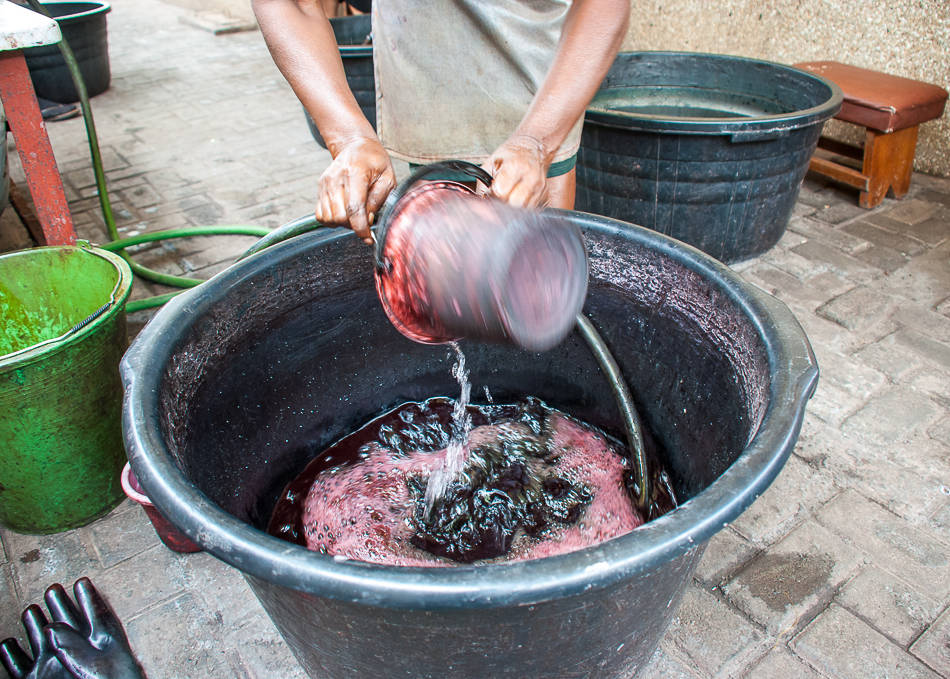 A large piece of fabric (white cotton cloth) is then dipped into the cold dye bath, swirled around and lifted to help the oxygen change the color of the fabric, a task often performed by volunteers to help the batikers.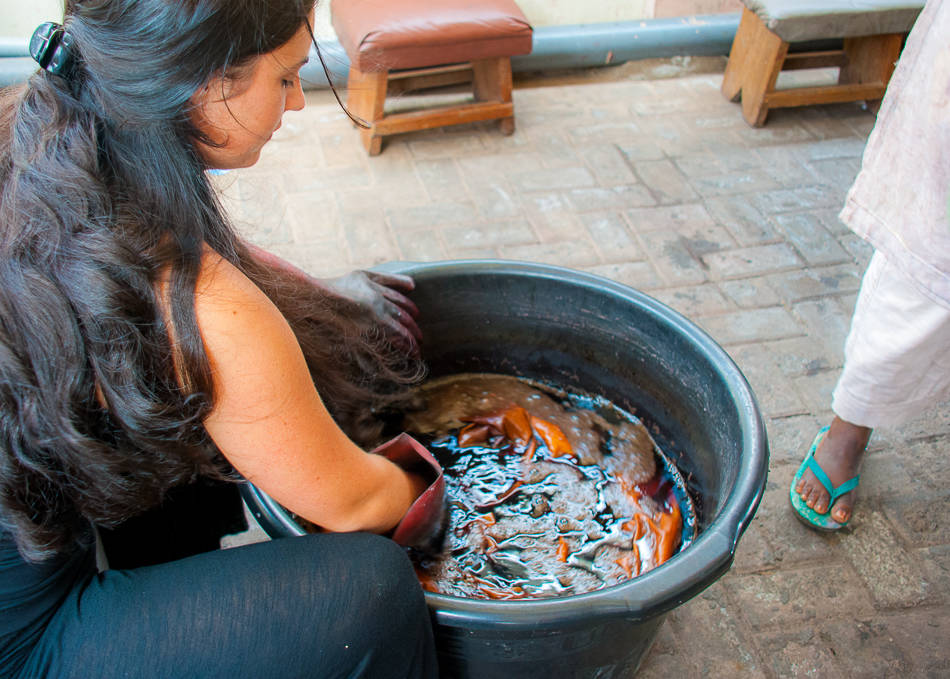 The dye bath is then drained in the most colorful bathtub I've ever seen…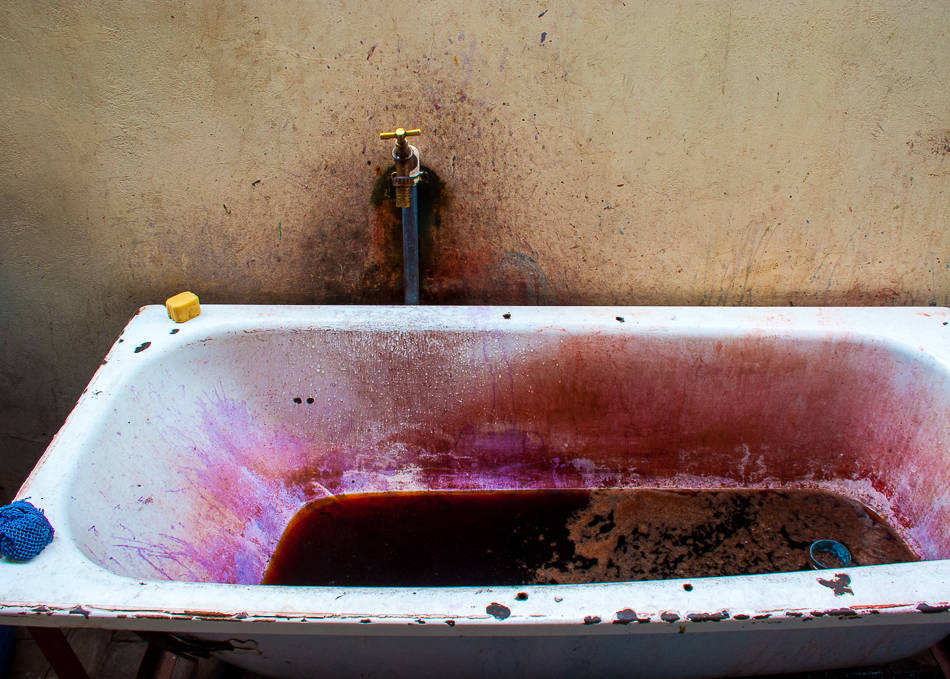 …and the now dyed fabric is hung to dry in the yard.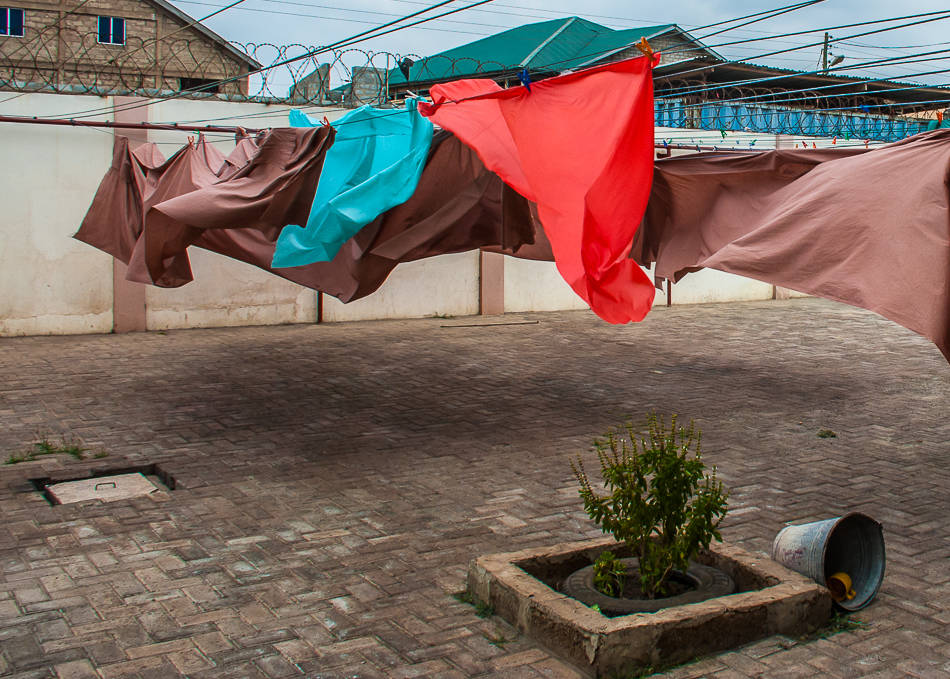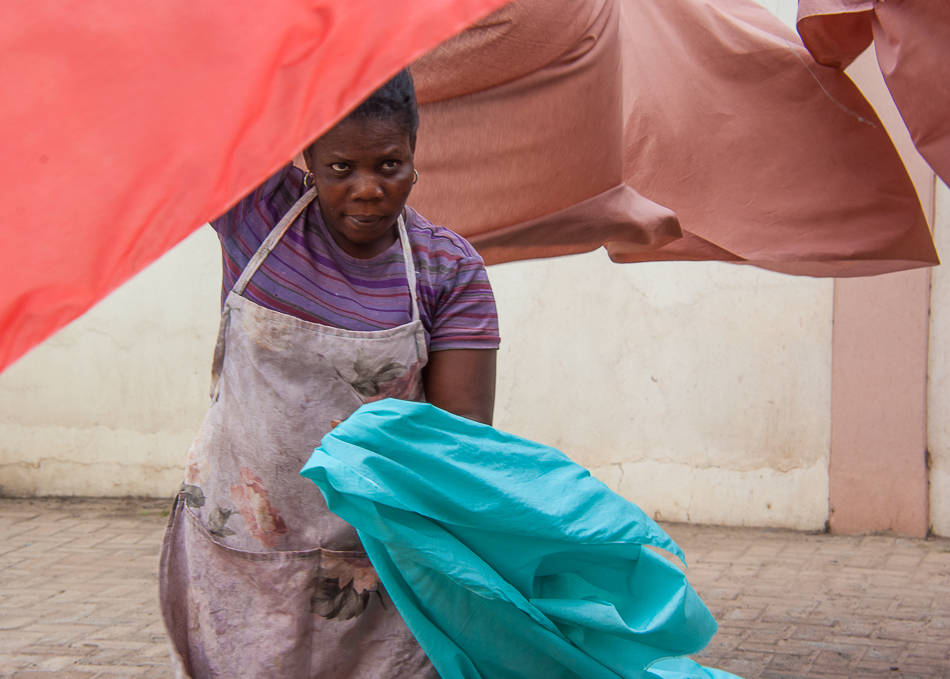 The next stage of the batik process involves applying wax to parts of the fabric to create a batik pattern/design. Wax is heated up in a cauldron over fire…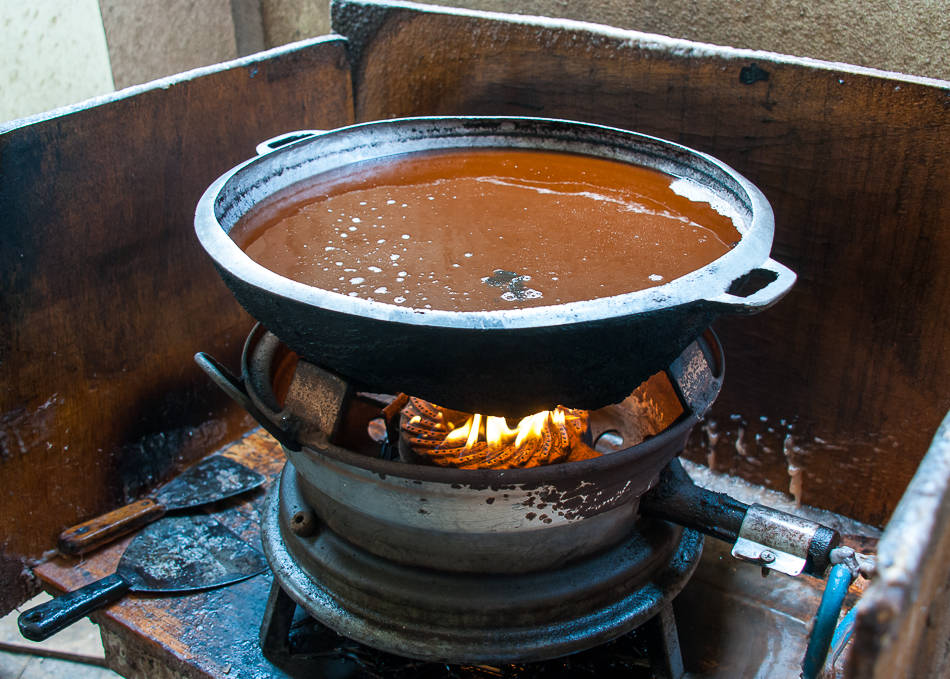 …before a batiker dips her chosen stamp design in it. Thick foam blocks are carved to create wax stamps of every shape and size imaginable.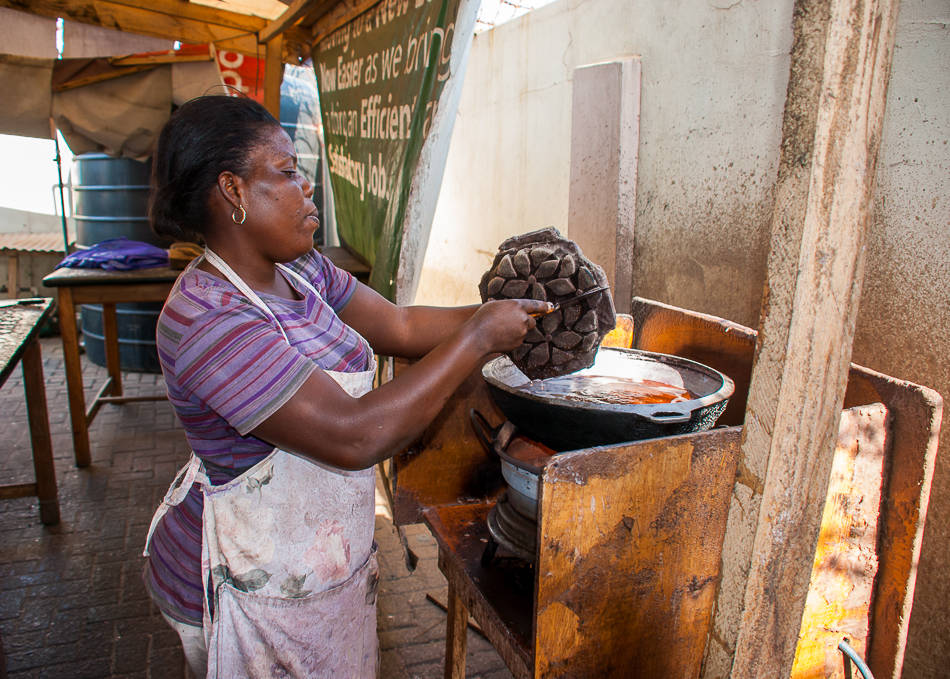 The batiker stamps the fabric with the wax in a symmetrical pattern before leaving it out to cool and dry.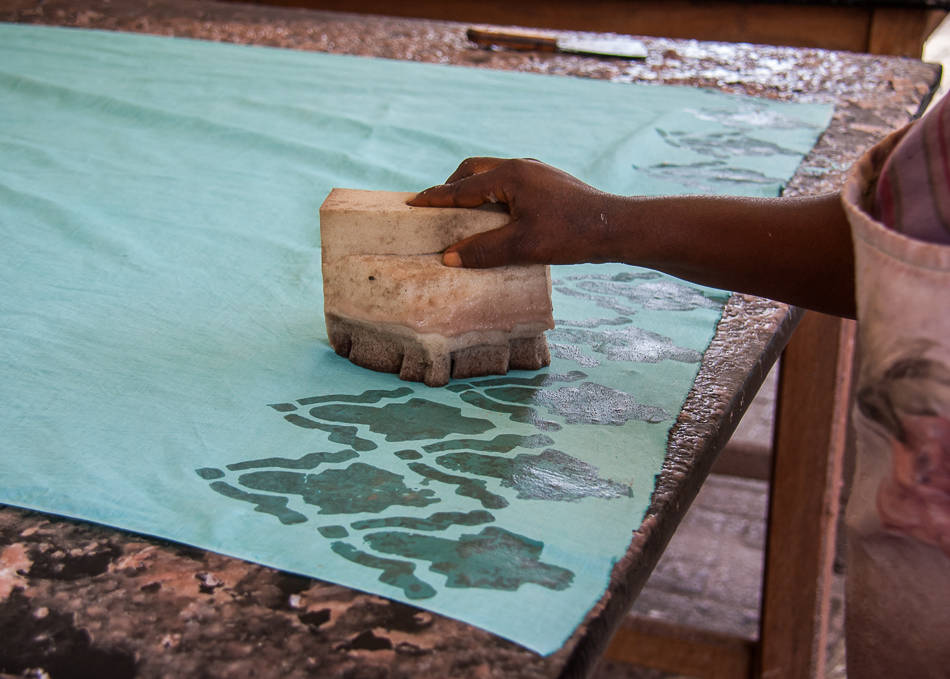 Then the 12 o'clock lunch bell rang (!) and all the Mamas went out in the streets of Ashaiman to grab lunch during their hour-long break.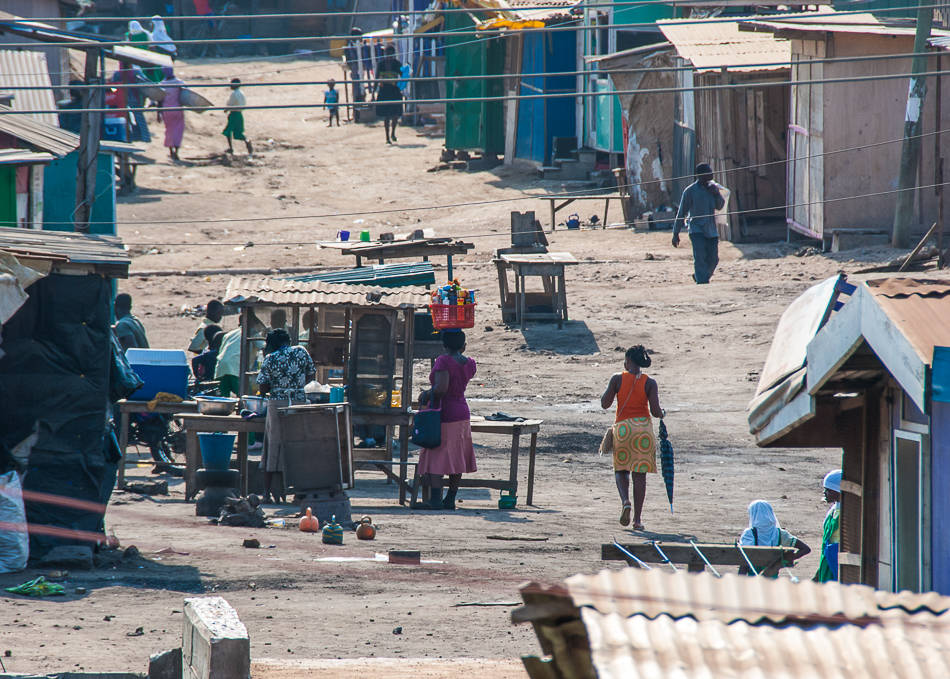 Unassuming bars (called spots here) and eateries painted in blue were packed with locals.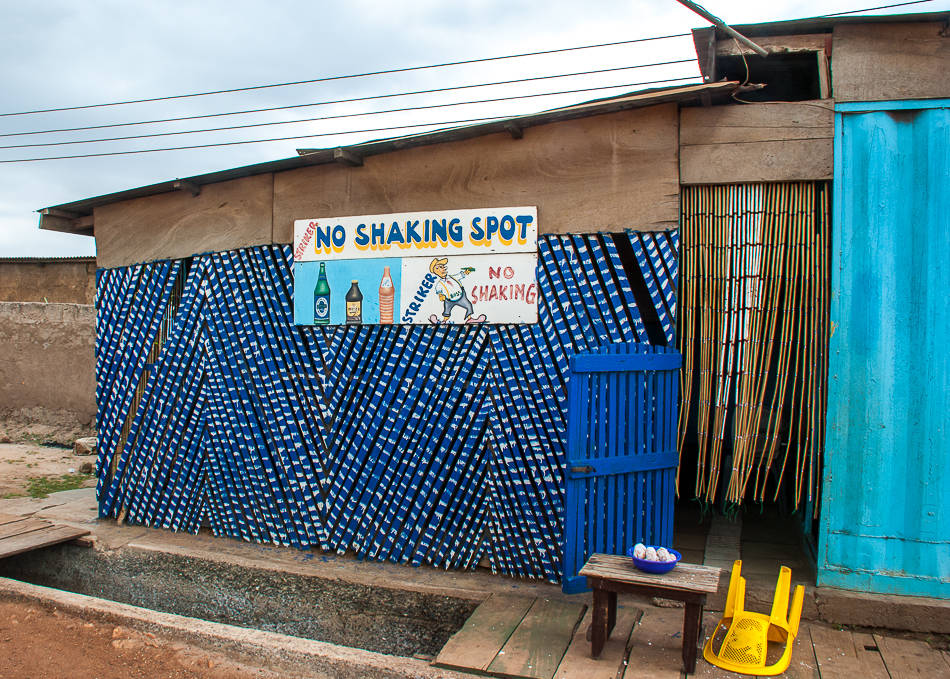 We went for a traditional workers' lunch at 'Thy Grace Food and Spot', a cheap and cheerful local hangout serving generous portions of Ghanaian staples.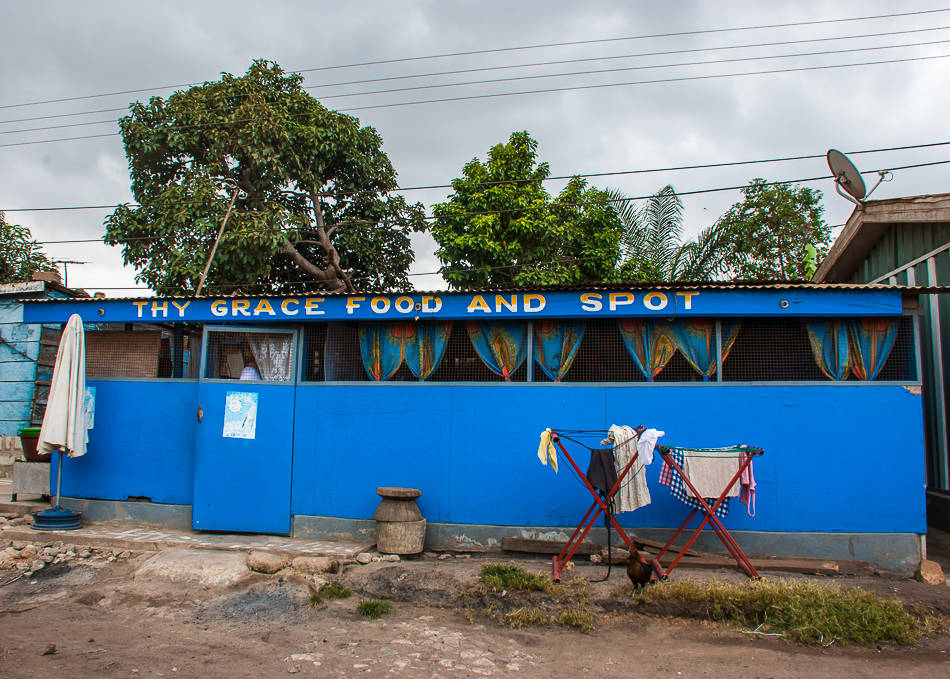 It was a first for me seeing the dish they call 'Face-the-wall', similar to many dishes here yet having its very own components (and reputation!). Originally called Kokonte, this staple made of pounded dried cassava helped a lot of Ghanaians survive during the famine of the early '80s and is therefore seen as the food of the poor. Its evocative name of Face-the-wall refers to the people eating it outside having to hide from passerbys by 'facing the wall' out of shame…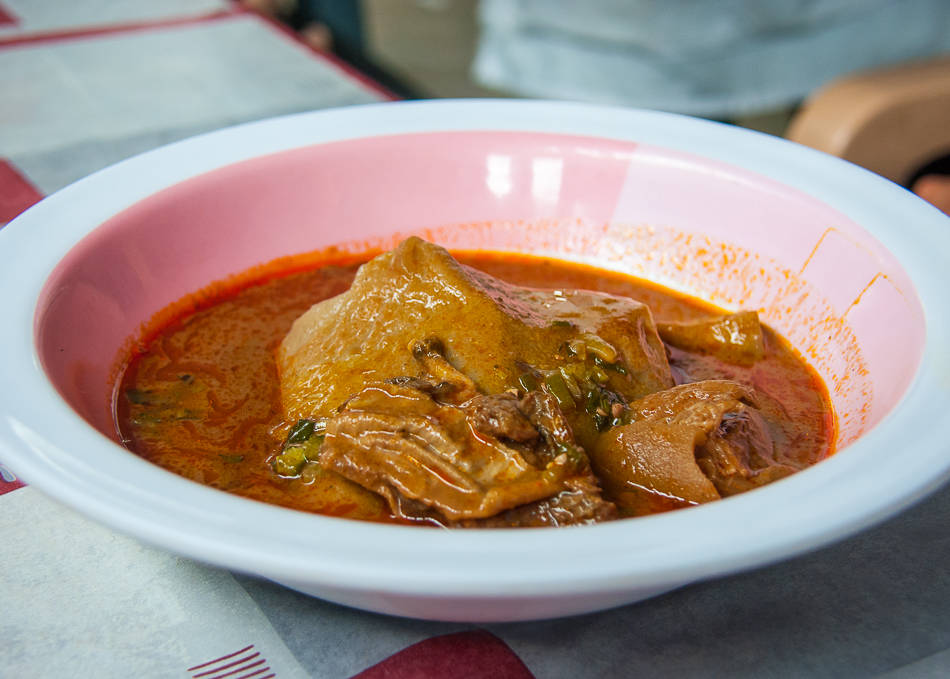 I really enjoyed my dish of Fufu, boiled cassava which is pounded to a dough-like consistency. It was served submerged in Light Soup, a tomato-based soup with peppers and in this case chicken. The traditional way to eat Fufu is to take a small ball with your fingers, dip it into the soup and swallow it whole. While I got the eating with my fingers bit, I couldn't help but to chew on it which was actually pretty good! A very satisfying lunch for less than a $1…can't beat that!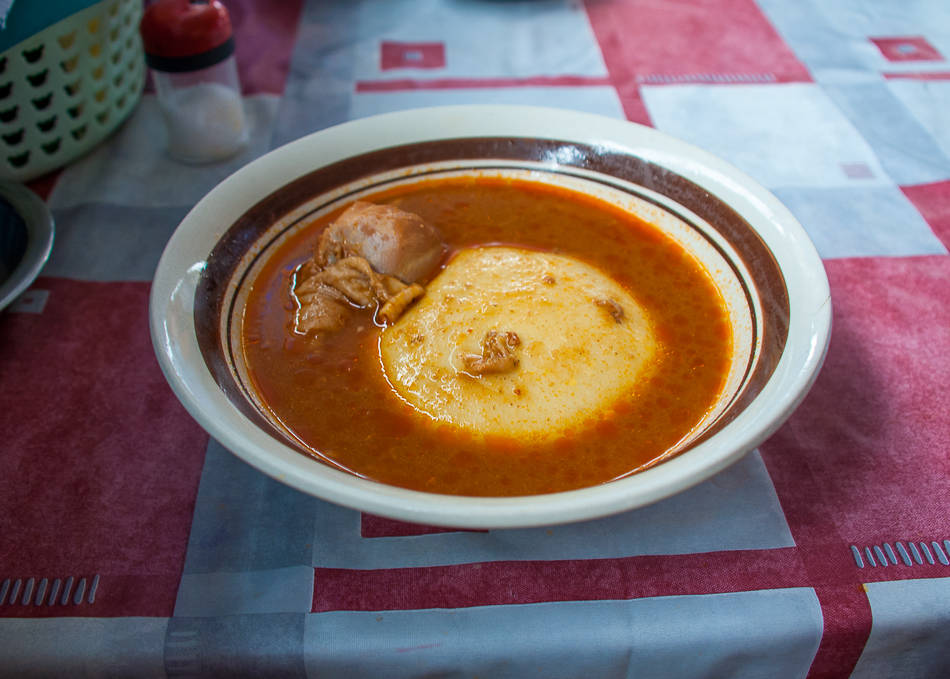 Back at the facility, batiks from this morning were out for their final drying time, adding a colorful backdrop to the otherwise naked yard. We can see the magic of the second dye bath on this one which darkened the background while leaving the pattern where the wax stamps were the original color. This process can be repeated as many time as you want to obtain a series of different colors and designs.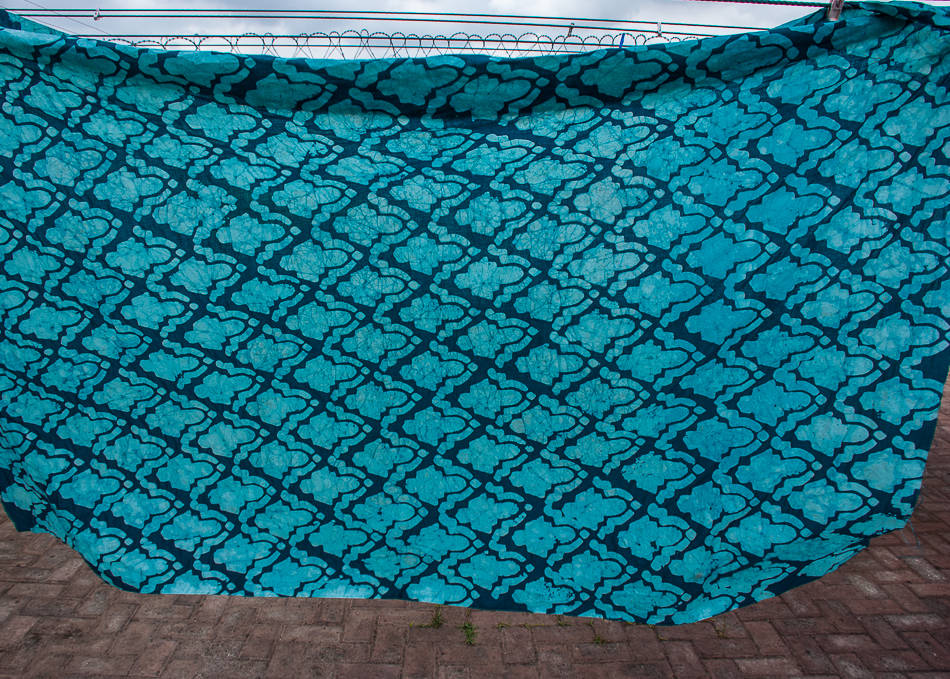 More batiks were on their way, some having gone through two different wax stamping sessions and waiting to be hung to dry before being thrown in boiling water to get rid of the wax and create the final fabric.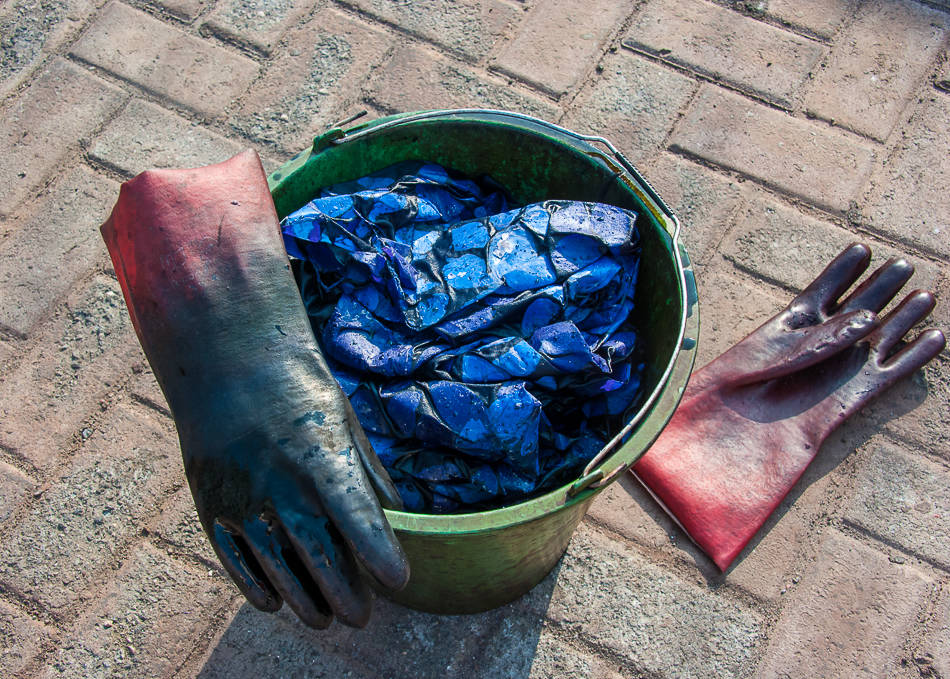 This is what three baths and two wax stamping sessions will create…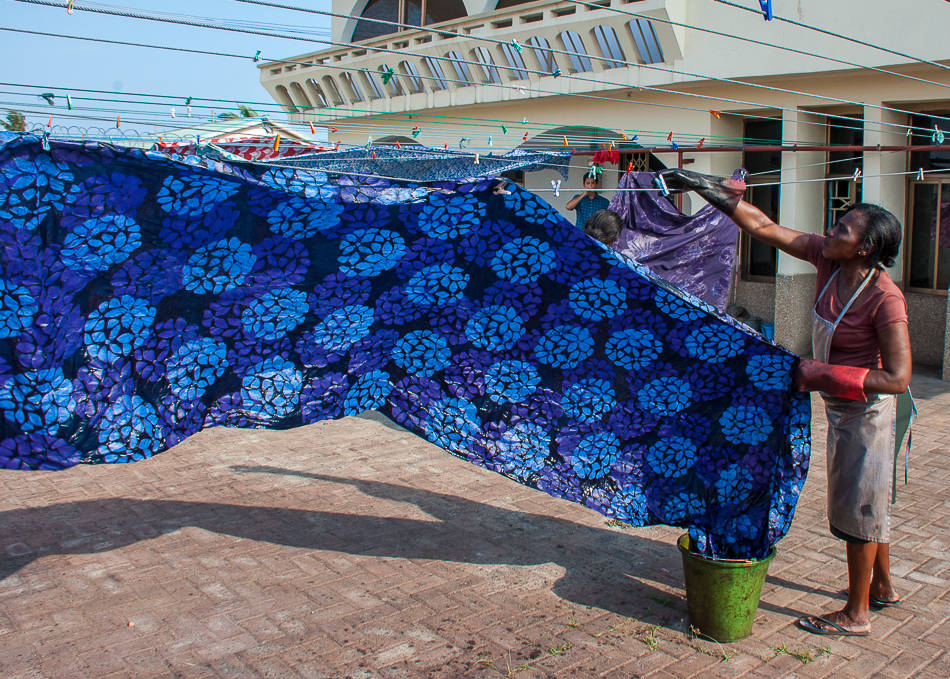 This one is ready to be boiled to remove the wax – see the crackling of the wax stamps on the fabric, a true mark of an original batik print.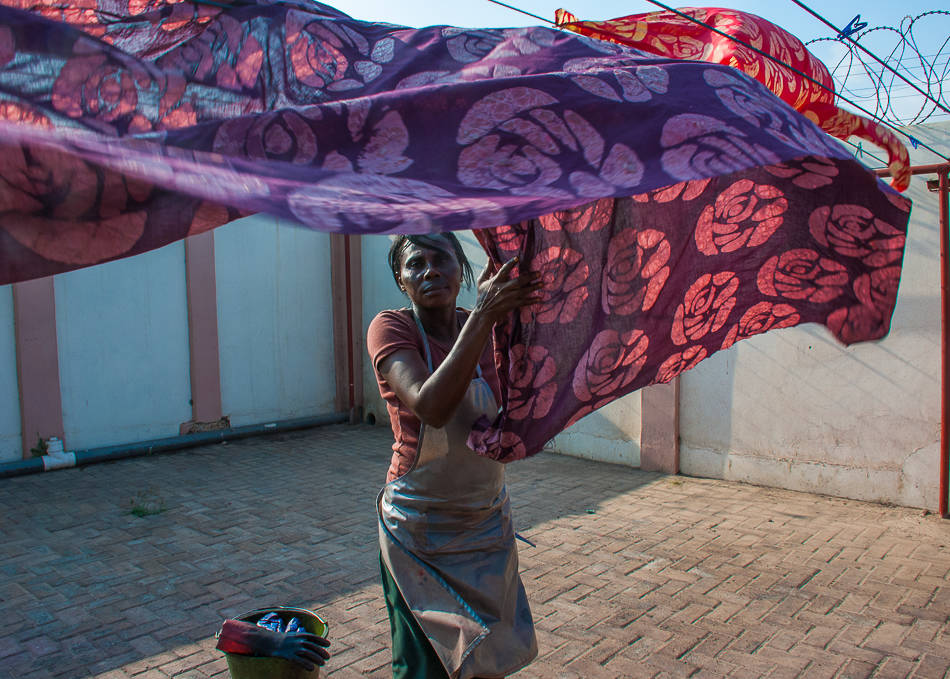 Finished fabrics are folded and stored, waiting to be cut and sewn into one of Global Mamas colorful batik clothing, accessories and home decor items.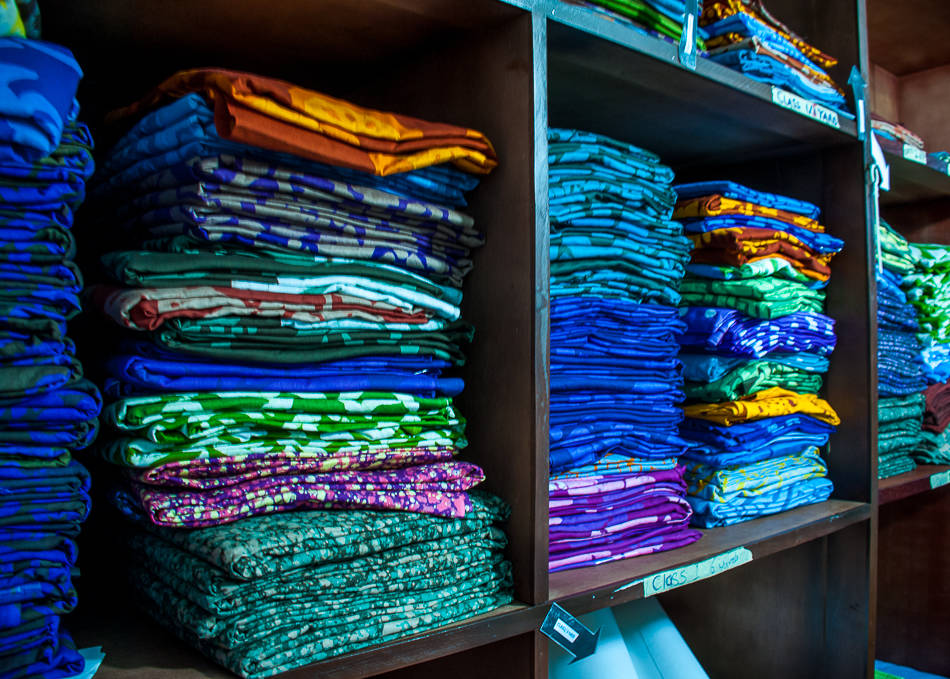 Being part of Global Mamas also means receiving training and business development coaching to improve their business and their profits. These seamstresses were attending a training session on a new pattern for making small baskets for the home.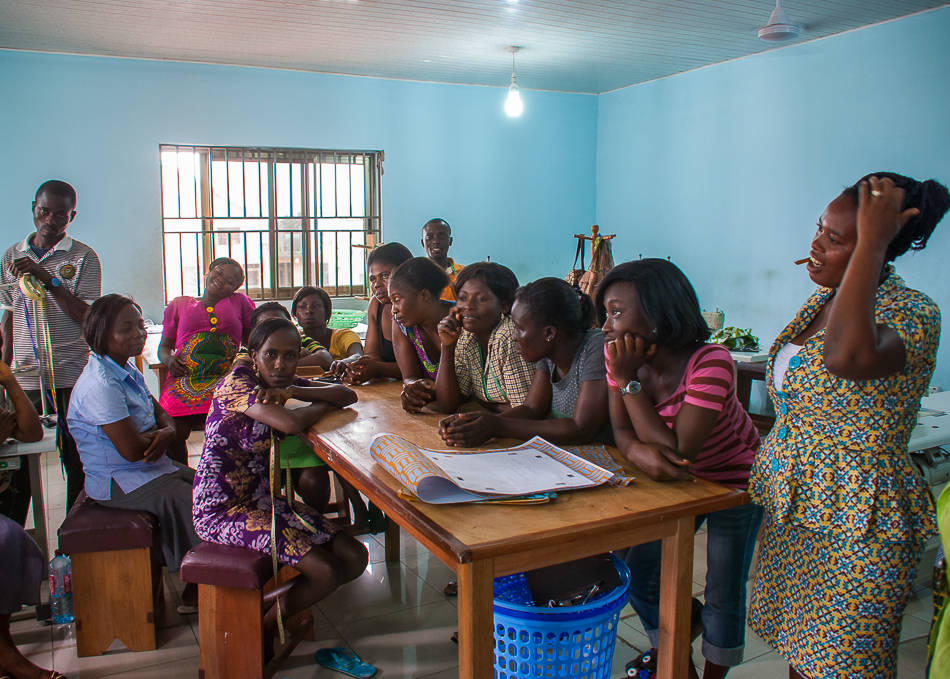 They were soon applying the new pattern which will improve productivity and reduce fabric waste.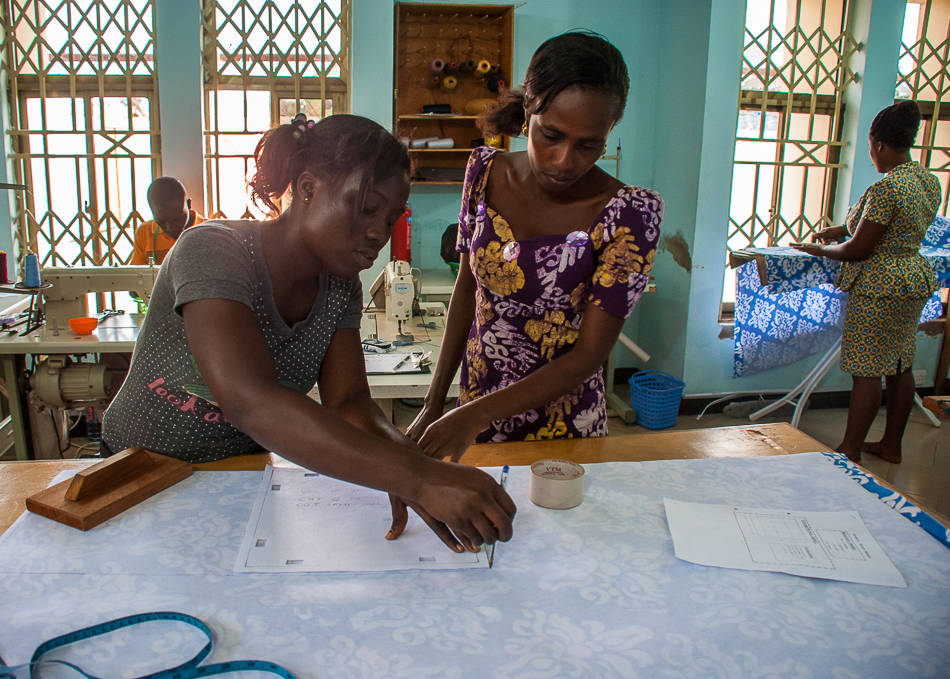 The finish product is available in the Global Mamas store in Accra or to purchase online. One of my first assignments was actually to photograph all of their products in their Accra store – you can see my photos on their Facebook page.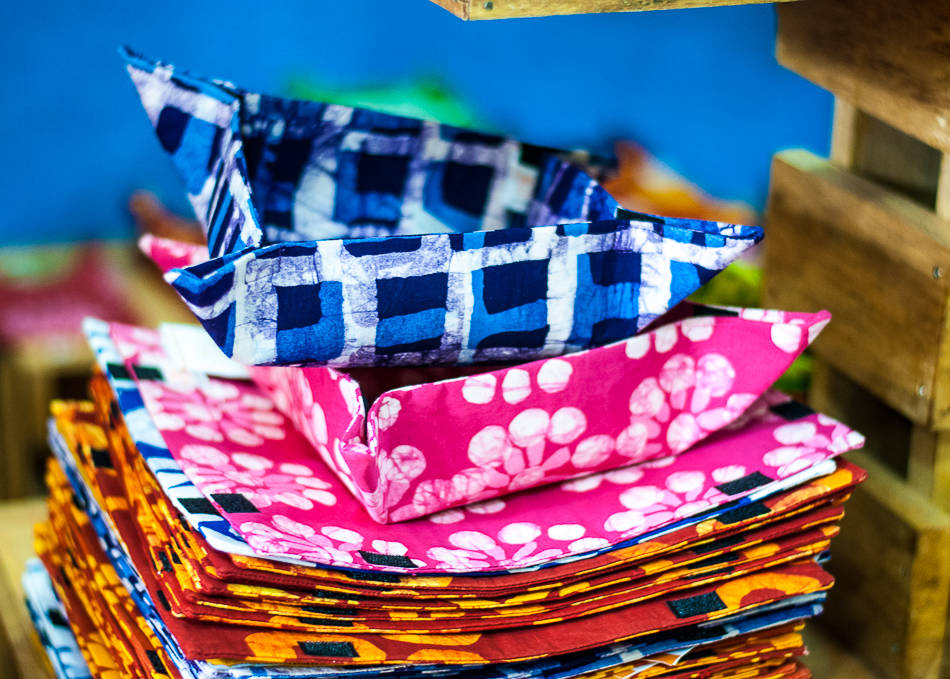 The Global Mamas store in Accra, in the Osu neighborhood.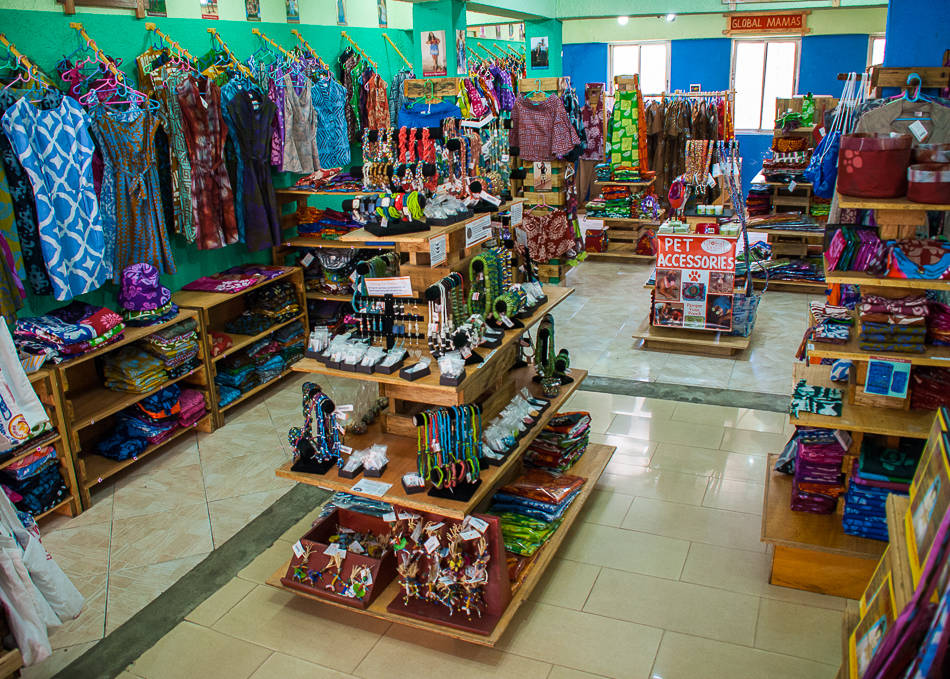 So this is the fair trade way my friends and the best way to spend your dollars, knowing they'll all go directly towards the Mamas and creating new jobs so that more women in Ghana can improve their standard of living – truly inspiring.