After days of driving south through the entire country of Benin, I couldn't have pictured a more stunning and magical place to end my journey than Benin's famous stilt village – Ganvié.  Often referred to as the 'Venice of Africa', I can attest that it is equally mystical…though world away from the romantic Italian city.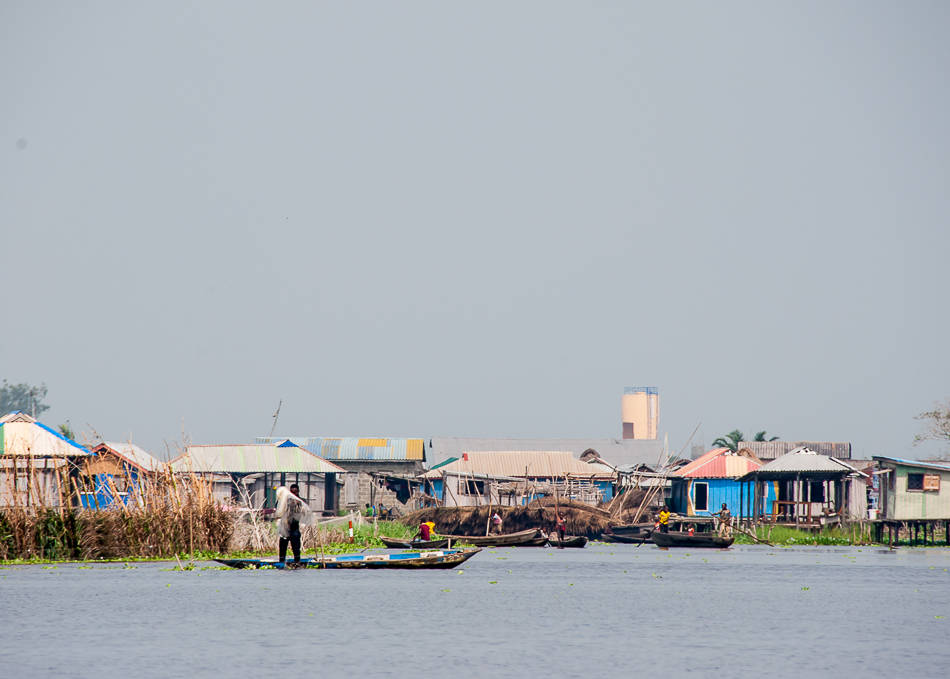 Ganvié stands in the middle of Lake Nokoue in Southern Benin, several miles from the nearest shoreline, and the only way to access it is by boat obviously, either in a local pirogue or if you're lucky a motorboat which should take you there in about half an hour.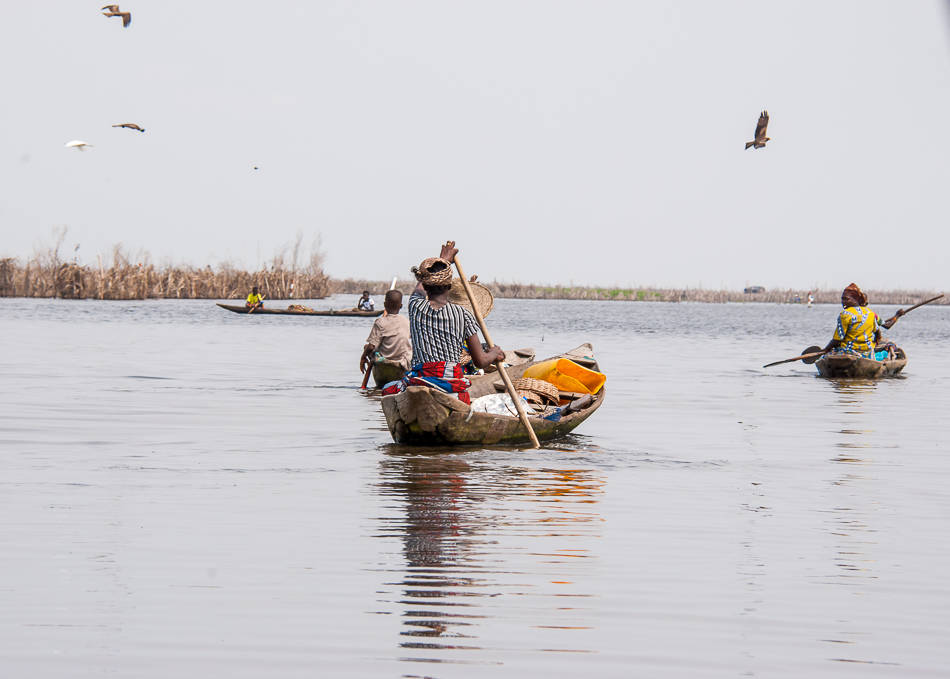 On the way you'll see tons of fish traps since fishing is the main source of living for the village 30,000-odd inhabitants. Quite clever, this system consists of an ensemble of branches anchored at the bottom of the lake which serves as a refuge for the fish (mainly tilapia) which feeds on the plankton developing on the decaying leaves. They get quite comfortable in there and will eventually get picked up by the village fishermen.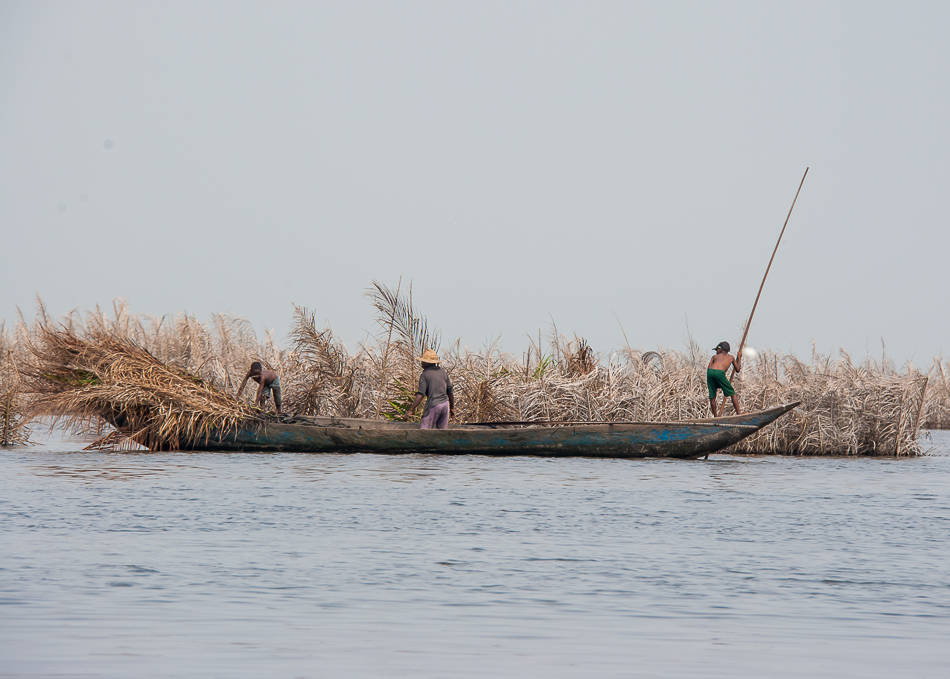 As you slowly approach the village whatever images you had in mind simply can't do it justice.
Never a town has appeared so organic, as if Mother Nature had had a surge of love and decided to embrace this community, leaving just enough room to breathe and a beautiful coexistence to bloom.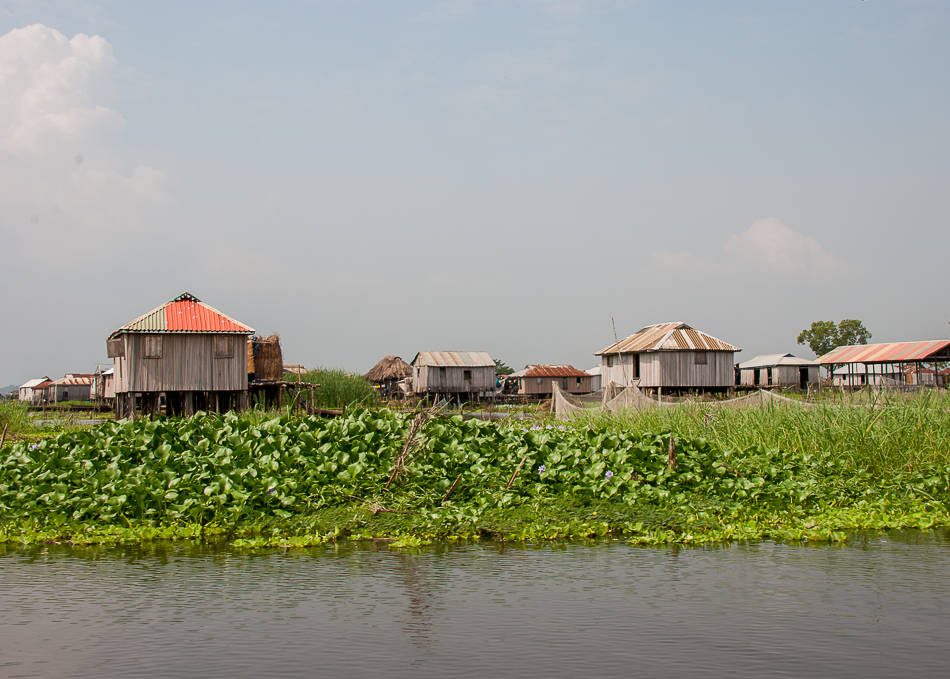 It is after all the only human settlement of its kind in the world and being in Benin it had to have a mystical story of its creation. Unsurprisingly, just like the majority of the past villages I visited, the inhabitants of Ganvié were fleeing the slavers hundreds of years ago and settled over the lake to evade capture (apparently the Fon warriors who they were running away from were forbidden for religious reason to attack people dwelling on water). Ganvié actually means 'We survived'.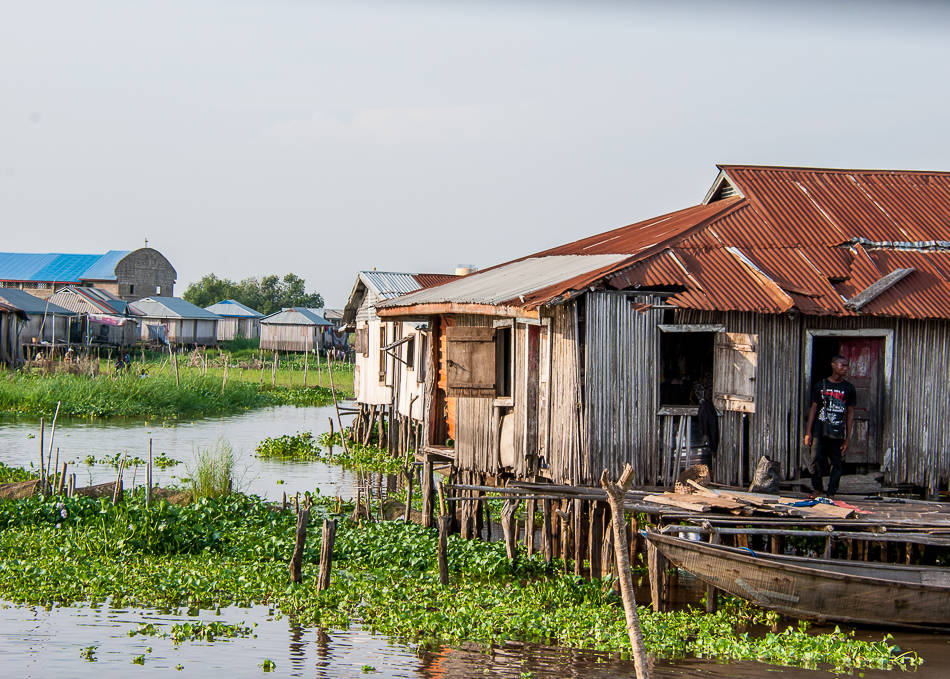 There's no better way to enjoy the village than by drifting lazily in a pirogue with a local kid as your driver, wandering through the maze of tiny 'alleys' and circling picturesque houses.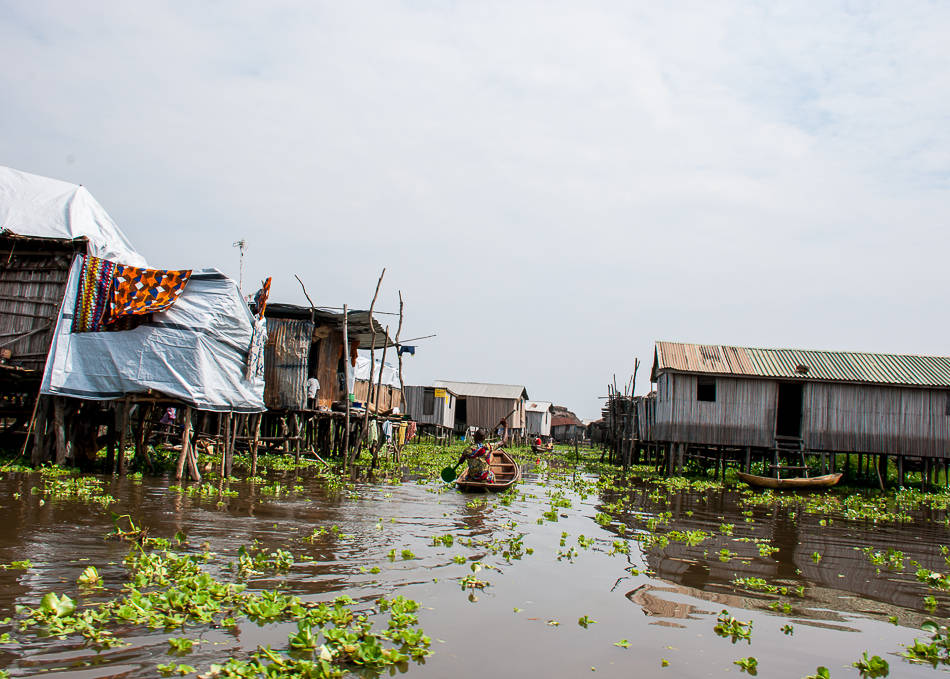 Everyone here travels almost exclusively by boat (carved from tree trunks) even if only to visit their next door neighbor as it is the only way.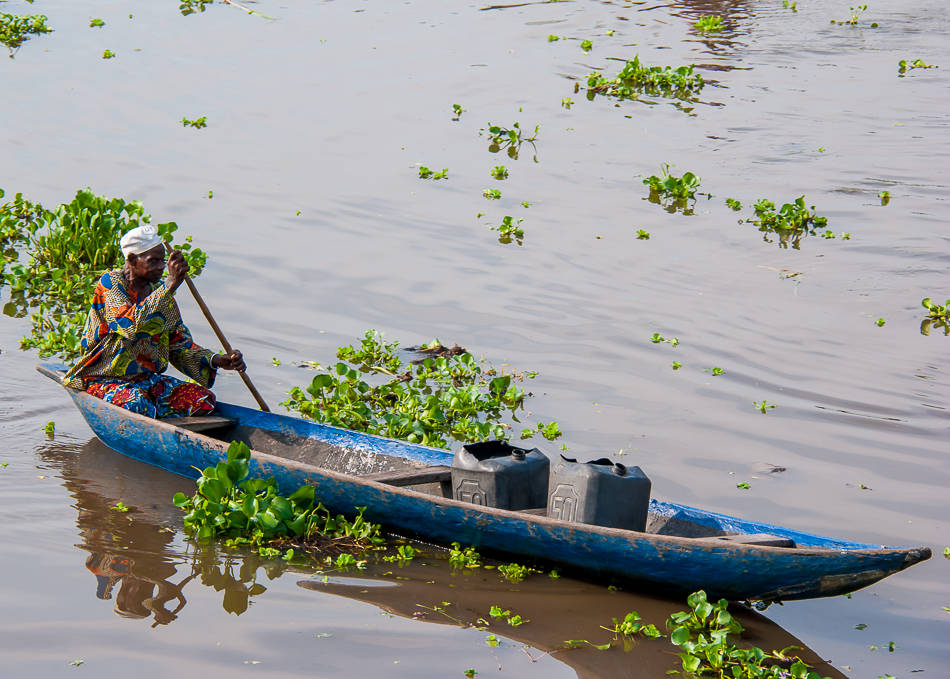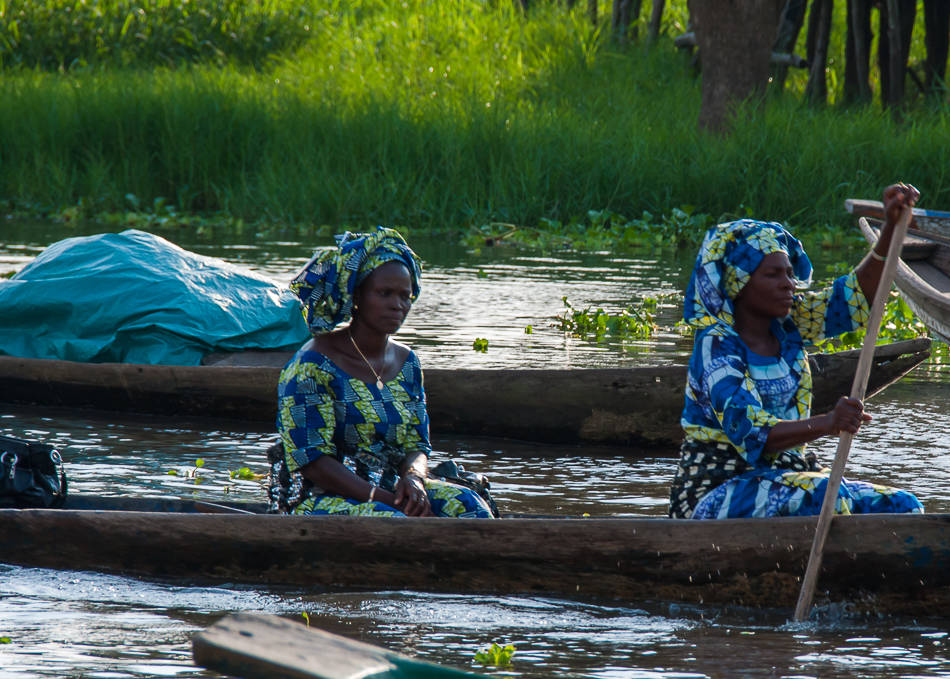 What's most fascinating though is how Ganvié has developed into a fully sustainable village within the constraints of life on the lake.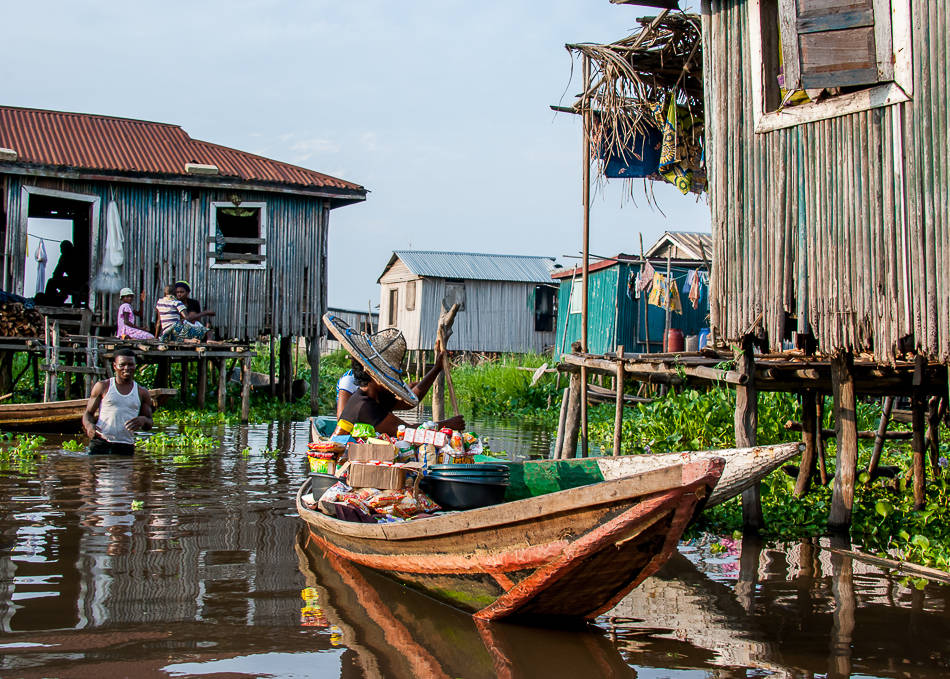 Just as you would find in all African villages, produces and other life essentials can be bought off the street, although here it's by paddling to a seller's boat you'd make your purchases.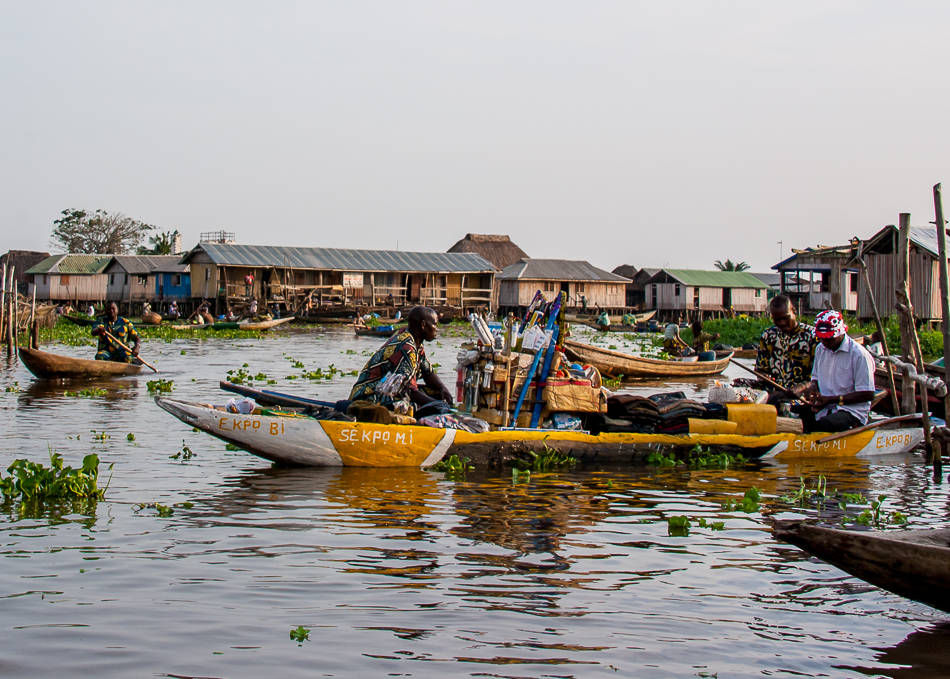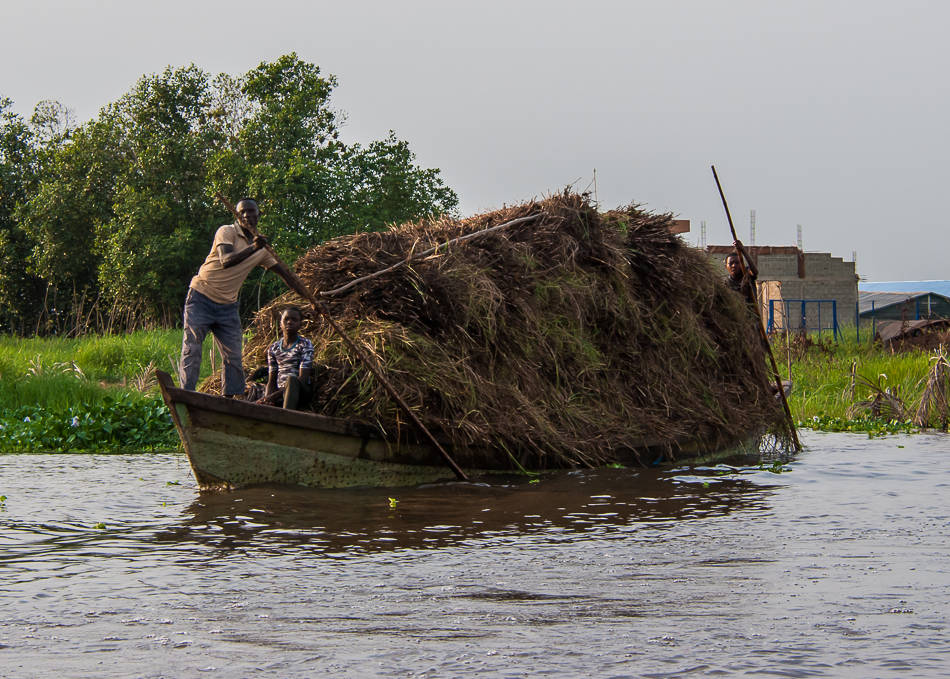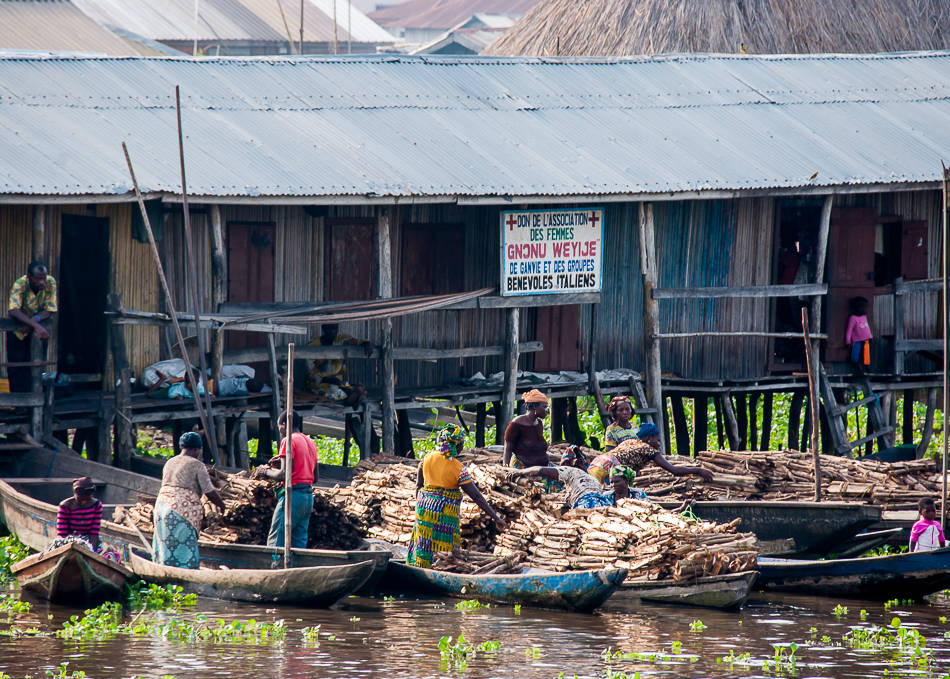 The central market is always buzzing and surprisingly resourceful.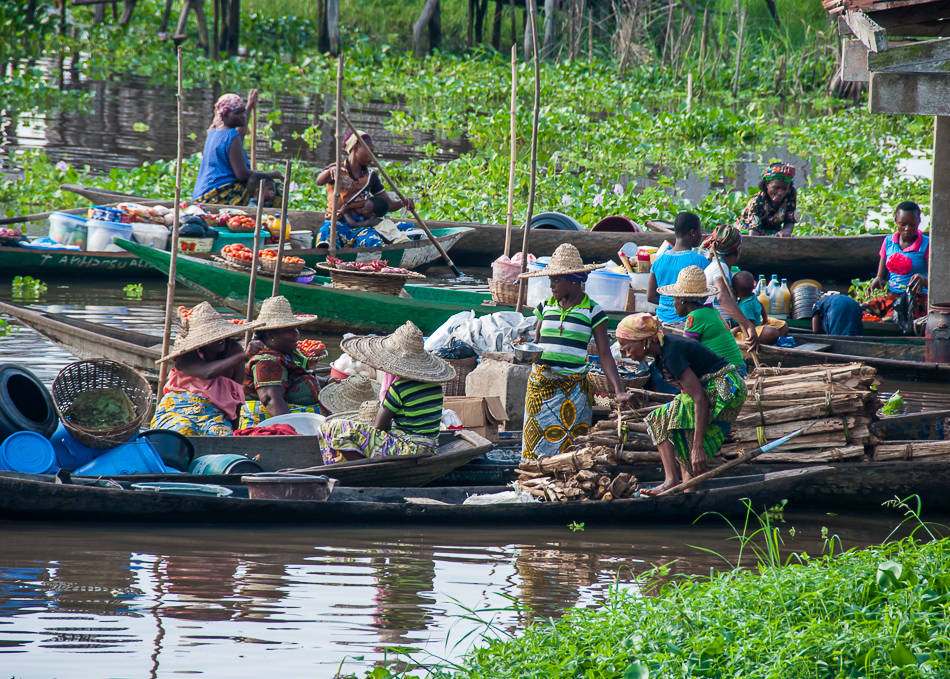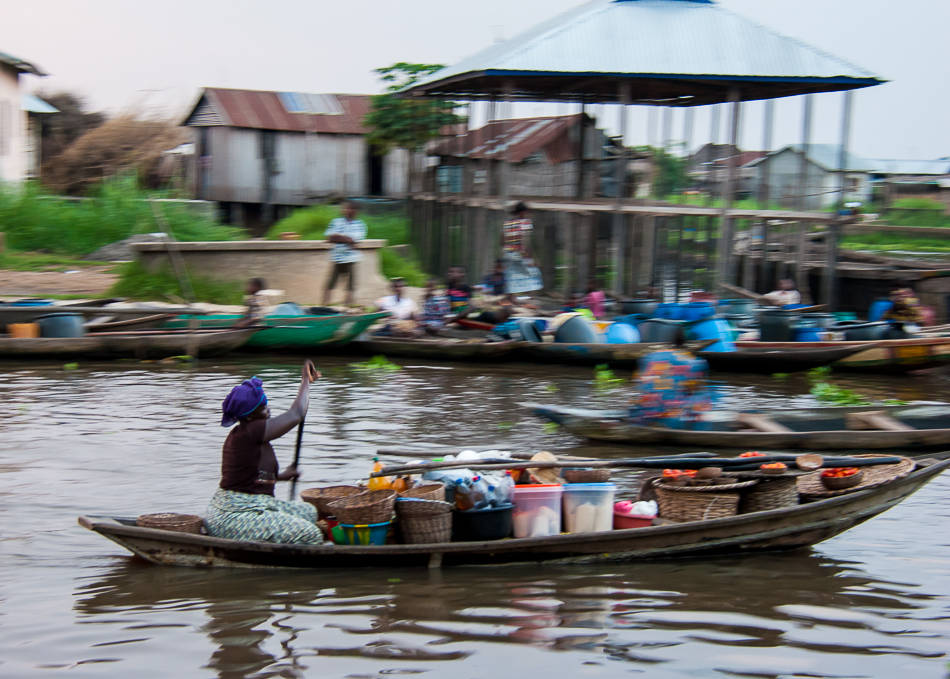 Locals eat, sleep, play, and work on water.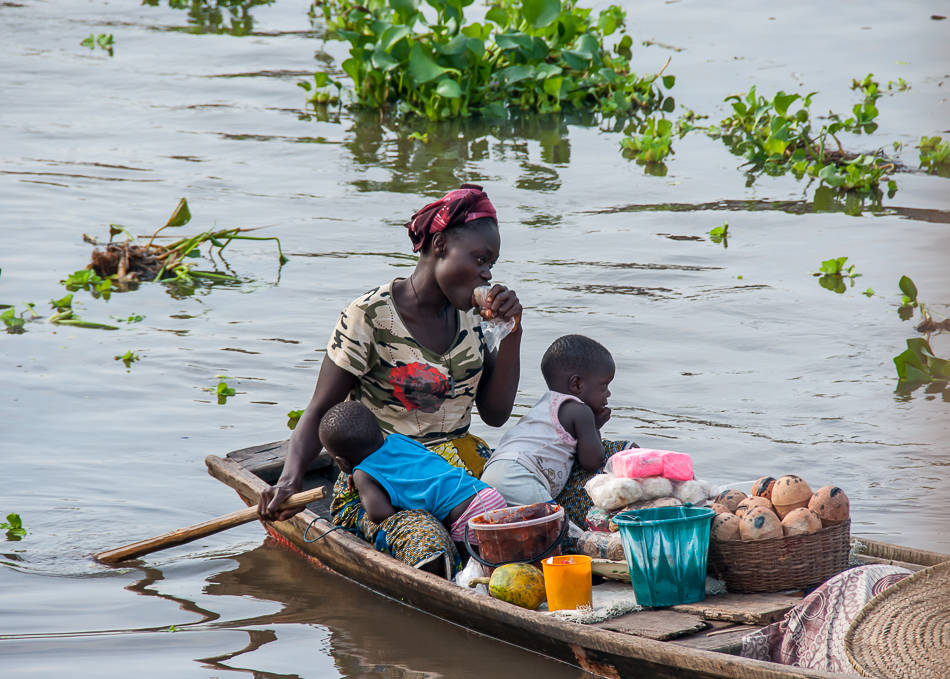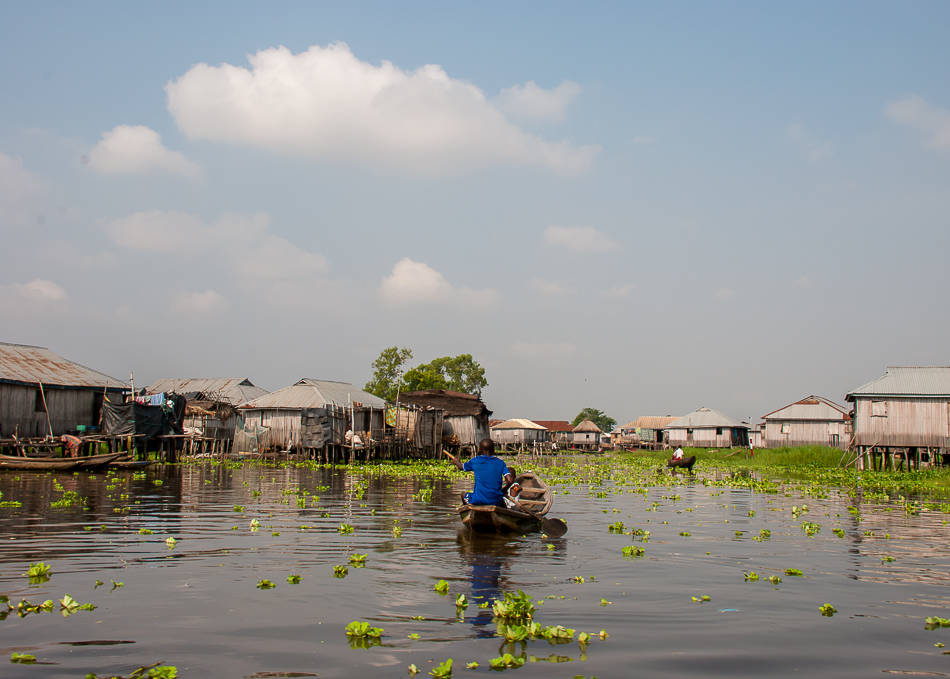 While egrets are a common sight, I was quite happy to snap this little colorful specimen.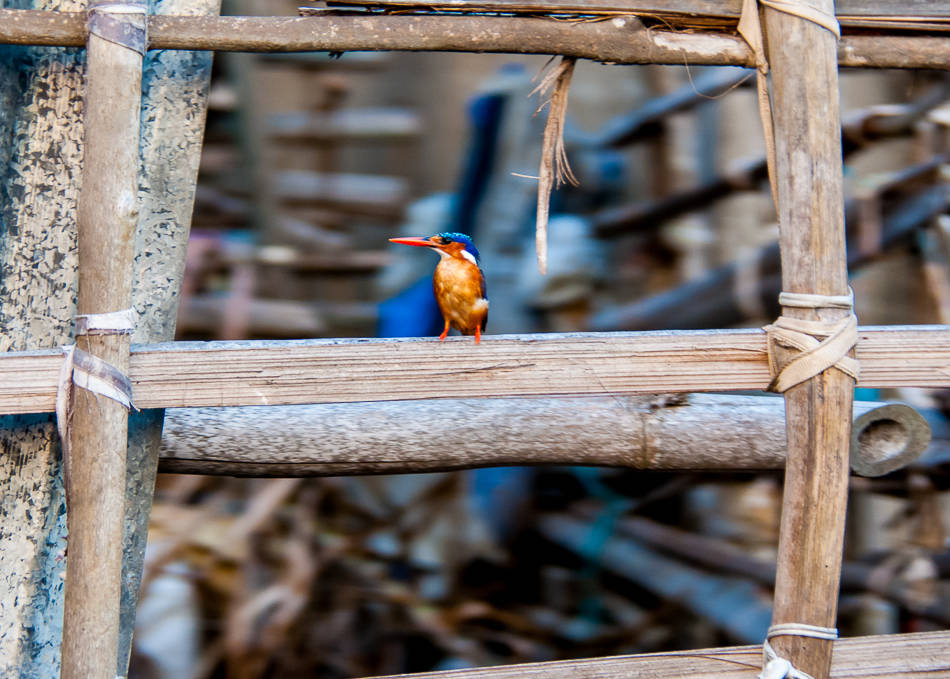 The only permanent traffic jam is by the water reservoir which distributes at high flow rate water for the families to bathe, clean, cook, etc. into huge plastic barrels.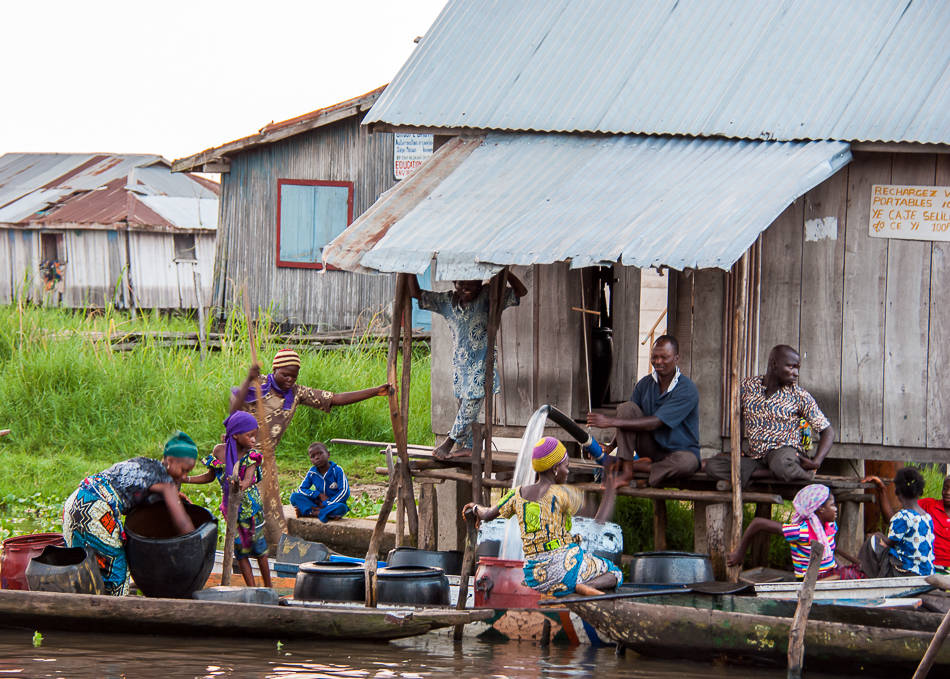 Almost every tourists visiting Ganvié will stay for just a couple of hours, but it is possible to spend the night and I highly recommend you do!  You'll sleep in one of the most memorable hotels in Benin (I stayed at a place called Chez "M") and can make use of the town's few restaurants and souvenir shops. Despite all these amenities, it's still however a fairly unknown tourist destination and it would be surprising if you found yourself sharing the village with more than half a dozen other tourists at any one time.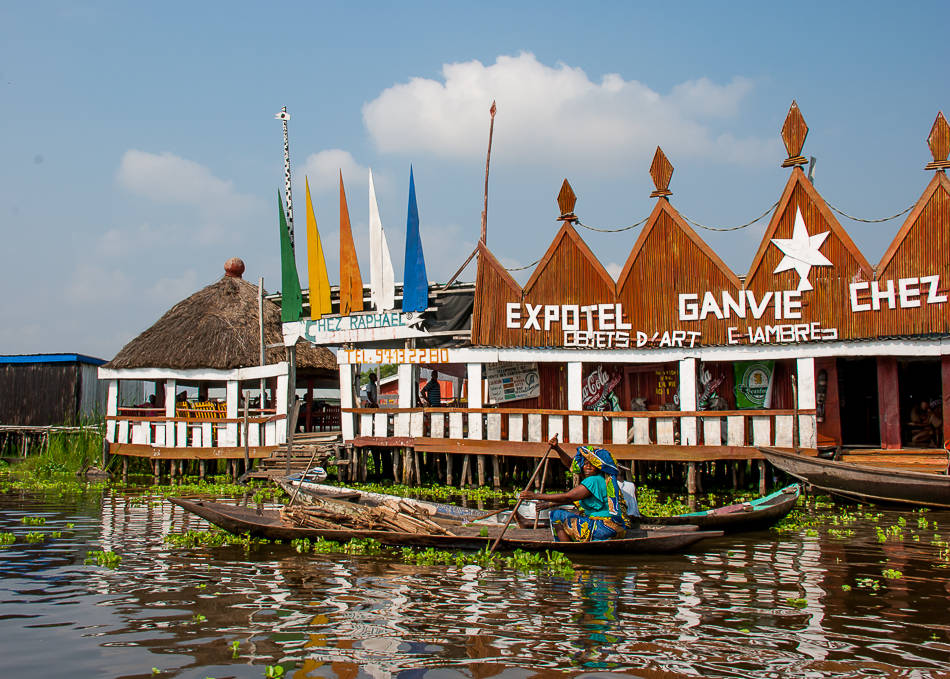 The church, the mosq, and the school are the only ones of Ganvié's 3,000 buildings that exist on land.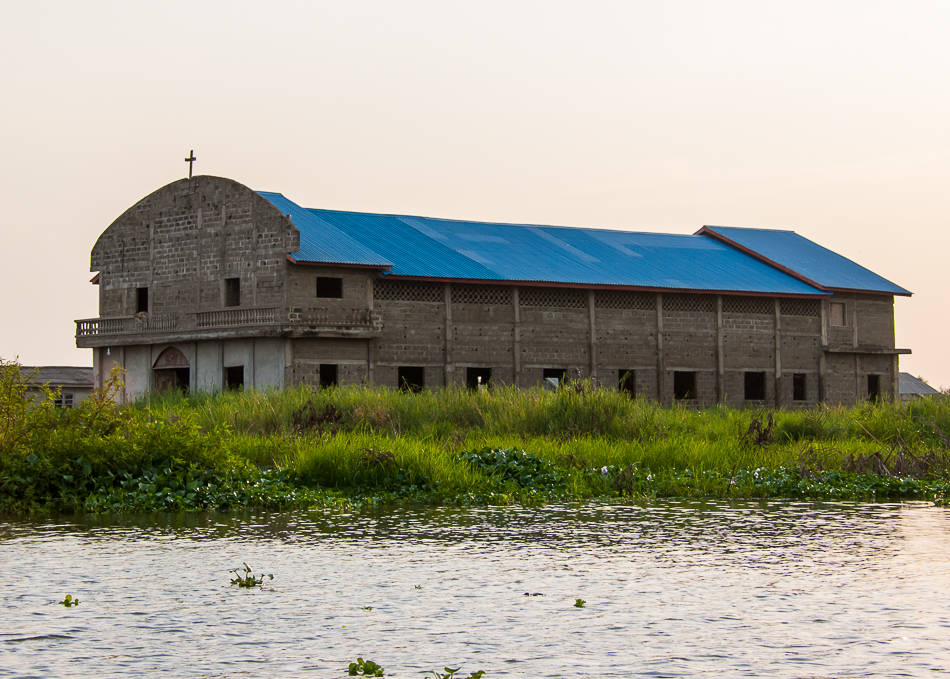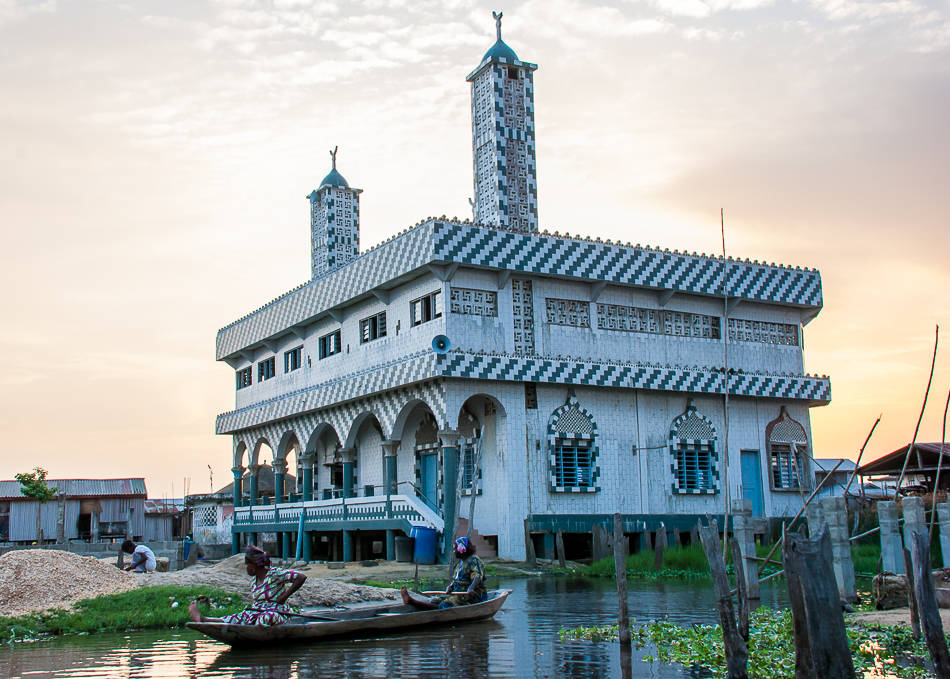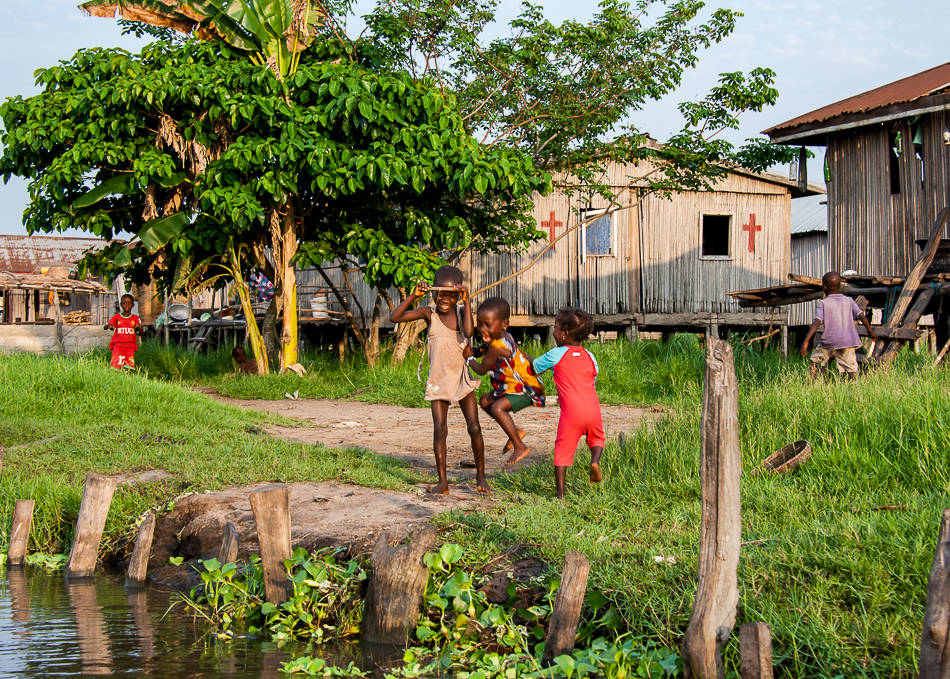 Sundown is the perfect time to be on the water as the reflections themselves make for a myriad of beautiful paintings and something you're unlikely to witness anywhere else.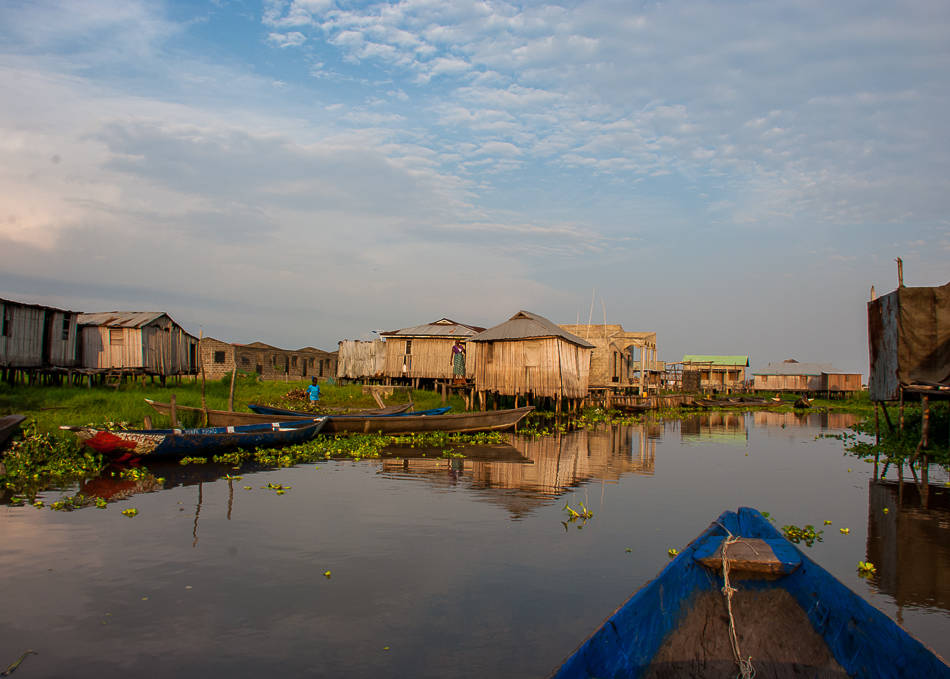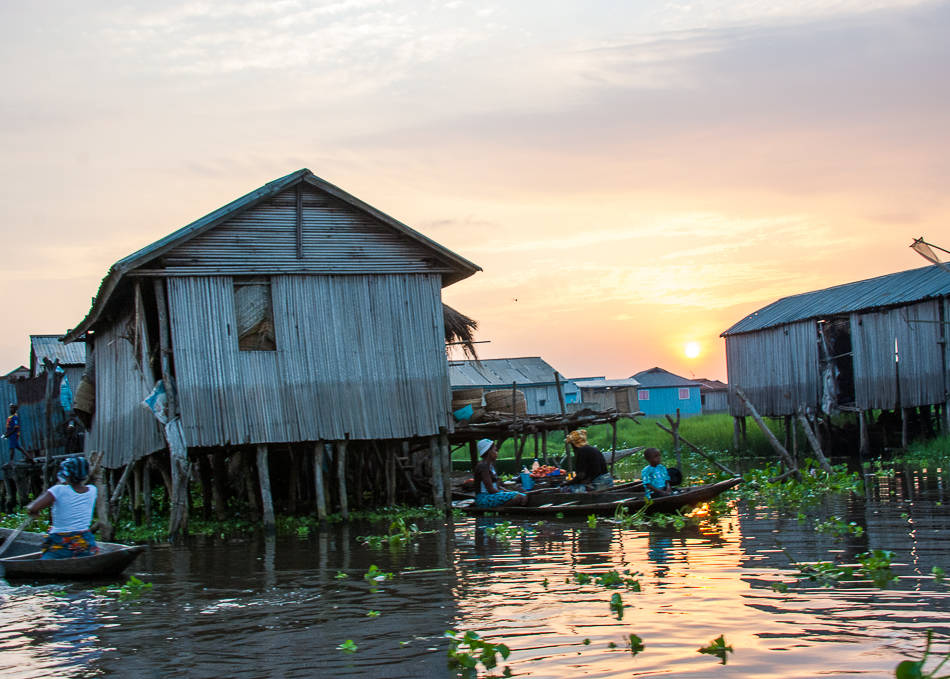 Life on the water won't stop when the sun has disappeared though and it's a treat to sit in the dark and watch the boat traffic going by. With only a tiny lantern if anything to light the front, villagers go from house to house amidst chatter and the splashing sound of water…surreal surrounding to fall asleep to!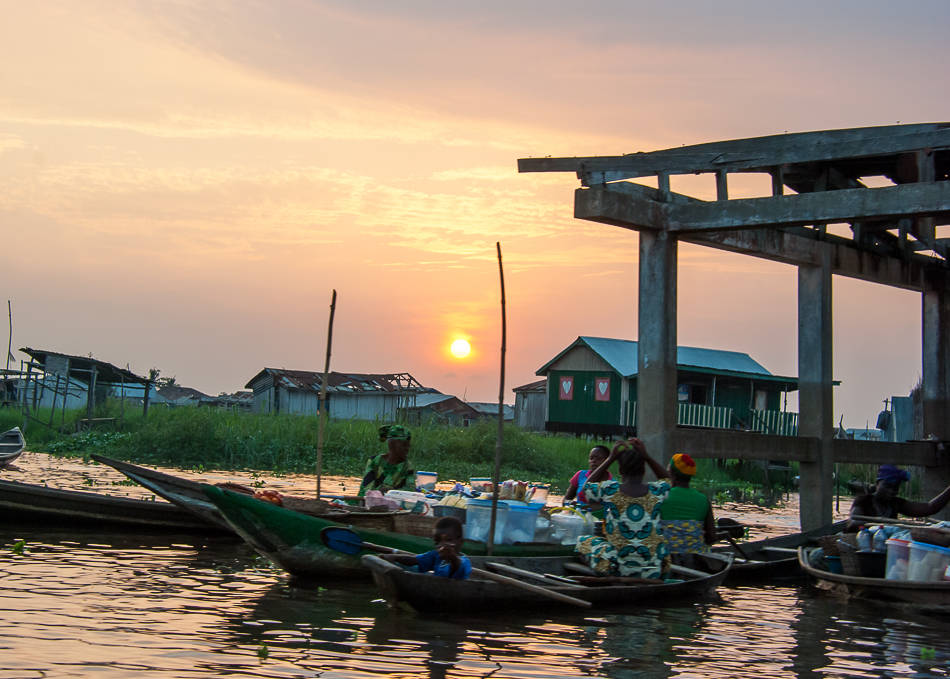 The morning view from my bedroom window is a delight and no need to mention that life here starts pretty early…no sleeping in allowed.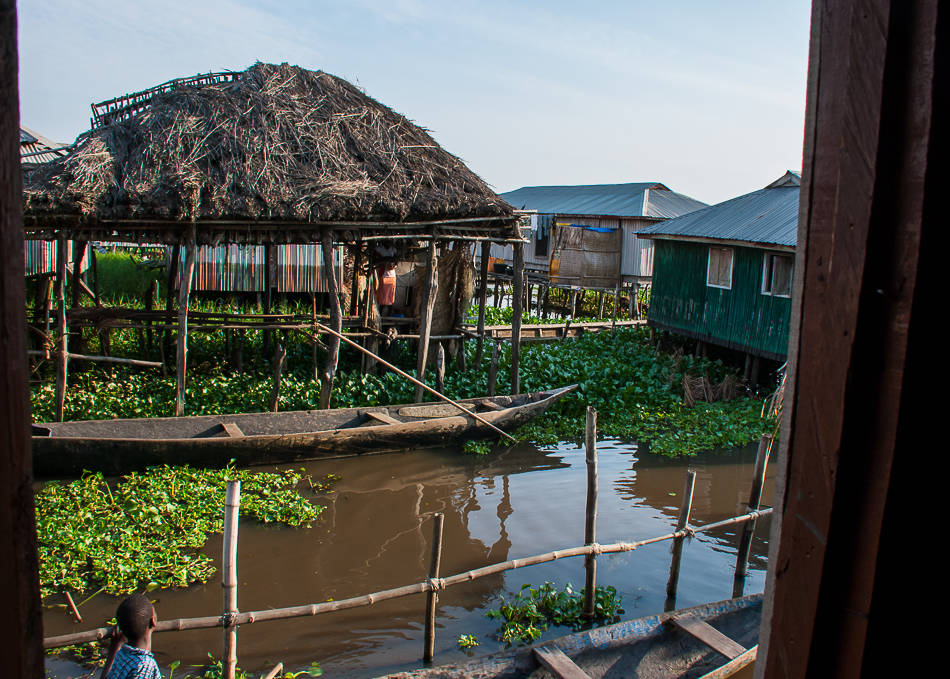 Morning sees a long line of boats going to school at the far end of the village, khaki-clad young boys and girls expertly maneuvering their float as they've noticeably done for years now.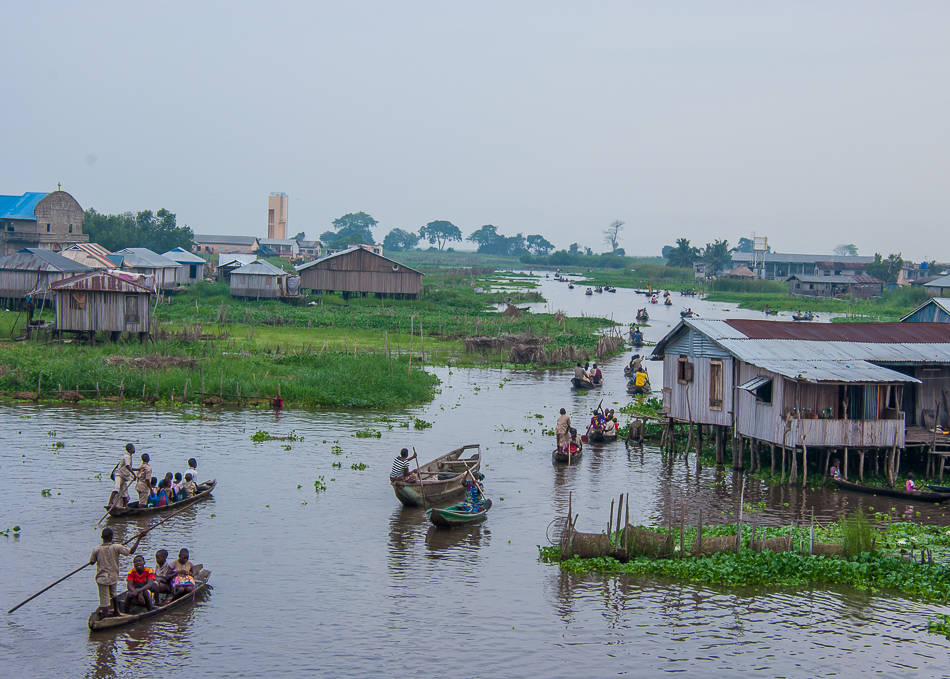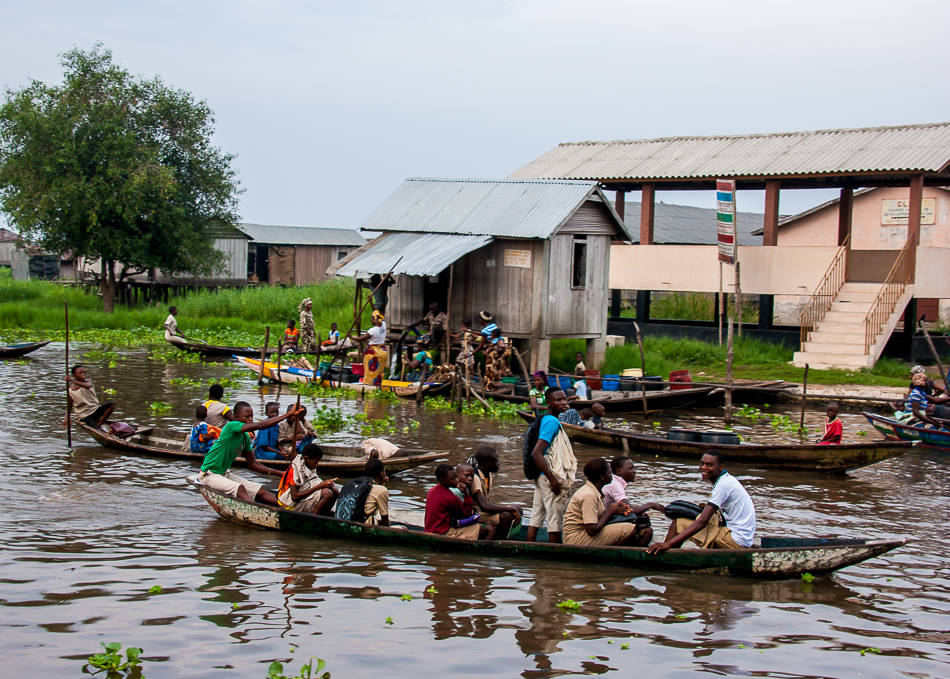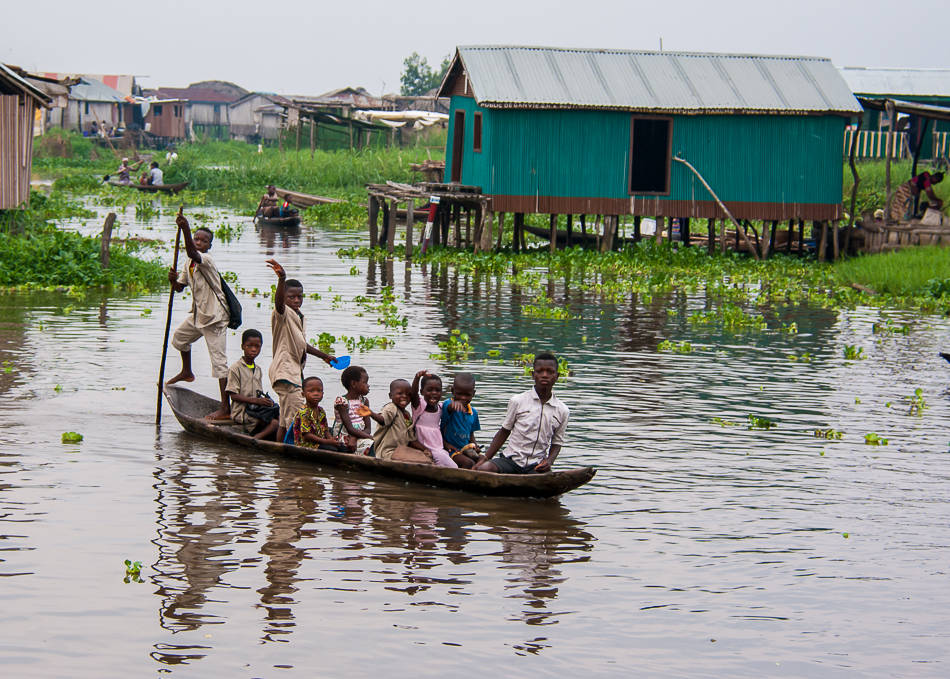 You can see some inventive 'barge' on the water too, like this one made up entirely of yellow canisters. Seems to do the job!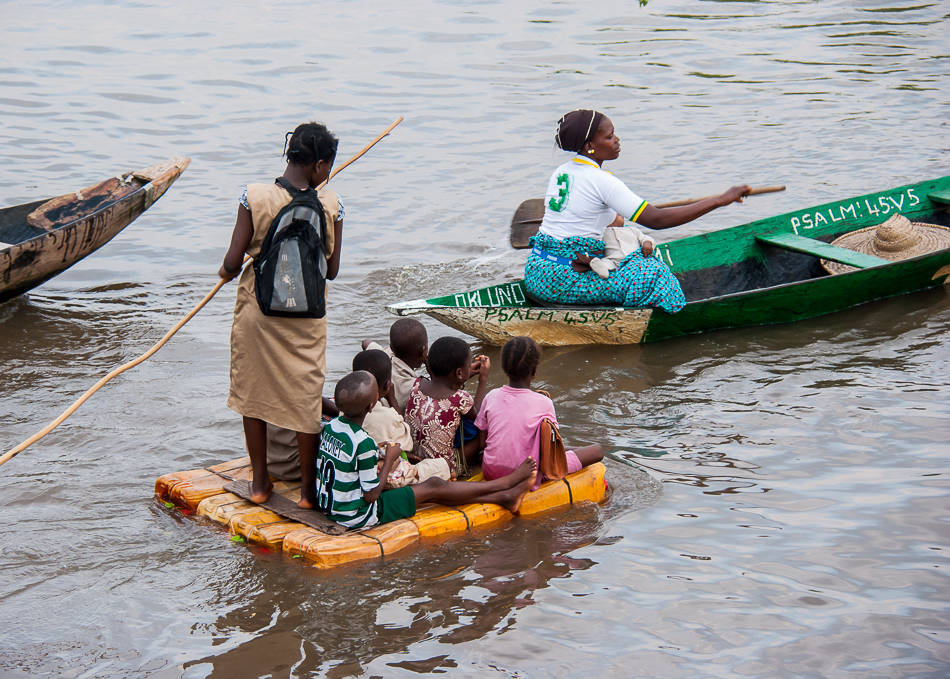 Kids not attending school will be hanging around in boats, perhaps running errands for the family.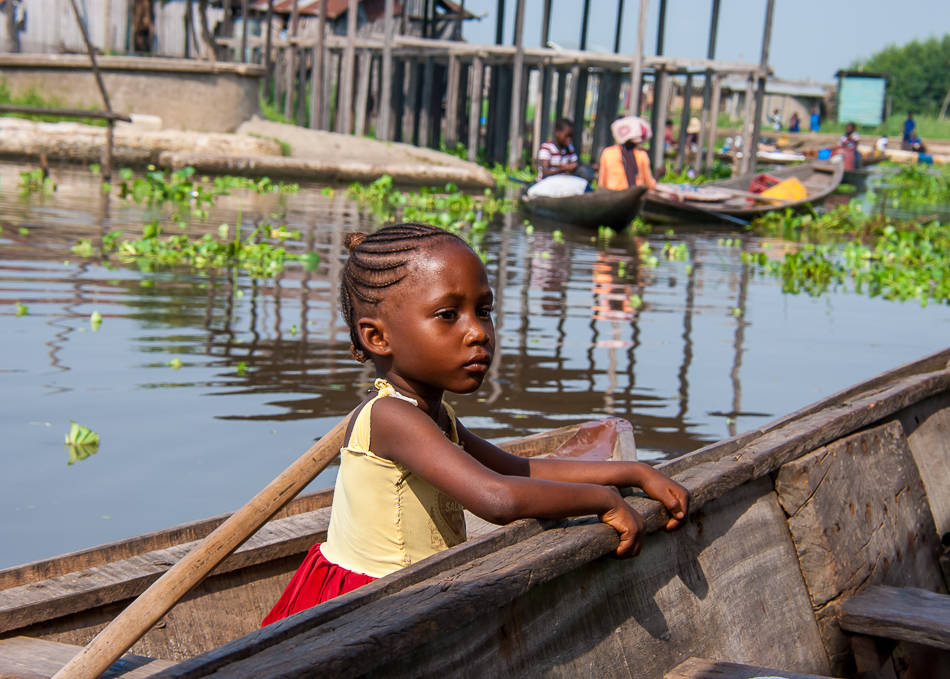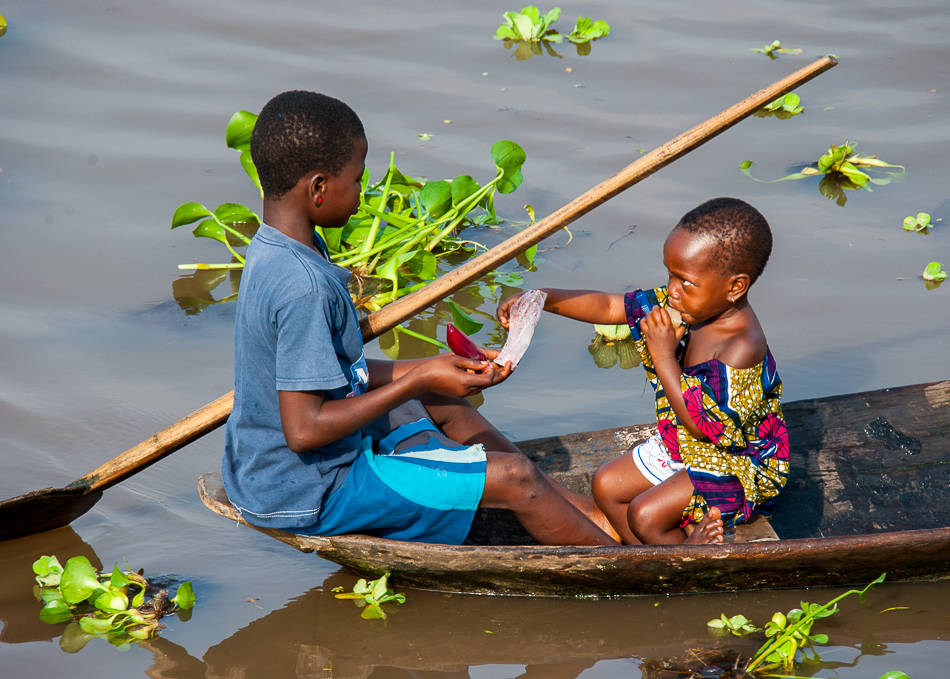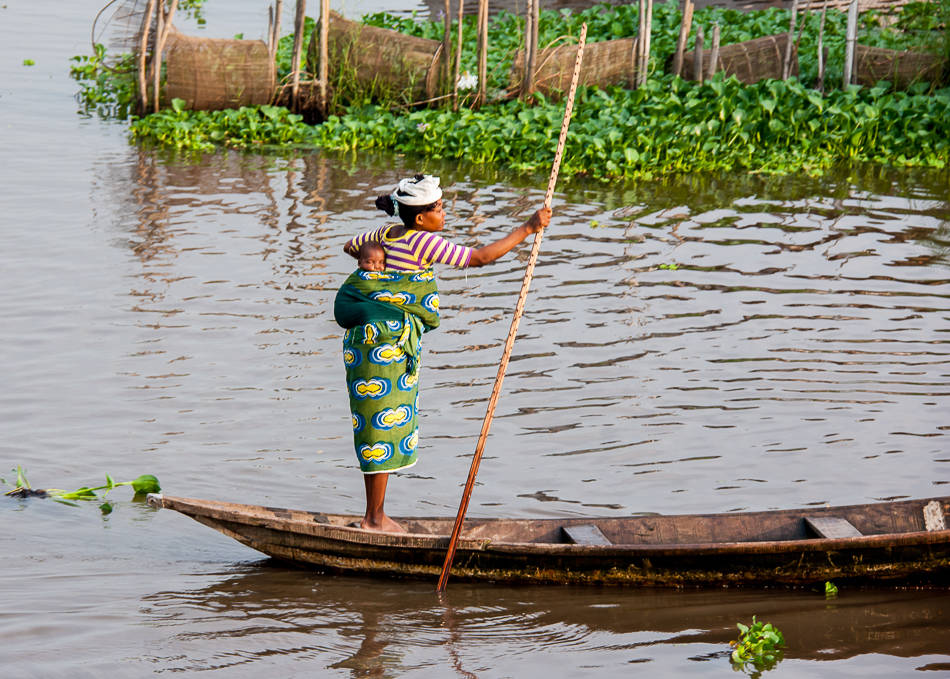 One last look before I leave and I still can't make out the end of the thousands of floating houses that lay in front of me – a sight like no others.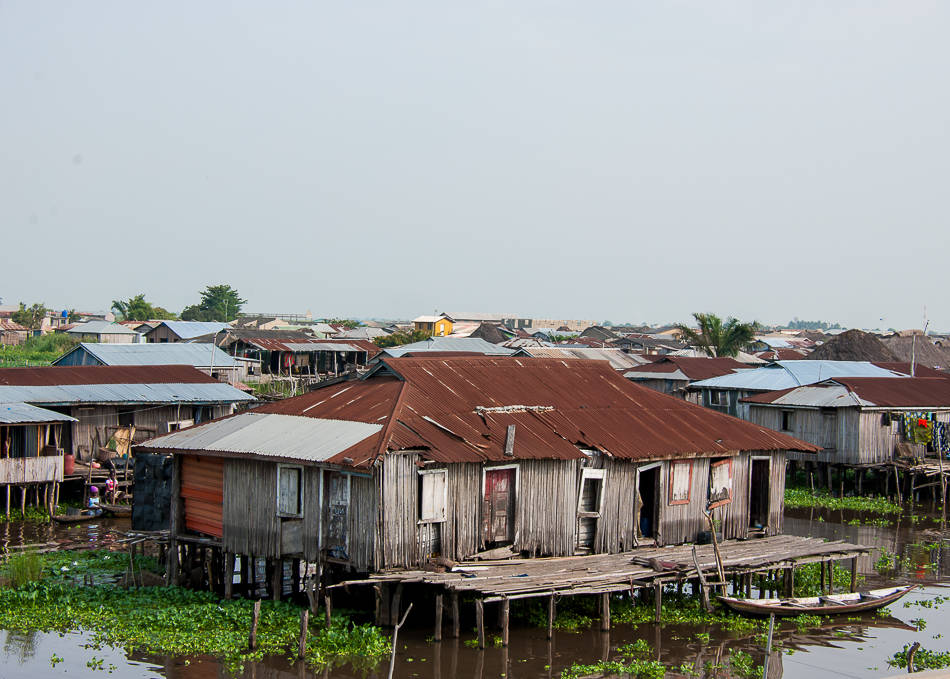 On the way out, we cross paths with many of the villagers on their way to check on their fish traps, and women selling snacks for the long and laborious day ahead.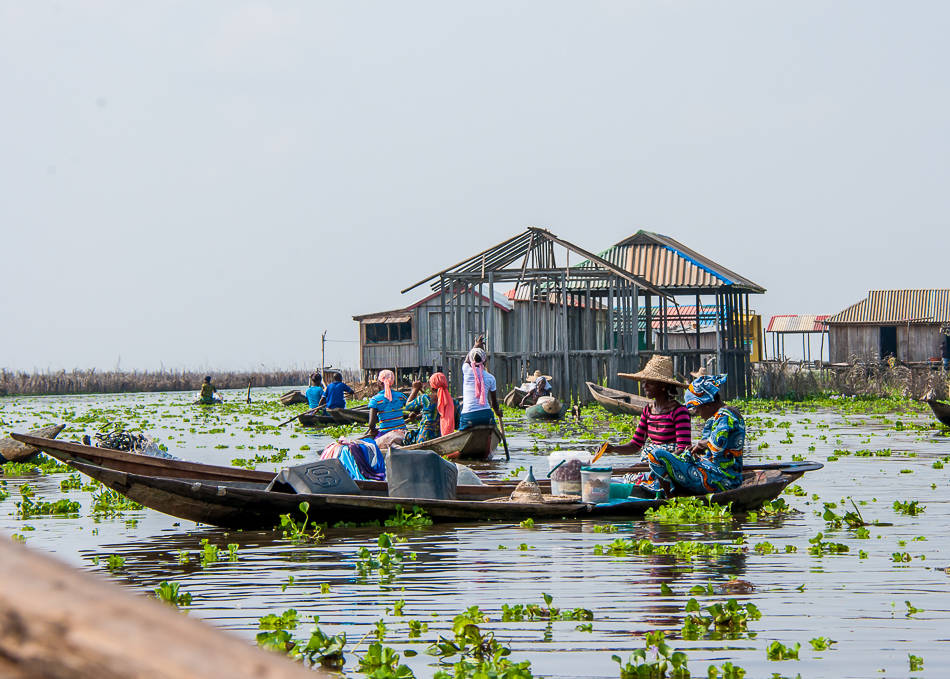 Ganvié being fully sustainable, the only time villagers will go ashore is to sell their fish at the market which you can't miss on your exit on the lake shore.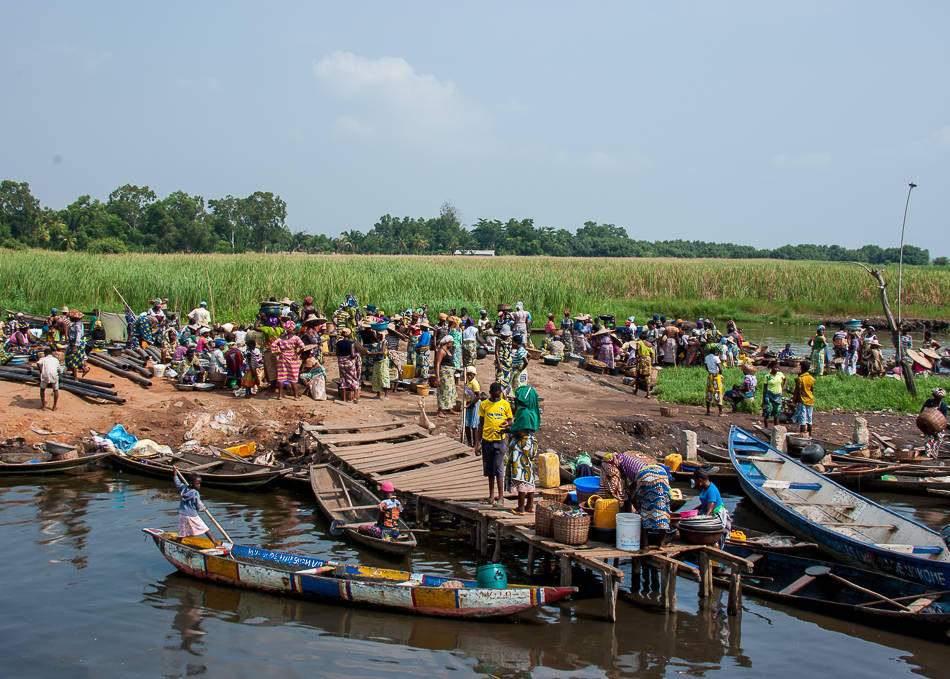 Such a hub of activity is captivating, and further enhanced by the knowledge that you've just witnessed a tourist attraction second to none…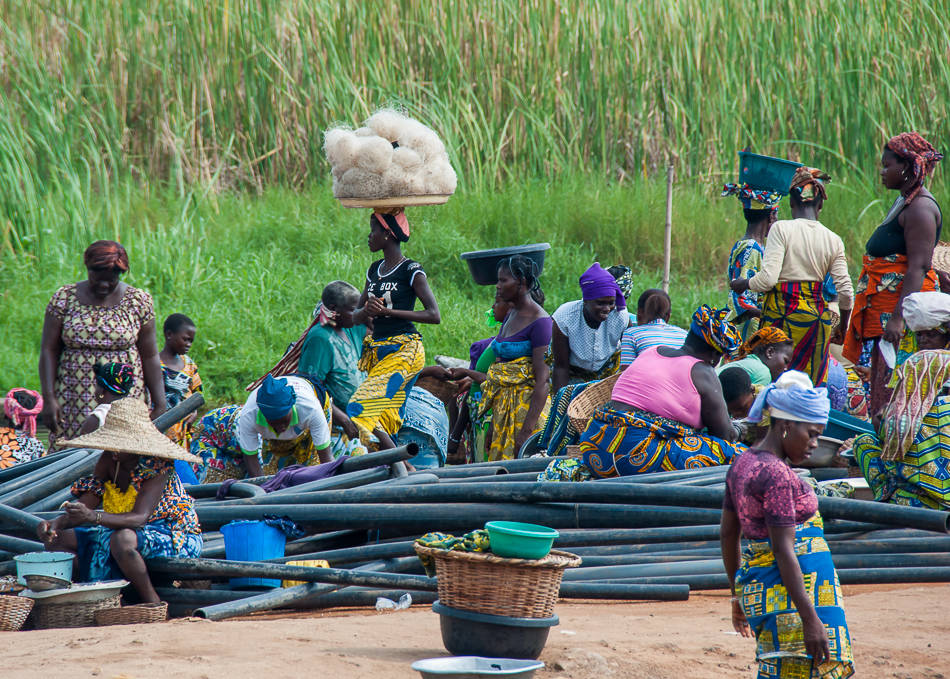 …and most importantly an intricate and prosperous culture which few will have the chance to experience.