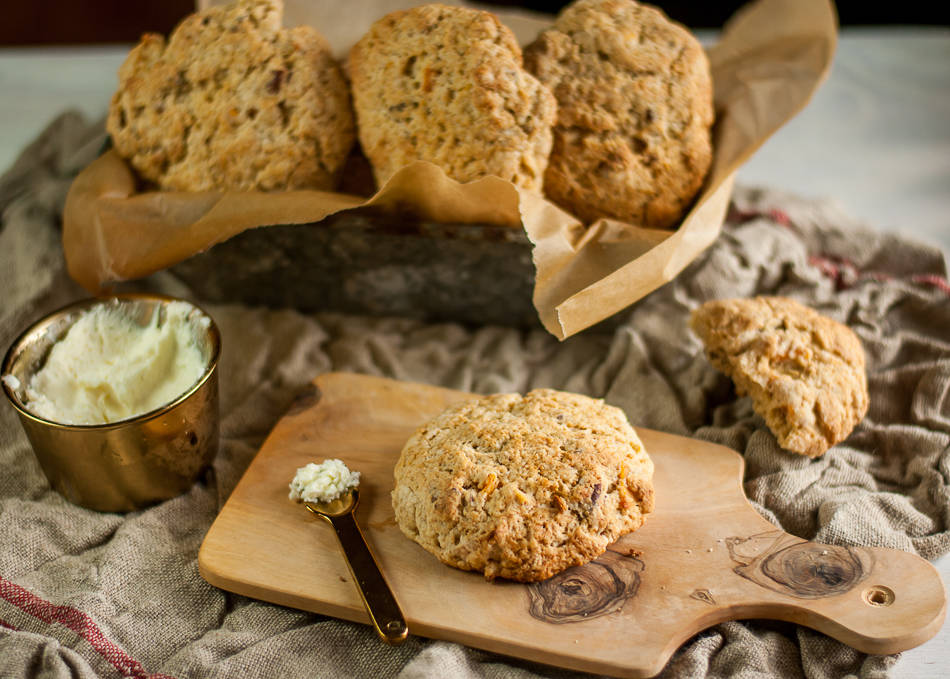 I thought long about what my first food post should be after Africa. While I very much enjoyed getting immersed in West African food, I must admit I had cravings on a daily basis, and dreamt of being back in my kitchen almost as often. It certainly taught me about what true life necessities were (NOT that fancy chocolate bar or fresh piece of sushi) and got me overwhelmed as to what I was going to make once I was home….
Seeing as I got back to frigid temperatures, comfort food was high on the list and especially baked goods which I had missed dearly. My usual breakfast consisted of a sweet pineapple or papaya so I thought these decidedly tropical scones would be a great reintroduction.
They're full of bits of fruits and nuts and make for a great energy-packed and healthy breakfast. You could easily replace the dried mango with dried apricots, pineapple, or papaya as they'll all marry wonderfully with the coconut and bring you back to a much warmer place than it is right now! Besides the flavor profile, these came out perfectly fluffy with a nice, crisp exterior and moist interior, feeling surprisingly light for such a rich combination. They also must have seemed that much more heavenly to my wide-eyed, deprived appetite…

Dried Mango Scones with Pecans and Shredded Coconut
Recipe from Once Upon a Tart
Active time: 20 minutes
Total time: 45 minutes
Makes 8 scones
2 1/2 cups unbleached all-purpose flour
2 tbsp baking powder
1/2 tsp salt
1/2 cup packed light brown sugar
10 tbsp (1 stick plus 2 tbsp) cold unsalted butter, cut into 1/4-inch cubes
2 large eggs
1/4 cup cold milk
1 tsp vanilla extract
1/2 cup pecans, coarsely chopped
1/2 cup dried mango, chopped
1/4 cup shredded unsweetened coconut

Position your oven racks so that one is in the center, and preheat the oven to 400 degrees F.  Line a baking sheet with parchment paper.
Dump the dry ingredients into the bowl of a food processor fitted with a metal blade, and pulse to mix.
Add the butter to the bowl all at once, and run the food processor for about 15 seconds.  Switch to pulse, and continue pulsing until there are no chunks of butter left and the mixture looks like moist crumbs.  Remove the blade from the food processor, and dump the crumbs into a big bowl.
In a separate, medium-size bowl, whisk the eggs to break up the yolks.  Whisk in the milk and vanilla.  Use the whisk to stir in the nuts, apricots, and coconut.
Pour the wet ingredients on top of the flour-butter crumbs, and stir them with a wooden spoon until they come together and there is no flour visible.  Don't work the dough a moment longer than necessary.
Use a 1/2-cup measuring cup or your hand (eyeballing for size) to scoop up the dough.  Roll each piece of dough into a ball and place it on your prepared baking sheet, leaving 2 inches between pieces. Press down on each dough ball with the heel of your hand so that you have a fat disk (1-1 1/2 inches thick), like a hockey puck.
Place the baking sheet on the center rack in the oven, and bake the scones for 20-25 minutes, until the tops are golden brown and a toothpick or small knife inserted into the center of one comes out clean.
Remove the baking sheet from the oven, and place it on a wire rack to let scones cool for a few minutes. Lift the baking sheet off the rack, and use a metal spatula to transfer the scones from the baking sheet to the rack, or directly to whatever you're serving the scones from.  Serve fresh from the oven or at room temperature.