Every once in a while I'll make pizza at home, sometimes using ready made dough when I have little time, other times relishing in making everything from scratch. A cold weekend stuck inside is usually a pretty good time to get the rolling pin out and grab a few earthy ingredients from the local shops to make a comforting meal. I've always tended to prefer my pizzas vegetarian with a few key vegetables and most importantly cheeses and this one is a perfect cool-weather companion.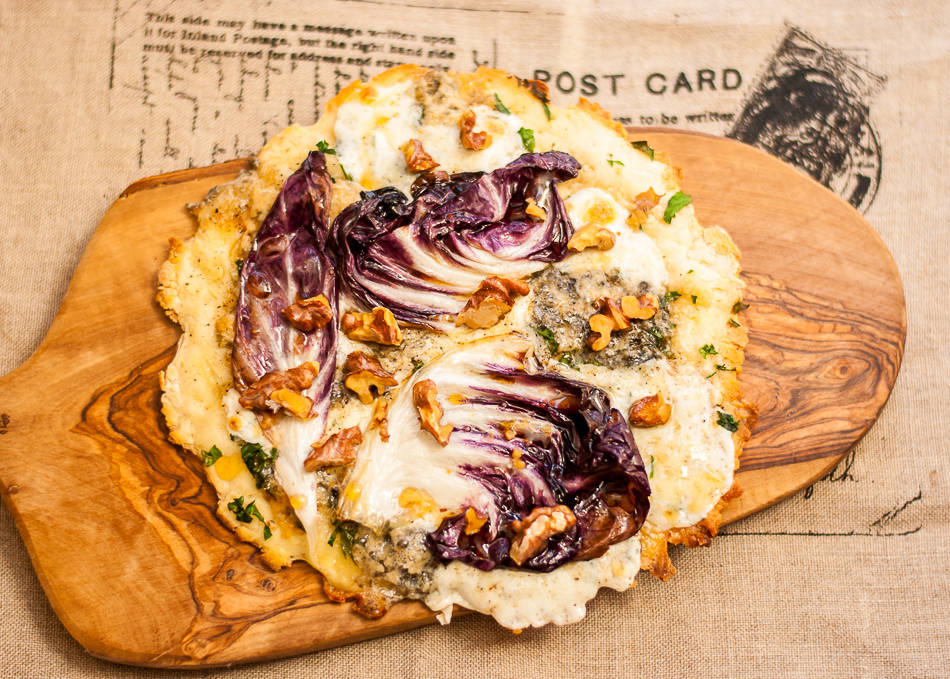 The unique combination of sharp blue cheese (I used Gorgonzola Piccante for extra oomph!) mellowed by creamy mozzarella, toasted walnuts and cooked, slightly bitter radicchio is a strong and fantastic one if you love blue cheese as much as I do. The finishing touch of truffle honey though is what truly makes the pizza what it is, one that has quite a bite to it, and shouldn't be overlooked. The saltiness of the blue cheese paired with the honey needs to be experienced, period.
Emphasis is on the toppings and that's why I like my pizzas as thin as I can manage to make them (which is much harder with store-bought dough). If you have time, I strongly recommend you make the dough yourself and the below recipe will yield a perfectly thin and crisp crust, almost like a large cracker yet still slightly soft in the middle. It feels healthier to eat a thin crust pizza anyway and you'll have no trouble eating one by yourself – they're just 15cm wide after all! I also see this recipe as the ideal crowd pleaser when entertaining guests and the dough is enough to yield quite a few more pizzas…so you can get creative with the toppings if some don't appreciate the strong taste of blue cheese!

Gorgonzola, walnut, truffle honey and radicchio pizza
Recipe from Food and Travel magazine
Active Time: 1h15 min
Total Time: 2h30 min
Makes 2x 15cm round pizzas
Pizza dough
250ml lukewarm water2 tablespoons dry yeast
1¼ teaspoon sugar
1½ tablespoon olive oil, plus extra for greasing
475g strong flour (or '00' flour) plus extra for dusting
1¼ teaspoon salt
Toppings
Semolina or plain flour, for dusting
2 x 85g pizza dough balls
1½ tablespoon olive oil
1 tablespoon chopped flat-leaf parsley
80g gorgonzola cheese, crumbled
50g shredded mozzarella cheese
3 radicchio leaves, washed and torn in half lenghtways
1 tablespoon truffle honey (or 1 tablespoon mild honey mixed with a bit of truffle oil)
30g walnuts, roughly chopped and toasted

Make the dough:
In a small bowl, mix the lukewarm water, yeast and sugar together until combined, then leave in a warm place for 5 minutes or until frothy. Stir in the olive oil.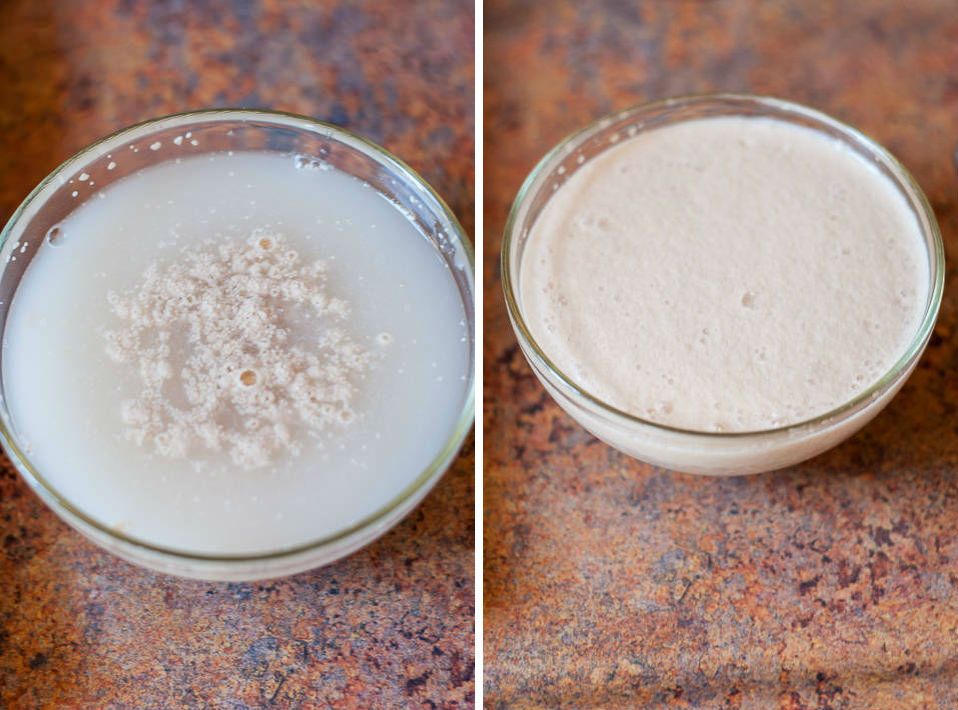 Sift the strong flour  and salt together into a large bowl. Pour the yeast mixture over the dry ingredients and use your hands to bring the mixture together to form a dough.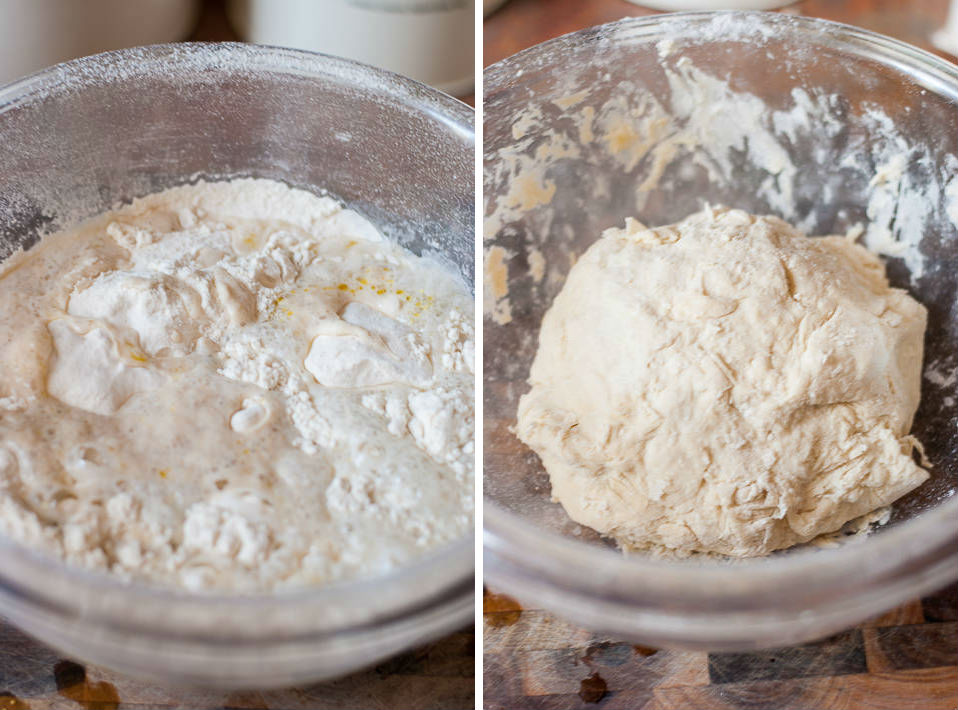 Turn the dough out onto a lightly floured work surface and use the heels of your hands to work the dough for 5 minutes until it is smooth and elastic. Lightly grease the inside of a clean, dry bowl with oil and place the dough inside. Place a tea towel over the dough and leave it in a warm place to prove for 45-60 minutes or until doubled in size.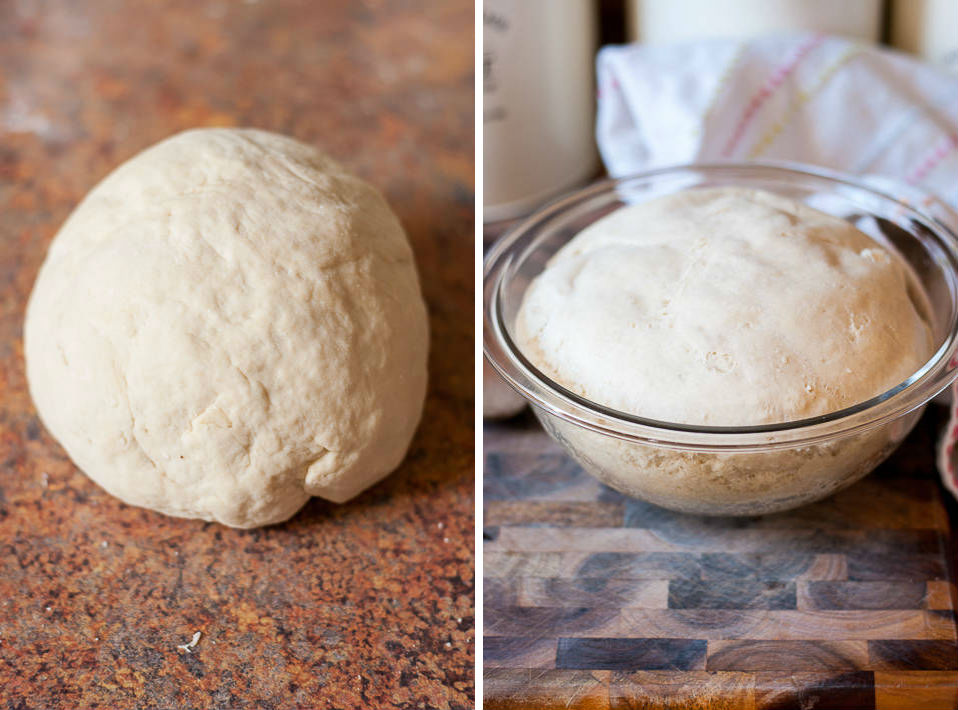 Lightly dust a clean work surface with flour and tip out the dough. Use your fists to knock the dough back with one punch to let any air out. Separate your dough into portions (here you'll need to have 2 balls of 85g each for this recipe though you'll end up with about 550g of leftover dough which you can freeze or use later in the week). Once you've separated your dough into portions, and working with one portion at a time, use the palms of your hands to cup the dough and roll it on the work surface in a circular motion to form a perfect ball. Repeat with the remaining dough portions. Place the dough balls on a lightly greased baking tray, cover and leave in a warm place to prove for 15 minutes before using.
Assemble the pizza
Place a pizza stone in the oven and preheat the oven to 250ºC/475ºF/Gas 9 or its highest temperature. Once it has reached the temperature, it will take about 15 minutes for the pizza stone to heat up. Lightly dust a clean work surface with semolina or flour, then  roll out each dough ball into a 15cm round about 3mm thick. Place the pizza bases on pieces of baking paper; this is necessary for transferring the assembled pizzas to the heated stone. Prick the bases all over with a fork.
Brush each pizza with ½ tablespoon of olive oil, then sprinkle the parsley, gorgonzola and mozzarella over the top. Season with freshly ground black pepper.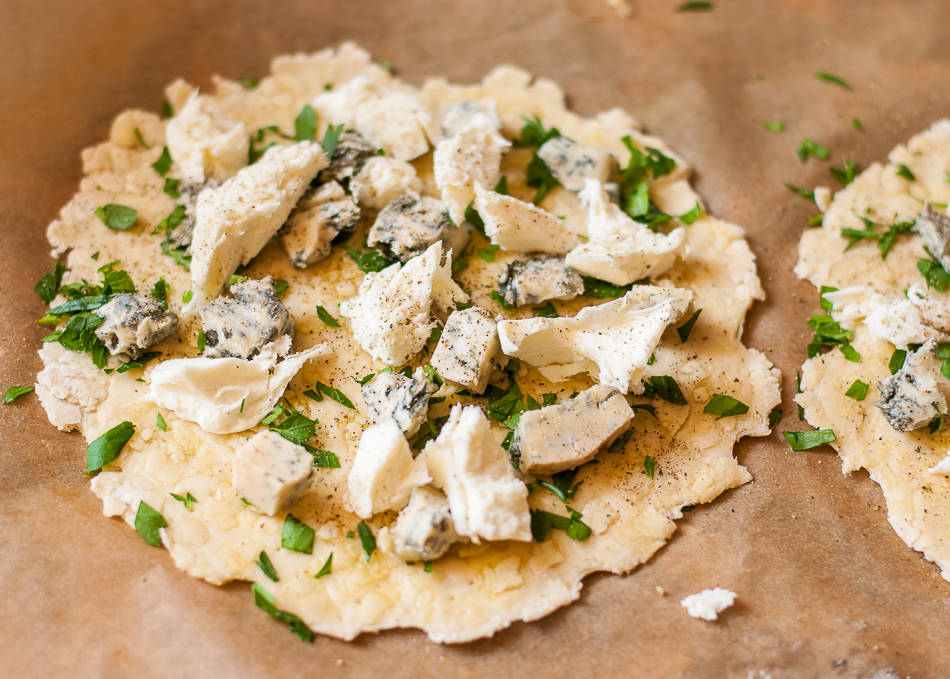 Transfer the pizzas onto the heated pizza stone. Cook in the oven for 5-10 minutes, or until golden and crisp. Meanwhile, heat a small frying pan with the remaining olive oil over a medium heat, add the radicchio, and cook for 1 minute or until the radicchio is just wilted. Season with sea salt to taste, and set aside.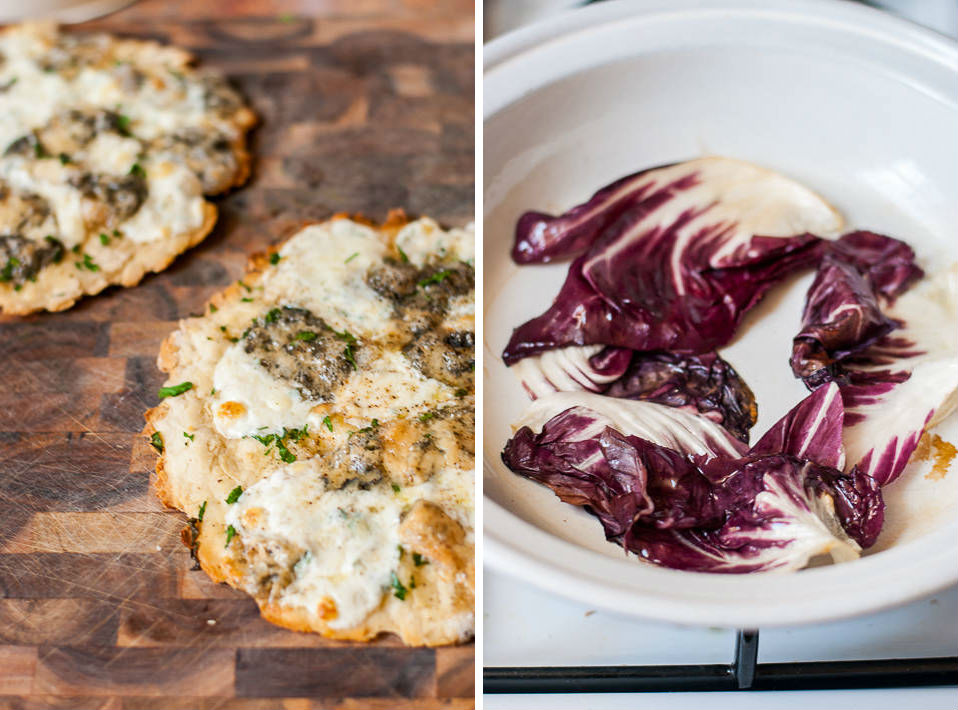 Using a pizza paddle or wide spatula, carefully transfer the pizzas to a chopping board or plate. Arrange the radicchio leaves on top of the pizzas. Drizzle with the truffle honey and serve sprinkled with the walnuts.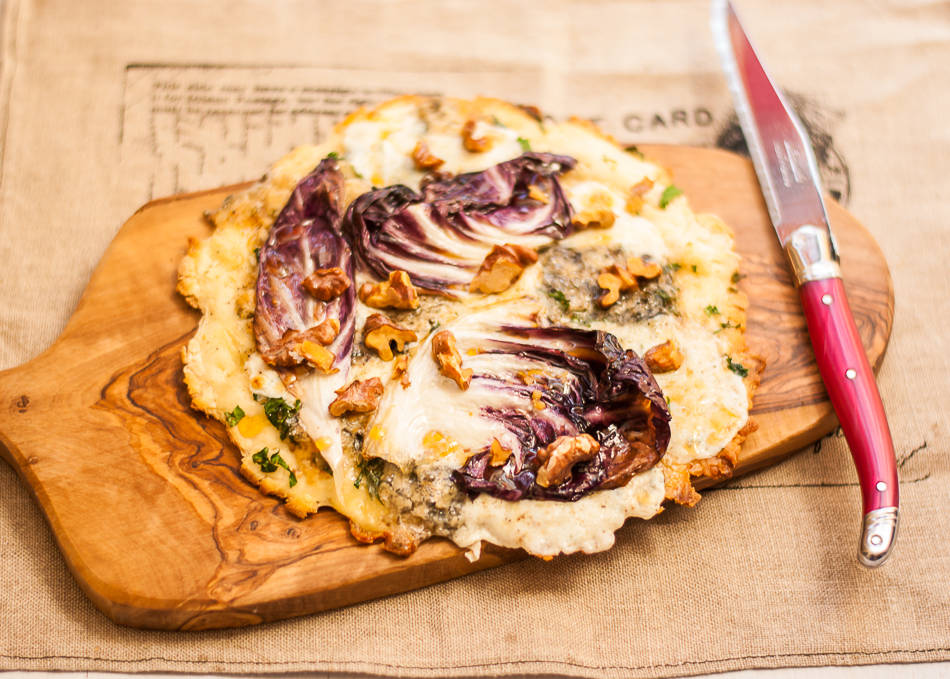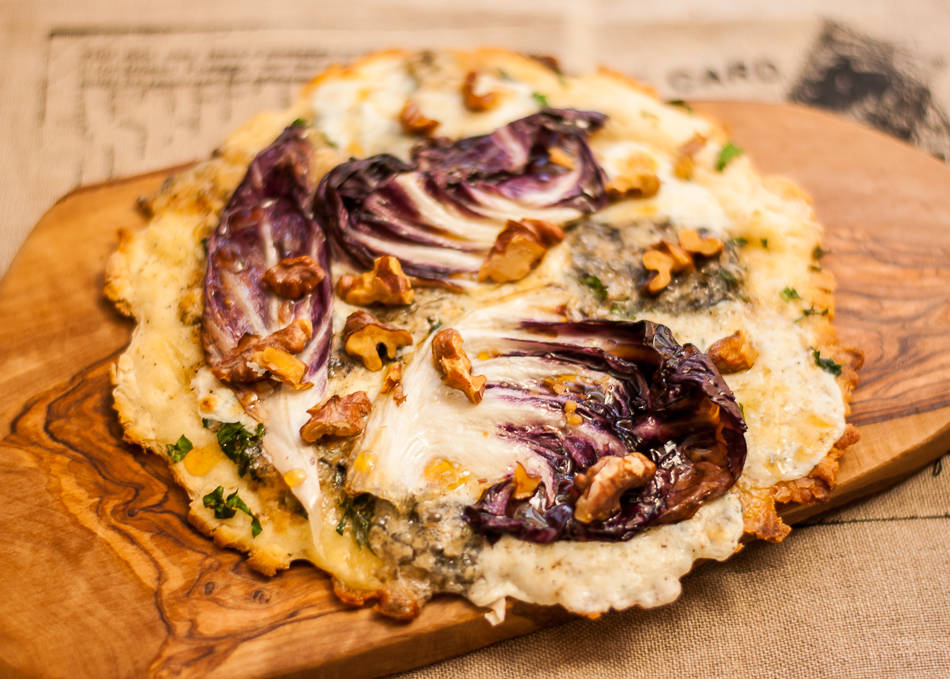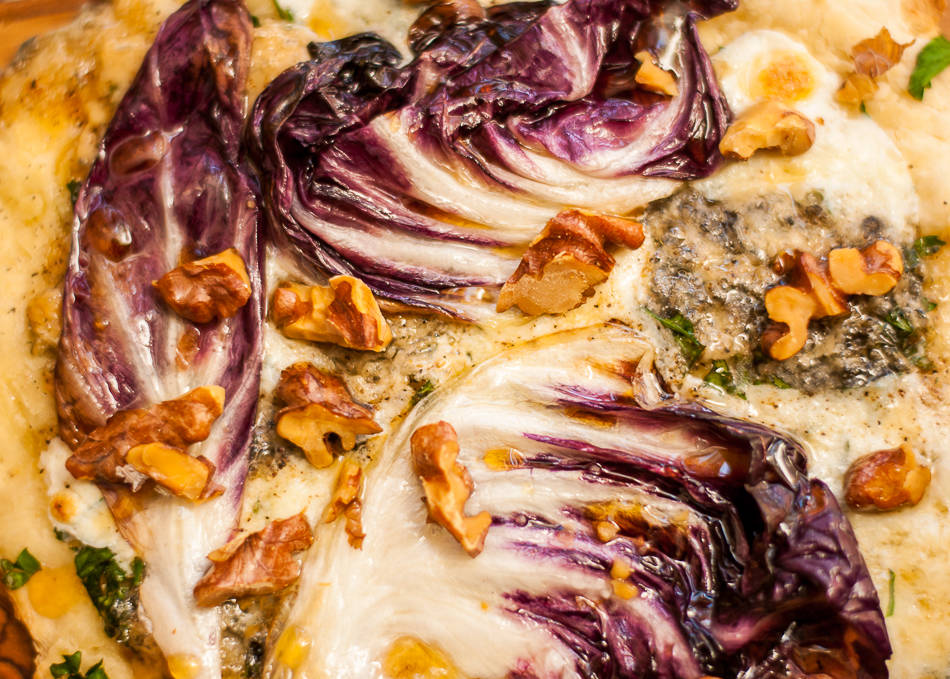 Print This Post