The sex and drugs stereotypes seem ill-fitted when you're standing on one of the most gorgeous canal side in picturesque Amsterdam, and yet it's the multiple personalities of the quaint metropolis that makes it such an attractive destination with something to please everyone.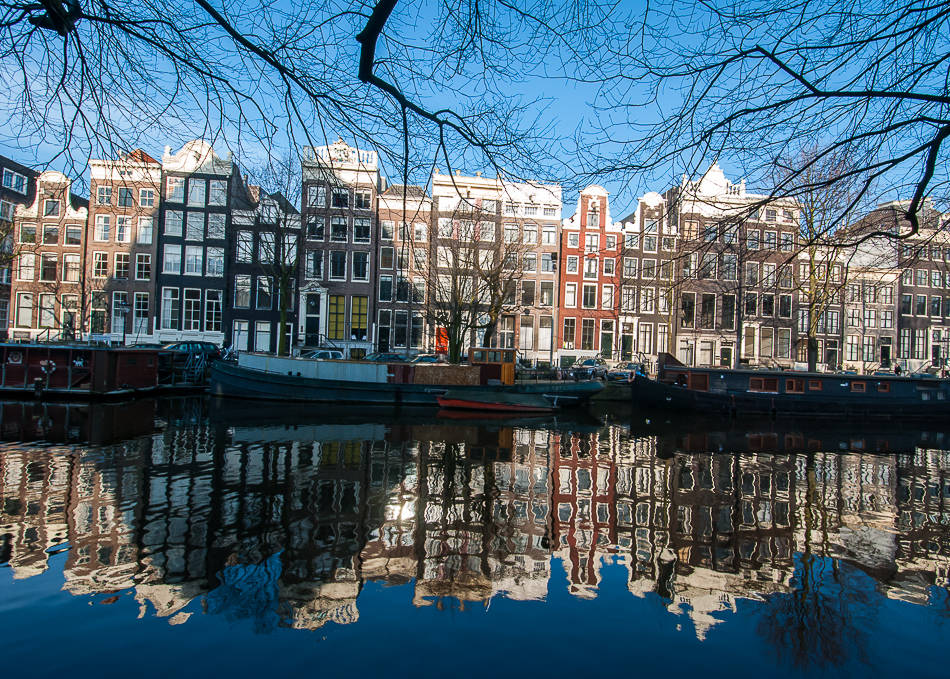 Nearly 15 years have passed since my first (and last) visit and all my smoke-filled memories of coffee shops and dark alleyways seemed far away as I stood in the middle of the Red Light District on a sunny day.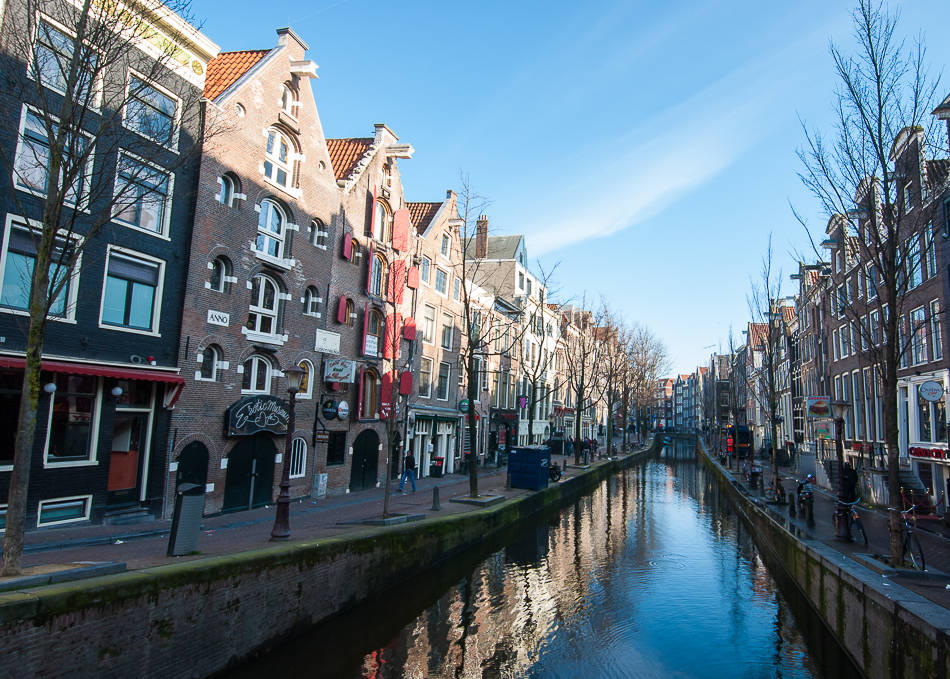 The old center of Amsterdam is still covered occasionally by colorful graffitis whose subjects only can tell their age…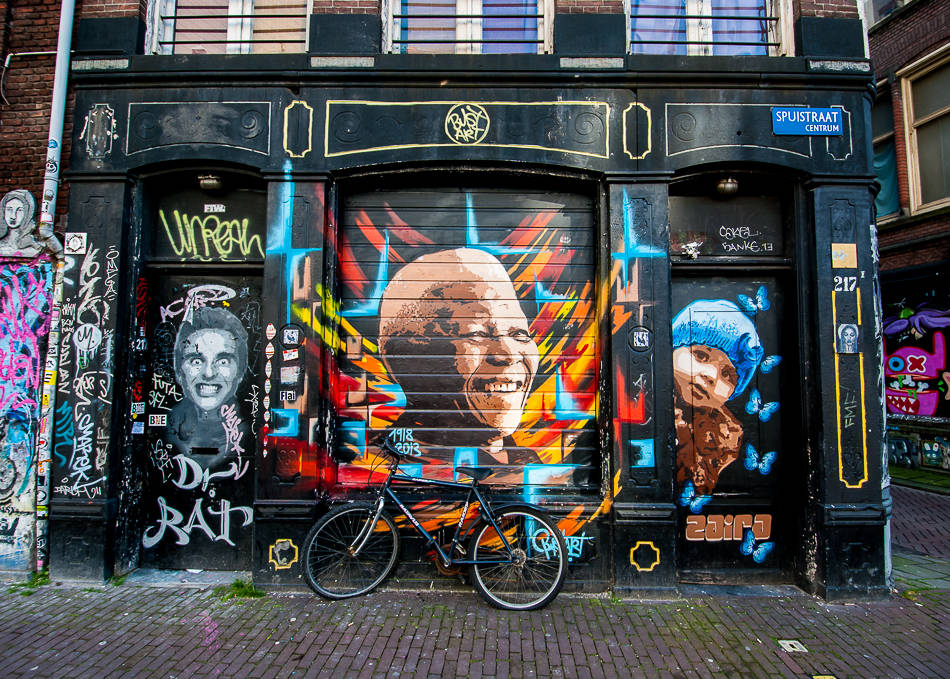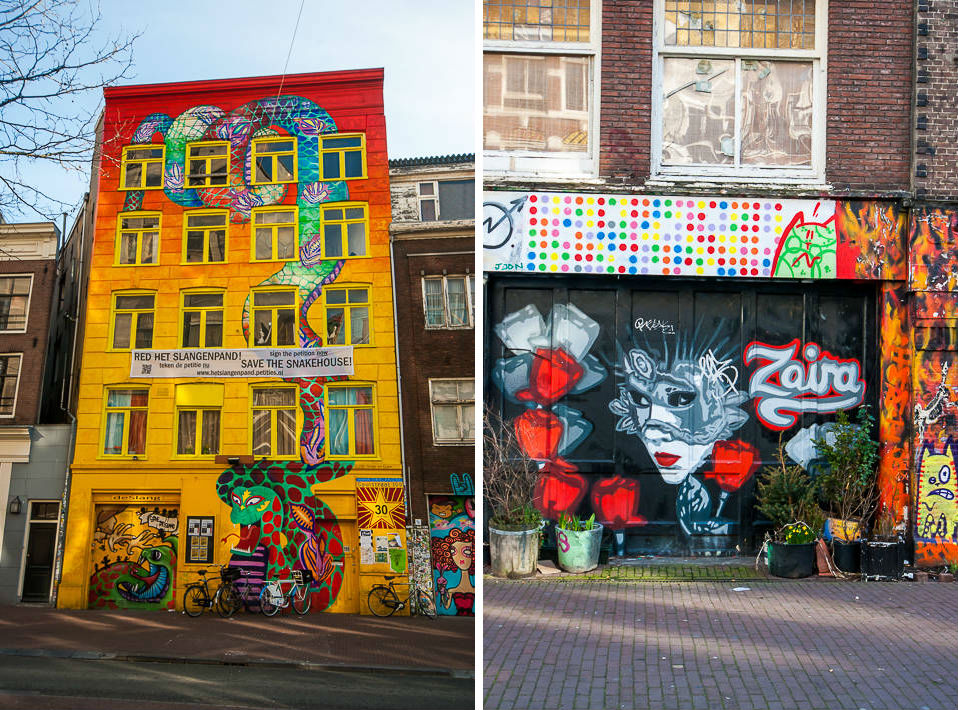 The Old Church (Oude Kerk) still dominates over the district, surrounded by coffee shops and windows showing off sex workers… this is what contrast is.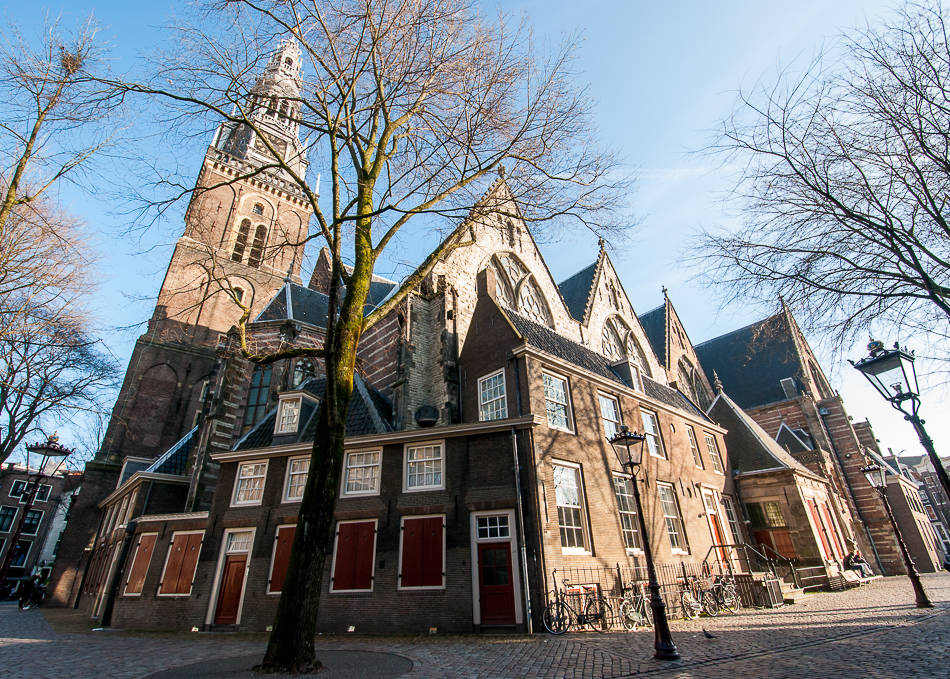 Nearby you'll also find the National Monument and the heart of tourist-heavy Amsterdam aka Downtown with its main shopping drags and chain restaurants…and this is where my stay shifted. I had seen it all before, now I was after the real Amsterdam.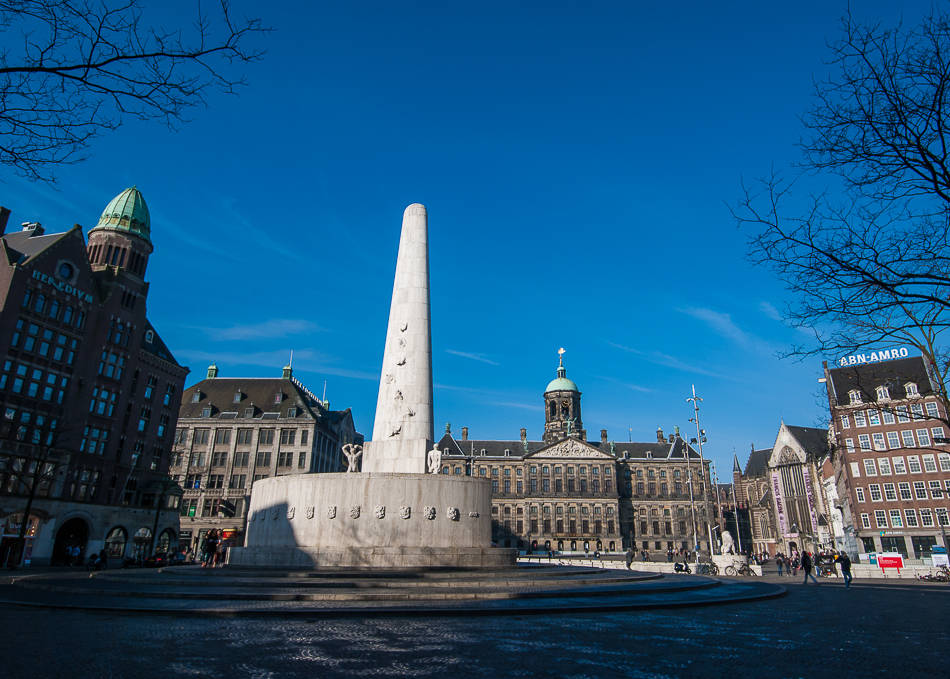 Heading West into the 'Canal Belt', the only really touristy site is the famous Anne Frank House on the Prinsengracht Canal. Worth seeing though avoid the extremely long lines by buying your tickets online!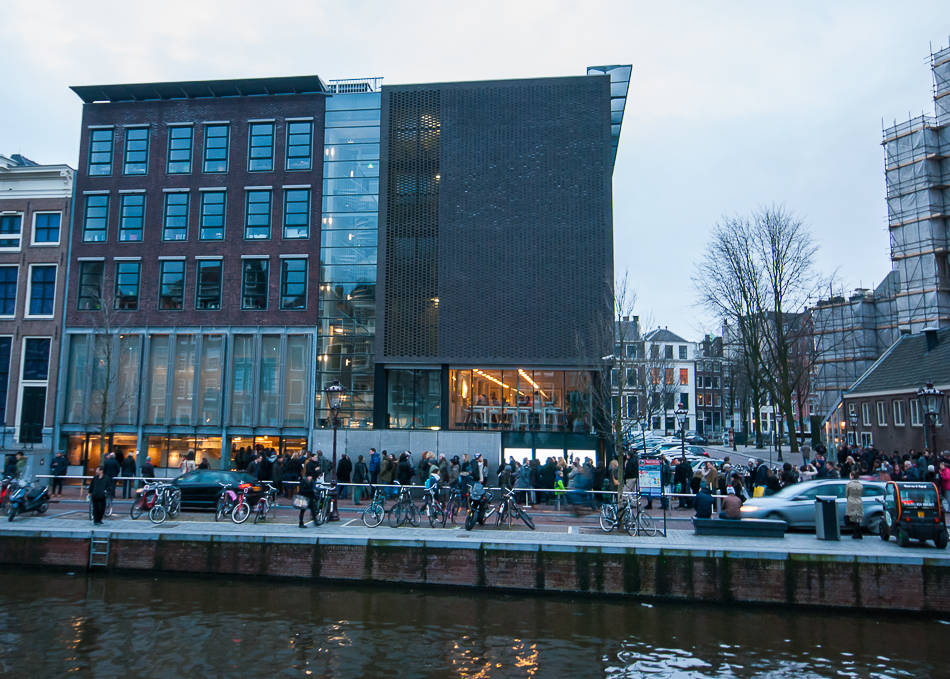 My newest discovery nearby was the Nine Streets (Negen Straatjes) shopping district, an insanely charming sub-neighborhood in central Amsterdam divided between nine little streets filled with exquisite shops and cafes.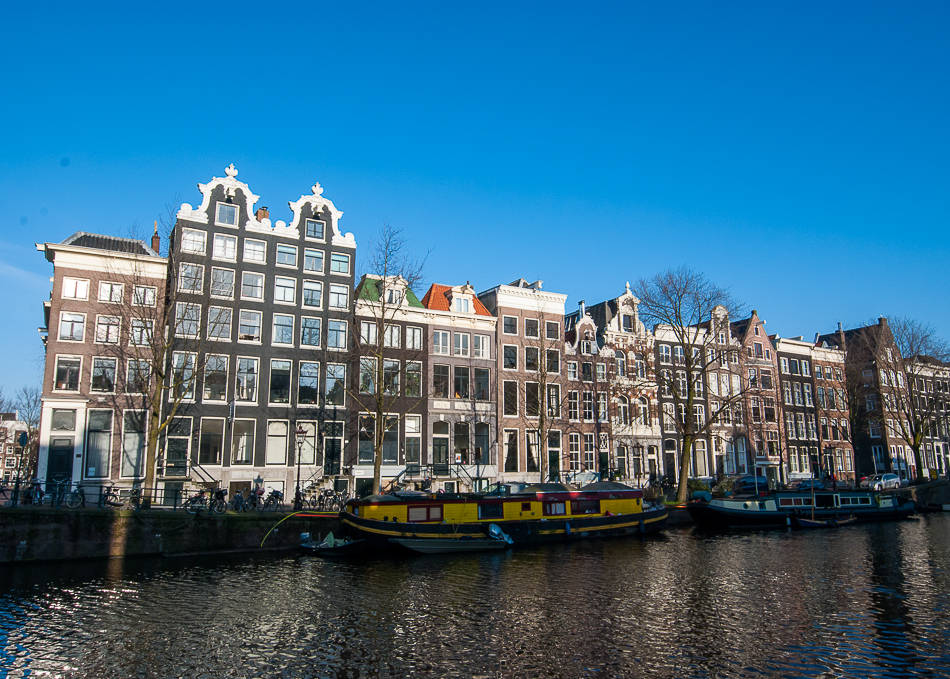 It has become the trendiest place to shop and really just to wander around as every street corner and bridge crossing is picturesque.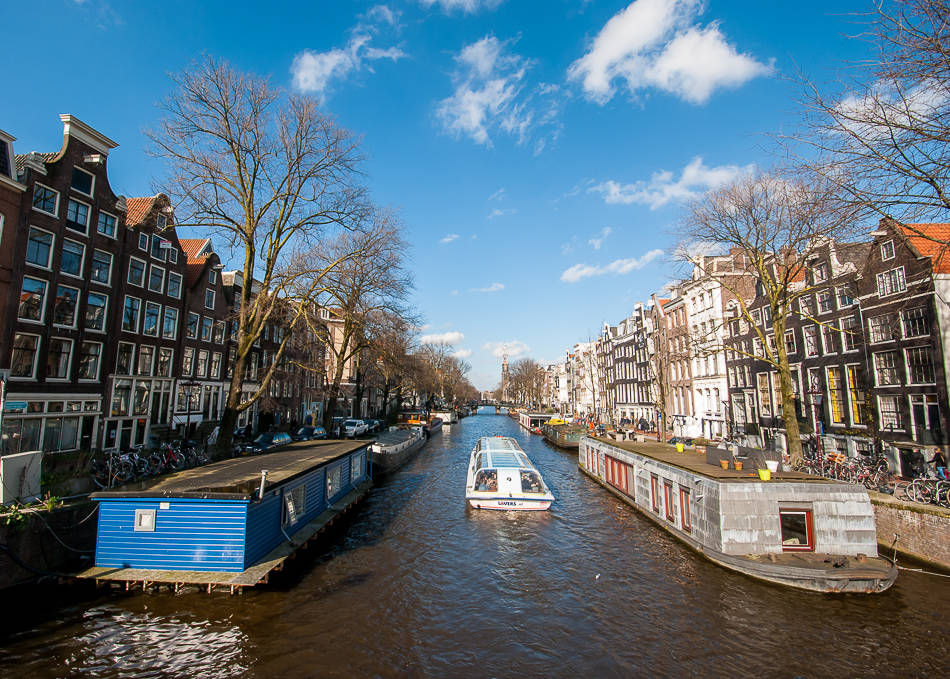 Cafes get packed with weary shoppers and locals looking for that rare Amsterdam sun take in the outdoor terraces.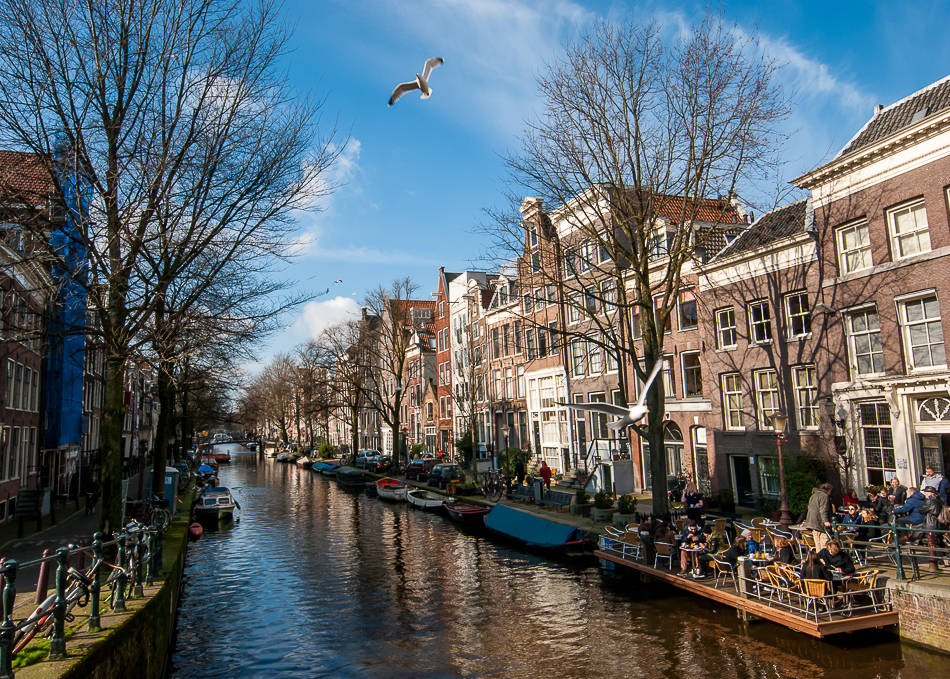 An afternoon stroll is the perfect excuse to stop for a coffee break at one of them and sample the town's specialty of appeltaart, a succulent deep dish apple pie available literally everywhere.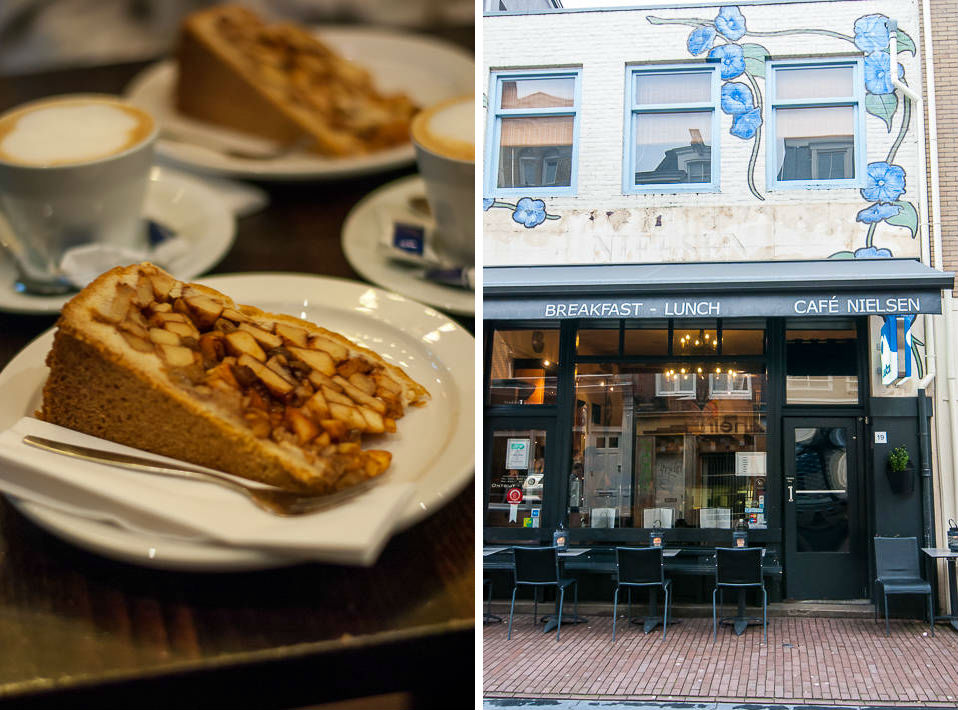 It's hard not to fall in love with the prettiest houseboats. I feel none of the canals would look the same without them.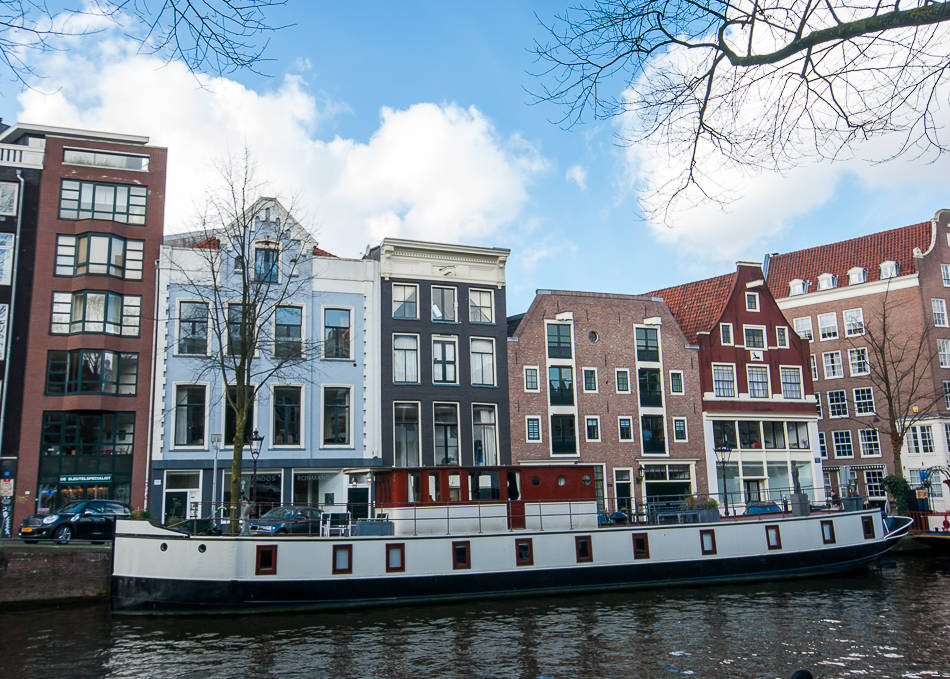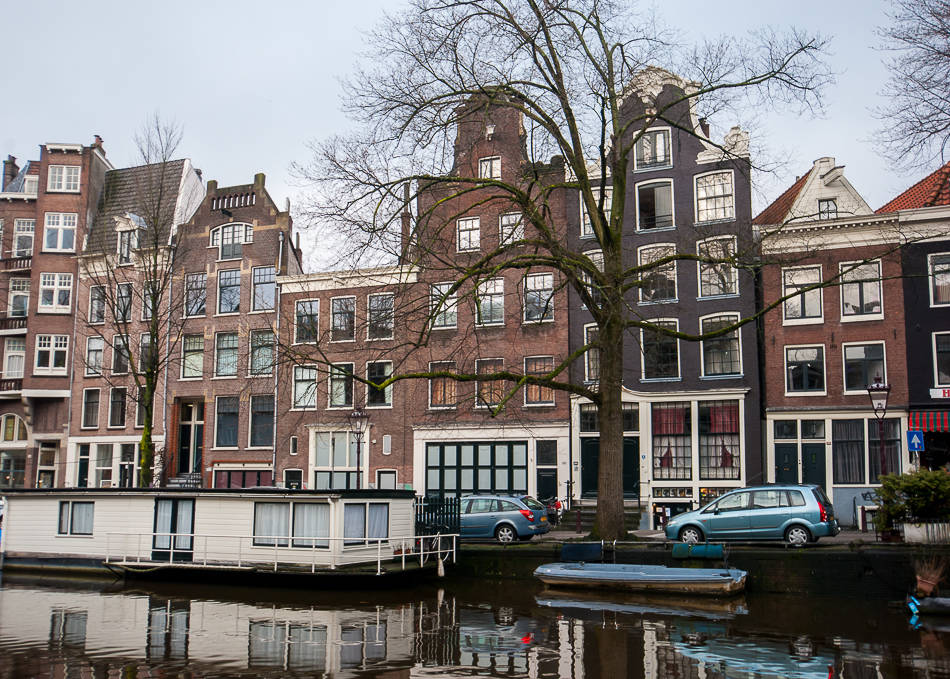 One thing not to miss while wandering the neighborhood is the chance to see Amsterdam's narrowest house at Singel #7, squeezed in the middle and highlighted in red bricks.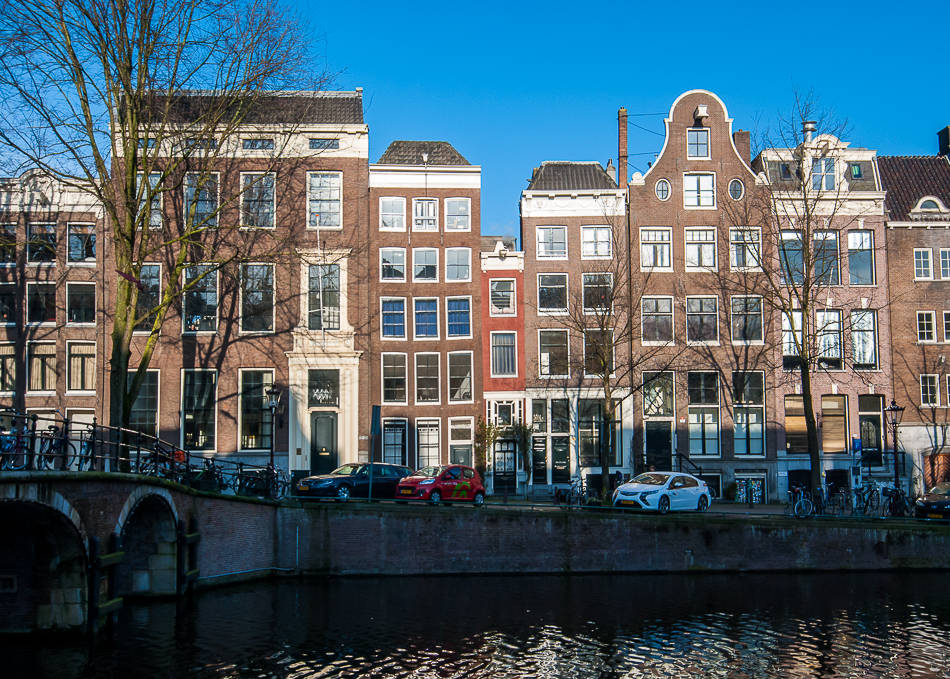 A stop for lunch at one of the many cute and casual restaurants will allow you plenty of people-watching opportunities.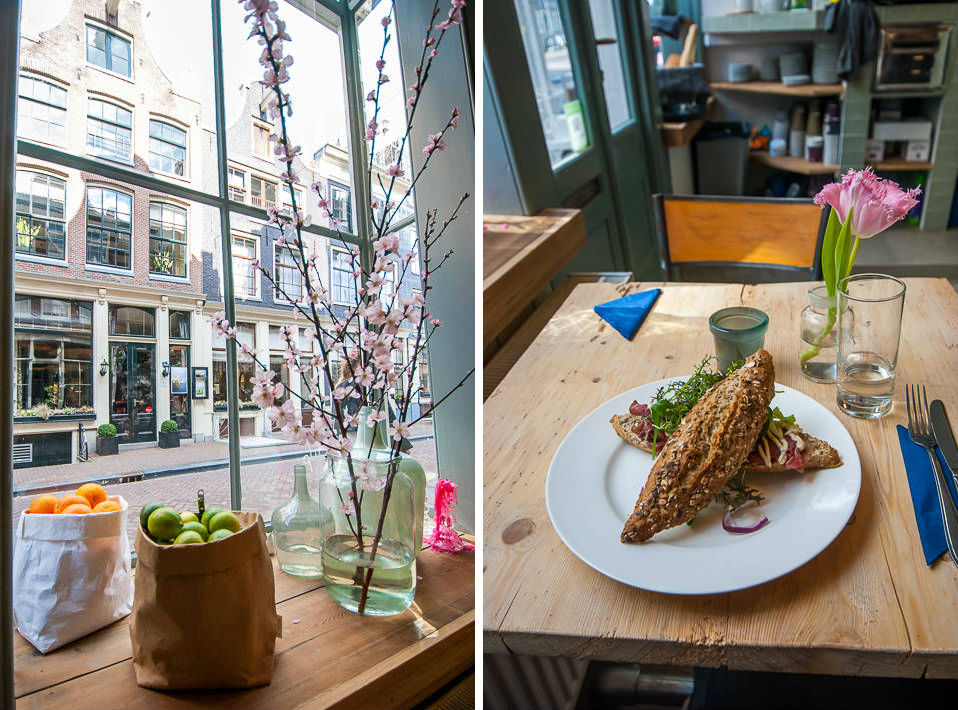 Despite having ingested a huge appeltaart earlier, one can't resist stopping by Pompadour Bakery for a fancy sweet.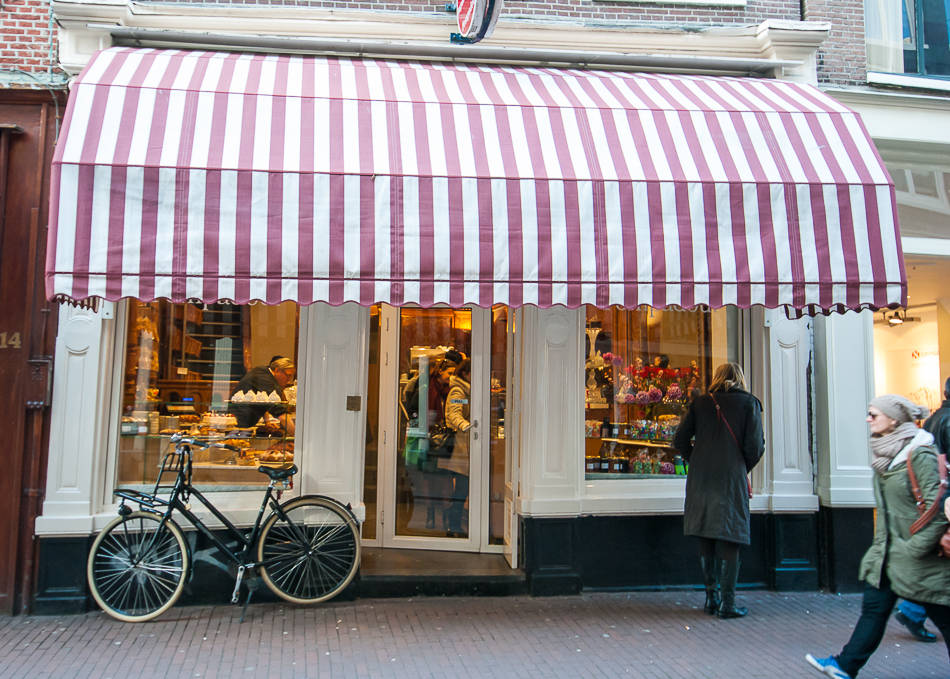 Stepping inside is like entering a centuries old tearoom with ornate tapestries and a certain Marie Antoinette feel to it.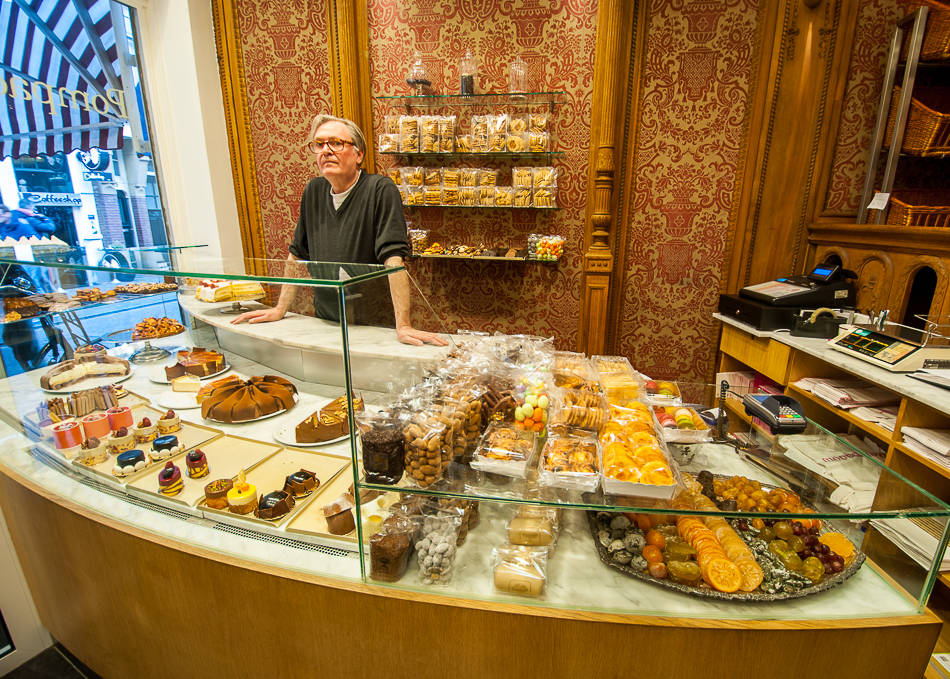 Locals line up to buy the precious confections to go though I highly recommend sitting at one of the rare marble top tables and enjoying the decor and buzz while sinking your teeth into a decadent dessert – here a chocolate-praline delicacy.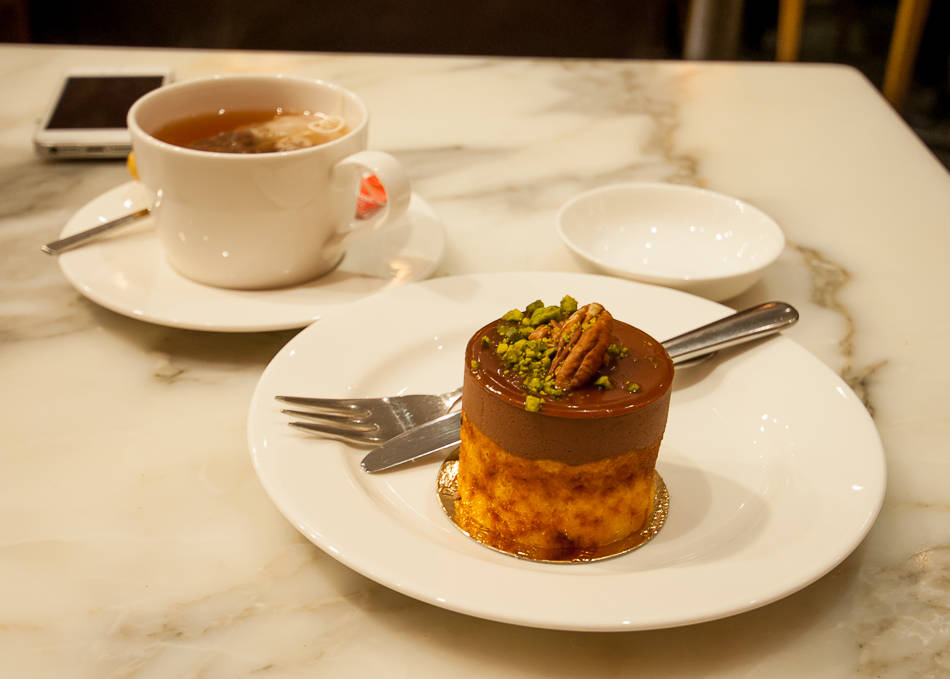 The Nine Streets are also home to Amsterdam's best cheese store, De Kaaskamer, a must-visit on my list.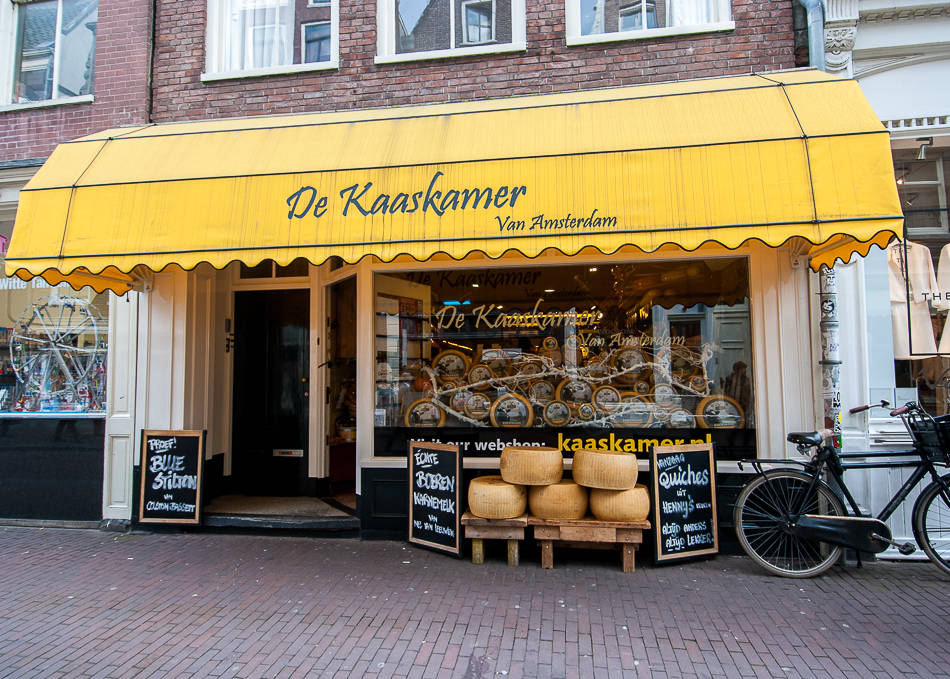 Walls are lined from floor to ceiling with a myriad of Dutch cheeses from your traditional Goudas to more obscure goat and flavored ones. The variety and vacuum-sealed bags availability got the best of me and it's almost an hour later (and 3 kg overweight!) that I stepped out of the shop…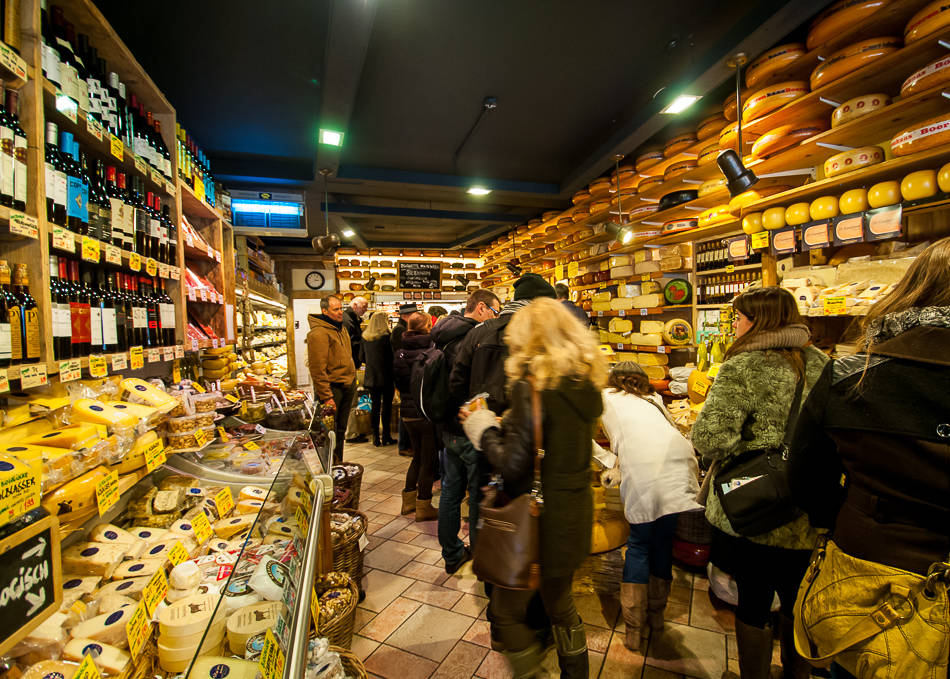 Surrounding the Nine Streets you'll find some of the quaintest residential streets with all the greenery, bicycles and old buildings you need for a series of beautiful still life paintings and photographs.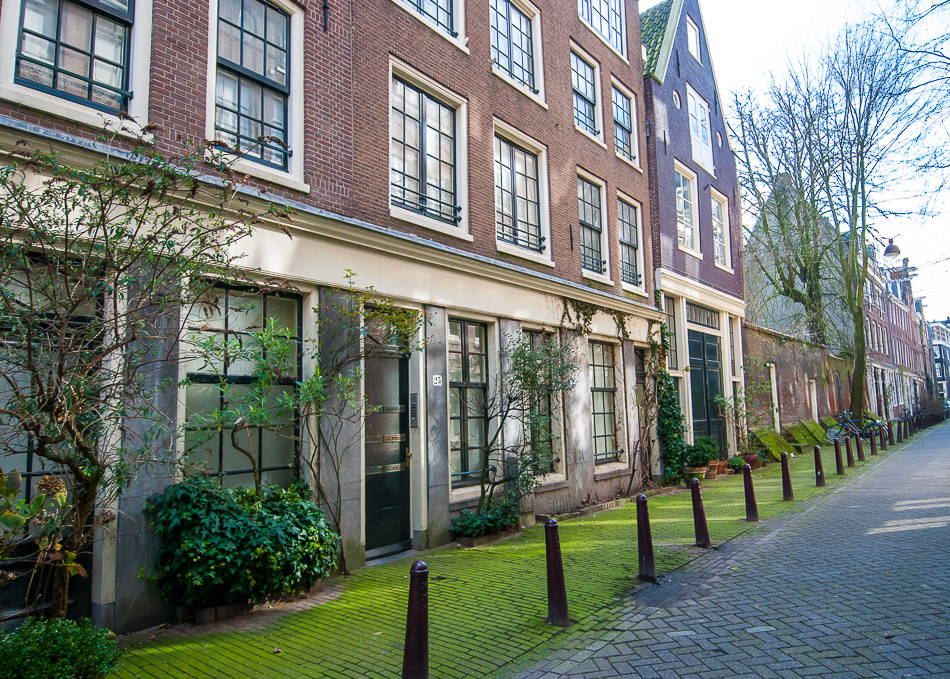 Crossing the Prinsengracht canal going West will get you straight into Jordaan, Amsterdam's favorite residential neighborhood. It used to be a district for the working class and emigrants which you can tell by the change in architecture and presence of communal buildings. It's a place you go when you want to chill out and have the whoosh of bicycle tires as the only noise around…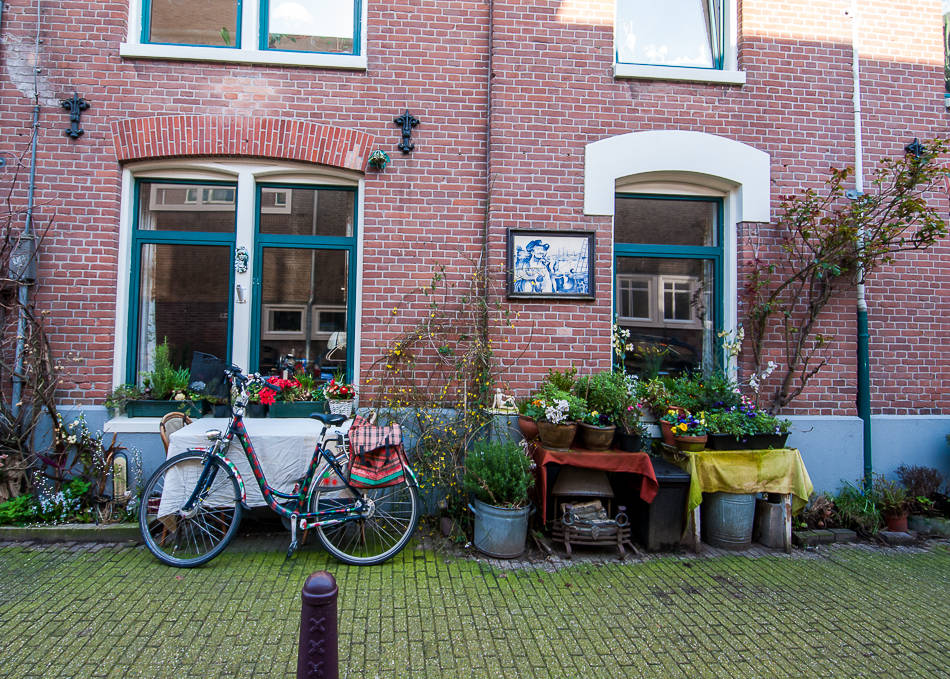 Few tourists are found in the streets so it's a pleasure to get lost (not for long, it's a rather small district), slow down,  and lift your head to notice all the flower gardens perched above and a handful of artworks cleverly displayed.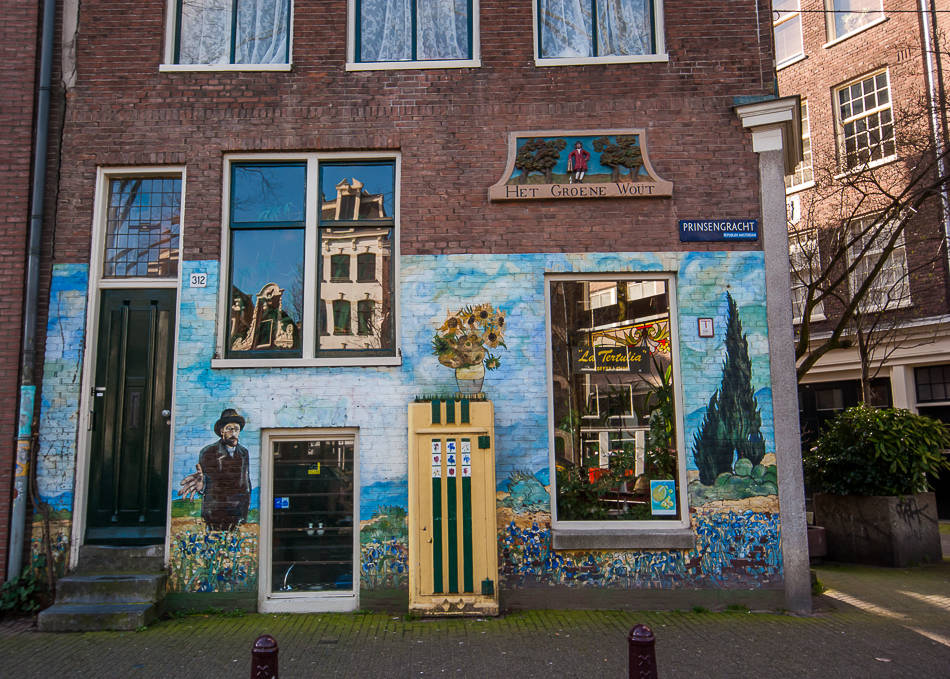 When the light is starting to fade, do like the locals do and snuggle up with a good Dutch beer in one of the many cosy, wood-paneled pubs for pre-dinner drinks and snacks. Here my friend Katarina is contemplating our dish of bitterballen, a savoury Dutch meatball which is deep-fried and served with mustard.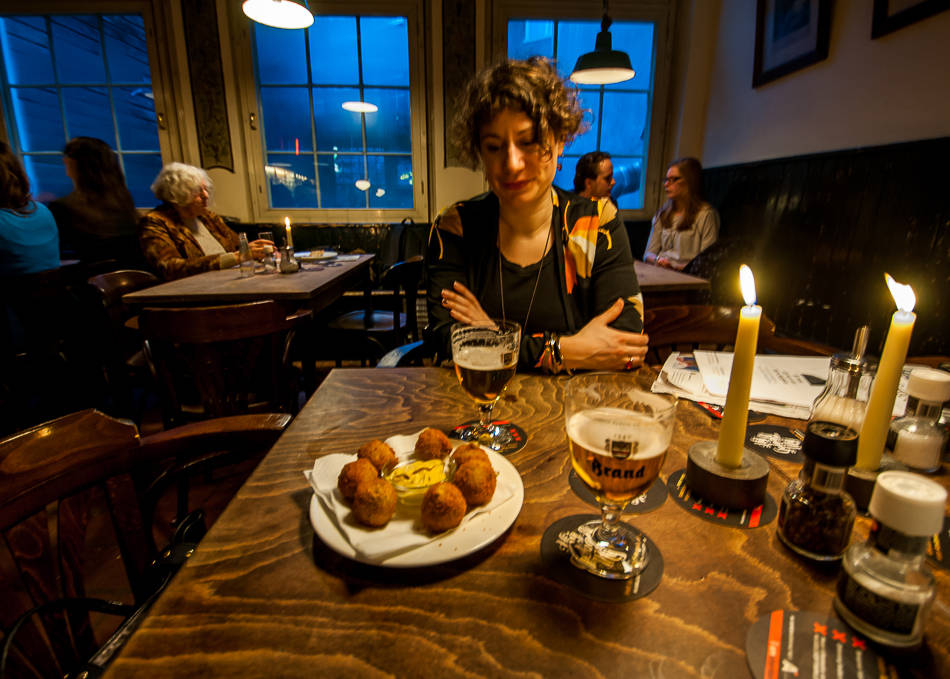 This was just to wet our appetite as the main event was about to happen and we trekked away from the center for this… Restaurant De Kas (Kamerlingh Onneslaan 3) is set in a former Amsterdam City Nursery greenhouse in Frankendael Park and offers the freshest seasonal cooking in beautiful surroundings. It was a 5-star experience from beginning to end in Amsterdam's most celebrated farm and greenhouse to table dining experience.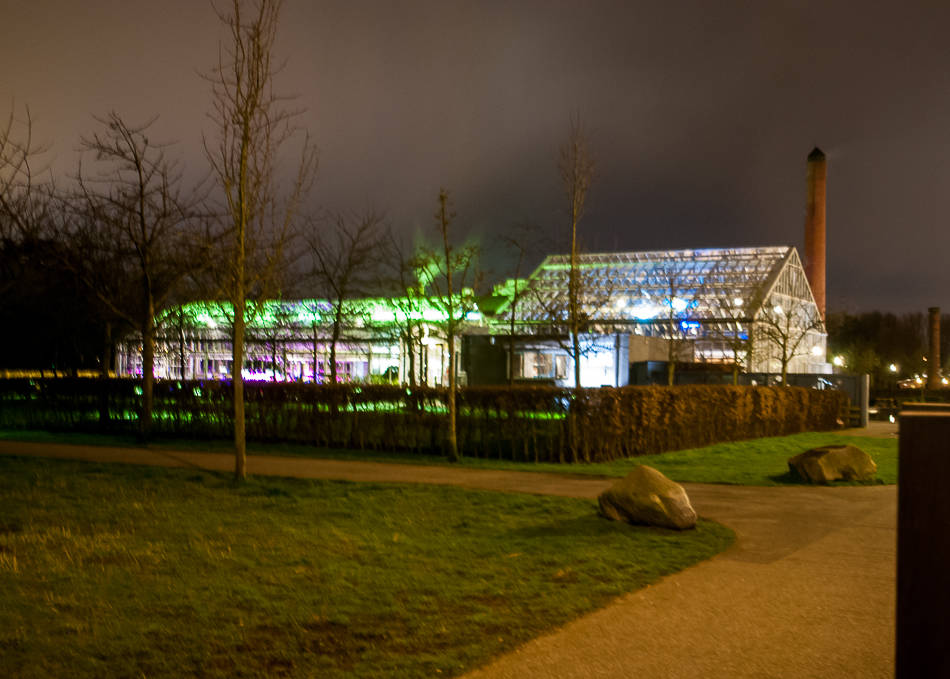 Seasonal, organic food is grown on the premises which you can take a look at before walking into the gorgeous dining area designed by Piet Boon, the famed Dutch designer.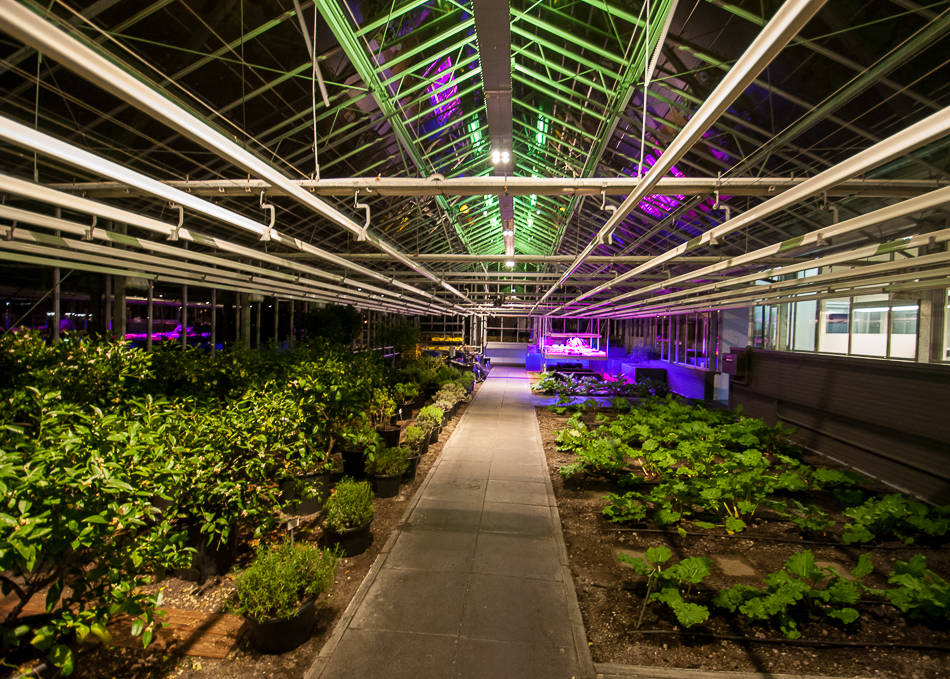 There's only one menu here made up of a selection of small starters, a main dish and a dessert which everyone around you will be eating and it's perfectly fine that way. Everything being so exquisite, I would have had a hard time choosing anything! The ingredients were harvested the same day and you can really taste their freshness and enjoy their simple attire. Vegetables were obviously out of this world, and the chicken was one of the best I've ever eaten despite its humble presentation…truly remarkable!
Cannelloni with braised veal shank and bone marrow filling served with fennel, parsnip, gremolata, burnt onion and a light veal jus.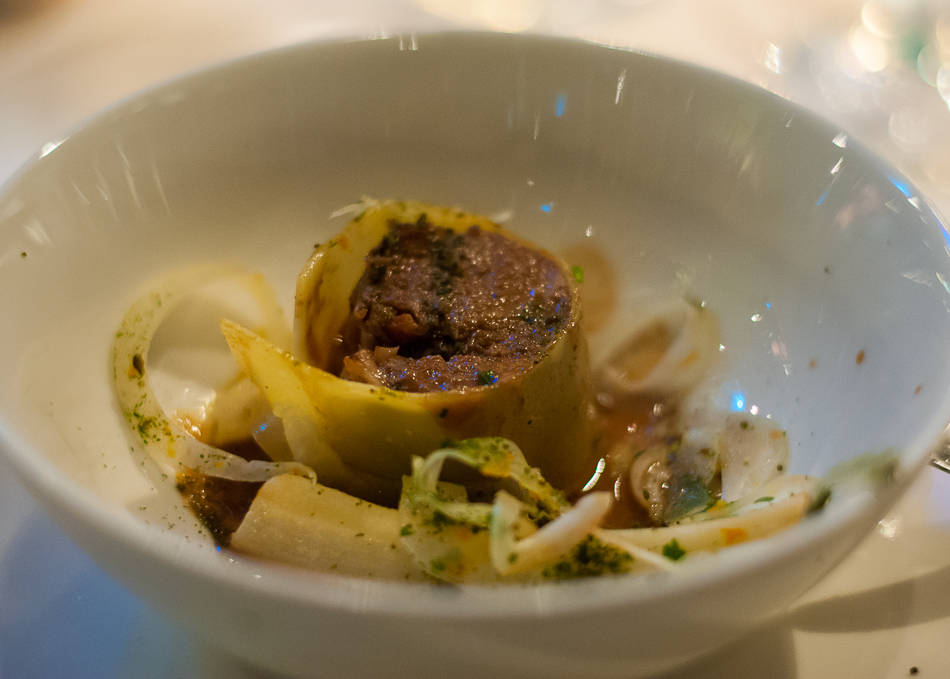 Baked forced chicory with braised monk's beard, castelfranco radicchio, Bastiaanse blue cheese, candied walnuts and a red port syrup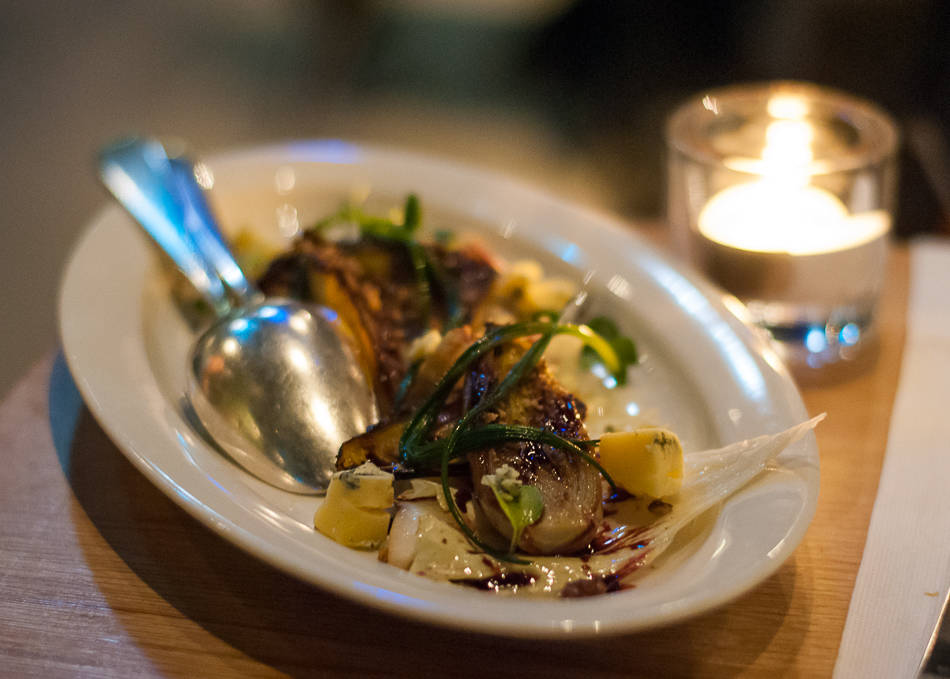 Roasted Norwegian scallop with lardo, sous-vide celeriac with ras el hanout, cavolo nero with confit shallots, grapefruit vinaigrette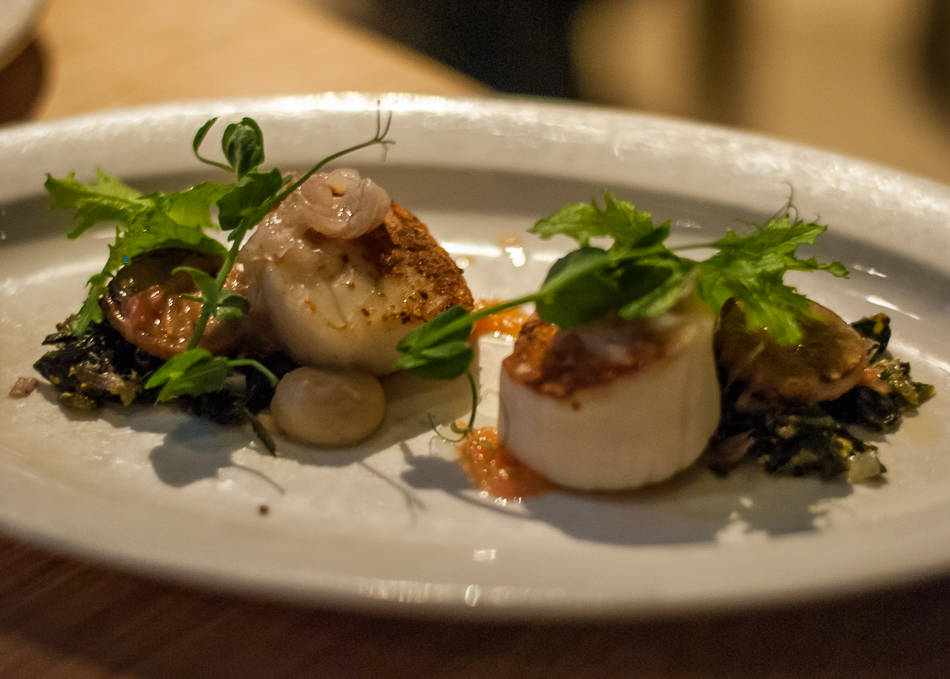 Farmhouse chicken breast (Poulet Noir), pearl barley with chervil, green pointed cabbage, roasted heirloom carrot and a poultry jus with piment d'Espelette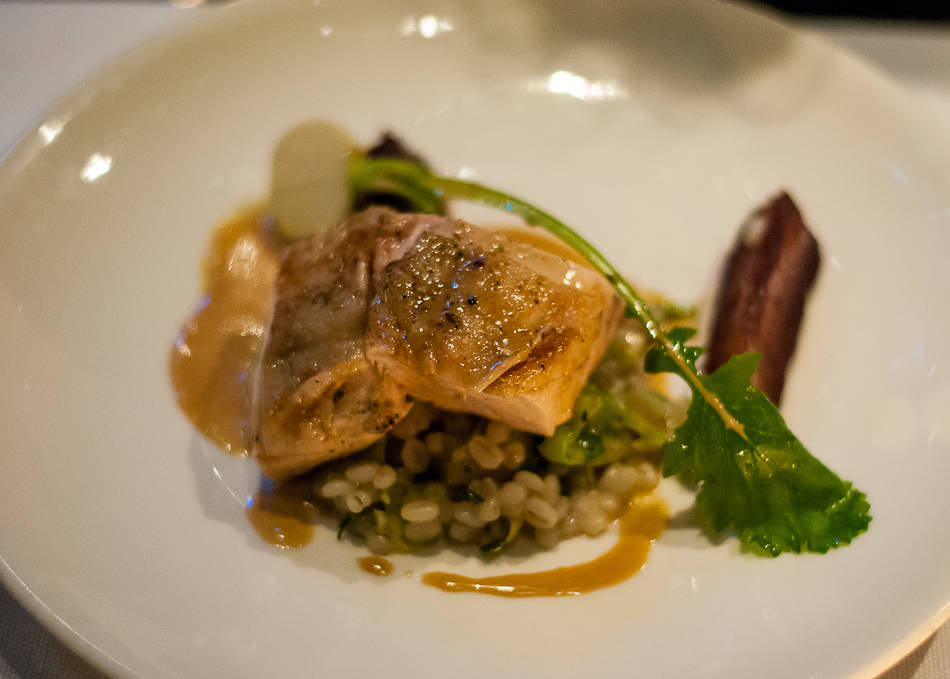 Red beetroot parfait with roasted cacao nibs, blood-orange compote, blood-orange chips, beetroot caramel and dark chocolate shavings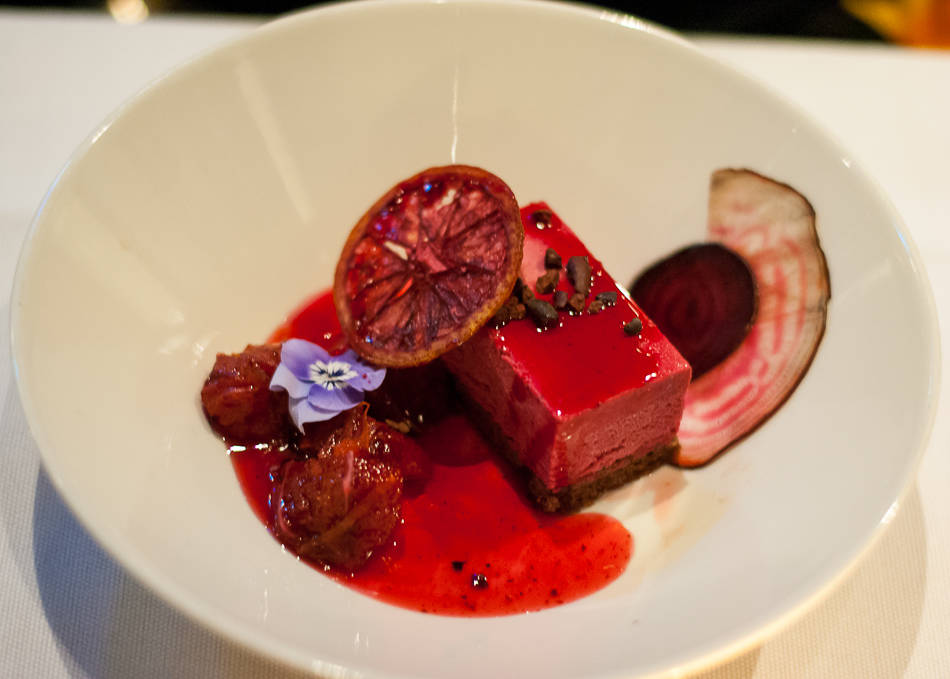 Homemade sweets to accompany coffee/tea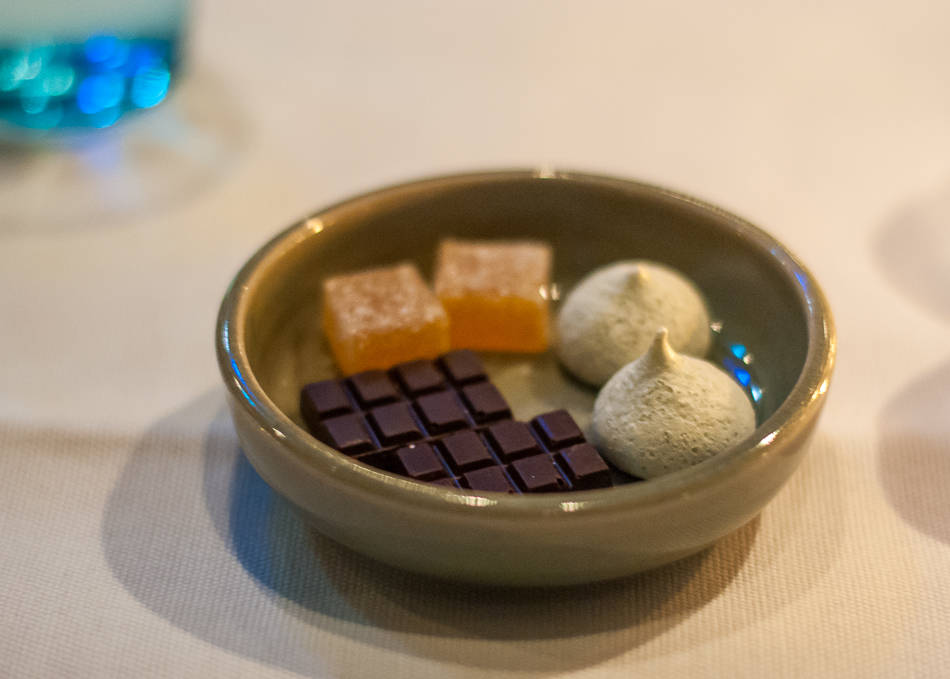 De Kas also holds a few precious bottles of Dutch liquors no longer in production, perfect end to the meal.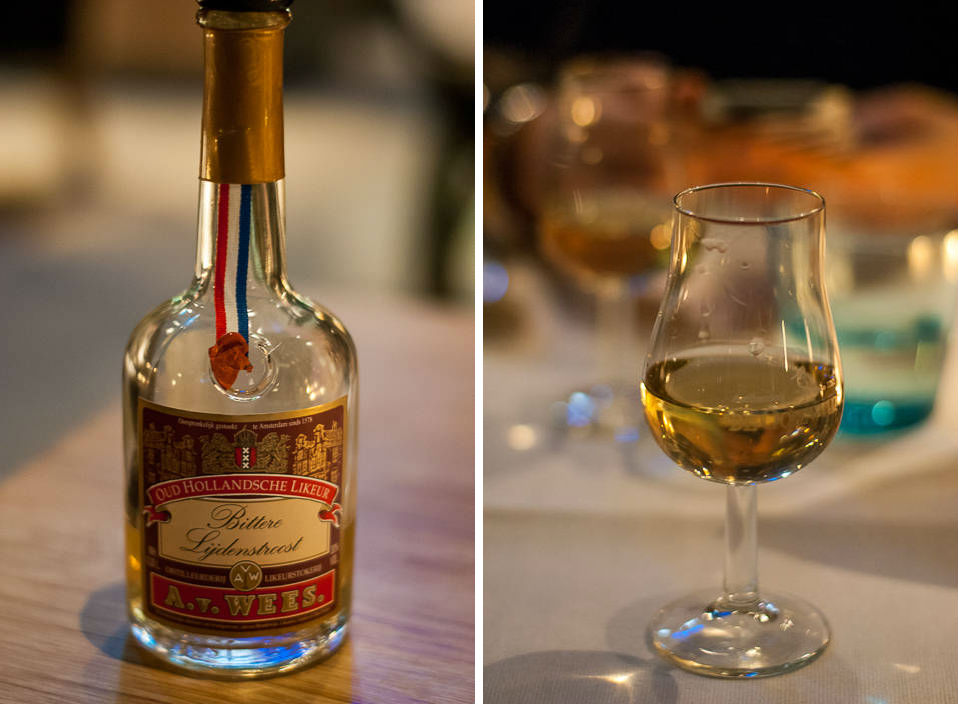 They go from anise flavor to very sweet caramel so a tasting could keep you here for a while longer. You won't want to leave this stunning glass house anyway so better make the most of it!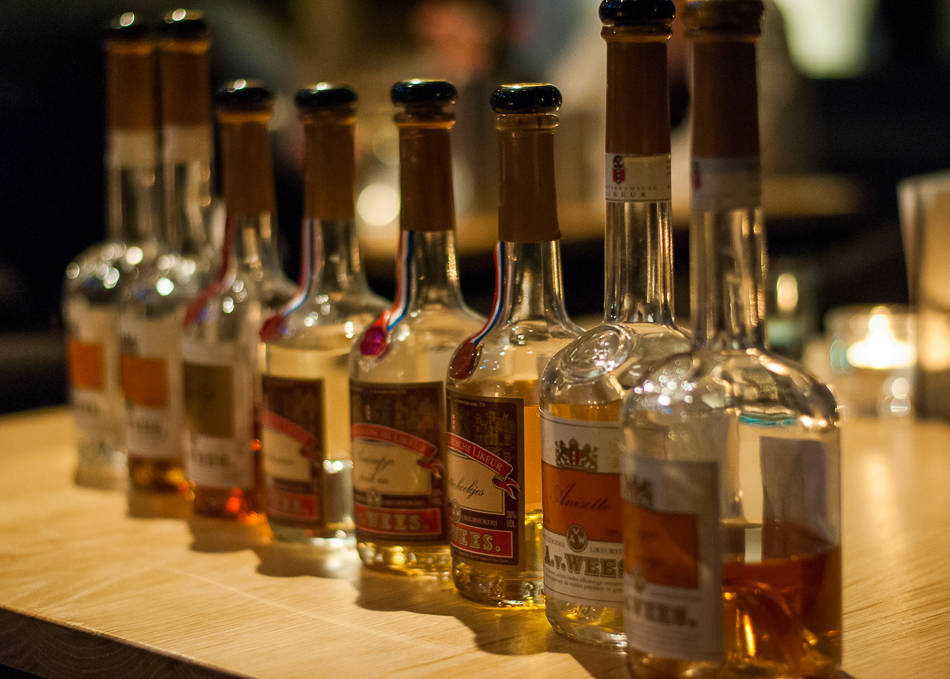 Another beautiful day is required to enlarge the circle and visit some new and old landmarks. North Amsterdam in particular is getting a lot of attention with its edgy and industrial waterfront, similar to Williamsburg in Brooklyn, where artists and hipsters rub shoulders nearby MTV offices and skate parks. The spaceship looking Eye Film Institute building is hard to miss and can fill your afternoon with a few screenings.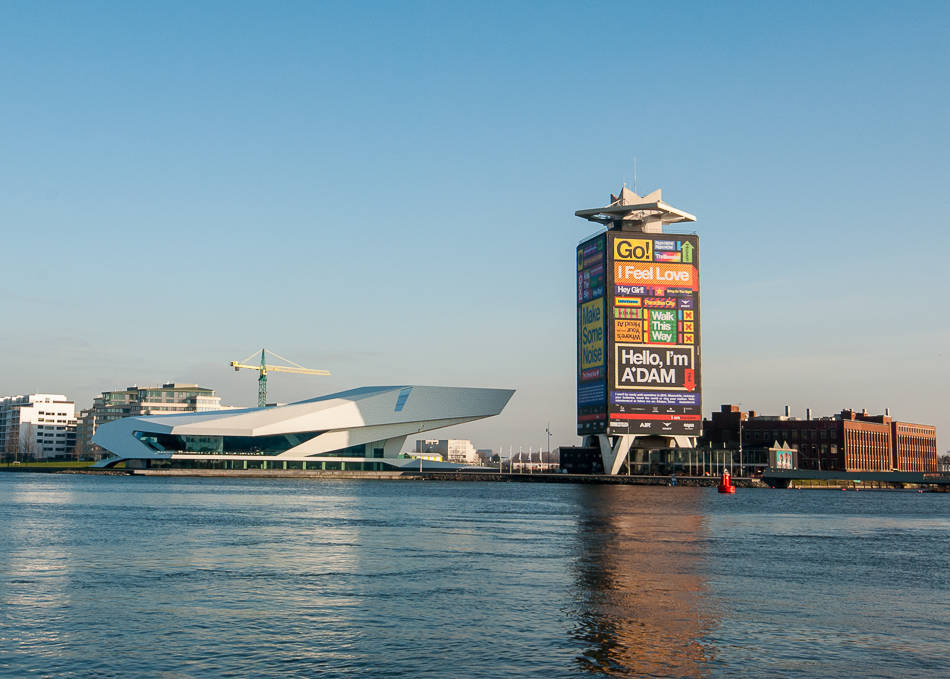 While in the area, stop by Worst Wijncafe, a sausage-and-wine bar on a quiet residential street showcasing local artisan charcutiers and making some of their own sausages themselves. It's a fun concept that works as the place gets crowded fast.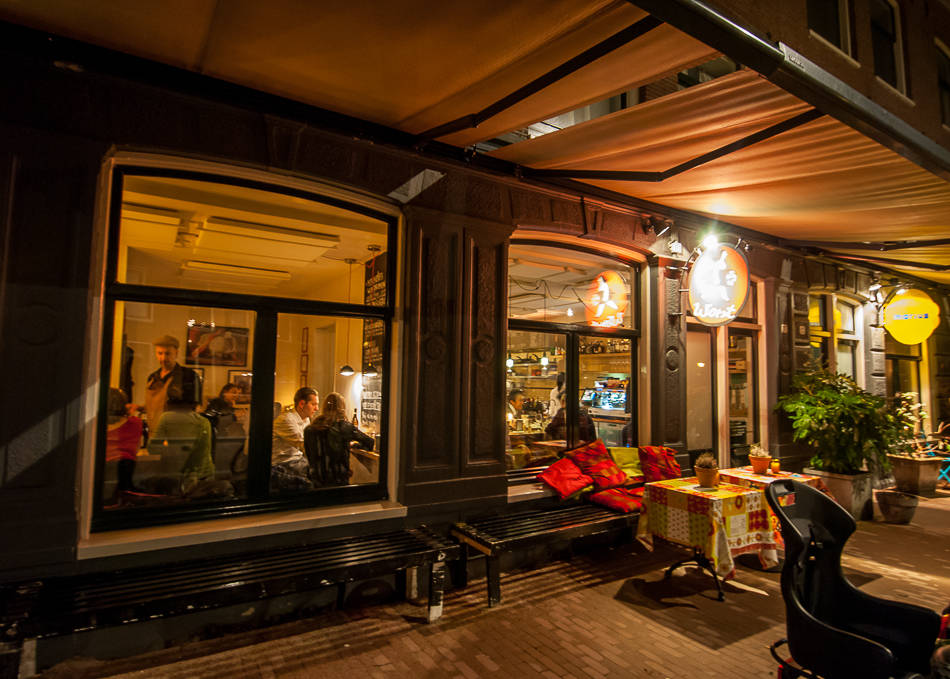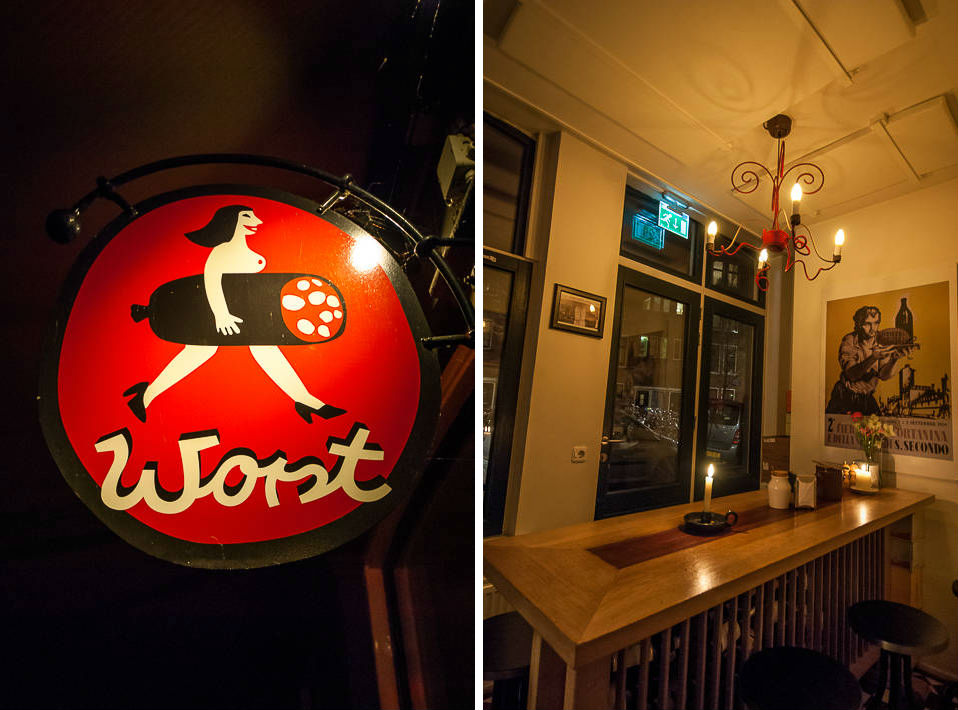 You'll be sitting tight and thoroughly enjoying the small menu of tapas-size warm and cold dishes, from patés, terrines, salamis, salad and cheese, not forgetting a handful of homemade sausages (try the lobster one!), each accompanied by a suitable wine from the huge list.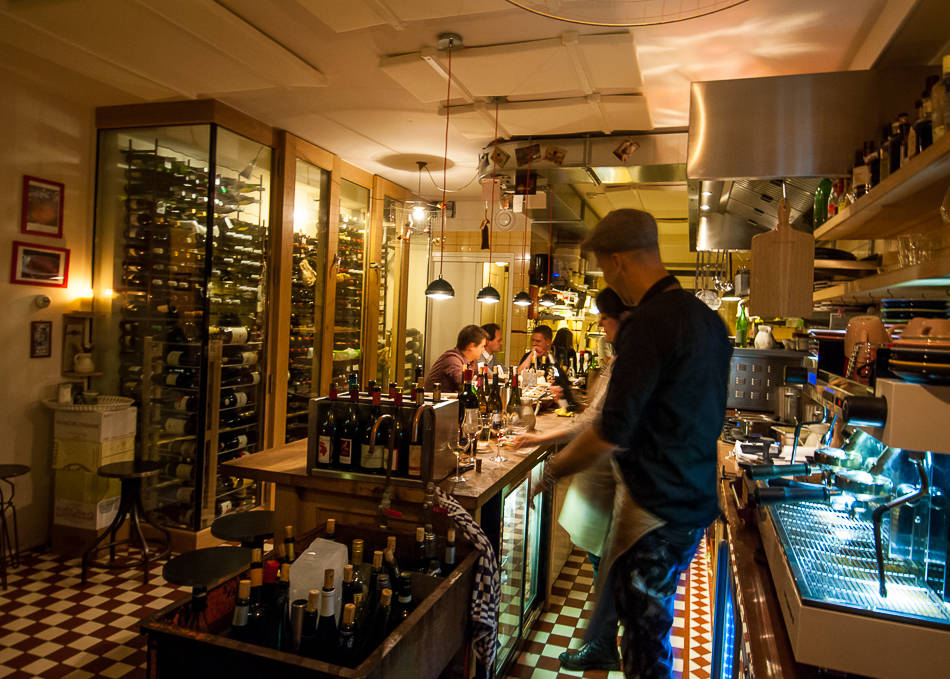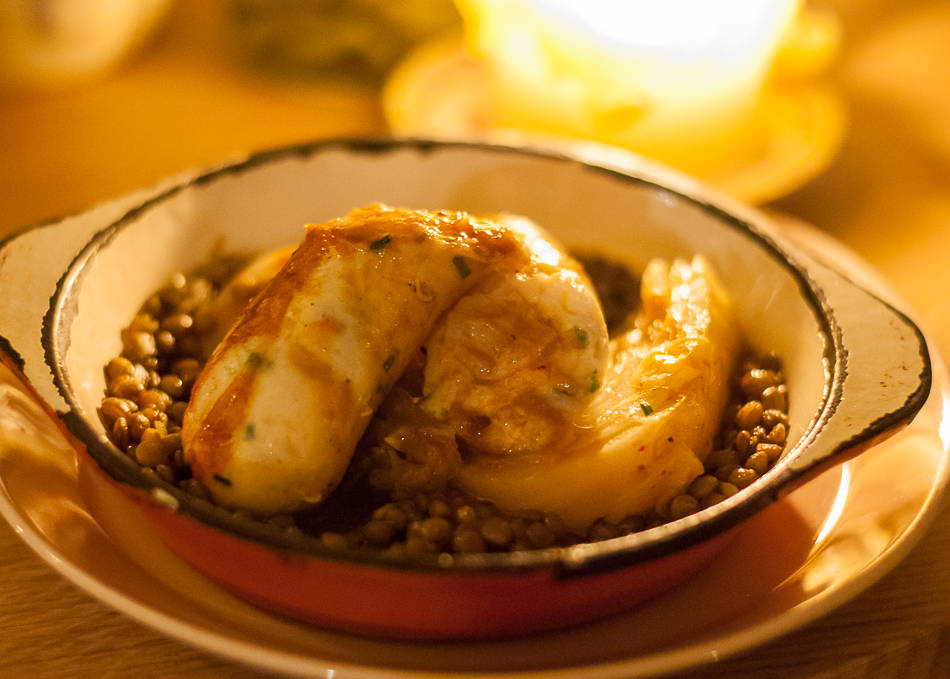 A visit to Amsterdam wouldn't be complete without spending at least a few hours in one of its world-class museums that grace the lawn of Museumplein.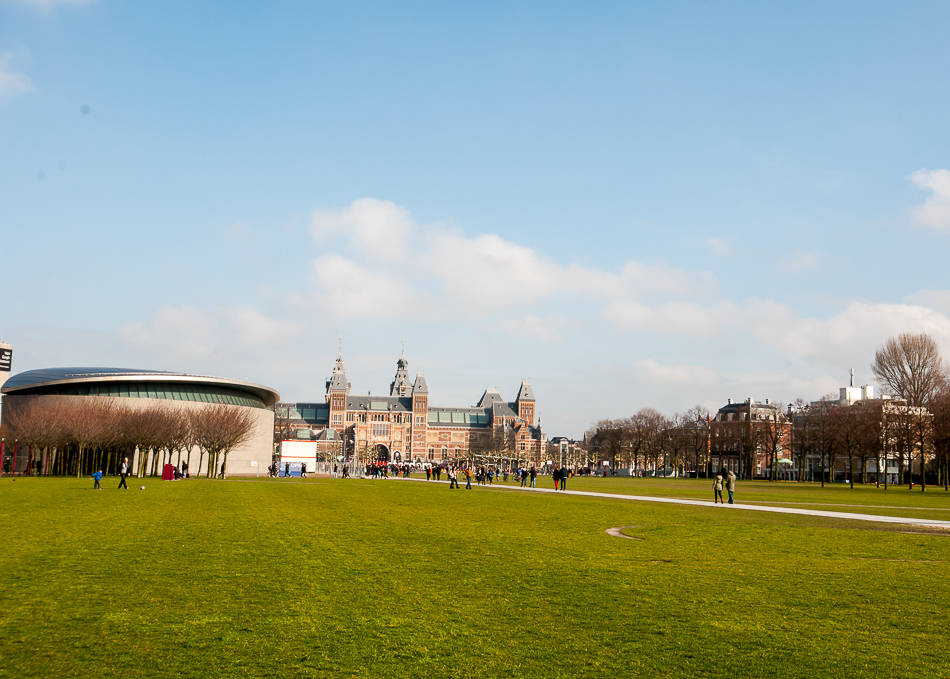 The Rijksmuseum (Dutch national museum) dedicated to arts and history has reopened after a 10-year renovation which cost €375 million and could easily fill an entire day. While you could get acquainted with Holland's history from 1100 to today, if you're short on time there are a few masterpieces such as Rembrandt's Night Watch which will take your breath away in a matter of minutes.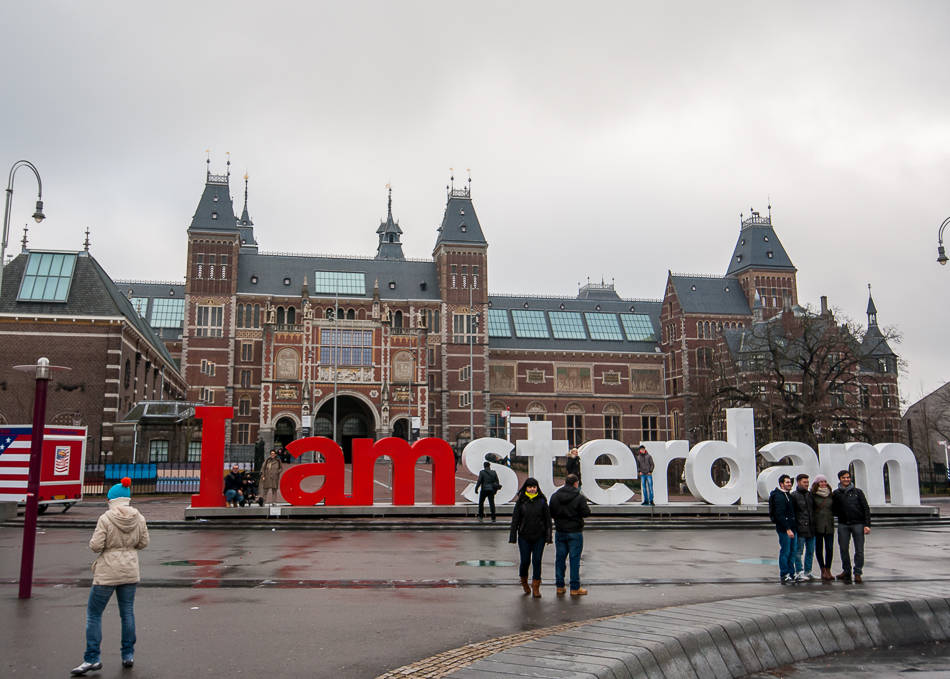 If contemporary art is more your thing, a stop at the Stedelijk Museum should satisfy your cravings for design, photography, sculpture, and modern paintings.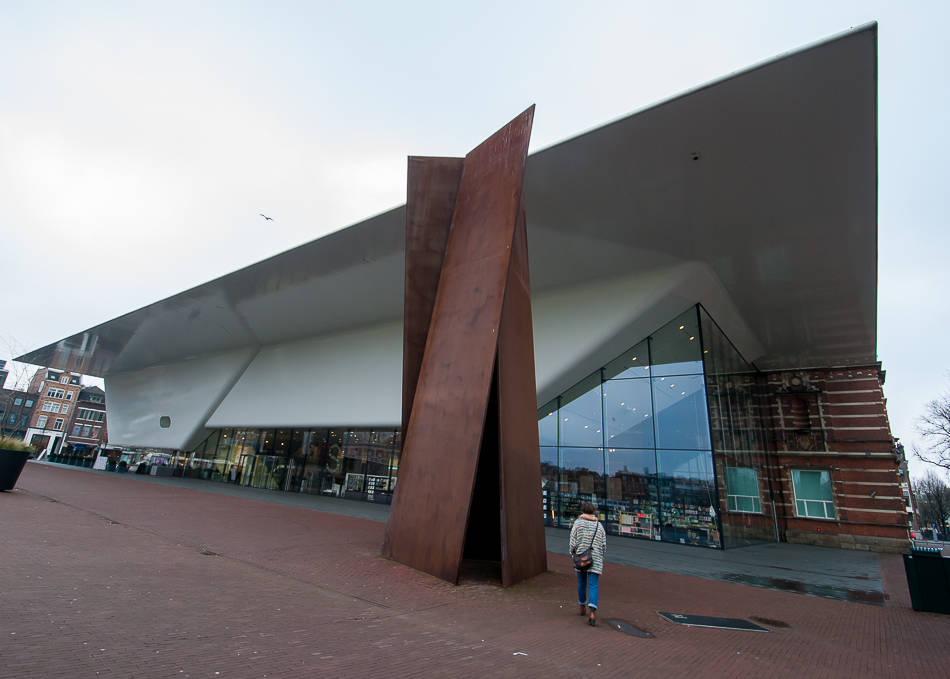 From there, it's an easy stroll to the De Pijp area, passing the usual colorful bakeries and flower stands.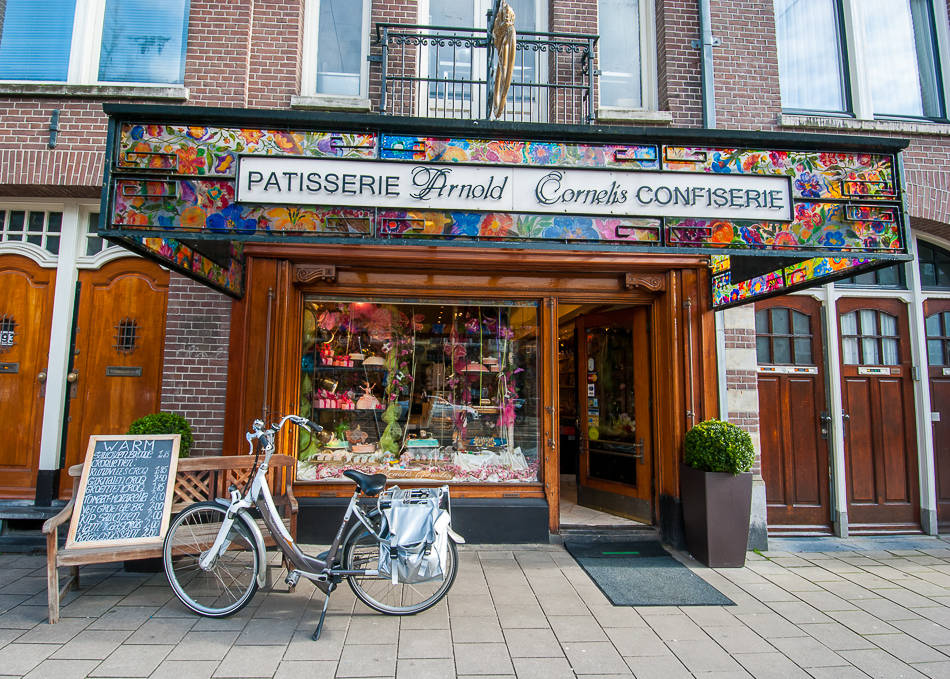 The main attraction of this old working class neighborhood (which only a few years ago was on nobody's radar) is  the Albert Cuyp Market, a street market with over 300 stalls selling anything from food, clothes, accessories and household supplies. This is not your tourist market with souvenirs, but where the locals go do their errands and you'll feel like you've seen one of these in every city you've been to. Nevertheless, the particularity here is in the abundance of florists, unsurprisingly, selling fresh blooms for incredibly low prices.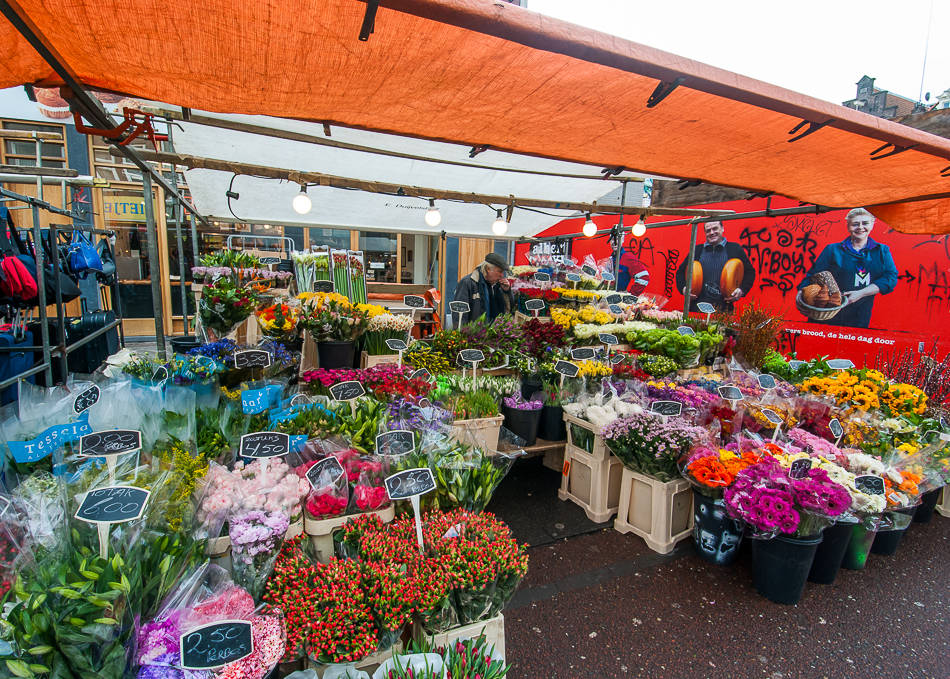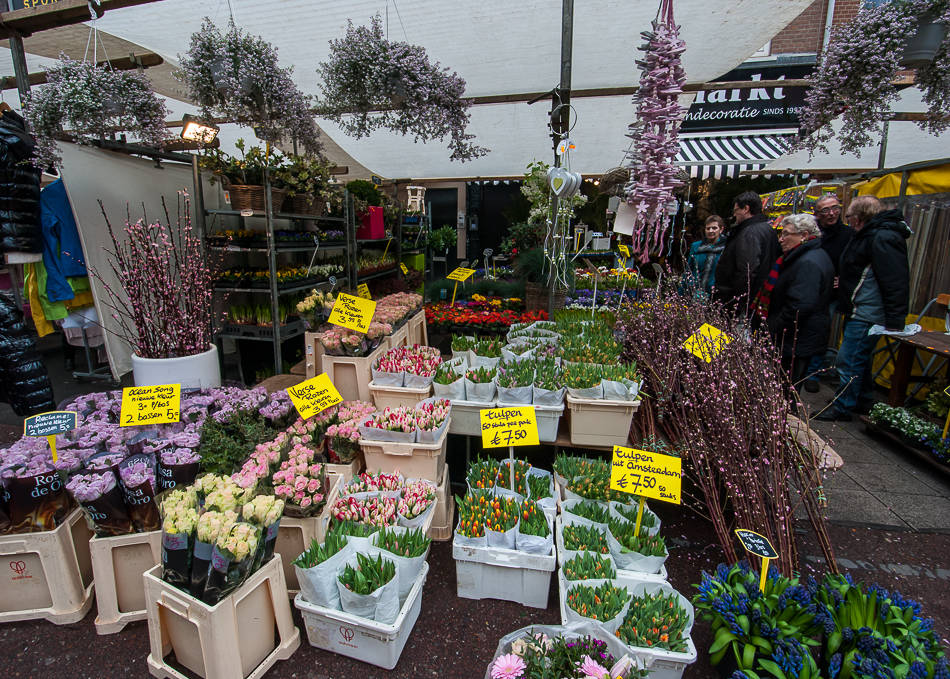 Food stalls also show the nation's specialties with cheese coming in first…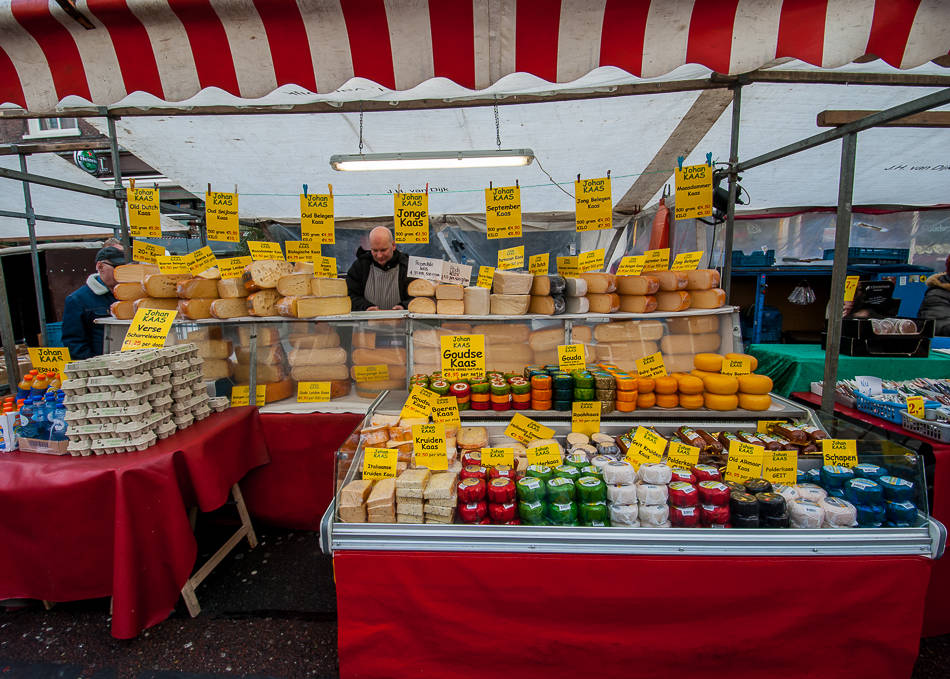 …and plentiful fish and seafood displays in close second.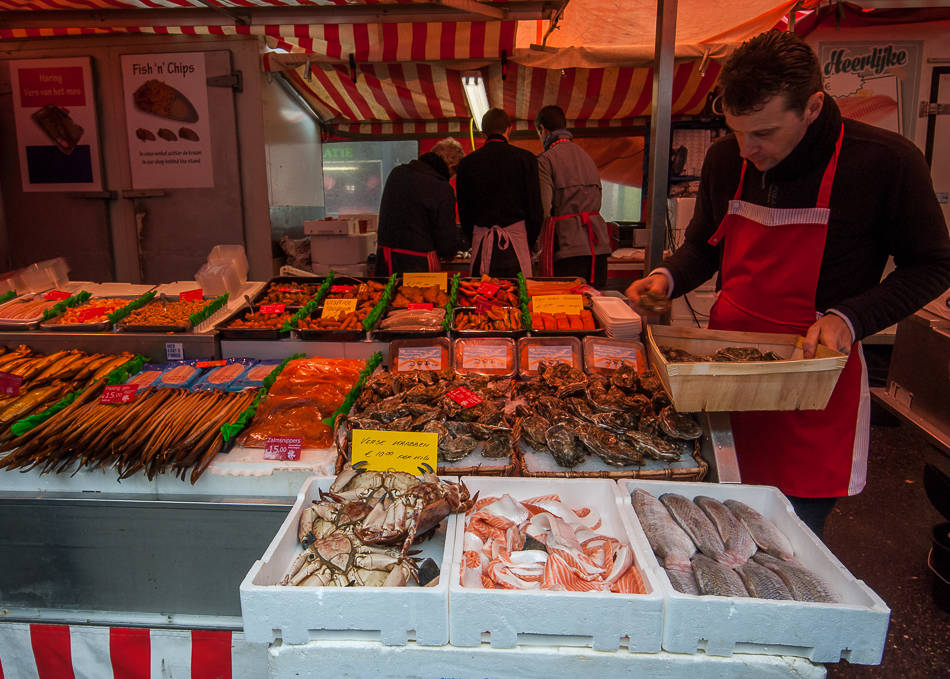 Appeltaart and appelcake are widely available, though if you want to satisfy your sweet tooth, you should definitely wait until you've reached…
…the Stroopwafel stand! If you've ever been to Amsterdam or anywhere in the Netherlands you've seen the national cookie of thin waffels sandwiching a caramel-like filling. They're sold in every grocery stores and street stands as the nation's favorite snacks, and while I like them enough with a cup of tea, nothing can beat the taste of a fresh one, still warm from the waffel grill, and in Amsterdam the only place to get one that hot is at the market.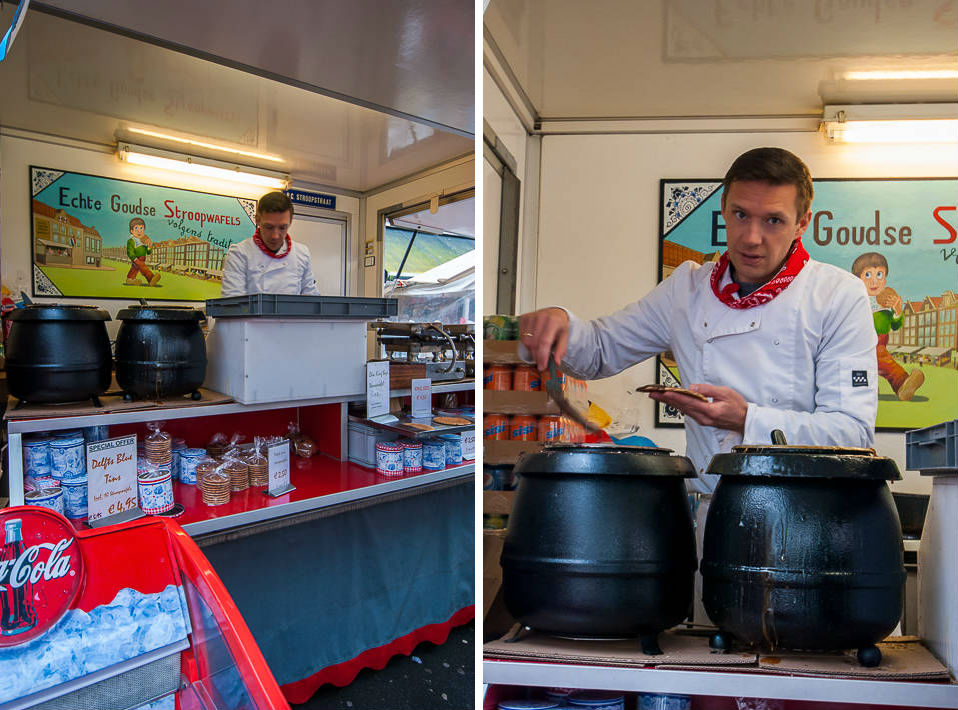 Drool…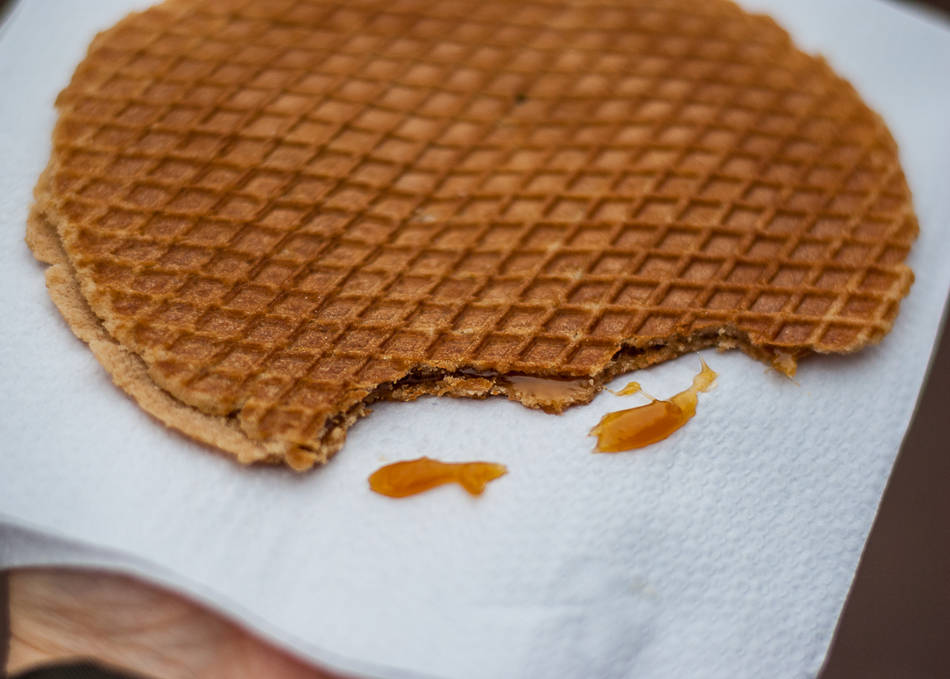 The little side streets branching off the market are filled with hip cafés and tapas bars, and you'll find one of the best Brunch in Amsterdam at Little Collins.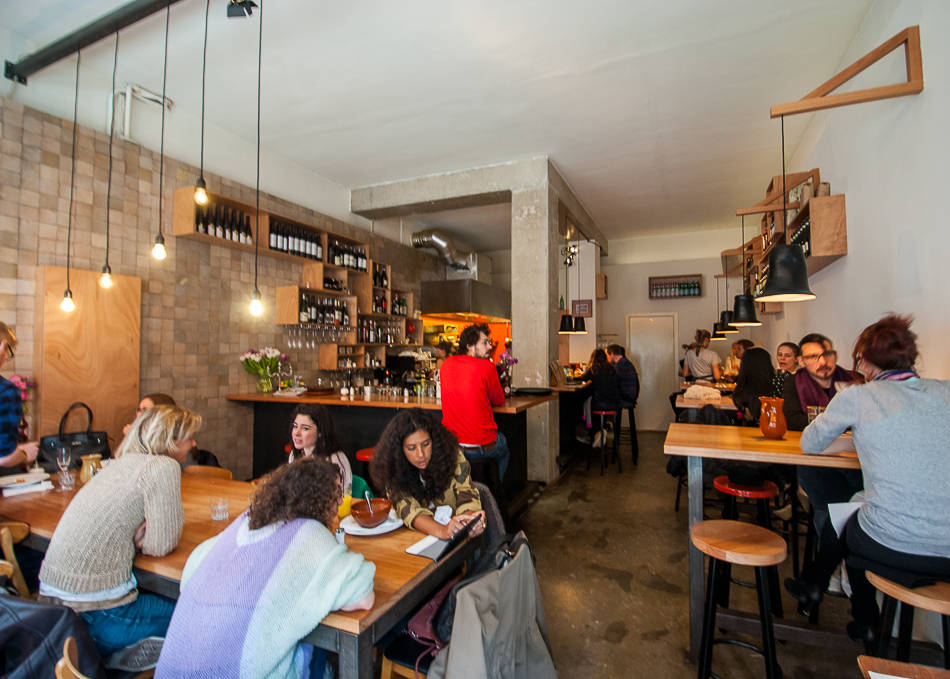 The Australian bar and Restaurant offers a traditional brunch menu of comfort foods and a few eclectic choices thrown in. The laid-back feel will have you order a cocktail or two in no time.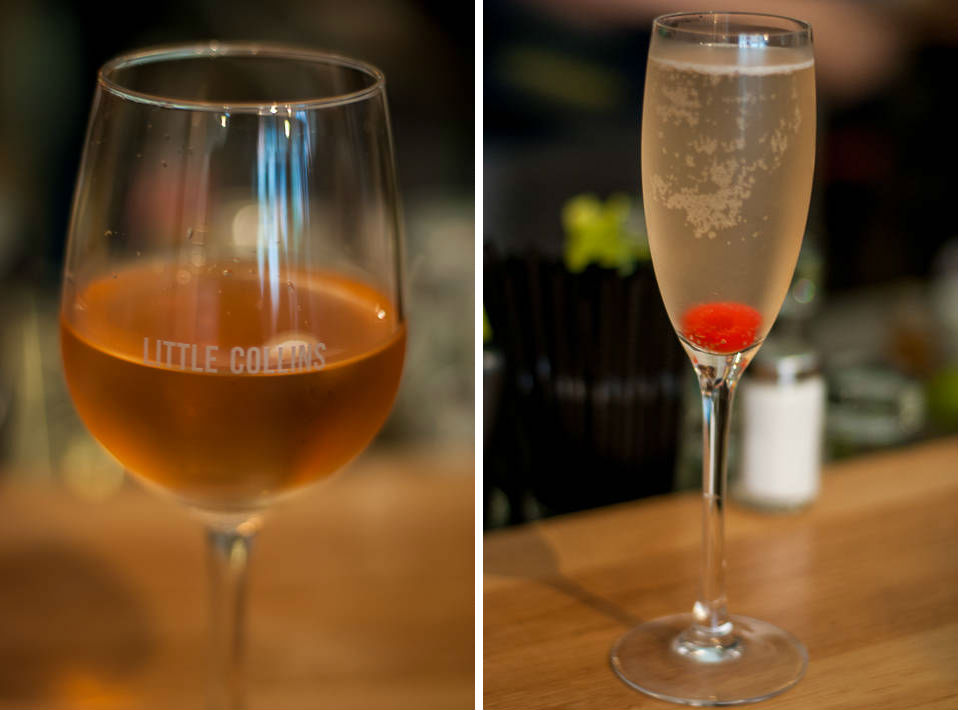 My friend and I both opted for the Kedgeree with smoked mackerel, saffron rice, and poached egg.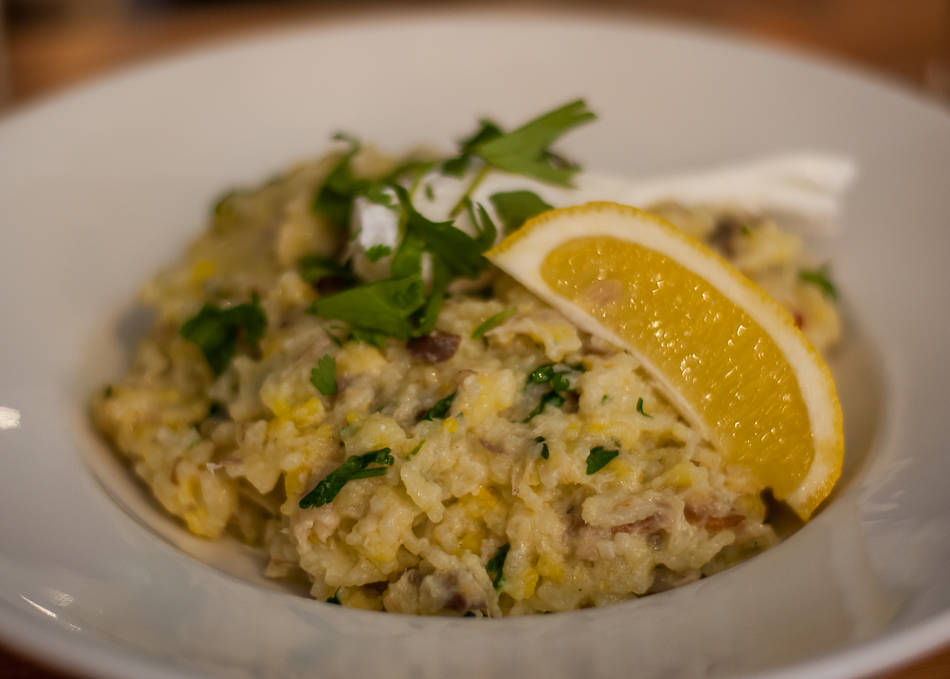 No matter how much I've enjoyed exploring slightly off-center neighborhoods, I can't deny that coming back to the area around the Nine Streets, especially in the blue hour, is still the most magical moment you can think off.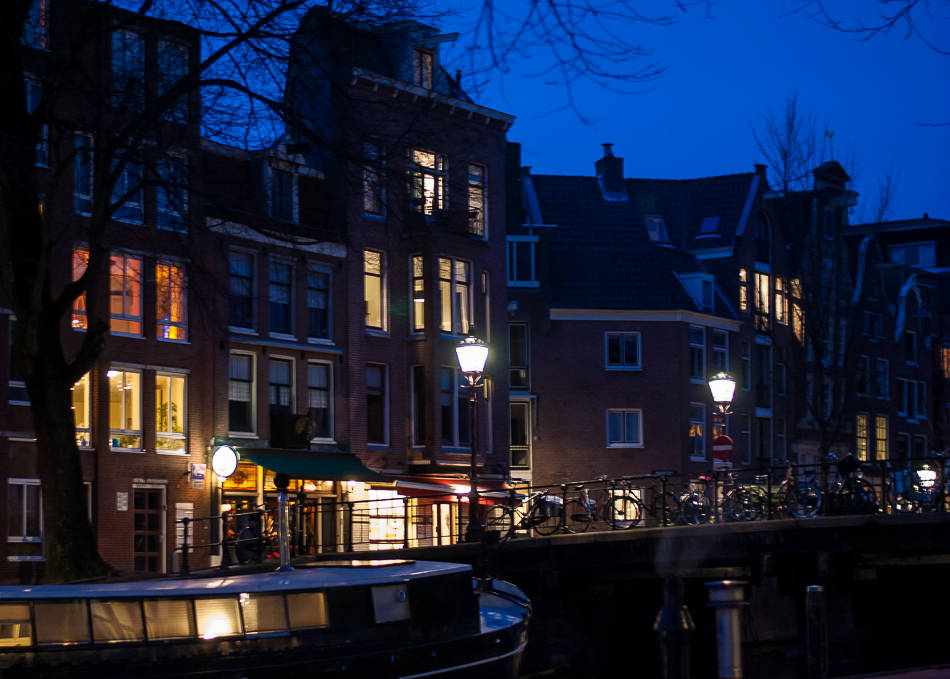 You can circle indefinitely, passing again and again on the same arched bridges and always finding something even more enchanting the next time as light goes down…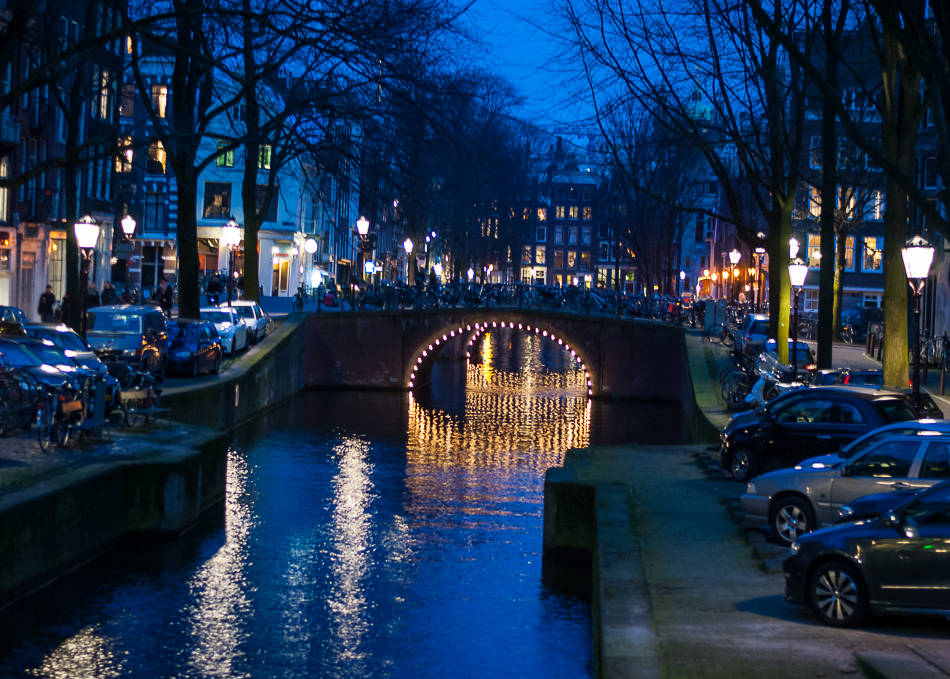 The spectacle of illuminated windows both from the crooked canal houses and houseboats is a sight to behold…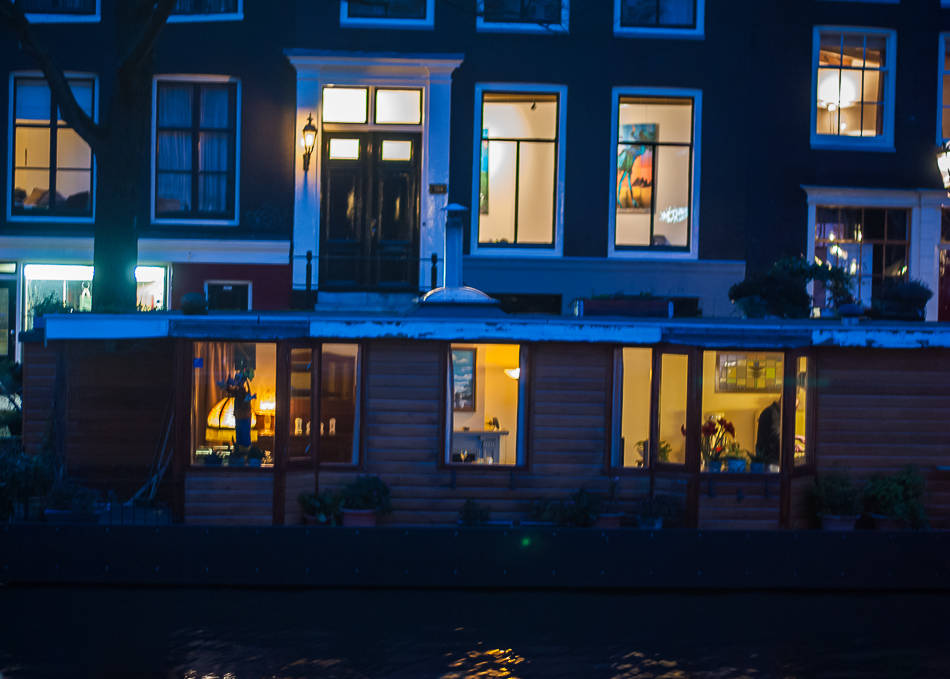 …and a subtle invitation to spy into the colorful lives of the locals.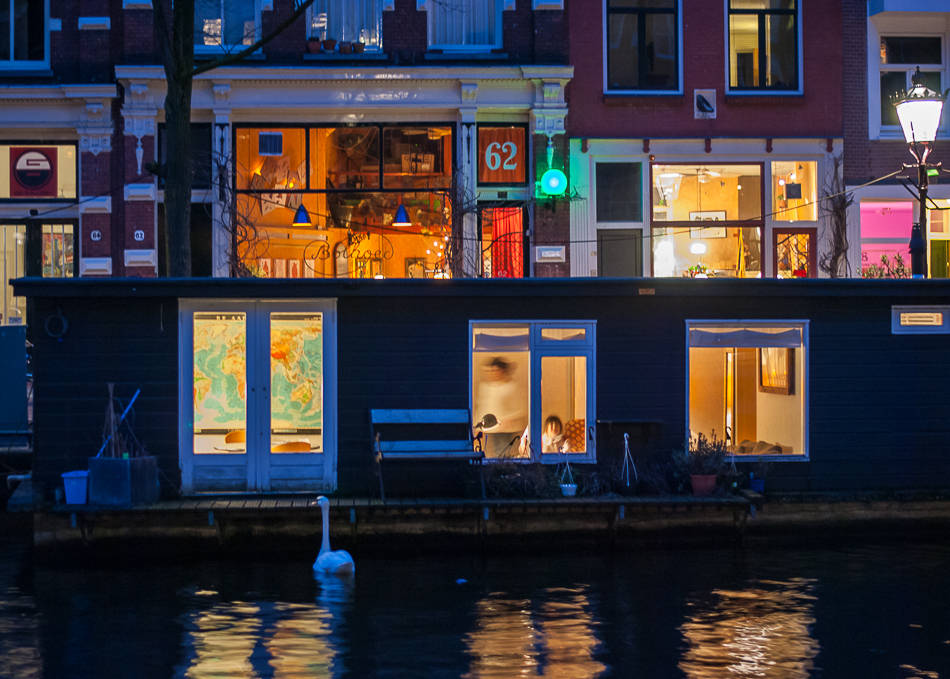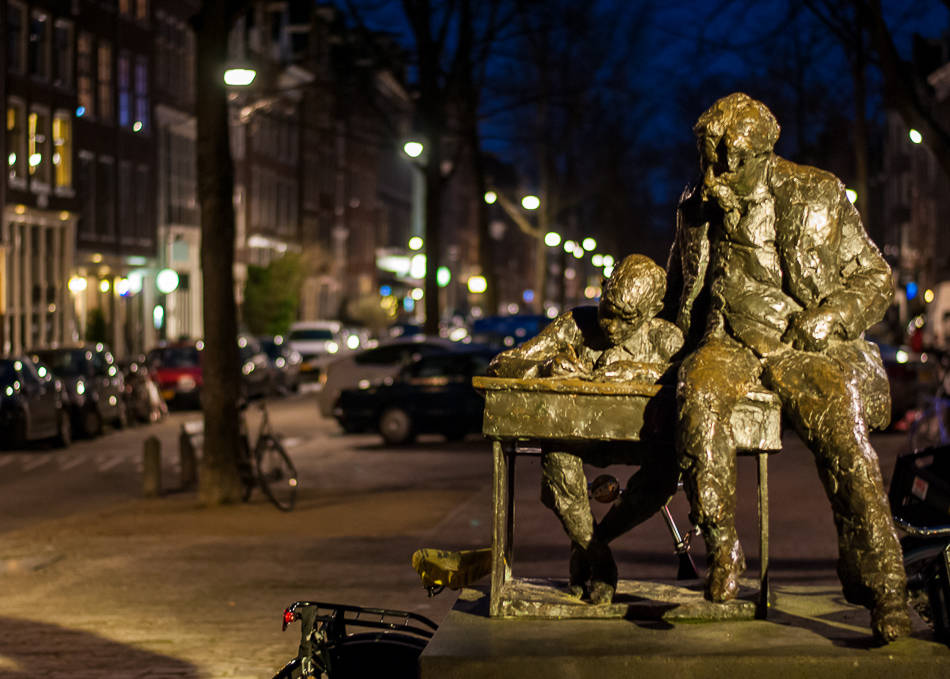 Even in the darkest hours the city is wide awake, reminding us that despite its charming exteriors there's a wild beast inside for whoever is up for finding it… 😉