Spring is quintessentially feminine, a festival of flowers, pastel colors and swishing skirts where everything seems ethereal and dainty. It never fails to put me in a celebratory mood and wanting to surround myself with it, adding blooms to my windowsills and getting out my lacy patterns from flirty dresses to delicate placemats. I couldn't think of a better complement to this picture than an airy pavlova, a beautiful cloud-like dessert as graceful as the season.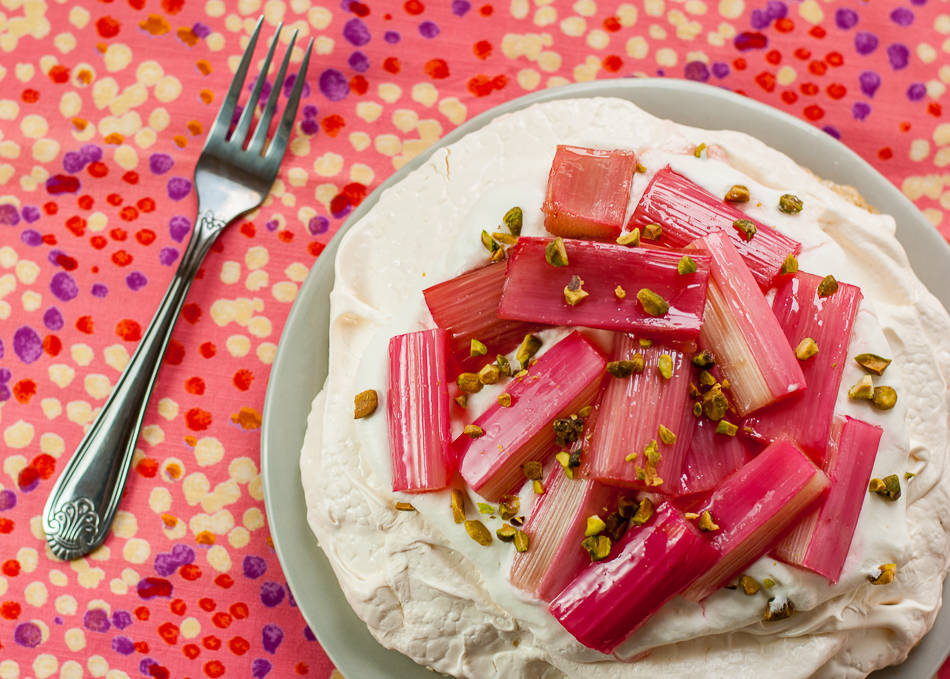 The beloved meringue-based pavlova, who owes its name to a ballet dancer no less, is an absolute spring showstopper. The delicate structure looks exquisite when topped with softly whipped cream and fresh fruits and tastes light as air. To me this is the best showcase of the magic of baking – to think this impressive dessert comes out of mainly just egg whites and sugar! Although there isn't a lot of prep to do, it does take a long time to cook and cool down and its finicky nature would make even the best of chefs slightly nervous…
The long baking and cooling time are well worth it though as you cut through the fragile and crisp exterior to reveal the wonderfully fluffy marshmallow-like interior – what a dream! There are so many ways you could garnish your pavlova, any seasonal fruits would do the trick, though I must say the combination of tartness from the rhubarb with the sweet meringue and crunchy pistachios is one intense and immensely flavorful contrast.
And that's not even mentioning the 'pretty-in-pink' presentation which screams springtime and begs to be served among a group of friends. A beauty such as a pavlova is ephemeral and will last only for a night though, so make sure you have plenty of company to revel in its splendor.

Pavlova with Rhubarb and Pistachios
Total time:
Makes 10 servings
1 ¾ cups sugar, divided
1 tablespoon cornstarch
4 large egg whites, room temperature
1 tablespoon plus 1 teaspoon fresh lemon juice (from 1 lemon), divided
Coarse salt
1 pound rhubarb, trimmed and sliced on the bias into 2-inch pieces
¼ cup water
1 ½ cups heavy cream
1 teaspoon pure vanilla extract
Chopped roasted unsalted pistachios, for garnish
*Meringue can be made 1 day ahead and kept uncovered in a cool, dry place. Rhubarb can be baked up to 6 hours ahead.

Preheat oven to 200 degrees.
Stir together 1 cup sugar and the cornstarch in a small bowl. Beat together egg whites, 1 teaspoon lemon juice, and 1/4 teaspoon salt with a mixer on low speed until very frothy (a standing mixer is a blessing here if you have one!). Increase speed to medium-high and gradually add sugar mixture, beating until stiff, glossy peaks form, 12 to 15 minutes, scraping down sides of bowl halfway through.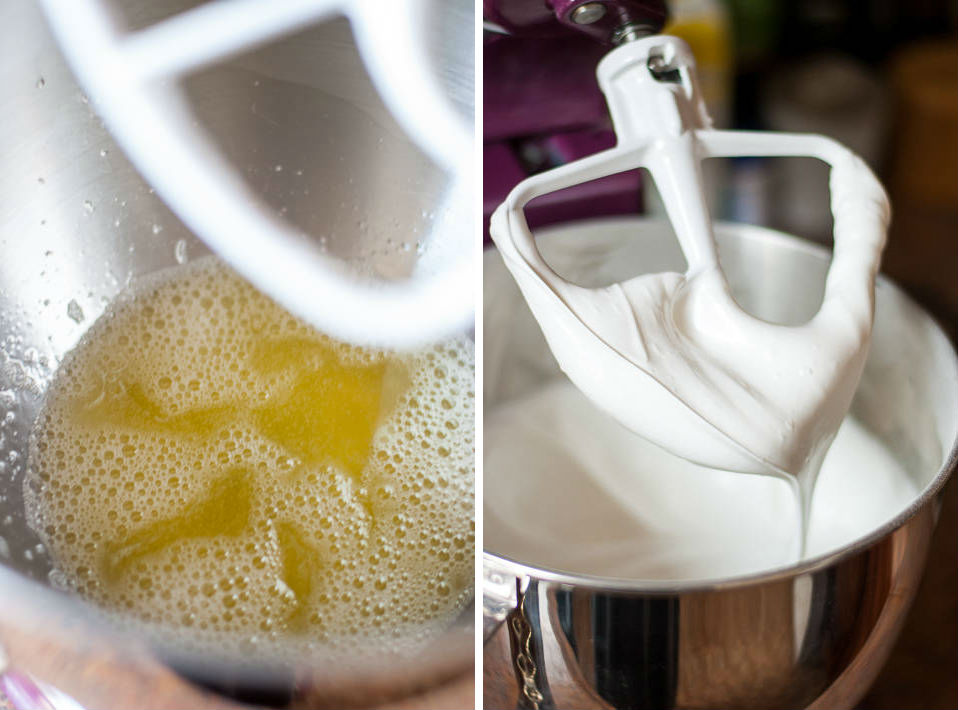 Mound meringue onto a parchment-lined rimmed baking sheet and gently spread into a 7-inch circle, leaving a well 3 1/2 inches wide and 1 inch deep in the center.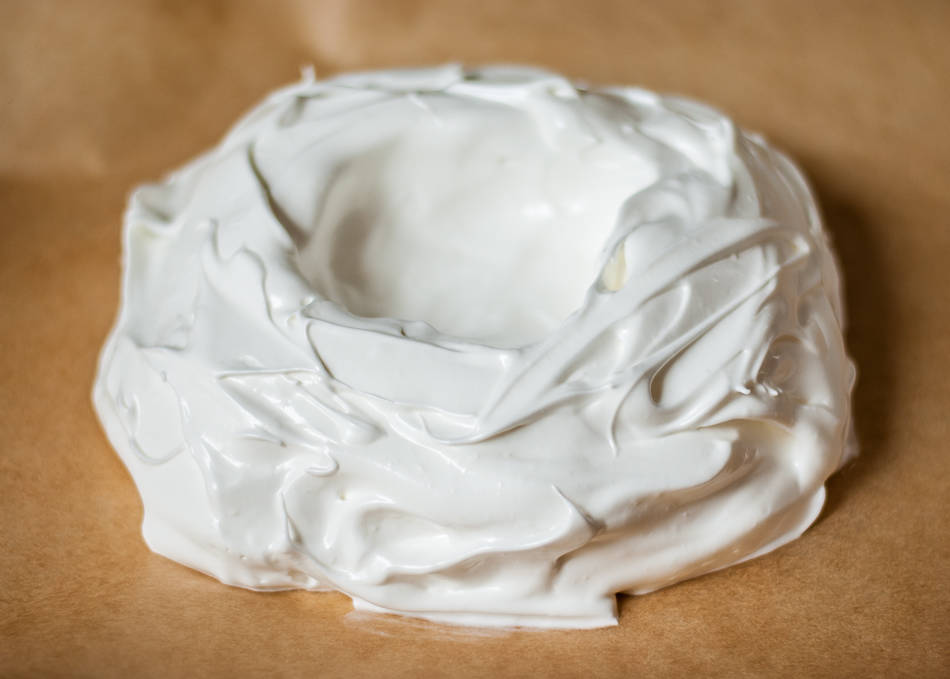 Bake until meringue is crisp on the outside and the texture of marshmallow on the inside, about 2 1/2 hours. (If meringue starts to brown, reduce oven temperature to 175 degrees.) Turn off heat and let meringue cool in oven at least 2 1/2 hours or up to overnight.
Preheat oven to 400 degrees. Combine rhubarb, water, remaining 3/4 cup sugar, remaining tablespoon lemon juice, and a pinch of salt in a 9-by-13-inch glass baking dish. Bake until just tender, 10 to 12 minutes, spooning juices over halfway through.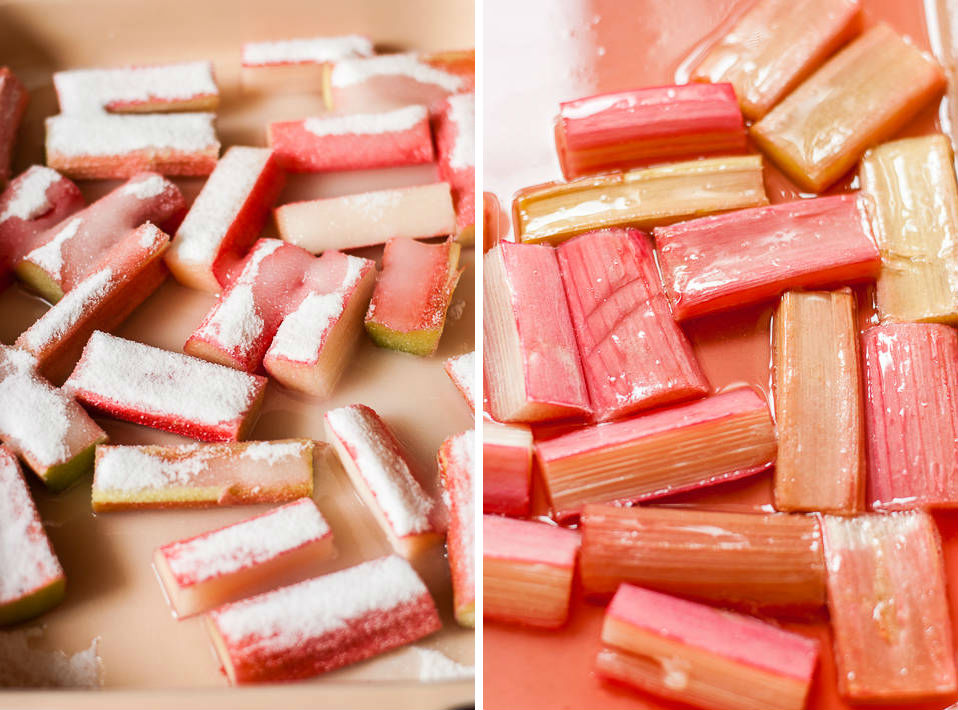 Carefully transfer rhubarb pieces (they will be very soft) to a parchment-lined rimmed baking sheet with a spatula; reserve juices. Let cool completely.
Just before serving, beat together cream and vanilla until soft peaks form. Place meringue on a serving platter and fill with whipped cream.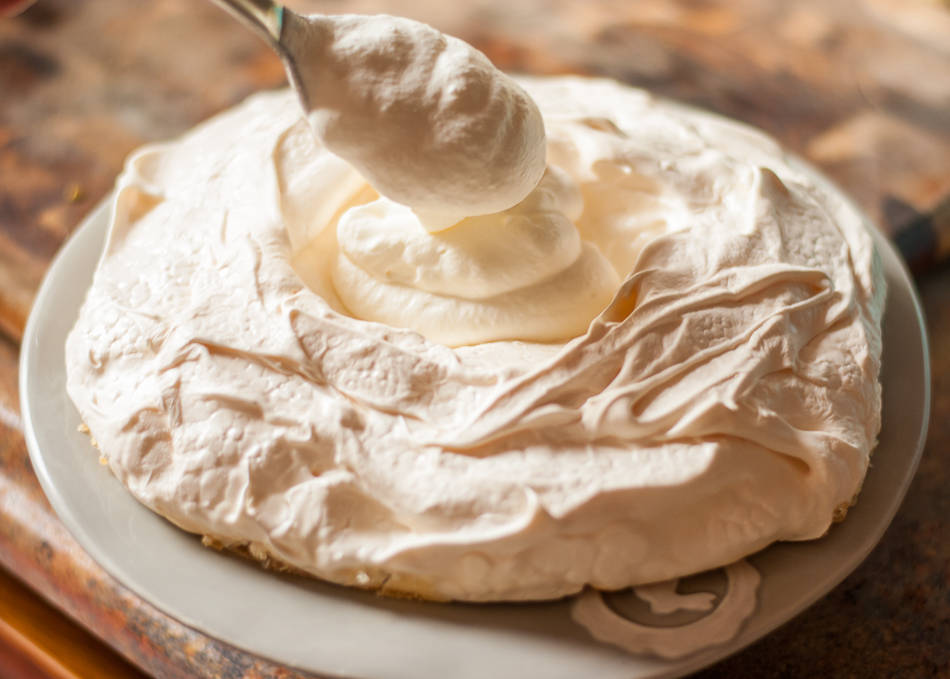 Top with rhubarb, and garnish with pistachios. Spoon over pavlova the rhubarb juices, and serve immediately.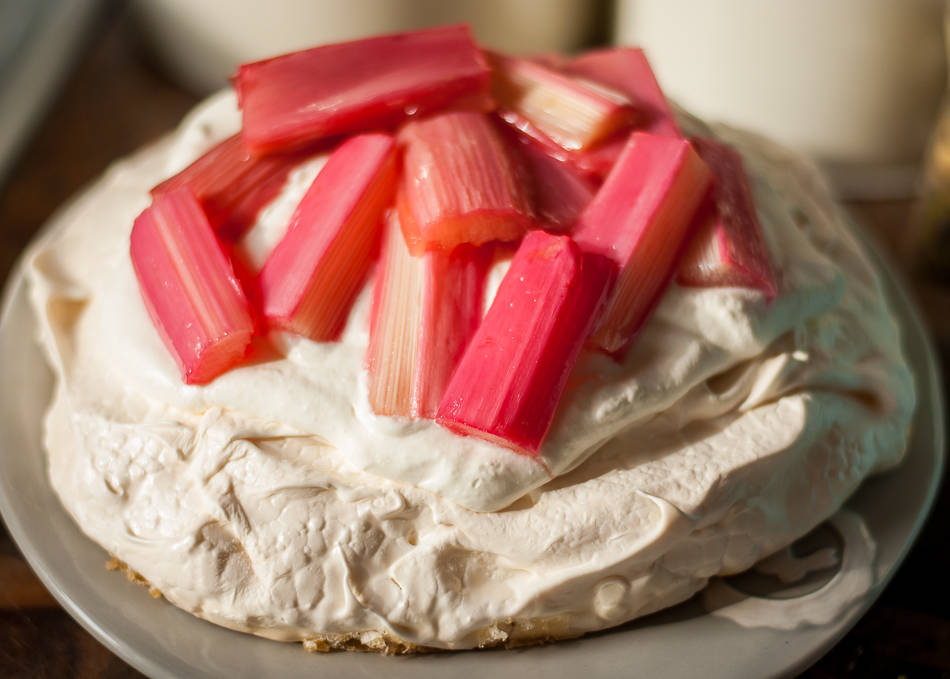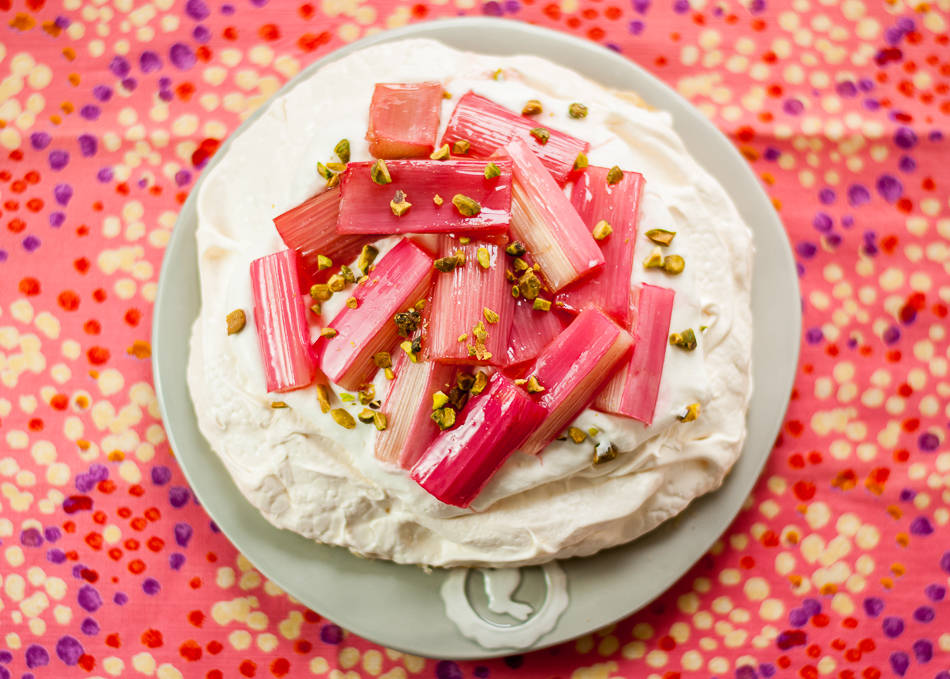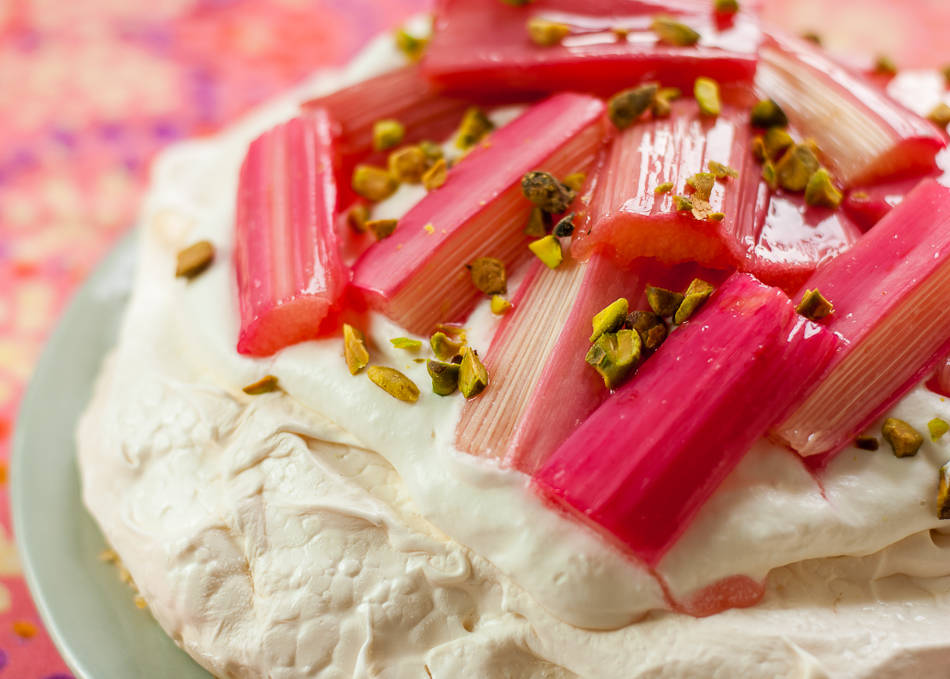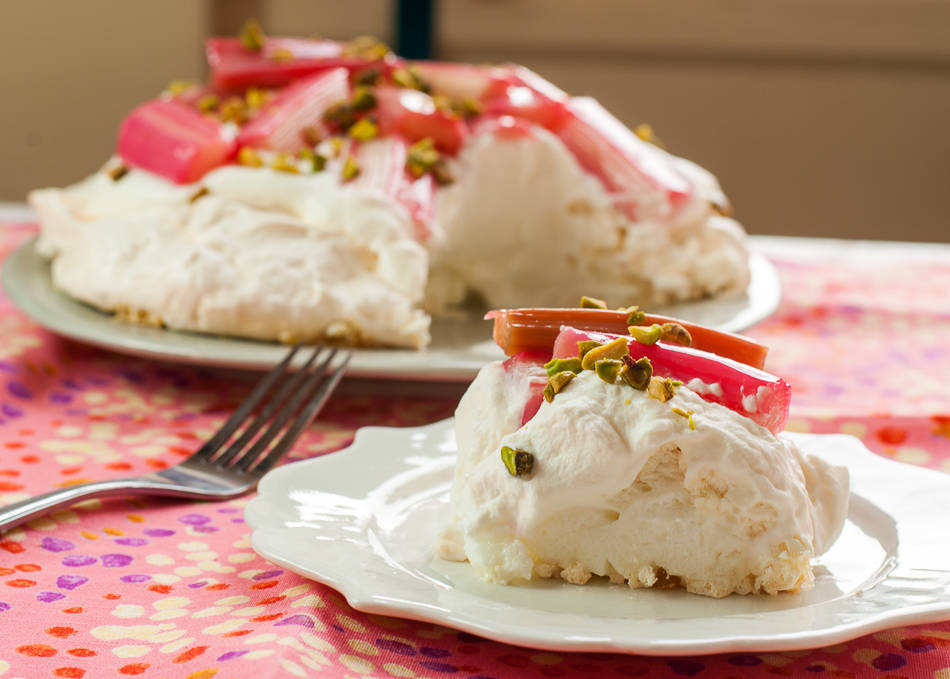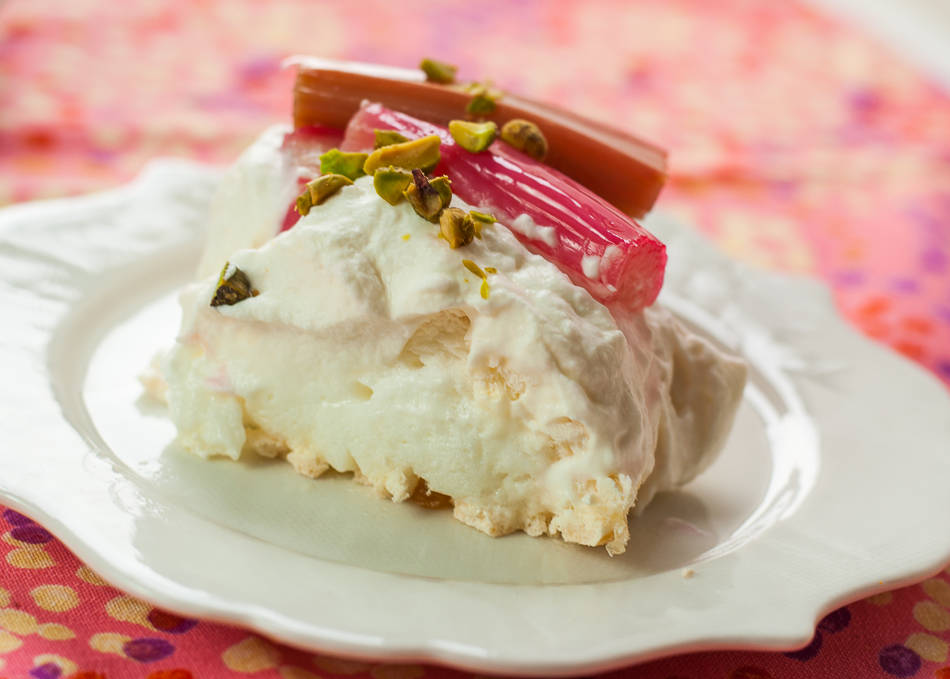 Print This Post