Lao cuisine isn't as well-known as those of neighboring Thailand and Vietnam and though it does share some tiny similarities, it's a very distinct way of cooking and mixing flavors that I found totally refreshing.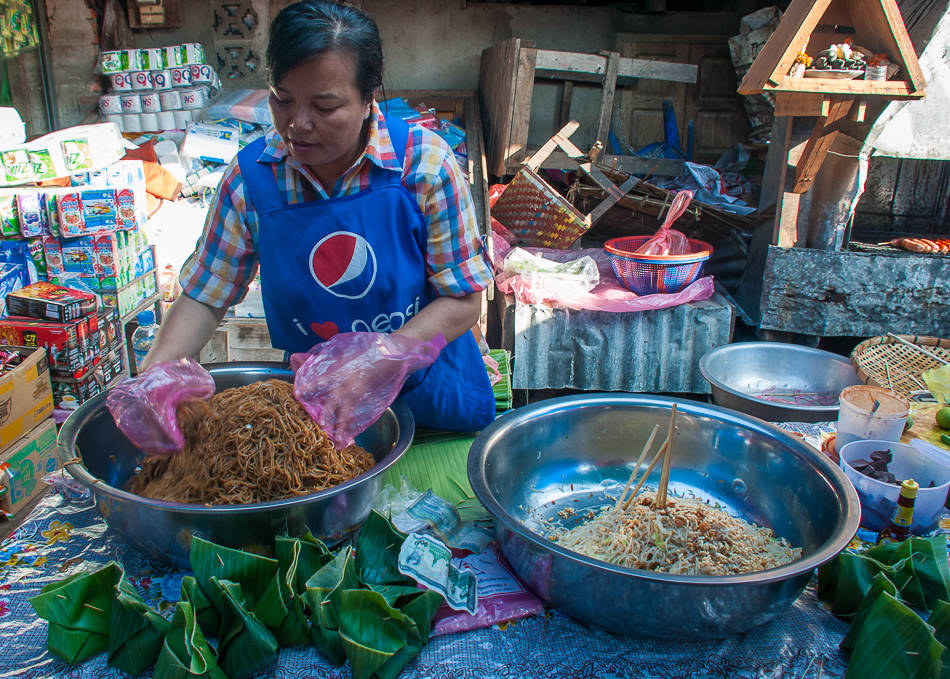 The freshness of the ingredients is very important to Laotians who prepare everything from scratch. They eat a great deal of vegetables and herbs which appear in almost every meal, with a preference for bitter and herbal flavors, and almost everything in Laos is eaten with sticky rice which they crush into a ball with their fingers and use like a sponge to soak up sauces.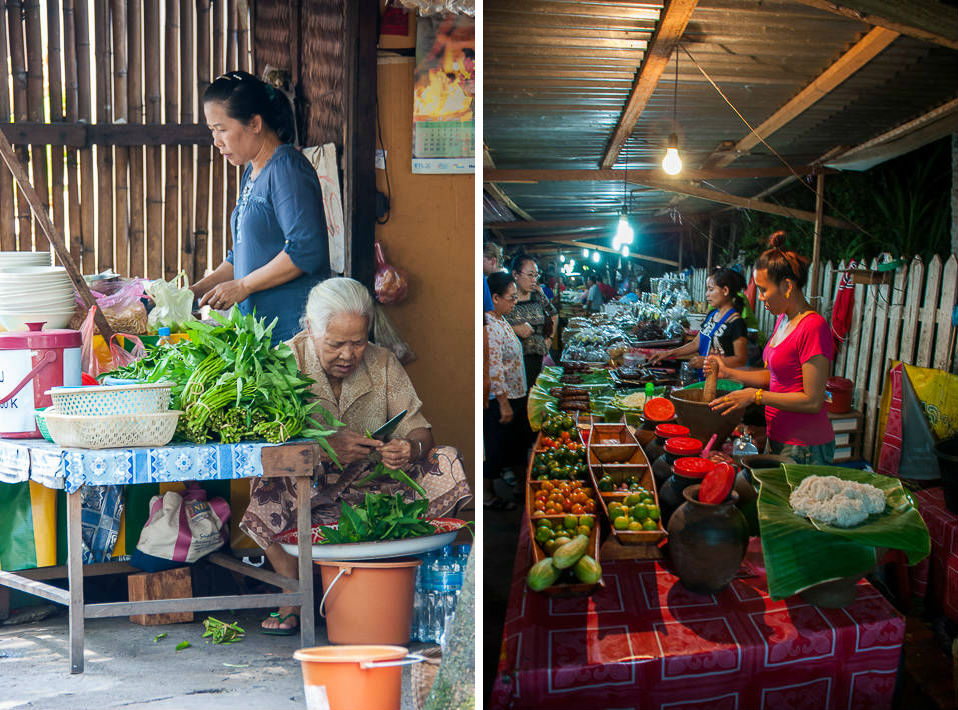 Grilled or steamed meat or fish round out the meal, with the addition of spices, fish sauce and chilli. The Lao diet is almost completely lacking in processed foods which result in wonderfully fresh flavors and dishes that are low in fat.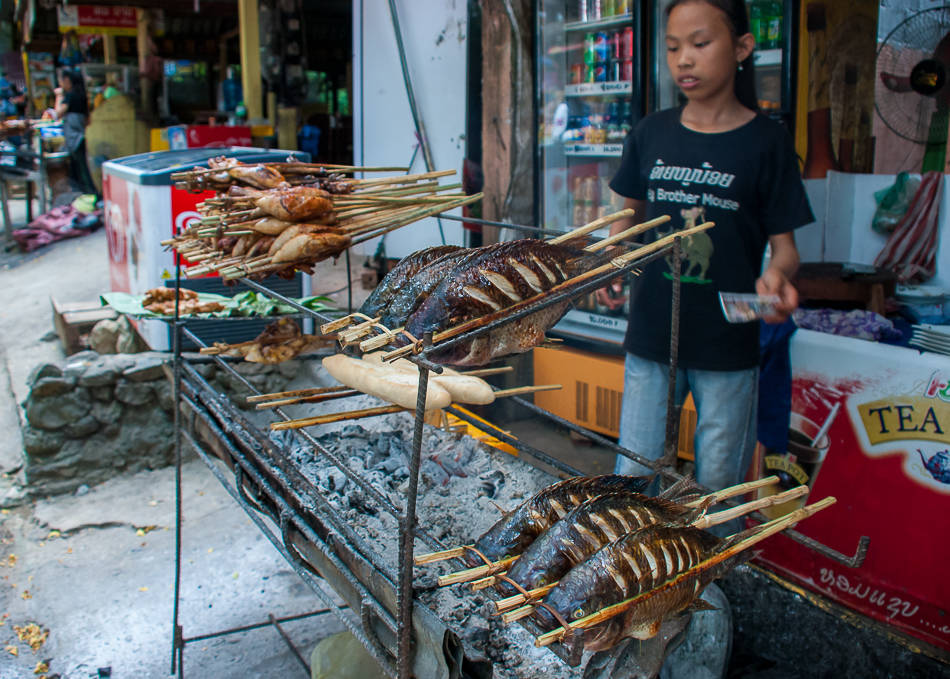 The only 'non-fresh' ingredients you're likely to find at any market are the snacks and sweets Laotians are so fond of. They include fried buffalo skin, banana chips, fried river weeds (only in Luang Prabang), all kinds of jerky, fried little coconut flour donuts, etc.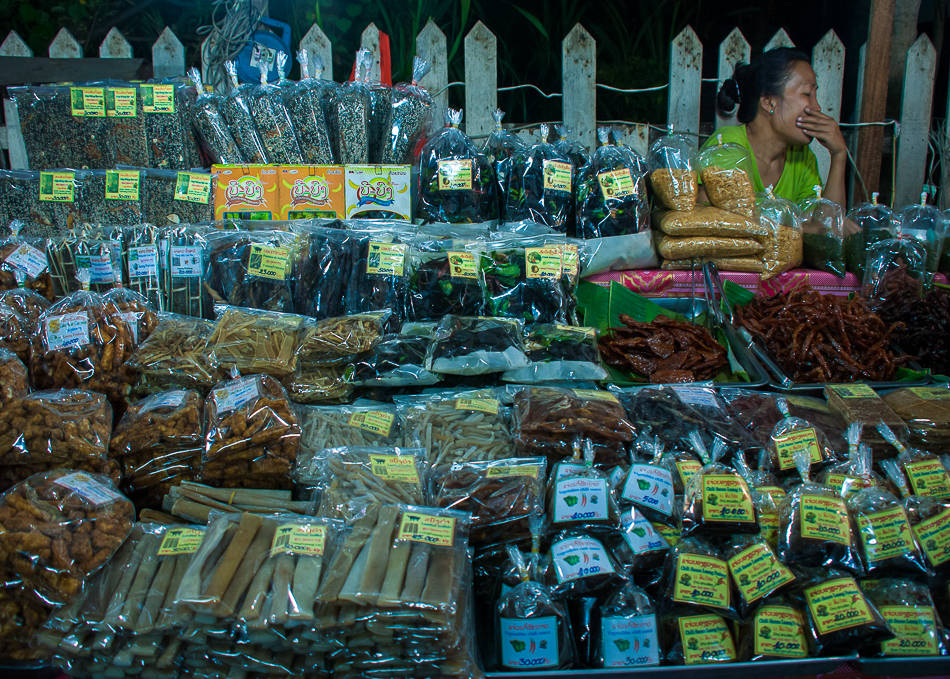 Just like in any Southeast Asian country, street food stalls are everywhere in Luang Prabang serving delicious noodle soups, spring rolls, grilled meat, etc. for merely nothing and a stop at the food alley from the night market (seen above) is a must. Backpackers and tourists are also filling up the outdoor tables near the National Museum where a myriad of fruit stands sell fresh juices, smoothies, and sandwiches to the expat crowd.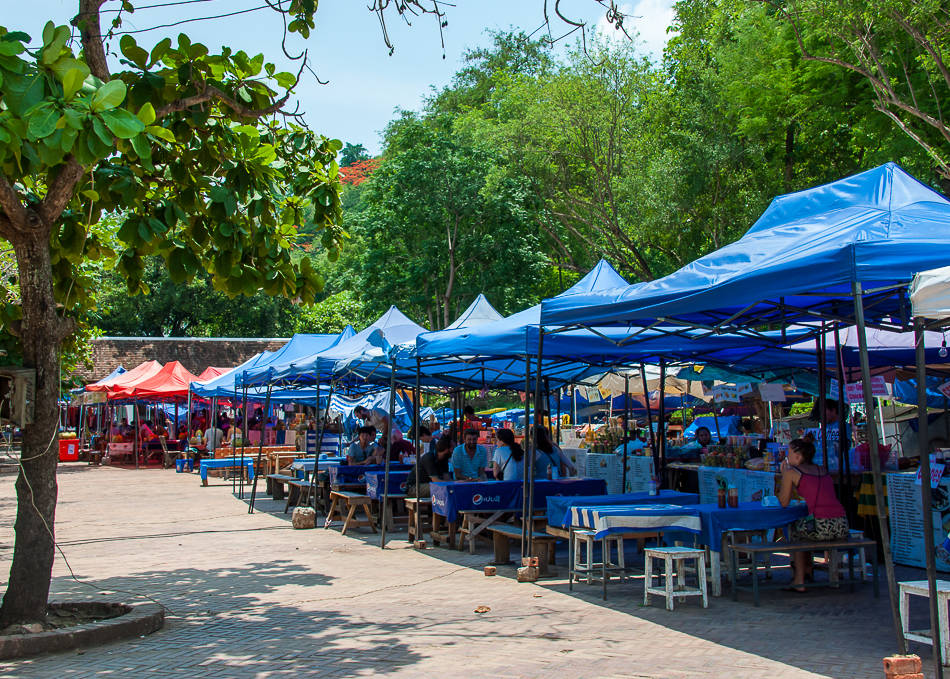 Besides streets stalls, Luang Prabang as an equally impressive number of excellent restaurants. I ate a lot of my breakfasts at my hotel, The Apsara, which has a fantastic restaurant mixing Laotian and French cuisine. Being an old French colony, the baguette is a staple at breakfast time and most restaurants and hotels will serve it toasted with butter and locally made jams.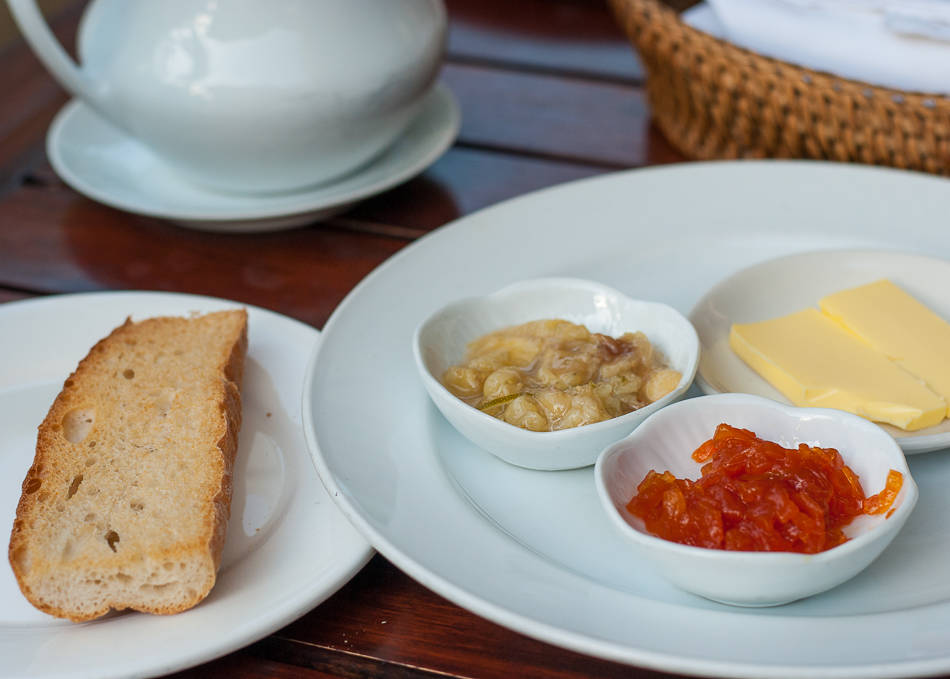 My favorite breakfast though was the Lao porridge, a comforting rice porridge in chicken broth with a heap of fresh herbs, fried garlic, and spices – perfect healthy and filling morning kick.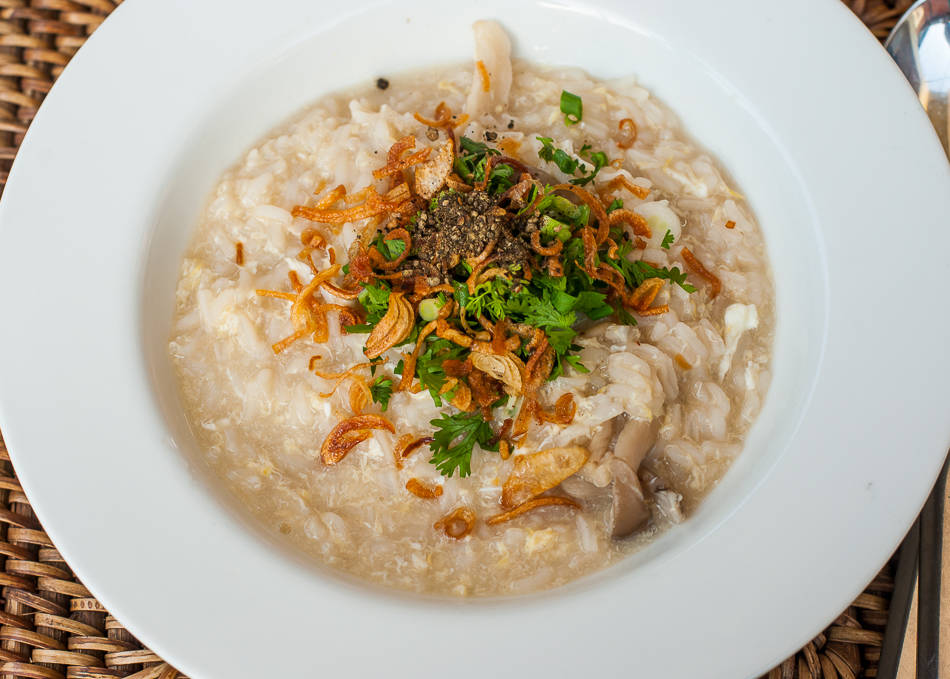 Similarly soothing, the chicken noodle soup is another breakfast staple.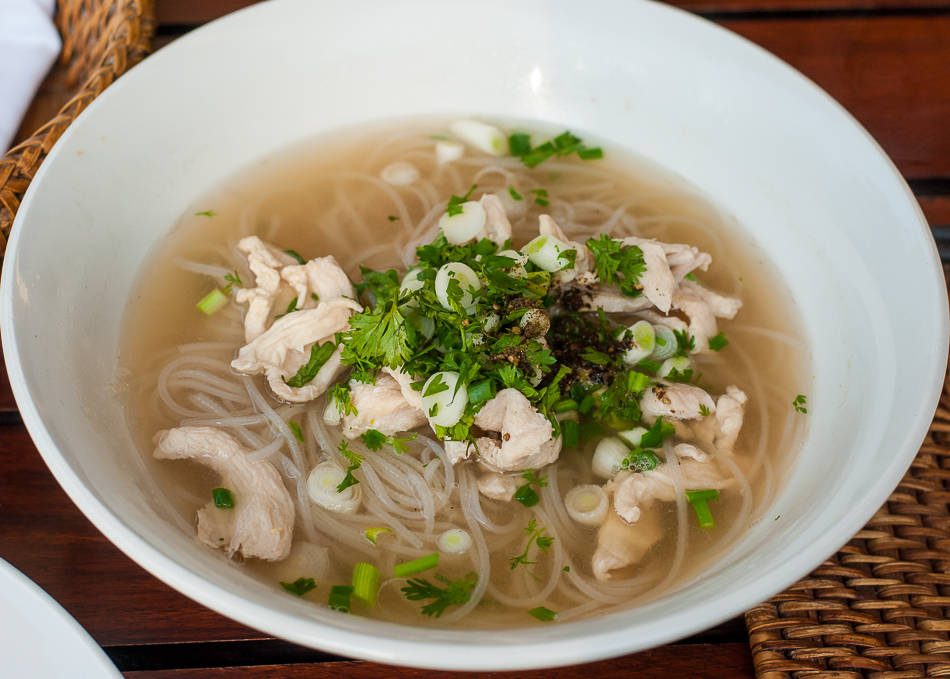 If there's one restaurant though you must absolutely visit in Luang Prabang, it's the famous Tamarind. Luckily for me it sat right next to my hotel on the banks of the Nam Khan river so I had the pleasure of visiting it multiple times. Tamarind is all about promoting greater understanding of Laotian culture and food and has become an institution for tasty traditional Lao food and its top-rank cooking school.
The way to go here is to order the tasting menu which will introduce you to the majority of the Lao cuisine staples.
It starts with a bamboo and vegetable soup.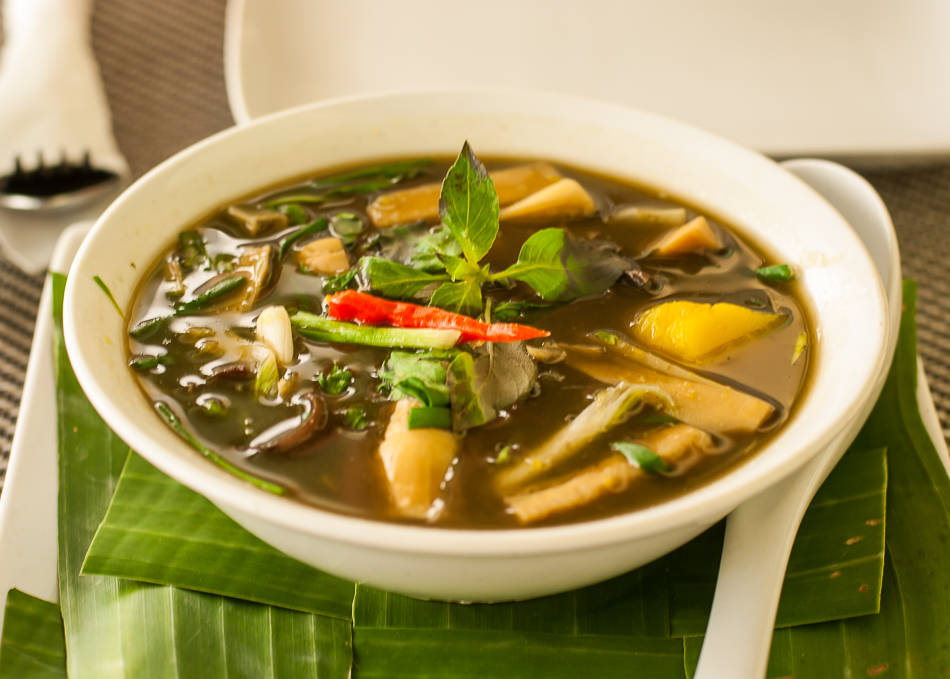 Then moves on with the Lao snacks (to the right) which include: dried river weeds 'chips' which you eat with Jeow Bong (a spicy sweet chilli paste mixed with buffalo skin), a mild tomato salsa, a smoky eggplant dip, sweet and dried buffalo meat jerky, and Luang Prabang pork sausages. You'll obviously get sticky rice, served in its own little woven basket to keep it warm. The other platter contains stir fried young pumpkin with kaffir lime and ginger (one of my faves)…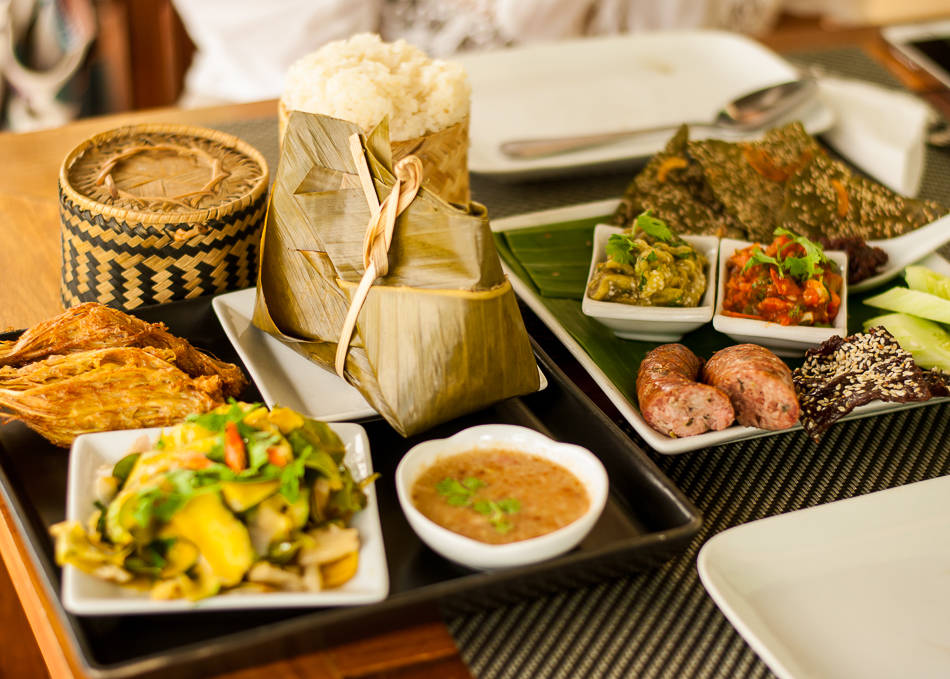 …lemongrass stuffed with chicken…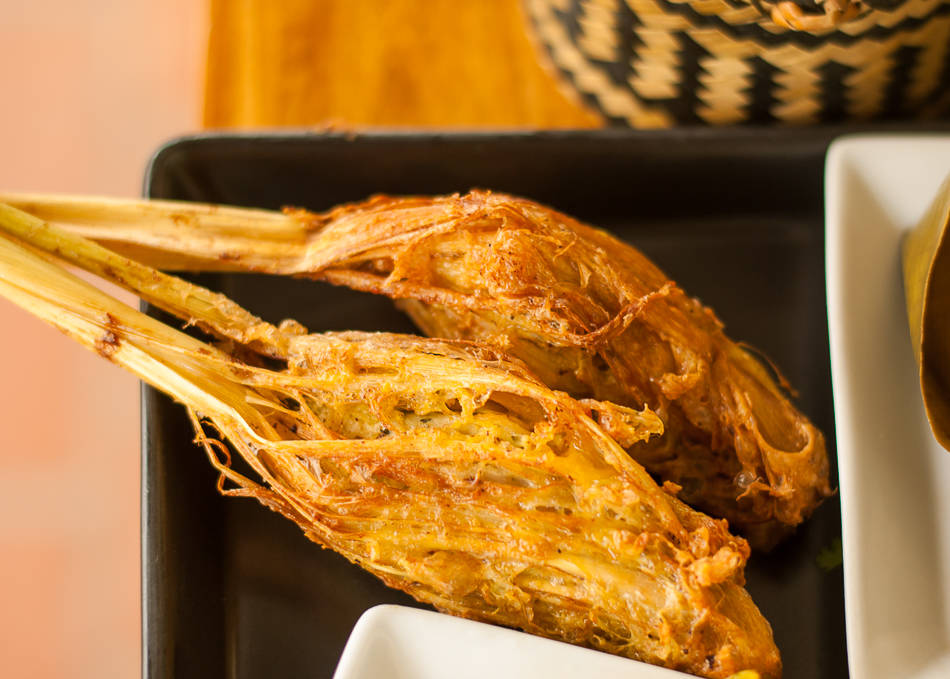 …and herbed fish steamed in banana leaf.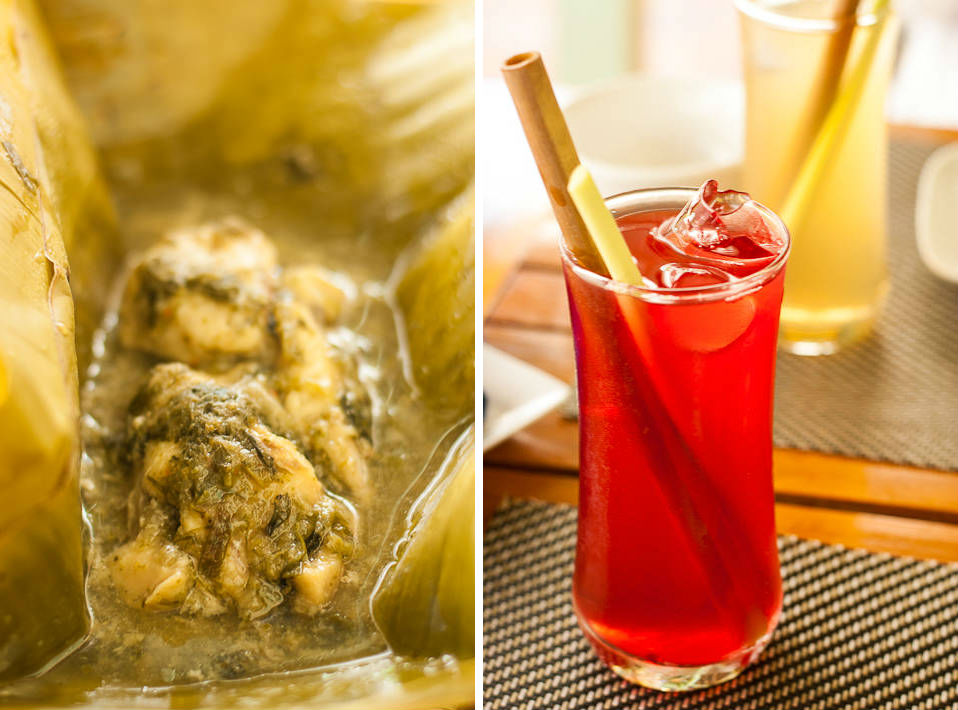 The tasting menu concludes with an amazing purple sticky rice dessert in coconut milk with tamarind sauce and some sweet fried concoctions to the side.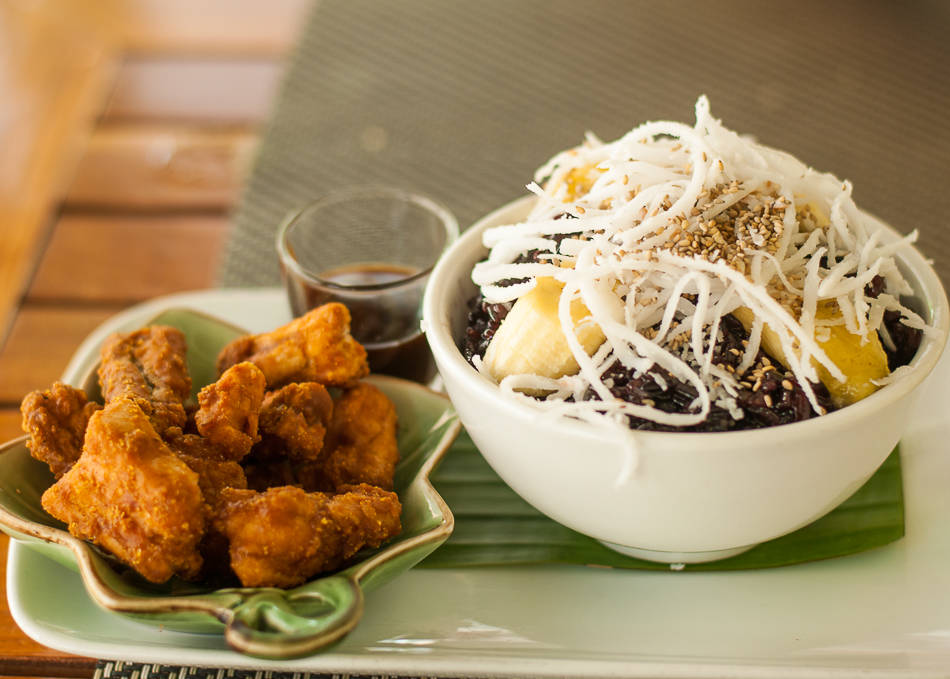 During subsequent visits, I tried many other dishes included this shrimp dipping sauce served with fresh vegetables and steamed noodles.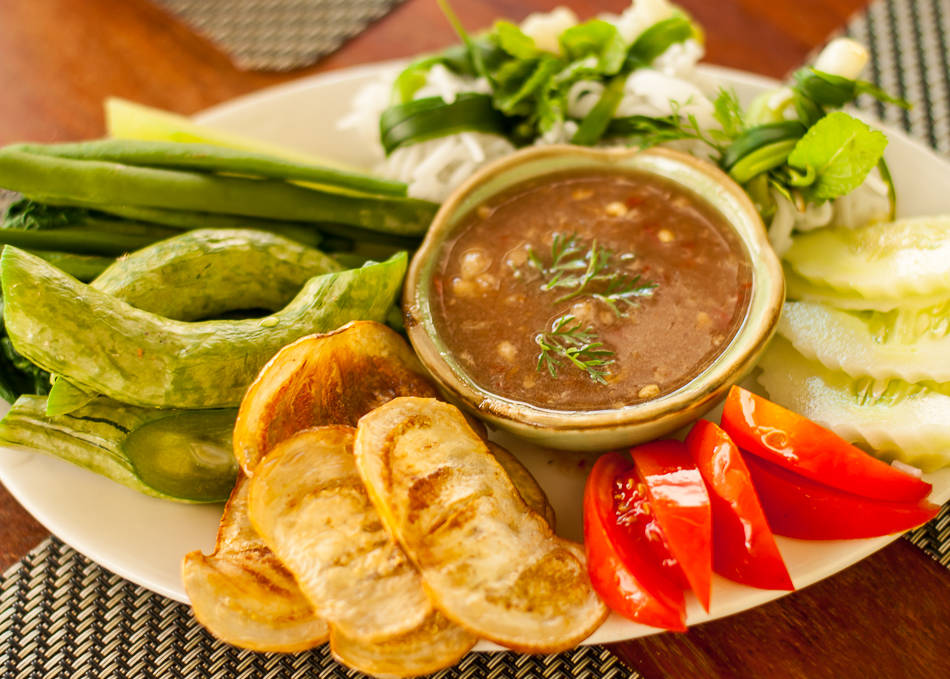 Laap, the national dish of pounded meats and herbs, is a favorite. The finely chopped meat or fish is mixed with spices, broth, and uncooked rice grains that have been dry fried and crushed. It tastes incredibly fresh and is perfect for Laos sweltering days (temperature hovered around 44ºC the whole time I was there!!). Tamarind serves a traditional buffalo laap, pictured below, which you can order with tripes as I did for a truly authentic taste.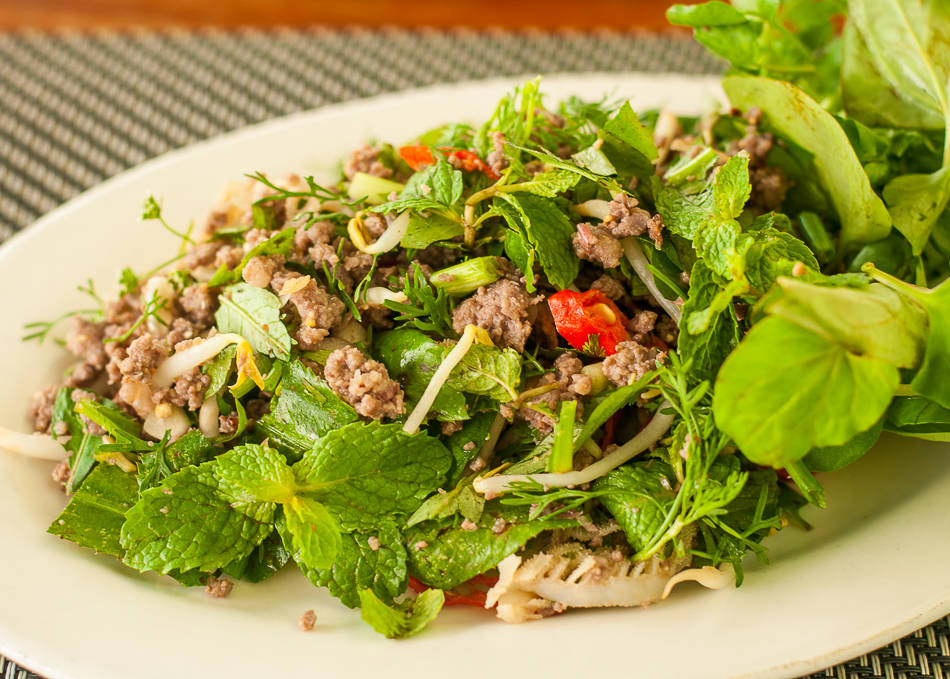 Nearby there's another excellent restaurant also focused on traditional Lao cuisine – Tamnak Lao. Housed in a beautiful French colonial home, it's a quieter place to enjoy a few more Lao dishes such as fried eggplant with minced pork.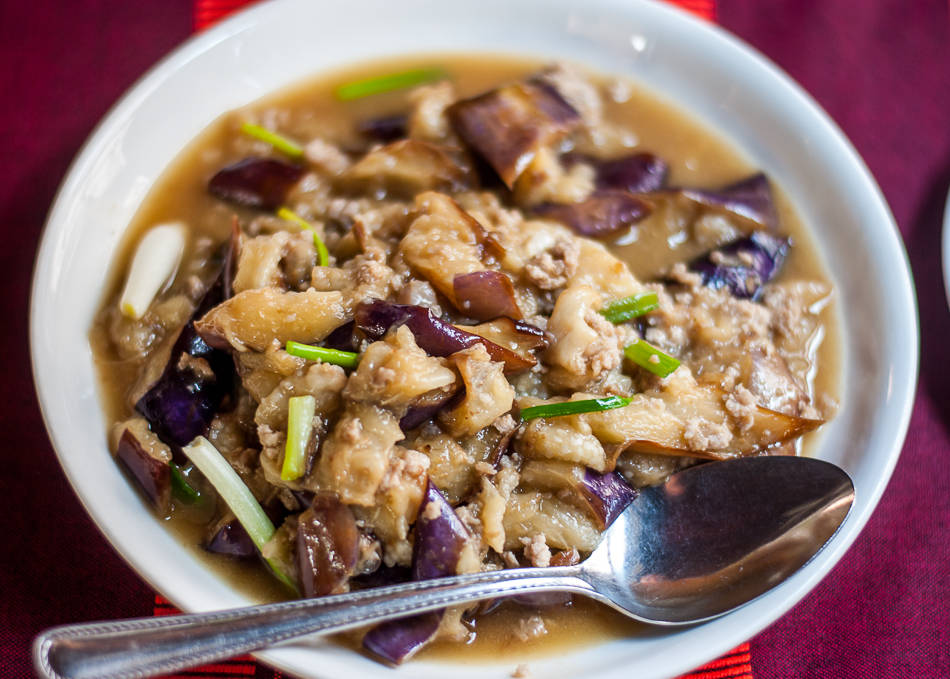 Their chicken laap was exquisite.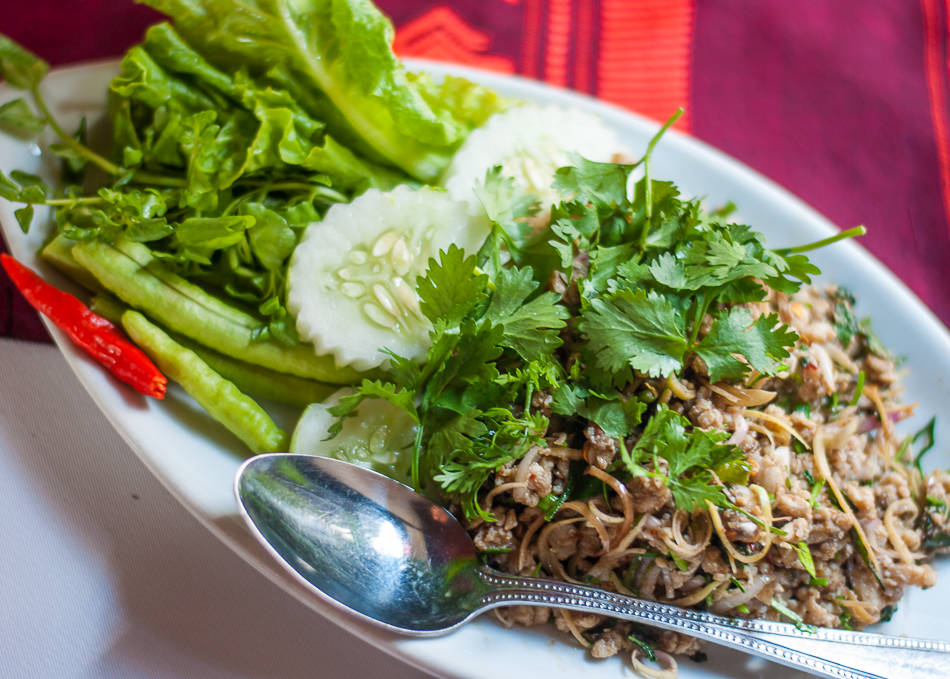 It would be impossible to walk around Luang Prabang without noticing the French influence of this former colony, which graced the town with magnificent mansions and adorable cafes and restaurants. A favorite of mine, Le Banneton, was the perfect place to linger over a cup of coffee, watching the monks go by as it faces one of the nicest temples in the city.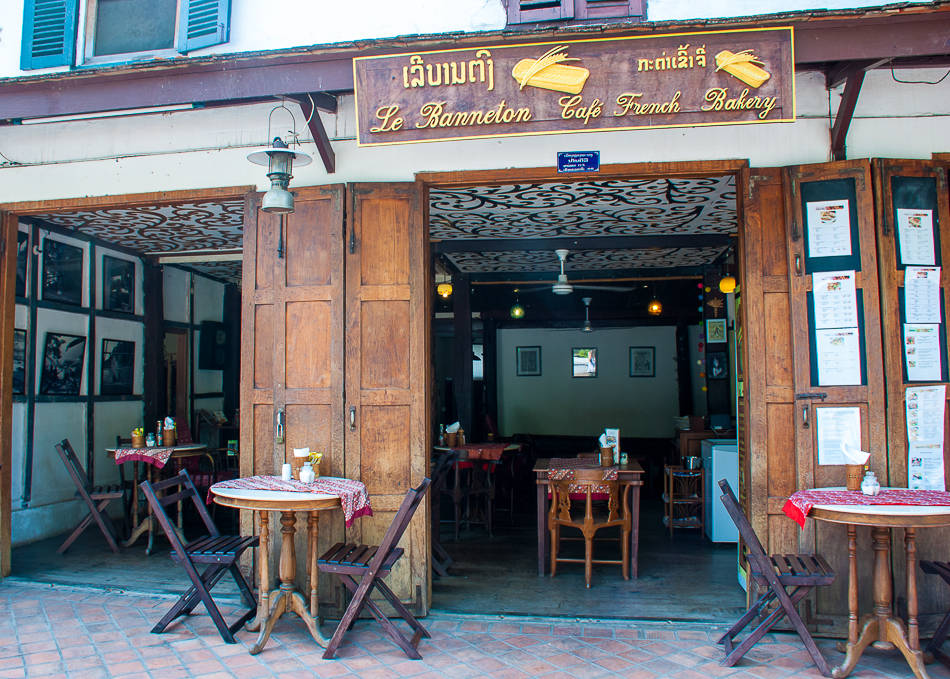 It is also where you'll find the best croissants, baguettes, and viennoiseries, ready to be eaten warm in the morning or taken on your daily excursions.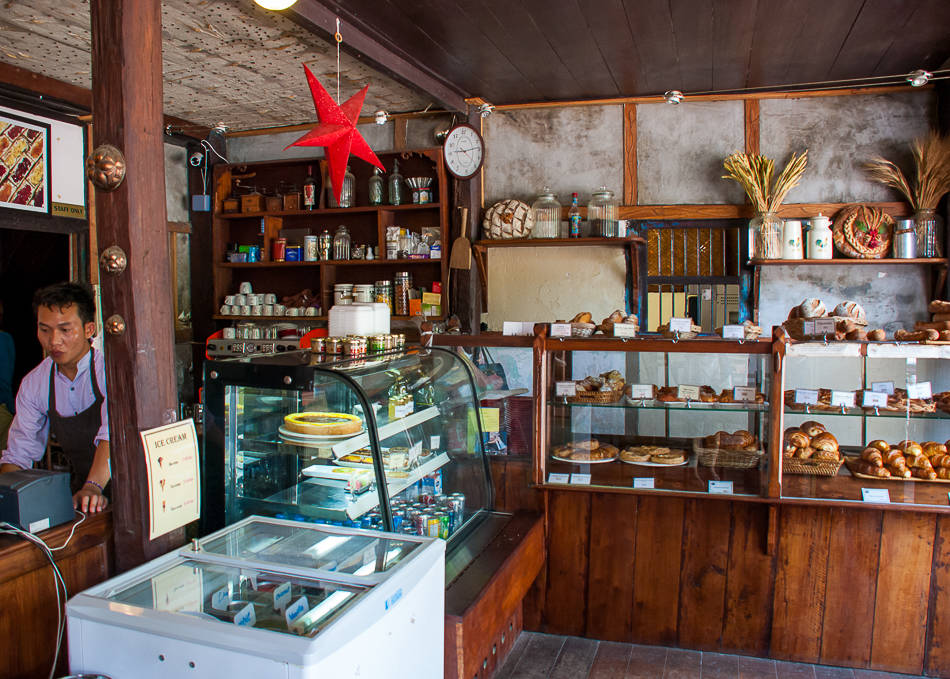 On the higher end, L'Elephant Restaurant is considered to be the best dining in town. Run by French expats, the open-air colonial room with rattan chairs and twirling fans is as retro-chic as it gets. With a blend of French and Laotian cooking, you can indulge in local Mekong fish stew or coq au vin as just about anything here is extremely good.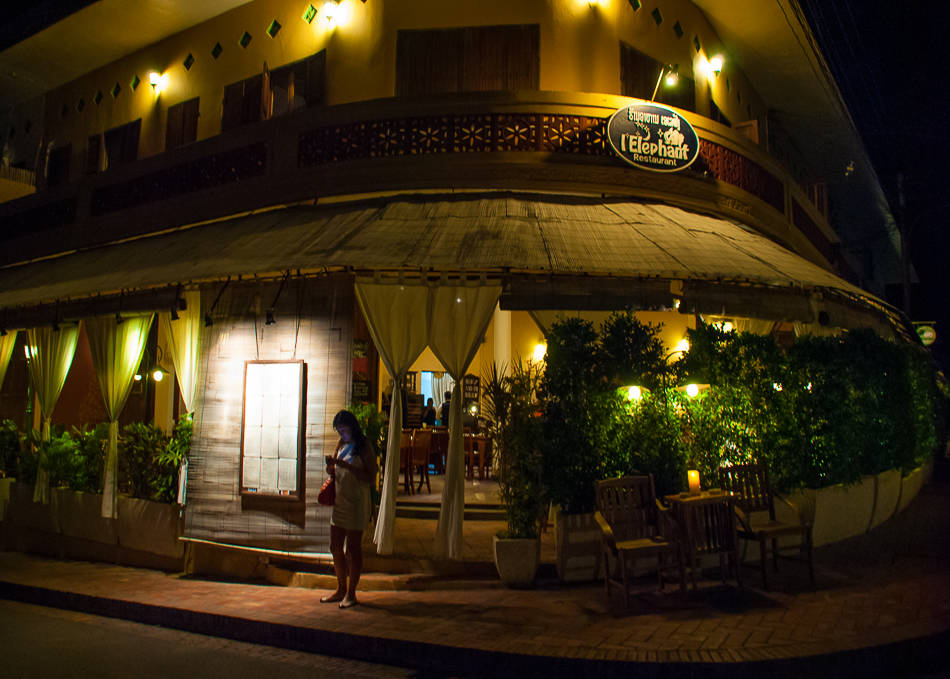 Cold Ratatouille with Mushrooms and a Bouquet of Young Mixed Leaves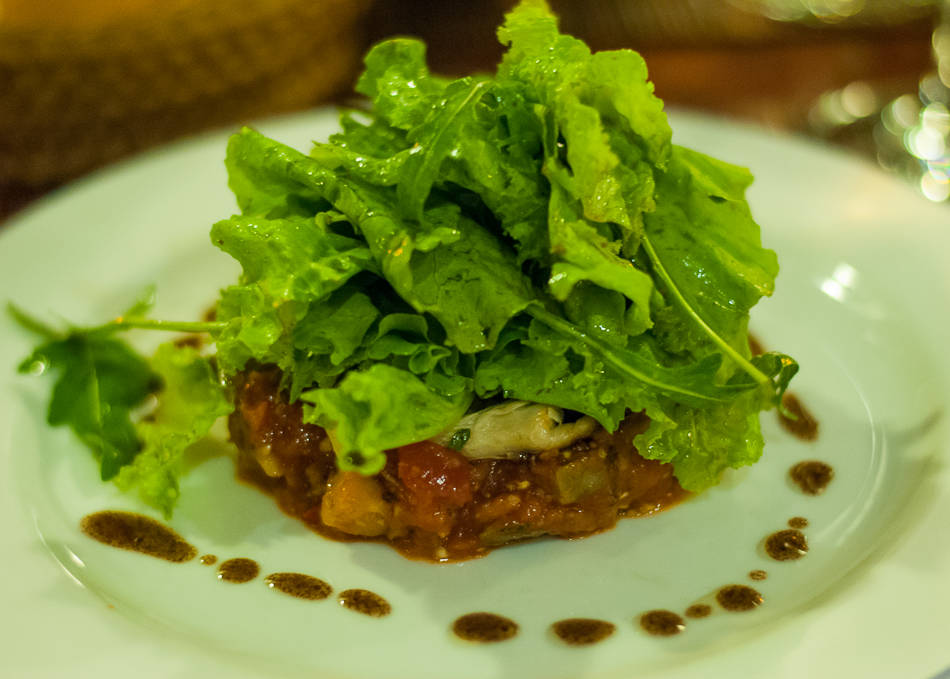 Three medallions of Buffalo grilled with Fresh Thyme served with Pumpkin cooked in the English style and Parsley Steamed Potatoes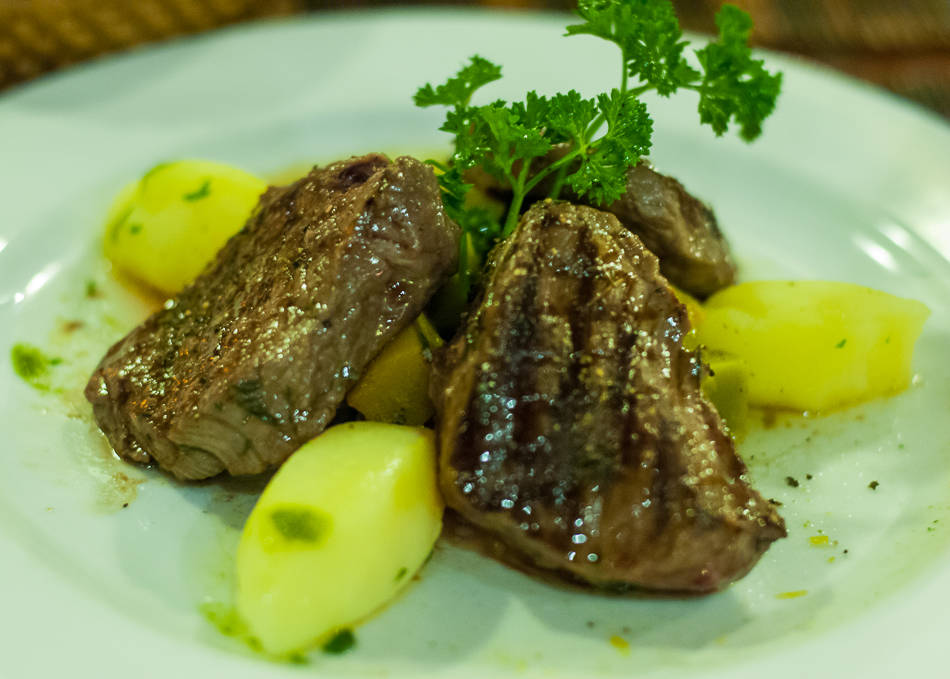 Tart Tatin with three fruits (mango, pineapple, apple) and a little pot of cream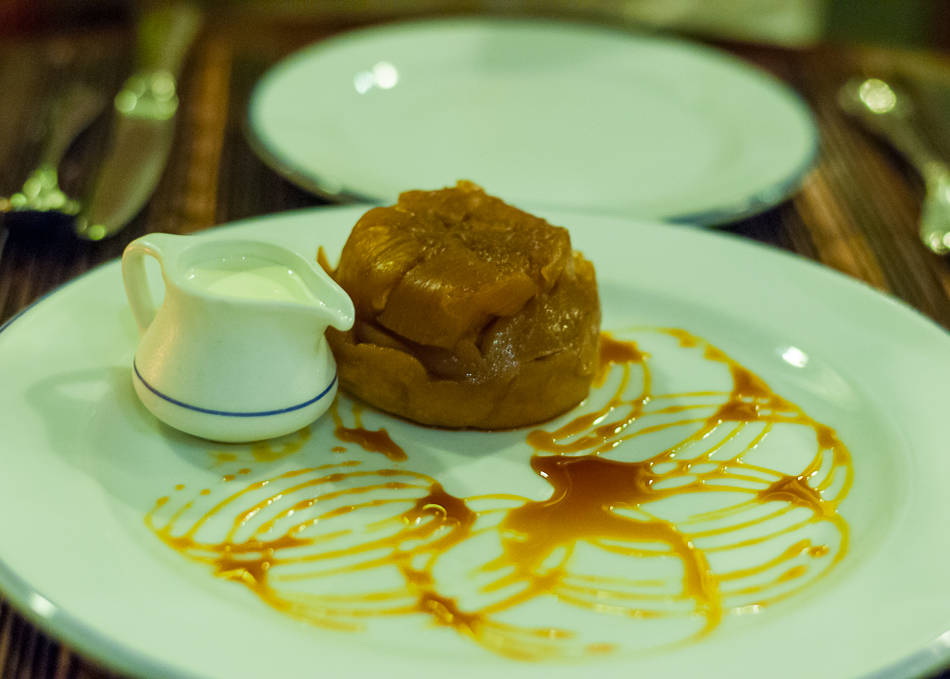 For something quite different, super healthy, and decidedly original in these parts, you have to try their sister restaurant next door – L'Elephant Vert.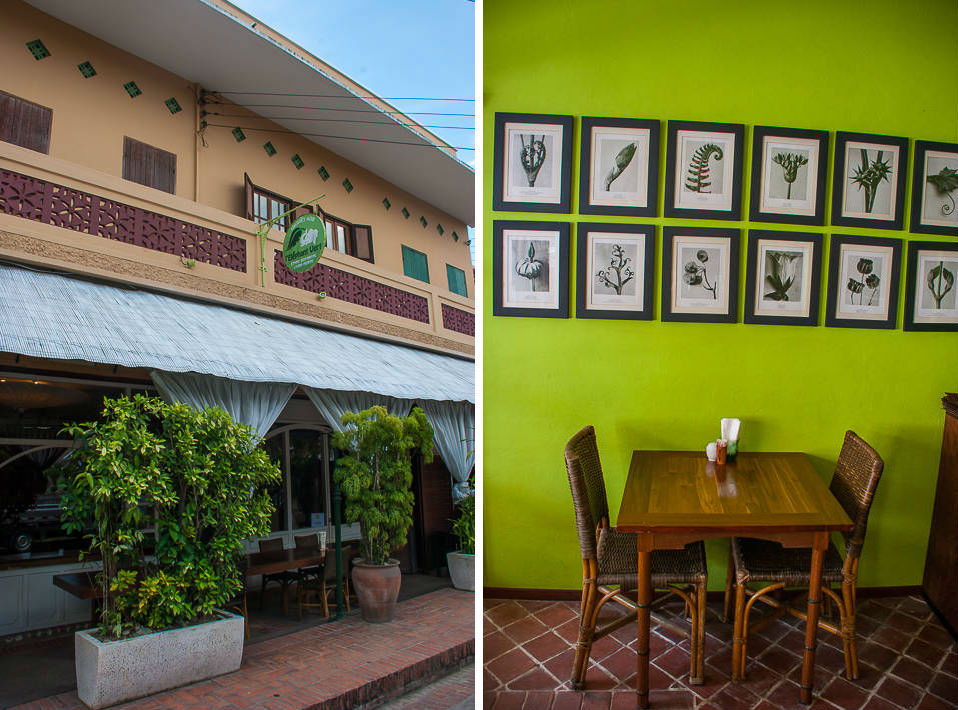 One of the first ethno botanical "living" cuisine restaurant in Southeast Asia, L'Elephant Vert focuses on the locally grown organic produce to offer a raw and vegetarian experience well worth trying.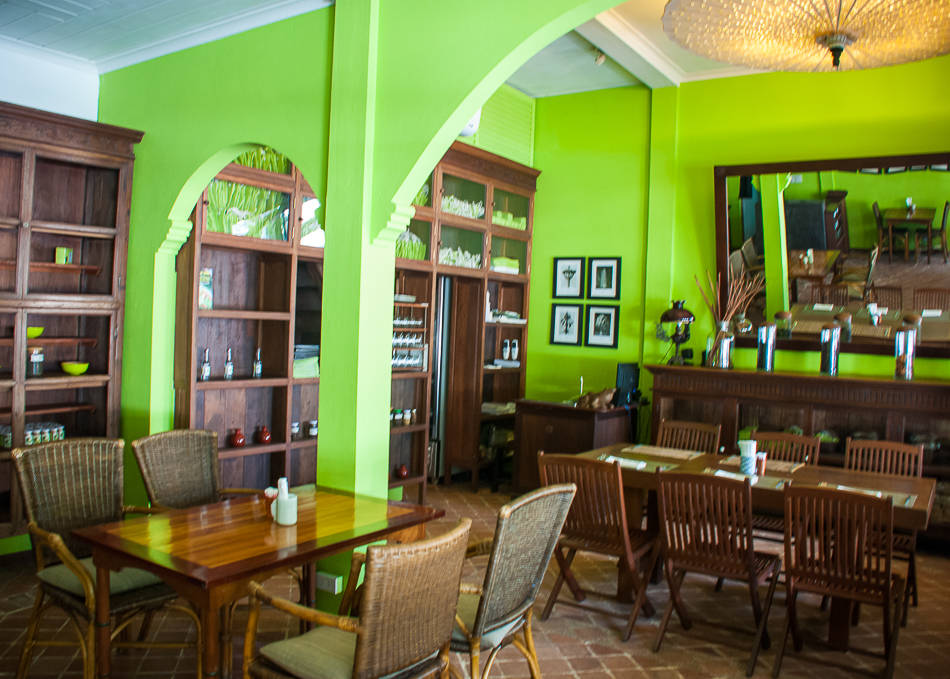 I went with one of their set vegan menus – 5 courses with a drink which really fills you up though you're left feeling incredibly healthy…
Bee Blast Elixir with Hibiscus iced tea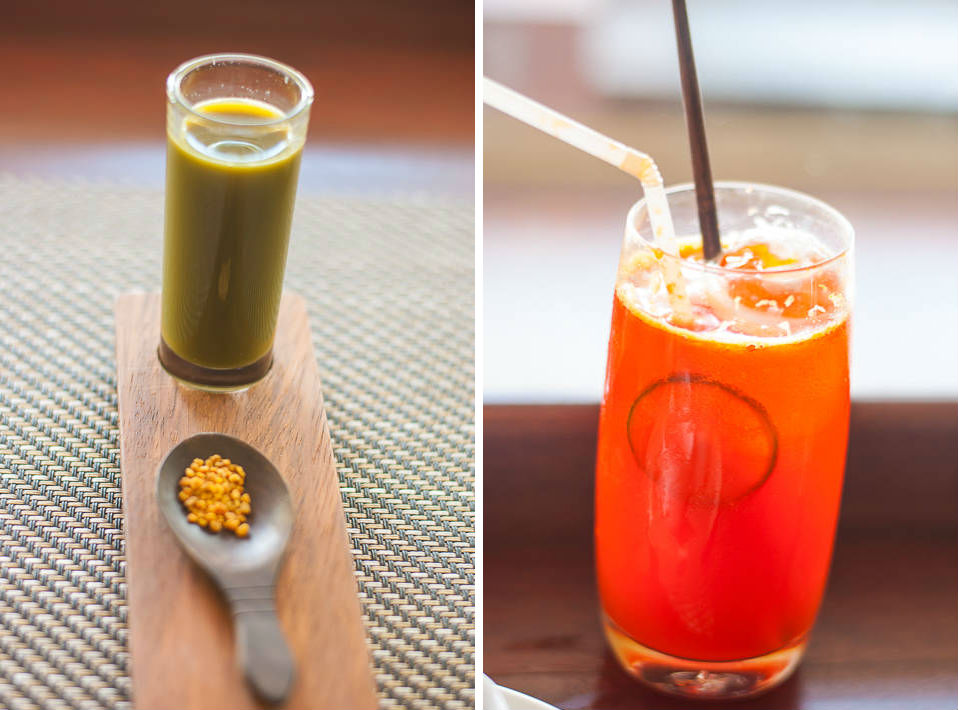 Mixed Mushroom and Peanut Tarts with Honey and Lemongrass Dressing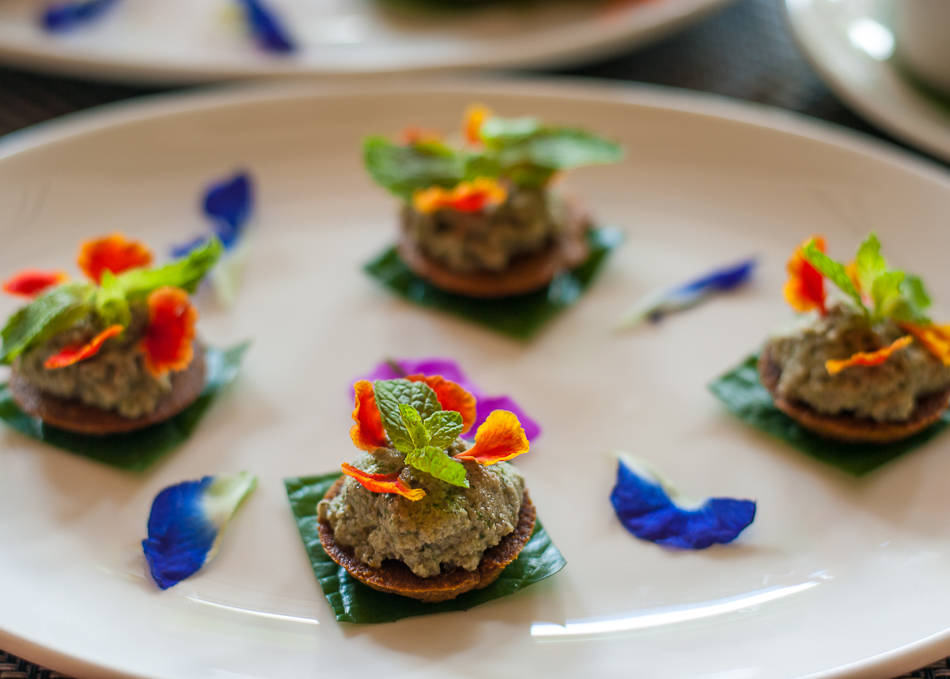 Seasonal Vegetable Rolls on Shredded Greens…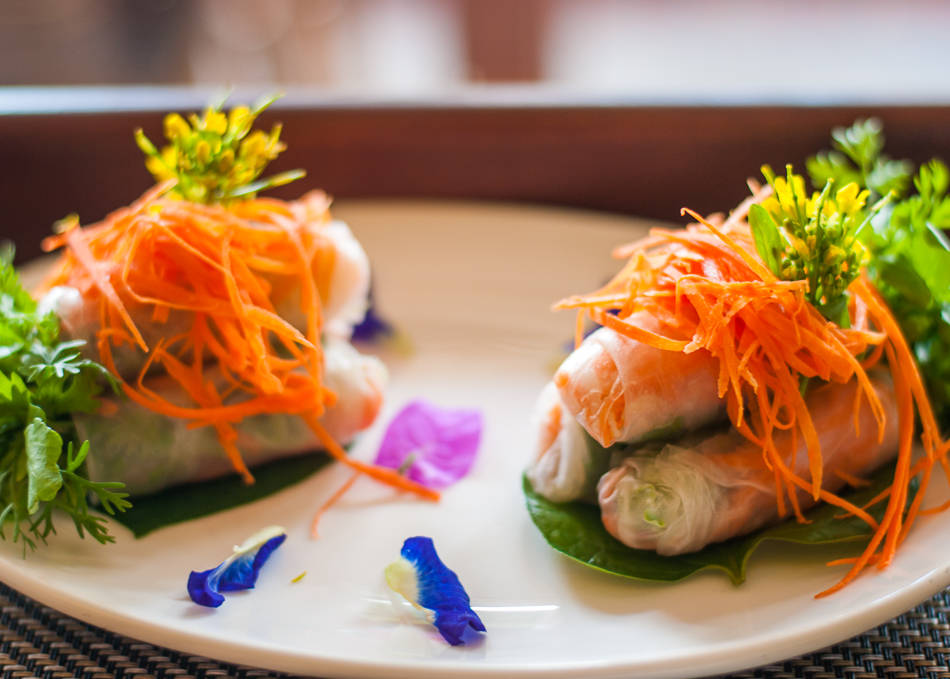 …with 3 dipping sauces: Sesame & Cashew, Green, and Baby Aubergine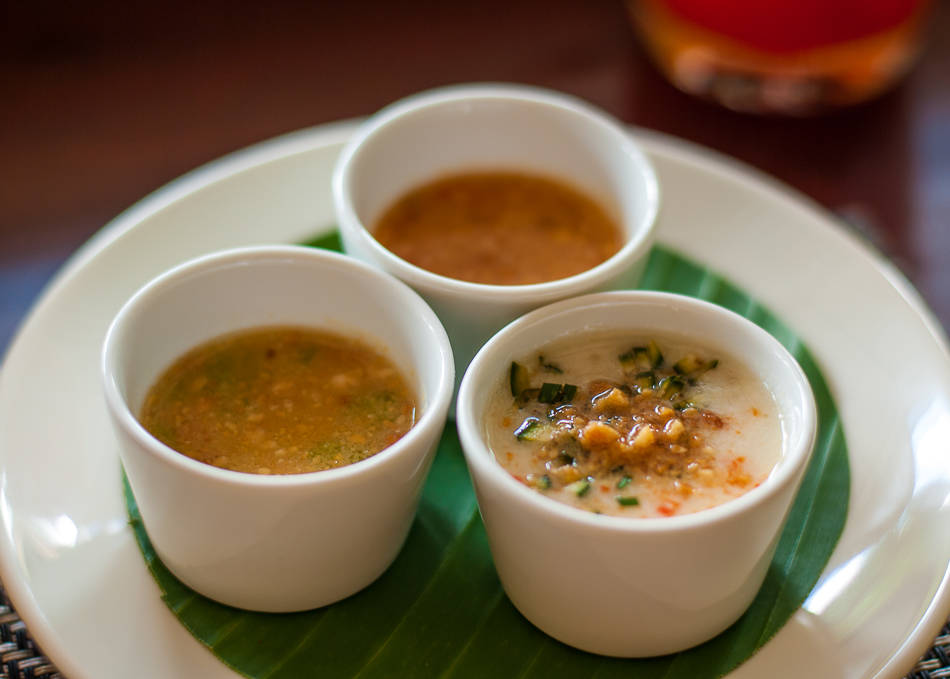 Pineapple Carpaccio with Rosella Sorbet, Lime Zest, and Thai Basil Sprinkle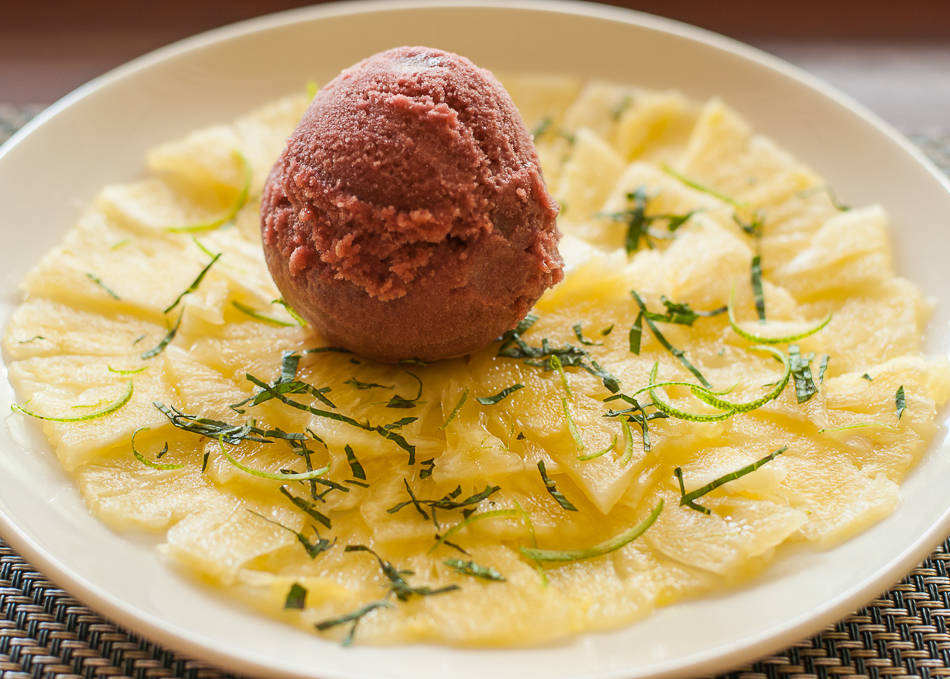 Laos produces world class coffee which can be sampled anywhere in the city, but nothing beats sipping it on a terrace overlooking the Mekong river like at Saffron Coffee. Their special Arabica coffee is grown right in the mountains surrounding Luang Prabang so you can't find anything more local than this.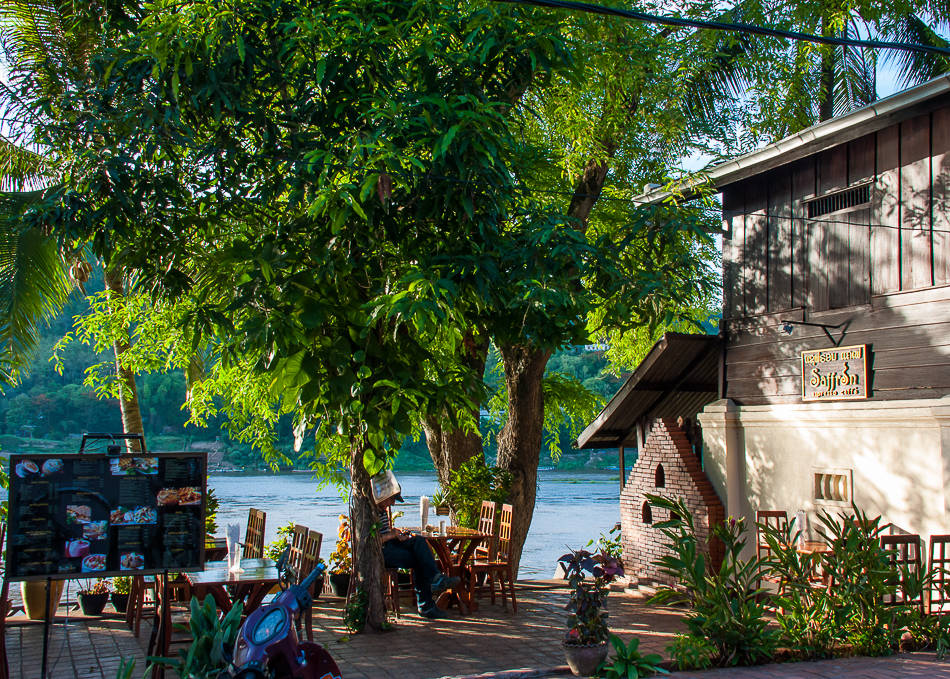 Lao coffee is rich and strong and most Laotians would never drink it black – instead, they mix it with powdered milk, evaporated milk and sweetened condensed milk for a thick, sweet and delicious concoction ready to perk up any weary traveler. Mulberry tea, here served iced, is also a popular and supposedly extremely healthy thirst quencher.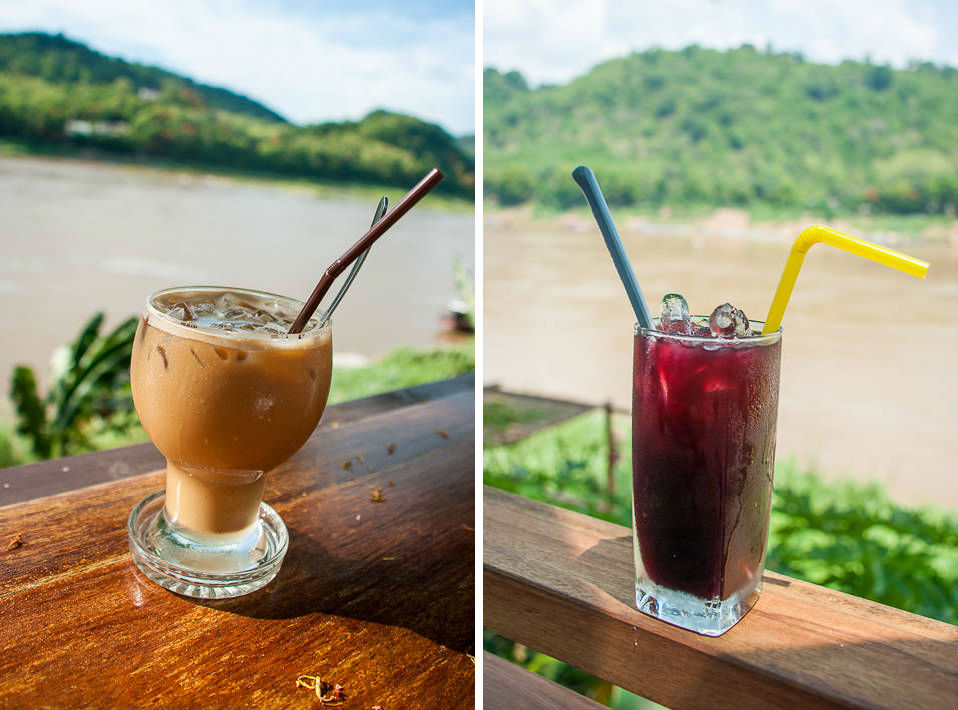 Fresh coconuts are widely available and a favorite drink of locals, young and old…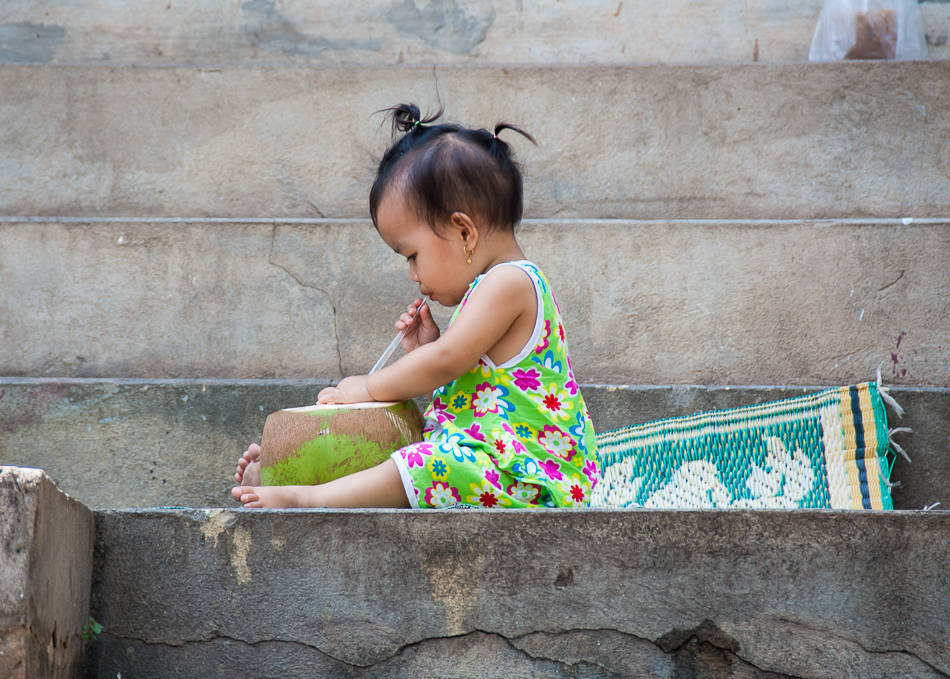 Walking around will yield many a food sight as Laotians prepare a lot of their dishes and ingredients outside. Here some rice cakes are drying in the sun.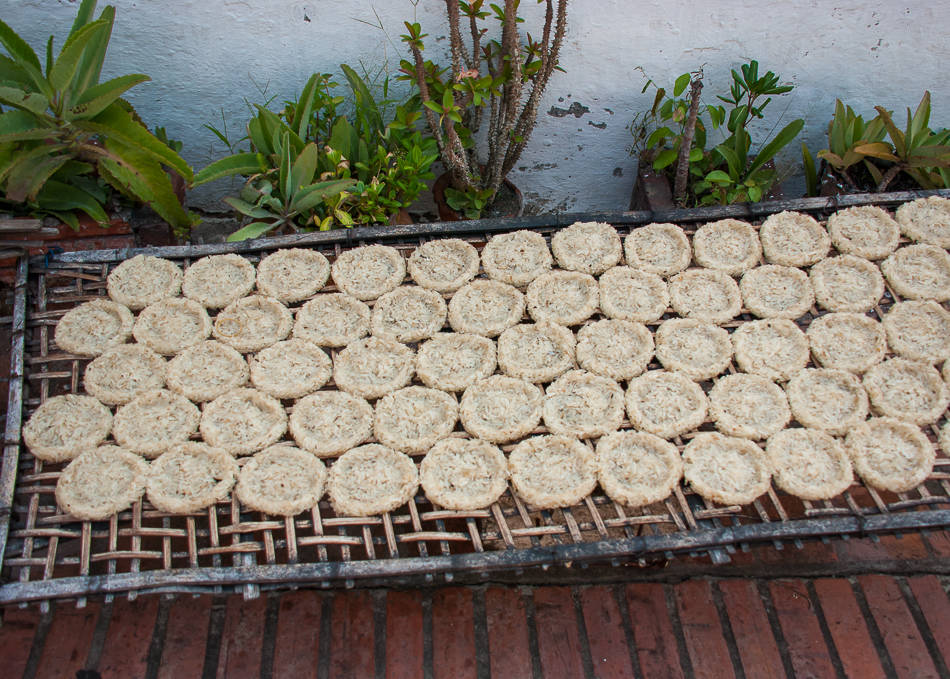 Lao sausages drying in front of a deli are usually made of pork, seasoned with herbs such as lemongrass, kaffir lime leaves, shallots, cilantro, galangal and flavoured with fish sauce. Beef strips are left to dry in sunlight too, then deep fried until lightly crispy for the Lao version of beef jerky. Both sausages and jerky are popular snacks and go down extremely well with a cold Beerlao.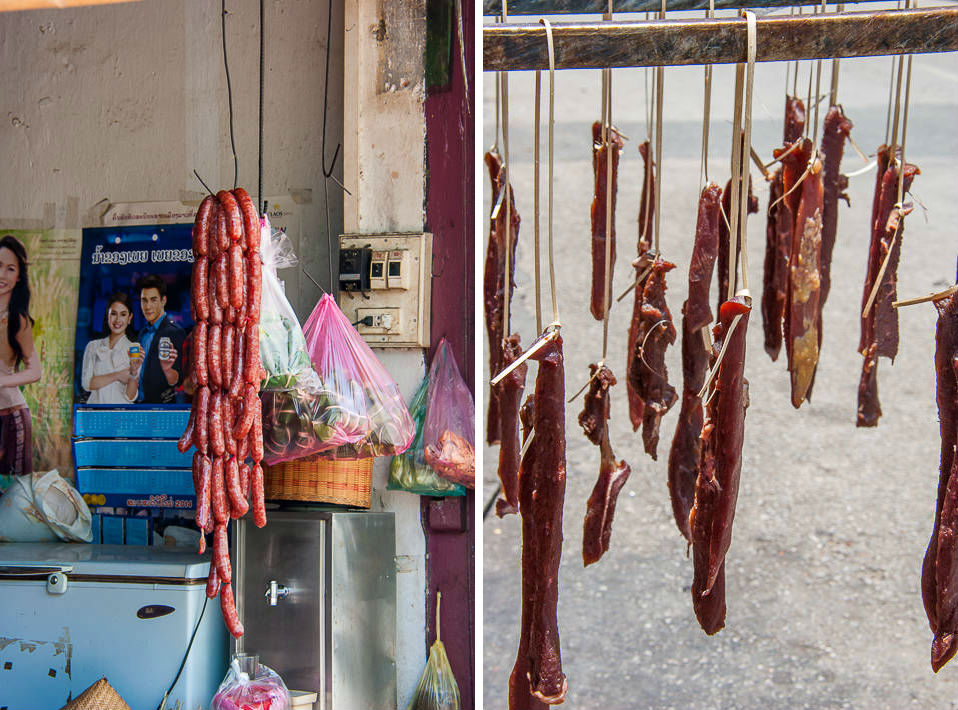 Women selling vegetables by the roadside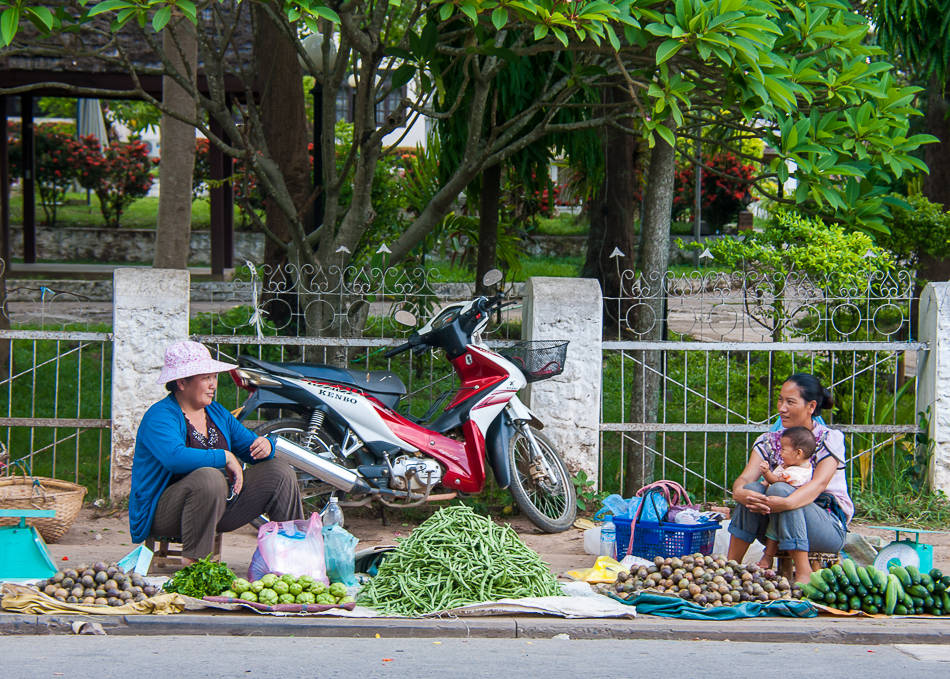 The best place to witness Lao food in all its diversity and freshness is at the morning market which spills onto a web of alleys every morning from sunrise until about noon.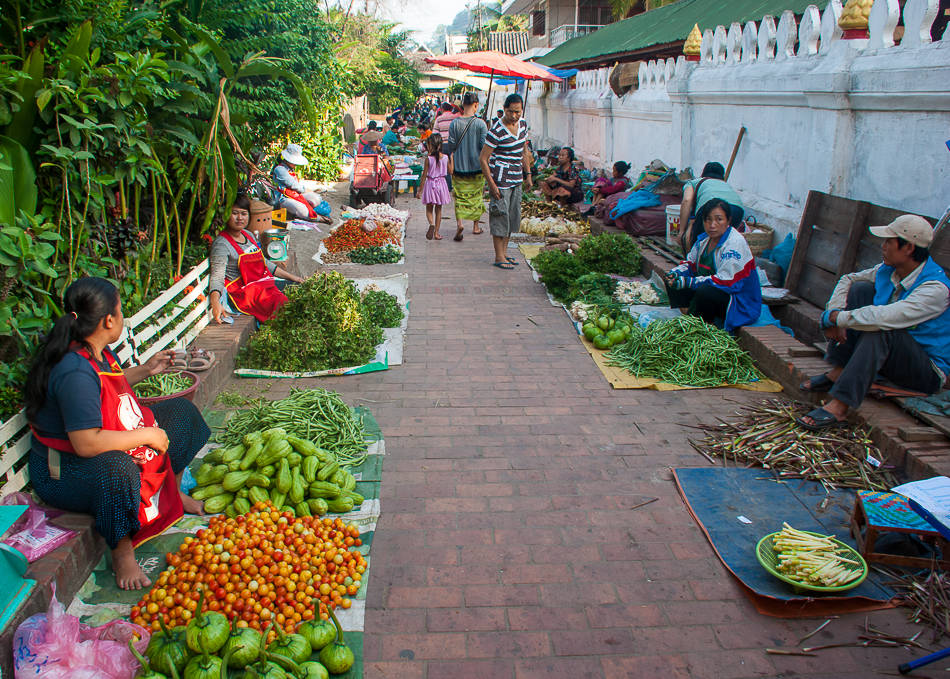 Many of the vendors live in the forests, hills, and along the rivers around Luang Prabang, and they bring whatever they have gathered the days before, as small as it may be.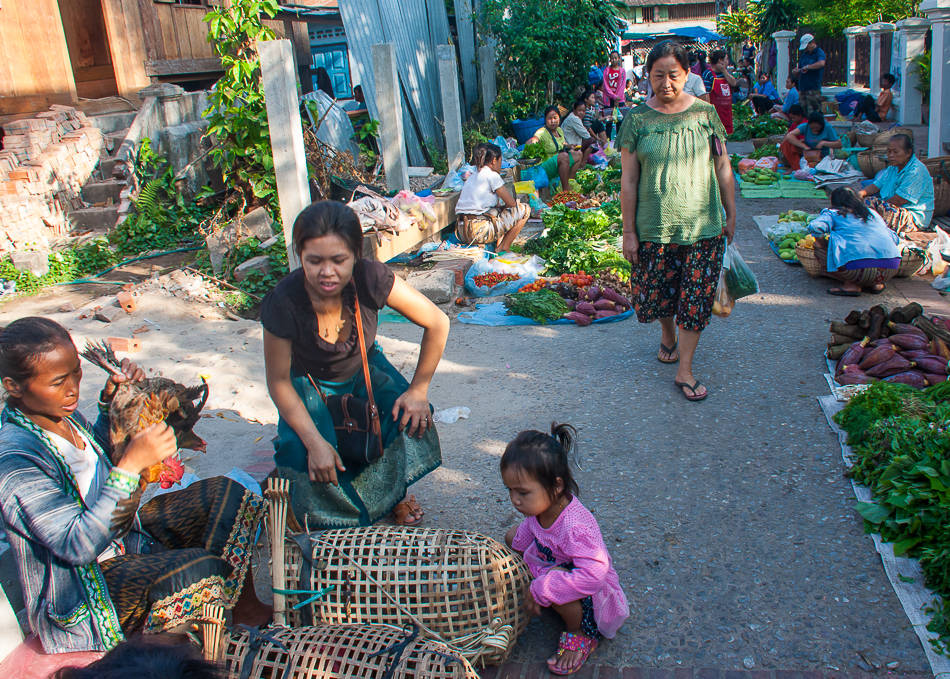 Local herbs, greens, and mushrooms will likely find themselves in a salad at a few of the city's restaurants tonight.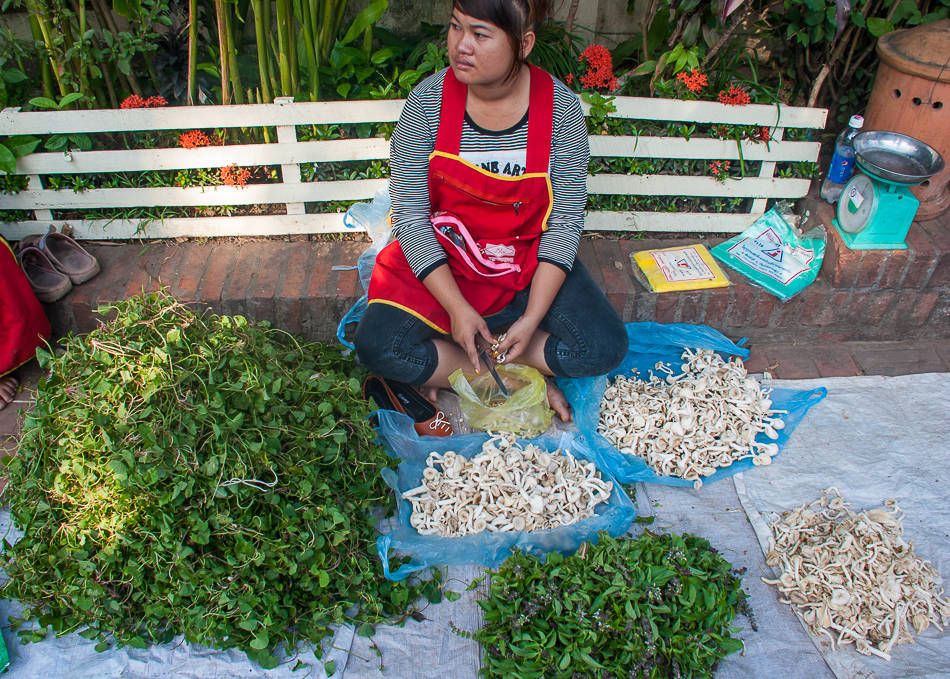 These cones made from banana leaves and marigolds are offerings for the Buddhists.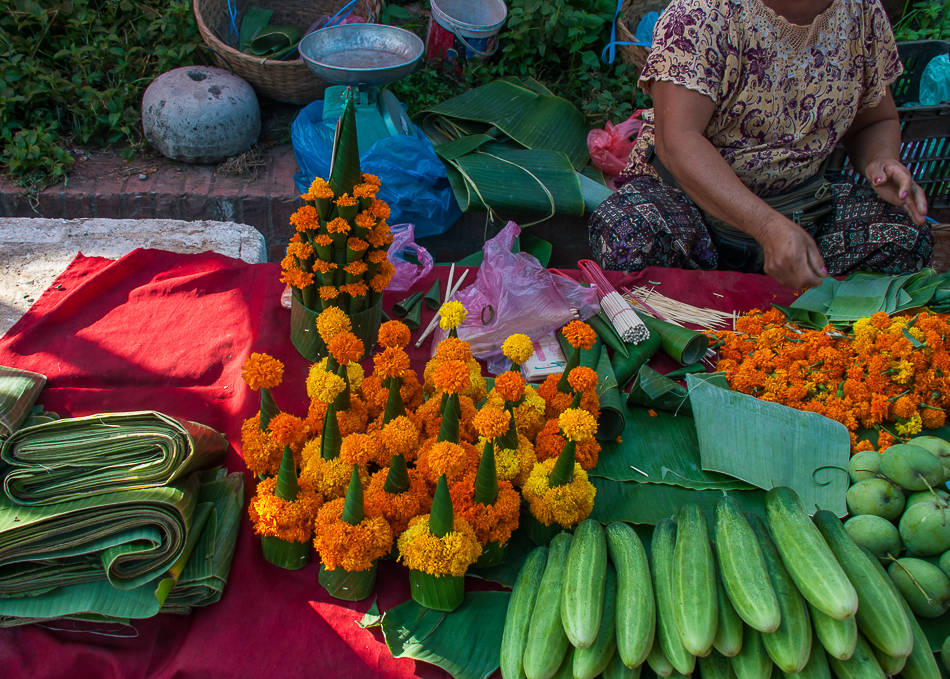 Ant eggs are a delicacy in Laos and are used in soups and curries,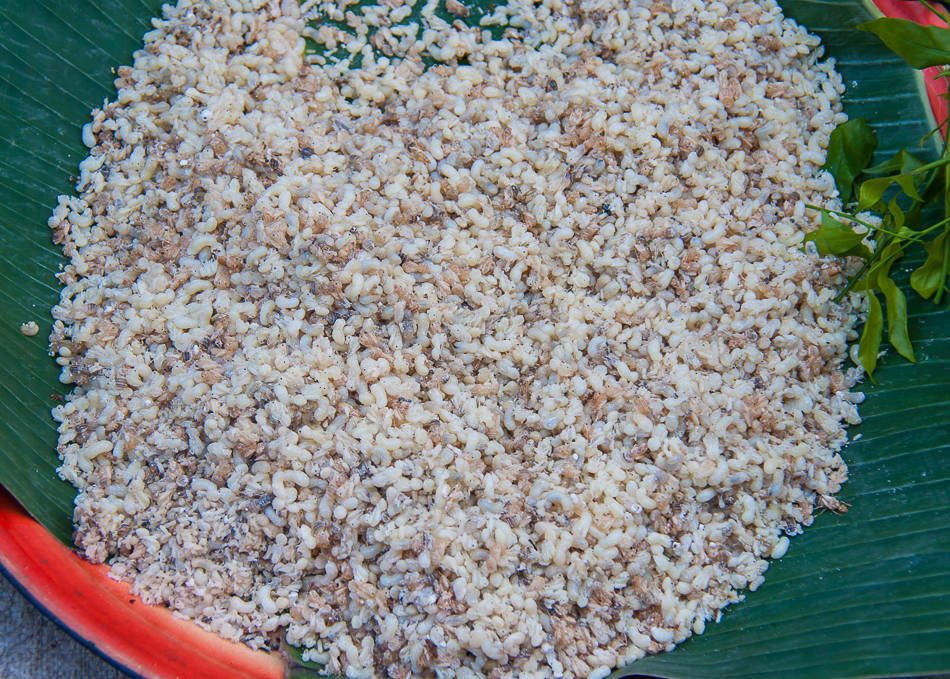 The butcher section is ready to cut anything to order and offers various offal and blood for sale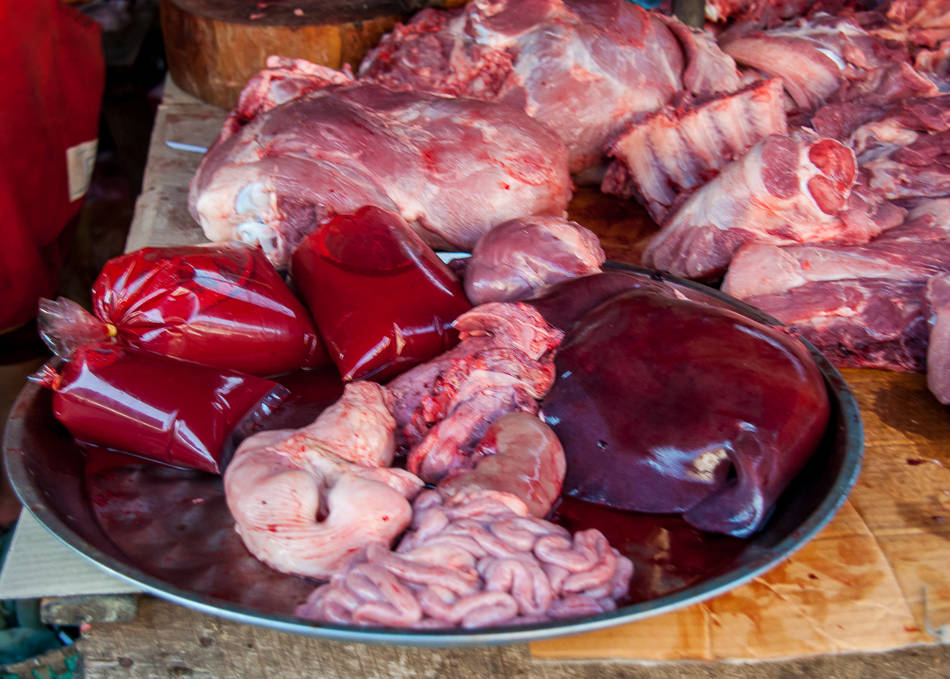 Pink eggs, or 'Century eggs', are black inside and the result of a Chinese preservation method – coated with a paste of clay, tea, quicklime, salt and wood ashes, they're put in a jar and filled with rice chaff for 3 months!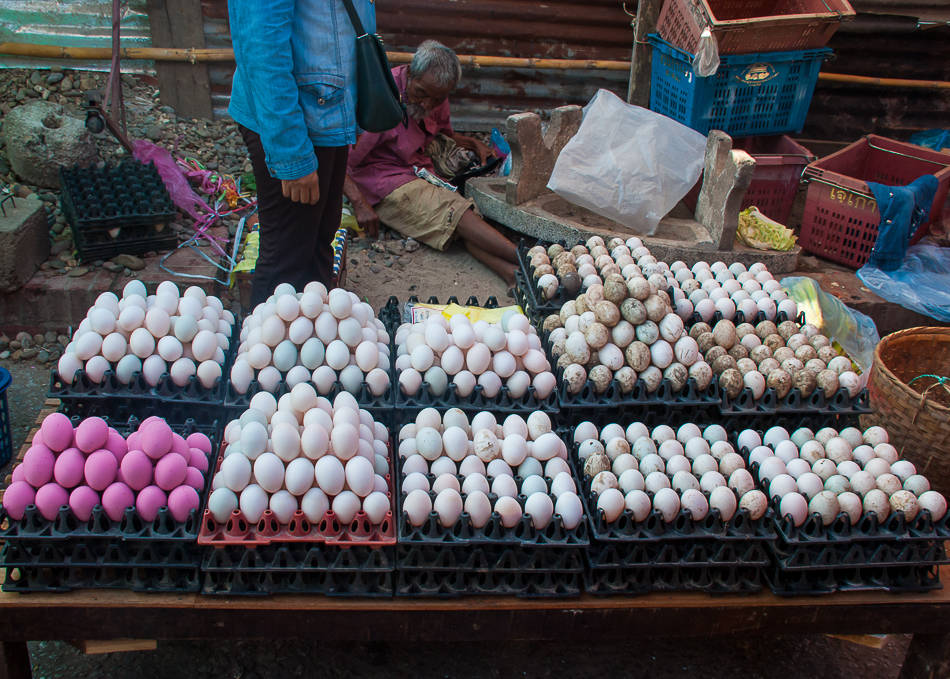 If you get hungry while browsing there's plenty of BBQ stands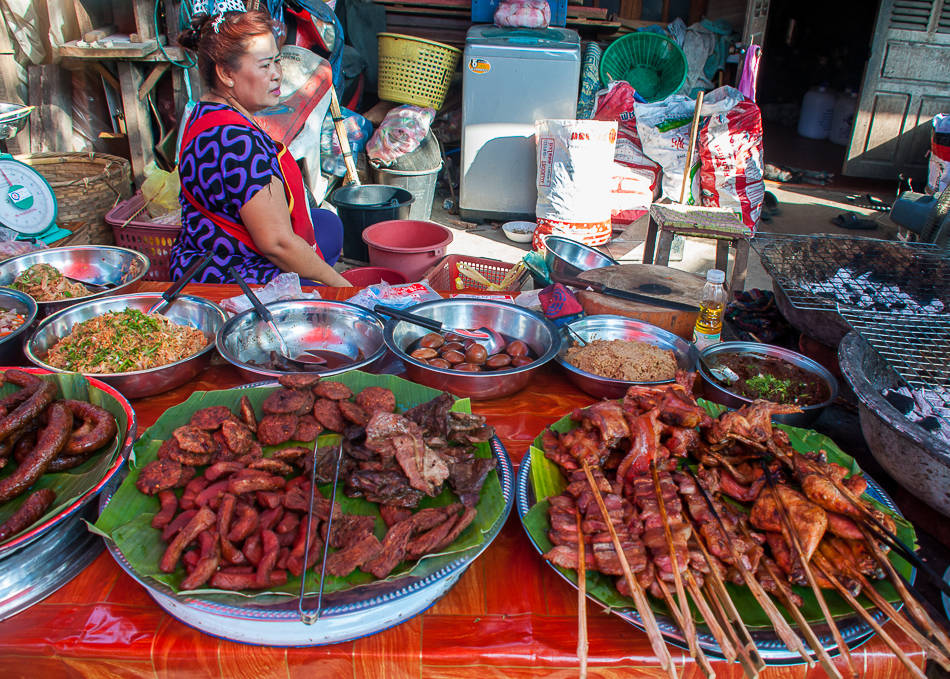 But as it's still early, I would opt for the fresh noodles that are made right in front of your eyes near the end of the market…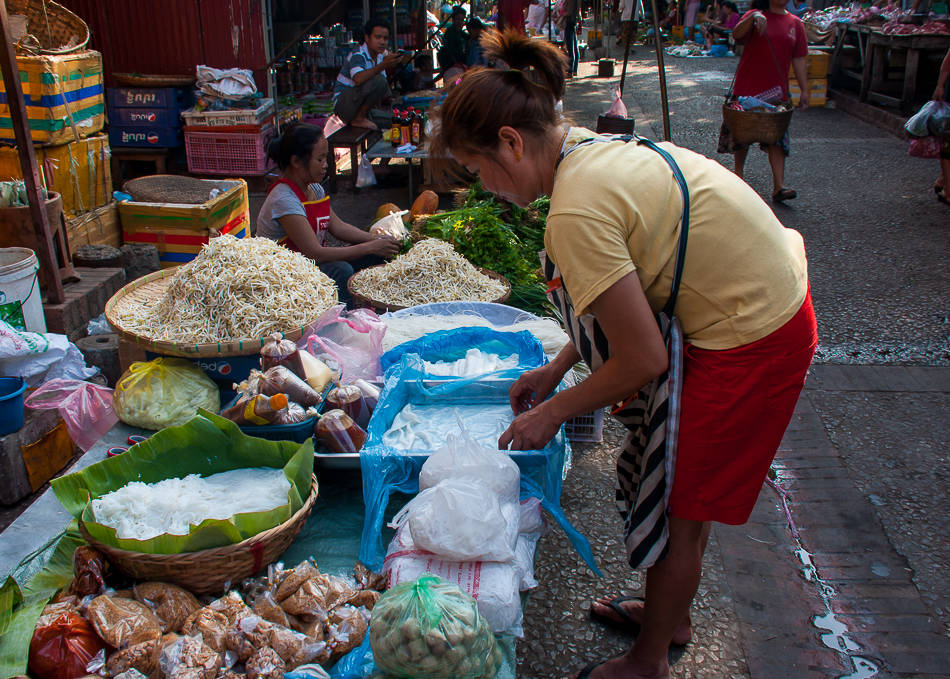 …they'll fill you just enough until lunch where you'll  inevitably have another family style Lao feast!