Happy National Ravioli Day! Yes, there is such a celebration and it falls on March 20th hence why I chose today to post this homemade ravioli recipe. Making your own filled pasta can seem daunting but honestly, with a bit of patience and handwork anyone can easily produce something delicious in their own kitchen.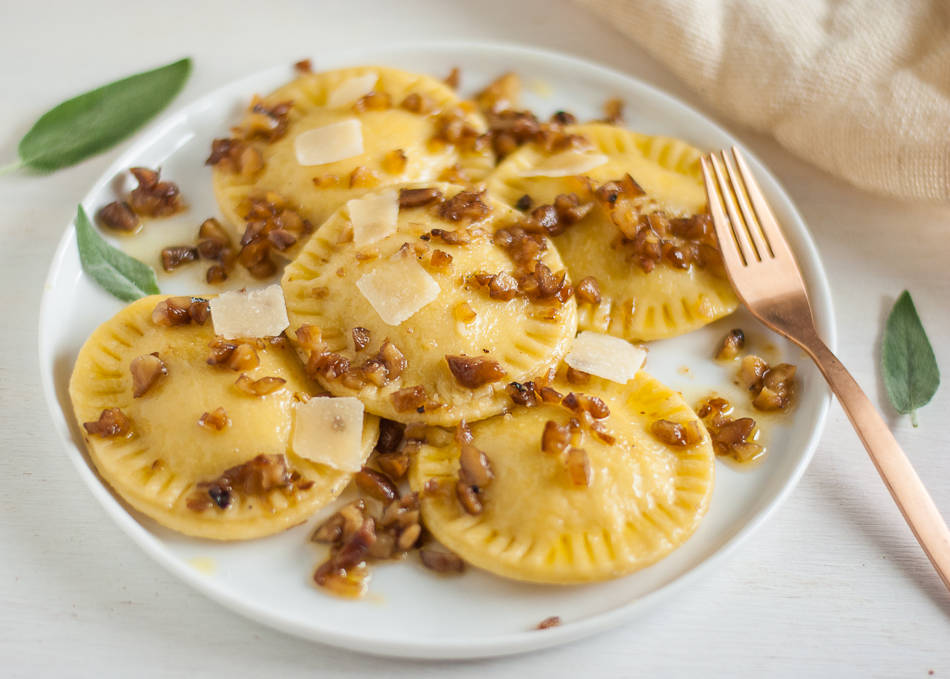 This healthy and well-balanced dish is an excellent way to use leftover roasted butternut squash which makes whipping up the filling a breeze. The ricotta adds creaminess to the filling and the grated parmesan cheese not only adds a sharp flavor but also acts as a binder that holds it all together. Sure, this is more of a weekend project but you'll be amazed at your capacity to produce a meal so full of flavor from scratch with so few ingredients. The simple butter sauce with chestnuts is simple but rich so it's best served in small portions (which means you'll have more of these raviolis to enjoy during the week…).

Squash Ravioli
Recipe from The Seasoned Vegetarian
Active time: 1h15
Total time: 2 hours
Makes 4-6 servings
Pasta dough
700g (1lb 9oz) 00 grade pasta flour
Pinch of salt
4 eggs and 9 egg yolks
Some fine semolina to dust and roll
Filling
400g (14oz) roasted, cubed squash (roasted in olive oil with garlic and seasoning)
300g (10oz) ricotta cheese, drained
100g (3½oz) Parmesan cheese, grated
1 tablespoon chopped fresh sage
Salt and freshly ground black pepper
1 egg, beaten
Sauce
2 tablespoons extra-virgin olive oil
100g ((3½oz) butter
150g (5oz) vacuum-packed chestnuts, finely chopped
Parmesan or pecorino cheese shavings, to serve

Put everything for the pasta dough, except the semolina, in a food processor or stand mixer and pulse into a loose ball of dough. (You may need to do this in batches unless you've got a large food processor.)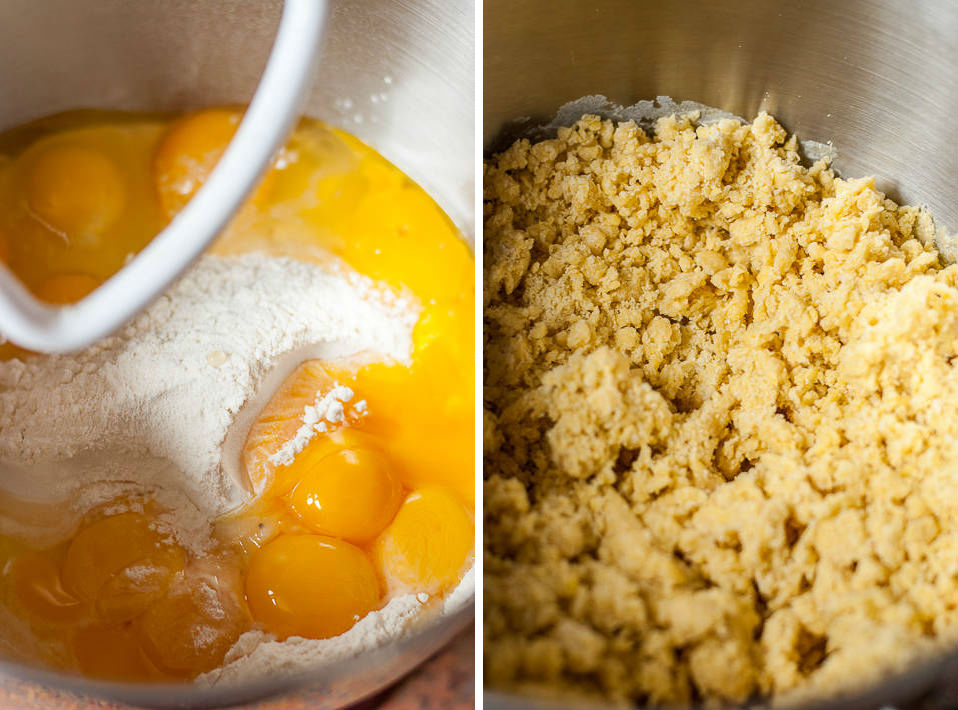 Turn the dough out on a work surface dusted with semolina and knead for about 5 minutes until it is smooth and elastic (I separated mine in two as I find it easier to knead a small ball).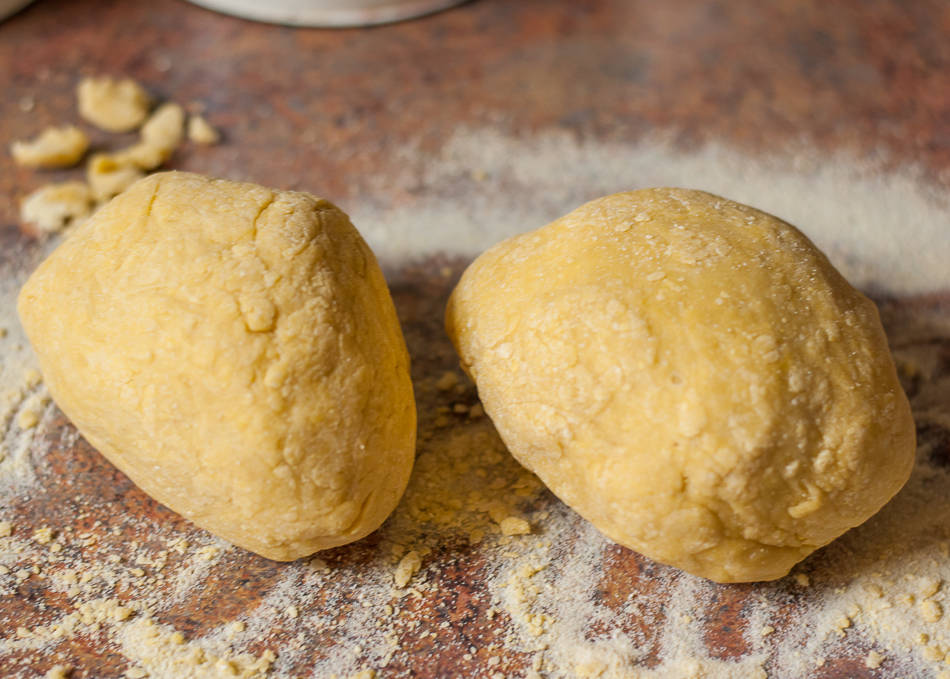 Wrap the dough tightly in a polythene bag and set aside to rest for 20 minutes.
Cut the dough into eight balls (as smaller portions are easier to manage).
To create really silky pasta, put each ball of dough through a pasts machine on its thickest setting 10 times. After each pass through, fold the dough in three and turn by 90 degrees. Then, reduce the gauge on the machine down to '5' for ravioli.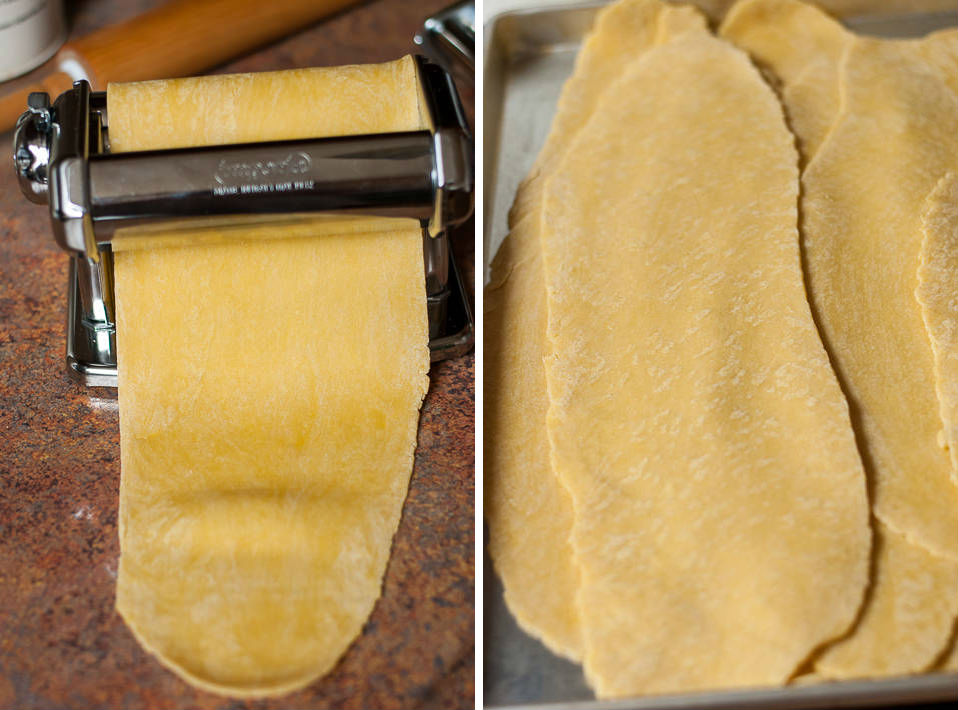 For the filling, pulse the squash in a food processor until reasonably smooth, then combine this with the ricotta, Parmesan, sage and seasoning.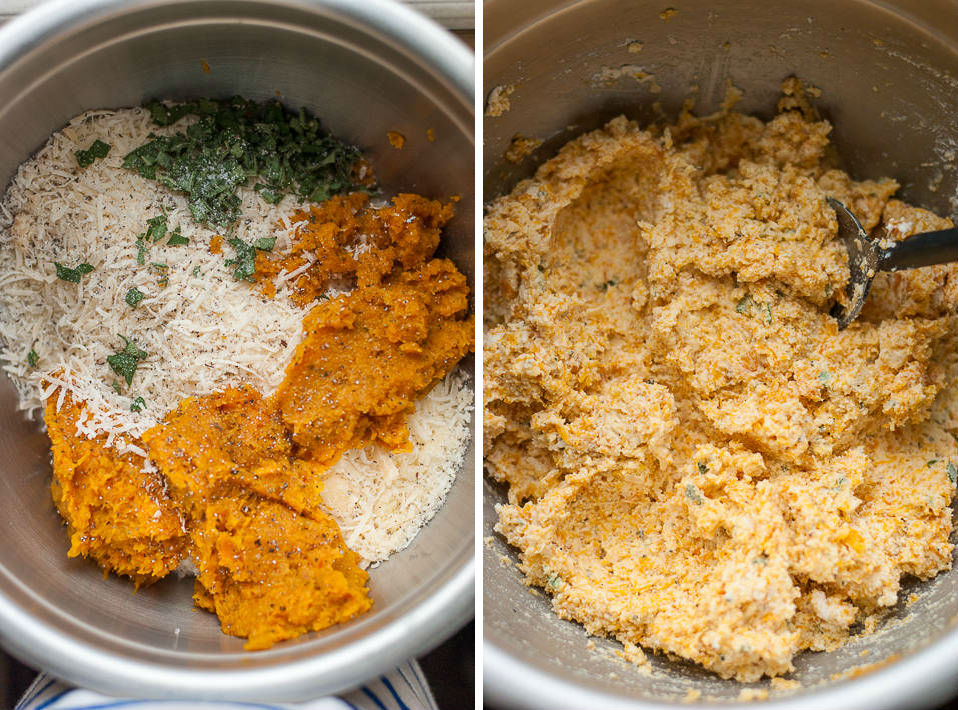 Cut the pasta into 7.5cm (3-inch) rounds. Put a small tablespoonful of filling on each round, brush the edge of the round with egg wash, then place another round on top and seal the edges.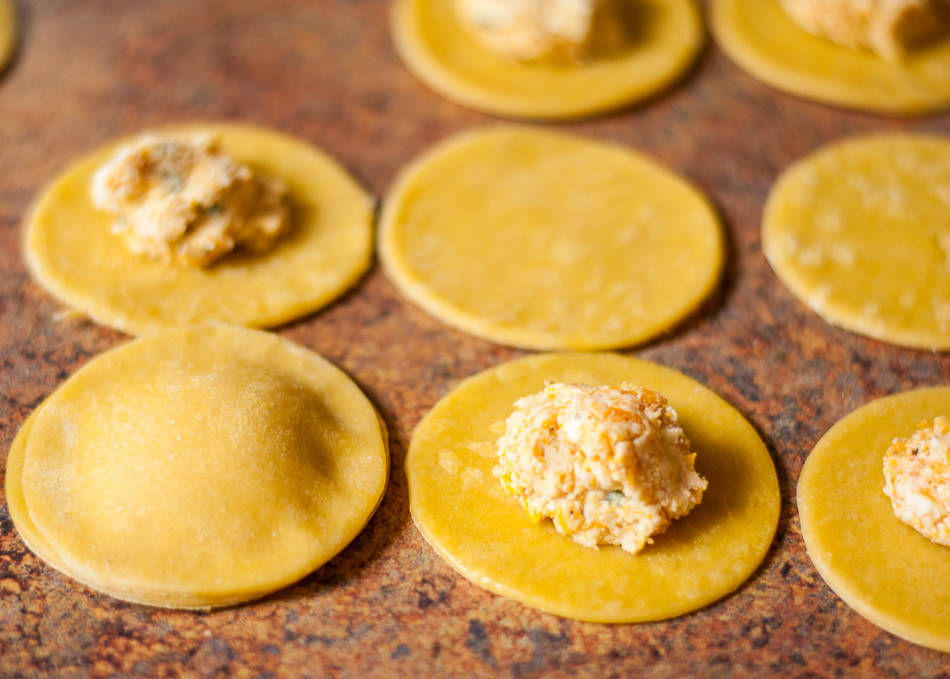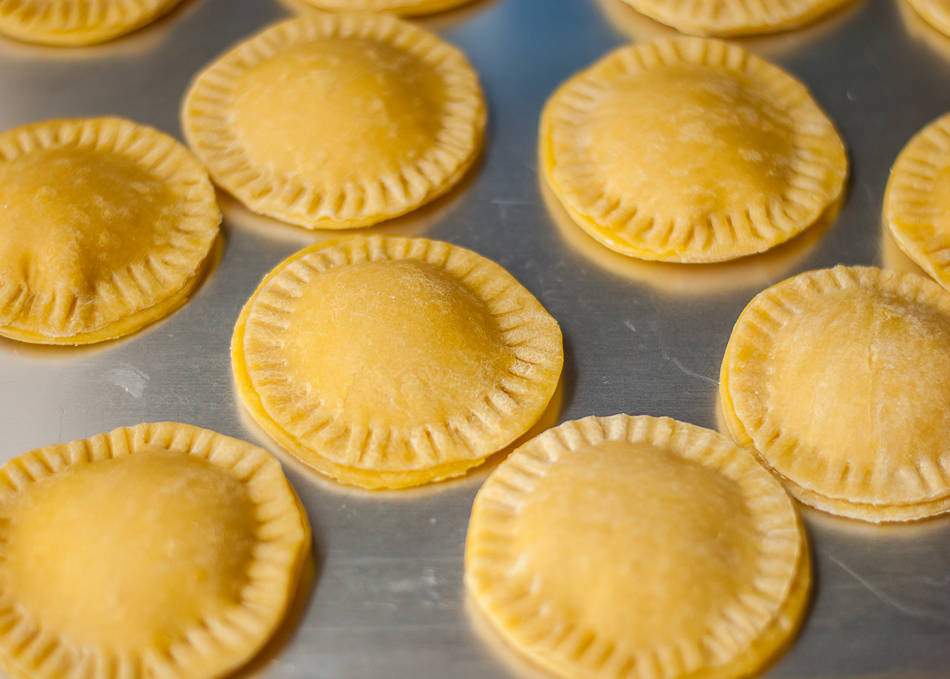 Cook the ravioli in boiling salted water for 3 minutes until 'al dente'.
For the sauce, simply melt the oil and butter in a saucepan over medium heat until the butter foams, add the chestnuts and cook for 5 minutes.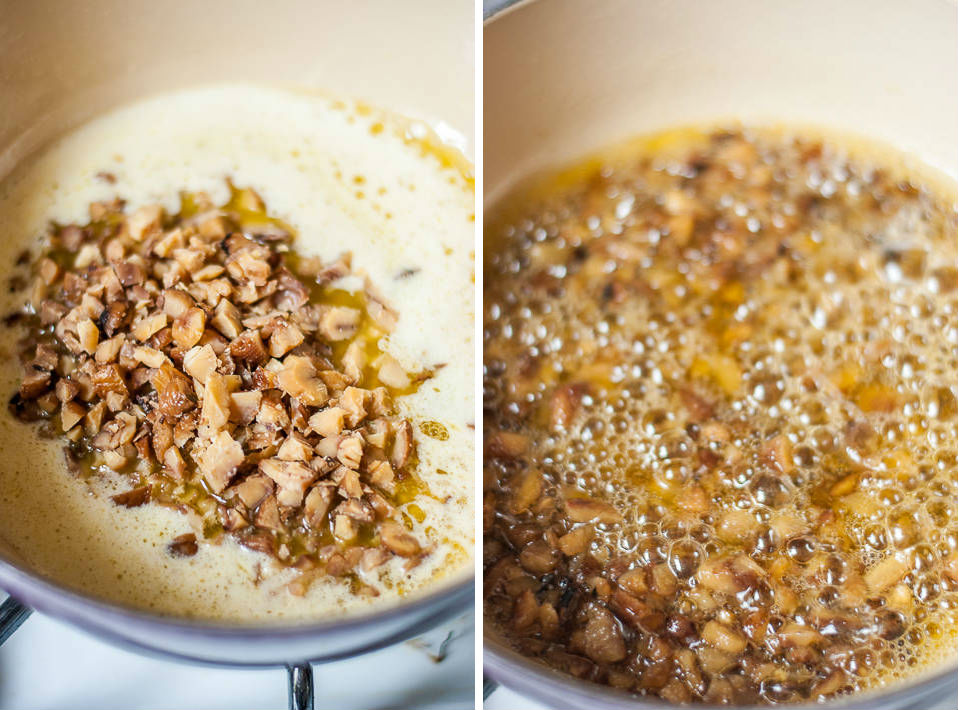 Drain the pasta, reserving a little of the cooking water with it, then toss with the chestnut sauce. Scatter with Parmesan or pecorino shavings before serving.