Maple season is finally upon us and despite still frigid temperatures, there are loads of celebrations happening right now all over Eastern Canada and the Northeast of the US. After all, maple syrup is a national obsession up there (the Canadian flag proudly displays it!) and who could argue about how it makes just about everything taste better such as pancakes, bacon, doughnuts, ham, beans, greek yogurt…?
Following the native population's customs, the thawing sap is collected drop by drop through spouts inserted into the maple trees and processed/heated to reduce its sweet water into the thick and amazingly flavorful syrup we consume.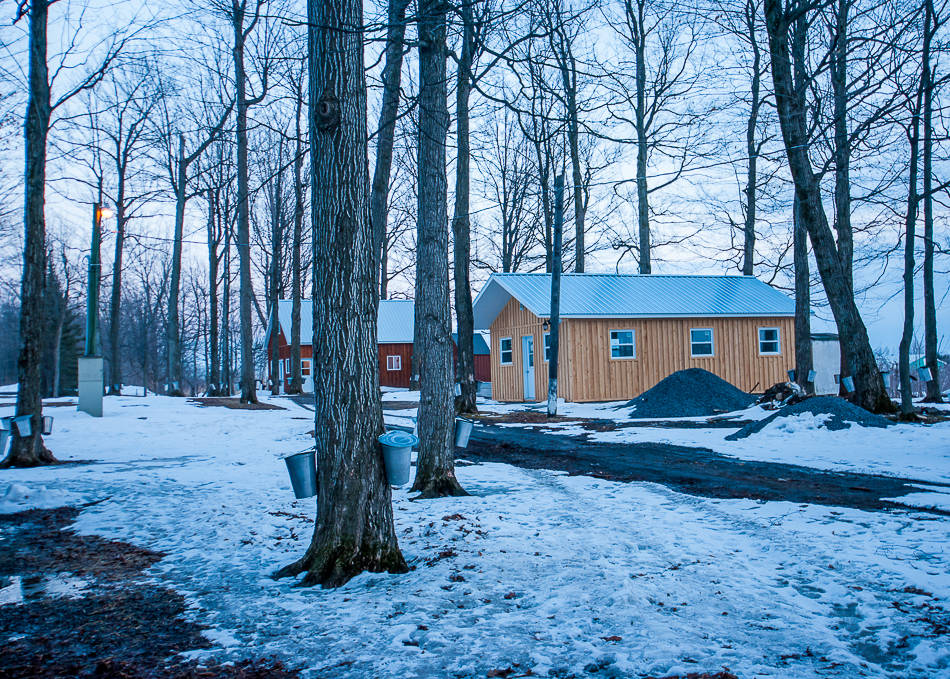 Of course, times have changed and today many sugar bushes use a network of connected tubes instead to pump and carry the sap to the processing facility. This has led to a thriving Canadian industry which each year produces over 80% of the world's maple syrup supply through its network of hundreds of sugar shacks (cabanes à sucres). The best thing about the maple season though is that many of these sugar shacks open their door to the public for an unforgettable family and friends gathering…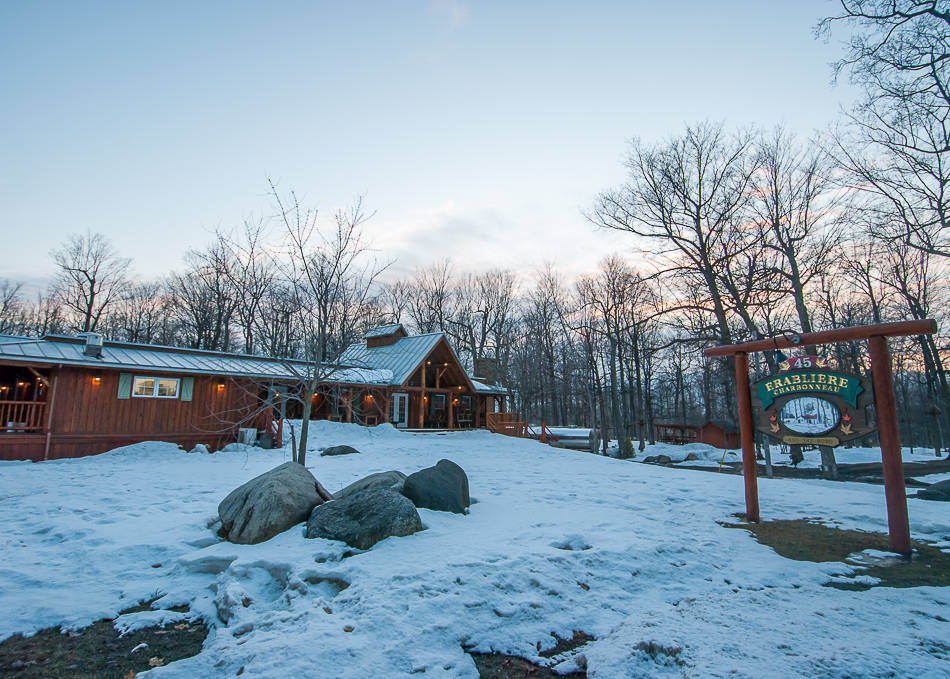 Just like here at Érablière Charbonneau, the sugar shacks invite you to dine with them each spring and indulge in traditional family cooking like you've never had before. It's a bit of a nostalgic trip for a lot of us and driving to the countryside to eat at a sugar shack is a tradition that is not likely to die anytime soon.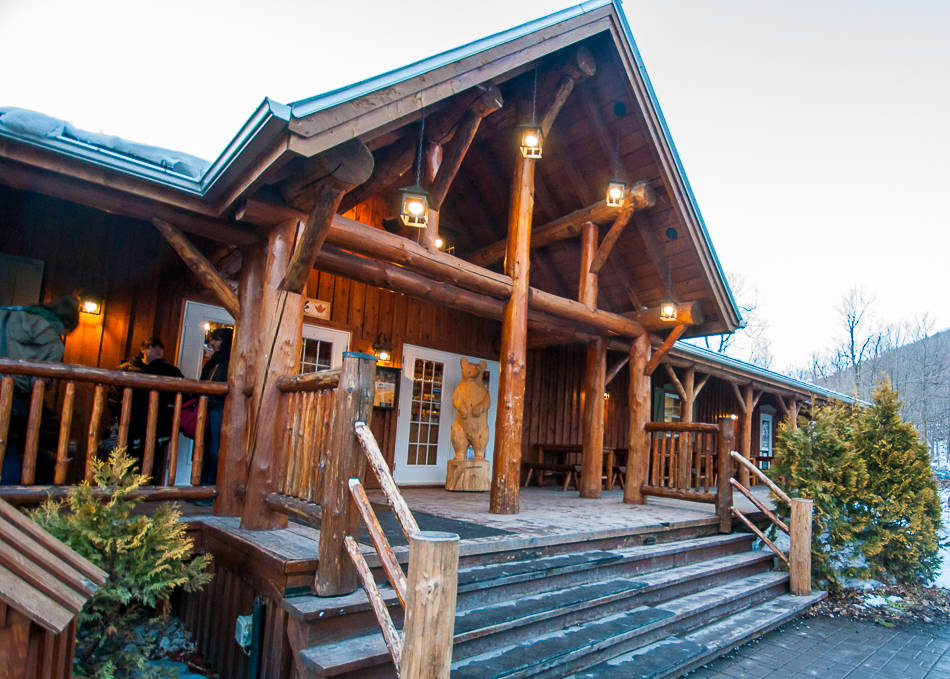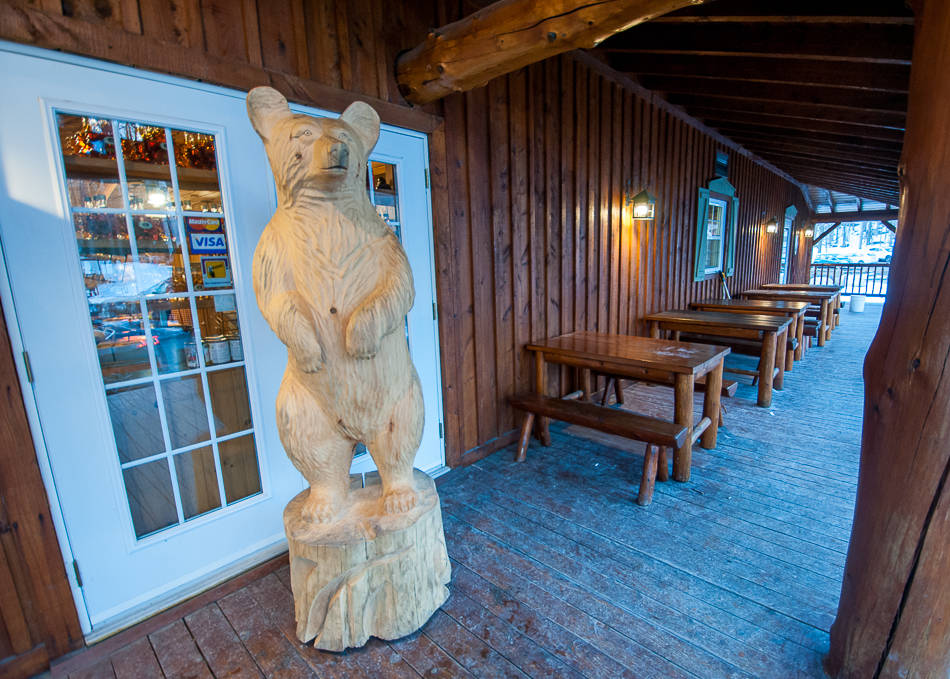 While the maple syrup is the number one output here, they do produce a lot of other insanely delectable sweets which you can purchase on site such as maple butter, maple jelly, maple-filled chocolates, maple candies, maple sugar, etc. If your sweet tooth is not satisfied here especially after the sugar-filled meal you're about to eat there's something seriously wrong with you!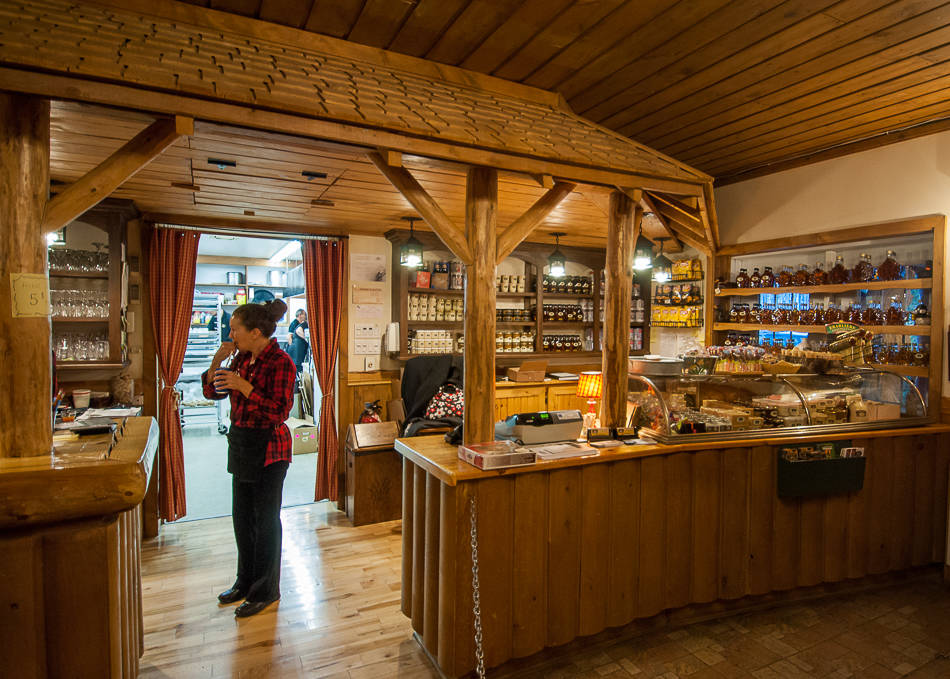 Sugar shacks range in sizes though you're likely to end up in a large and lively dining hall with heaps of families and groups of friends…it's a highly social activity and best enjoyed with a lot of people.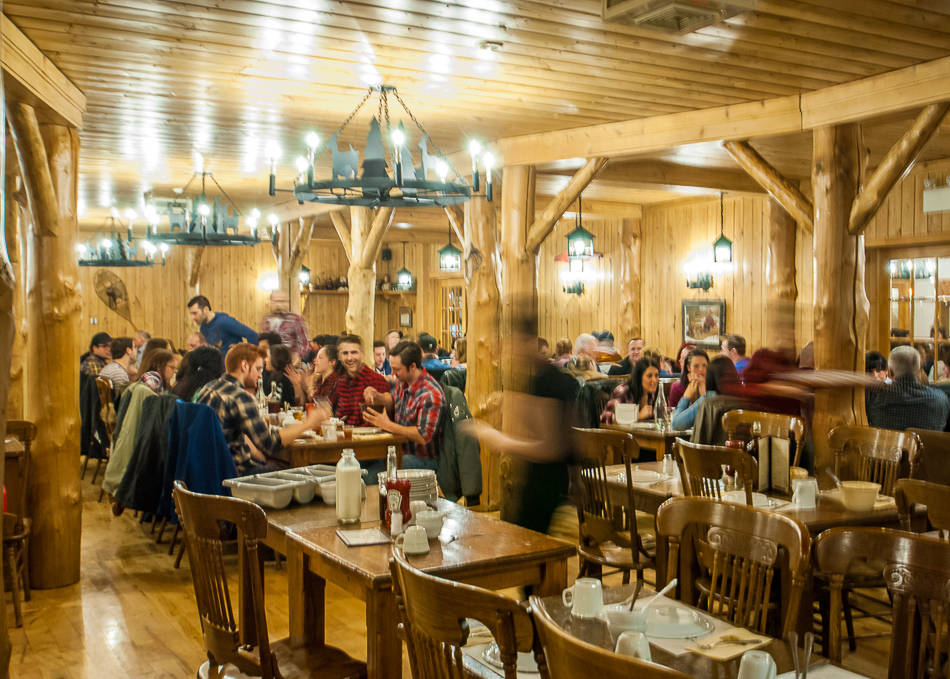 Then you just sit down and wait a few seconds for your waitress in a lumberjack shirt to bring you the feast in waves…
Hint: Red beer goes down particularly well with the meal, and so does cider. To the right are cretons, a delectable pork spread.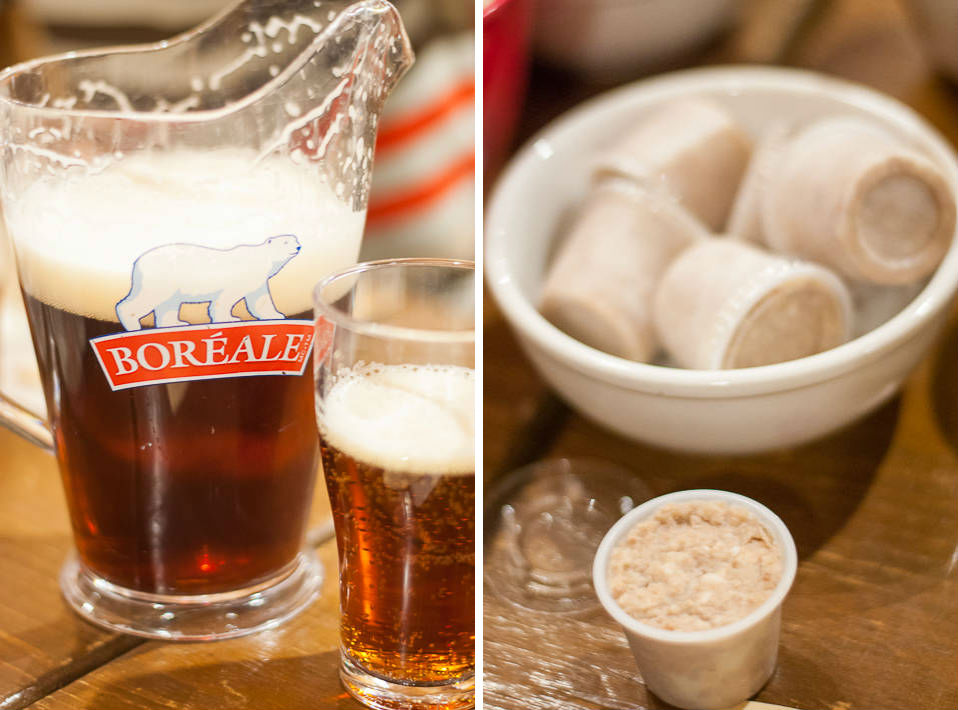 The first service consists of the house's pickles, cabbage slaw, cretons, fruit ketchup, bread and butter…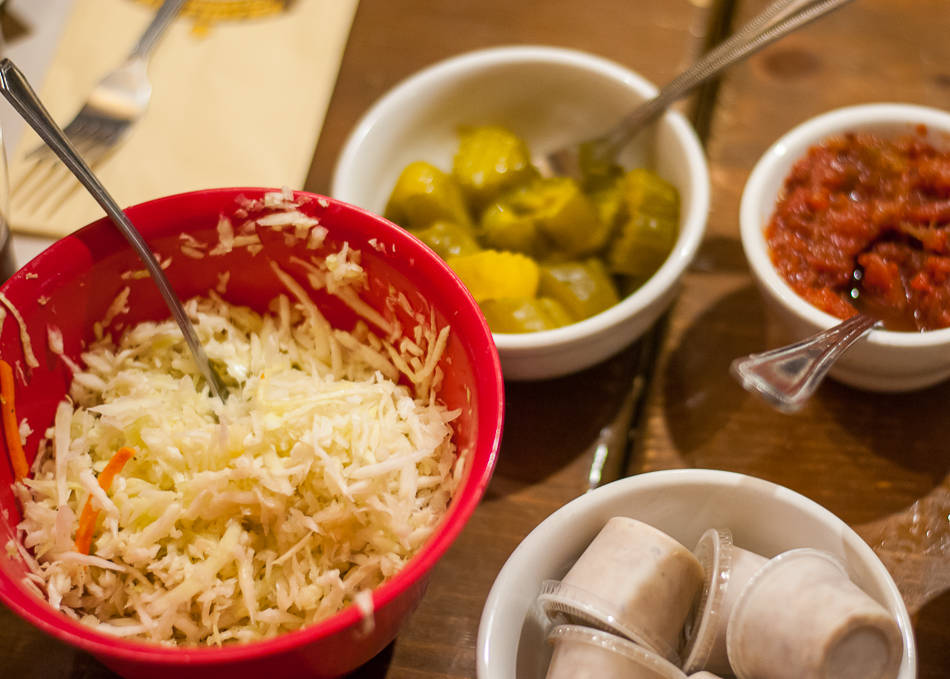 …and the famous pea soup.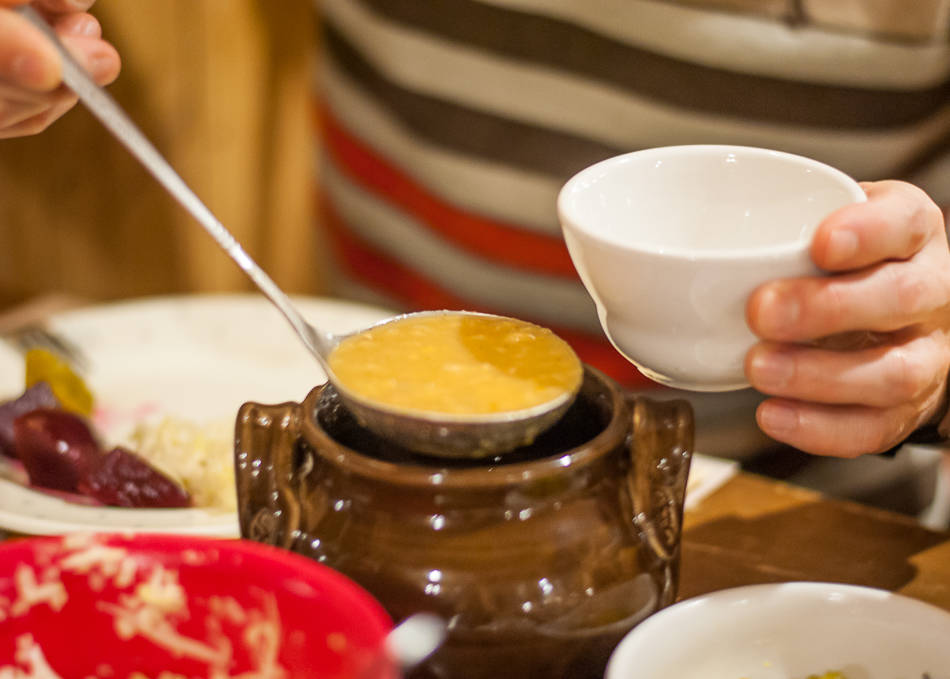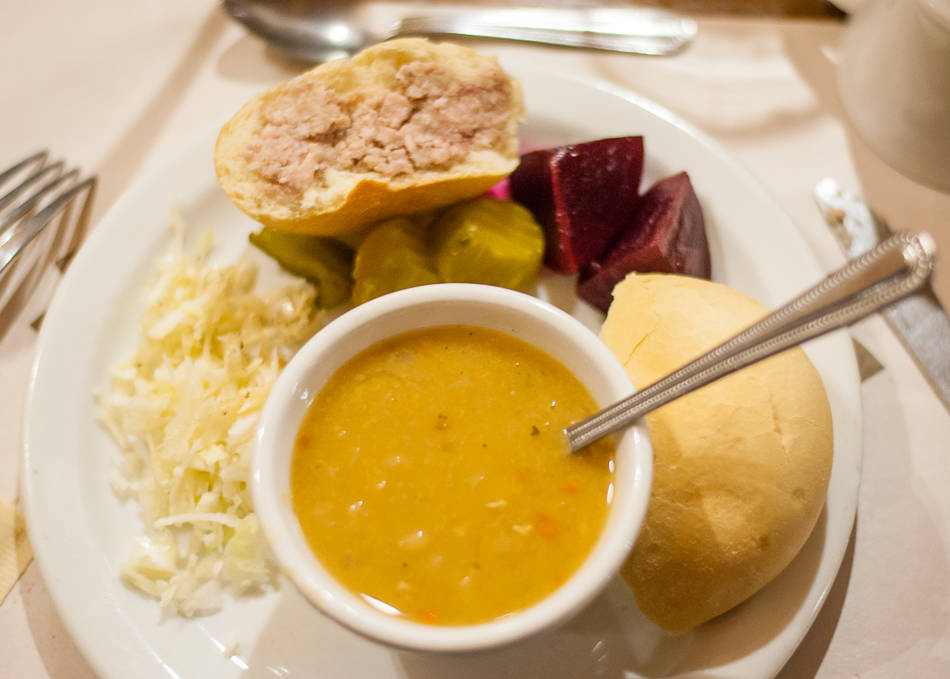 Next comes the real deal with maple sausages, baked beans (also cooked in maple syrup), meatballs stew (not visible here)…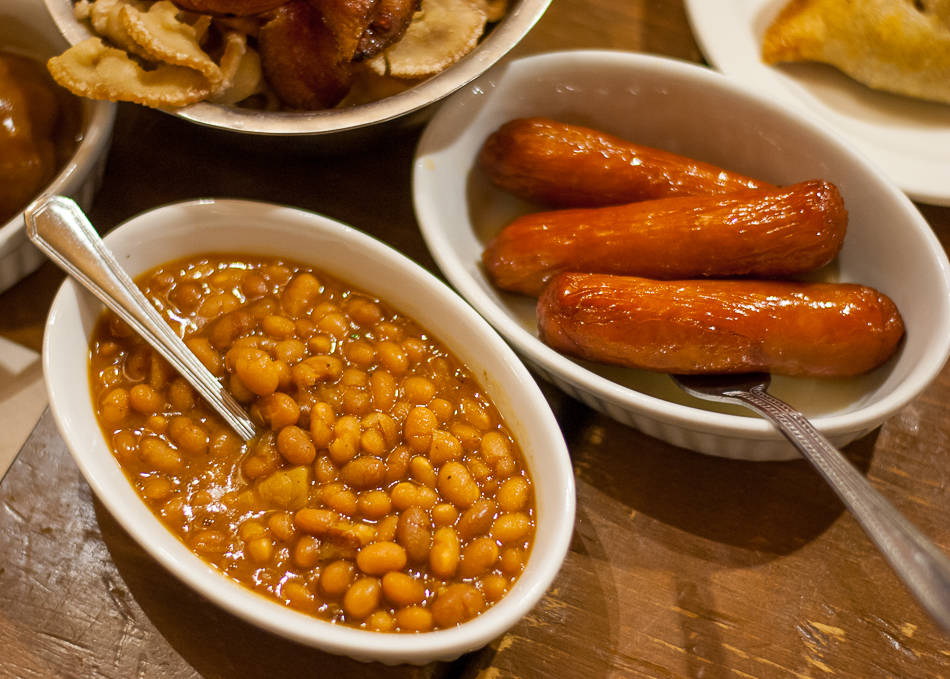 Omelette and ham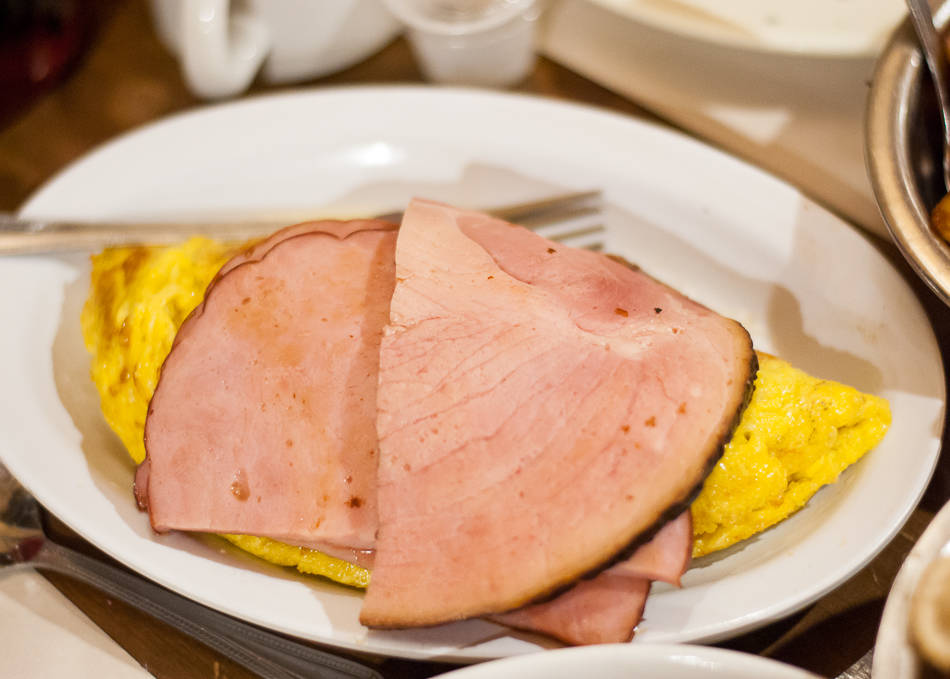 The irresistible oreilles de crisse (crisp salt fried pork) and fried lard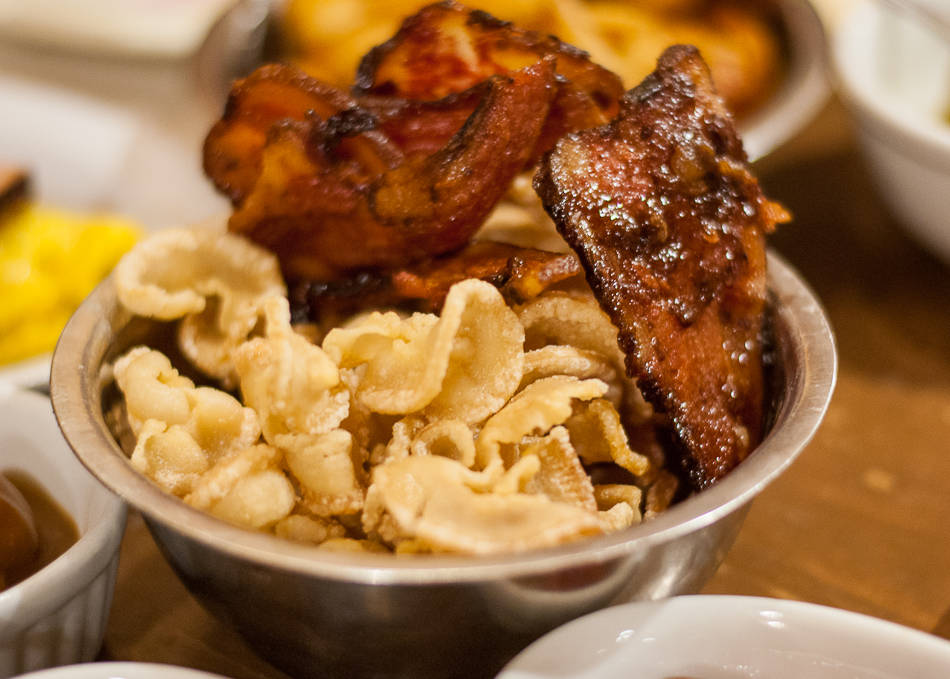 Meat pies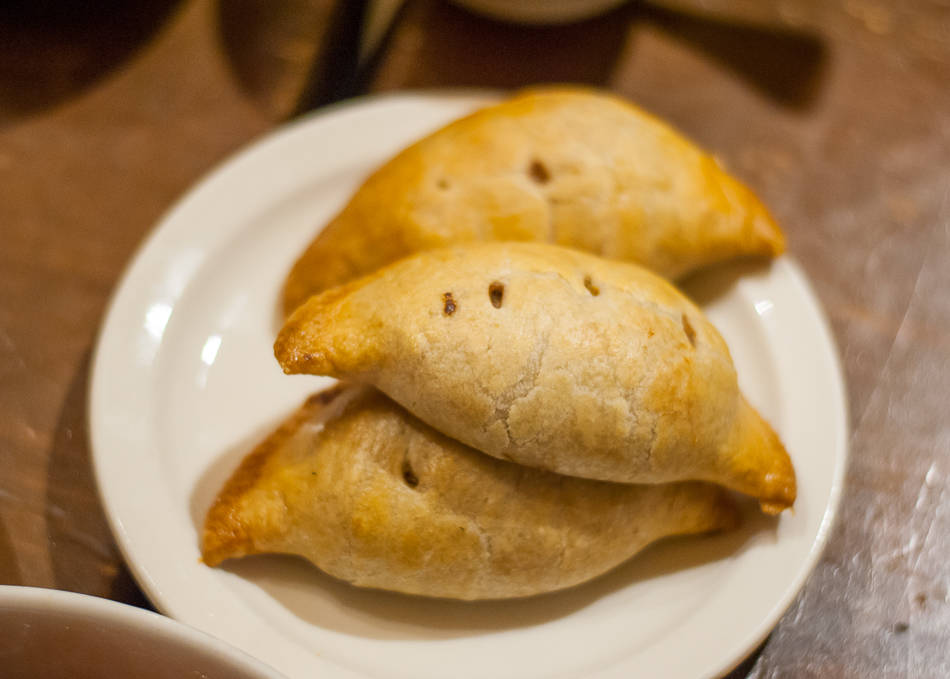 The fruit ketchup pairs wonderfully with the meat pies…btw!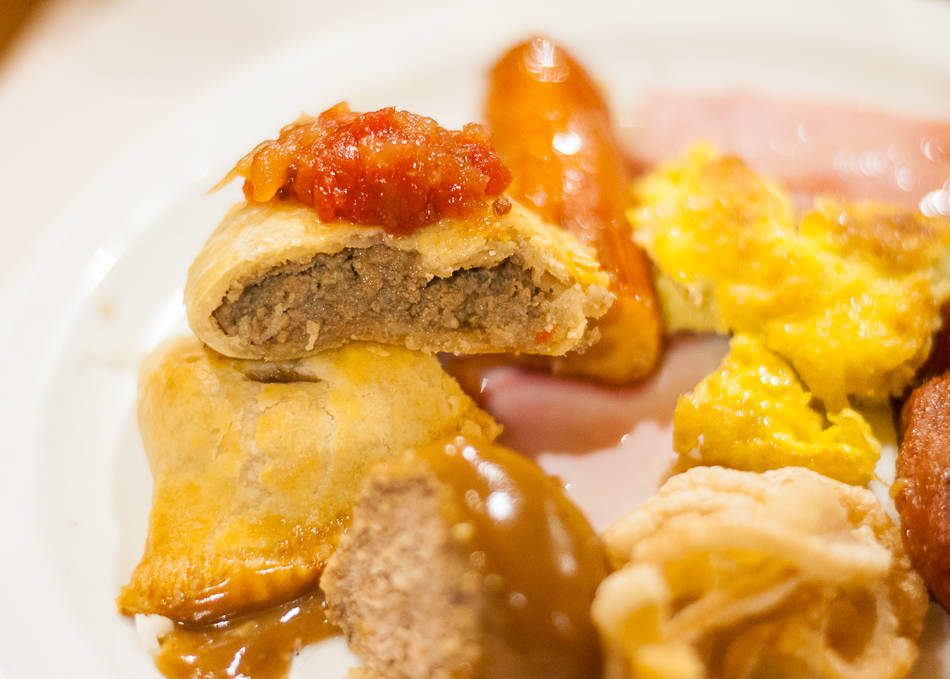 And this is what a fairly timid plate looks like with a bit of everything, including sauteed potatoes.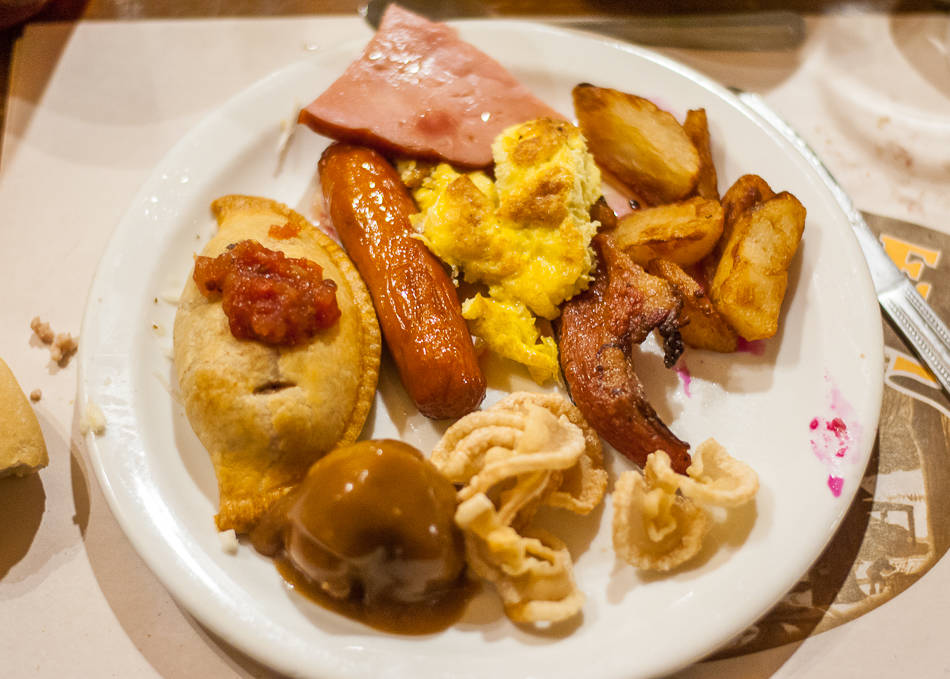 Of course, the dessert course shortly follows with the unique 'pets de soeurs' (aka nun's farts). Despite their less than appetizing name, these pinwheels are a great 'twist' on the cinnamon roll, pairing flaky crust with a butter/brown sugar/cinnamon mixture and originally from French Canada.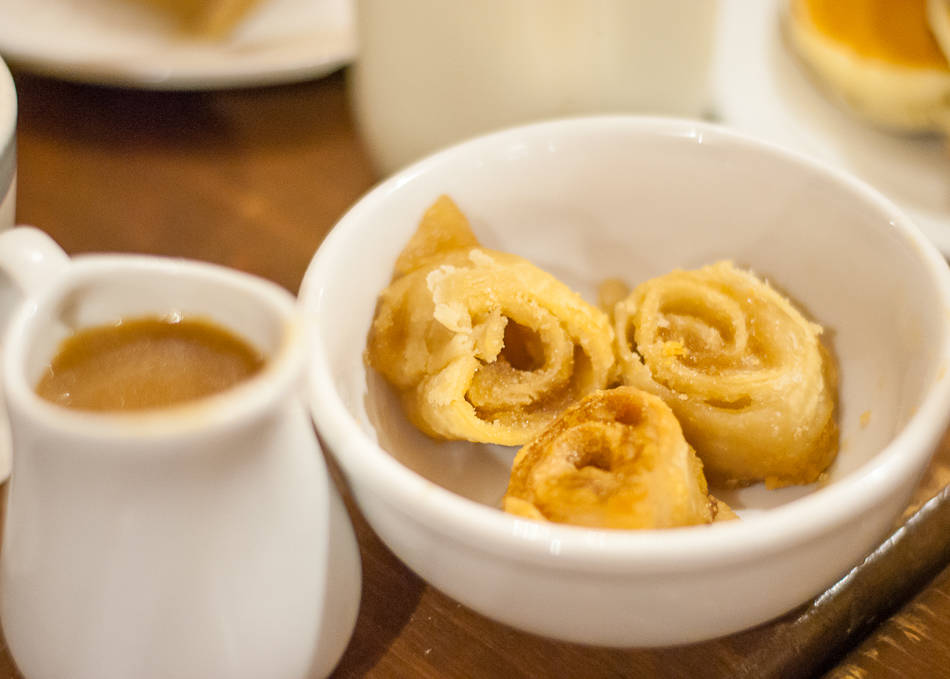 Next comes the ubiquitous sugar pie of which you'll find as many varieties as there are sugar shacks and it's always a success.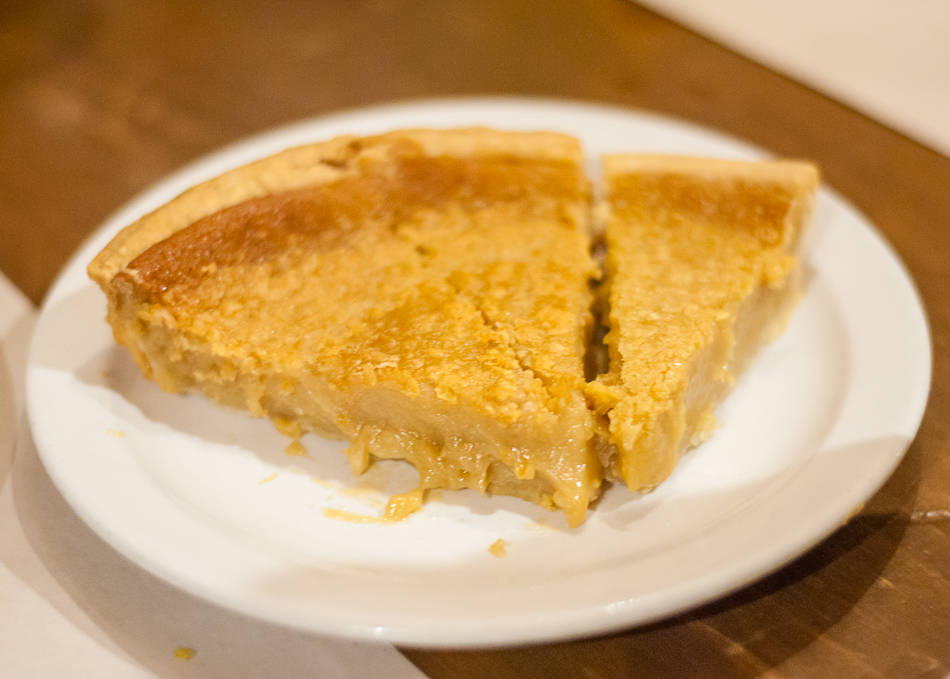 The third and usually final dessert is a variation on pancakes or crepes, sometimes buckwheat sometimes not….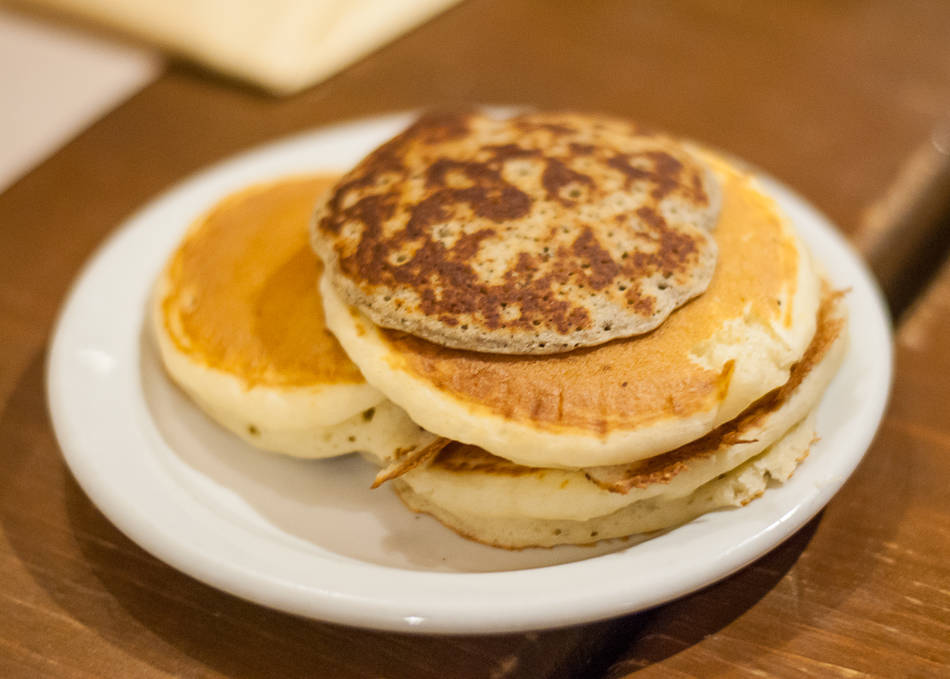 …and mainly used as a vehicle for that crack maple-cream sauce they bring to the table, as if everything wasn't sweet enough! But you'll pour liberally as it is as good as it sounds, and you'll thank the waitress with tears in your eyes for the big jug of milk she'll bring alongside to finish the dessert course on a high note. This is when everyone at the table will lean back, deeply sigh, smile, and perhaps unfasten one or two buttons…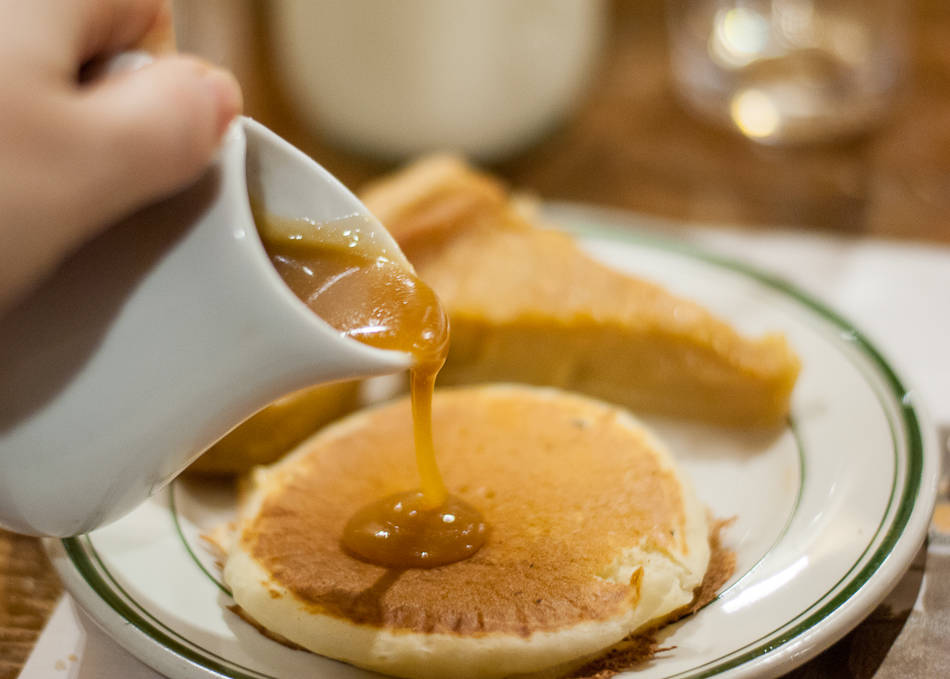 But wait, that's not all…. Ask any Canadian what their favorite part of the sugar shack experience is and it's likely you'll hear a majority talking about 'la tire d'érable'… aka maple syrup taffy or snow toffee or 'sugar on snow'.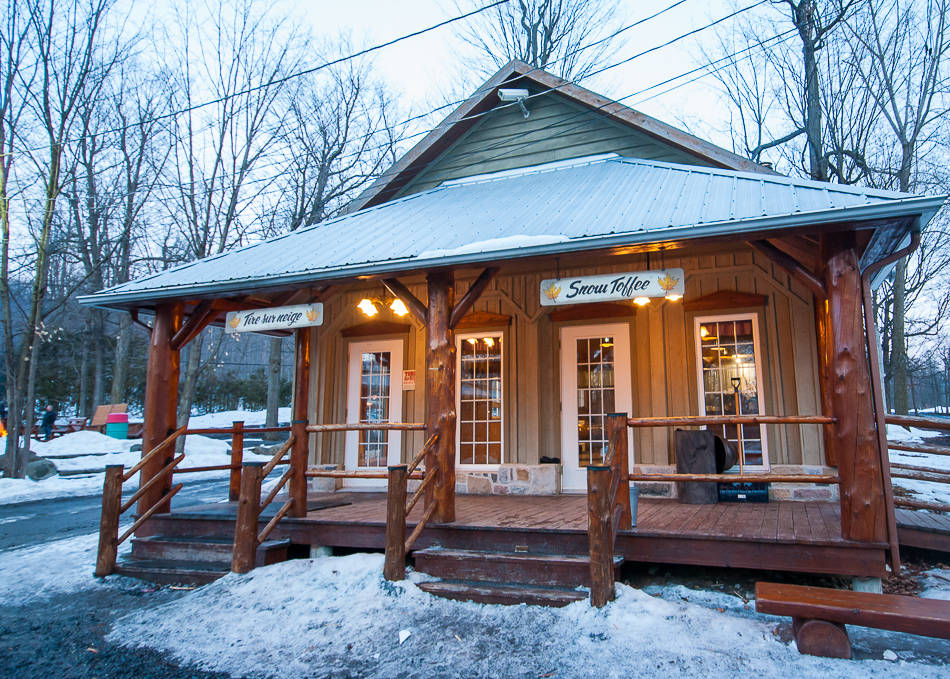 A time-honored winter treat, maple syrup is simply heated then cooled on snow.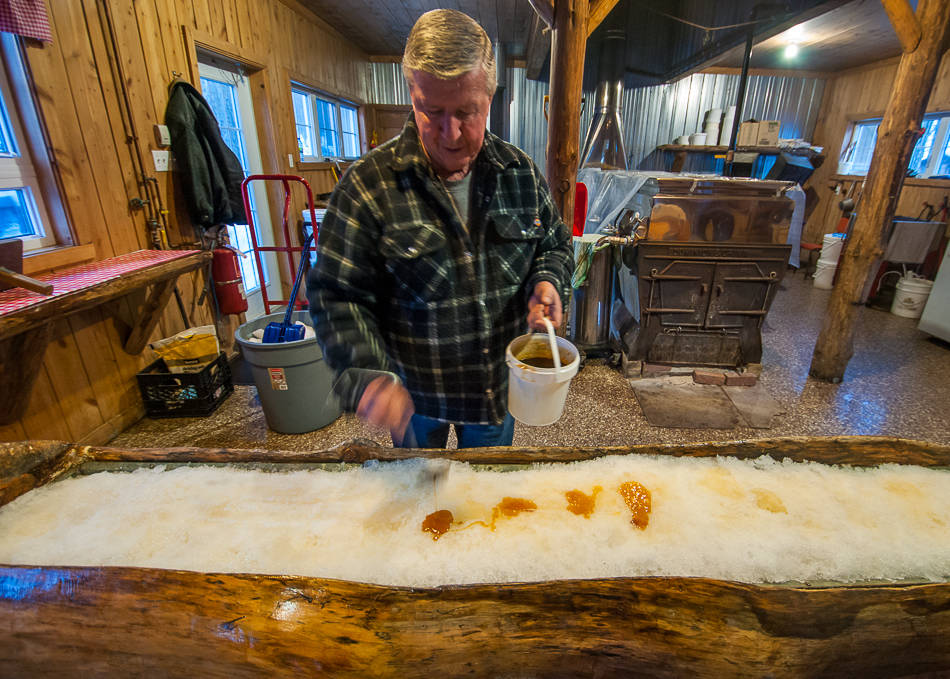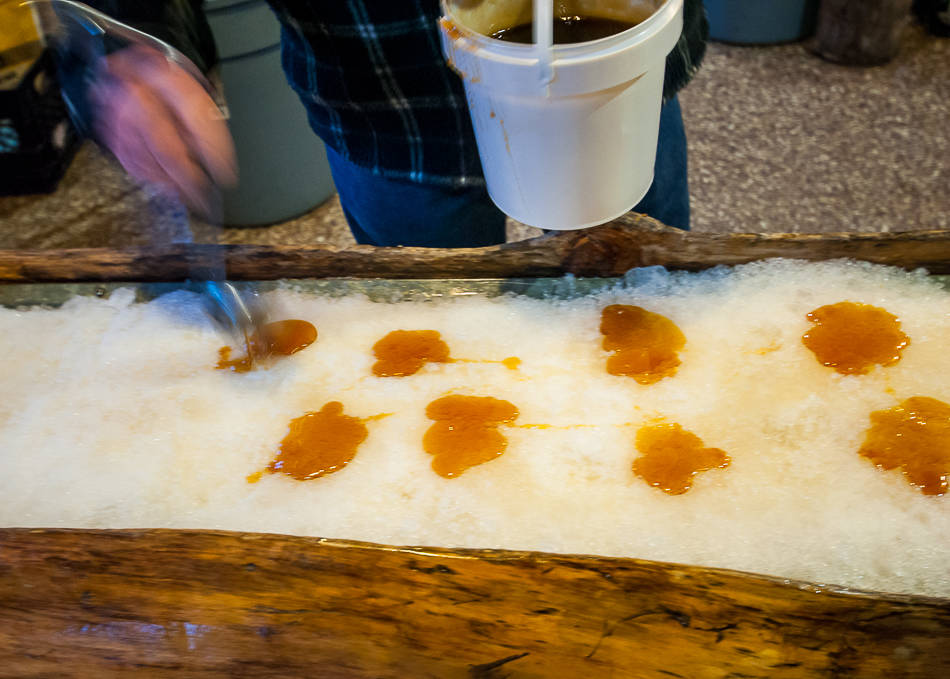 You're then offered a wooden stick to roll in before it hardens and you can now enjoy nature's very best lollipop! It's addictive, trust me, and you'll never be able to stop at one – three is my average but you can imagine with a group of friends how this can turn into quite the competition…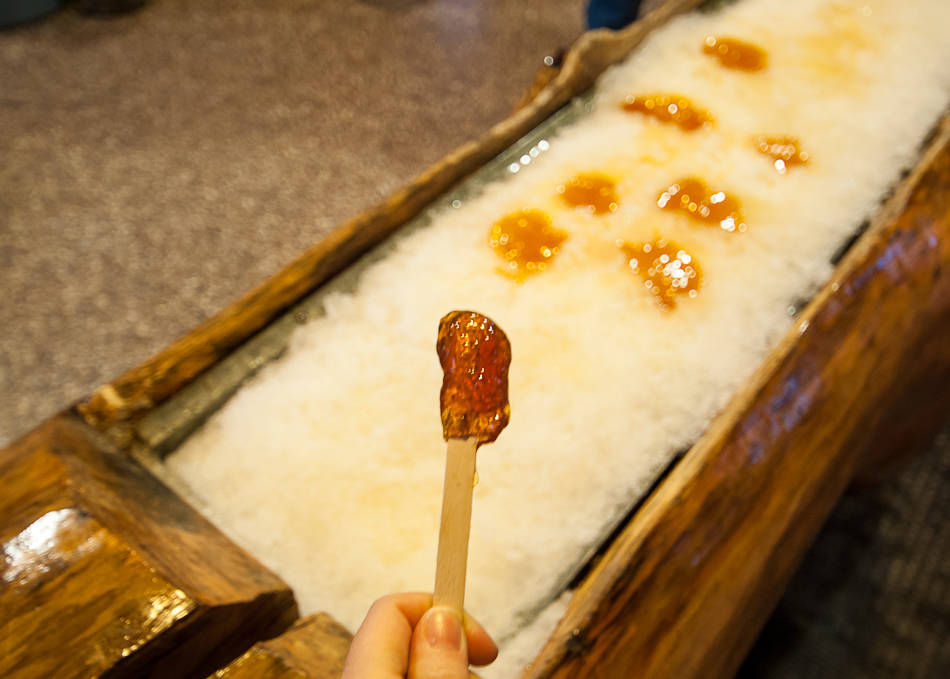 Now you can say you've been officially all sugared out, and can then enjoy the many activities offered by the sugar shack such as sleigh rides, snowshoeing, or pony rides in the maple forest. Whatever you do you'll have a blast, gain a few extra pounds (need that extra coat in winter anyway) and thank those natives for coming up with that precious amber liquid. Always remember to make reservations ahead of time to the sugar shacks – it's a short period and everyone wants in!
Happy Maple Season!

Erablière Charbonneau
45 Chemin du Sous-Bois
Mont-Saint-Grégoire, QC J0J 1K0
T: +1 450-347-9090
Map