Seductive Buenos Aires has been captivating travelers with its dual heritage of European and Latin American roots, essentially creating two cities into one where you can play the glamorous life one day and venture into the gritty the next. I came here to attend a friend's wedding and discover that there's more to Argentina's capital than steak, malbec, and tango…
A good place to start your visit is at the center of the city at Plaza de Mayo where all the people come to demonstrate or to celebrate as this was the scene of the most important political events of Argentina's history.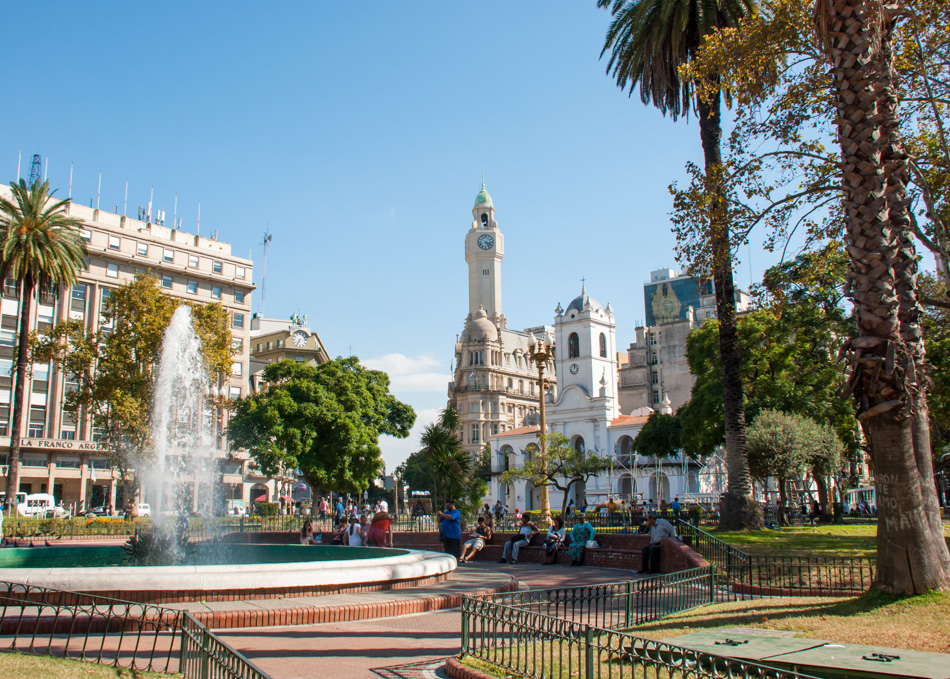 The Catedral Metropolitana as well as most important official buildings are located in or around the plaza.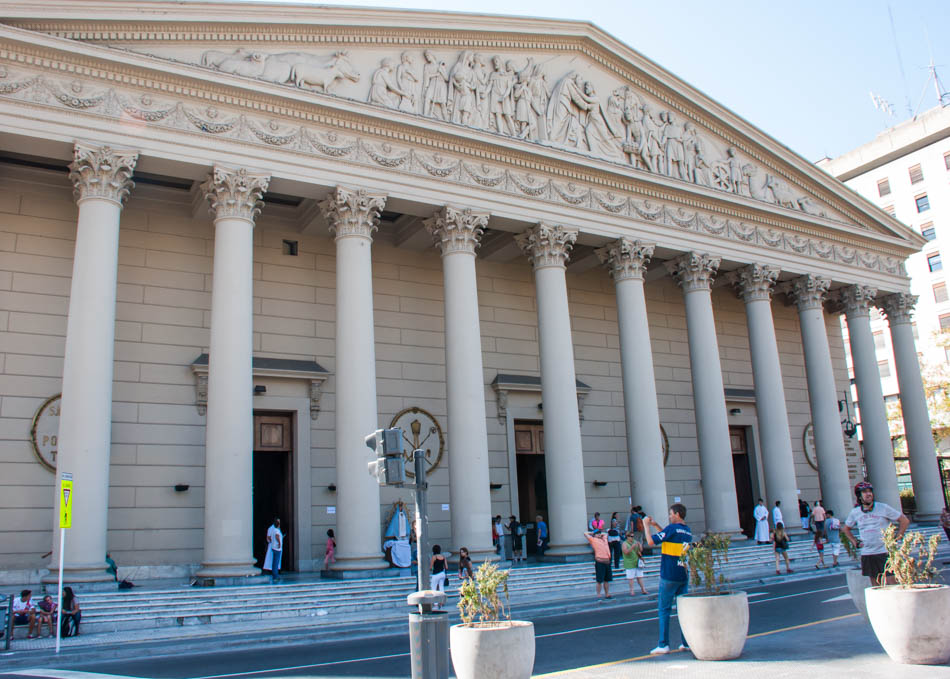 An Argentine icon, the government palace, known as Casa Rosada, with its famous balcony overlooking the plaza from where Evita used to address the people.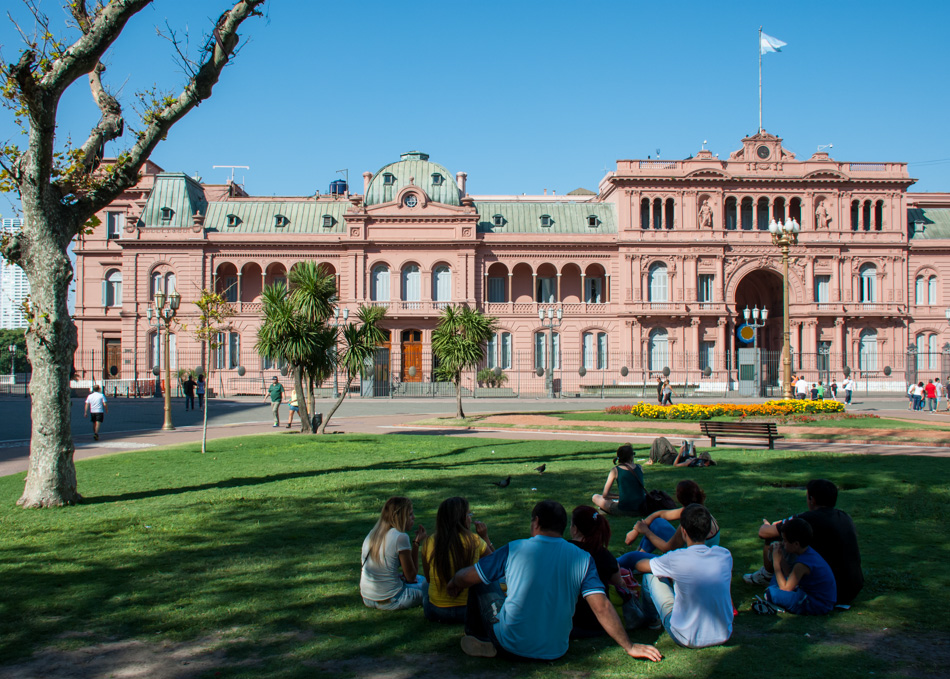 A mural of Evita also decorates the Ministry of Health.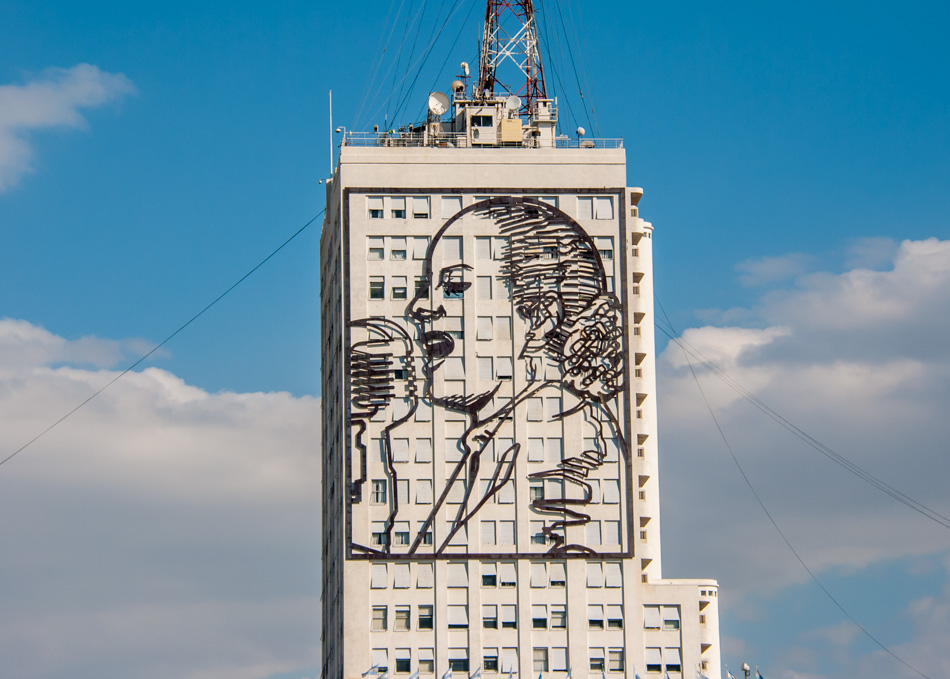 From the Plaza, take the Avenida de Mayo for a downtown stroll, and stop at the unmissable Palacio Barolo.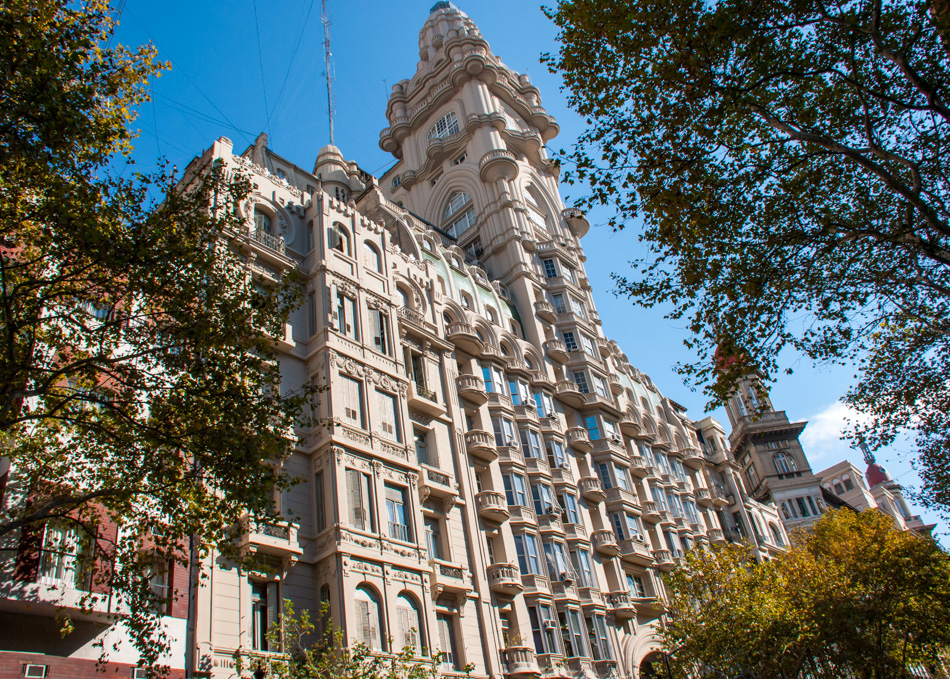 Now a landmark office building, this oddly and impressively decorated building was once the tallest in South America. The work of eccentric Italian architect Mario Palanti, its design is based on Dante's Divine Comedy with the building's entrance representing Hell, floors 1 through 14 Purgatory and 15 to 22 Heaven.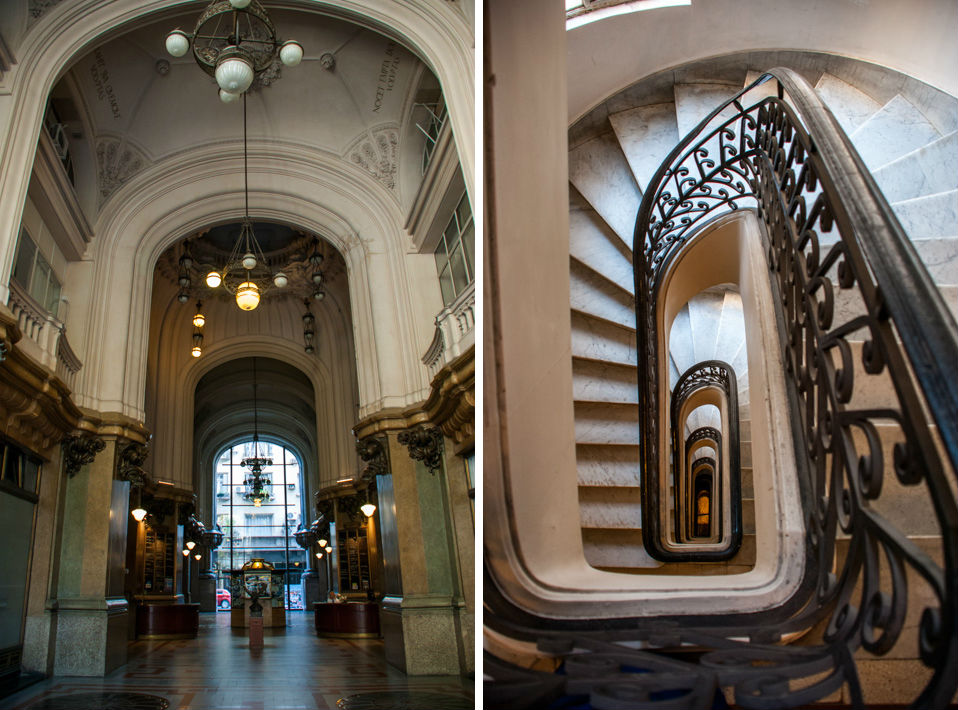 The only way to take a peek inside is by booking the tour, well worth it, which will bring you through all three levels.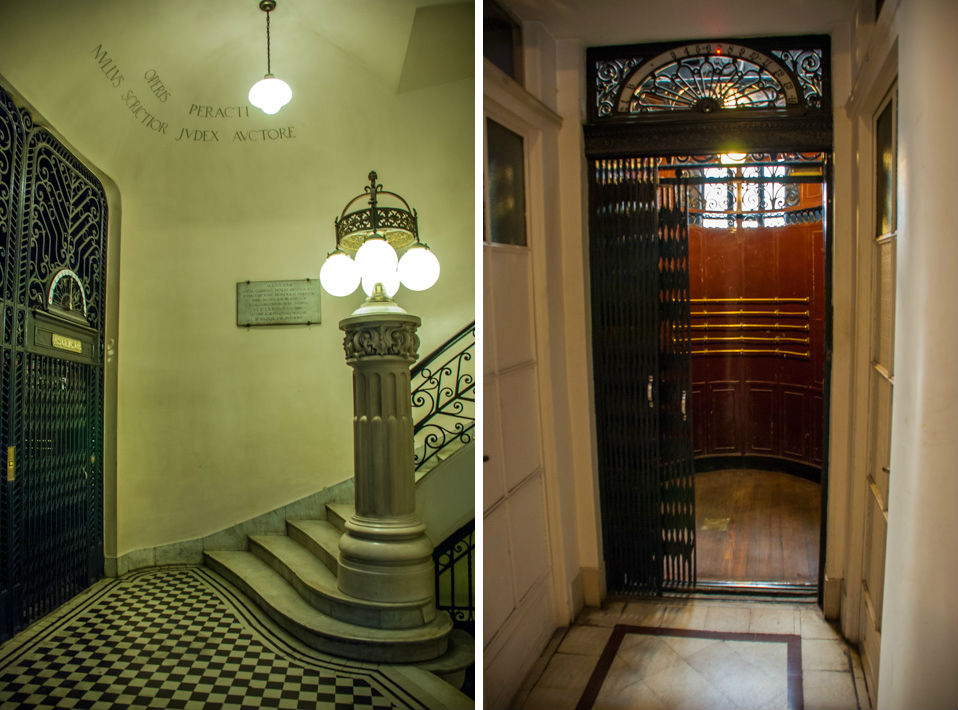 The views from 'heaven' are unparalleled…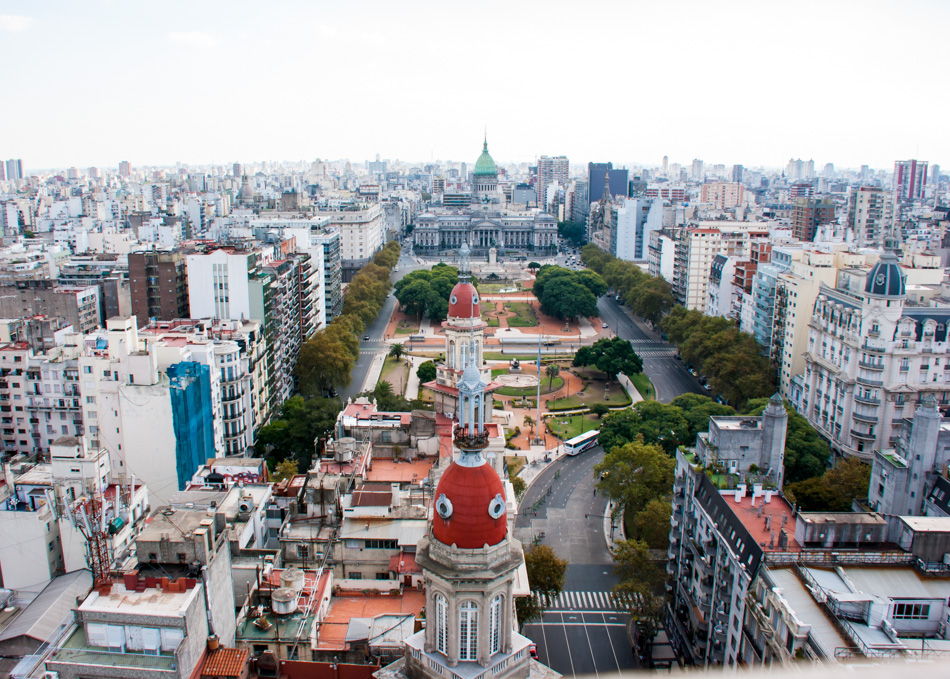 …and the lighthouse at the top gives you Buenos Aires's most impressive panoramic vista.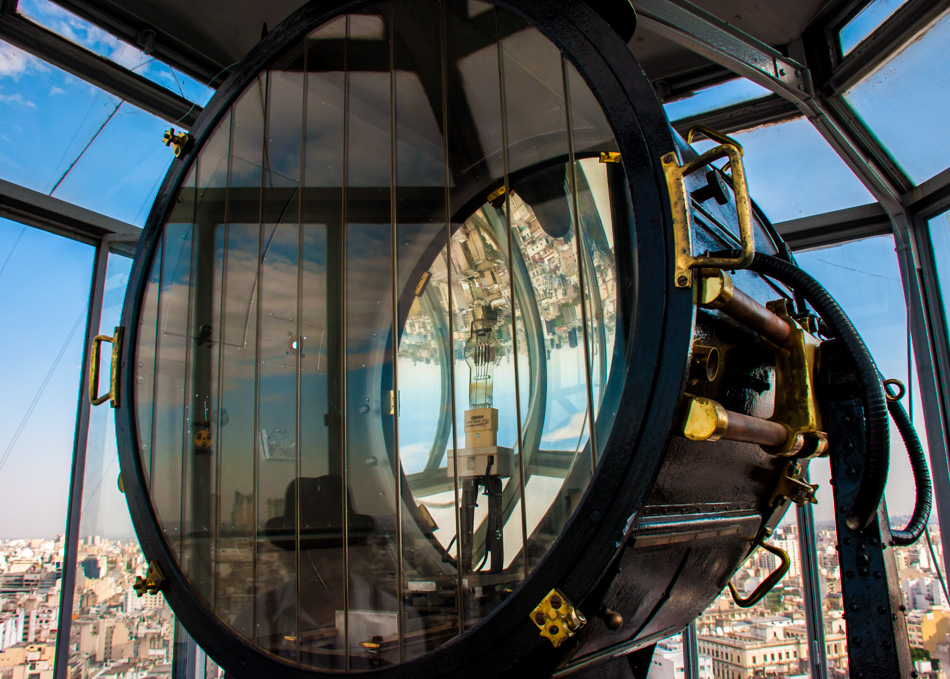 Shortly after, Avenida de Mayo will lead you straight to the National Congress Building.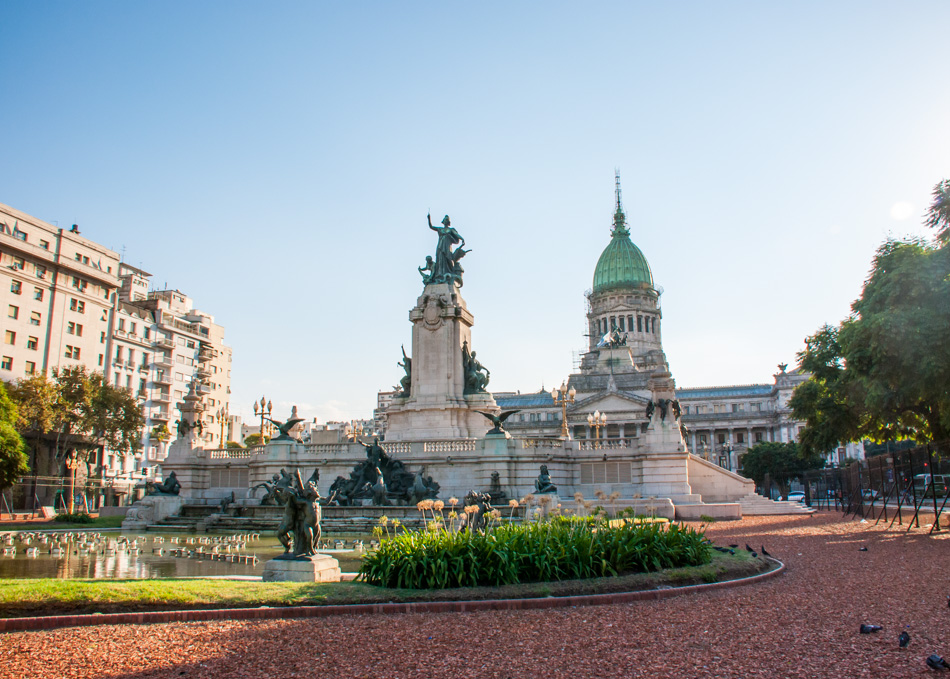 If you look to the right of it, you can't help but notice the hauntingly beautiful abandoned building on the corner, Confiteria El Molino, an Art Nouveau style coffeehouse which has been closed since 1997.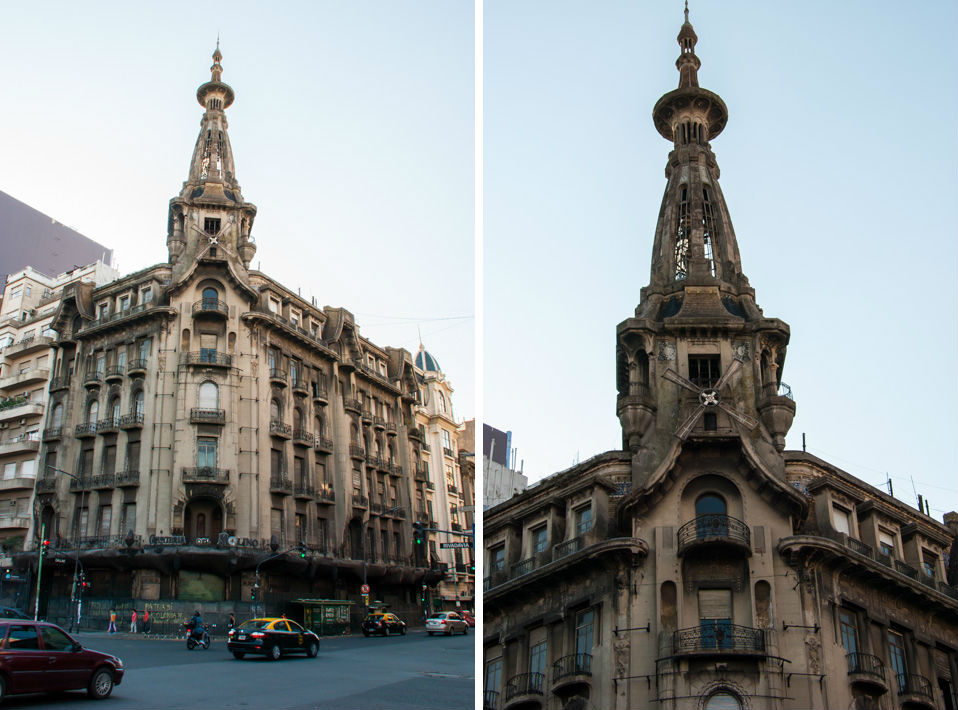 Taxis are plentiful and cheap here, so hop into one and head to Palermo, Buenos Aires largest neighborhood and also the most walkable so it's likely you'll be spending a lot of time here. It is so big it even has its own network of sub-neighborhoods, each with its own feel.
Palermo Hollywood (owing to the number of film and commercial production companies populating the area) is home to a growing number of fancy restaurants and bars and the action really takes place around dinner time, leaving the day to be pretty quiet… It's a great place to unwind with an aperitif at the end of the day and few places are as charming as Oui Oui, a French-style cafe with delicious baked goods and popular brunch.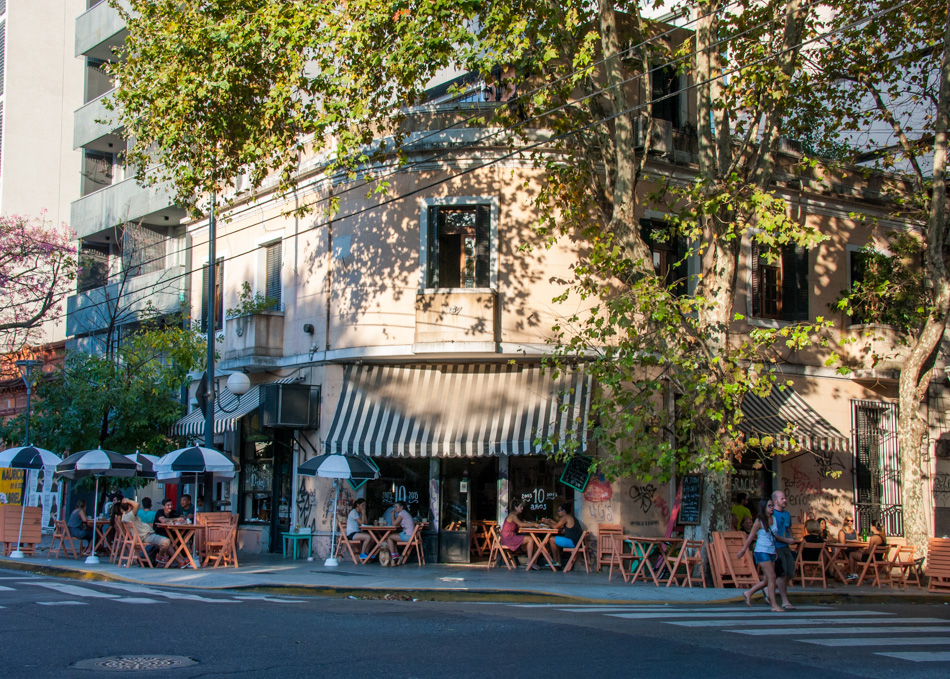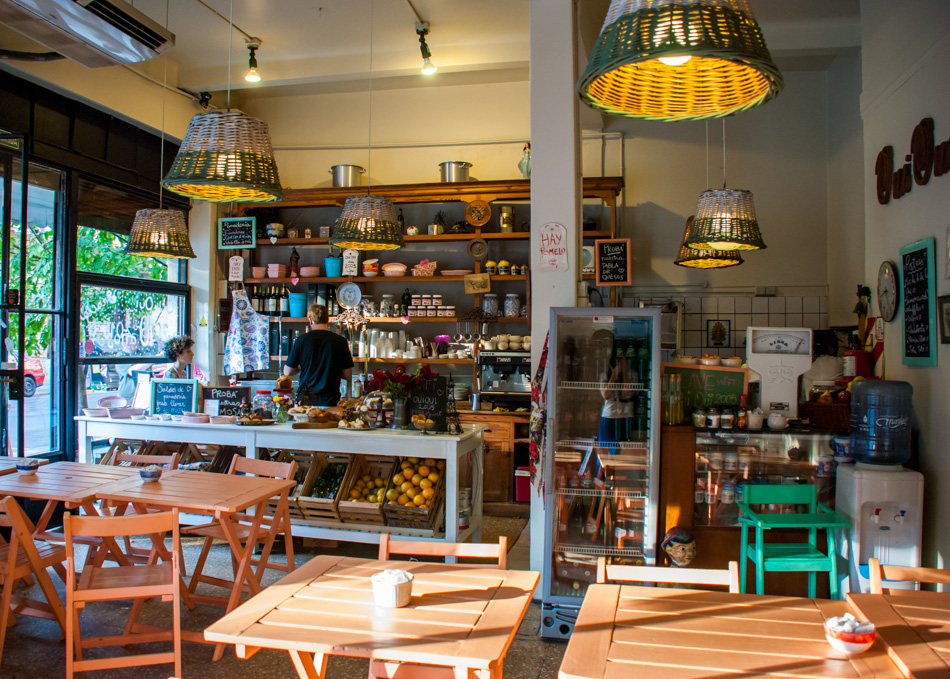 A local bottle of spumante (sparkling wine) will set you back only $10 and is perfect for watching the world go by before the big meal.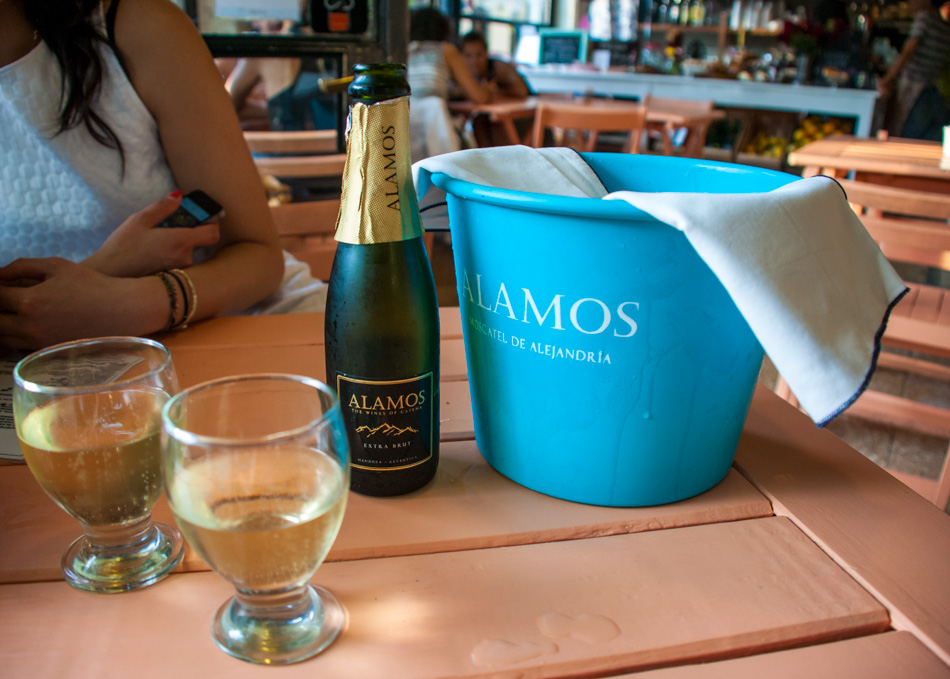 Crossing over to Palermo Soho, the hippest and busiest hood with numerous boutiques and restaurants, a recommended stop at Don Julio is a solid option for either lunch or dinner. This family-run spot is a legend and a go-to favorite of both locals and tourists when looking for some serious beef action.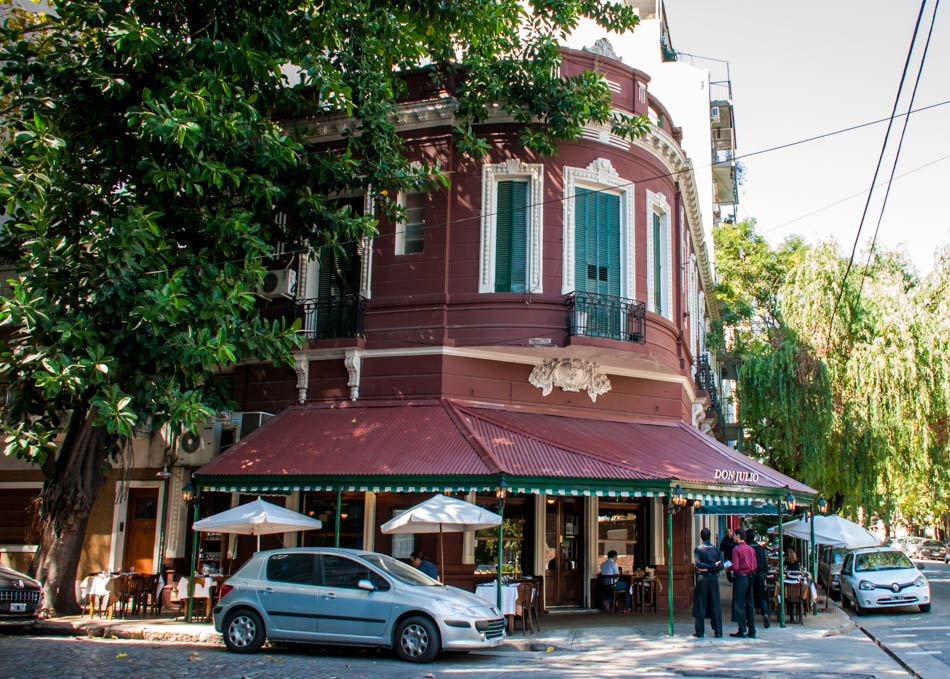 Like any true parilla, appetizers come in many forms and include mostly meat (morcilla and sweetbreads are a specialty) but we were so glad to have tried their provoleta – a version of provolone cheese which is grilled and served with toppings…how can that not be good!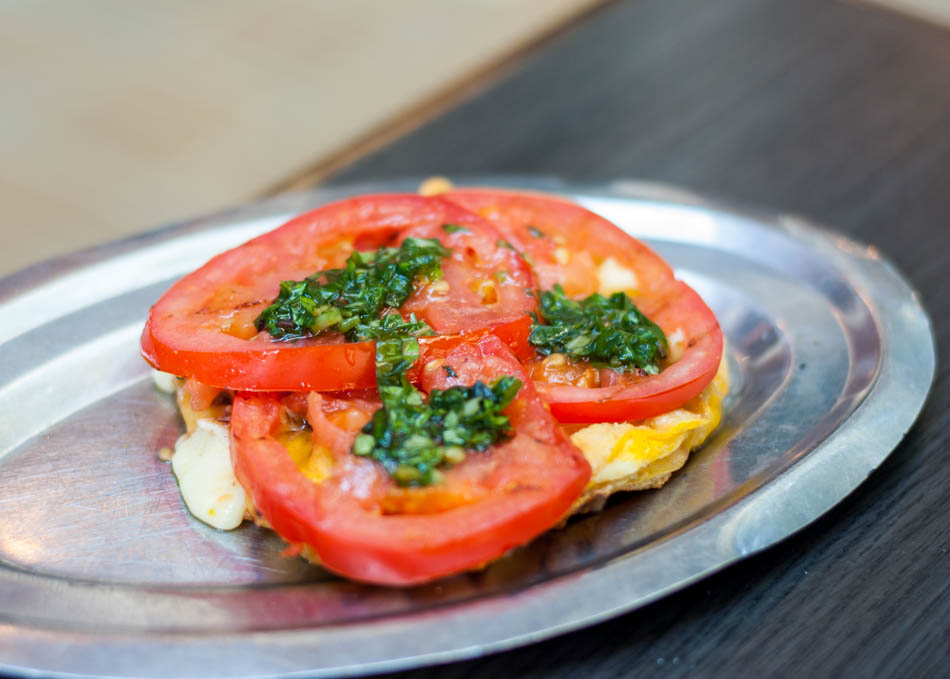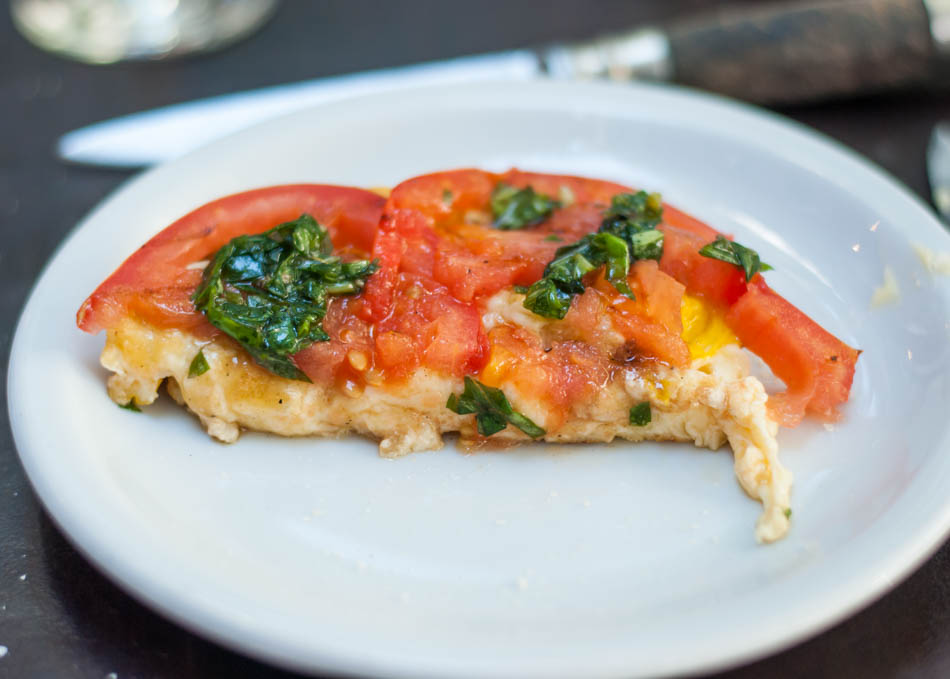 Next comes the sauces for the meat which you'll find different variations of everywhere: Criolla (red & green bell peppers, red onions, wine vinegar and olive oil) and Chimichurri (parsley, minced garlic, olive oil, oregano, and white vinegar).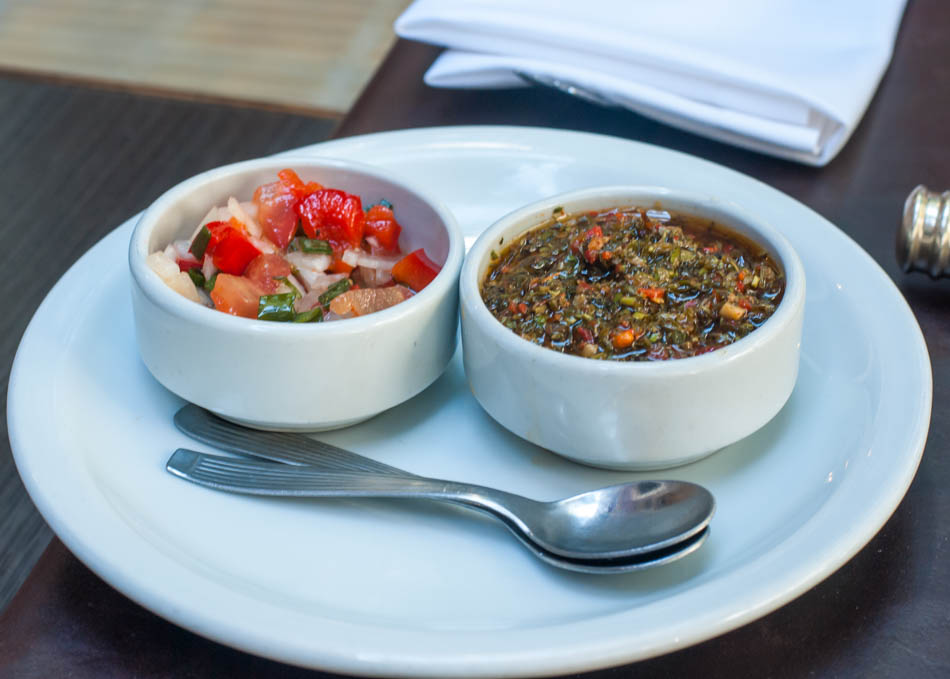 The meat comes unadorned in a simple plate, oozing juices and smelling of the asado (barbecue).
A simple salad is the best accompaniment.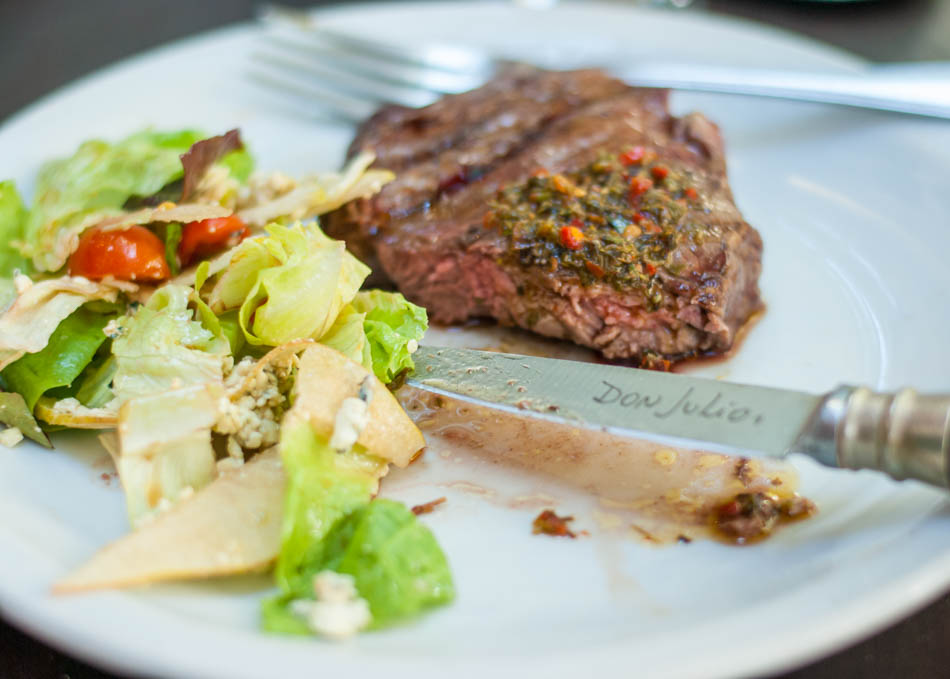 The surrounding area of Palermo Soho is the perfect place to walk off those meat sweats. Take any one of the leafy avenues and wander around colorful cobblestone streets, graffiti art, and indie stores while doing your souvenirs shopping.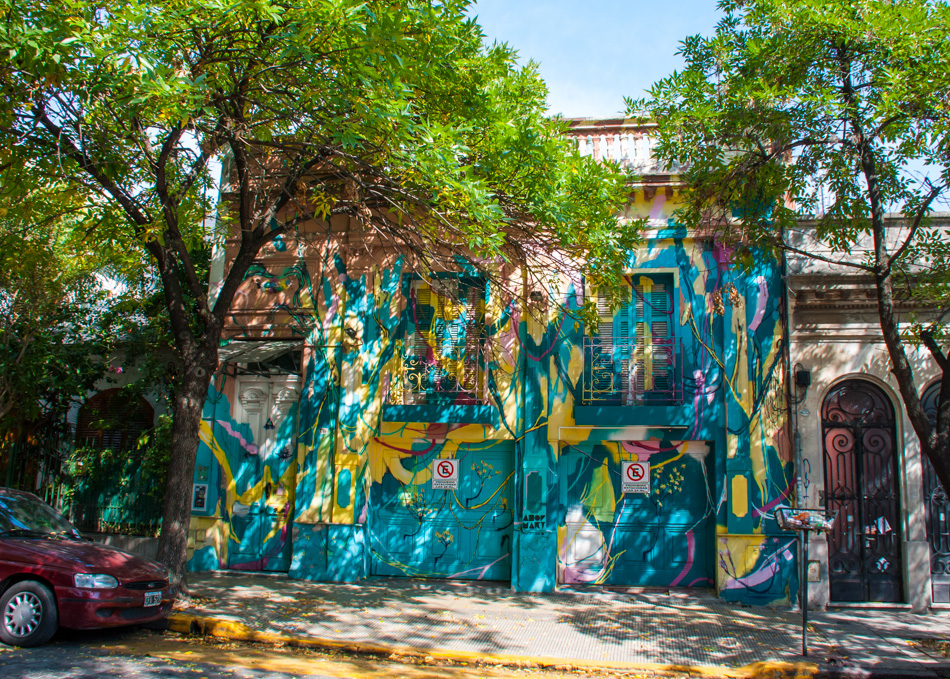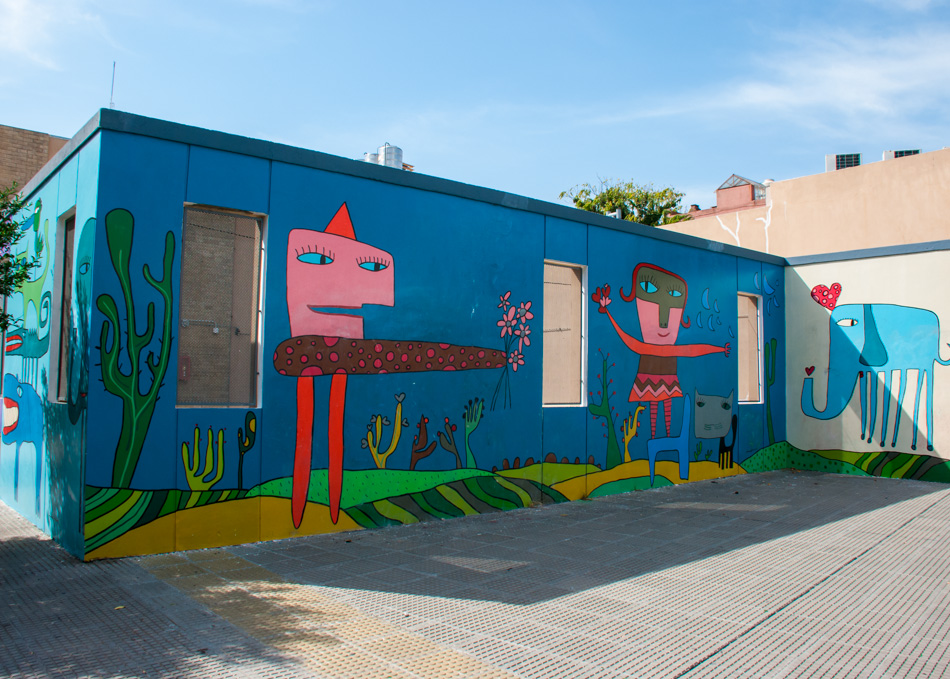 Outdoor cafes and the youthful crowd bring a party atmosphere almost any time of day.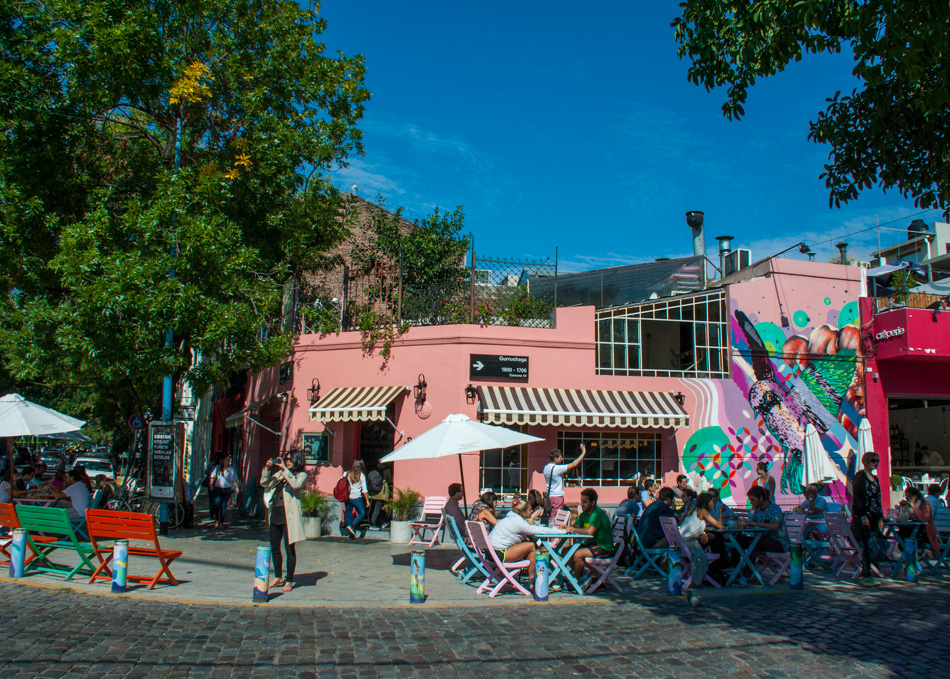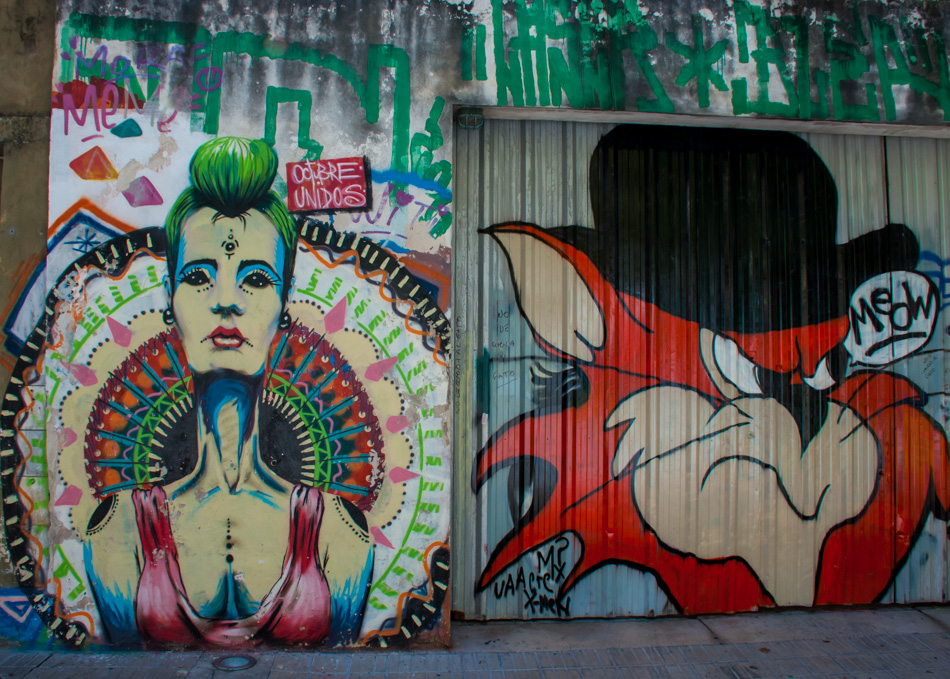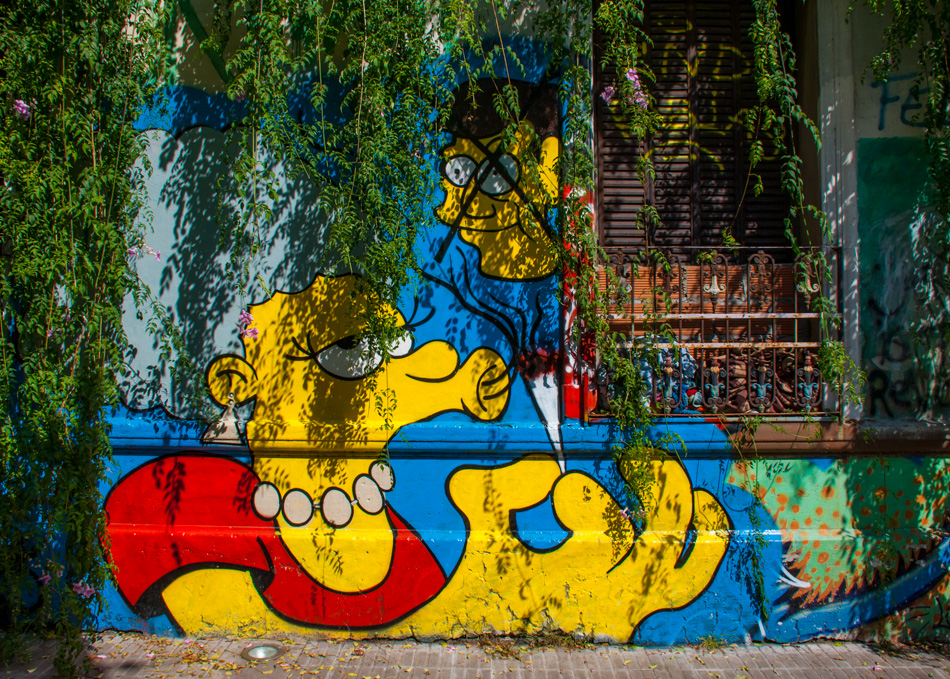 For something a tad less carnivorous (you will eventually get tired of eating steak, trust me, no matter how insanely good they are) back in Palermo Hollywood there are a few restaurants here of the 'cheap and cheerful' category such as the funky Il Ballo del Mattone.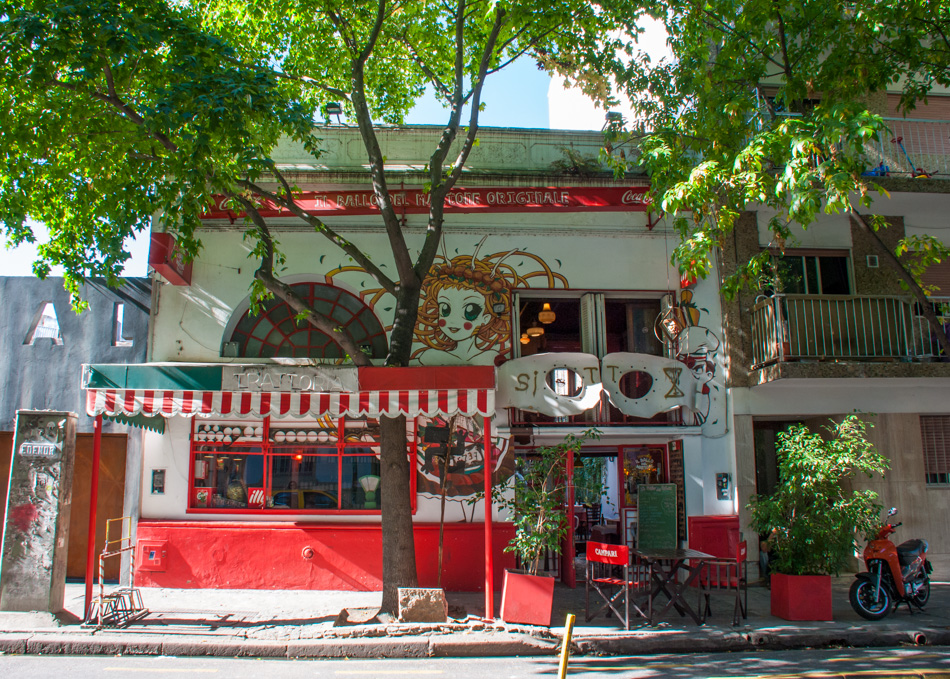 A tiny trattoria with graffiti-style art on the walls, the Italian spot serves as an informal gathering place for hipsters and locals.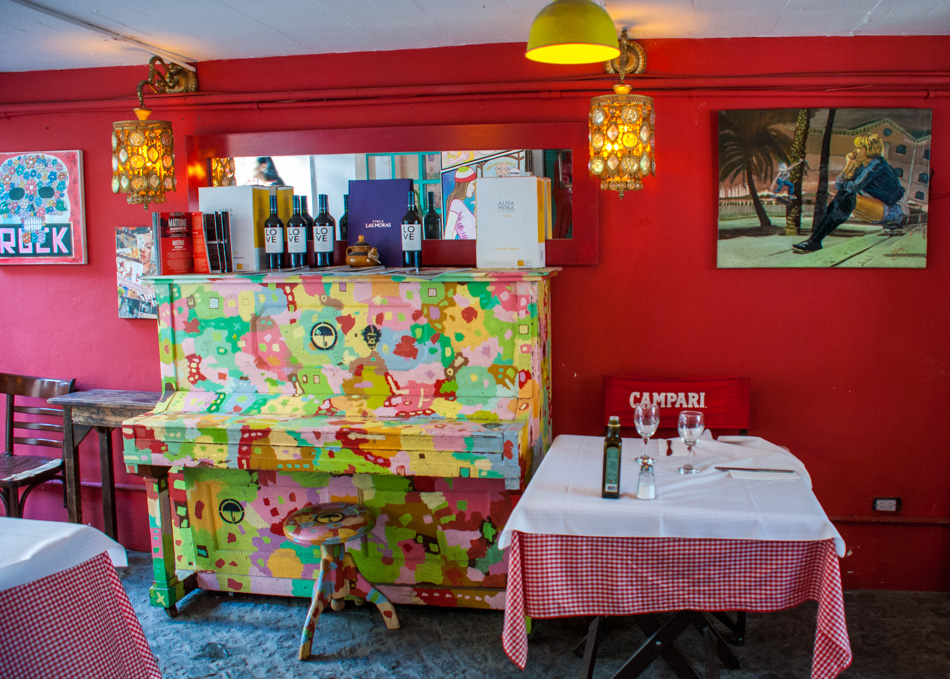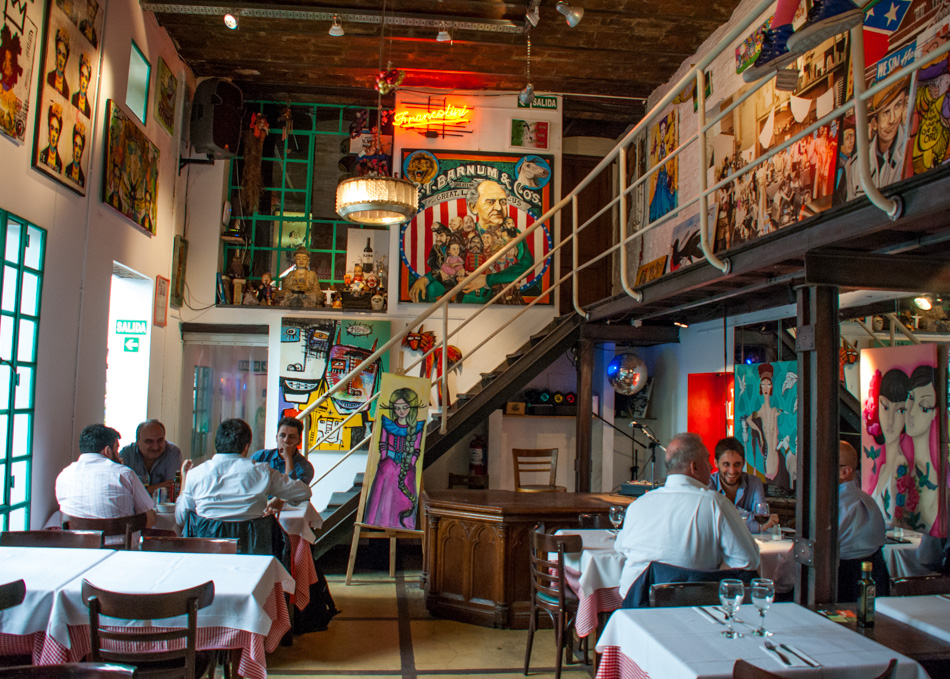 The short menu of simple Italian fare is not the most creative but huge portions and fair prices ($12 at lunch gets you a main dish and a glass of wine) keep the patrons happy.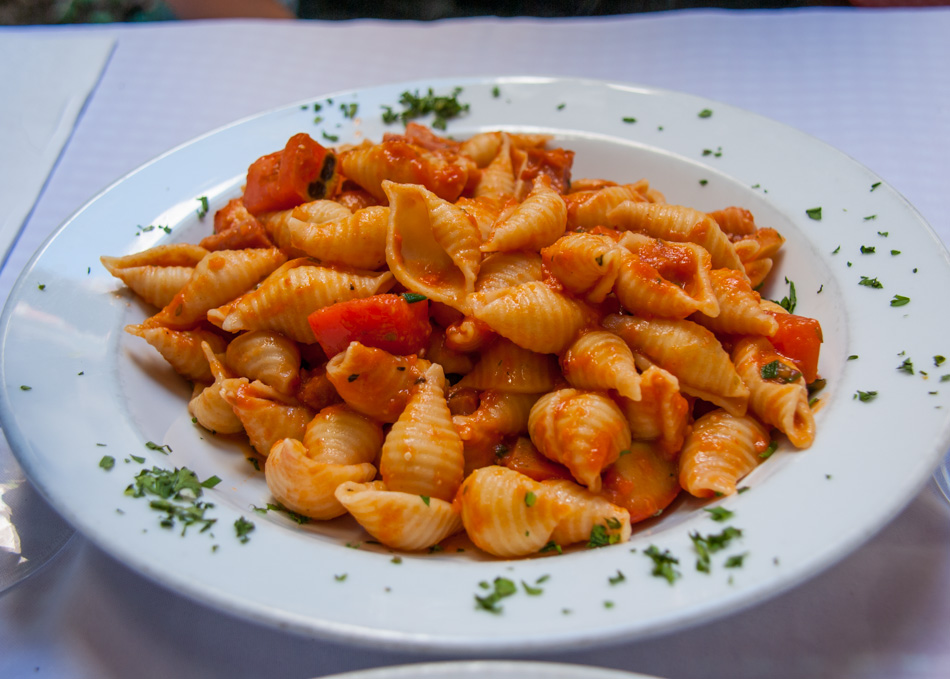 And with such generous pours, it's with a wide grin on your face you'll leave this funky and bustling place.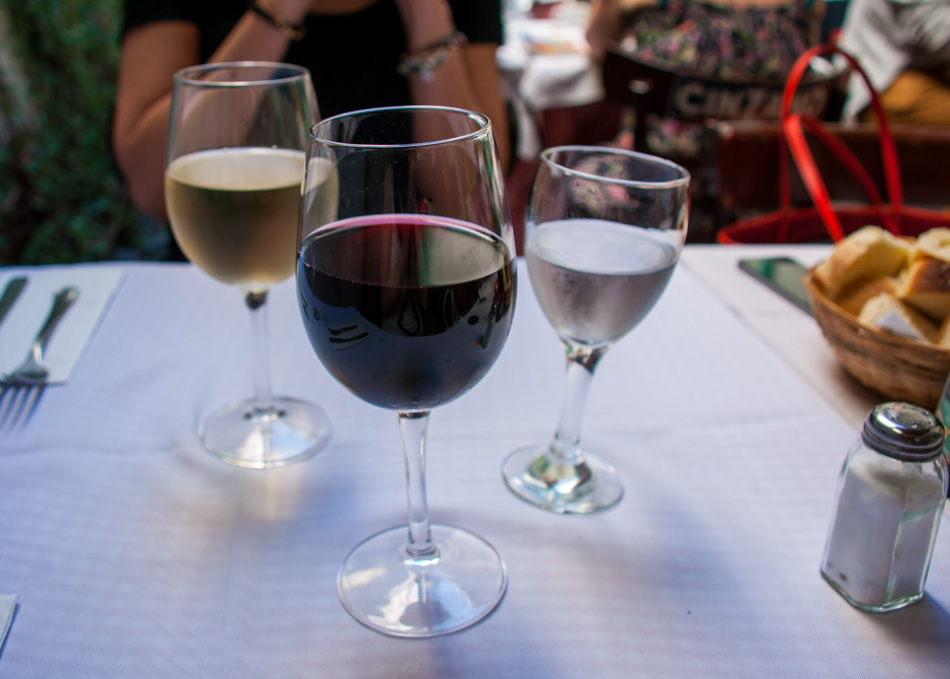 A late-afternoon stroll through Palermo Chico at the northeastern edge will allow you to see where some of Buenos Aires' most rich and famous live.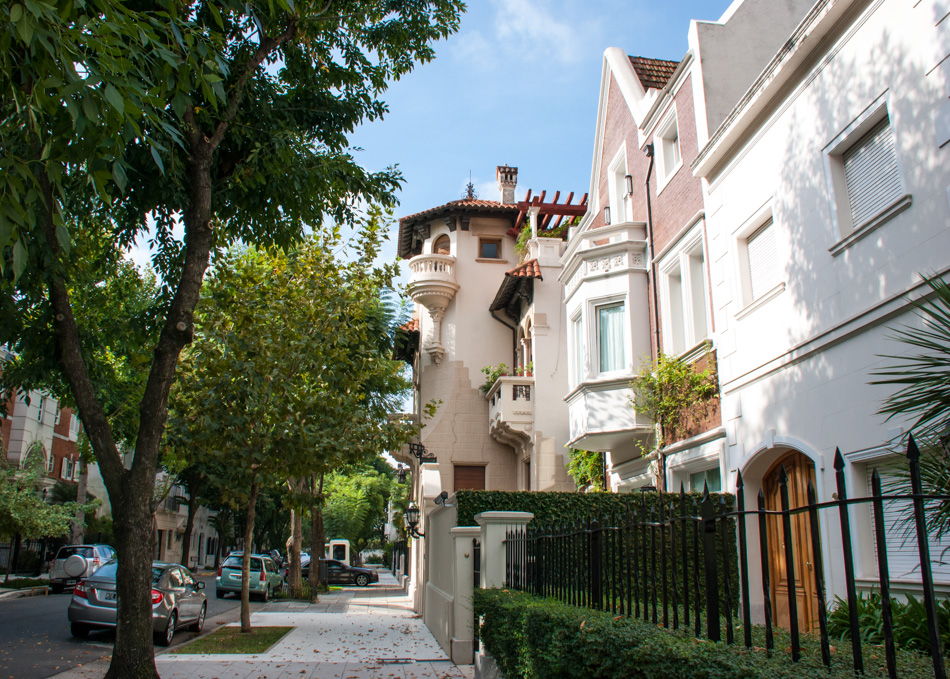 The exclusive neighborhood of French-style mansions is home to a few embassies, celebrities, and just plain wealthy.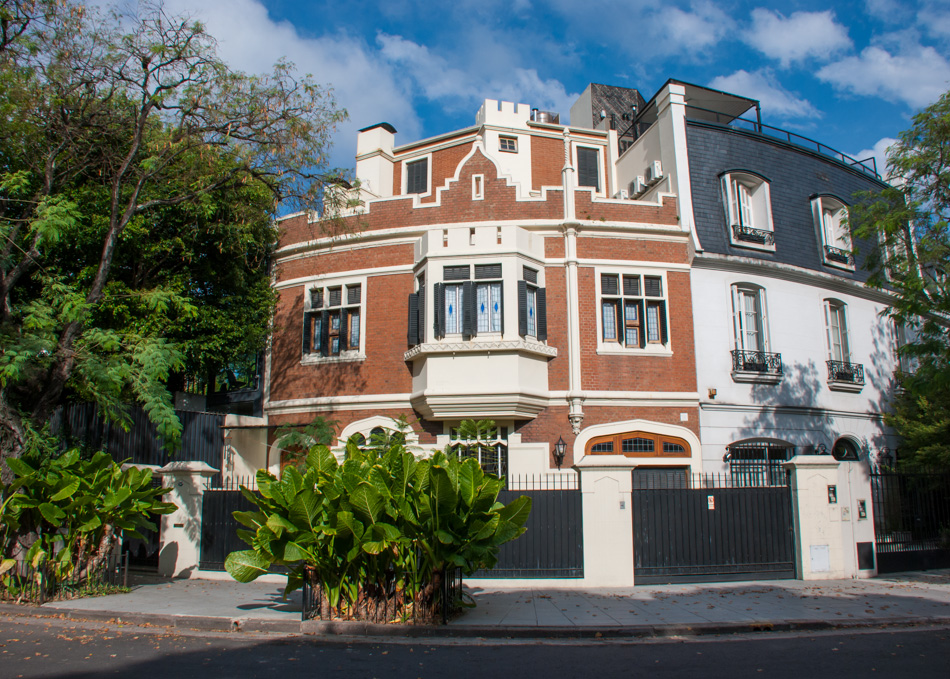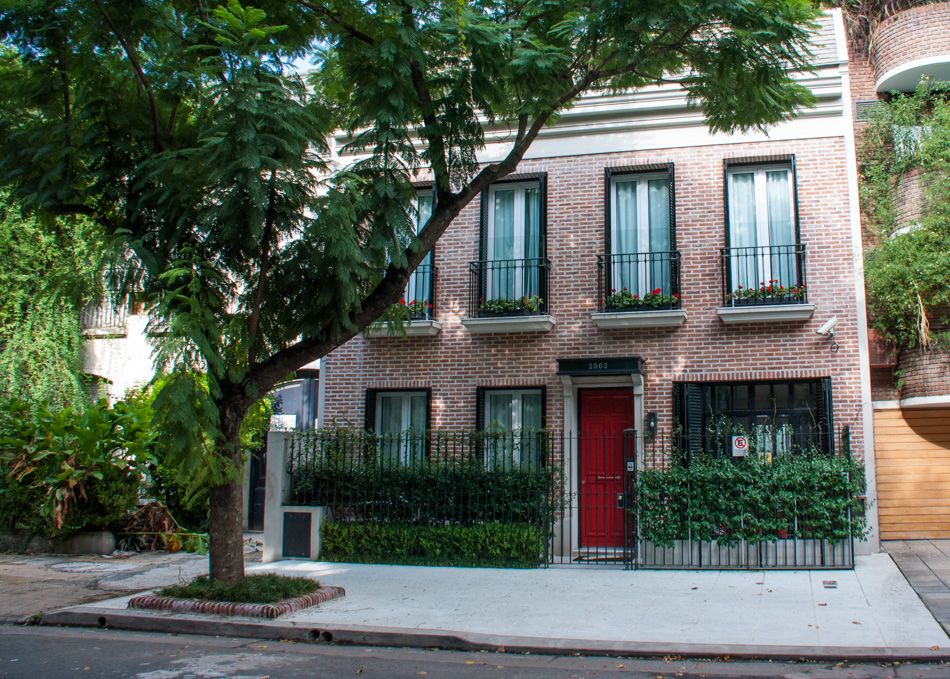 Right at the end of your walk, the Latin American Art Museum of Buenos Aires (MALBA) is worth a quick stop, whether to check out the current exhibit of modern art or to relax at the delicious outdoor cafe.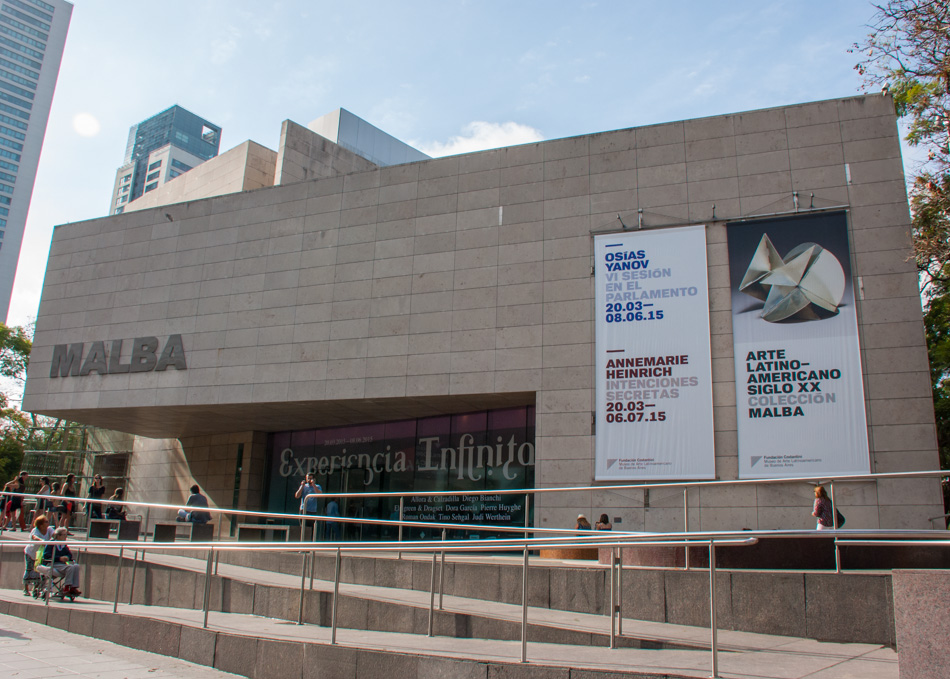 In the last decade, a number of famous restaurants have opened in BA, from tiny local bistro with impressive wine list to tasting-menu spots helmed by international chefs so your dinner choices are aplenty. The much buzzed about i Latina is leading the 'closed door' restaurants trend – chefs cooking in a private home – with its #1 ranking on Trip Advisor and glowing reviews everywhere. Reservations are necessary at this gorgeous villa set in Villa Crespo and you won't regret planning this ahead, trust me!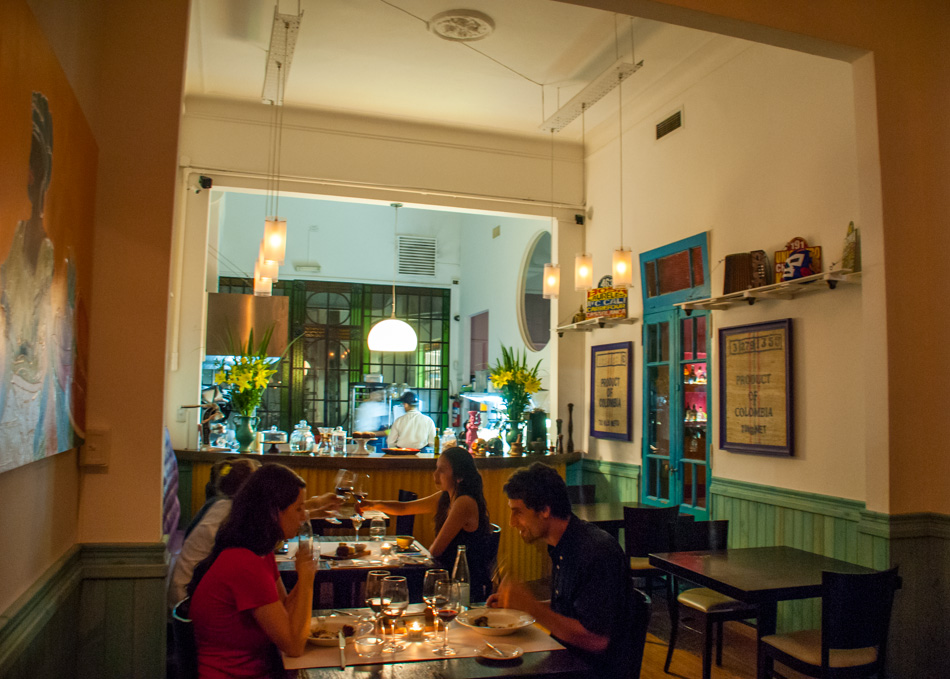 Like any closed door restaurants, there is only one set menu and i Latina's seven-course feast is meant to show you the best of Latin America in one setting, borrowing from each country's culinary heritage and mixing in modern touches to great effects.
Bread Basket: Banana bread, Chipá, coconut bread, focaccia with olives and cacao bread. Lime and pepper flavored butter.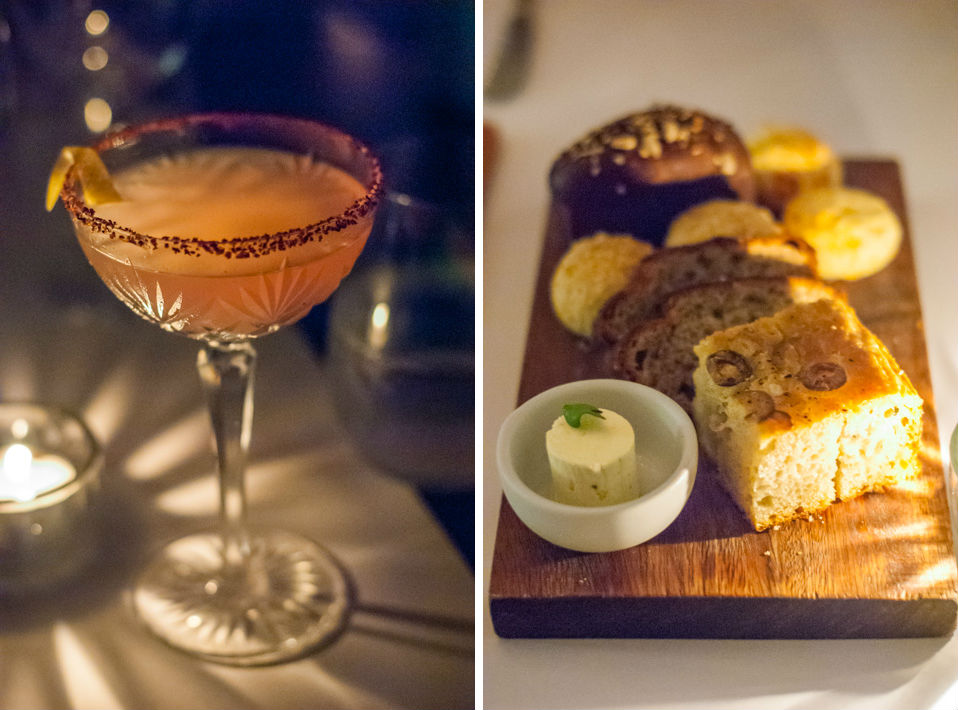 Snacks: White corn aniseed arepas with spicy avocado mousse and chicharron. Patacon with hogao and goat cheese.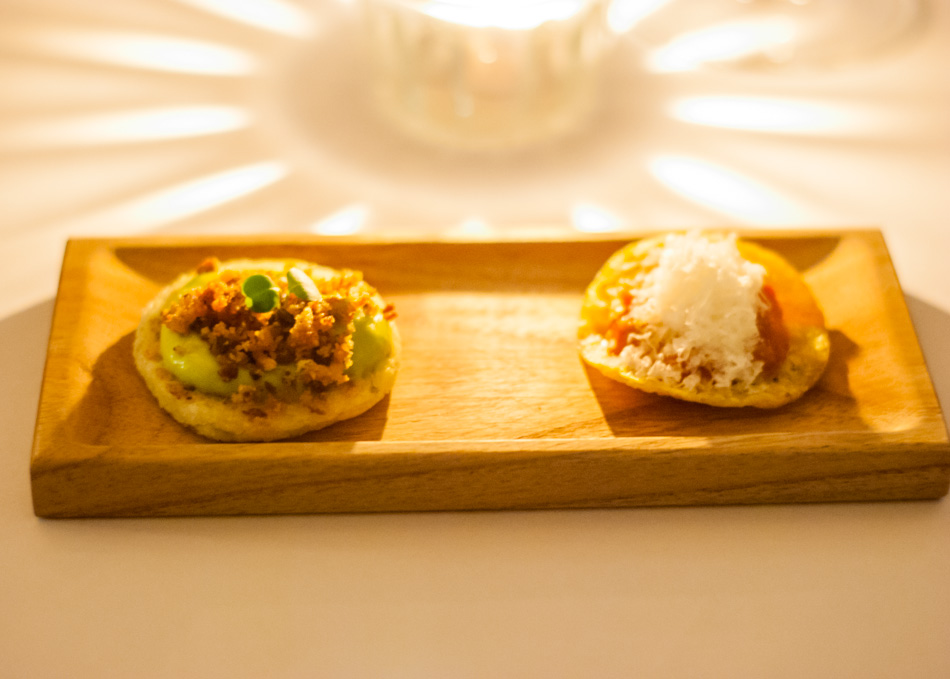 Toasted corn tortilla with beef cheek, Oaxacan mole, and Mezcal-marinated red onions.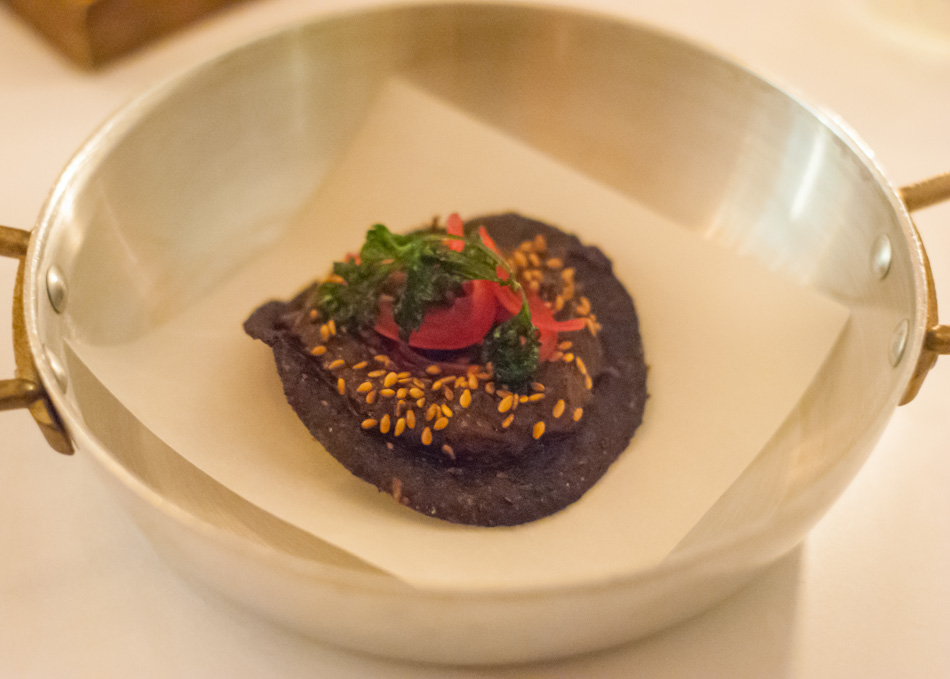 Caramelized prawns with spicy pineapple and fennel.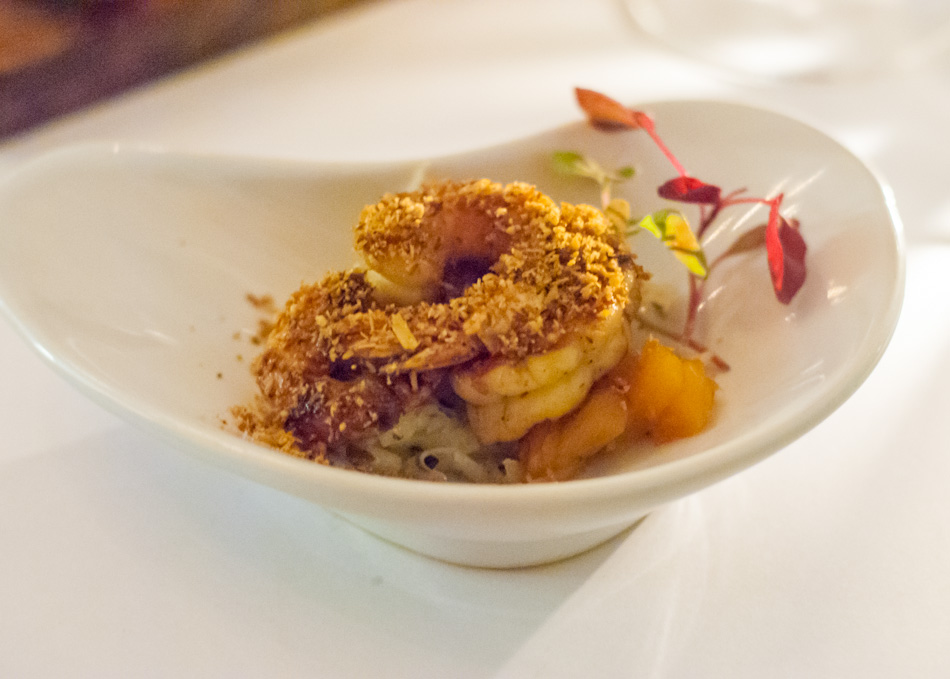 Barú style ceviche with seasonal fish, mango biche, coconut and lychee.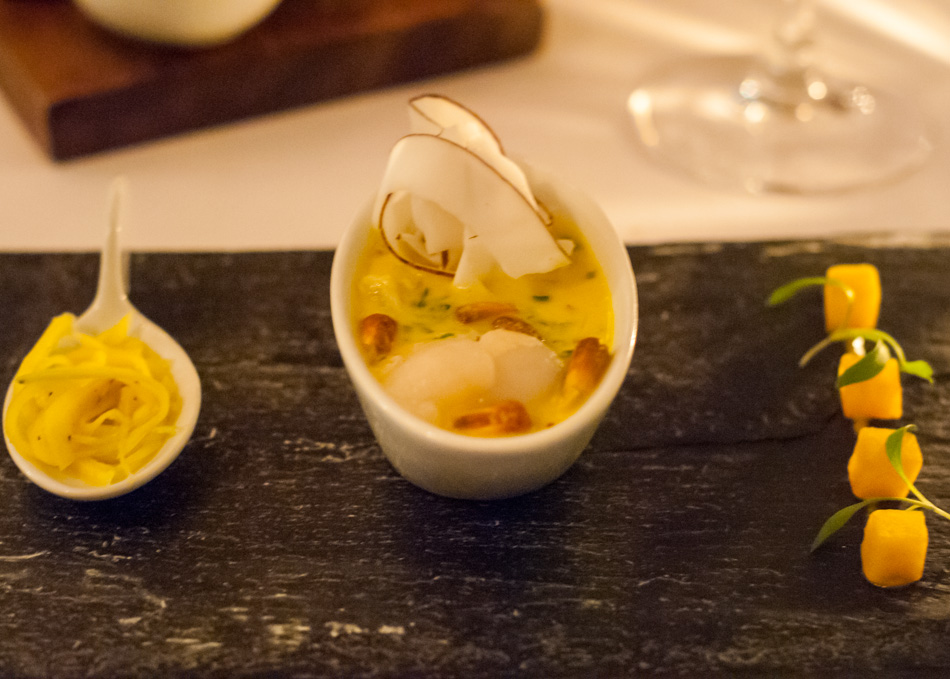 Peruvian seafood casserole with grilled octopus.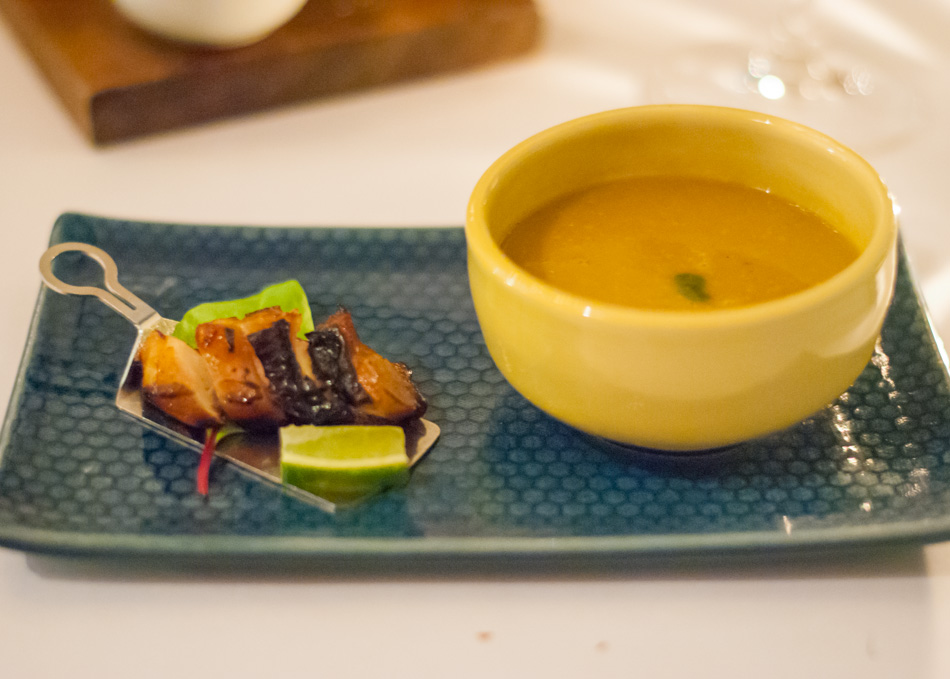 Braised pork in Colombian coffee and sugarcane reduction.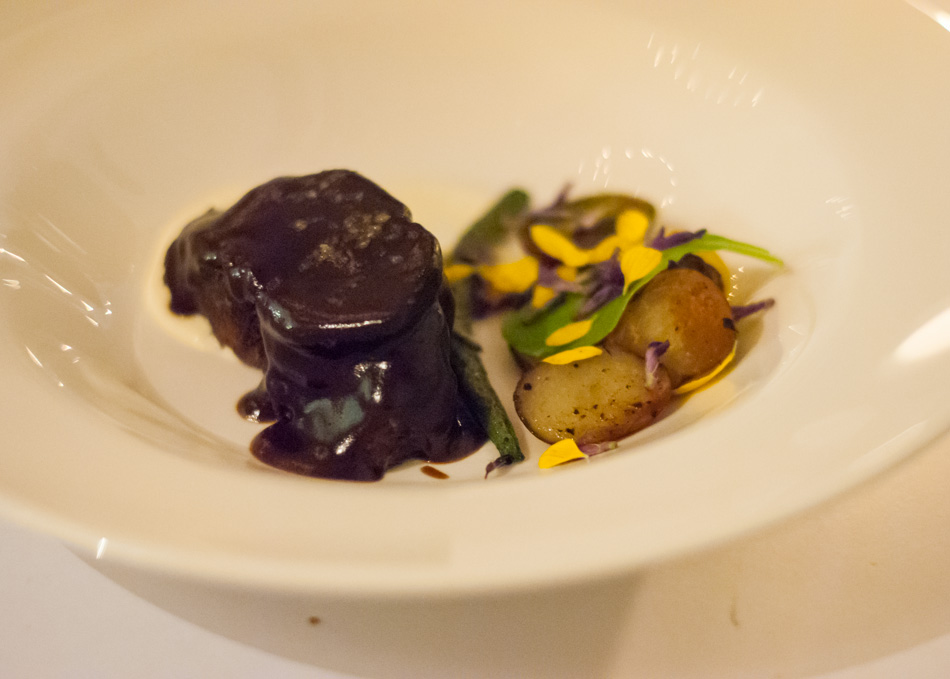 Ecuadorian cacao truffle with sea salt and olive oil.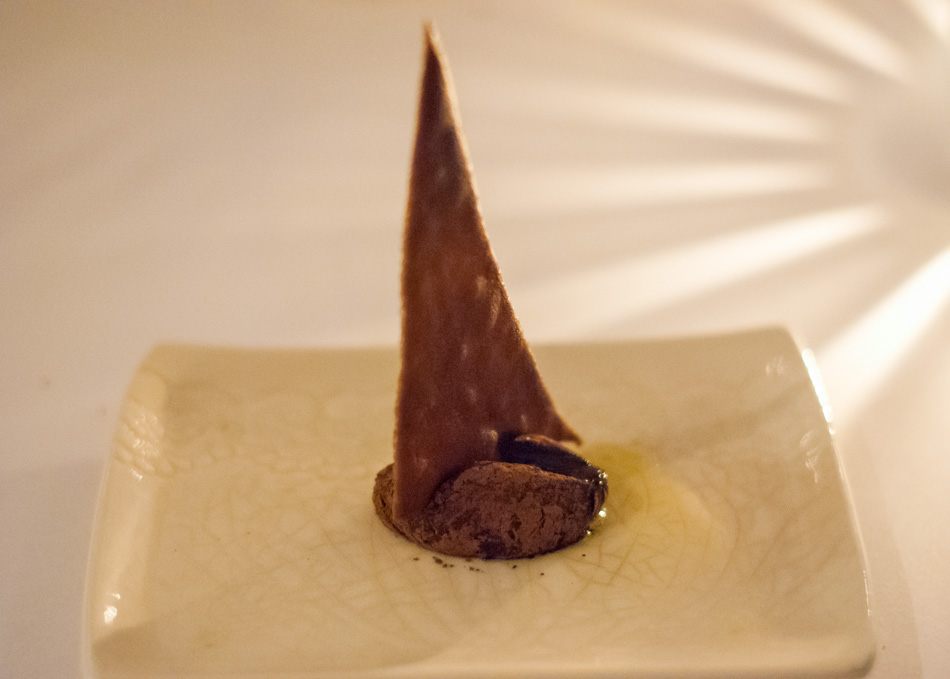 Avocado and Aguardiente ice cream.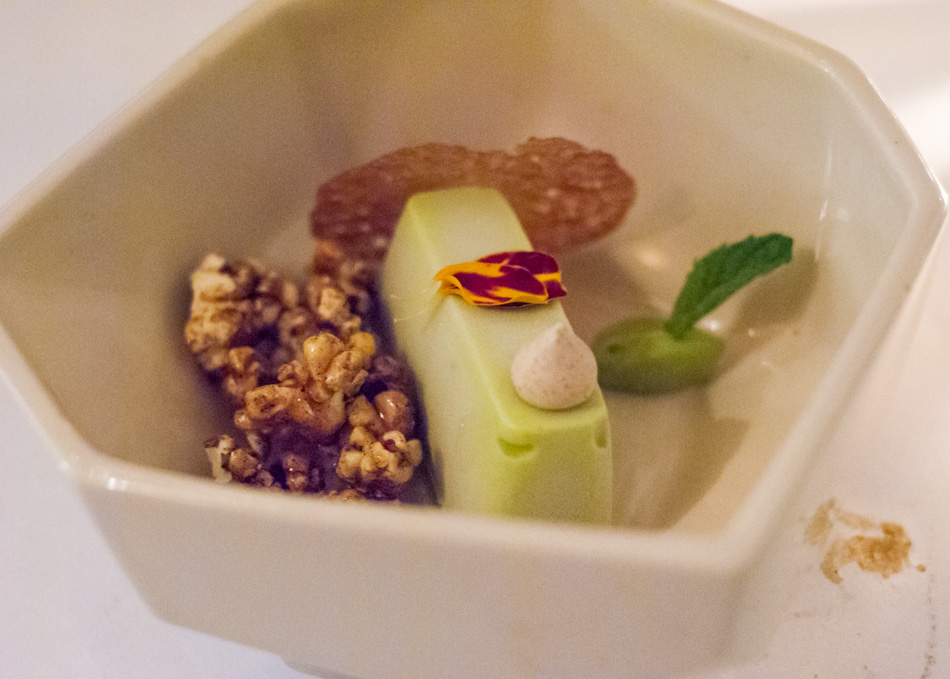 By the time you finish dinner, it'll likely be late (seeing that Argentinians usually have dinner around 10pm!) and it's fun to do like the Porteños for at least an evening so follow them to their favorite milonga for an experience you won't soon forget. Milongas are simply the best and most classic (and cheap!) way to see the real tango danced by real people. We went to La Catedral and stood there, mesmerized as we watched couples danced all night (and refused quite a few invitations). If you're in BA for a few days, this is where you'll also find teachers willing to show you the ropes so you can participate eventually…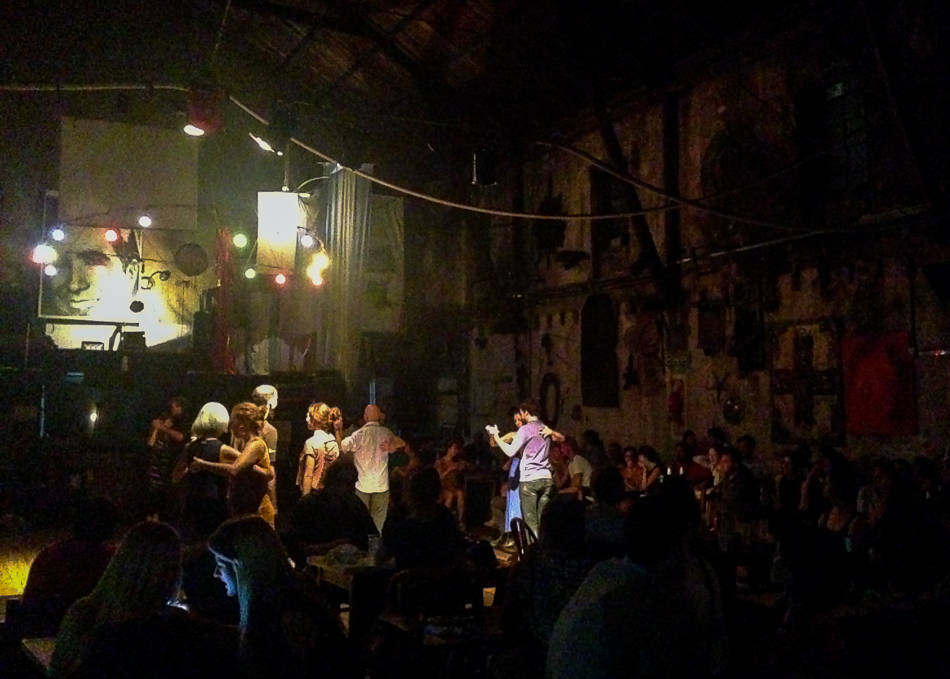 For a different dose of culture, make sure to stop by Teatro Colón, the city's opera house. Considered one of the best concert halls in the world, a guided tour will show you the stunning interiors reminiscent of Versailles and let you see the splendor of the recent renovations up close.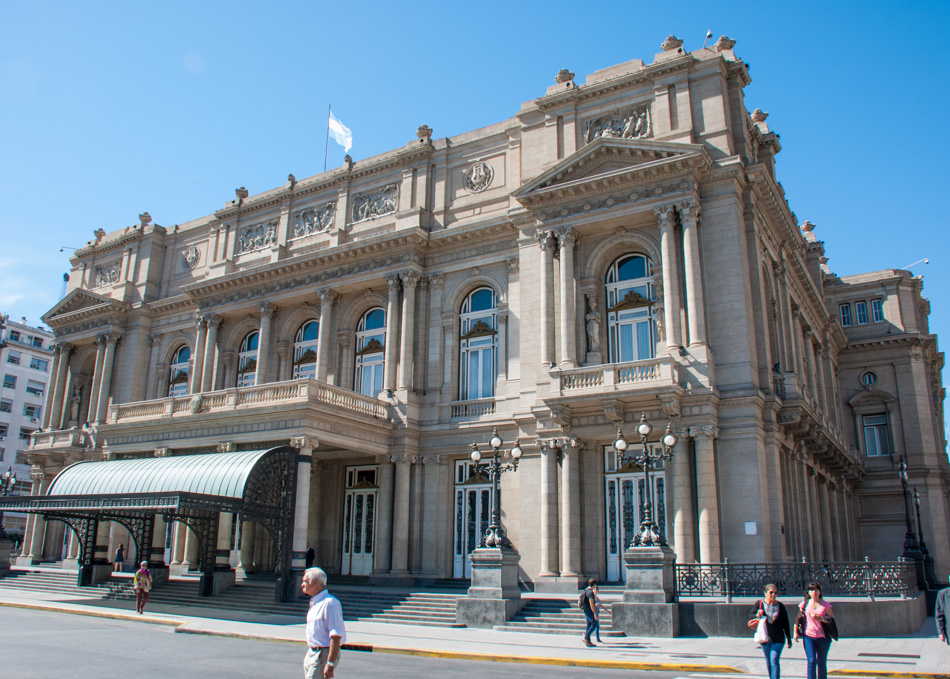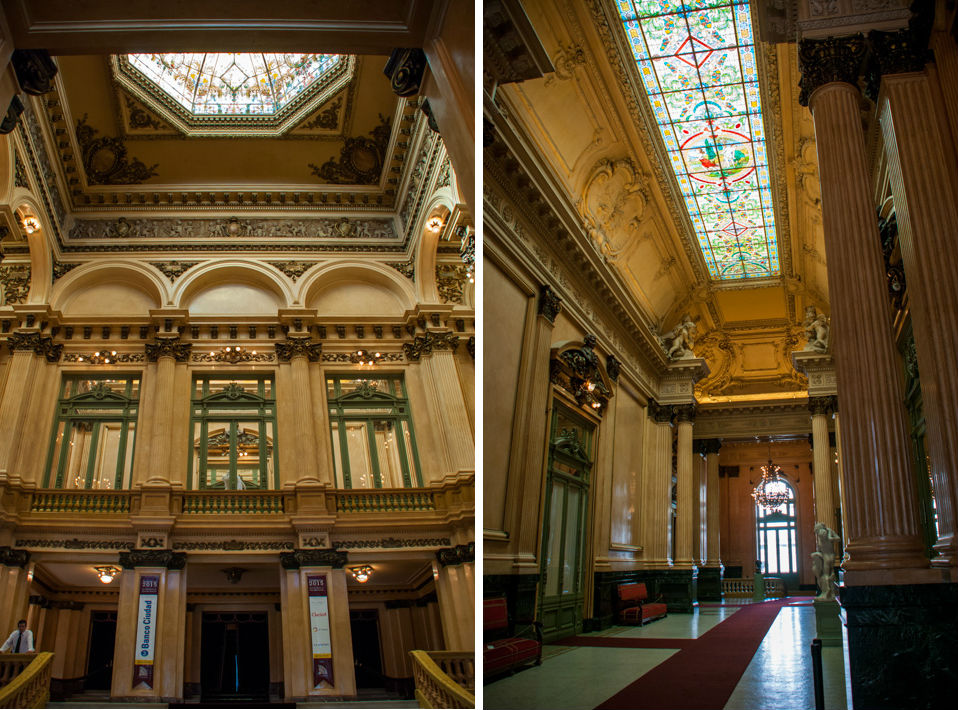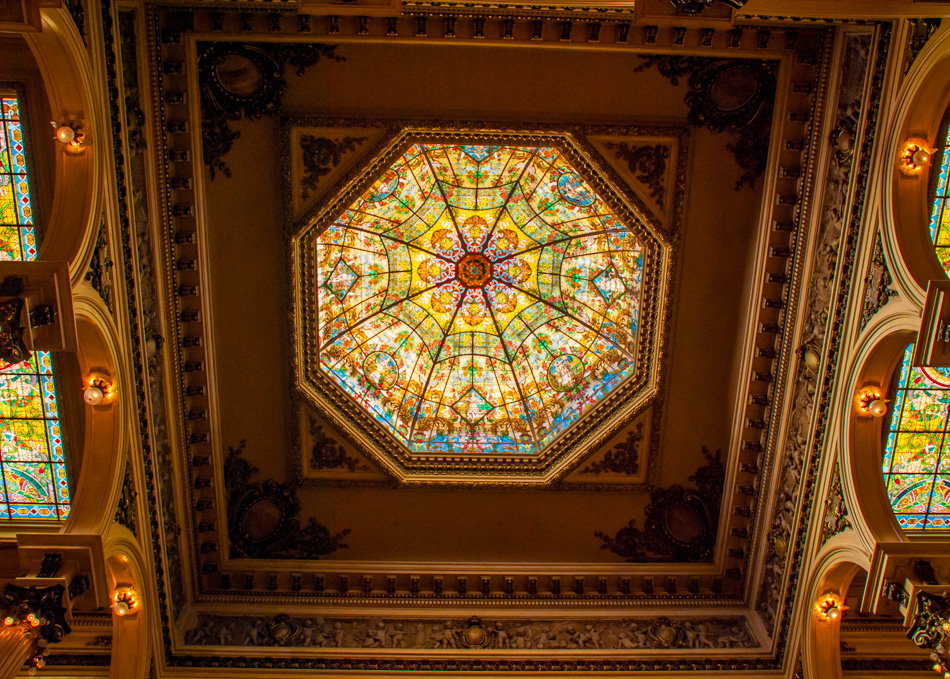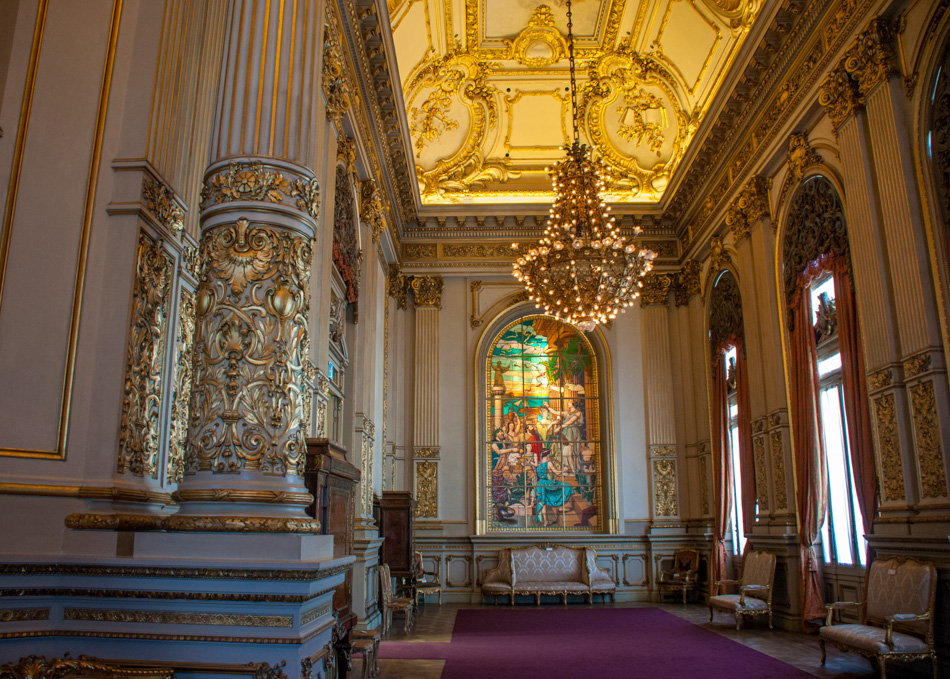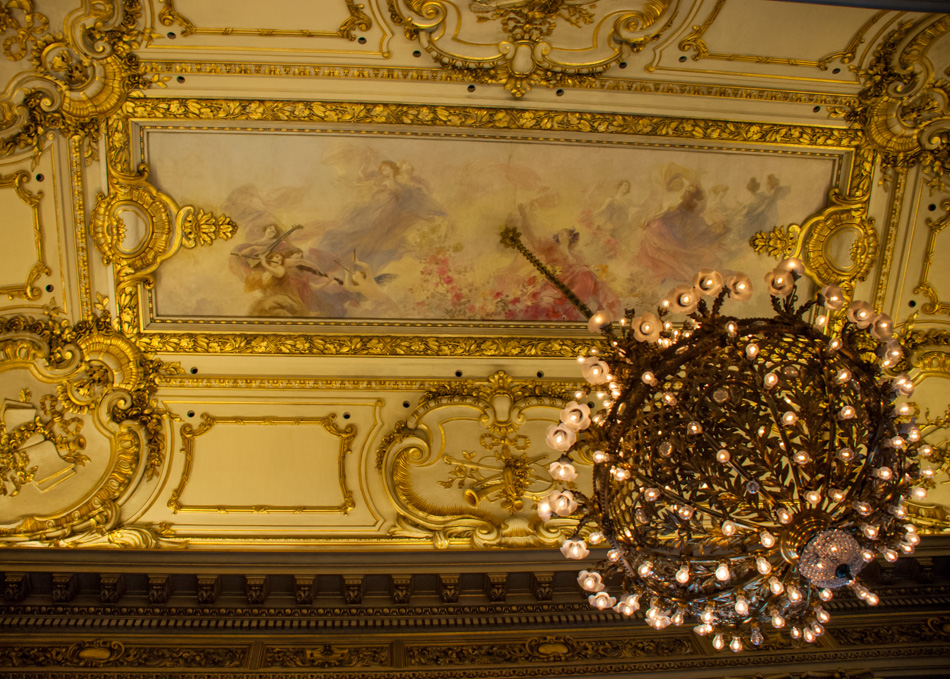 The tour concludes by letting you gaze at the stage from a sought-after box where a repetition was taking place.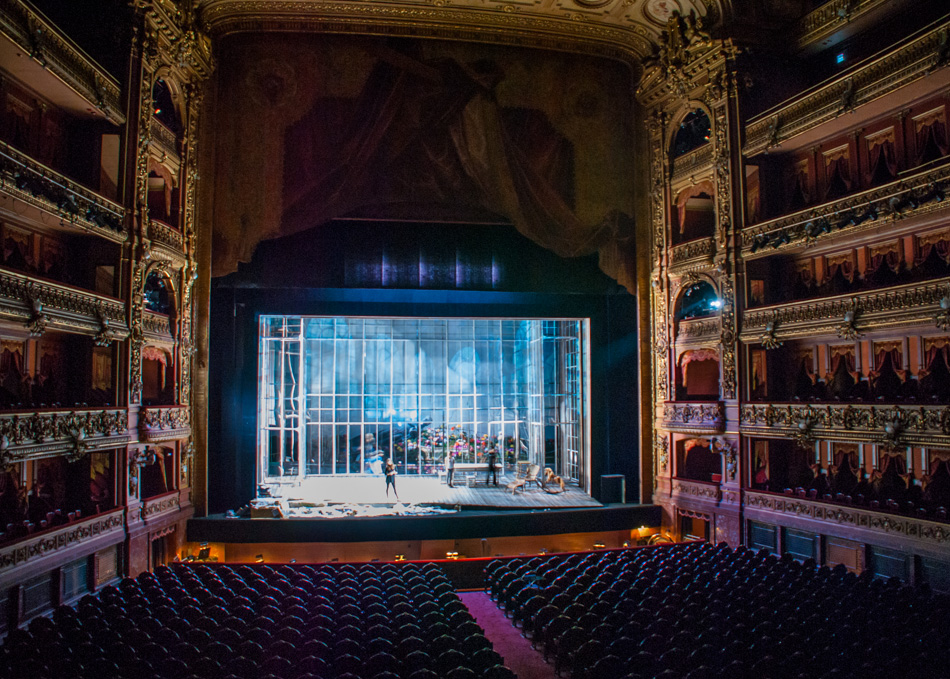 Staying with the opulent theme, a visit to El Ateneo Grand Splendid is in order. Located in the posh Recoleta neighborhood, what is probably one of the most beautiful bookstore in the world is a real feast for the eyes.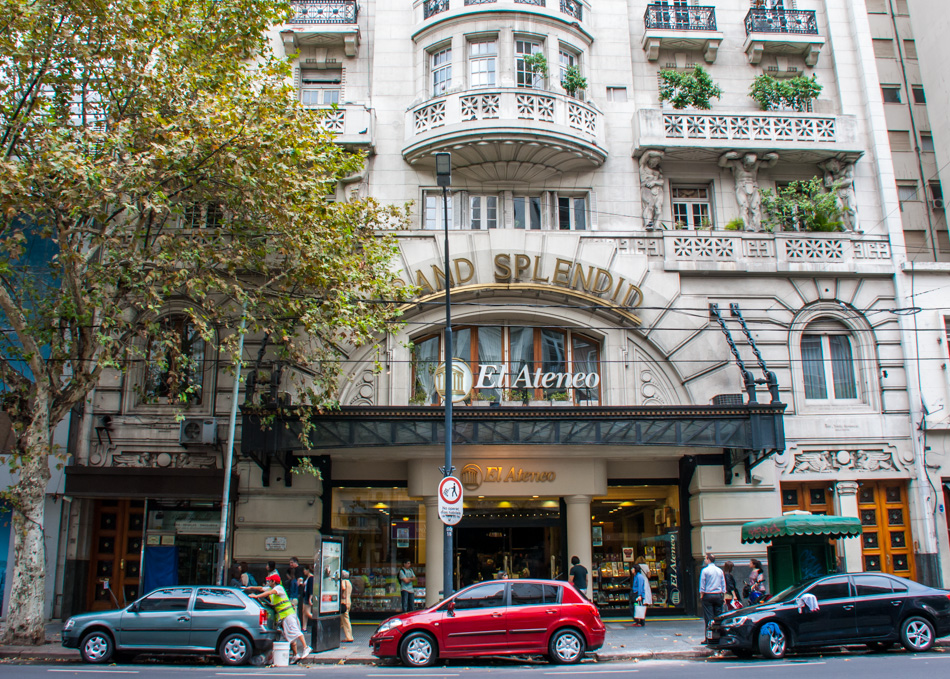 Converted from an old Italianate theater in 2000, bookcases replaced the seats and a cafe took the stage, literally, making it the ideal place to sip a cup and stare at the spectacular dome.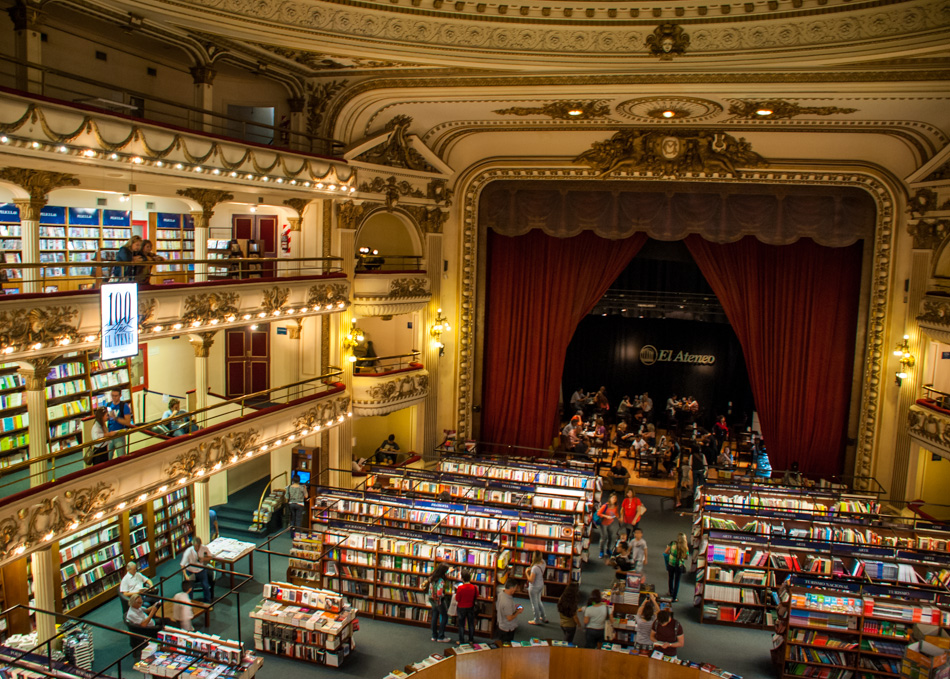 Another worthy stop in Recoleta is the cemetery with more than 6,400 above ground mausoleums. It's a remarkably pretty and peaceful labyrinth of haunting, gorgeous resting places.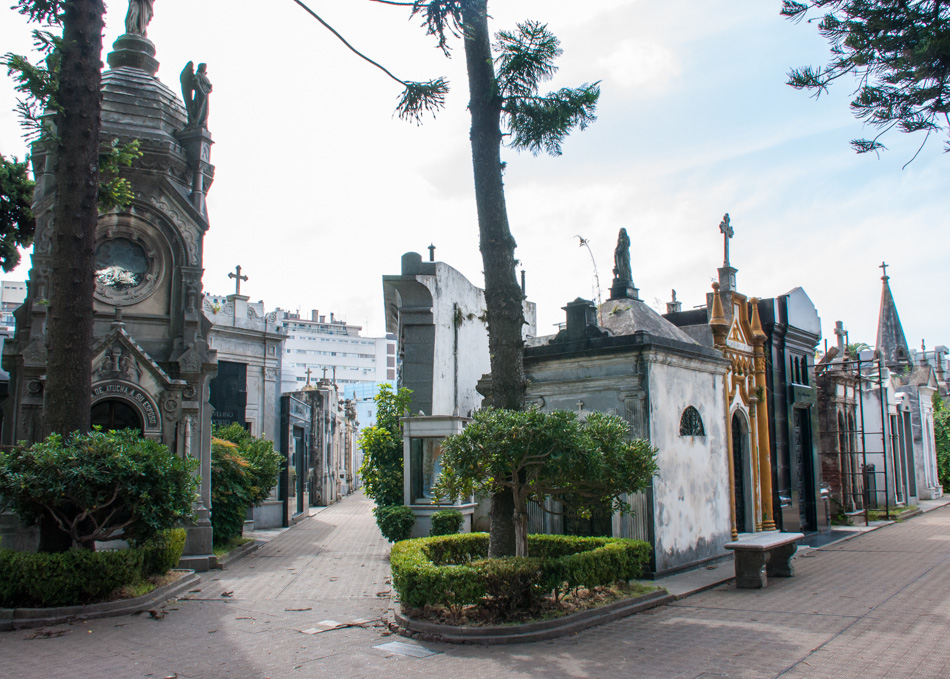 You could easily lose yourself for hours in the picturesque lanes, wandering among the Art Deco and Art Nouveau mausoleums belonging to the city's rich, famous, and powerful families.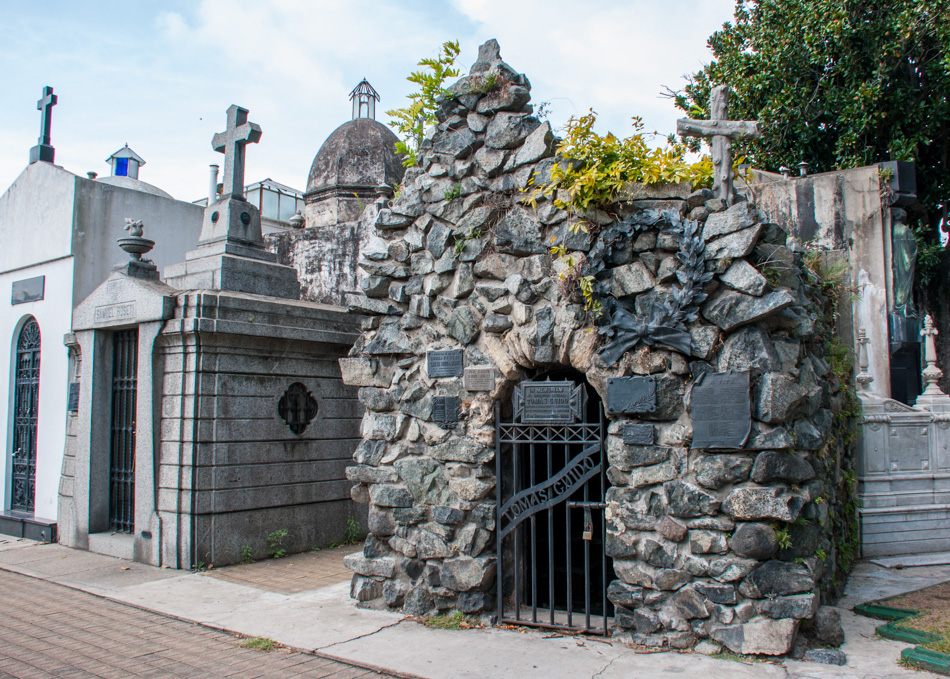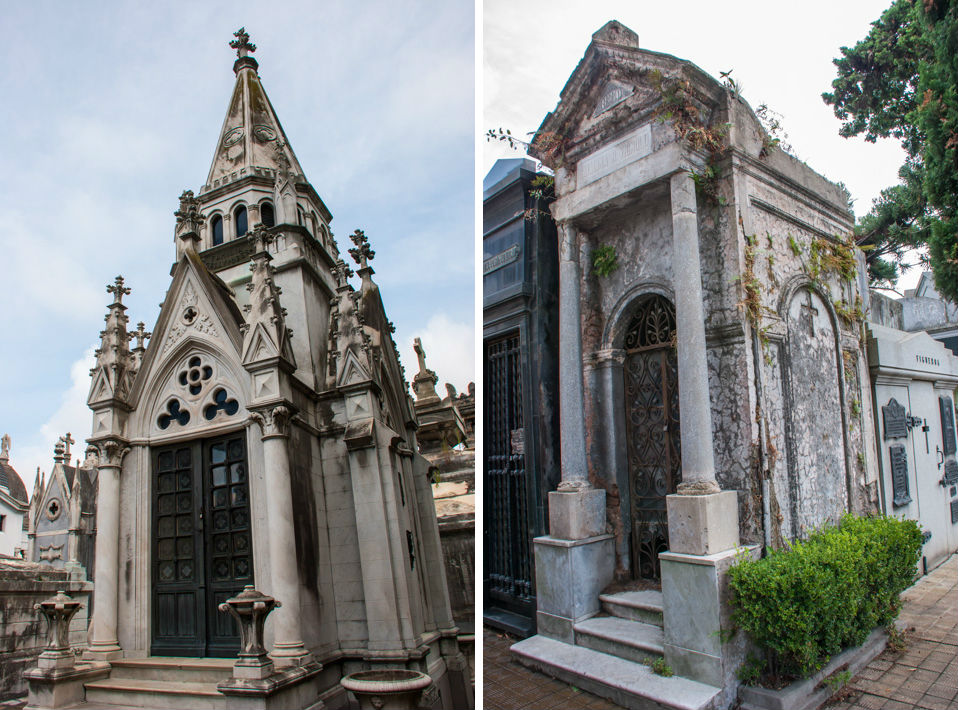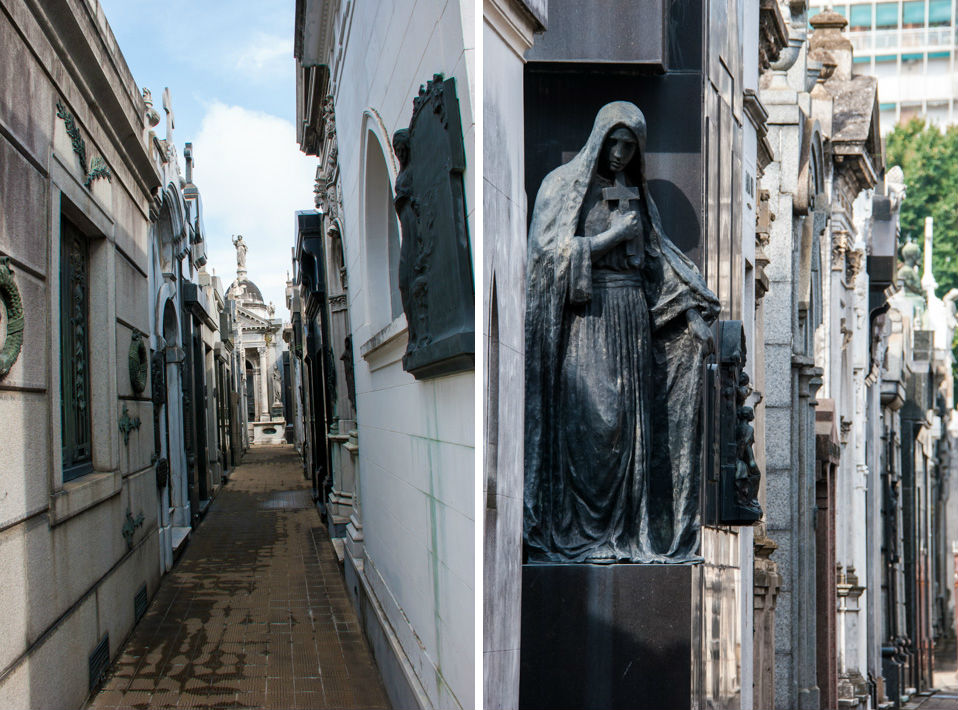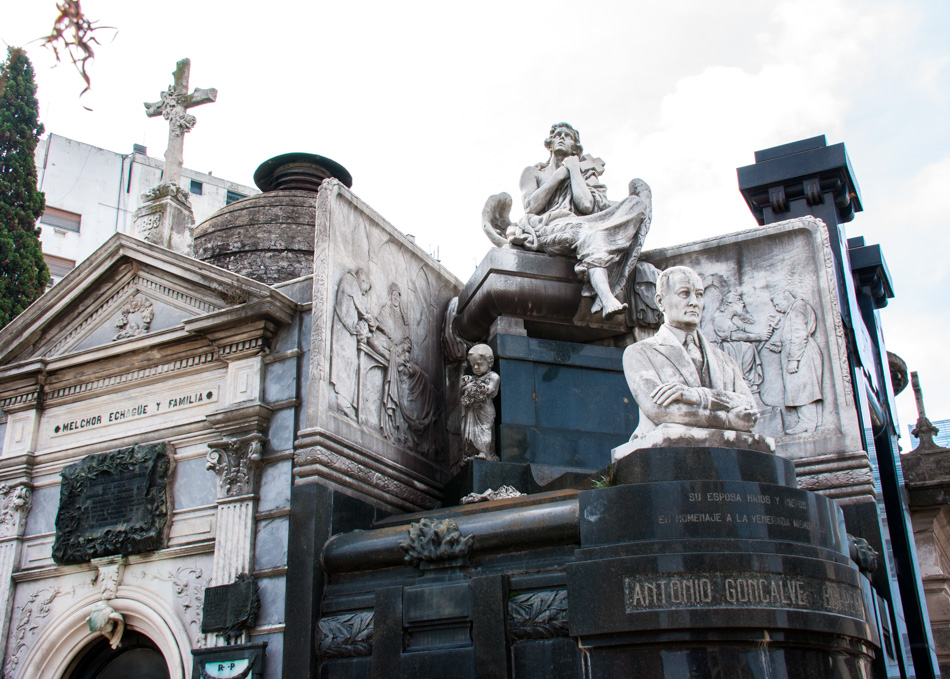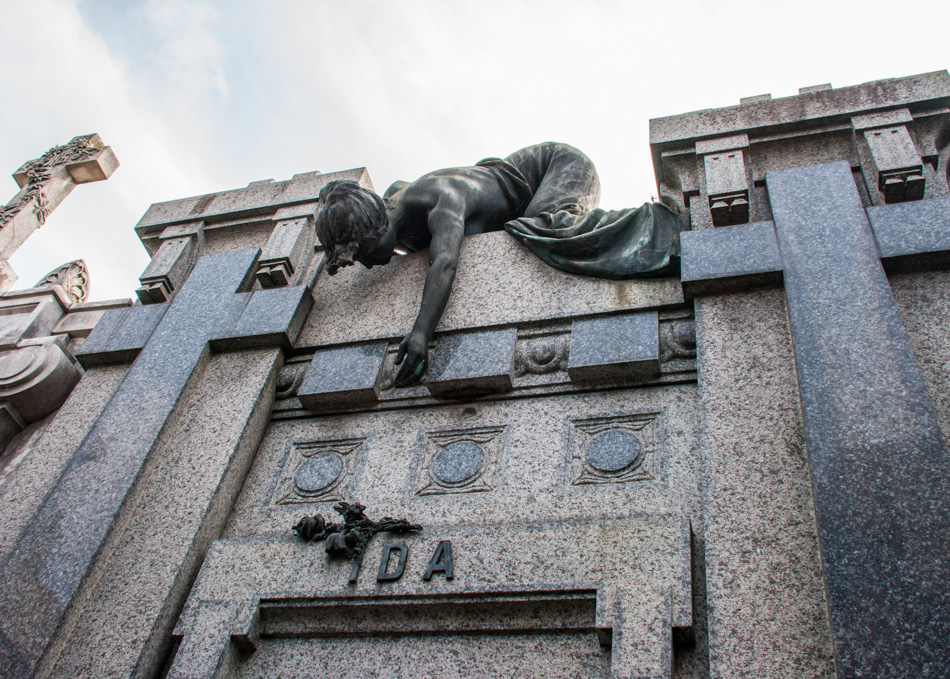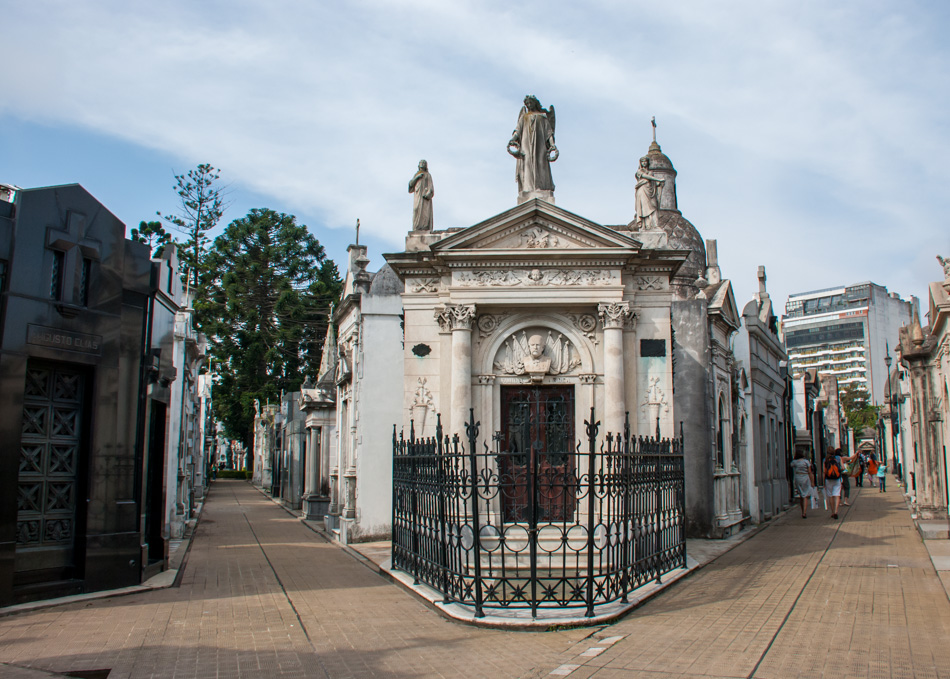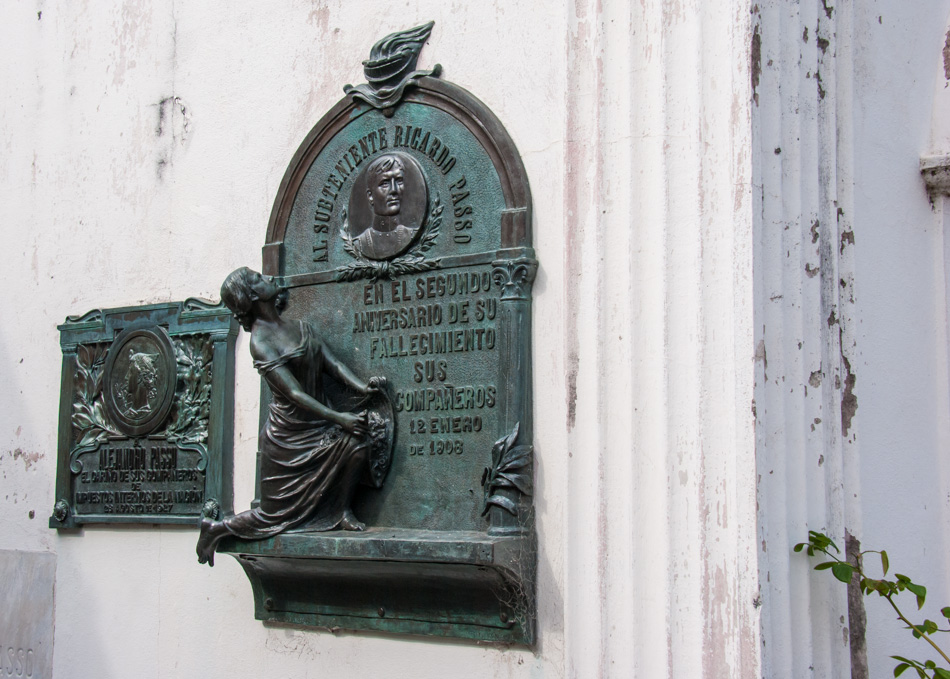 Unsurprisingly, the most famous tomb is that of Evita Perón, but many others are more interesting.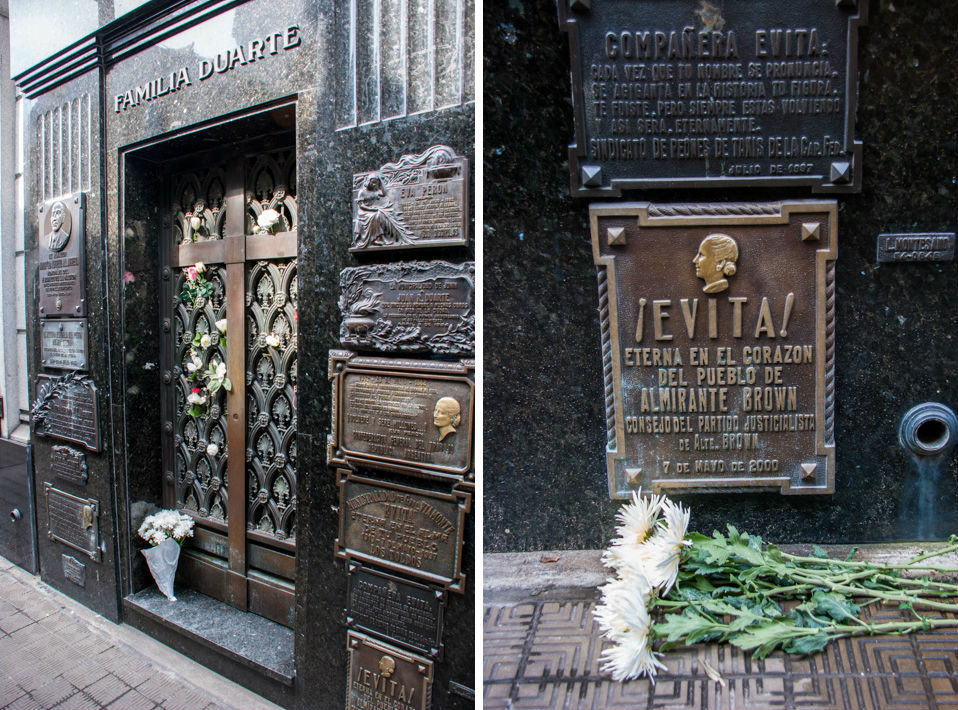 Right outside the cemetery, you can catch local tango dancers attracting crowds on the plaza.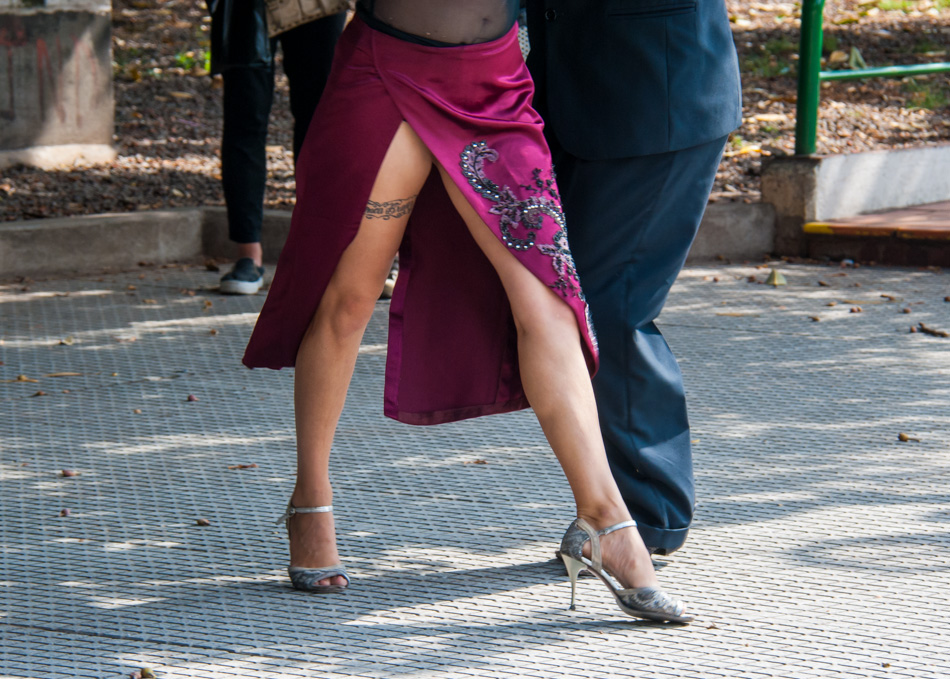 For a change of scenery, head down to San Telmo, Buenos Aires's oldest neighborhood and home to cobblestone streets lined with splendid, often crumbling buildings and an eclectic mix of hardware stores, antiques sellers, and old bars and cafes.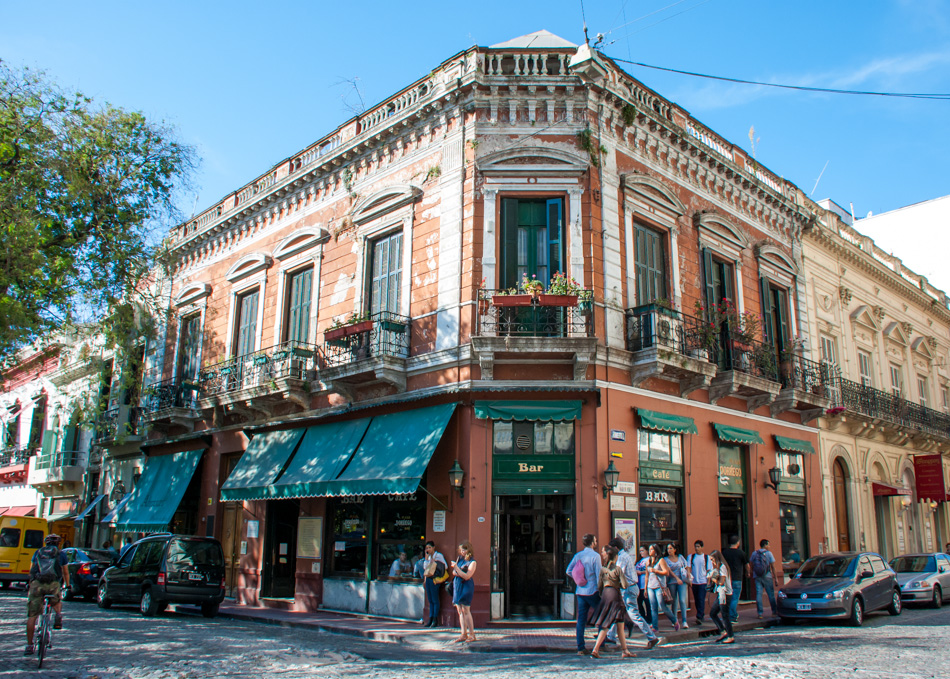 The San Telmo market is a place to pick up fresh fruit and vegetables as well as used clothing and knick knacks.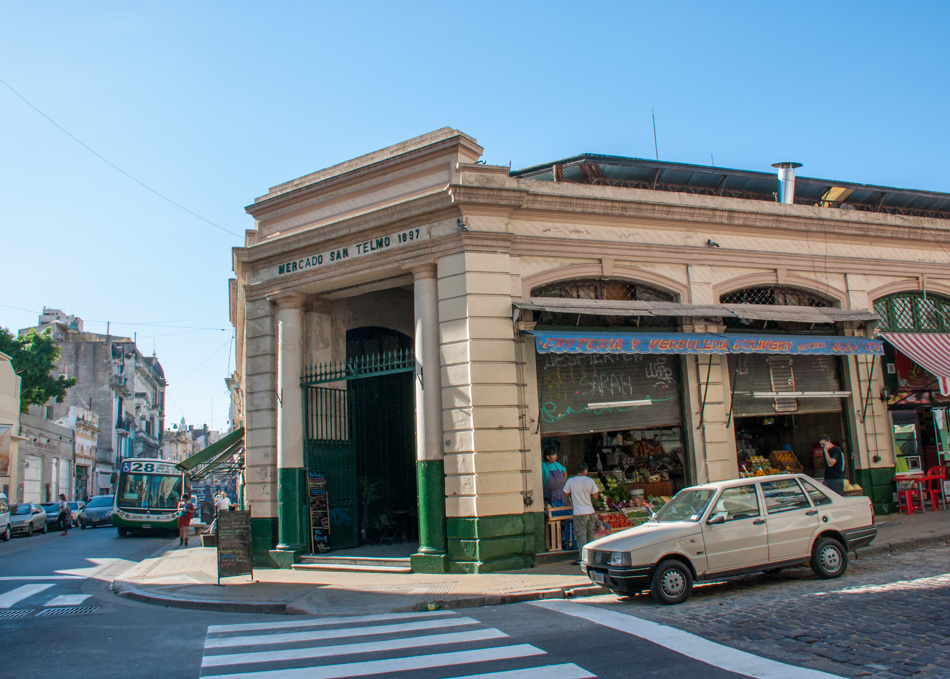 For a glimpse of life in San Telmo's bygone days, step into the Pasaje La Defensa (Defensa 1179), a well-preserved typical house known as a casa chorizo or "sausage house". It is now a picturesque spot for antiques and curio shopping.
The neighborhood is also unique for its abundance of colorful street art with a surprise awaiting your every turn.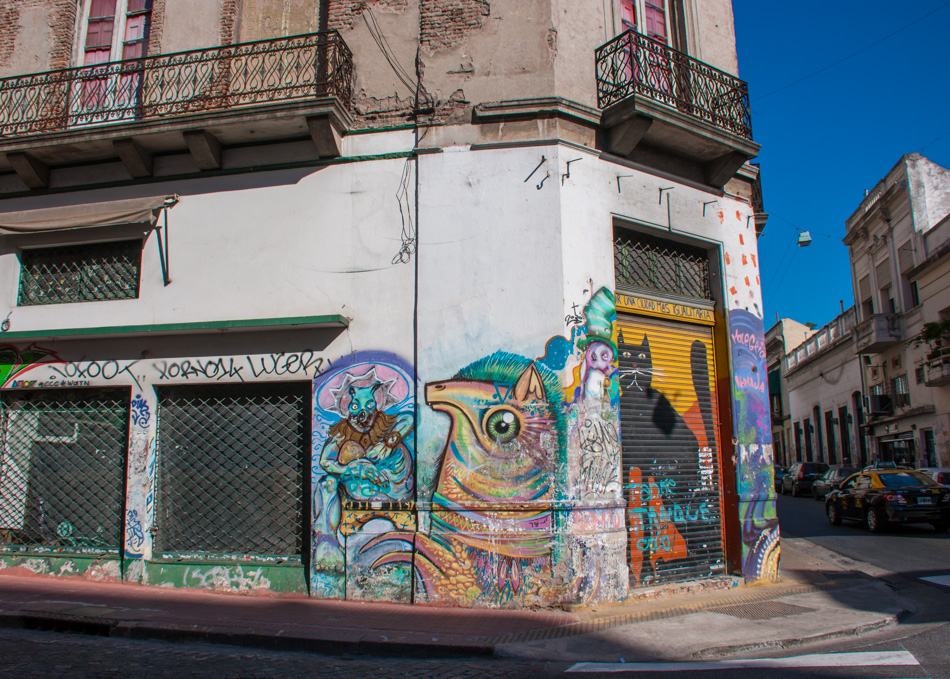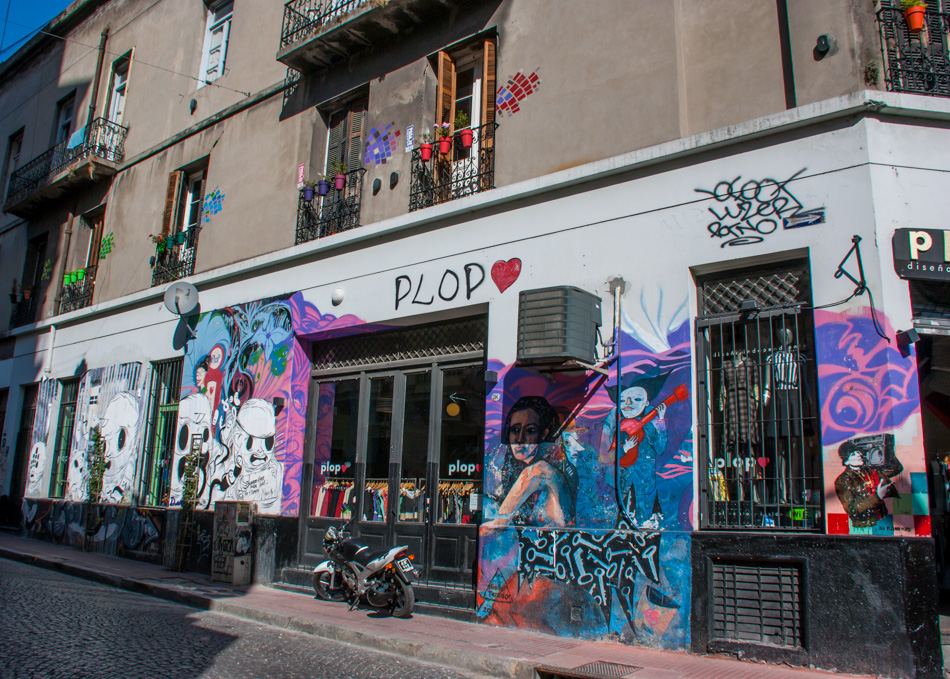 When in need of a pick-me-up, head to one of the area's old bars such as El Federal (BA's second oldest from 1858).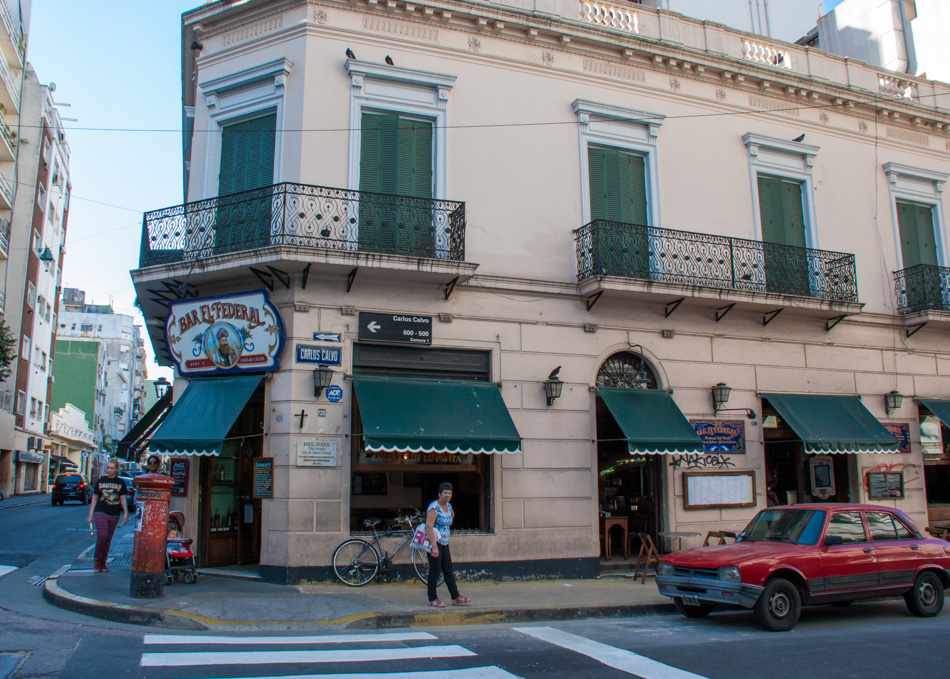 This old-time landmark is old-school in the best of ways and you'll immediately notice the antique cash register and the gorgeous stained glass over the long bar.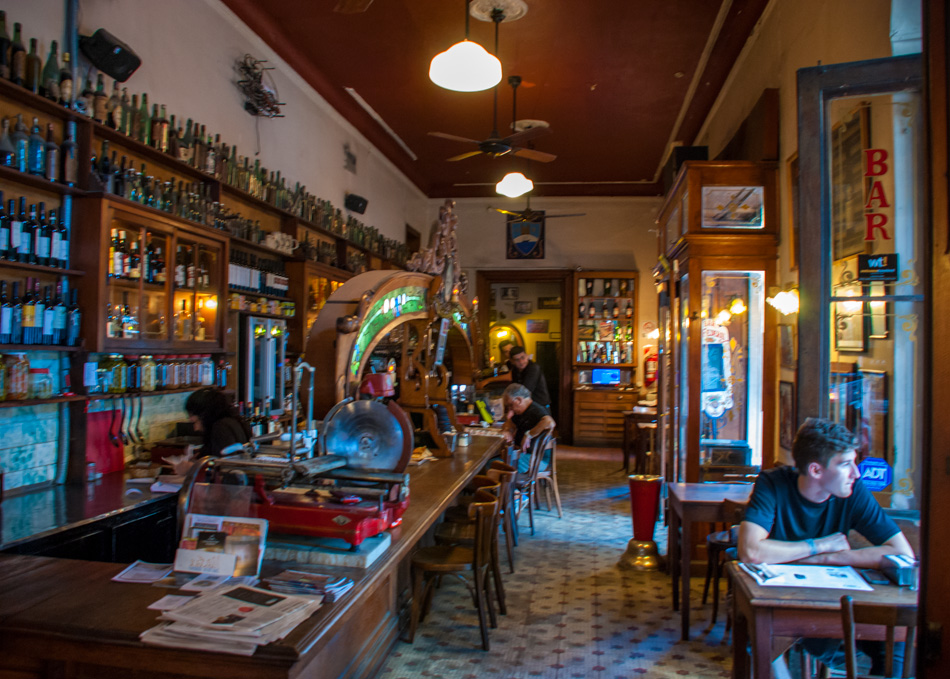 Pull up a chair at one of the rustic wooden tables, preferably by the windows for some great people-watching, and order a beer or Fernet Coca, a typical local drink.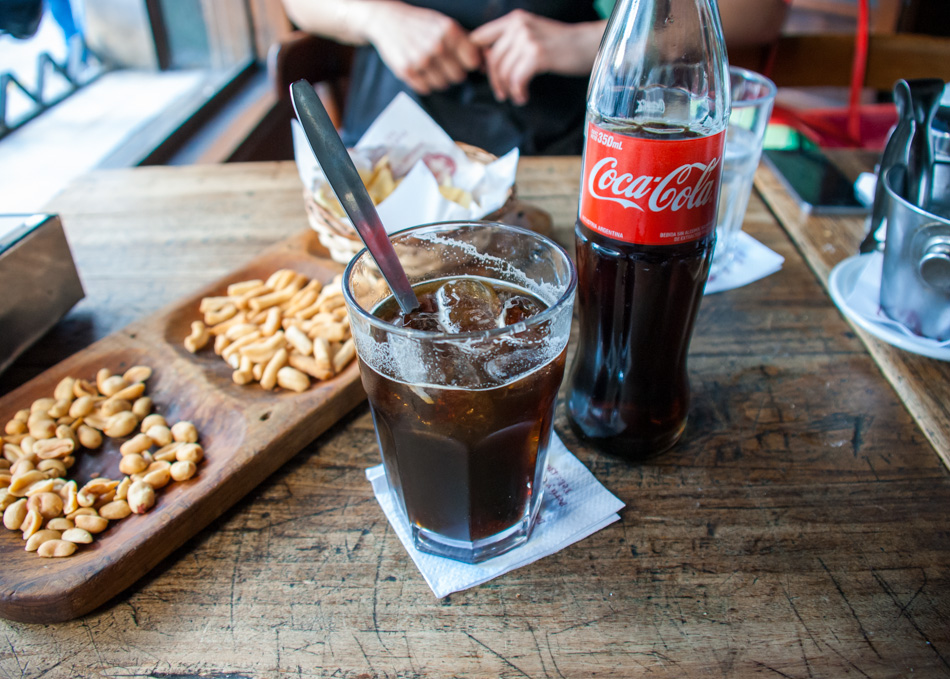 For something more solid, head straight to La Brigada, among the city's top parillas. The title of where to eat the best cut of beef is an often debated subject but from my personal experience, La Brigada nailed it!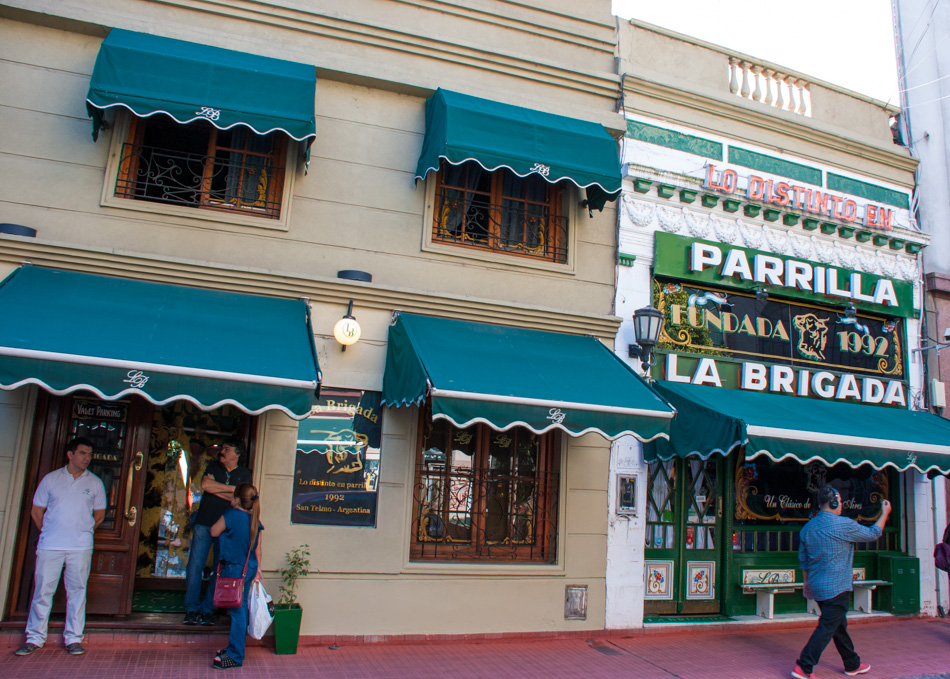 A fun decor of soccer paraphernalia takes over the rooms and you're likely to hear accents from pretty much everywhere at this tourist-heavy institution.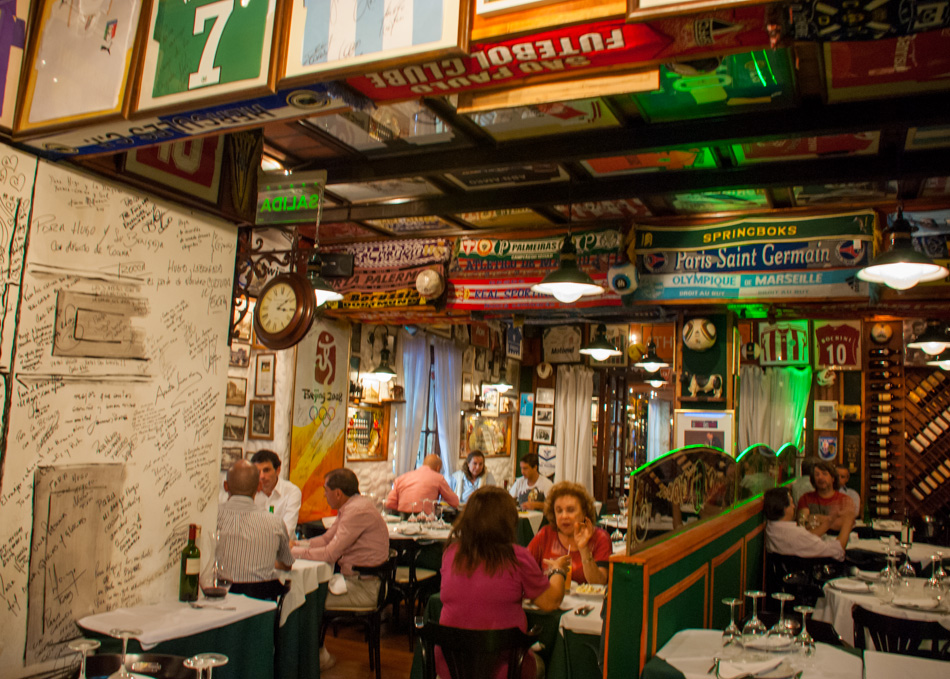 You're here for one thing only though and it's the food, memorable from the start with the complimentary bread service which arrives piping hot with a side of meat-infused olive oil (yes, you heard that right, even their dipping oil is filled with meaty goodness, perhaps fat drippings?!).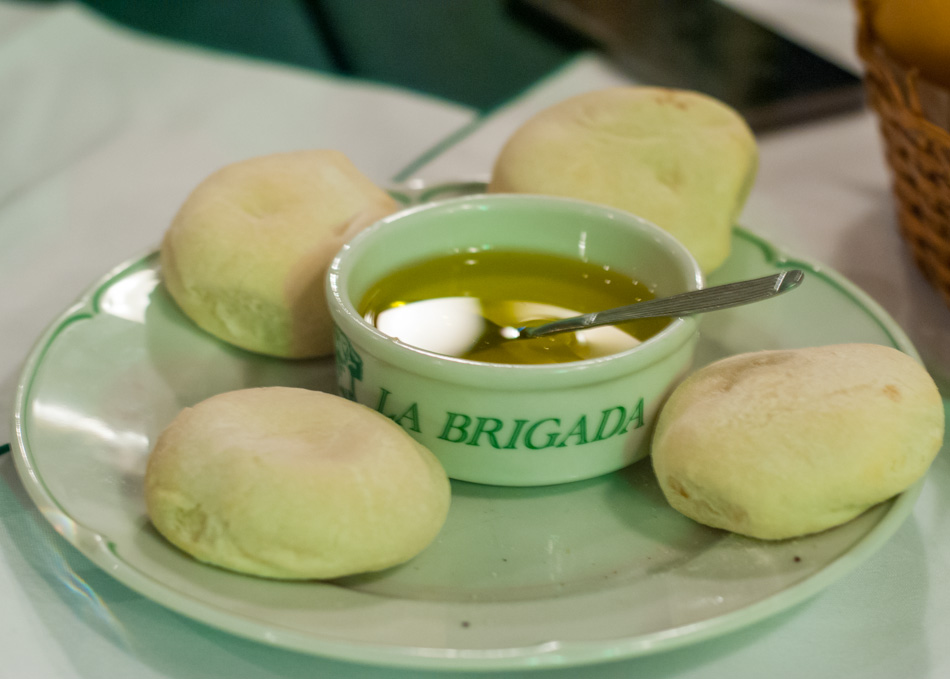 The meat here is so succulent that the servers cut it with a spoon! It's worth seeing it to believe the hype and taste the best steak in the city. They're famous for their tenderloin though we picked the Bife de Chorizo and couldn't complain!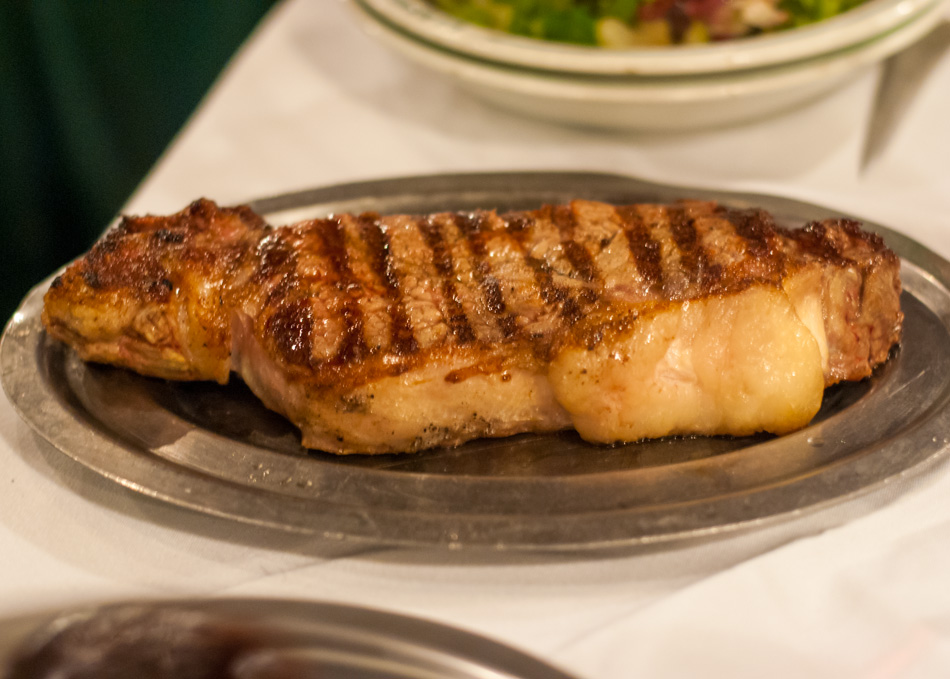 As a side, try other smaller specialties like the morcilla (blood sausage) and pork sausage, both excellent.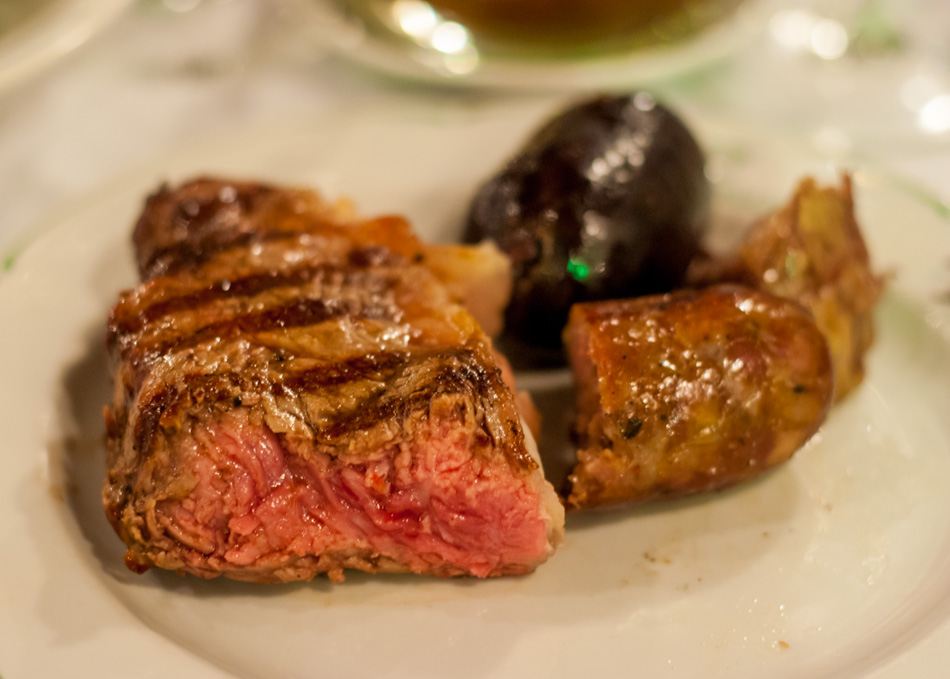 Nearby La Boca is an easy hop from San Telmo and should definitely be on your agenda. The neighborhood famed for its colorful houses, its tango and its soccer team is infused with passion from countless cultures.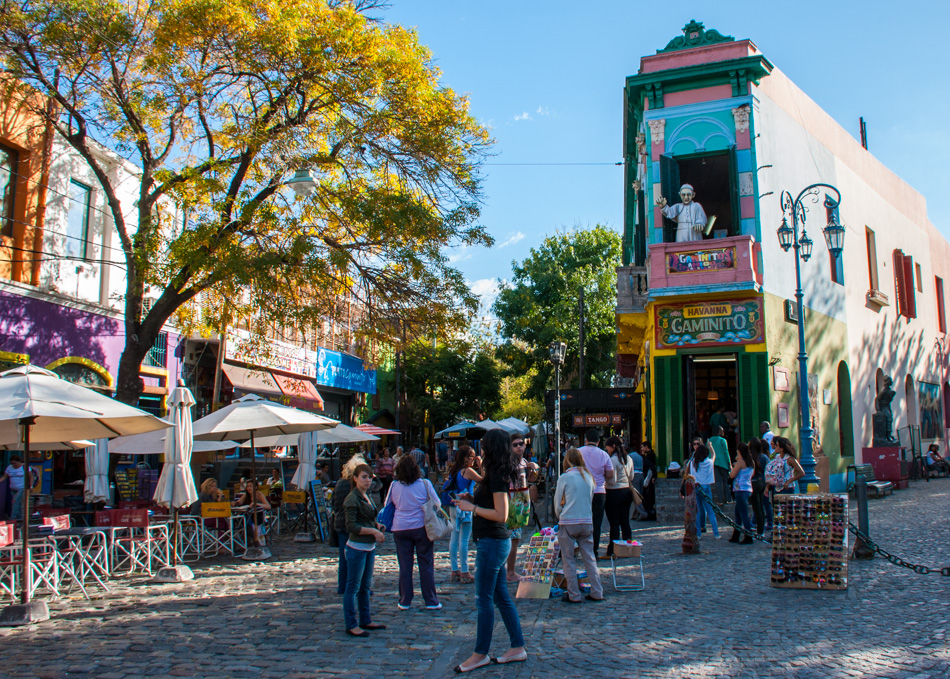 El Caminito is the main attraction here, a vibrant alley about 100m long now full of tacky tourists shops and live tango but still a good representation of houses from the early settlers, Italian immigrants from Genoa who painted their houses with the leftover paint from the nearby docks.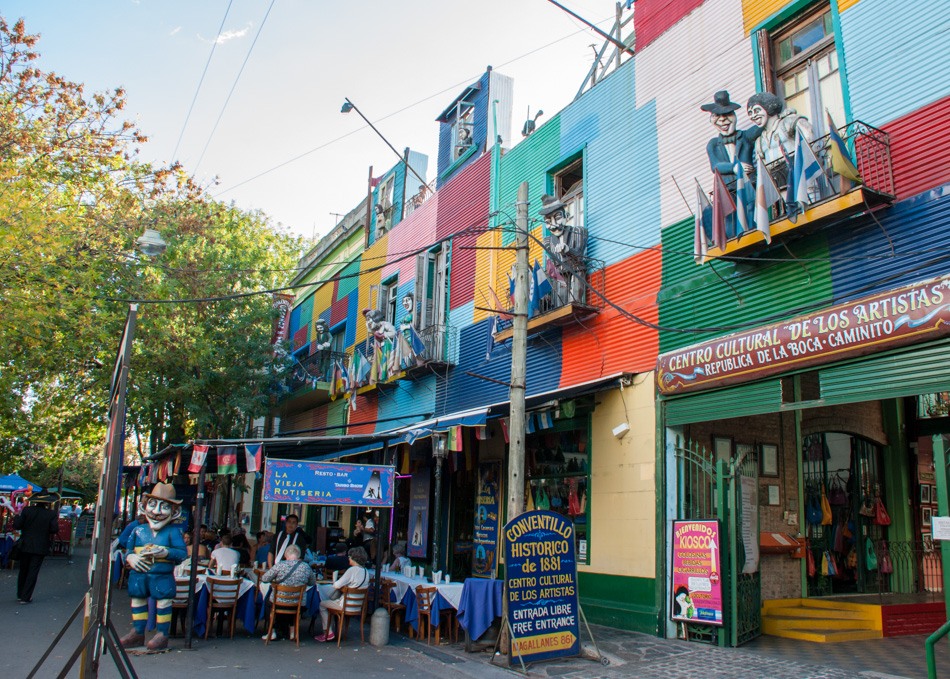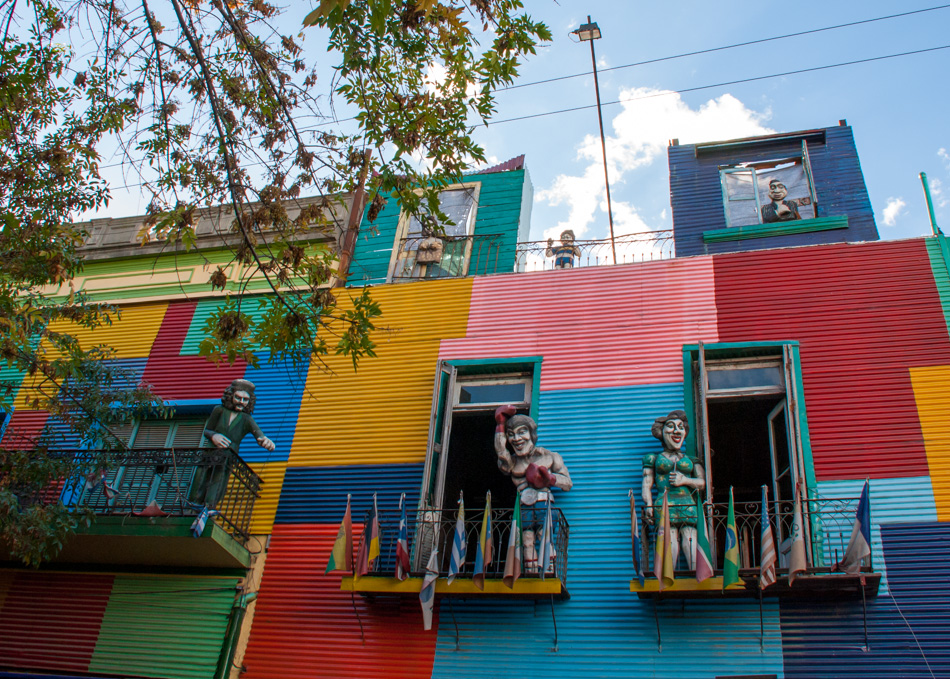 Venture off of the Caminito and you'll experience a neighborhood whose identity remains rooted in hard work and artistry.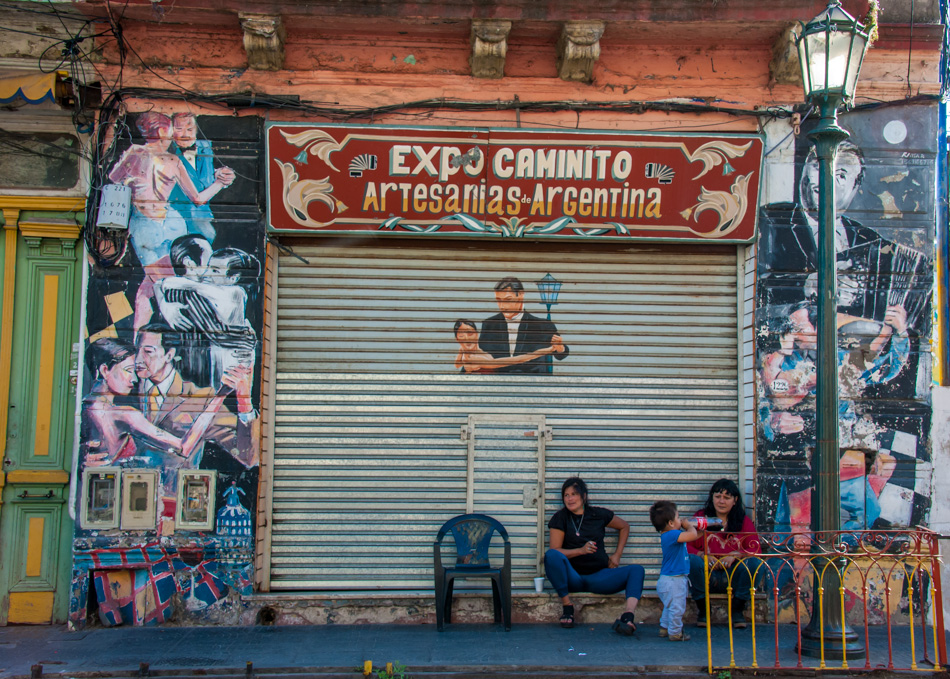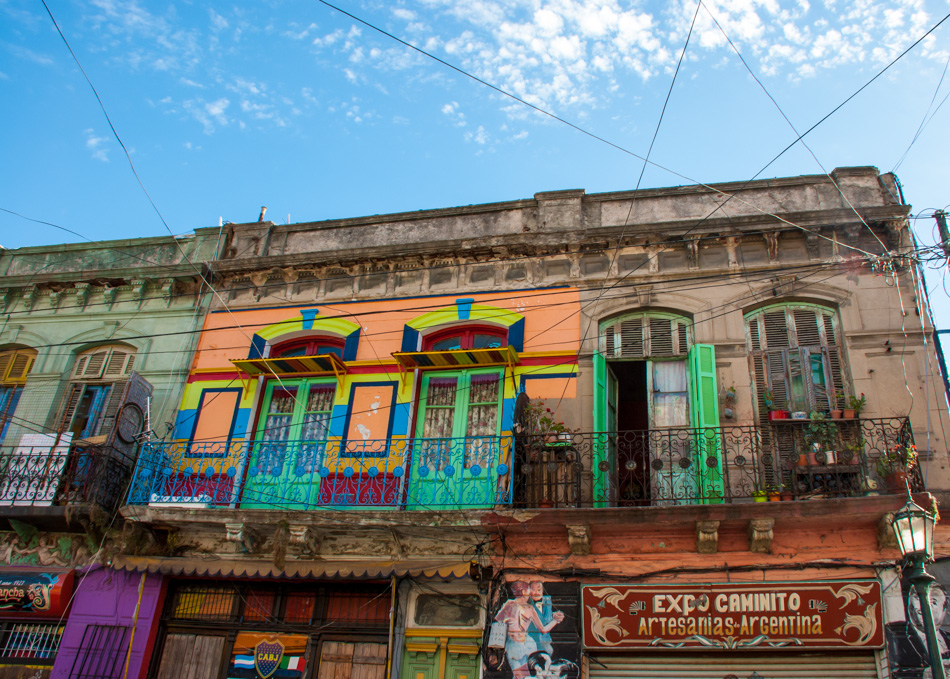 As they say, it is pretty much like walking in a living art museum, and you'll see postcard worthy snapshots at every corner making you fall for its gritty charm and outspoken personality.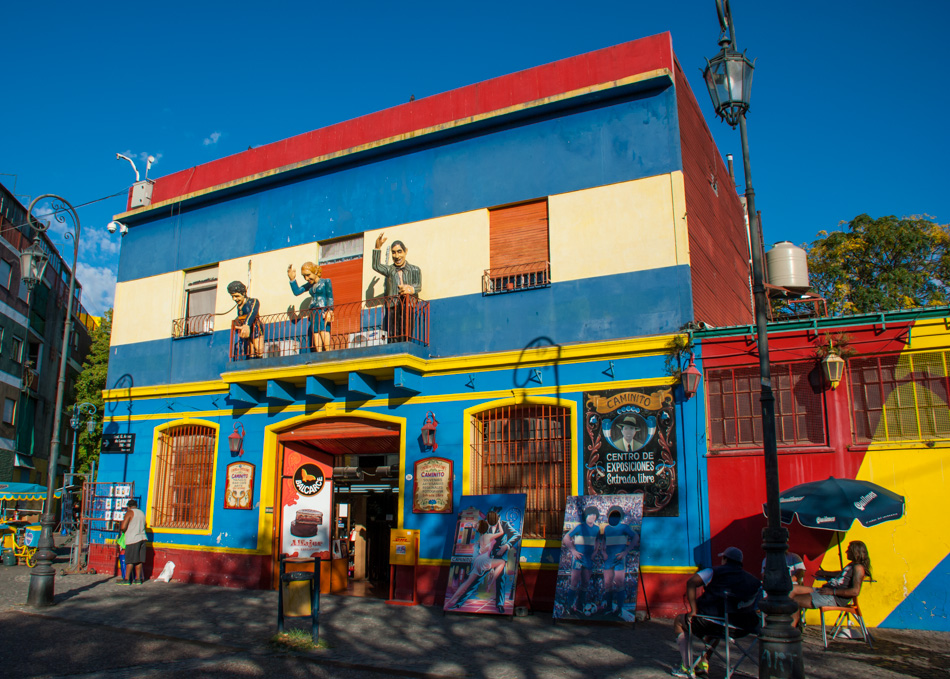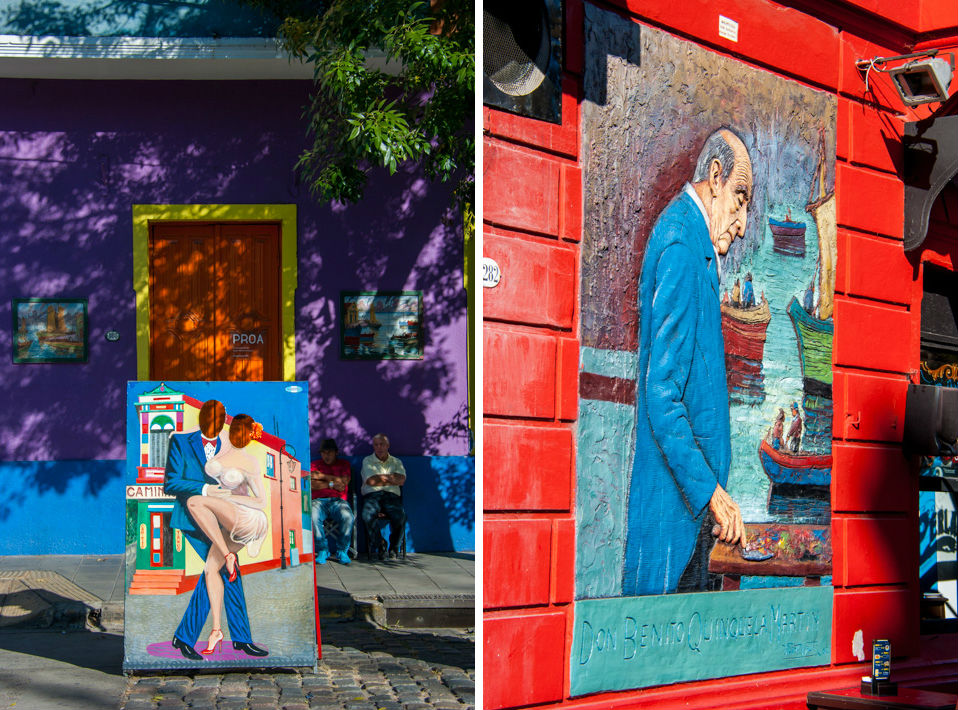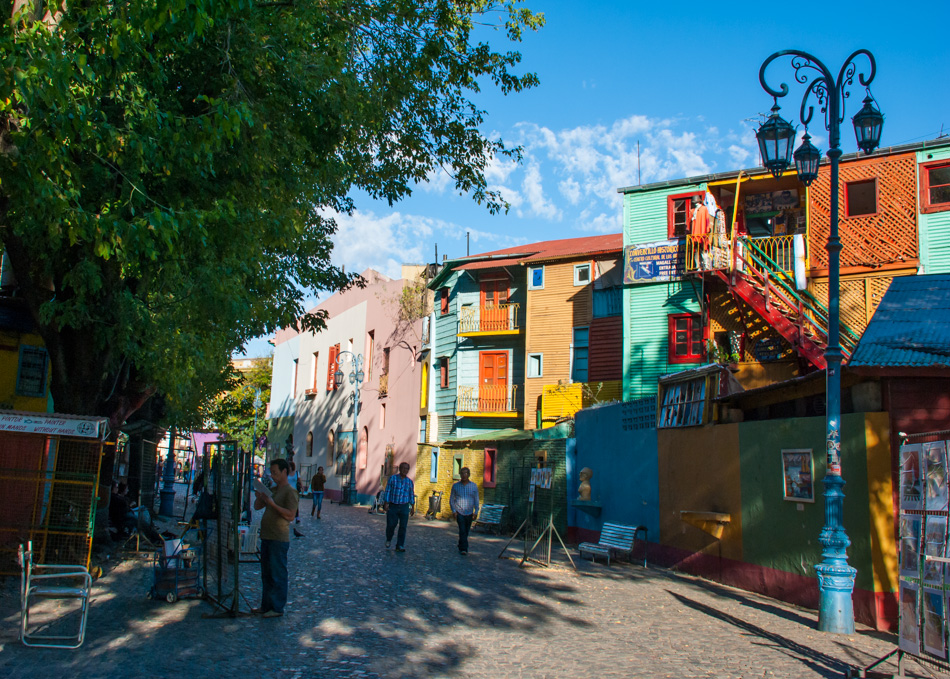 In total contrast, visiting Puerto Madero is taking a huge step into the future. The antique port of Buenos Aires has been renewed and now represents the latest architectural trends of the city. Take a walk along the docks, staring at the Puente de La Mujer in the distance and pondering which of the riverview restaurants will welcome you tonight.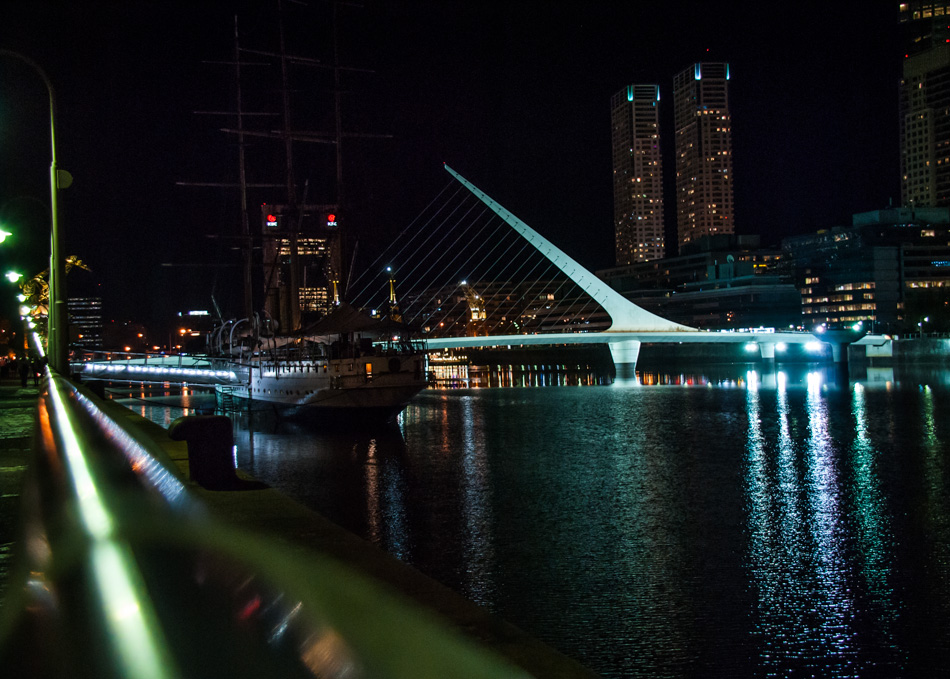 We opted for Chila (well actually we had carefully chosen it as it is truly one of the best restaurants in Buenos Aires) and splurged for one evening in a modern setting overlooking the water.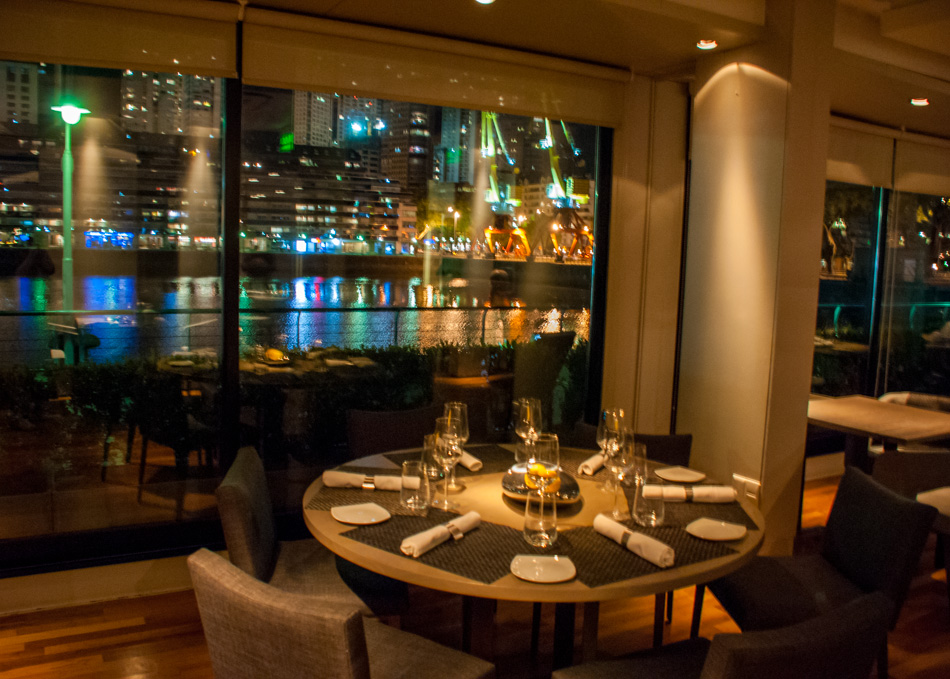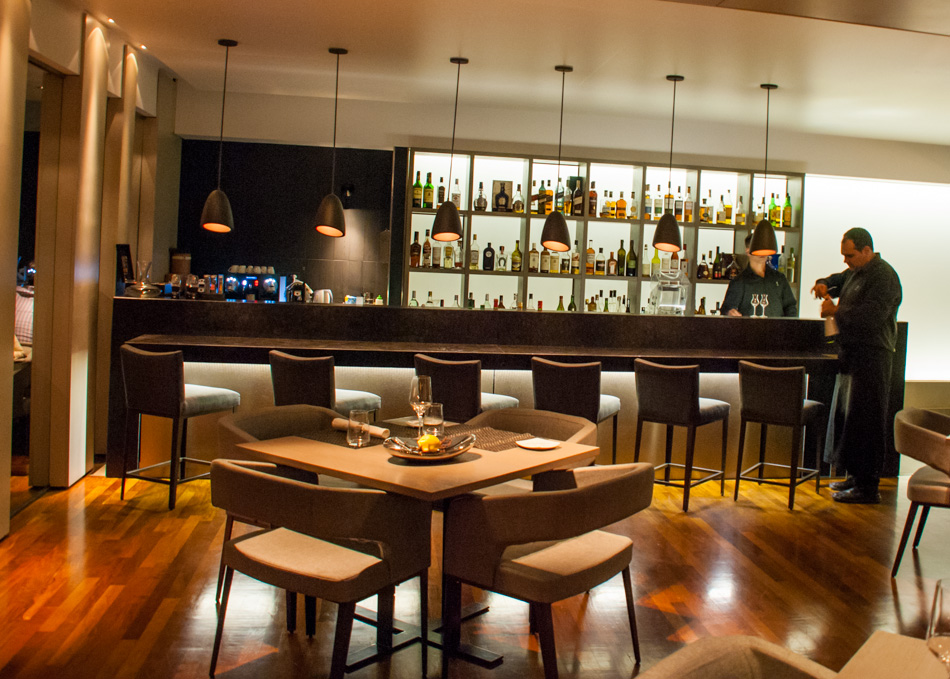 You have the choice between a 3-course or 7-course tasting menu and we immediately went with the smaller one, seeing how much we had eaten that week already! One of the main reasons we decided to come here besides the amazing reviews is that half the dishes spotlighted are seafood, a rarity in the city and a godsend after ingesting all that meat!
Chef's starter – almond soup with quail egg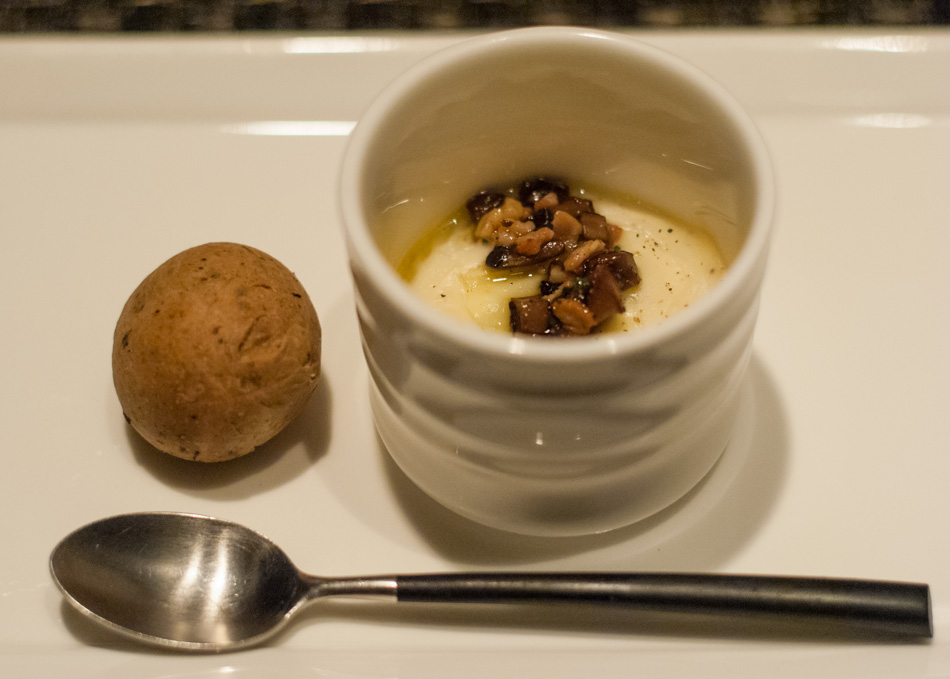 Oysters from Patagonia, tomatoes from La Plata, leeks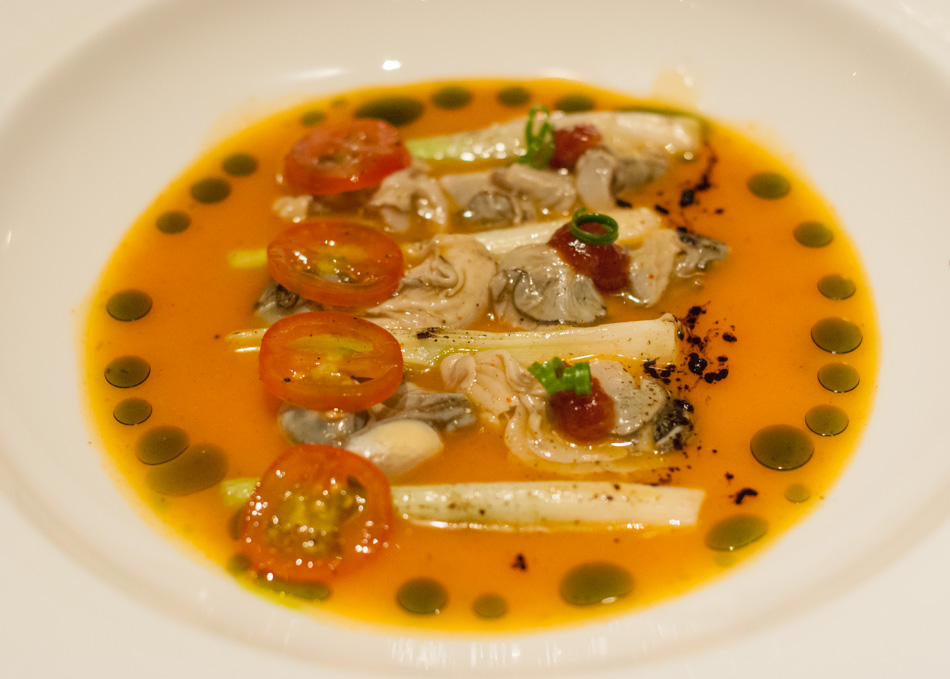 Black hake from Antartica • apples: red – granny smith • golden • celery • bacon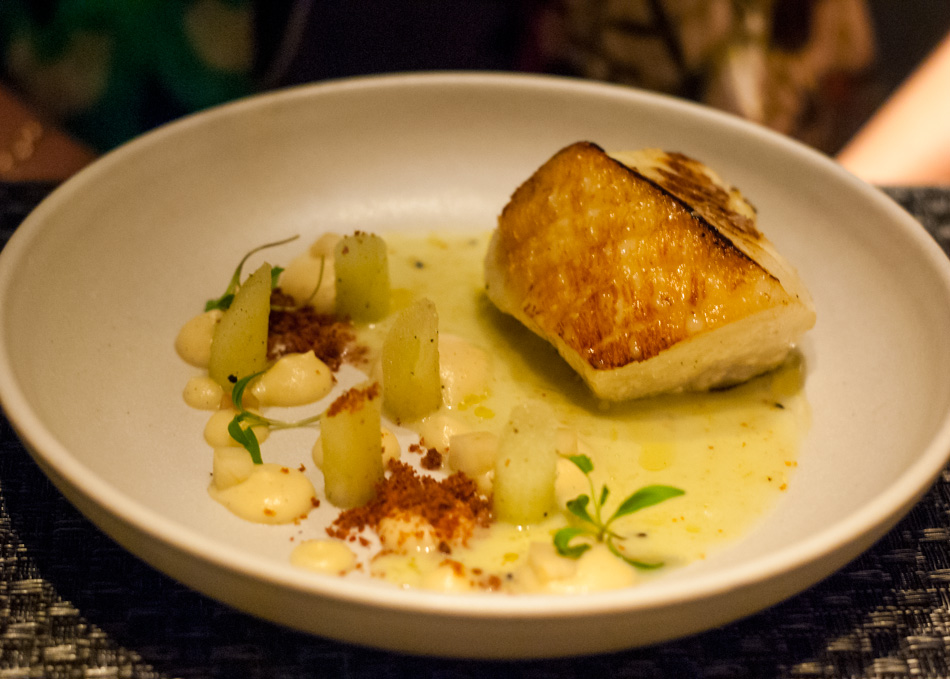 Boga (river fish) from Paraná river • Cuyo: olives • black garcli • changlot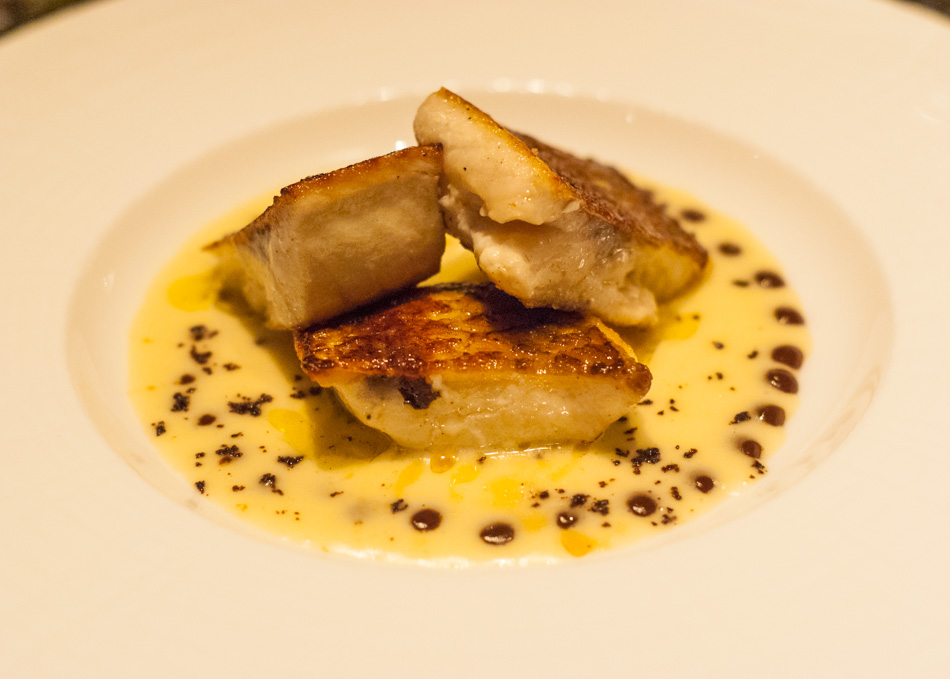 Litoral: mango • tapioca • flowers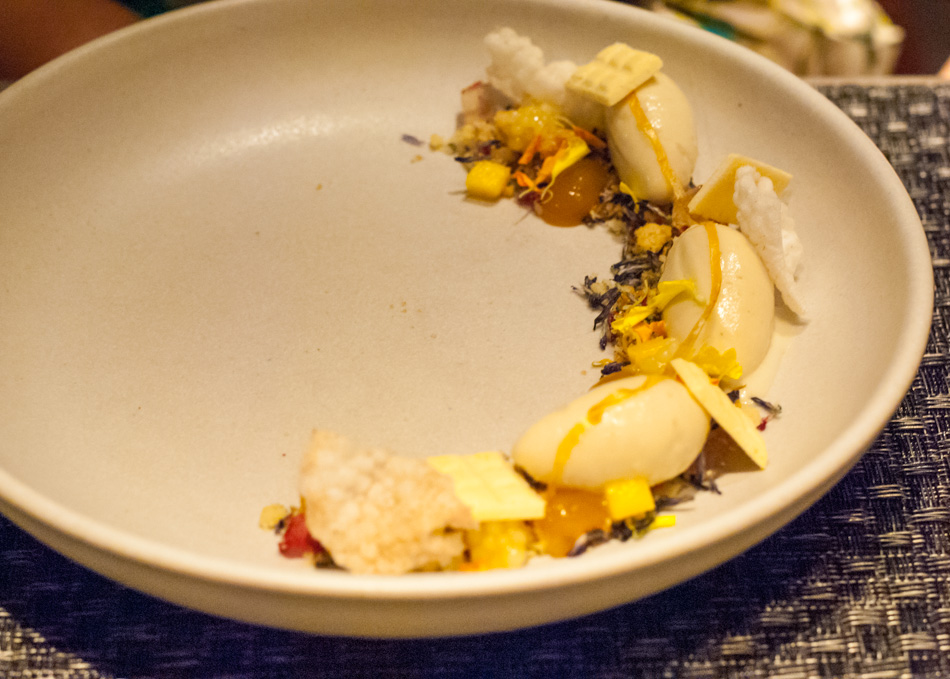 Dulce de leche souffle • american cream ice cream • Petit Manseng sauce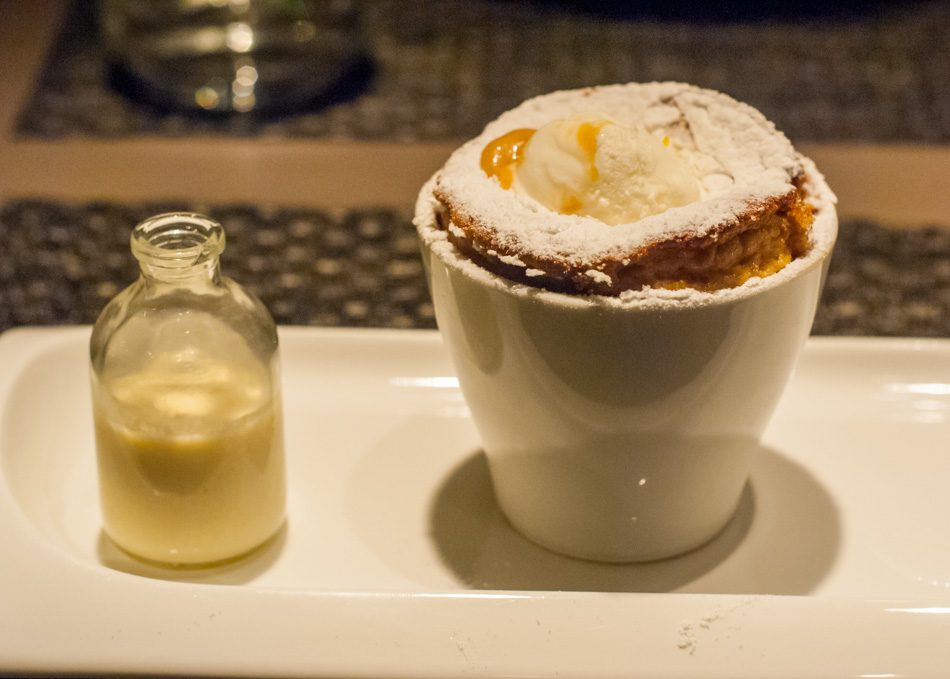 To top off the night in style, catch one of the high-end tango shows around town, and if possible try to make it to Rojo Tango at the El Faena Hotel. The sexy performance in the hotel's cabaret room is accompanied by a first-rate live orchestra and period costumes to die for. There's even a tiny bit of nudity and the tango version of Roxanne from Moulin Rouge for an unforgettable evening.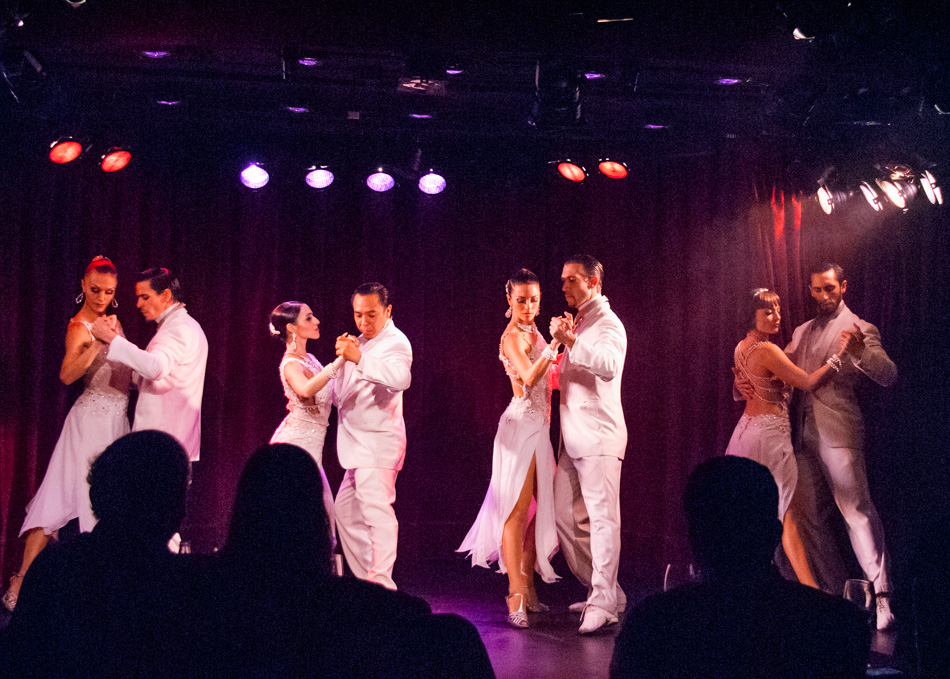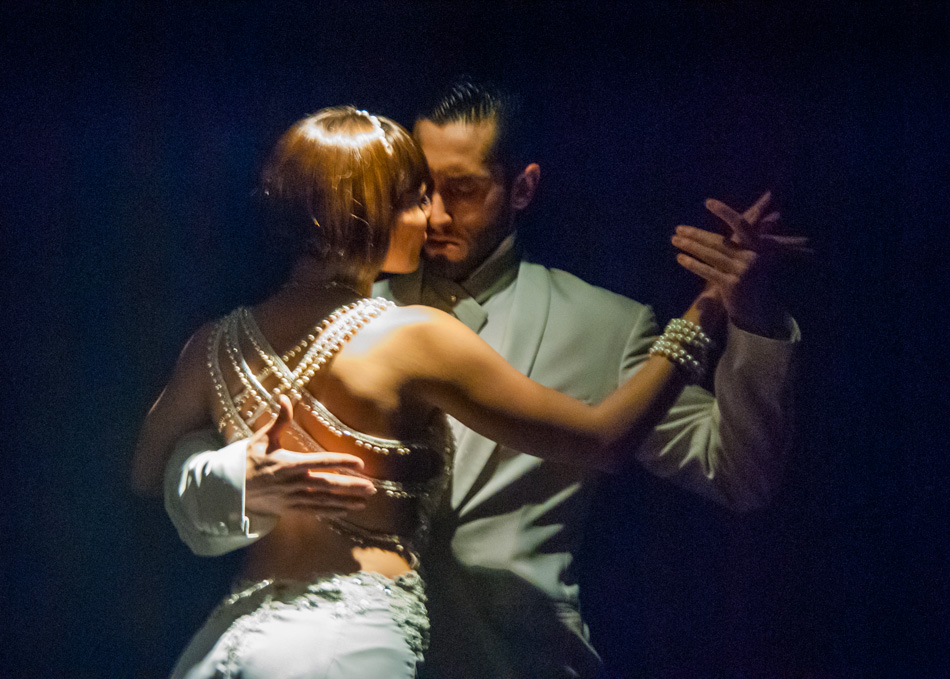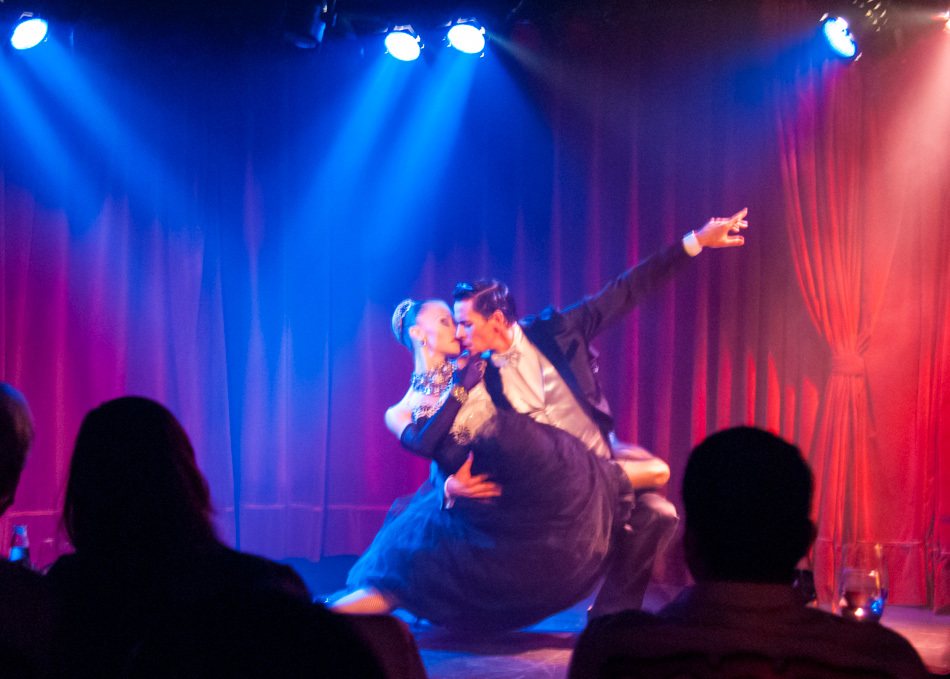 From the gritty to the luxurious, Buenos Aires has proven to be a fascinating dame with a larger-than-life personality. Now though, I'm looking forward to a good night sleep and a few days of clean eating!