Approaching El Chaltén on the edge of Argentina's Glacier National Park is a thrilling sight.  The tiny (and youngest) village in Patagonia is comfortably nestled in the heart of a valley right in front of two of the most impressive peaks in Argentina – Cerro Torre and Cerro Fitzroy.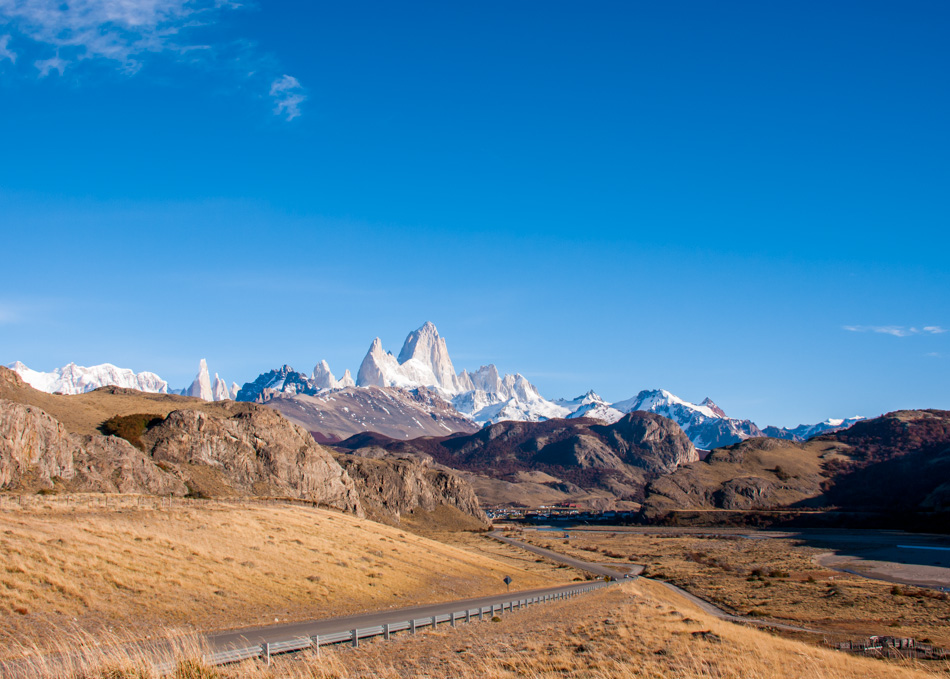 Nicknamed "The Trekking Capital of Argentina", El Chaltén is a wonderfully pleasant trekking center almost solely built to serve tourists with the mystical presence of Mount Fitz Roy as its main background.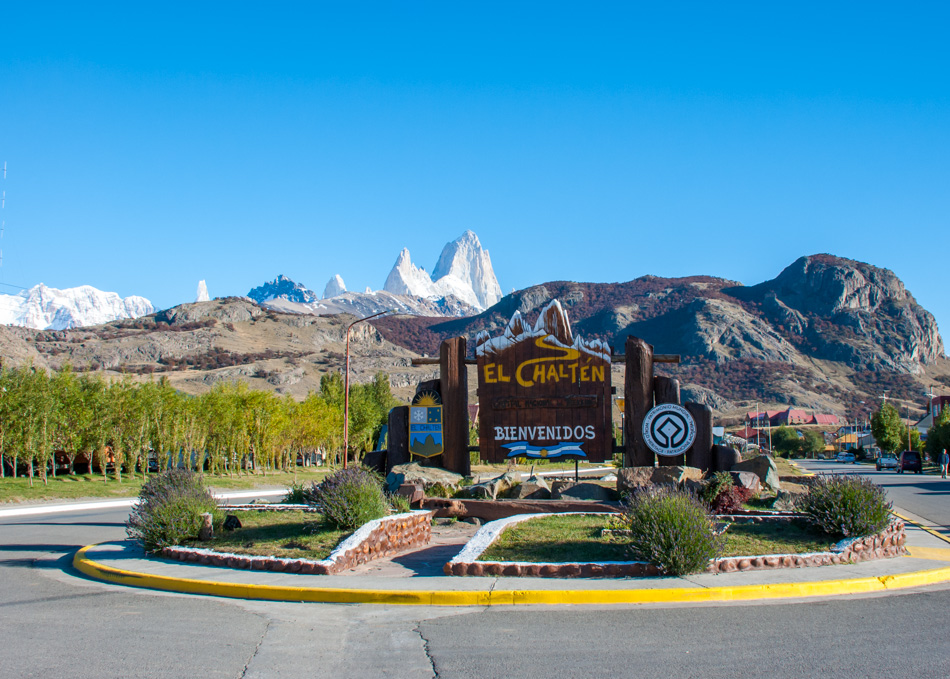 The most appreciated peak in the region (and one of the most iconic in the world) towers over the village with its elegant granite face.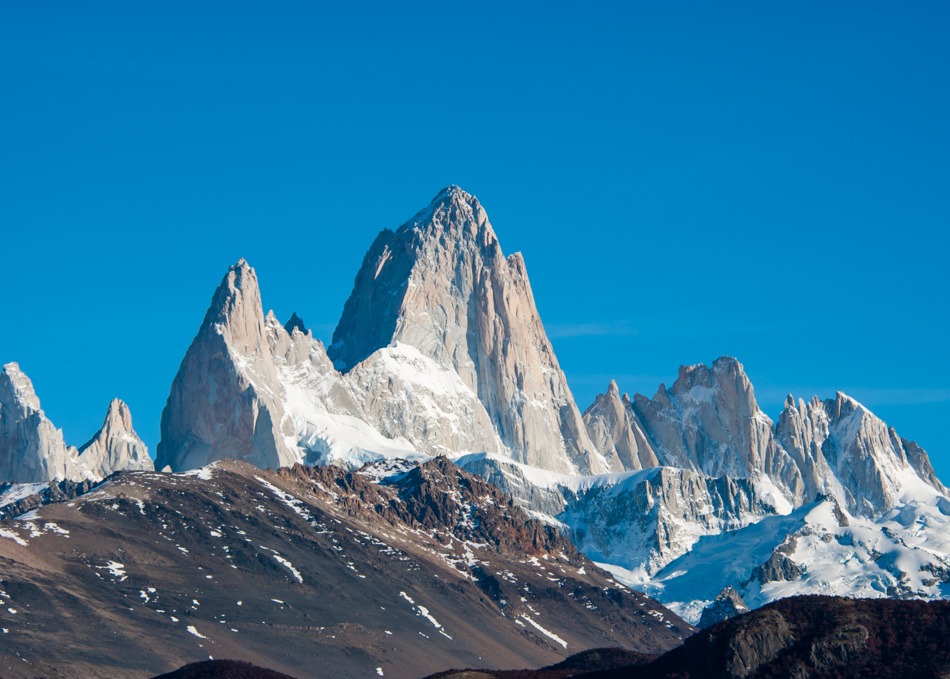 The beauty of El Chaltén (besides the gorgeous scenery, of course) is the accessibility of the trails which all start right from town. Here you can see most parts of the park in three day hikes as opposed to nearby Torres Del Paine in Chile which is more about long, multi-day hikes with camping.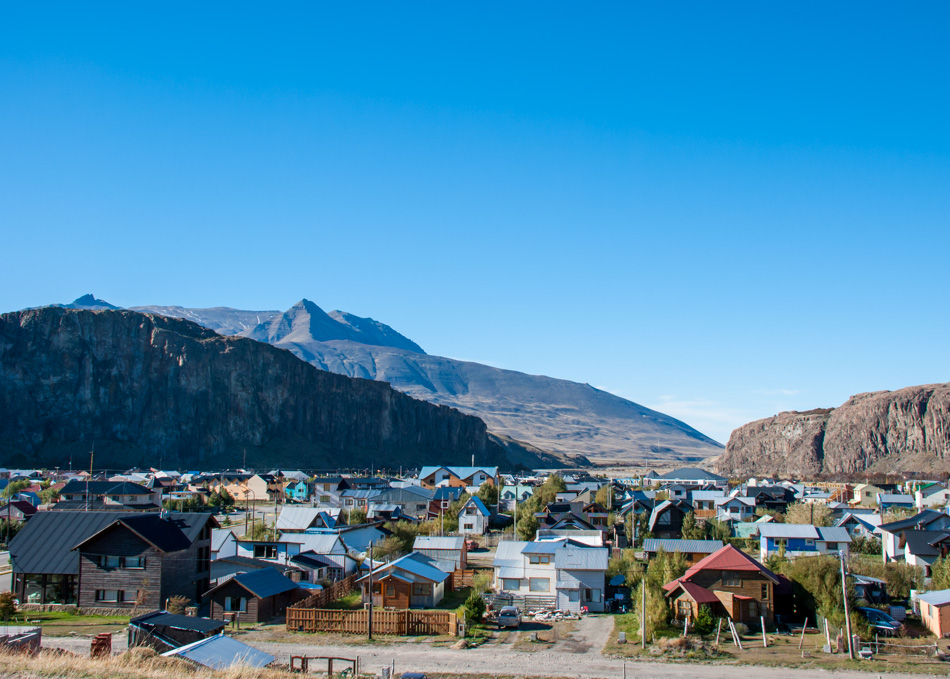 It's the best compromise for someone who wants incredible access to some of the most spectacular mountain scenery while coming back at the end of the day to some relative luxury. With its own microbrewery and numerous restaurants, El Chaltén is well equipped to deliver a host of après-hike treats.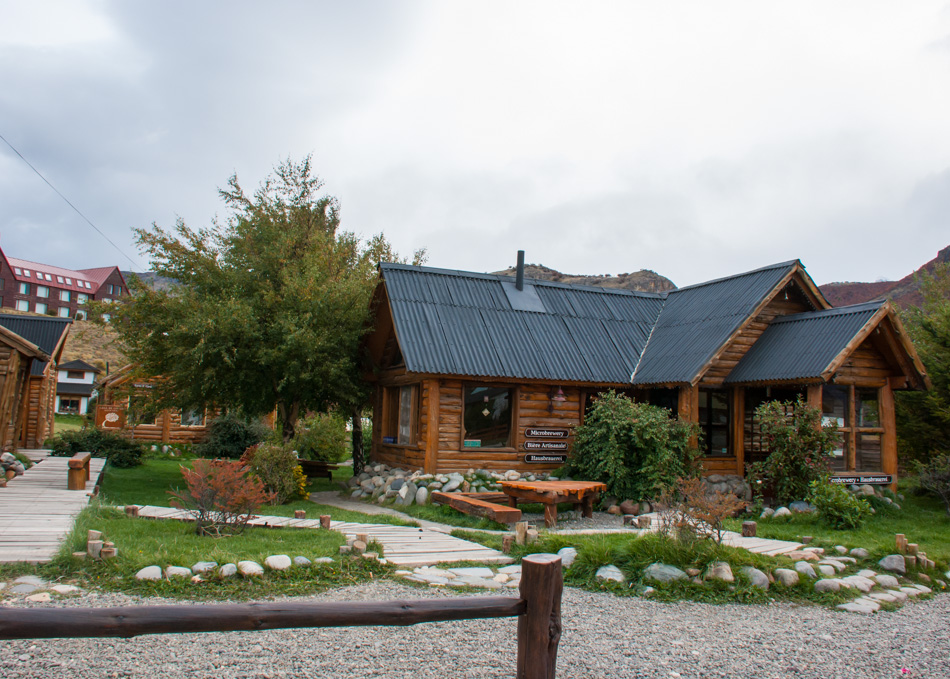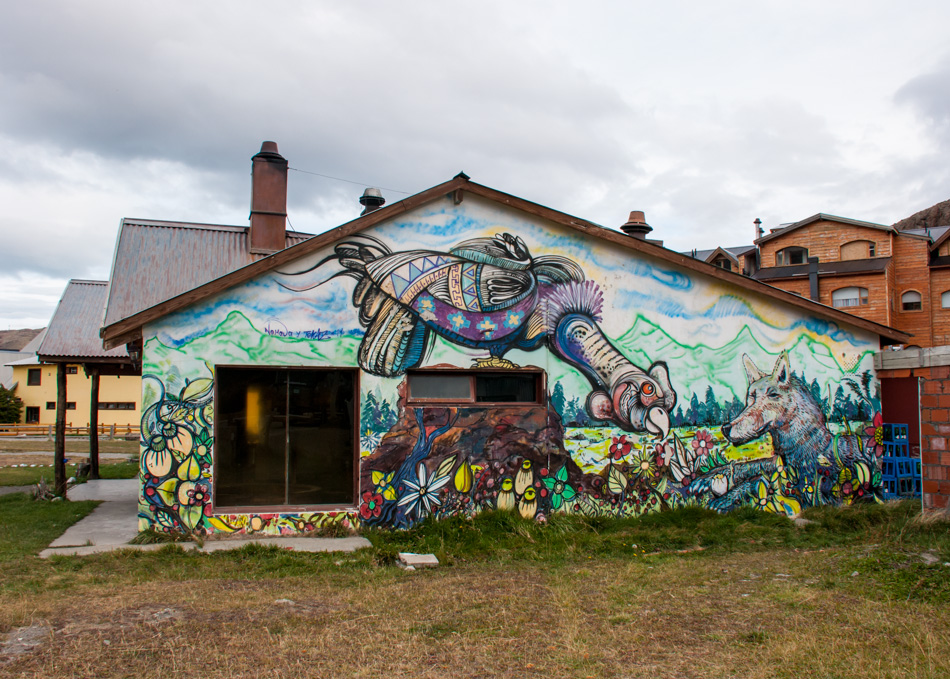 Accommodations range from backpacking hostels to charming inns and hotels. I opted for the mid-range Hosteria Senderos right across from the bus station which made it really easy to get in and out of town.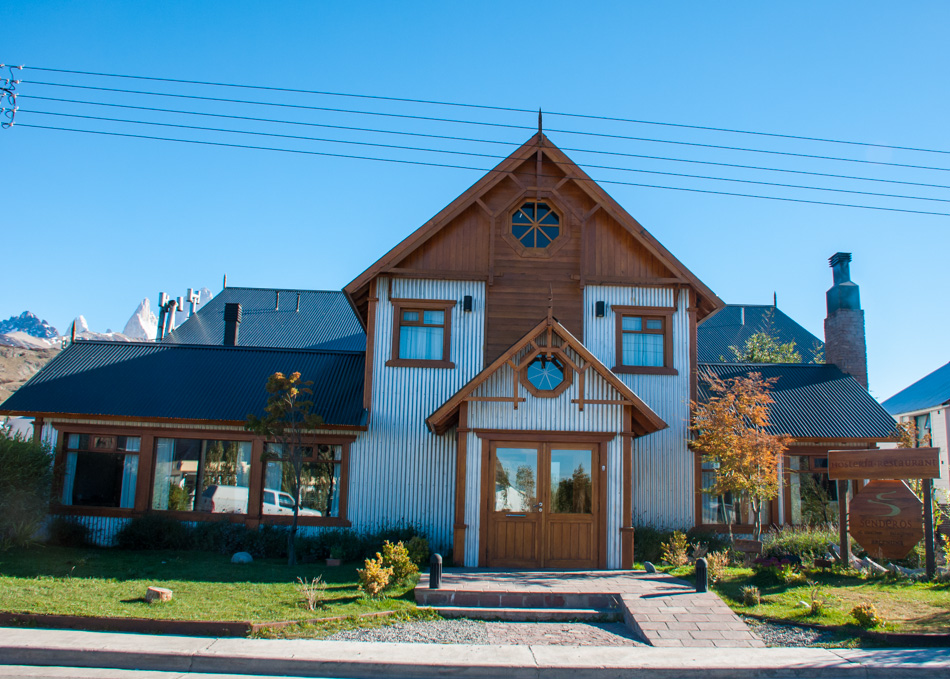 A basic and comfy room is really all you need at the end of a hiking day (besides a huge meal!).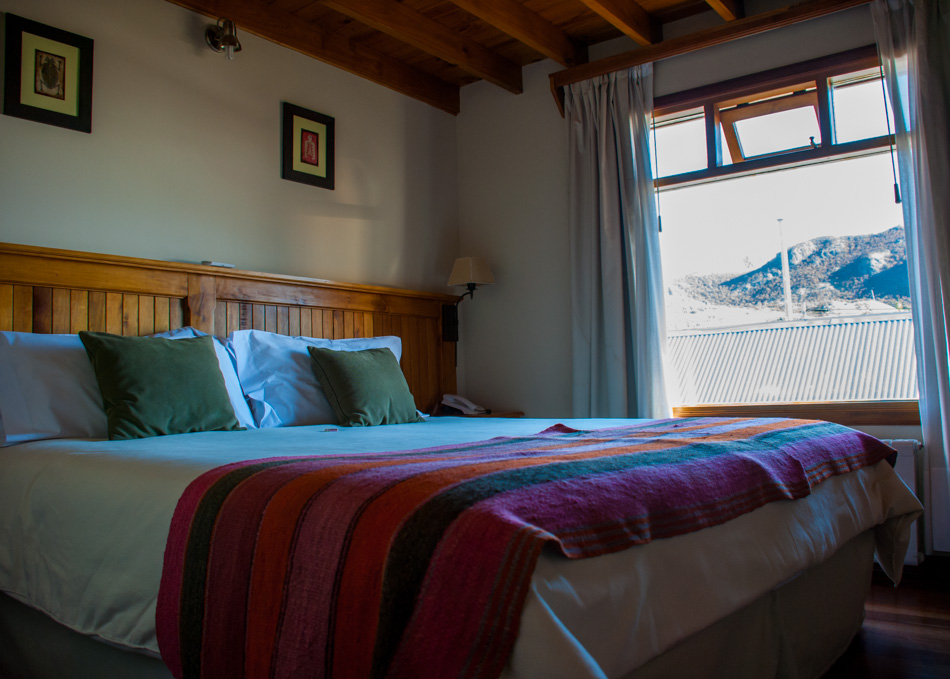 As soon as I had checked in, I headed for my first trail, Laguna Torre, which starts right at the northwest corner of town.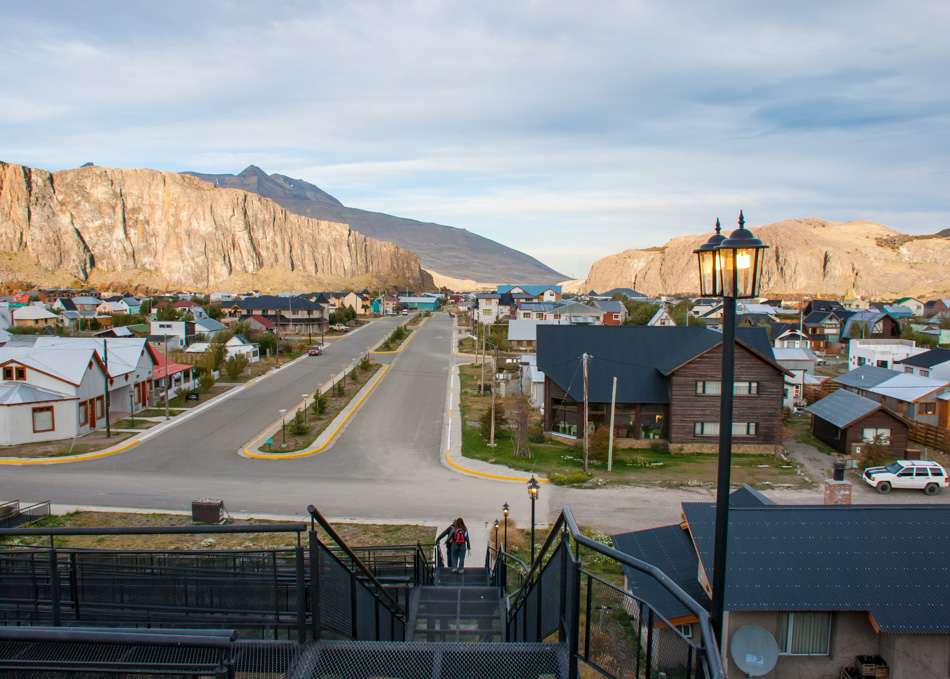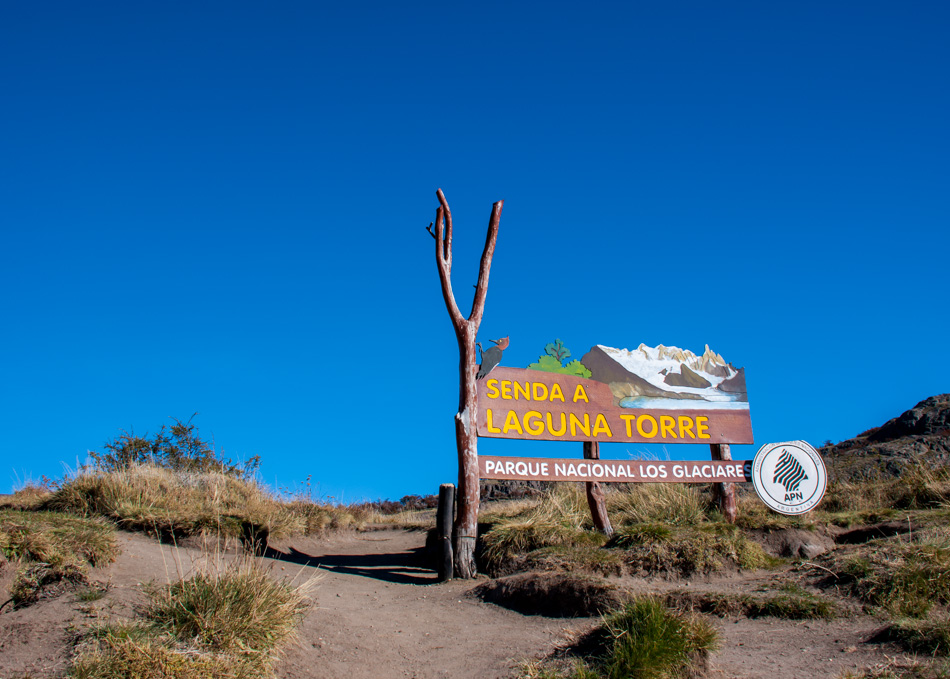 The 21km (13 miles) trail is an easy day hike and one of the must do in El Chaltén. You will go through an incredibly wide array of landscapes during the three-hour hike towards Laguna Torre, a serene glacier-fed lake at the base of Cerro Torre which you can see in the distance the whole time (if weather is on your side which doesn't always happen here…I was extremely lucky!).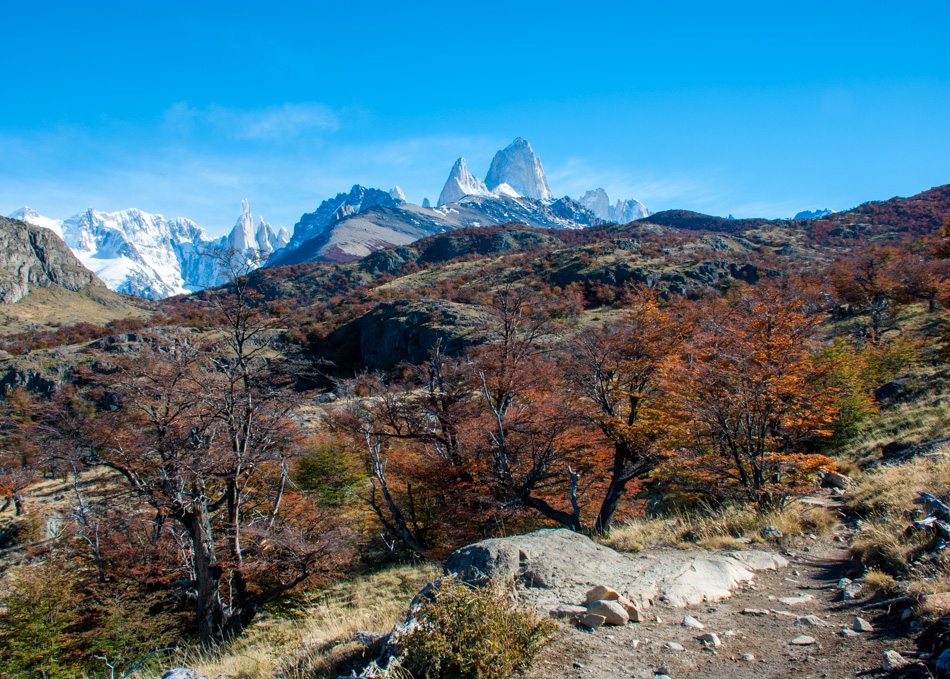 You'll reach the first viewpoint after about an hour and a half and the main ascent of the trail which offers an elevated look at the colorful valley you're about to cross. While the hiking season here goes from around November to May with the peak in the summer (January-February), I must say the foliage season when I was there in mid-April was just spectacular and should absolutely be seen.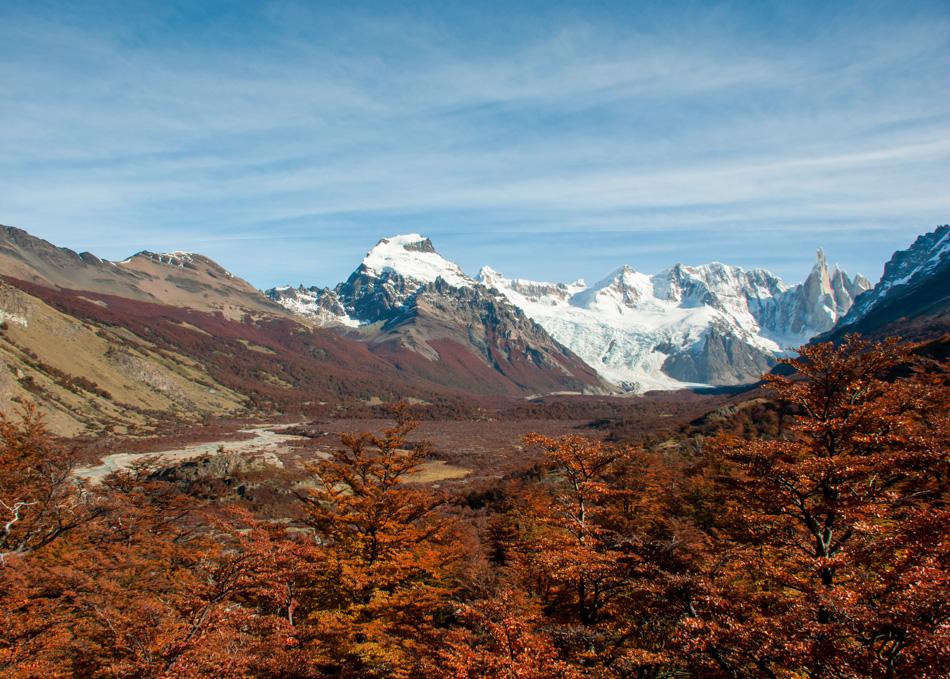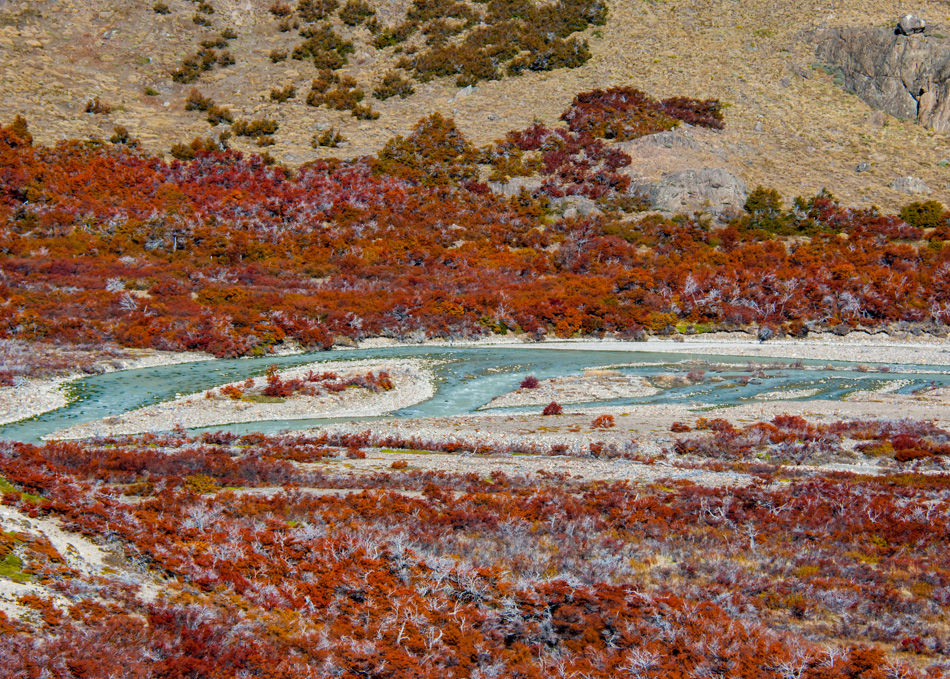 After a short descent, the walk levels off and takes you through the valley covered with fire-colored bushes, dead trees, and small, dried out ponds forming a somewhat eerie landscape.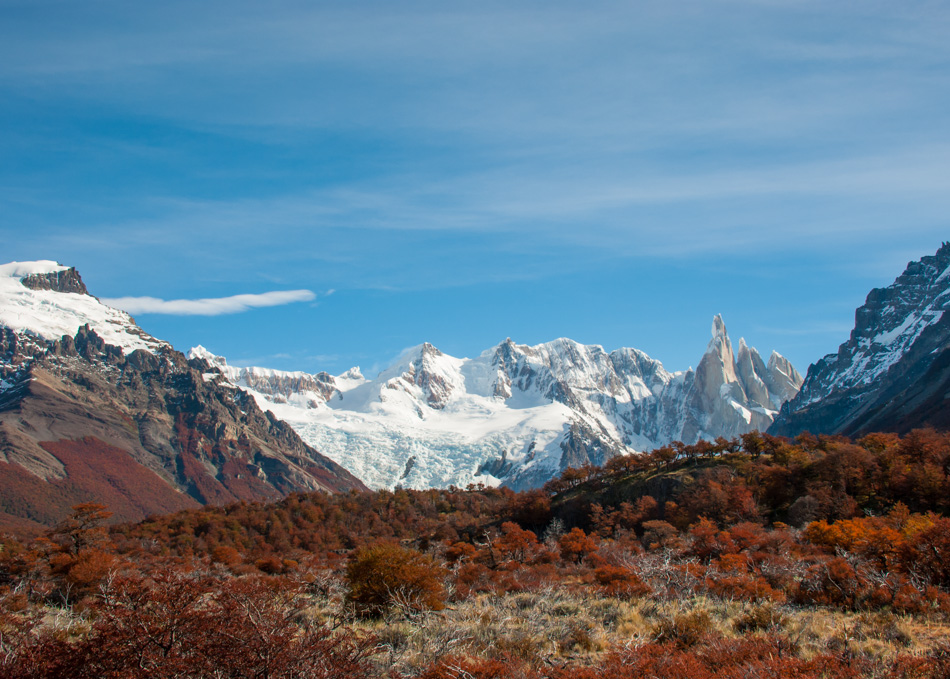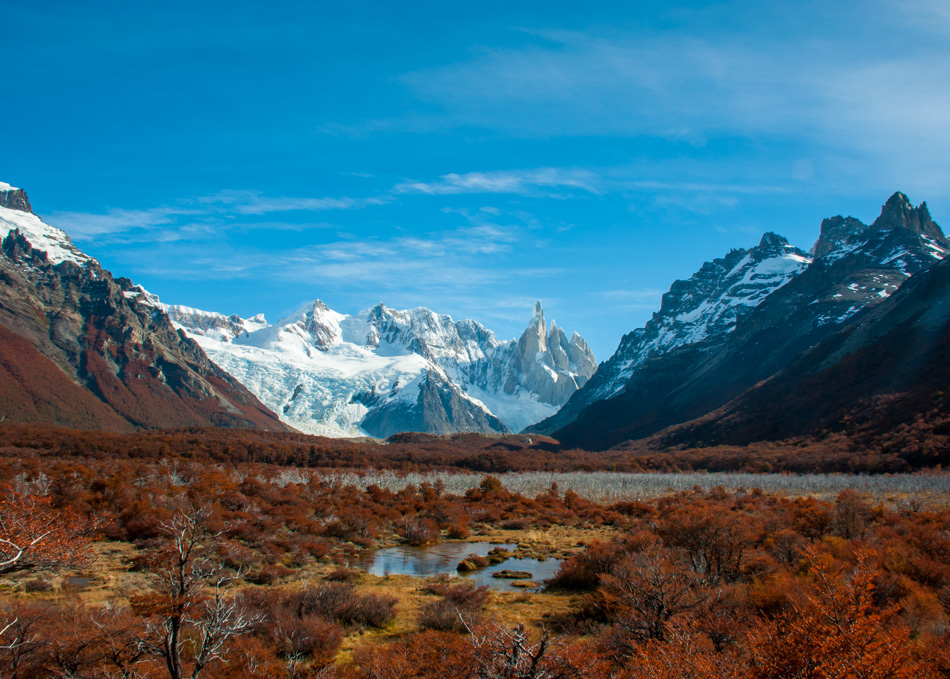 As you near the lagoon, you'll have the roaring Torre River on your left with its milky waters to keep you company.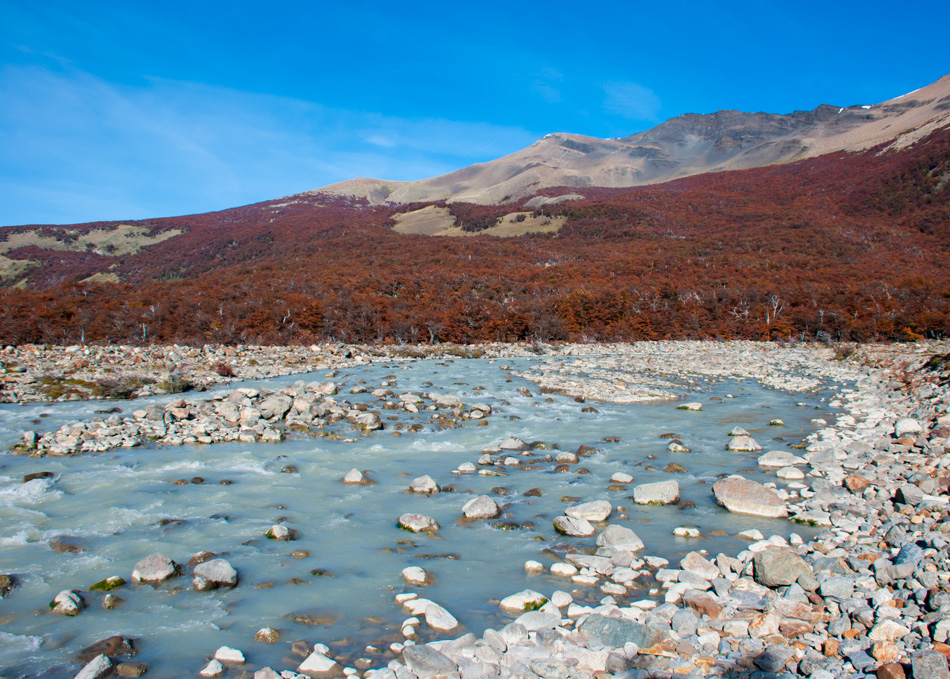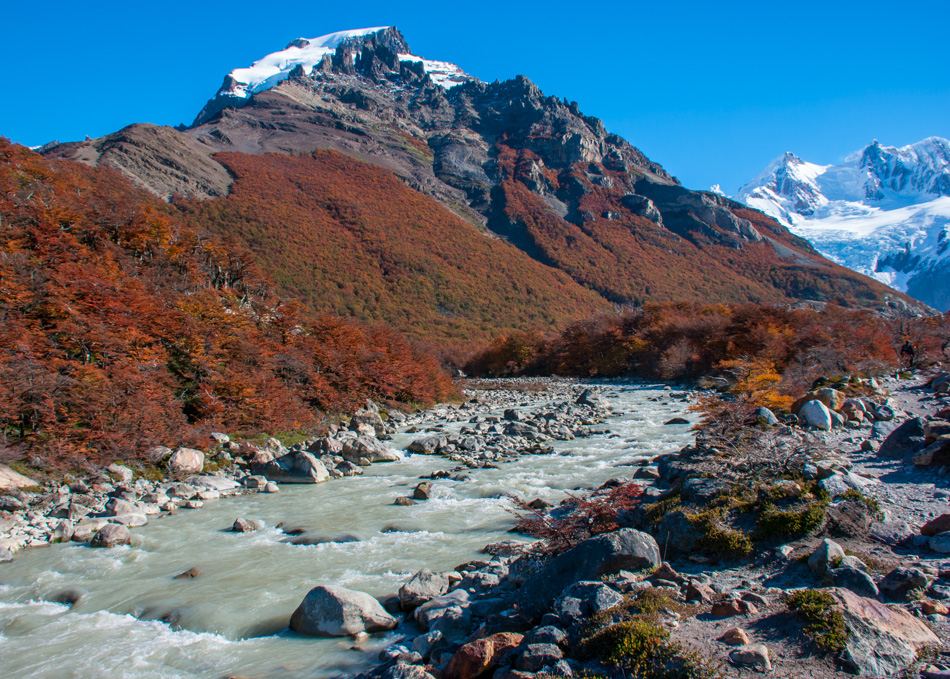 After going through another forest, it's just a small scramble up until you reach the end and the goal of the trail – Laguna Torre – a glacial lake from where you get a breathtaking view of the majestic spire of 3128m Cerro Torre, rising out of the valley in the background.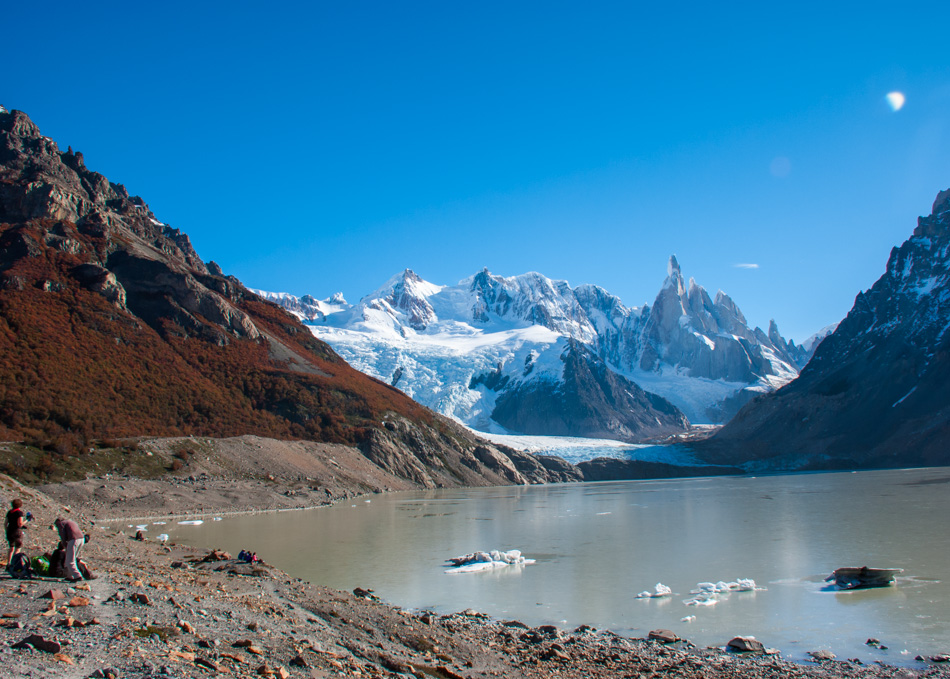 Time for lunch which you would have picked up in town where bakeries sell ready-made sandwiches, empanadas, and alfajores, all perfect for transportation!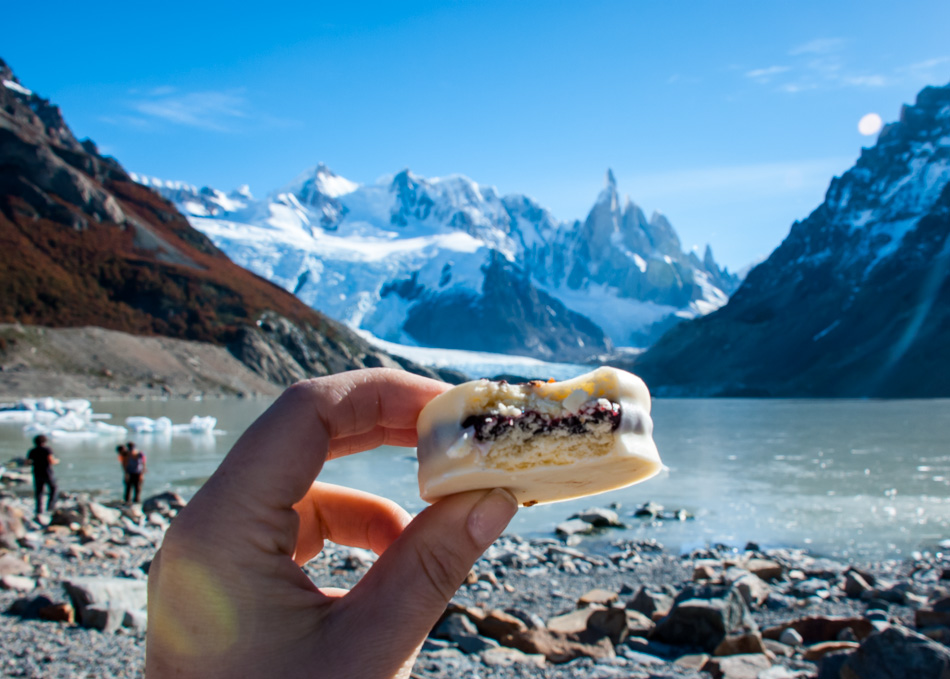 On the way back, you'll have more time to admire the colors and different vegetation since you won't be staring nonstop at Cerro Torre in the distance.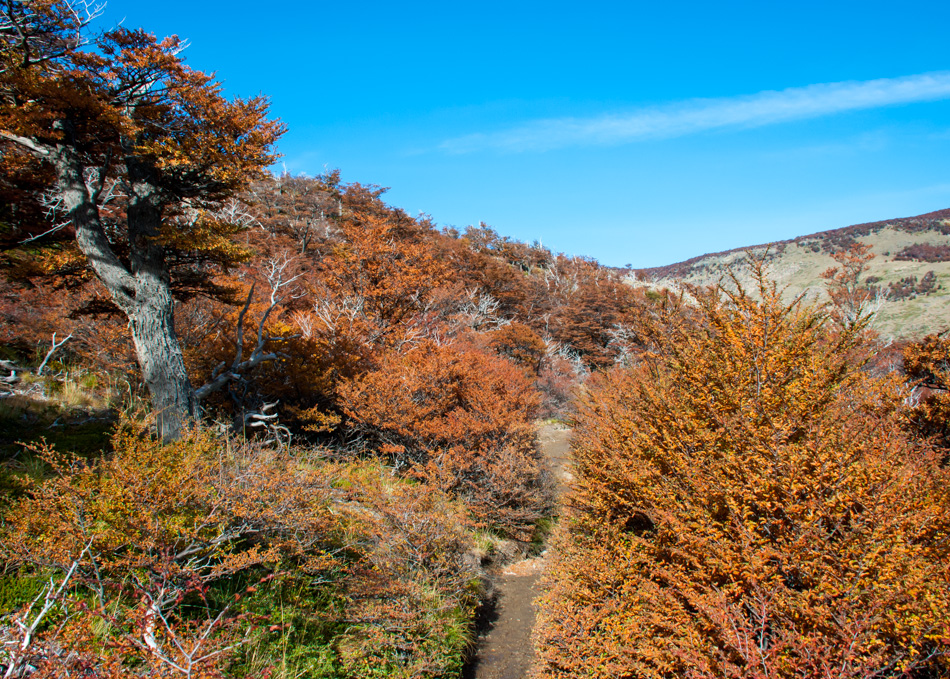 If you're lucky, you might even spot one of the area's famous red-crested woodpeckers in action.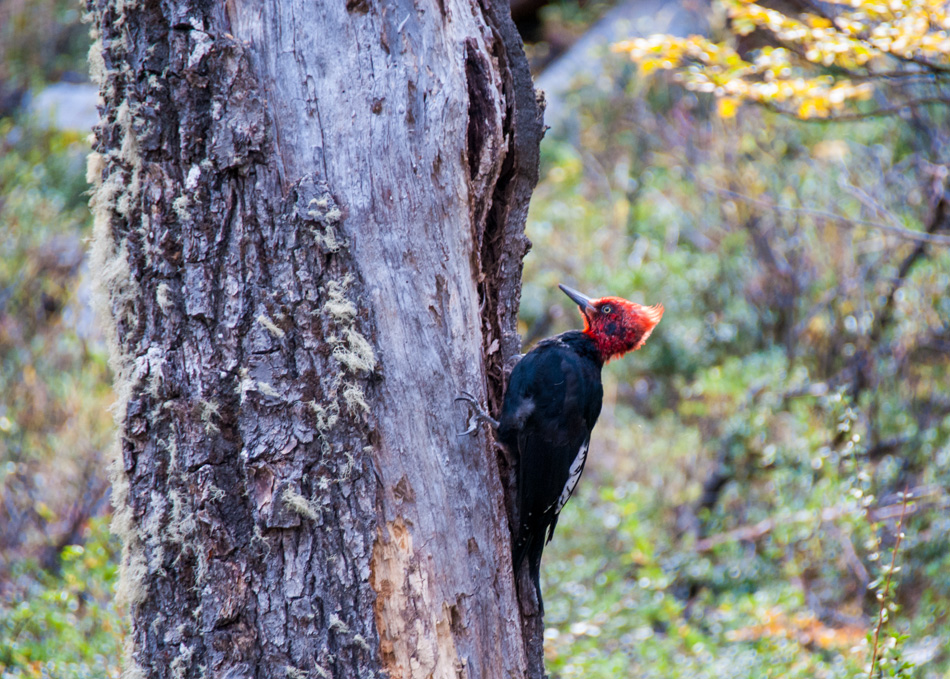 The trails are so clearly marked here, there's no way you could get lost and one more reason why El Chaltén is such a hiking paradise for everyone.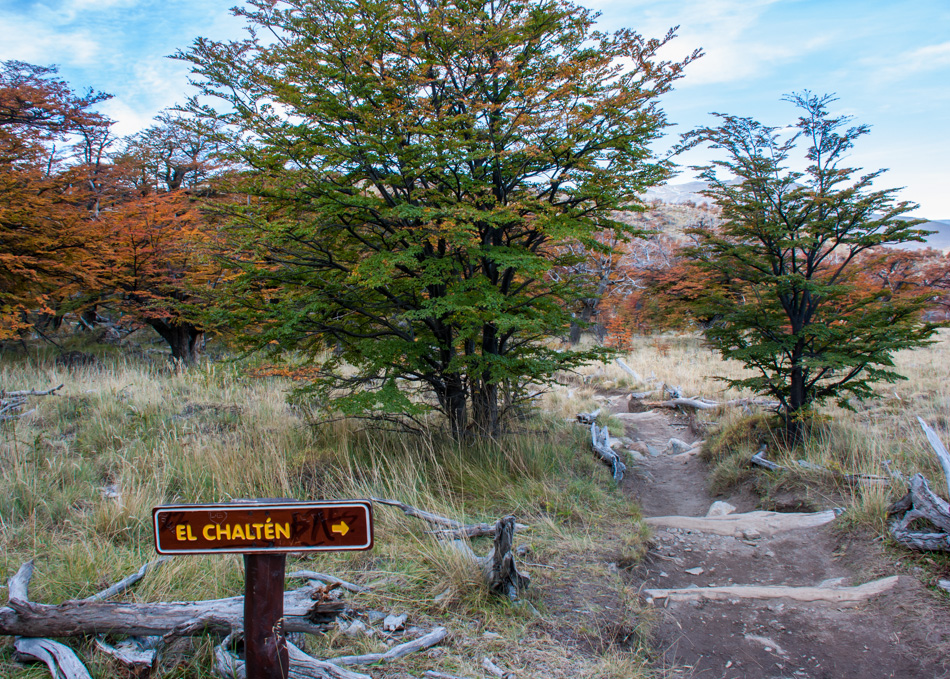 You should be back in town about 5-7 hours later depending on how long you lingered at the lake and how many stops you did and you'll still have plenty of time to relax and enjoy the town at sundown.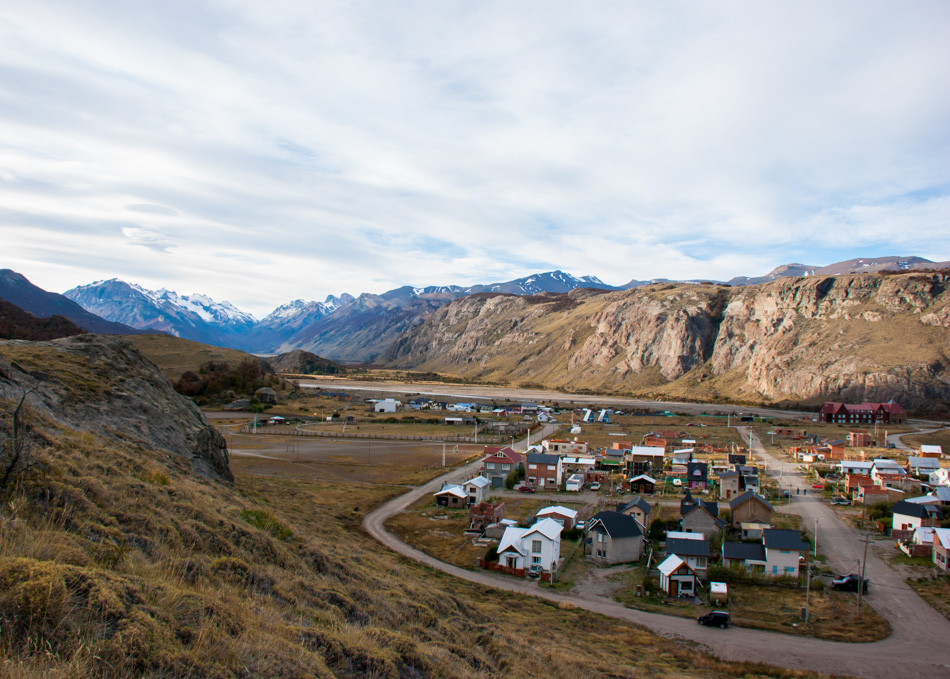 After a quick nap, my first thoughts were of course of food and thankfully there are many tempting restaurants to choose from, ready to replenish your lost calories. I settled on Estepa, a local favorite specializing in meat and pasta (which is all you'll want after a day like this!).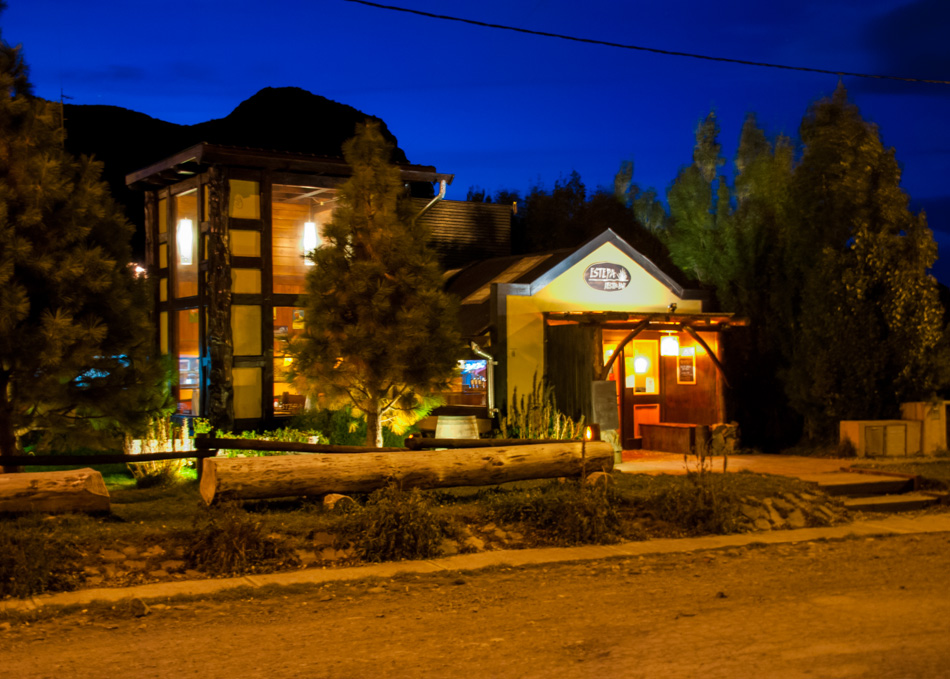 Carb-loading, every meal I've had in Argentina started with a hot piece of bread with some fancy spread, here rosemary and blue cheese flavored – I devoured it.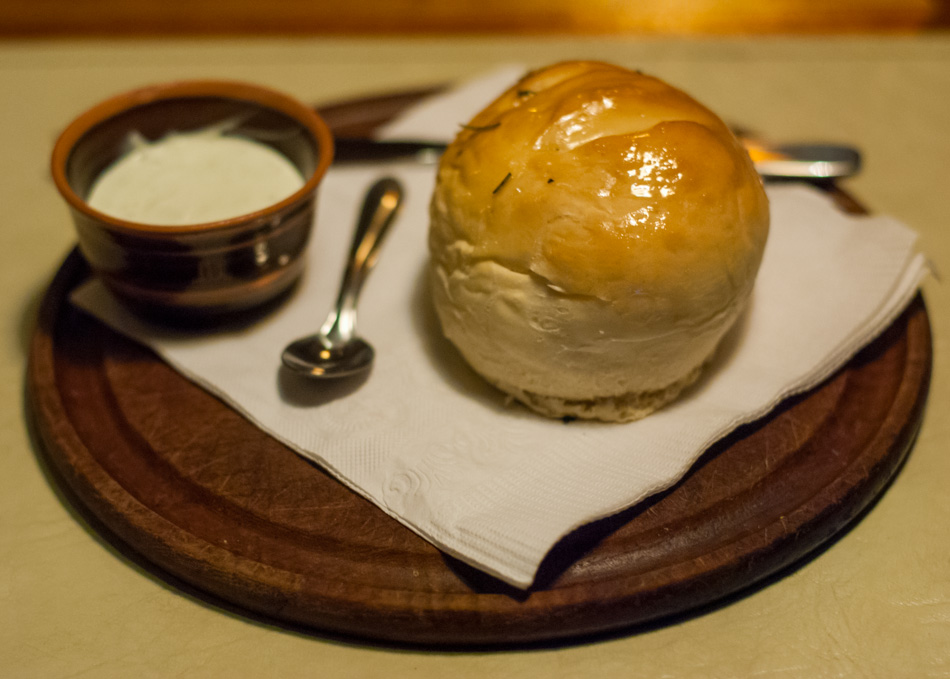 Patagonia is famous for his lamb and you should try it in any shape or form it is offered. Estepa has a specialty dish of the house, 'Lamb off the bones with Estepa sauce' which is phenomenal. Served with herbed mashed potatoes and gnocchi with bacon (!), it fulfilled my every dream that evening, and of course I washed it down with a giant glass of Malbec…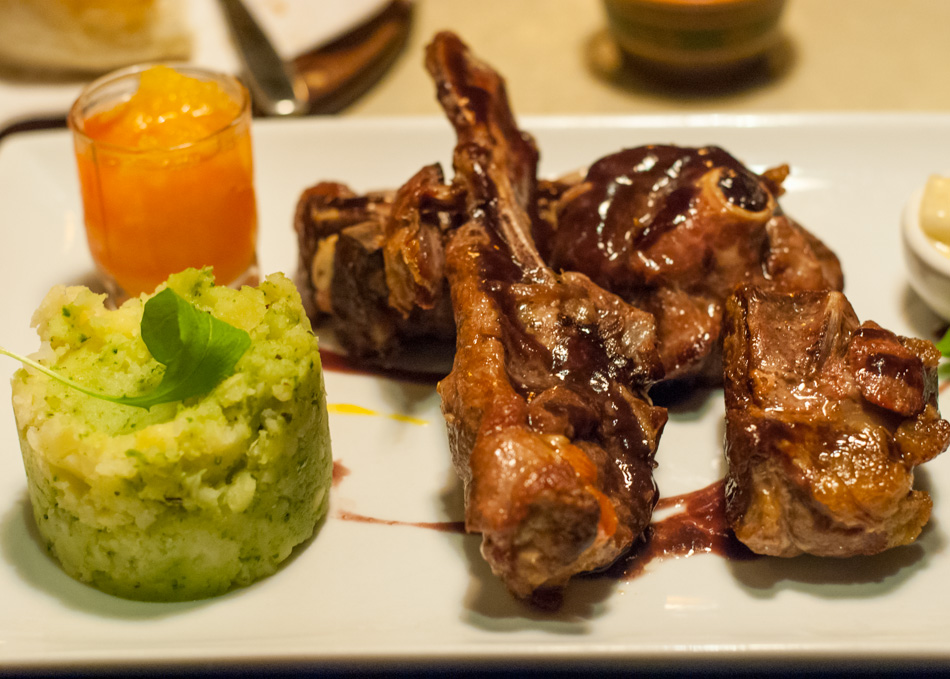 Day two had to be for the Lago de los Tres trail, by far the most popular one here and the one you should do if you only have time for one hike. While this one too can be started from town, a lot of people opt to hitch a ride to Hosteria El Pilar outside of El Chaltén where a connecting trailhead begins following the Rio Blanco, allowing for an easier start and a more varied hiking experience.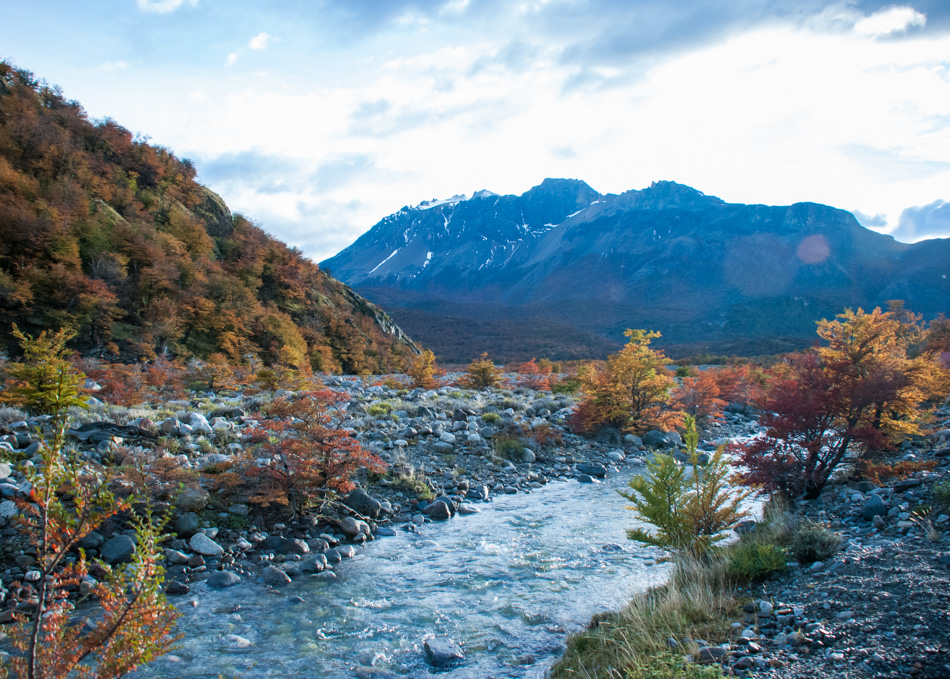 The first part is ascending through a forest with glacier views to the right.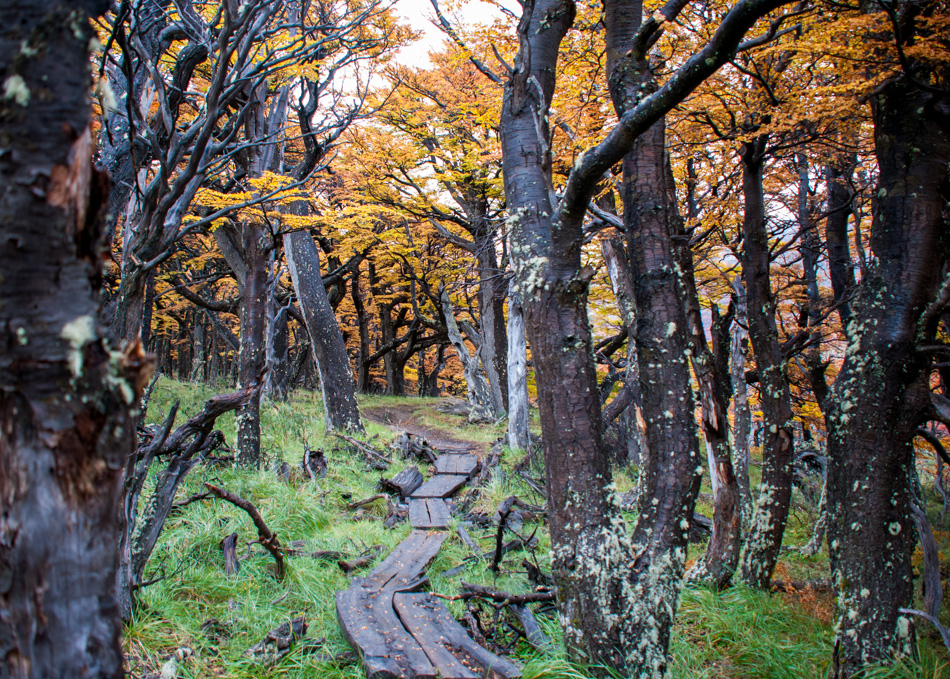 A viewpoint allows some great vistas though it was pretty cloudy for me that day…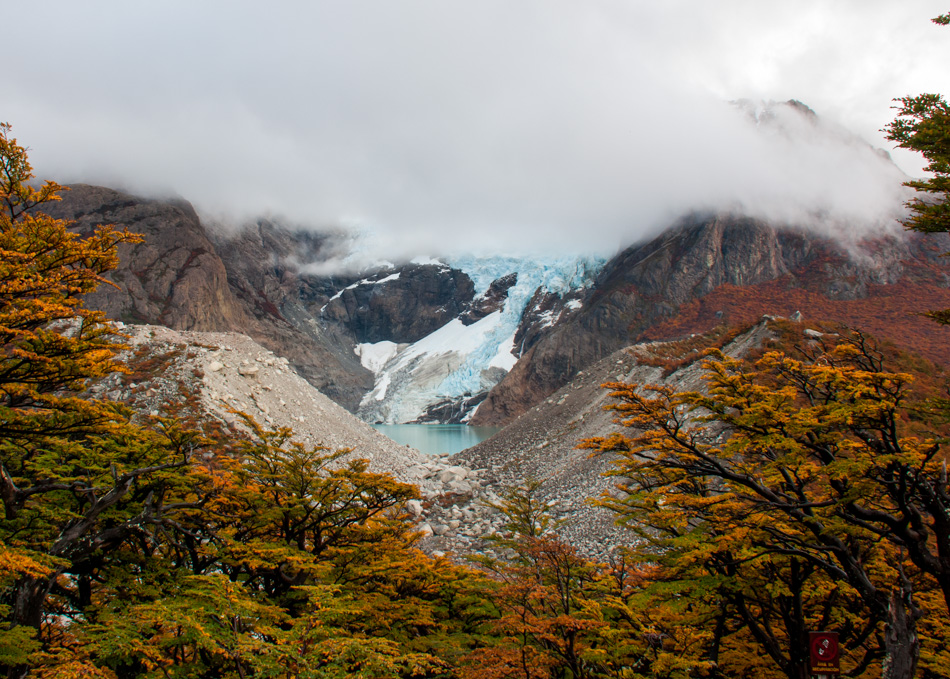 Then it's down in the valley on the way to Fitz Roy, crossing the river as well as a camping site where avid climbers spend the night before attempting to climb the famous mountain.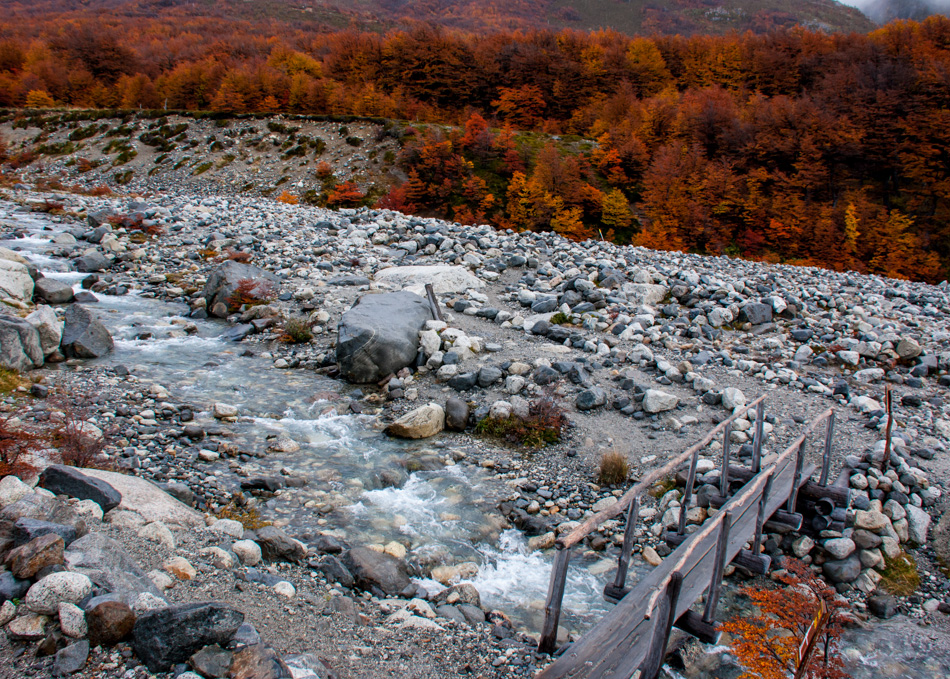 Now we get to the rough part which is what makes this hike quite more challenging than the Laguna Torre from yesterday – a steep ascent of close to 1,500 feet until you reach the lagoon. As it was raining and cloudy I didn't risk taking shots on my way up and just powered through, though the trail gets a lot harder as you go up, turning into more of a boulder scrambling in the top half.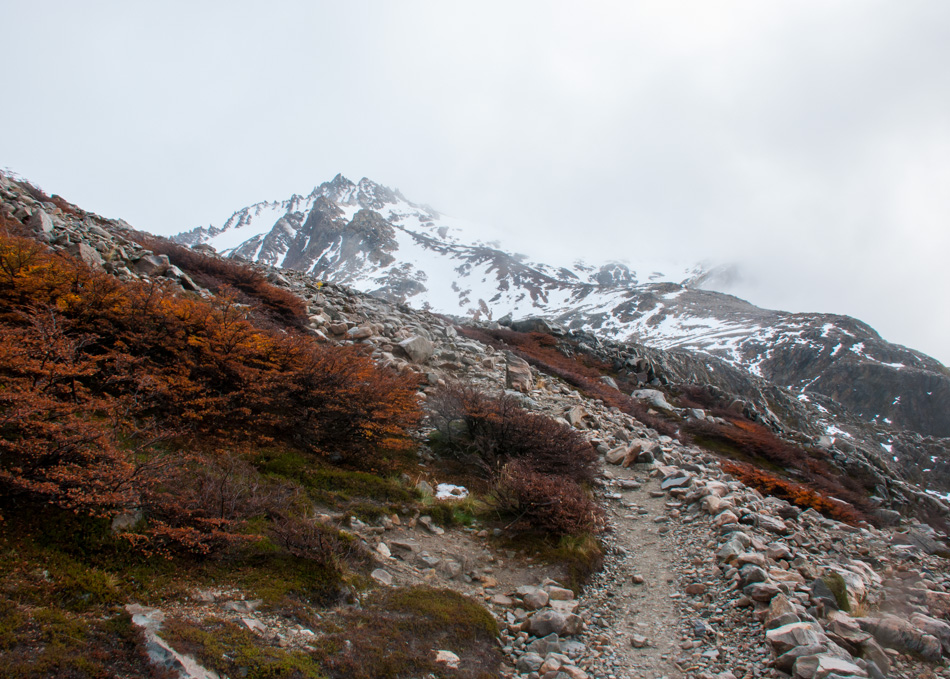 Nevertheless, it's easily doable and you'll eventually reach the top of the scramble with a splendid view many have raved about…or you'll get my zero vision of cloud-covered mountains which happens quite often in these parts!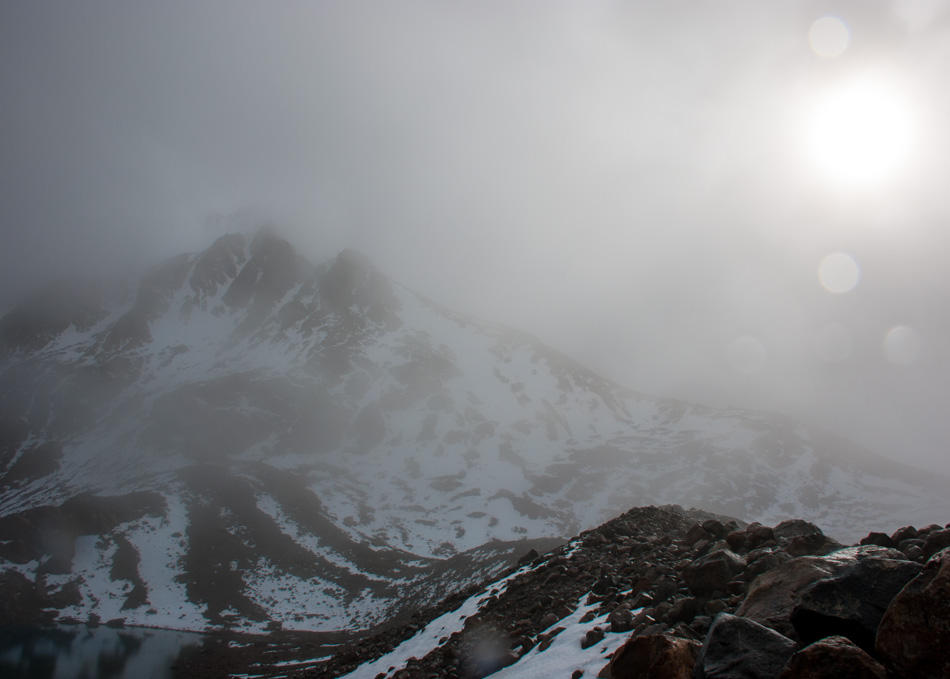 Damped and freezing, I still waited it out a bit for the clouds to clear out and managed to see the Lago de los Tres in all its glorious color…I was just missing Fitz Roy in the background which would have nicely completed this picture!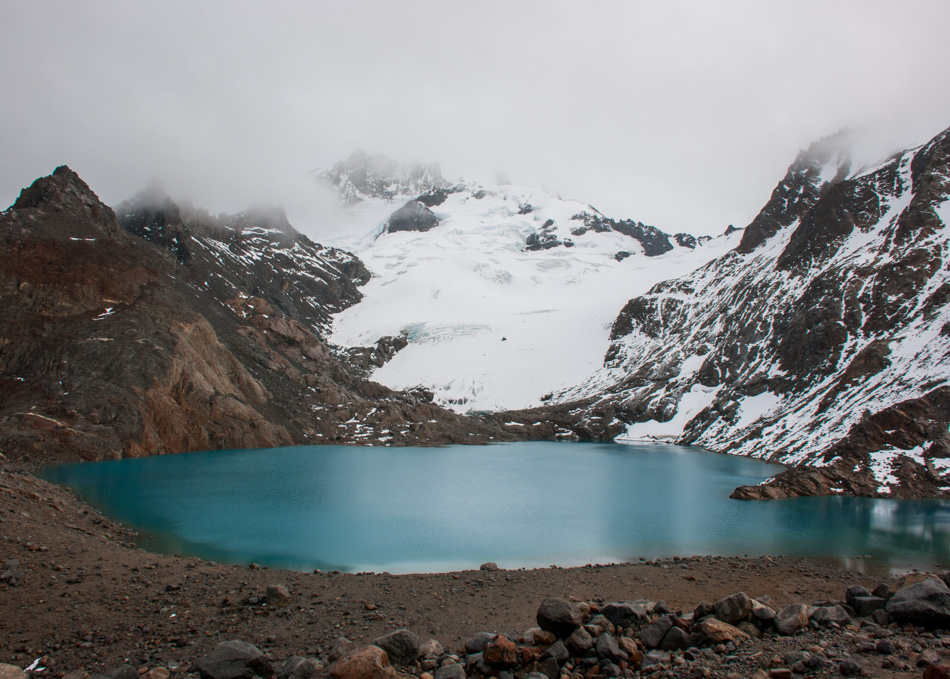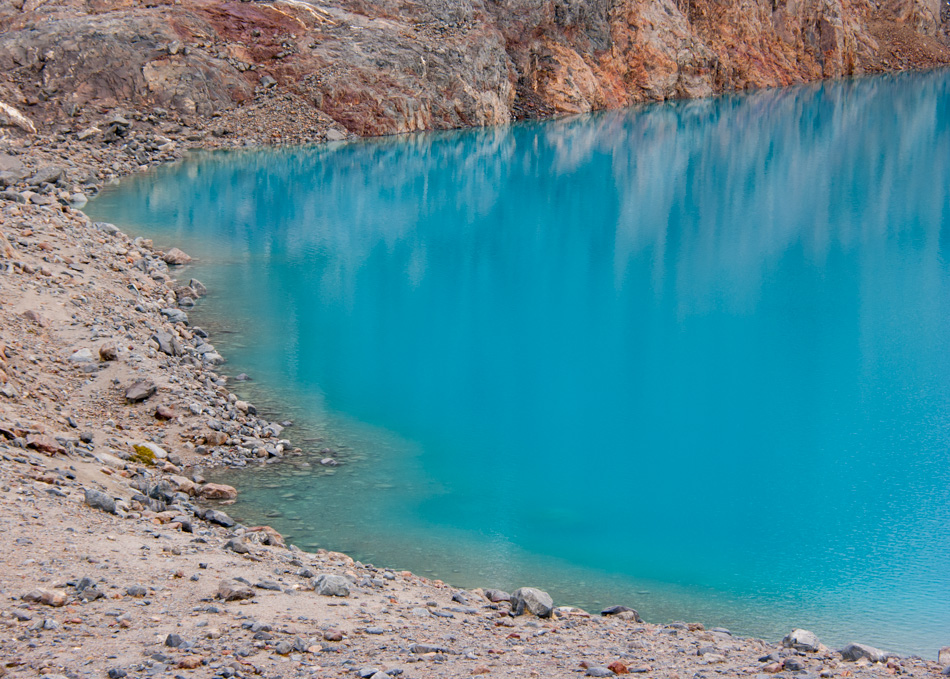 The way down was infinitely better as the rain had stopped and the valley started emerging from the clouds in bursts of colors.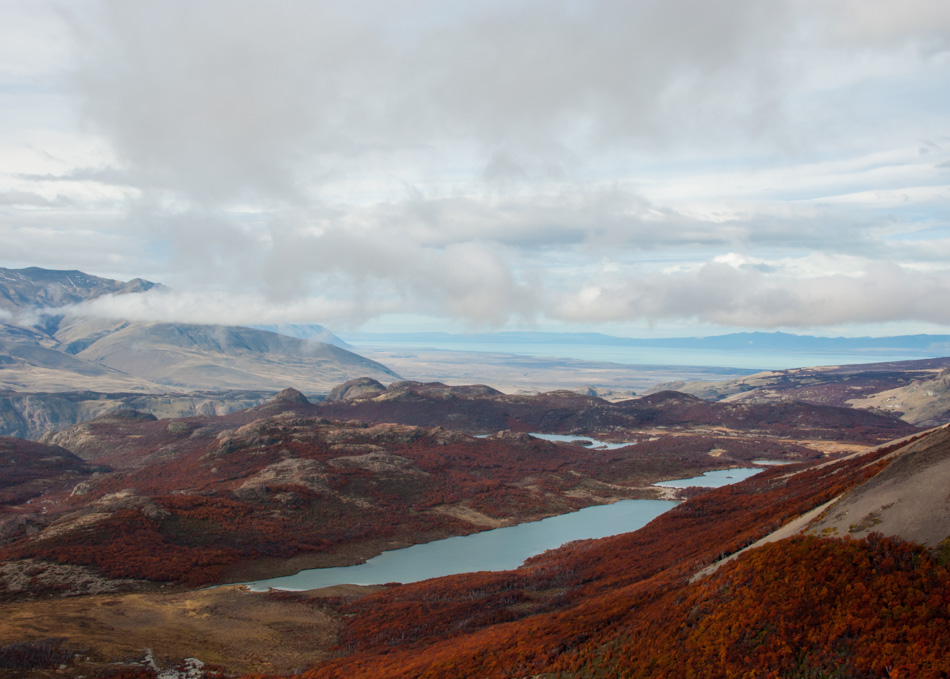 Now you're following the official Fitz Roy trail all the way back into town, passing through the Argentine steppe with more breathtaking scenery at every turn.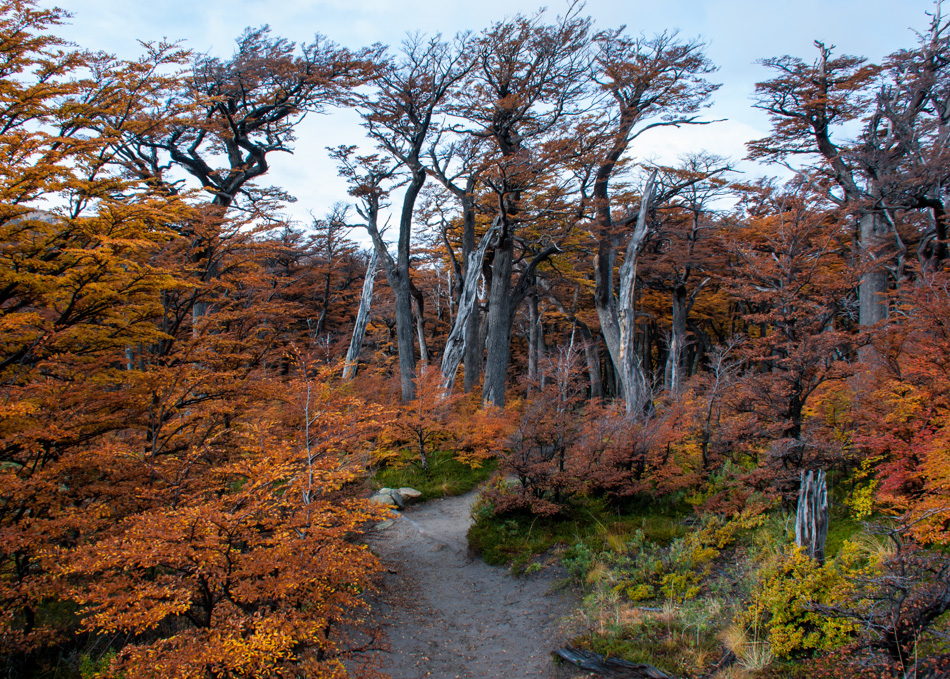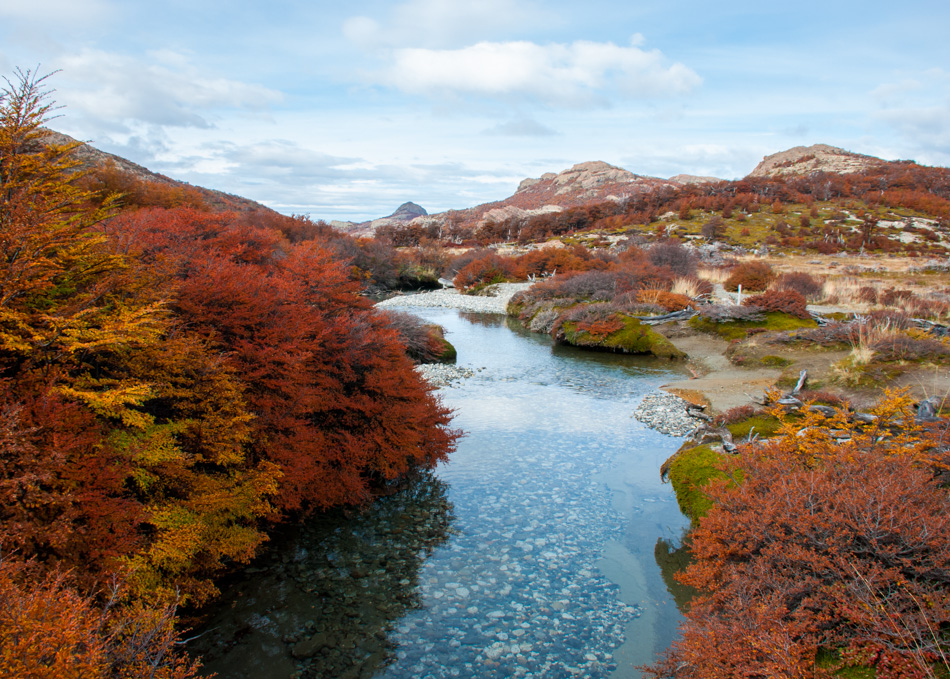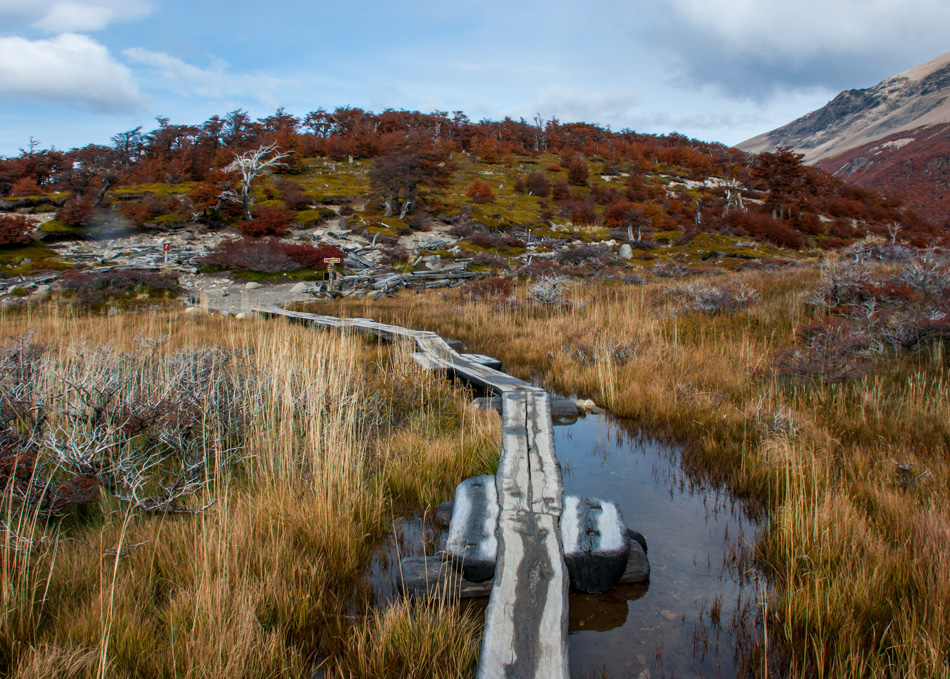 Halfway back you'll get to Laguna Capri, another crystal clear lake where you should rest for a bit and admire the views. There's another campsite here in a tranquil setting.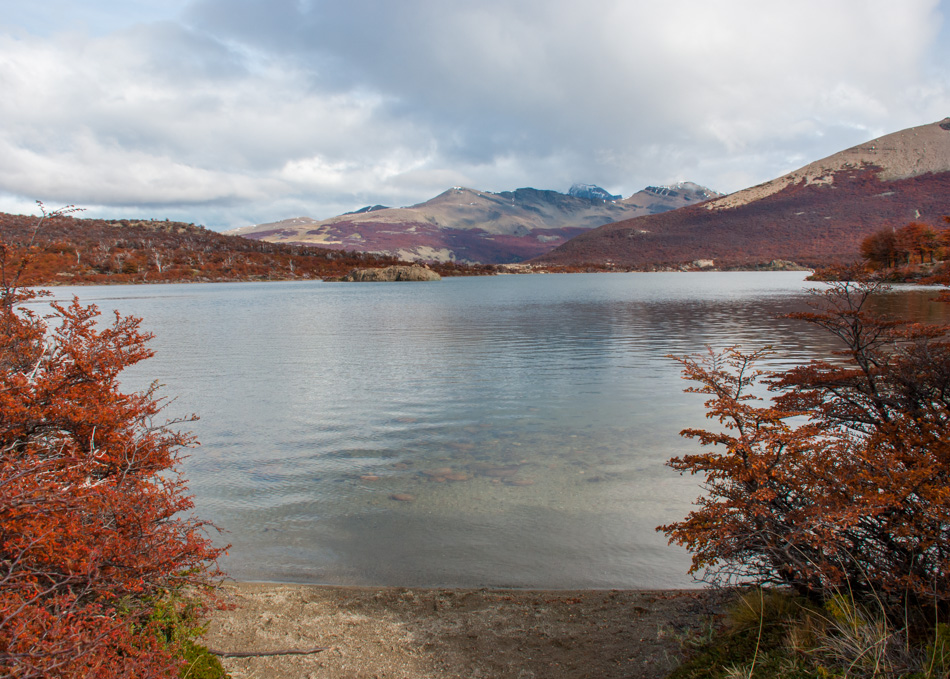 From there it's only about 2 hours of walking along the valley and slowly making your way down into town.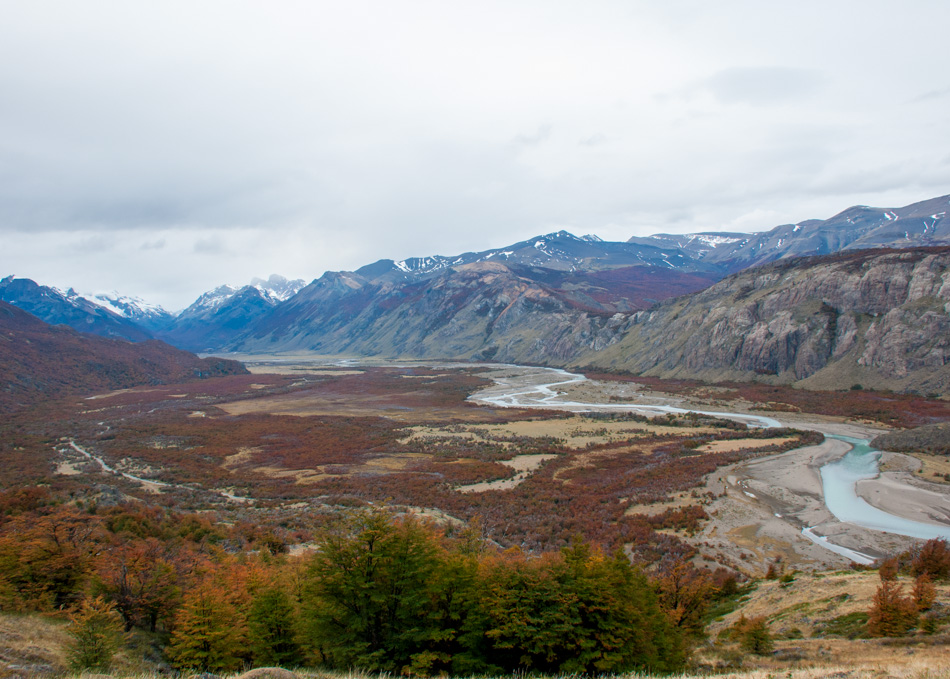 Seeing cutesy El Chaltén through the trees doesn't get old, it's always as scenic as the first time.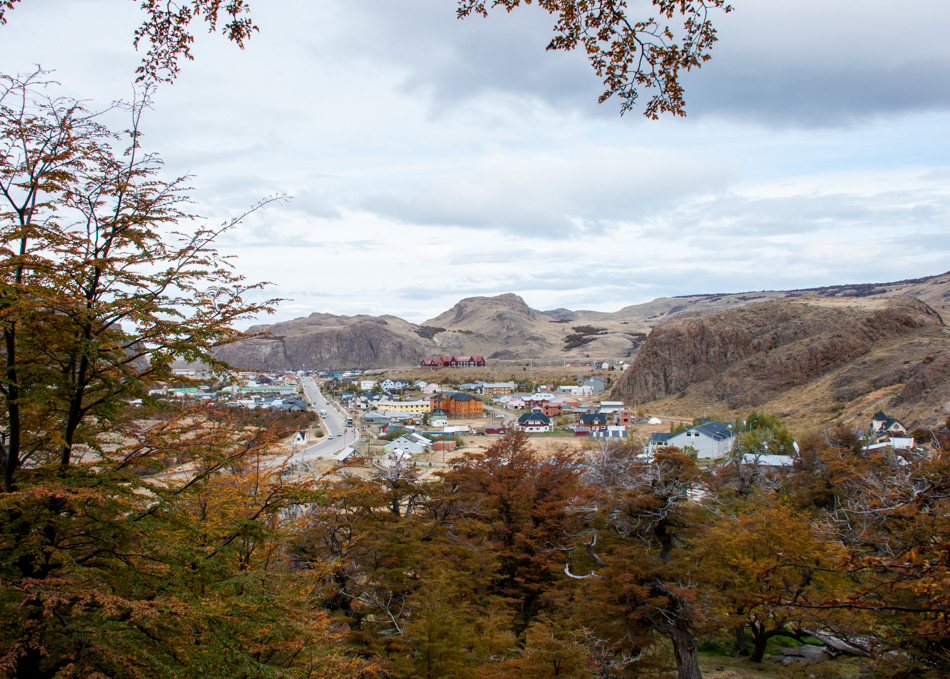 You'll exit at the official start of the trail where most hikers would have begun this morning.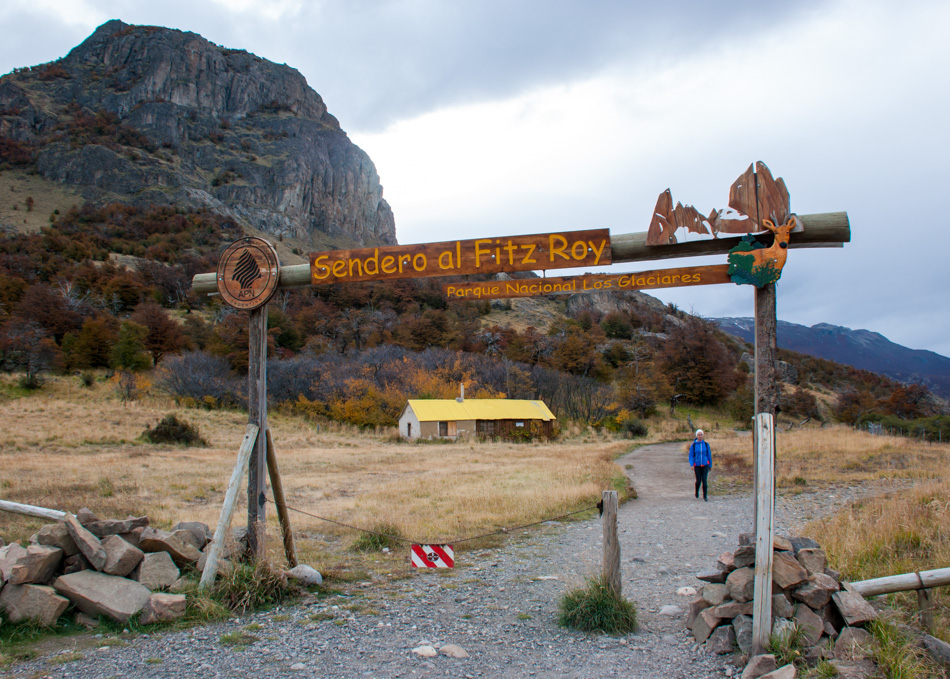 There are other smaller hikes in the area but those two trails really cover most of what there is to see around here and I couldn't be happier with my time here (despite missing my close-up of Fitz Roy!). El Chaltén truly is a jewel of a hiking place.