Baked pasta dishes are one of those family staple around the world that's always handy for feeding a crowd with minimal effort and maximum comfort. While I've had plenty of baked macaroni and ziti casseroles before, spaghetti had yet to feature in one of them so I was intrigued by this 'Spaghetti cooked in milk' and its slightly unusual ingredients.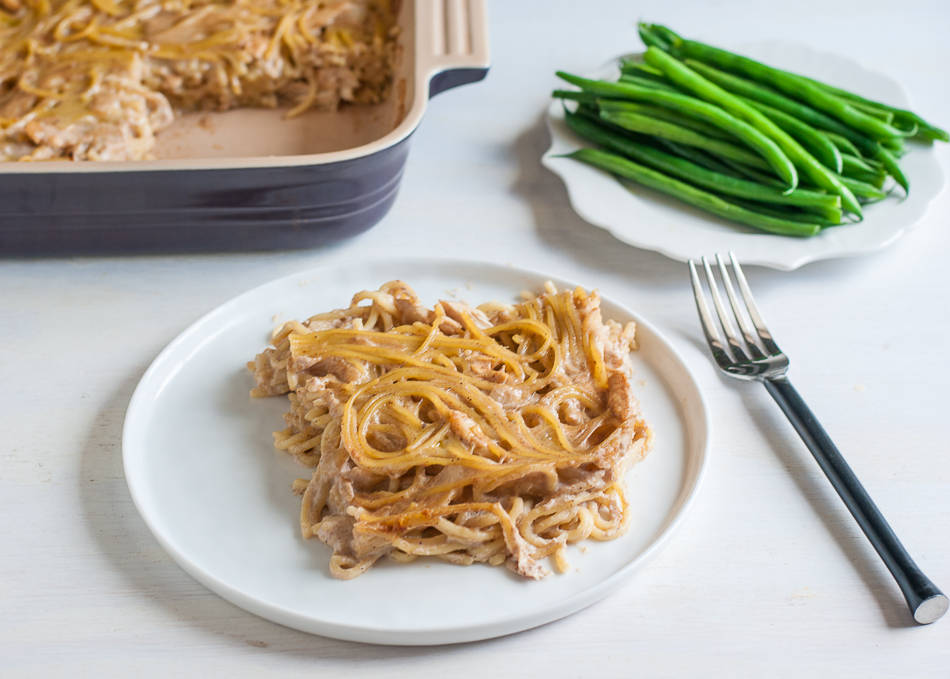 This dish is a modern take on a Middle Eastern recipe which often involves pasta baked in a béchamel sauce with a few warming spices added in and is popular across the region with many different variations. The idea here is to cook the pasta until al dente and then to finish cooking it in a creamy milk and spice mixture before putting everything in the oven for binding and most importantly getting that nice crust on top.
The result is a very satisfying pasta bake that's super creamy without being weighed down by cream or cheese and is simple enough for a weeknight meal. You could easily omit the chicken for a vegetarian version and replace it with eggplants for example or squash. I loved the crispy spaghetti on top and the slightly exotic flavor brought on by the nutmeg and cinnamon – definitely a good potluck option for the next gathering!

Spaghetti cooked in milk
Recipe from Food and Travel magazine
Active time: 45 min.
Total time: 1 hour
Makes 4 servings
300g spaghetti
60ml olive oil
300g skinless chicken breast fillet, cut into thin strips
1 yellow onion, finely chopped
1 clove garlic, crushed
2 teaspoon freshly grated nutmeg
1 teaspoon ground cinnamon
1 litre whole milk
1 tablespoon cornflour mixed with 250ml water
Equipment: 30cm x 18cm x 6cm nonstick baking pan

Cook the spaghetti in salted boiling water until al dente, following the packet instructions. Drain in a colander and rinse under cold water to stop the strands sticking together.
Meanwhile, heat 1 tablespoon olive oil in a medium frying pan over high heat, add the chicken strips and cook for 5-8 minutes, tossing to seal. Set aside.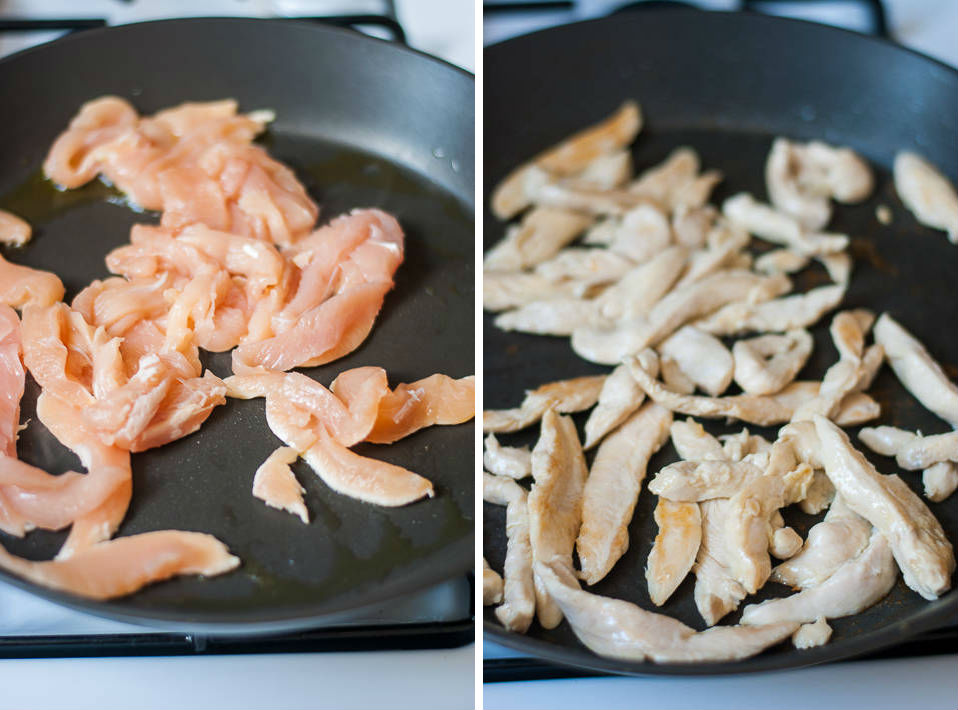 Preheat the oven to 210ºC/410ºF. Heat 1 tablespoon olive oil in a large saucepan over medium heat, add the onion and garlic and cook for about 5 minutes or until golden. Add the chicken, then the nutmeg, cinnamon, 1 tablespoon salt flakes and ½ teaspoon freshly ground pepper and stir to combine. Increase the heat to high and pour in the milk. Cook, stirring, for about 7 minutes, then add the cornflour mixture and stir constantly  to stop any lumps forming. When the mixture starts to thicken, reduce the heat to low and add the spaghetti to the pan. Simmer gently for about 5 minutes, stirring from time to time to stop it from sticking to the pan.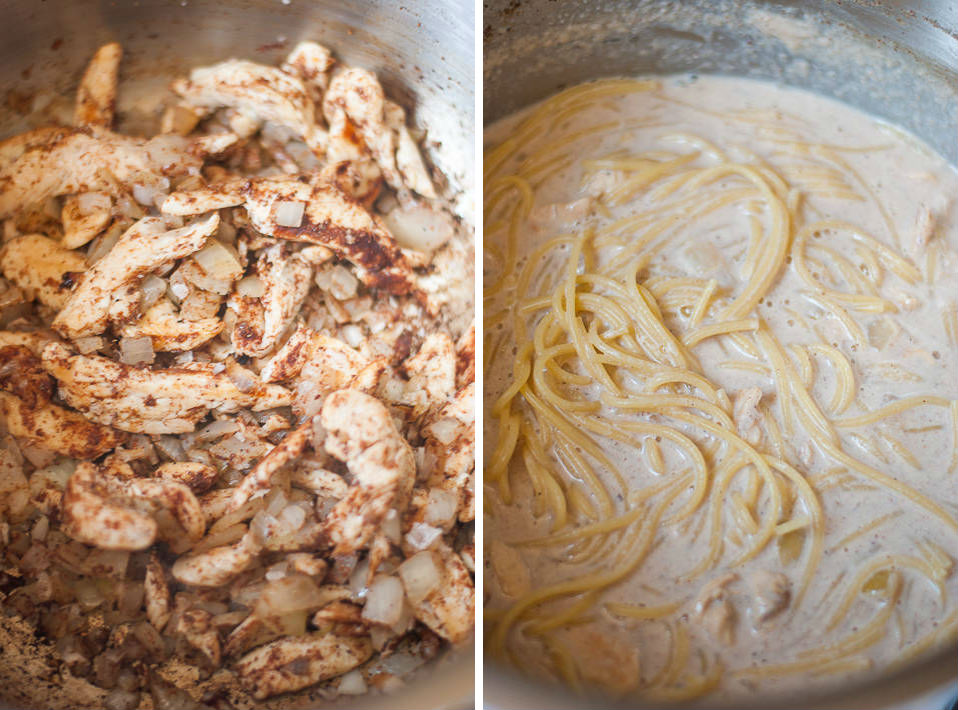 Pour the mixture into the baking dish and even out the surface with a spoon. Drizzle the remaining olive oil evenly over the top.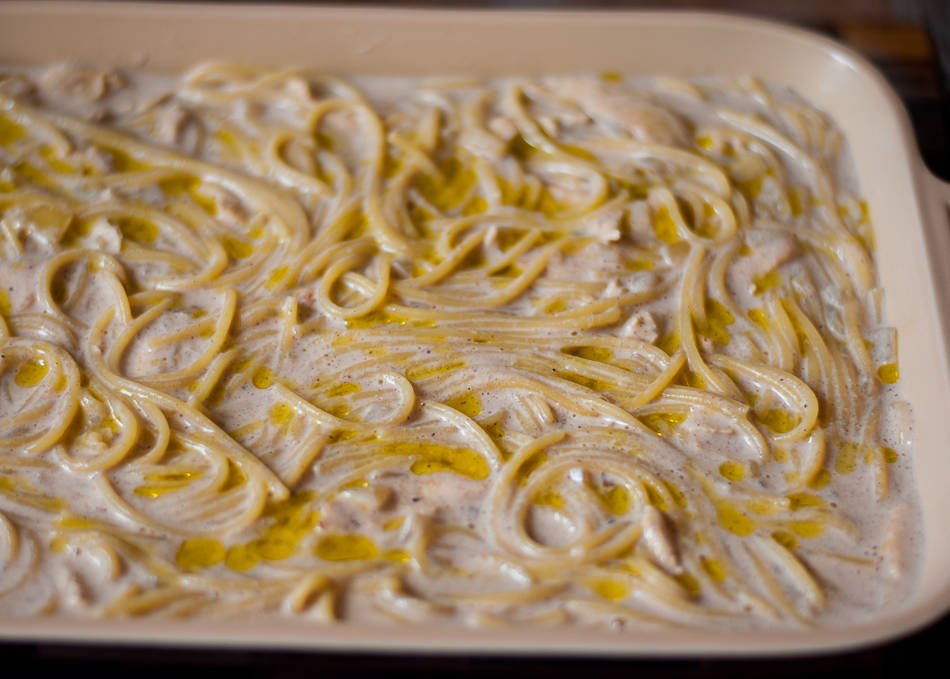 Bake for 20 minutes or until the top starts to turn golden brown. Remove from the oven and rest for about 10 minutes before serving. Try serving with green beans dressed in olive oil.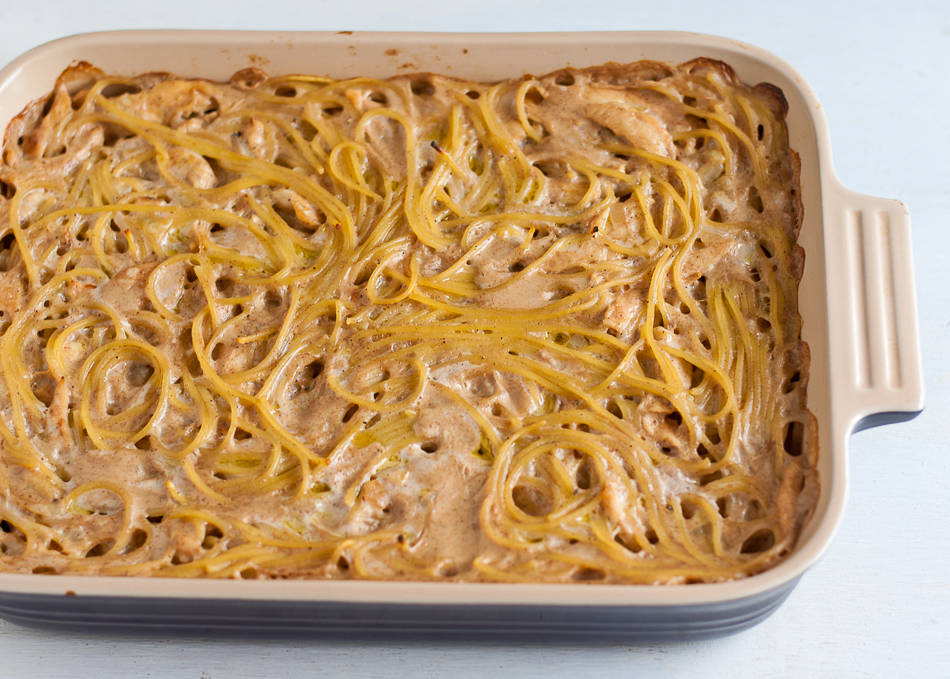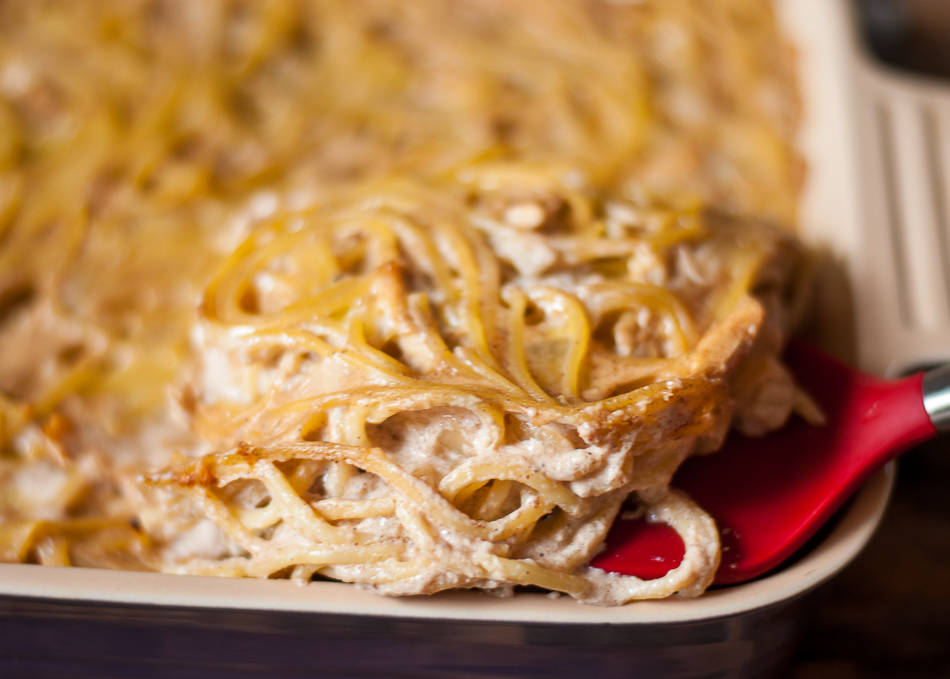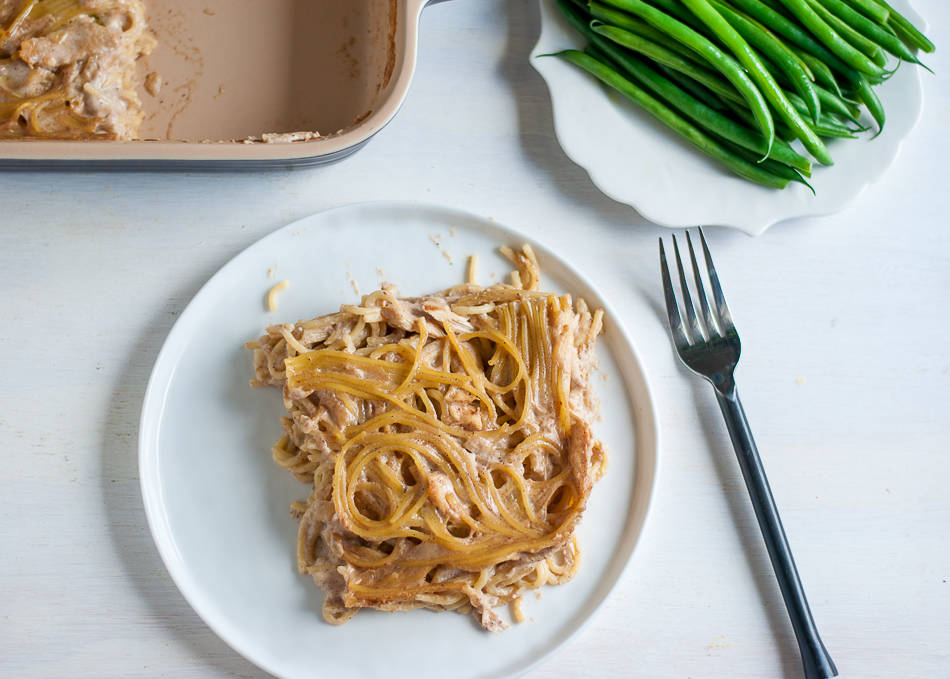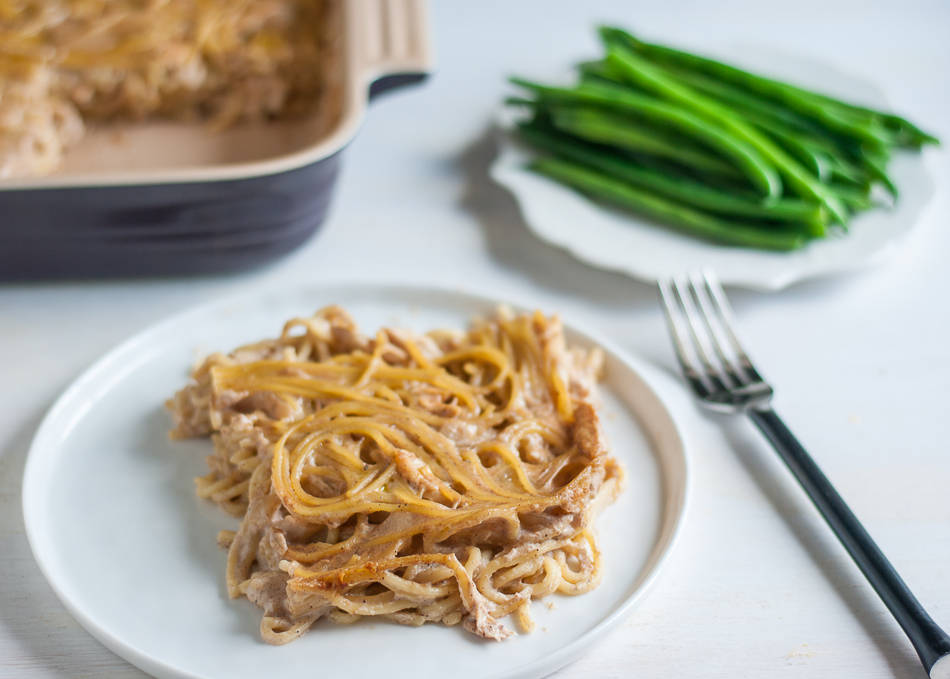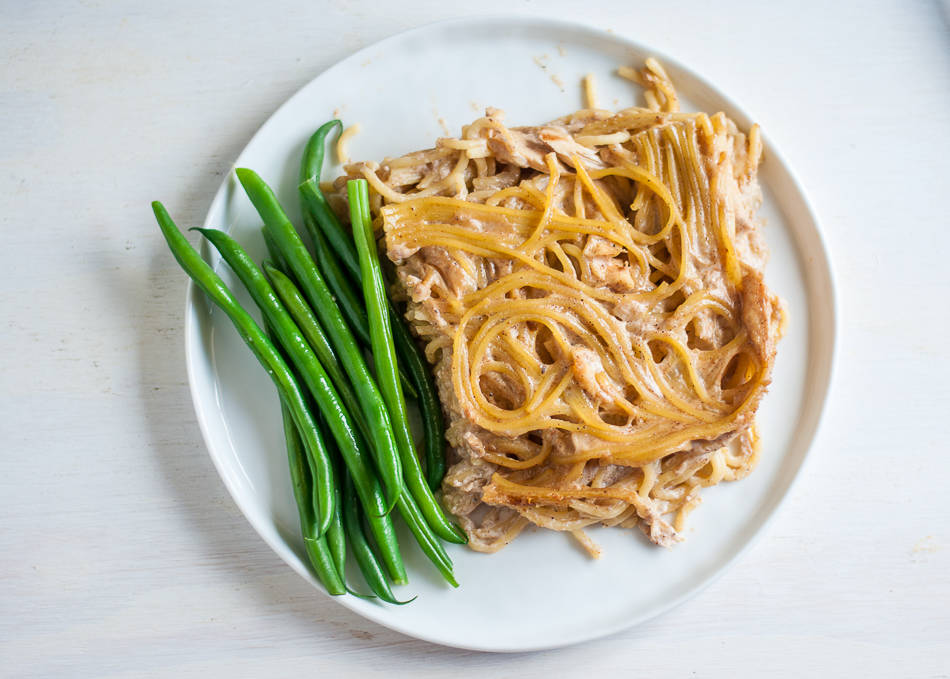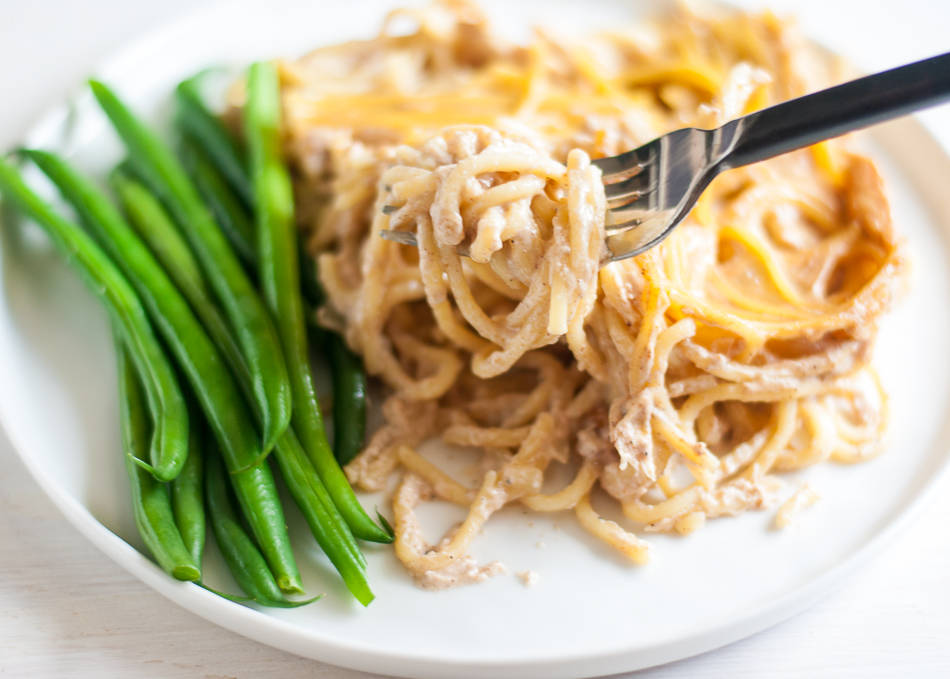 Print This Post