Warmer days always bring salad cravings and a need to expend my raw veggie repertoire. I often look into my travels for food inspiration and vivid memories of the amazingly fresh cuisine of Southeast Asia usually take over this time of year. Salads don't always need to be vegetable based and Thai cuisine offers various meat and fish salads bursting with flavors and perfect for a hot day. Northeastern Thai food (or what we call Isaan) is the source of many of my favorite dishes including this zingy catfish salad.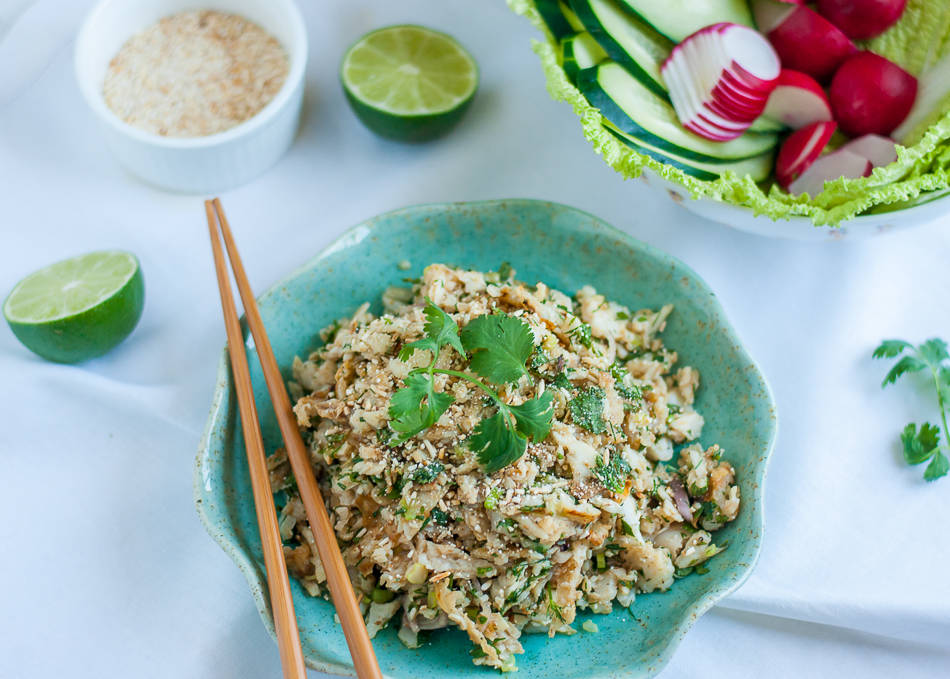 Bursting with freshness, this vibrant salad combines the classic mint/dill/cilantro mix often seen in Southeastern dishes with fatty catfish and a spicy lime dressing for a mouthwatering balance of flavor and heat. Served with a bowl of raw vegetables to balance the spiciness, it's perfect to serve as a fun appetizer for a group, everyone filling their own lettuce cup and eating with their hands, but it could also be a delicious main course served alongside some sticky rice.
This will bring you straight back to Bangkok if you've ever been, and it's a super healthy and quick dish to put together. Just don't overlook the roasted rice powder, it's what makes this dish authentic as opposed to some vaguely Thai inspired salad…and the nuttiness and crunch it brings really rounds it all up.

Thai Catfish Salad (Laap Pla Duk)
Recipe adapted from Food and Wine magazine
Active time: 1h
Total time: 1h
Makes 4 servings
1 pound catfish fillet (can be substituted with wild salmon or tilapia)
3 tablespoons Asian fish sauce, plus more for brushing
3 tablespoons fresh lime juice
3/4 teaspoon palm sugar or light brown sugar
1 1/4 teaspoons Thai chile powder or other hot chile powder, like cayenne
2 medium shallots, thinly sliced
1/2 cup thinly sliced scallions
1/4 cup chopped cilantro
1/4 cup chopped mint
2 tablespoons chopped dill
Roasted rice powder (store-bought or homemade for which you'll need about 1/2 cup white rice, preferably Thai glutinous rice)
Radishes, cabbage wedges, cucumber slices, cilantro, mint and dill sprigs, and lime wedges, for serving

Light a grill and oil the grates. Using a sharp knife, cut 3 shallow slits on each side of the fish and brush with fish sauce; grill over moderate heat, turning once, until white throughout, about 5 minutes on each side. Transfer the fish to a baking sheet and let cool.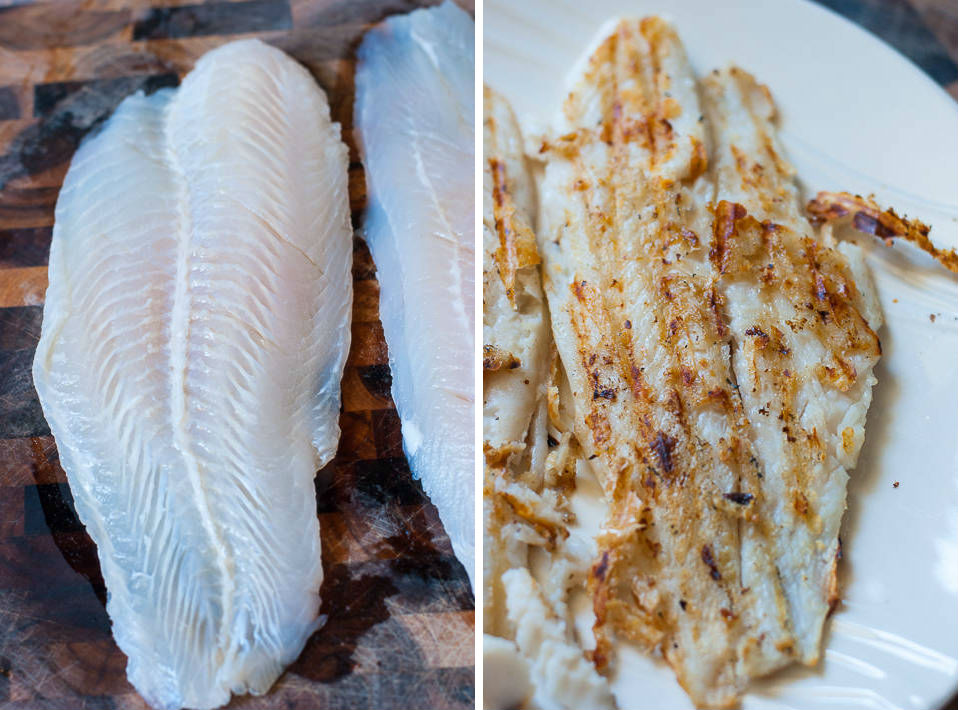 Meanwhile, in a small bowl, whisk the lime juice with the palm sugar, chile powder and the 3 tablespoons of fish sauce.
Make the roasted rice powder if you don't have the store-bought version by setting a skillet over medium-low heat then adding the rice and stirring and shaking every few seconds to make sure the grains are evenly toasted. After 10 minutes or so, the grains will turn medium brown. Remove the skillet from the heat and let the rice cool completely. Once the rice has cooled, grind it in a mortar or a coffee grinder until a fine powder is achieved (I like mine crunchy so left it coarse).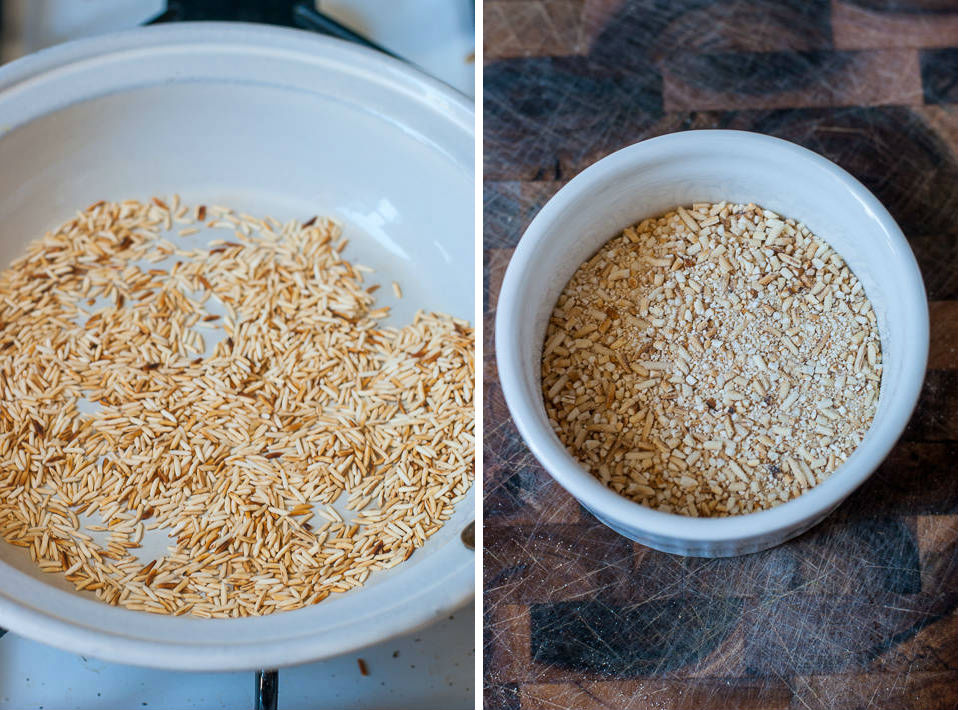 Pinch the catfish meat into small pieces and transfer to a bowl with the shallots, scallions, chopped cilantro, mint and dill. Add the lime dressing and toss well.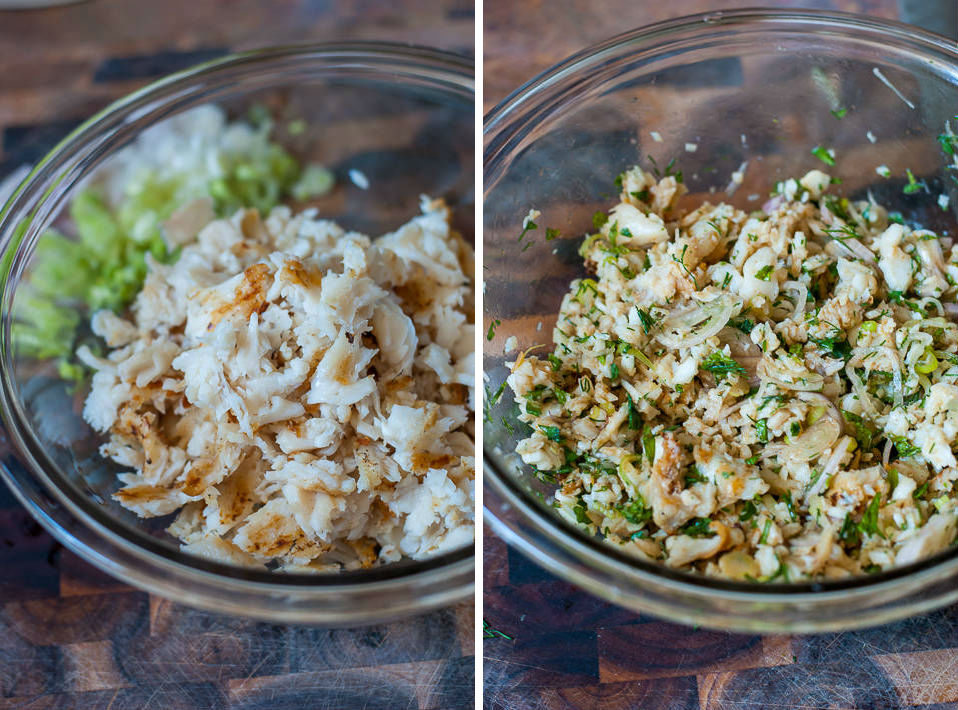 Transfer the salad to a platter and sprinkle with roasted rice powder. Serve with vegetables, herbs and lime wedges and pass any remaining roasted rice powder at the table.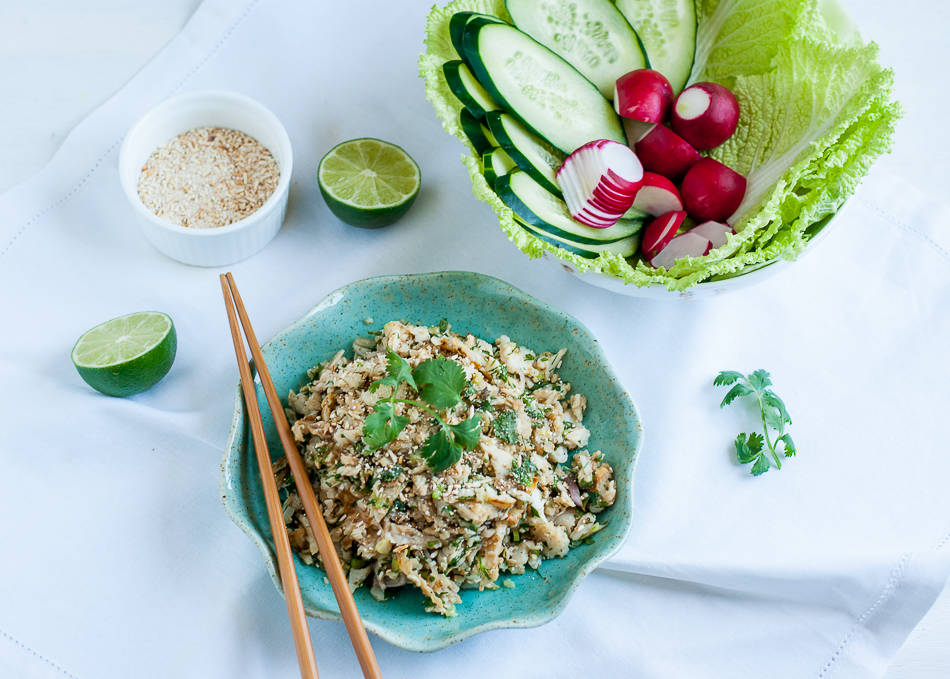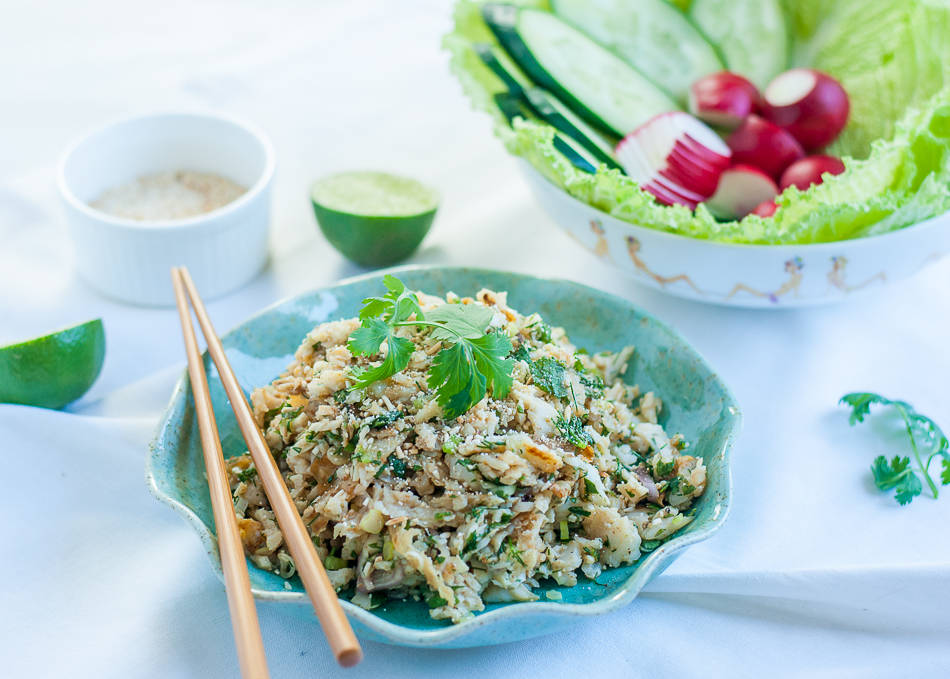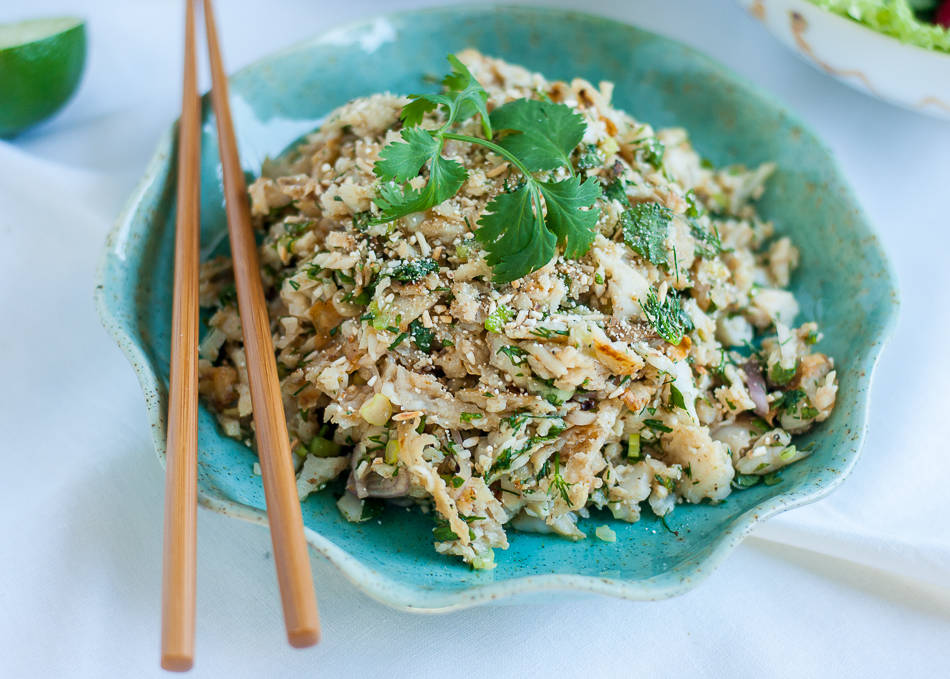 Print This Post