Japan's imperial capital for over 1,000 years, Kyoto has thankfully been spared the wartime bombings and is filled with stunning remains of its past glory. It's a delight to explore its exquisite temples, gardens and shrines (over 2,000 spread all over the city) as much as it is to discover its modern side with hip cafes, modern art and designer shops.
Tō-ji temple with its five storied pagoda. It stands 57 meters tall, making it the tallest pagoda in Japan and has become a symbol of Kyoto.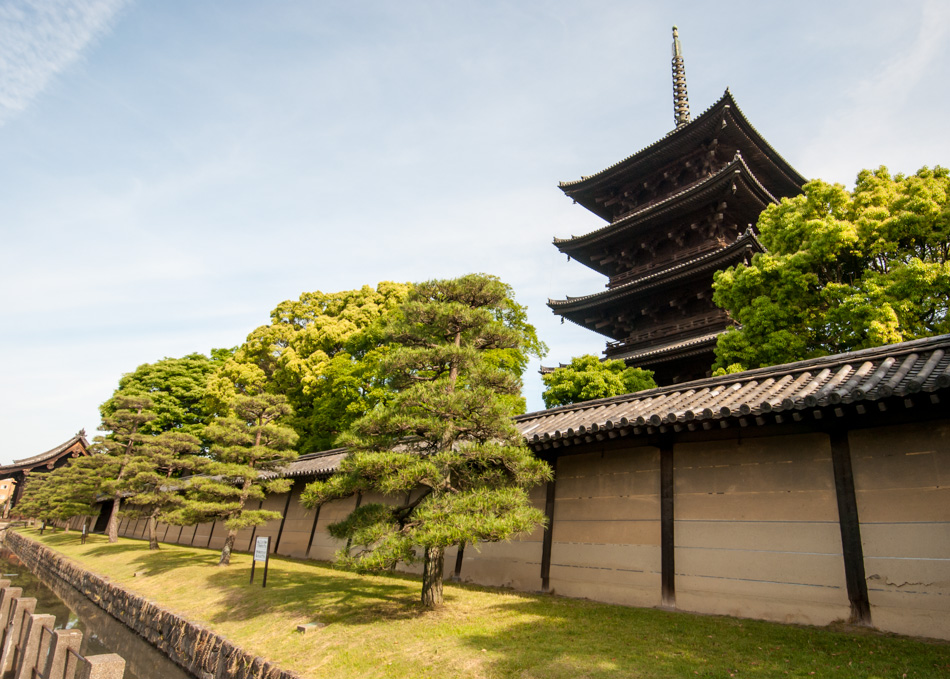 Almost all travelers arrive at Kyoto's futuristic looking train station, a stark contrast to the more traditional buildings in the city (and unveiled with a certain discontent from the locals).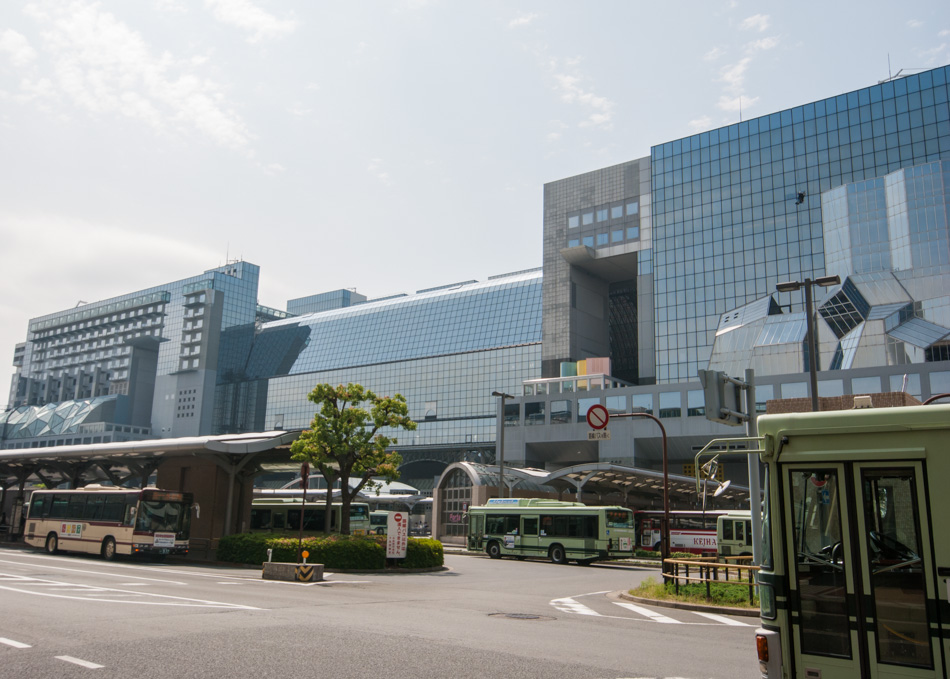 While a lot more compact than Tokyo, Kyoto is so full of cultural wonders to check out that careful planning is in order. This post focuses on the east side of the city, Higashiyama, which is an excellent starting point if you only have a little time as it's home to many of the most famous landmarks and traditional arts and crafts.
From the train station, an easy walk brings you across the river and over to Higashiyama where Sanjūsangen-dō awaits. The Buddhist temple is Japan's longest wooden building at 120m (394 feet) in length.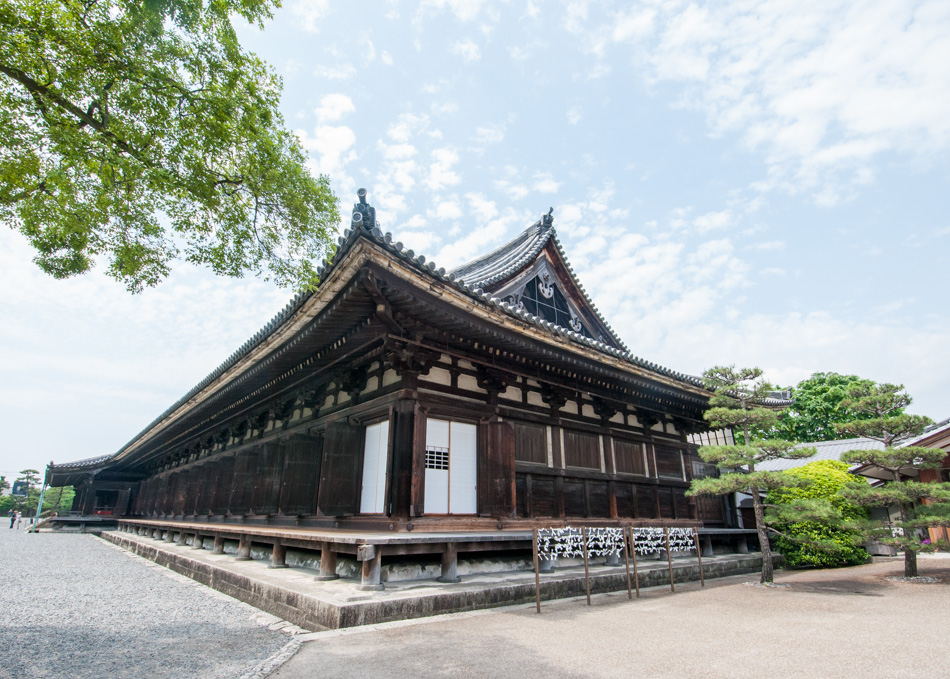 Although quite simple looking from the outside, its main attraction lies inside of its walls which are filled with 1,000 life-sized statues of Kannon, the Buddhist goddess of mercy, all beautifully carved from Japanese cypress. Photography is forbidden but the sight is one you'll never forget, especially of the centerpiece which is a six-foot-tall statue of Kannon bearing 11 faces and 1000 arms, unsurprisingly designated as a National Treasure.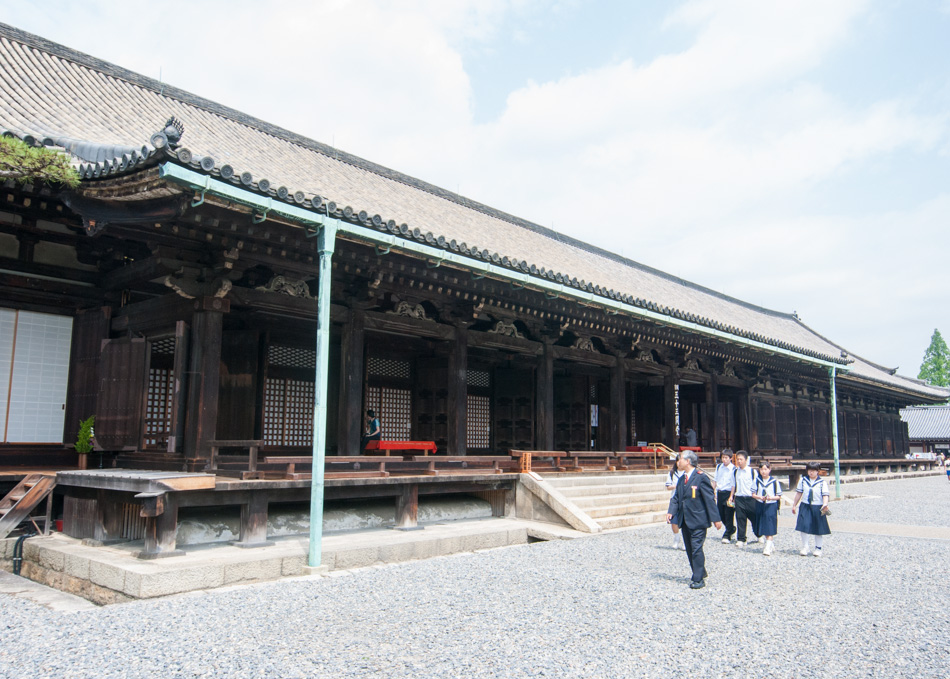 Continuing your walk northeast, you'll soon hit one of the most celebrated temples of Japan (and a sizable crowd!) at Kiyomizu-dera. As you start walking up, you'll get a much better perspective on the city which is in fact comfortably nestled in a valley with green mountains protecting it from all sides and host to most of the major temples and shrines.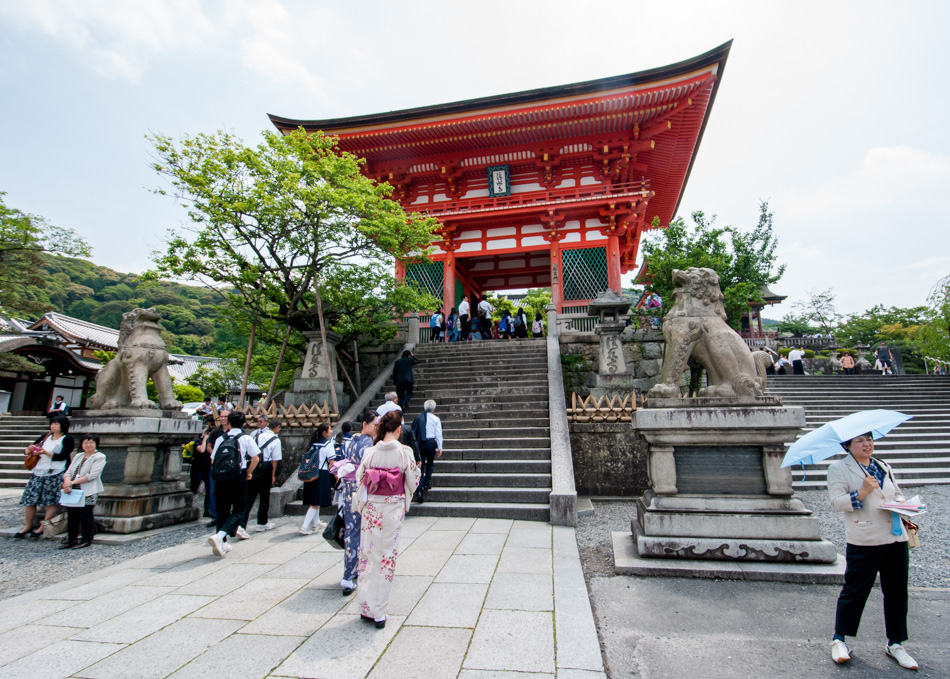 The site counts several Buddhist temples and has been used as a major place of reflection and worship for over 1,200 years. Its location and natural surroundings are also part of the draw with the grounds turning into spectacular feast of colors in spring and fall.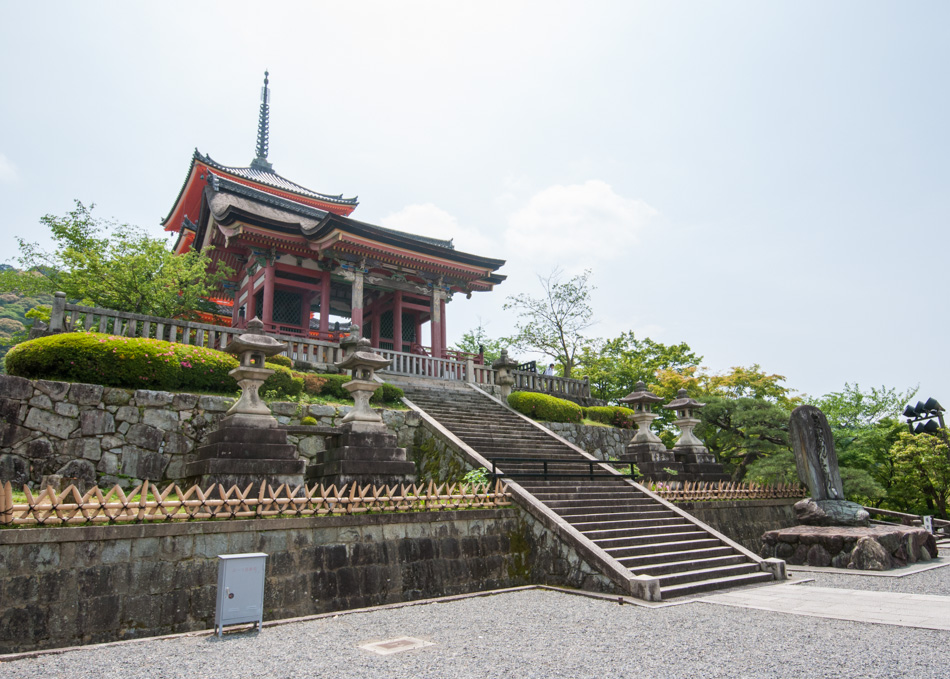 The main hall is famous for its veranda overhanging a cliff and its spectacular view of Kyoto.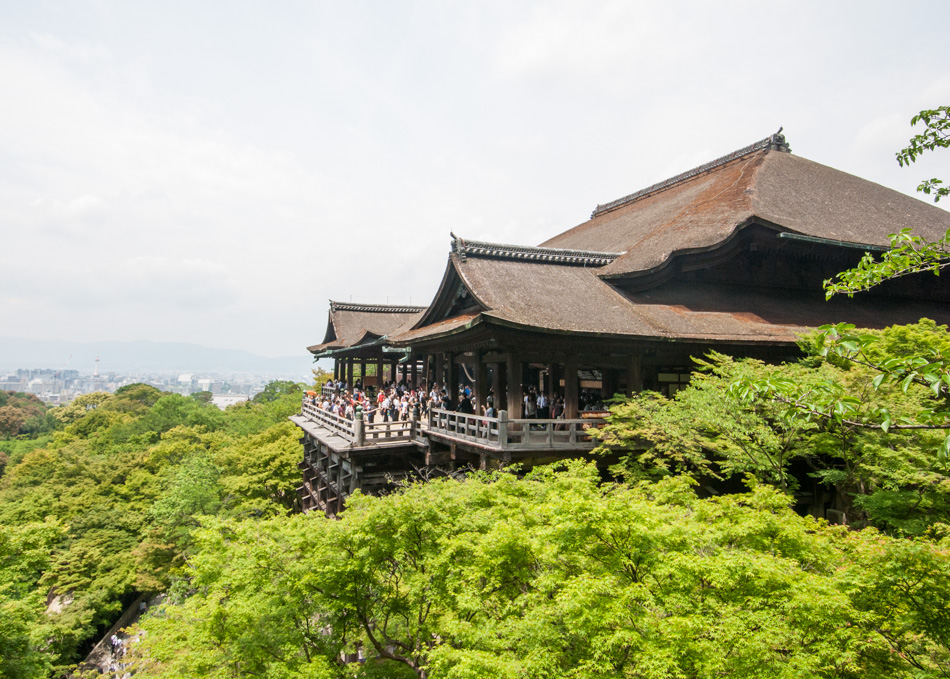 Kiyomizu-dera literally means "Pure Water Temple" and visitors line up to the Otowa-no-taki waterfall to drink the sacred waters believed to bestow health and longevity. If the line isn't too long (it probably will be!), get a refreshing gulp before moving on with the walking tour.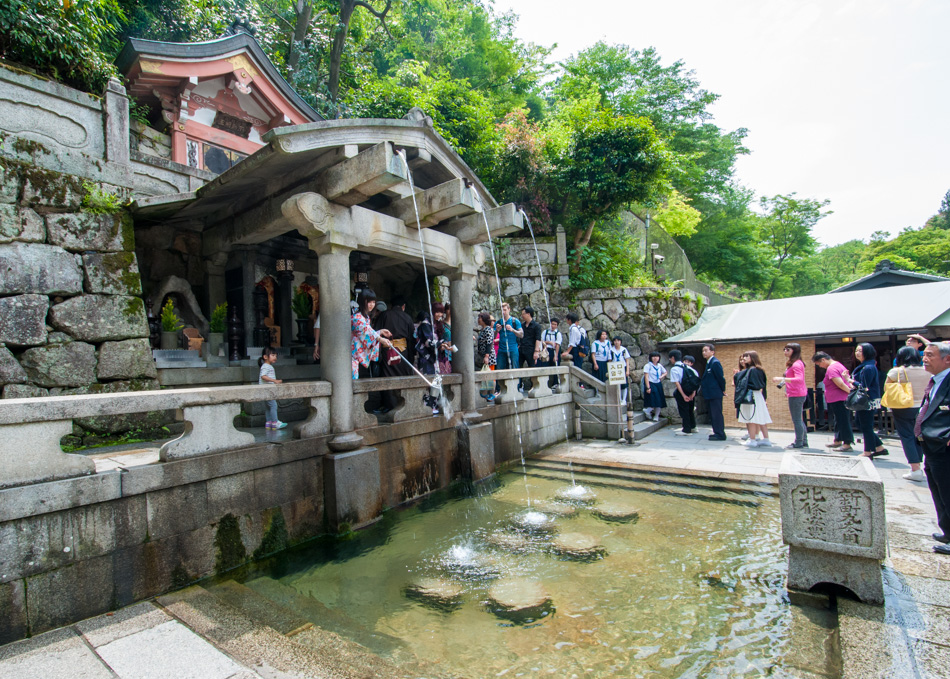 You'll exit the temple through Matsubara-dori, a narrow and crowded street lined with shops selling traditional Japanese wares and snacks and a good place to do some souvenirs shopping.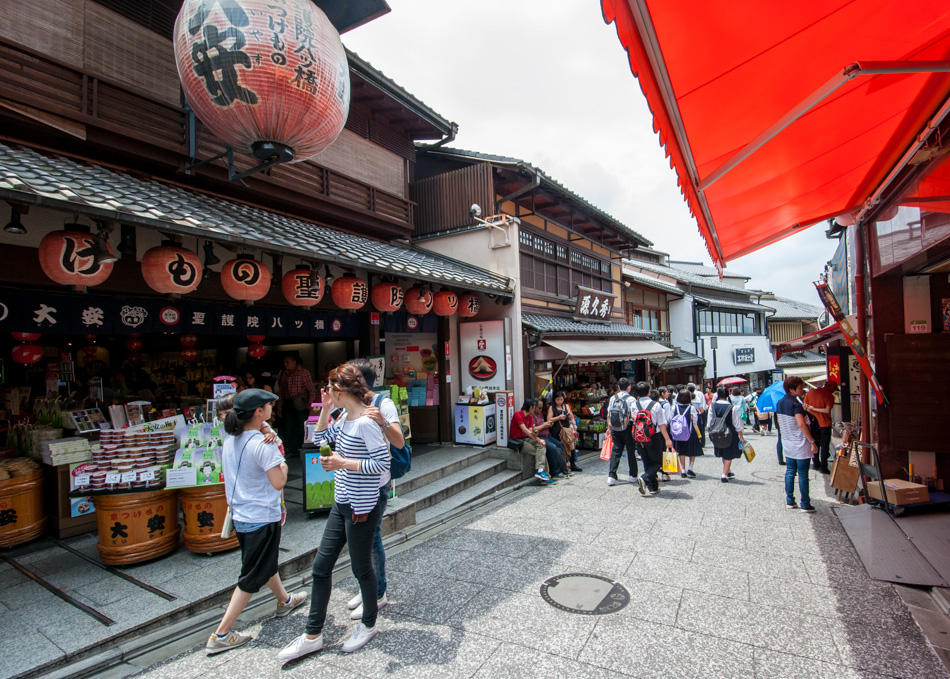 Pickle vendor on Matsubara-dori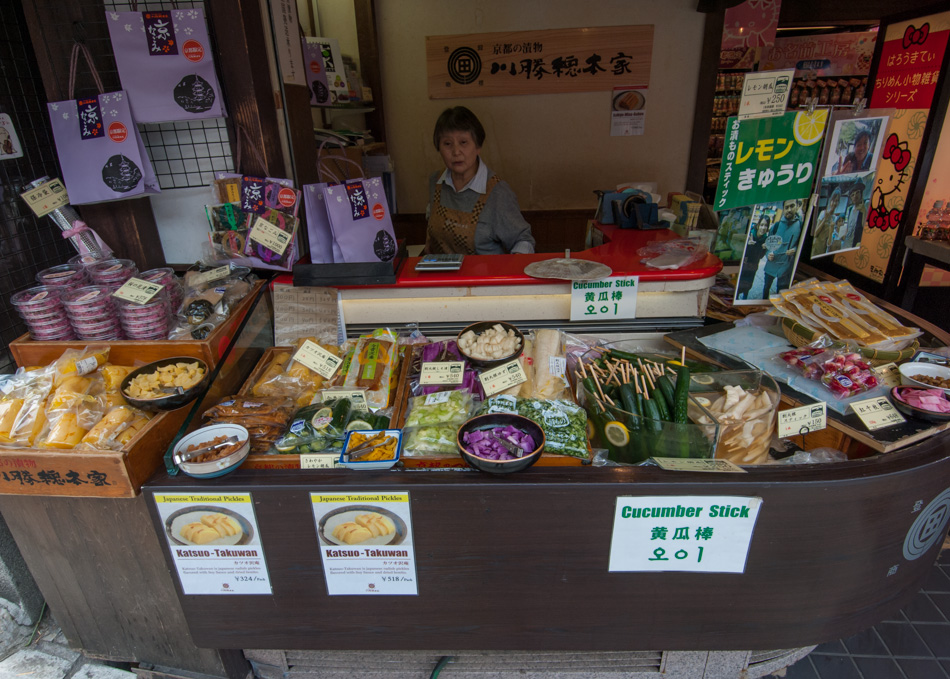 Continue heading downhill for a few more minutes and you'll find one of Kyoto's loveliest restored neighbourhoods, flanked by two of the most charming streets – Ninen-zaka and Sannen-zaka.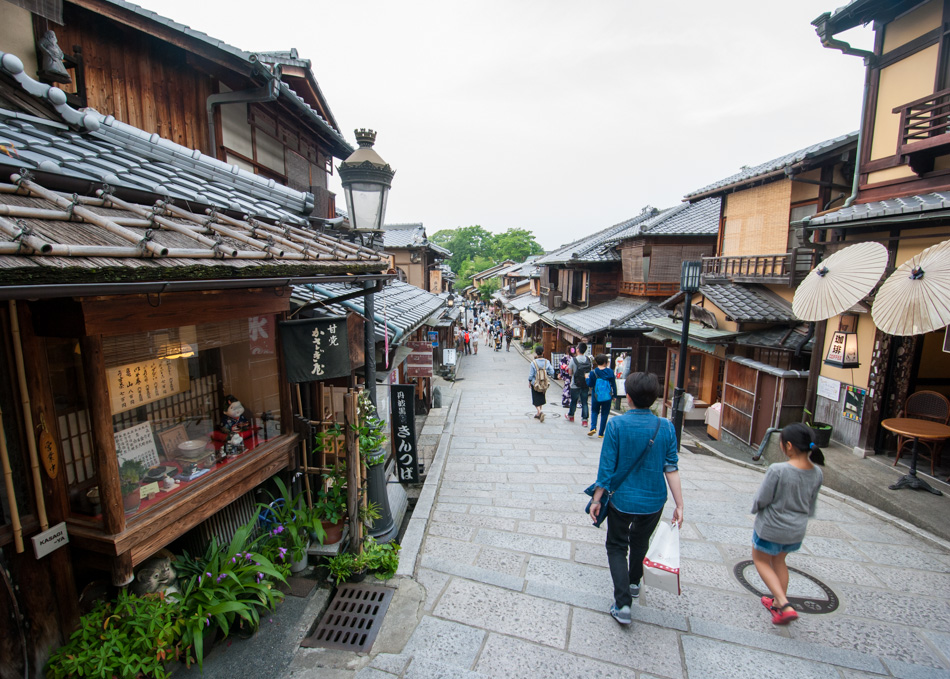 This was pretty close to my movie set version of Japan with old wooden houses, traditional shops and restaurants, quaint little tea rooms…and my favorite stroll of the trip, so much so that I came back one more time before leaving. You'll be transported back to a bygone era and I highly recommend you stop for a refreshment here to soak it all in, there are plenty of adorable places to rest your weary feet.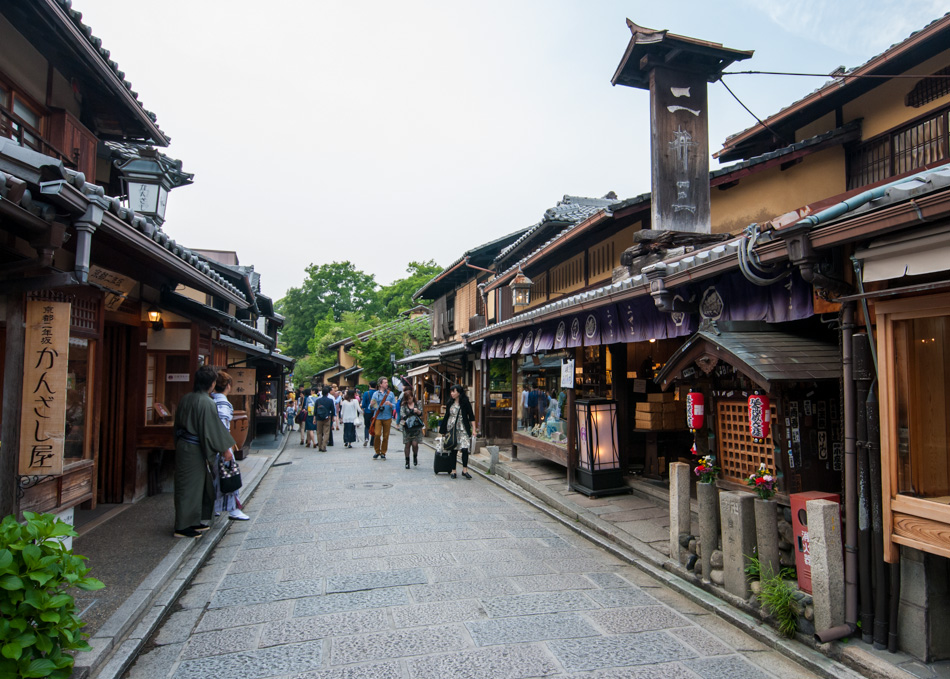 Street snacks are also plentiful and all worth a try. I especially enjoyed the freshly-made rice crackers in a variety of flavors from wasabi to octopus.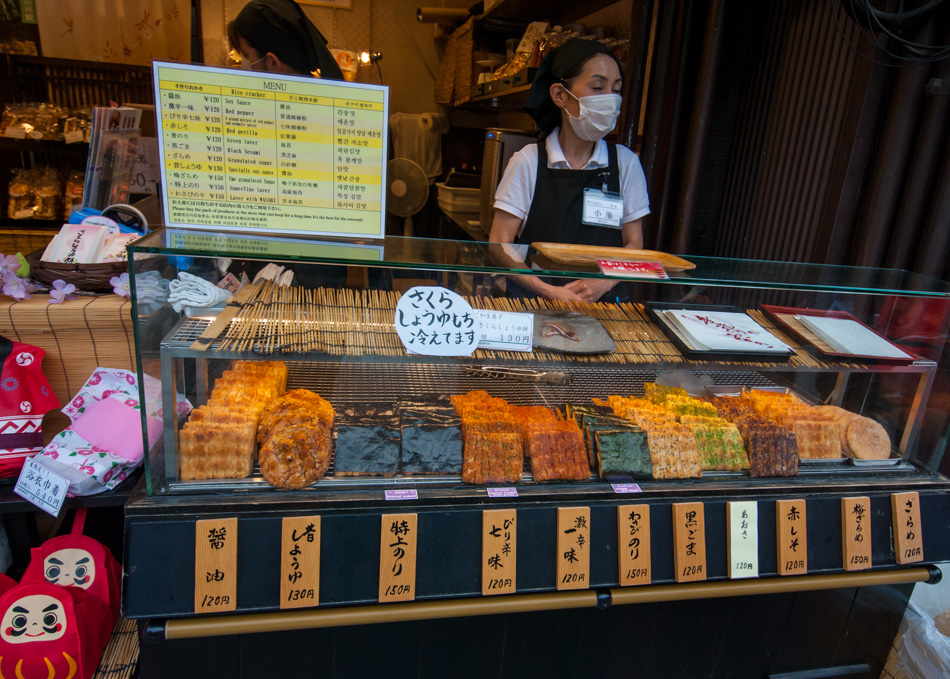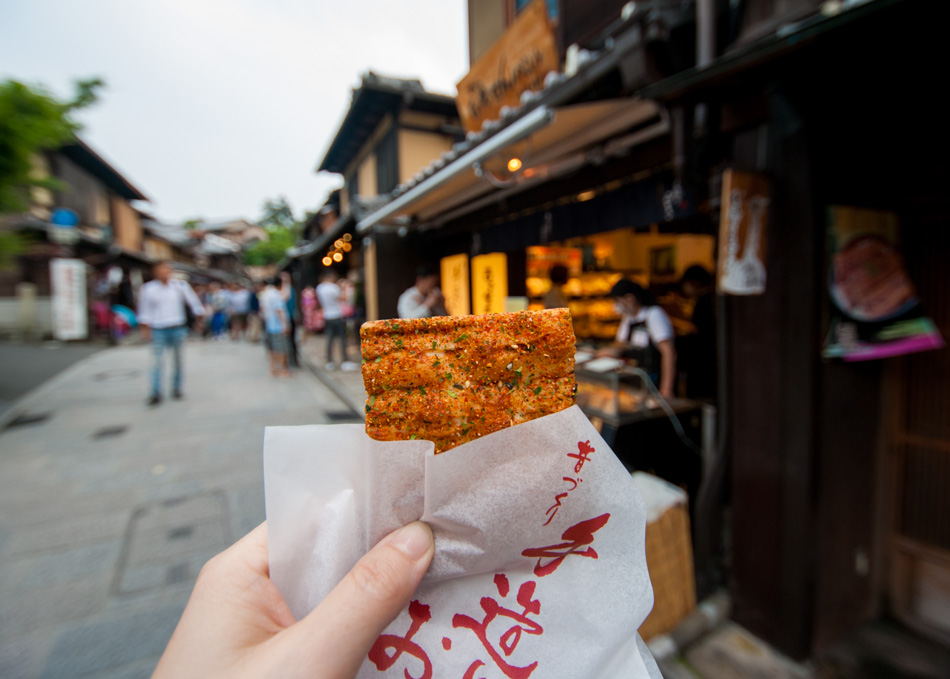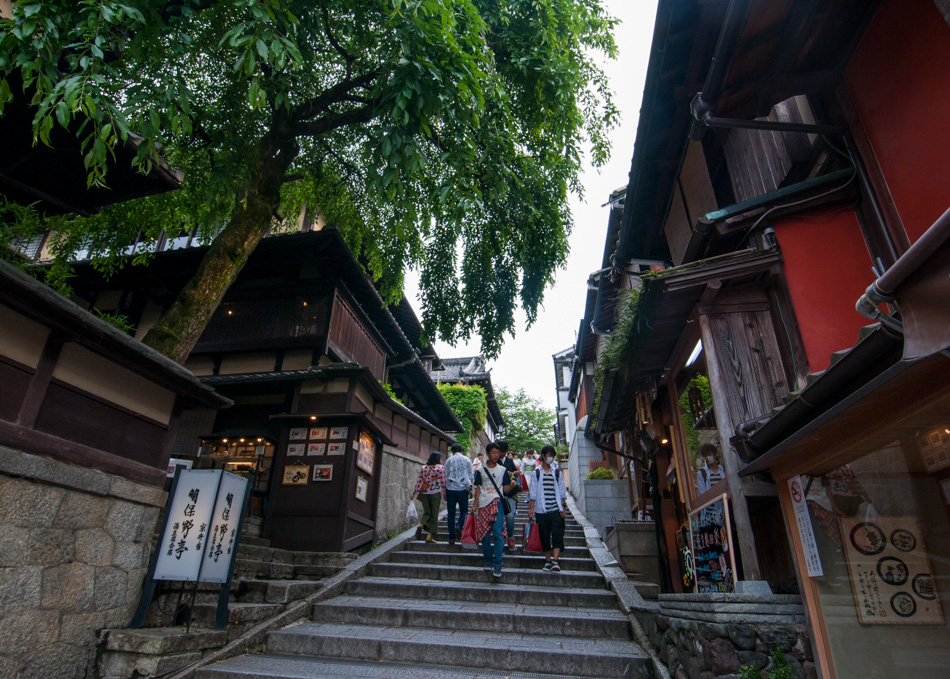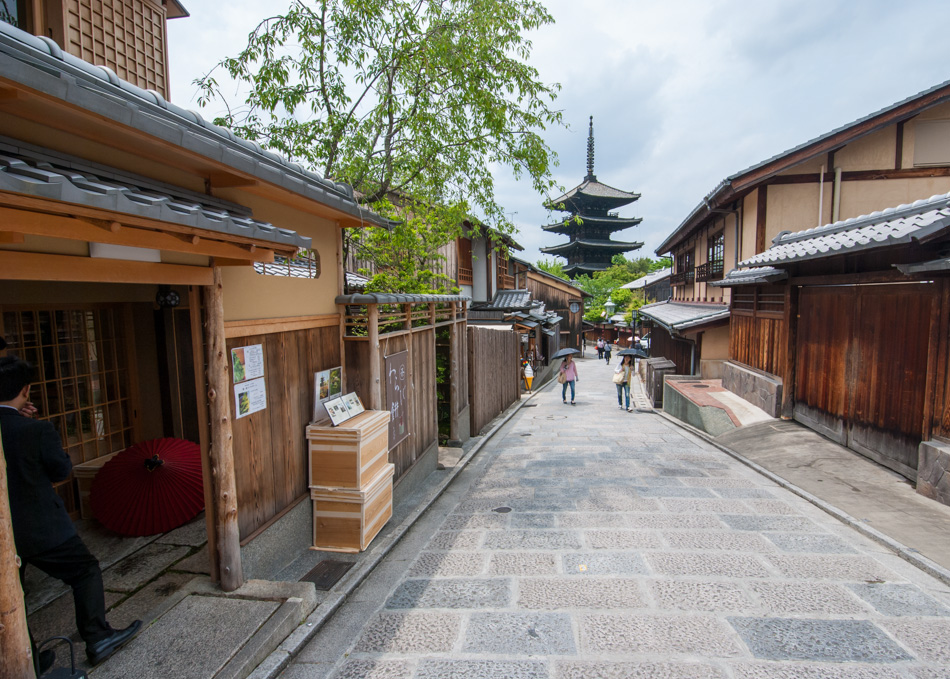 You will get to pass by Yasaka Pagoda – the symbol of Higashiyama.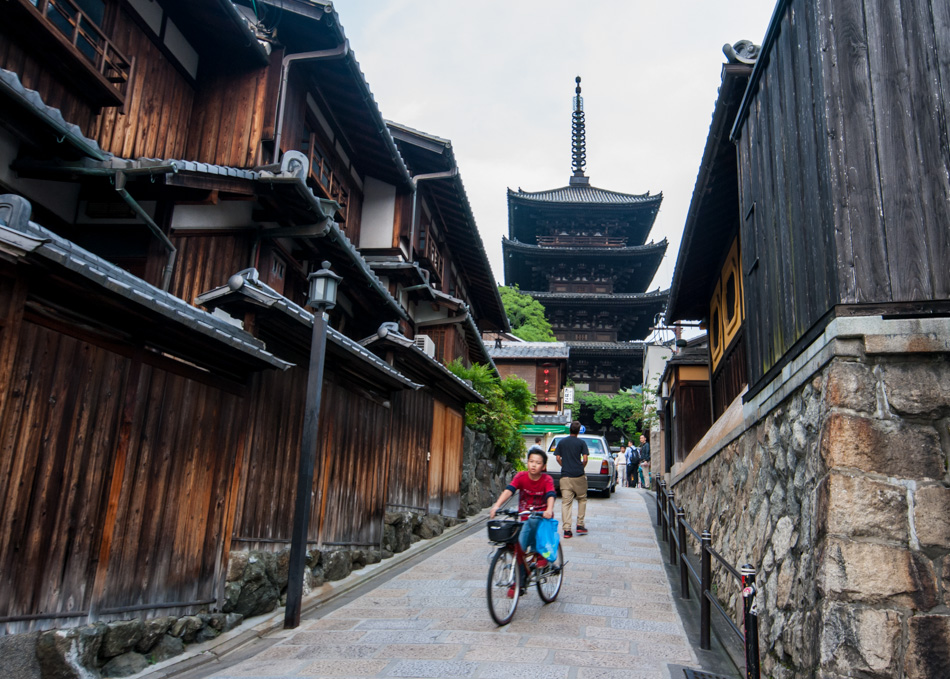 To add to the 'movie set' atmosphere, geishas can be found on almost every corner, but be warned that they're not the real thing before picking your camera! Playing geisha for a day is a very popular tourist activity in Kyoto and you'll see tons of wannabes taking iPhone pictures throughout the city.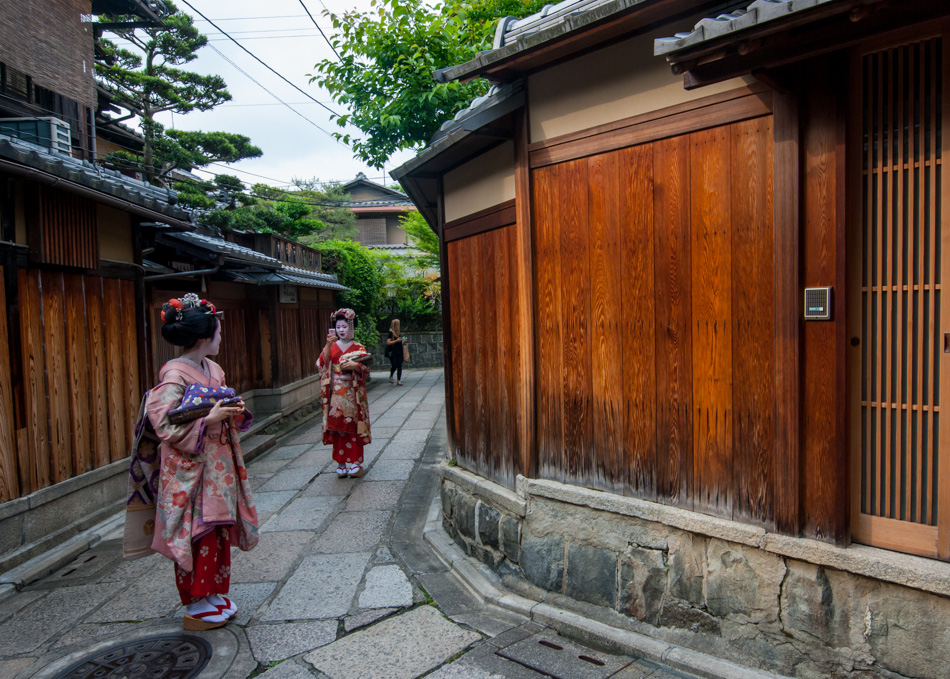 Nearby Nene-no-Michi Lane is a wonderful paved walkway and pretty much a pedestrian-only zone so perfect for a leisurely stroll.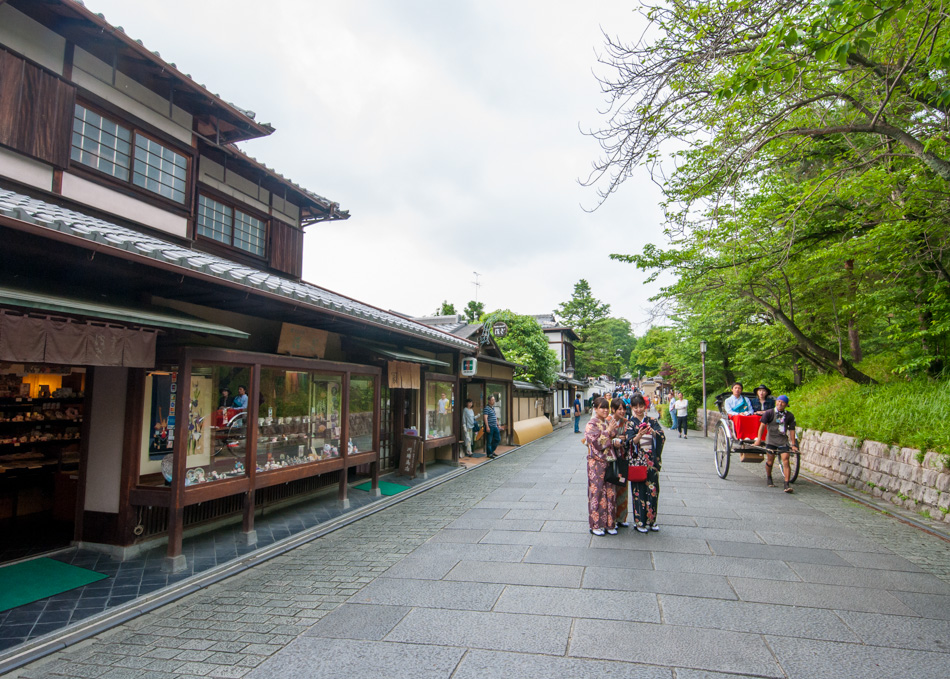 Rickshaws are a popular way to get around the preserved district.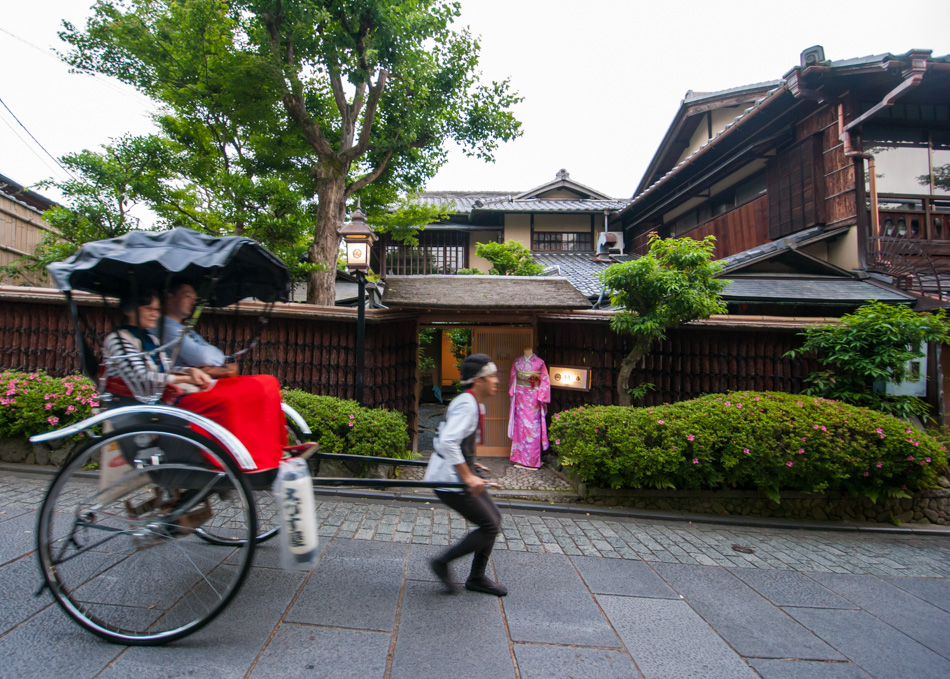 It's a great area for an atmospheric meal and the little lanes are all hiding treasures you'd want to spend weeks uncovering so salivating are the wafts coming out of these anonymous kitchens.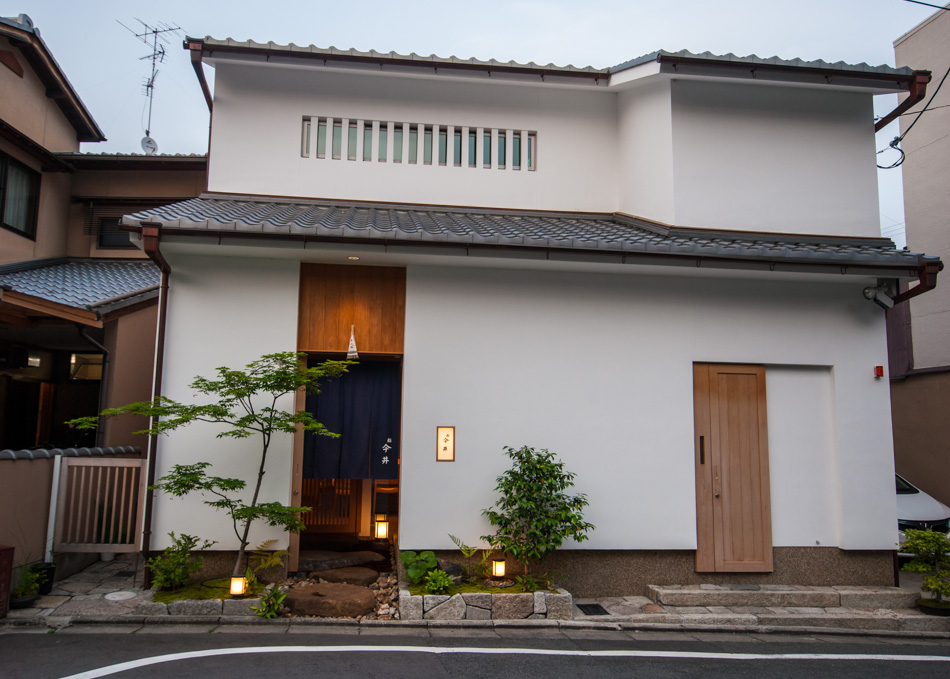 Kyoto is one of those places where you could blindly pick just about any restaurant and have an amazing meal since the standard of the food is sky high here. Still, if you intend to try one of the higher end experiences (and I highly recommend you do!), reservations are often a must as the upscale restaurants are really tiny and the complexity of some of the dishes require advance planning. If it's your first time in Japan, you really shouldn't leave without at least one kaiseki meal,  the Japanese art of food that's been around for over 500 years.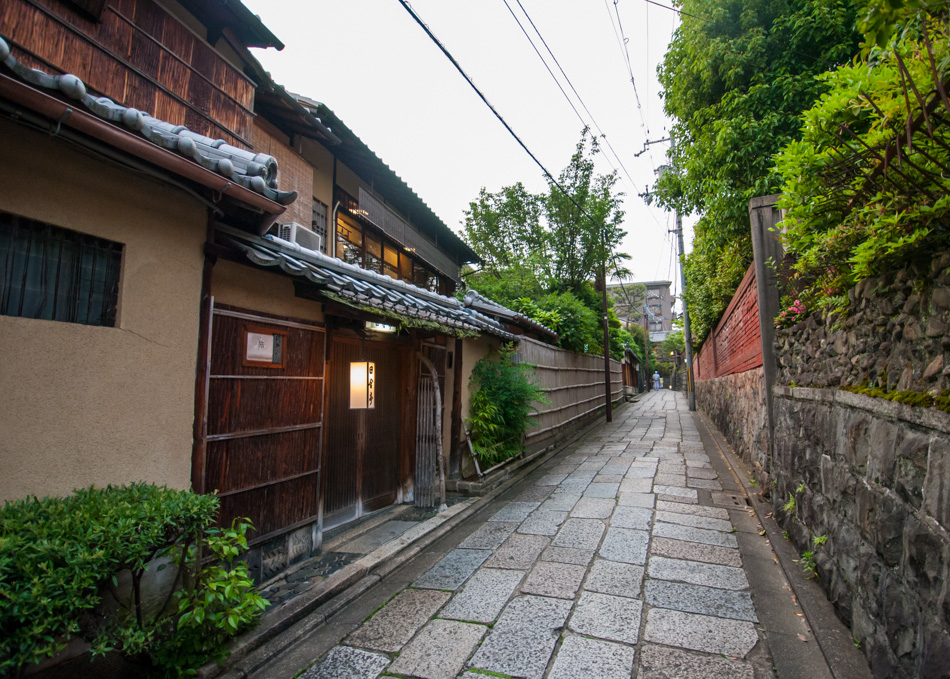 The sophisticated cuisine is known for its meticulous preparation and beautiful presentation, as well as for its hefty price tag with some meals having more than 14 courses! Each kaiseki meal is the creation of a master chef so you'll never get the same experience although you're guaranteed a very high level of aesthetics and taste, close equivalent to a fancy tasting menu back home. I did a bit of research and decided to try Kamikura, an upscale restaurant set in the romantic Ishibekoji alley and sporting every facet of a true hidden gem.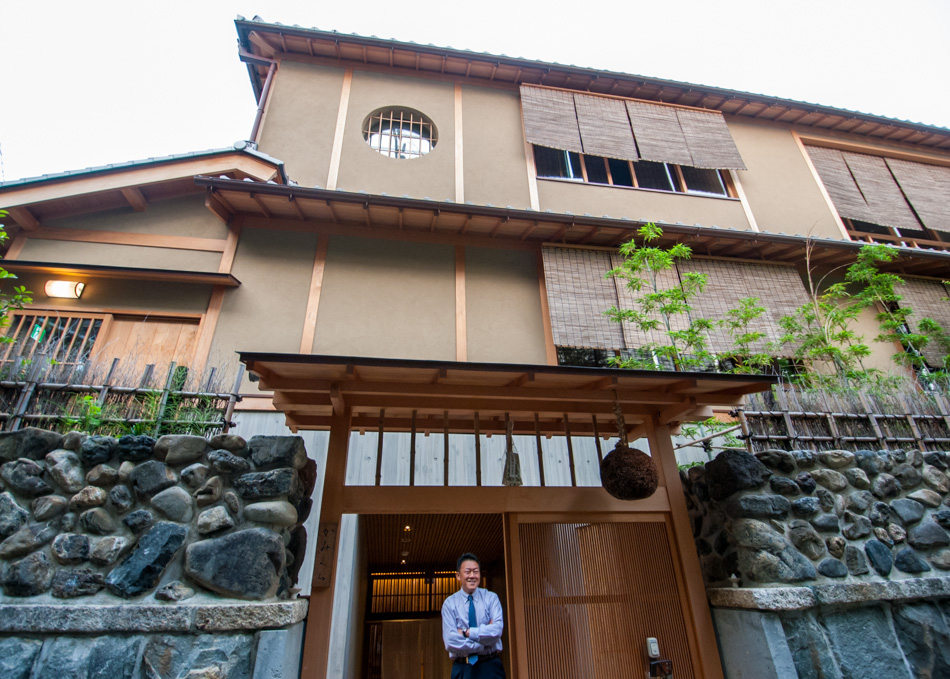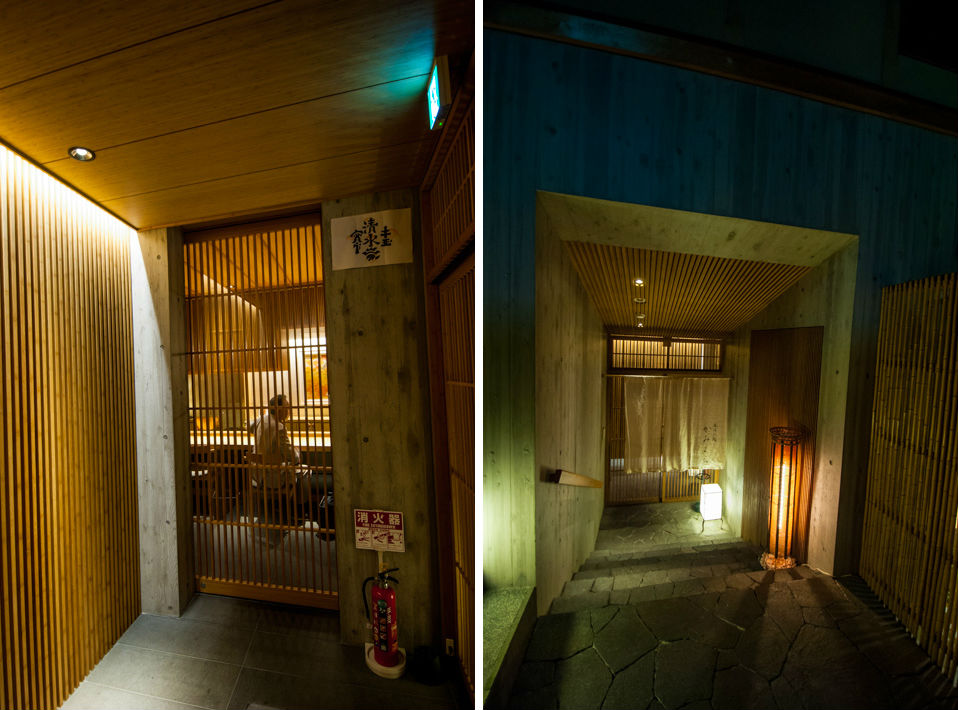 The tiny restaurant can only fit about 8 people at the counter so you get ultra personalized service and close-up conversations with the chef, if you speak Japanese that is. I, being the only English speaker, had the pleasure of having my own 'kimono-clad sommelier' describing every dish as they arrived in front of me.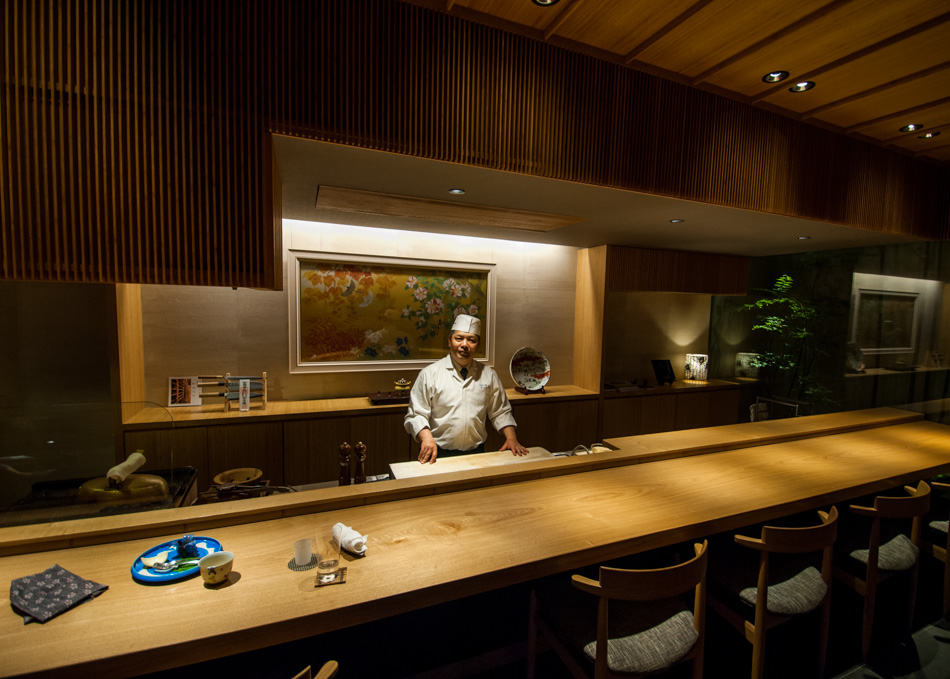 Expect to pay around $150-$200 for the kaiseki menu with a side of excellent local sake. I felt it was well worth it especially when compared with similarly priced menus in large and impersonal restaurants in NYC or London – the attention you get here will surpass everything you've had before.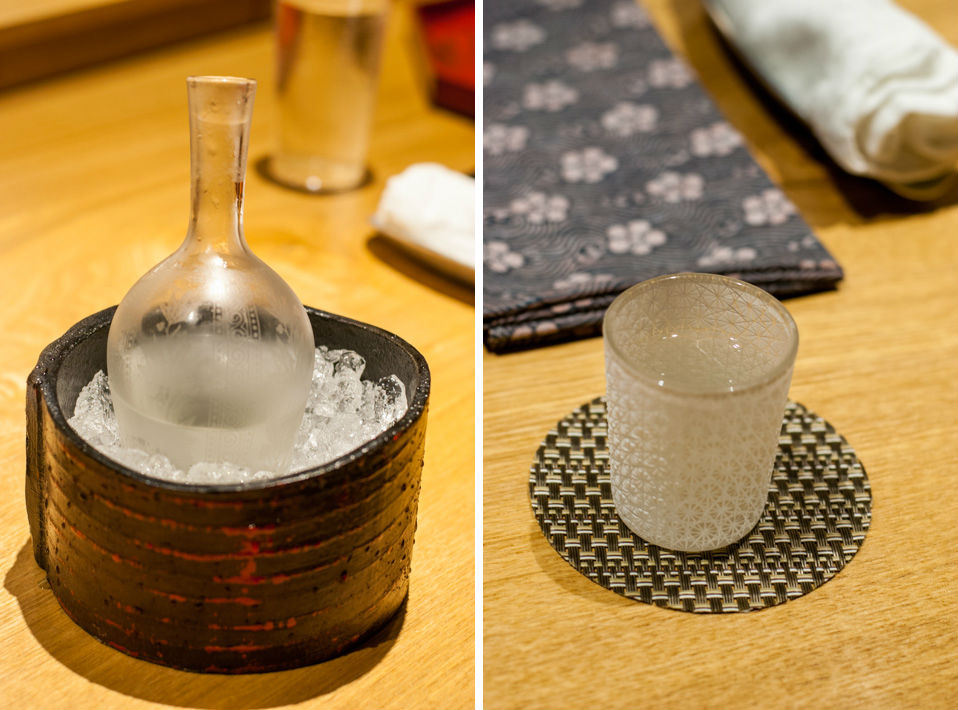 The starters (Hashi-hajime) arrive in three little bowls and contained marinated rock fish skin, deep fried then caramelized Gori from Lake Biwa (a rare river fish), marinated abalone and white taro stem. Dishes on a kaiseki menu are often garnished with fresh flowers, real leaves and seasonal objects found in nature.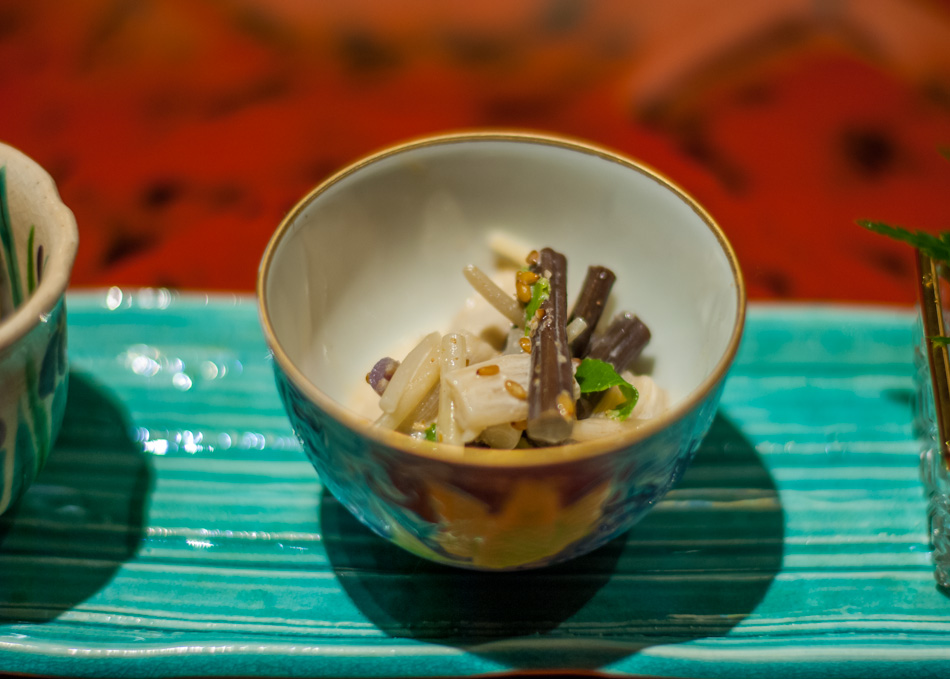 Appetizer – trout from Lake Biwa, steamed abalone, conger pike eel, lotus, green pepper, red pepper, eggplant, tomato with a lemon gelee sauce, served on a lotus leaf.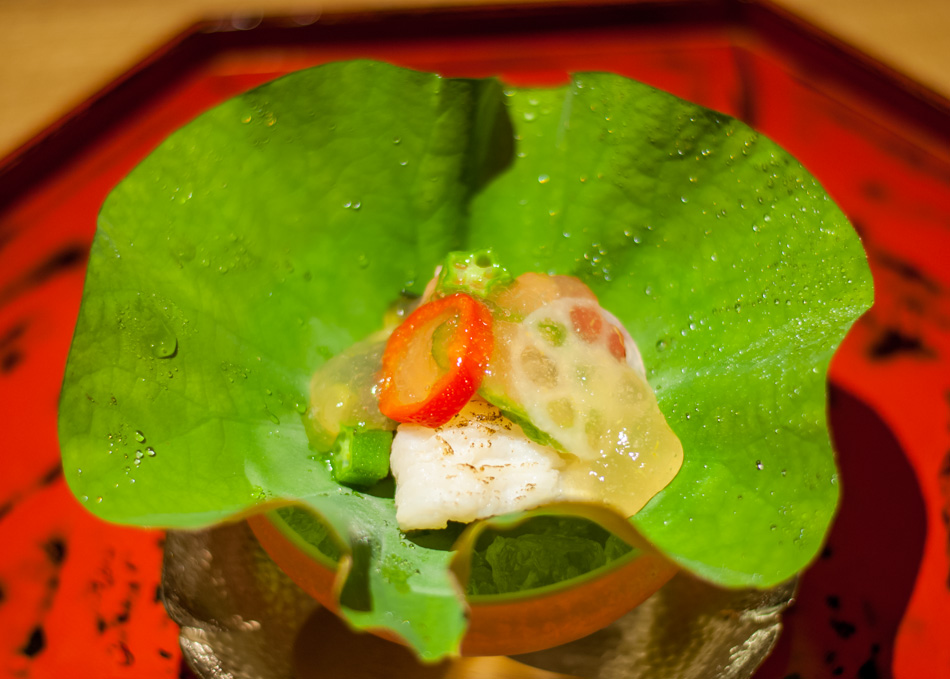 Amuse bouche – grilled natural eel from Lake Biwa, steamed rice with green beans, japanese pepper "SANSHO" topping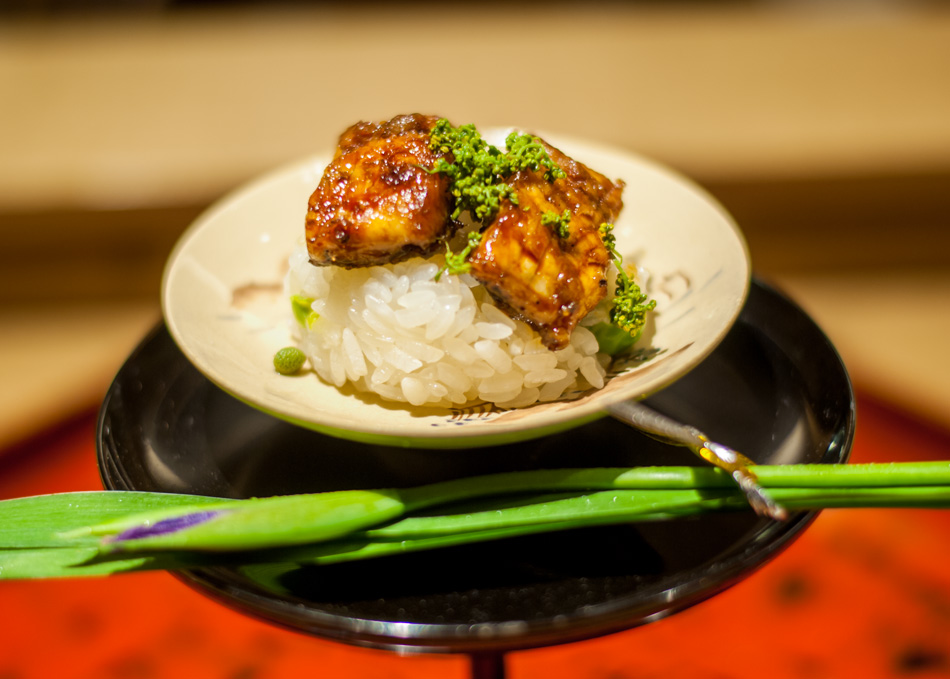 Raw fish – natural tuna, meat part of the rock fish & natural sea bream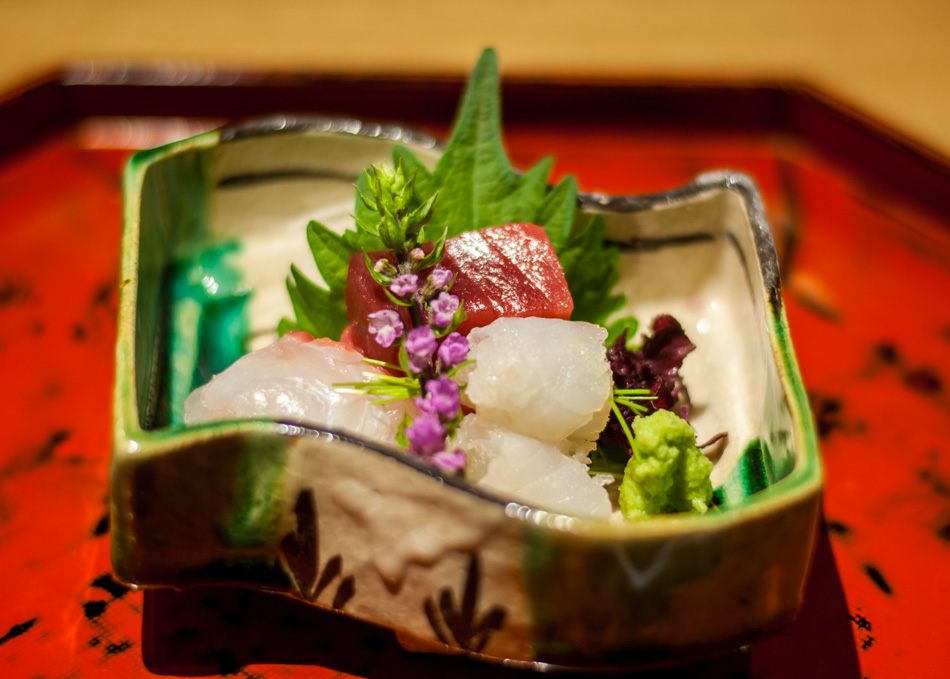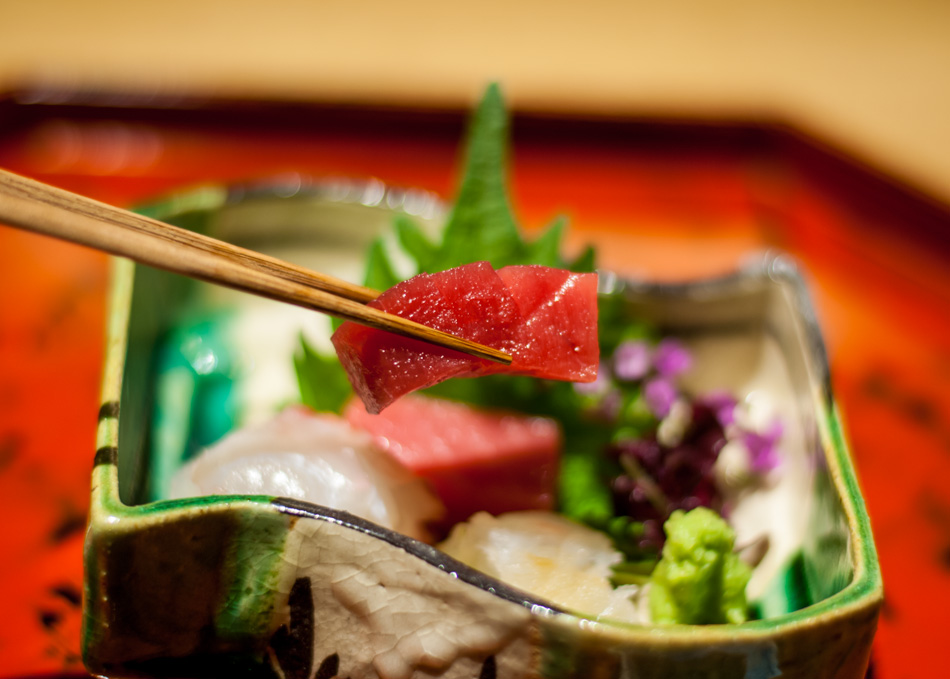 Soup – conger pike eel and dried plum paste, green beans paste with sea urchin, green YUZU citrus, water shied JUNSAI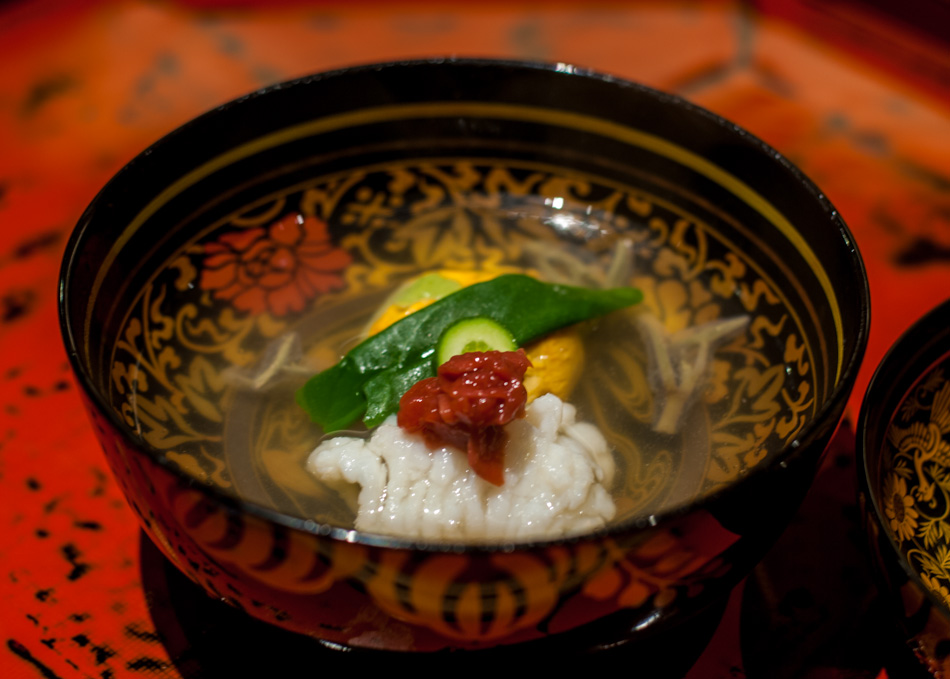 Grilled fish #1 – grilled tilefish "GUJI", steamed butterbur stem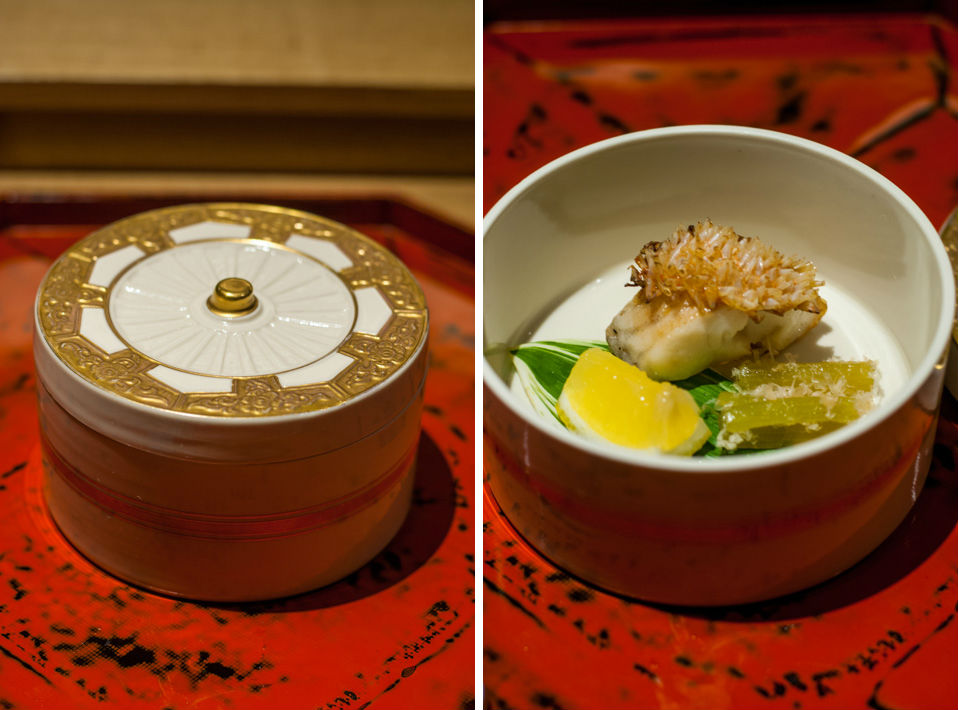 Grilled fish #2 – grilled egg Cockle"TORIGAI" from Maizuru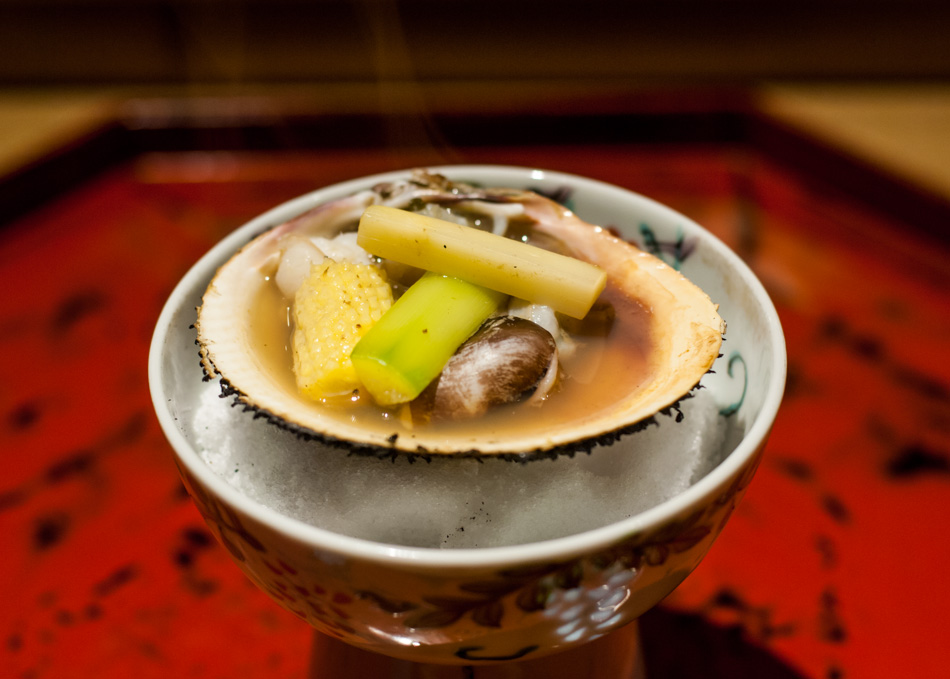 The chef slicing the meat for the next course…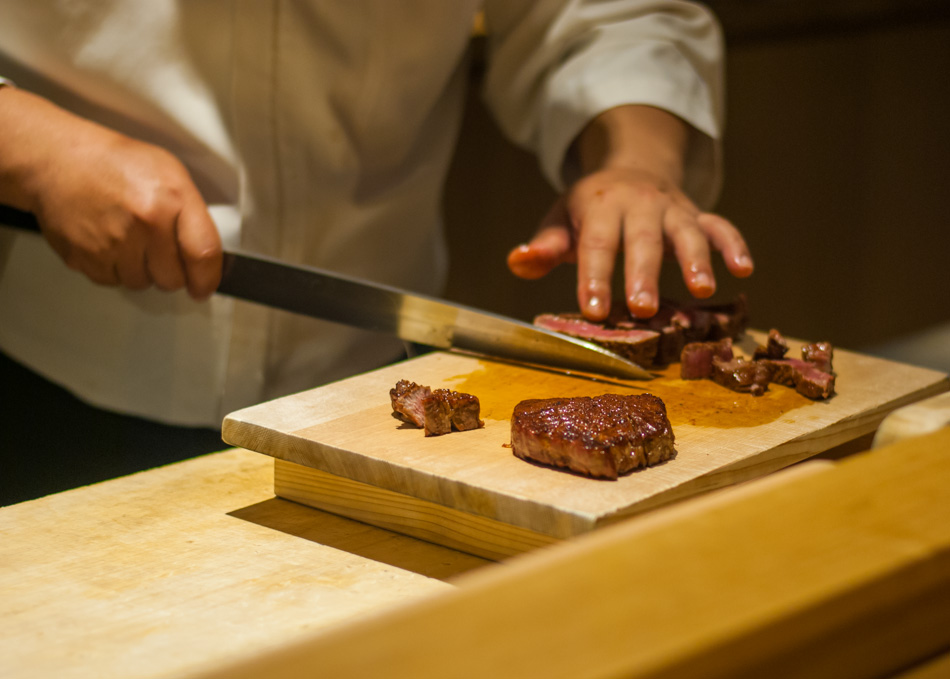 Meat – Fillet steak of Kyoto Beef with mixed nuts topping (pistacchio, cashew nuts and garlic chips) with an onion vinegar sauce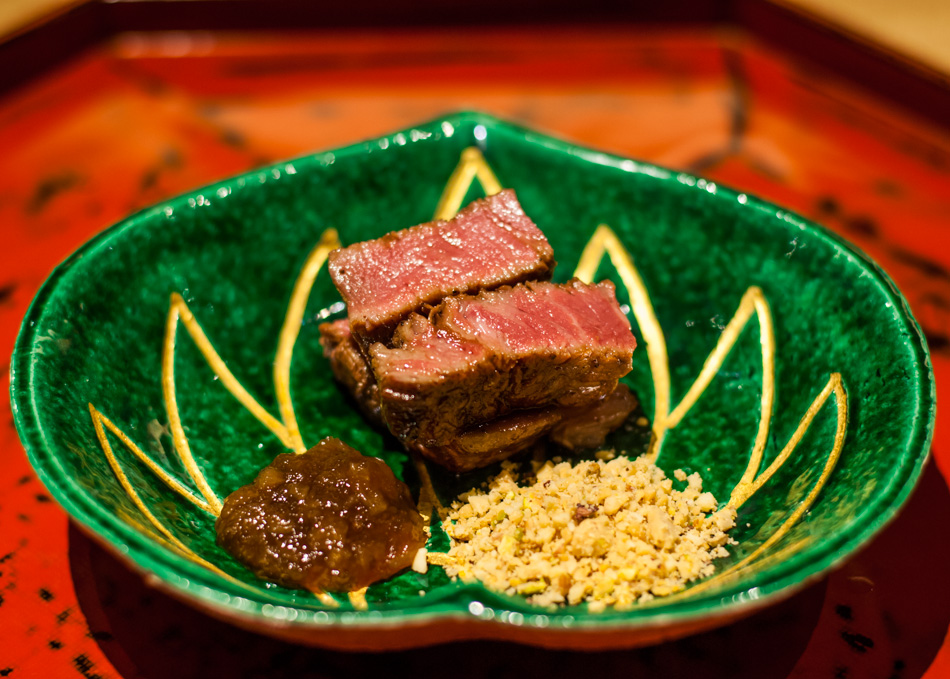 Chef's original soup curry rice a la Kyoto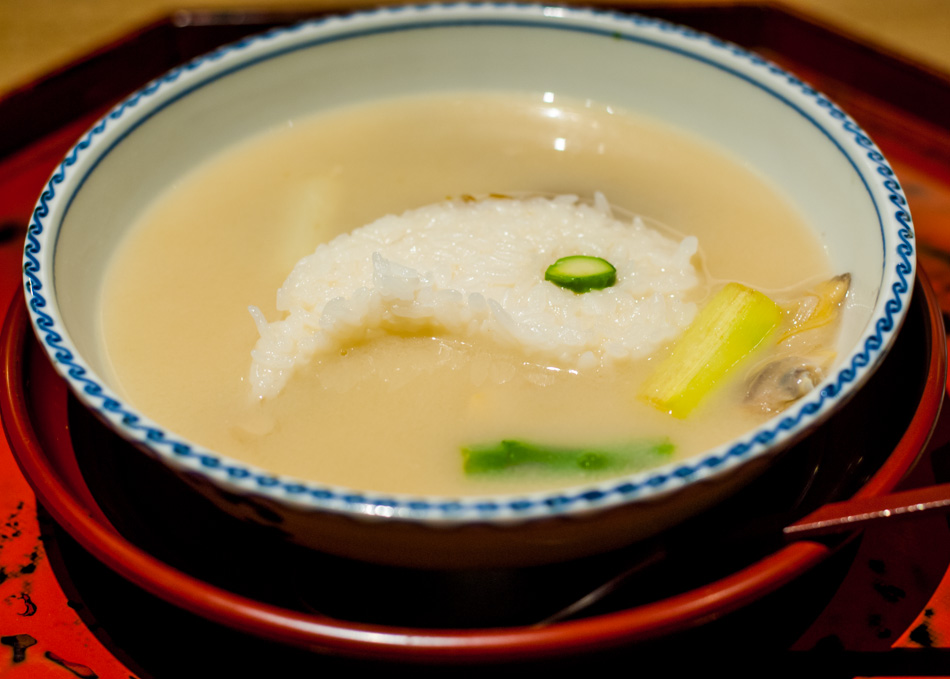 Dessert – typical japanese citrus "HYUGANATSU" jelly, "SATOUNISHIKI"cherry blossom, compote of loquat, mango from MIYAZAKI prefecture, passion fruit and Miyazaki
mango sherbet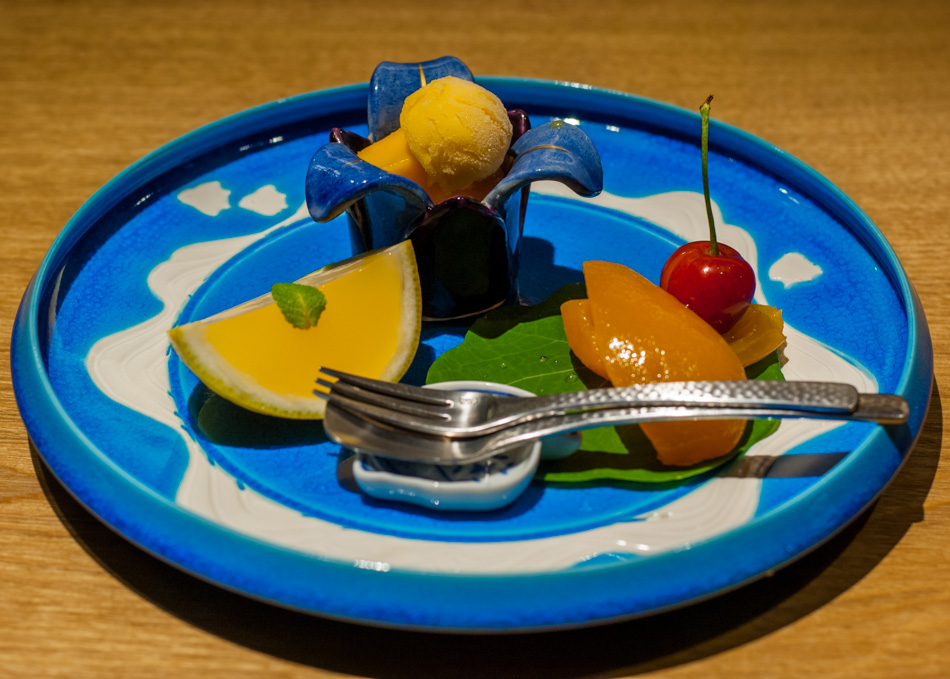 Once you exit the historic district (only about 2 km long from the temple though numerous stops will have considerably slow you down!) you'll cross one of Kyoto's main shopping artery as you head north: Shijō Street. It runs through the center of the city, east to west, and is busy with shops, cafes and restaurants.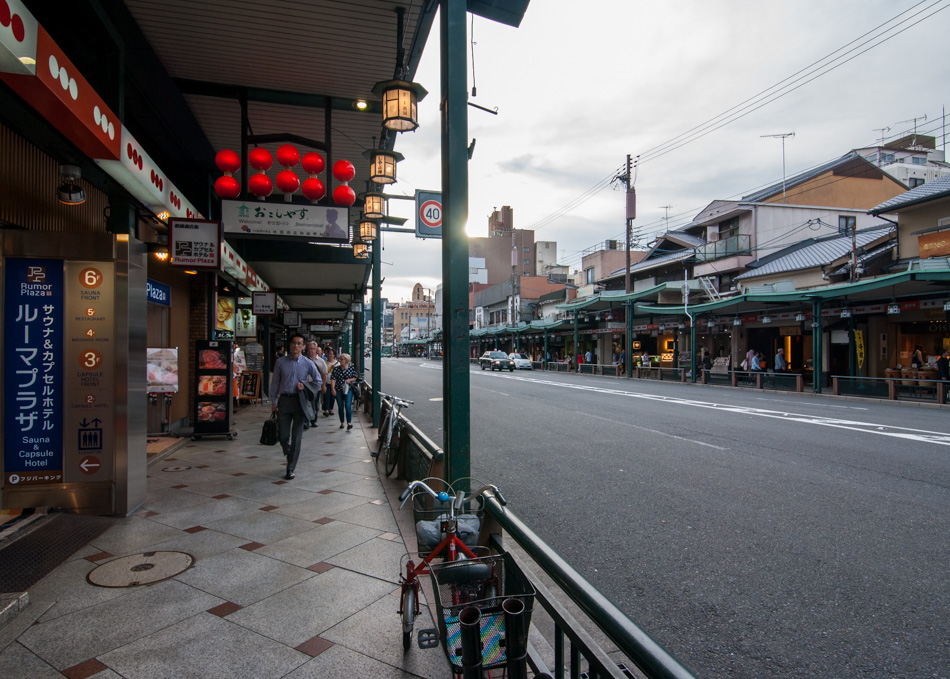 For a very Japanese experience, stop by Tsujiri Tea House, one of the most famous green tea shops in the city, and get one of their specialty sundaes. Kyoto is known for its matcha desserts and this place does them right, piling matcha whipped cream, matcha ice cream, matcha and hojicha jelly, chestnuts, azuki bean paste and vanilla ice cream… definitely not your usual dessert but incredibly tasty!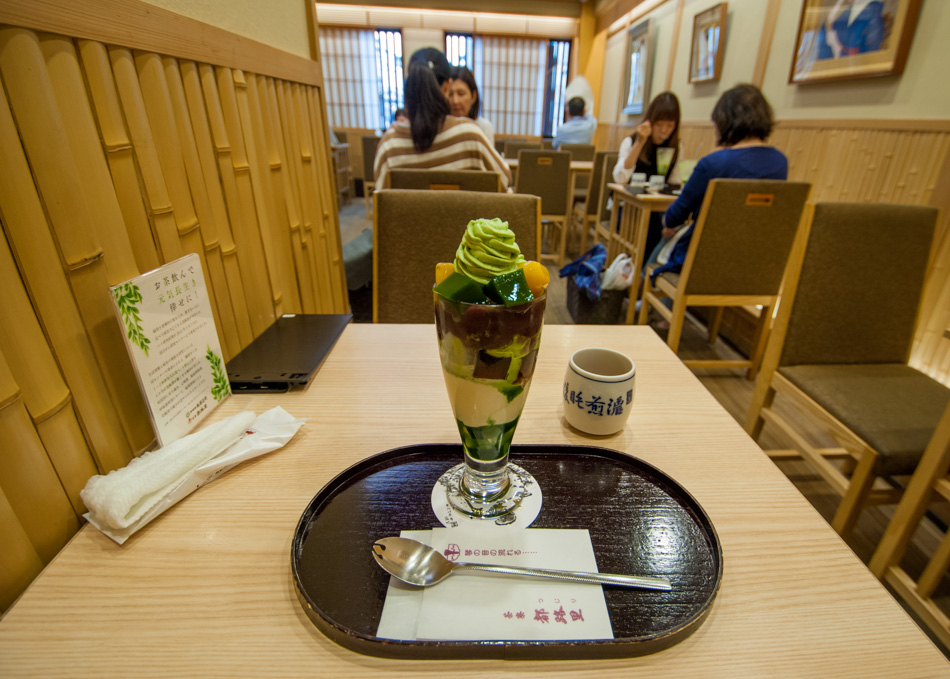 You'll find at the east end of the street a few blocks away the popular Ijuzu Sushi, one of the oldest traditional Kyoto sushi restaurant.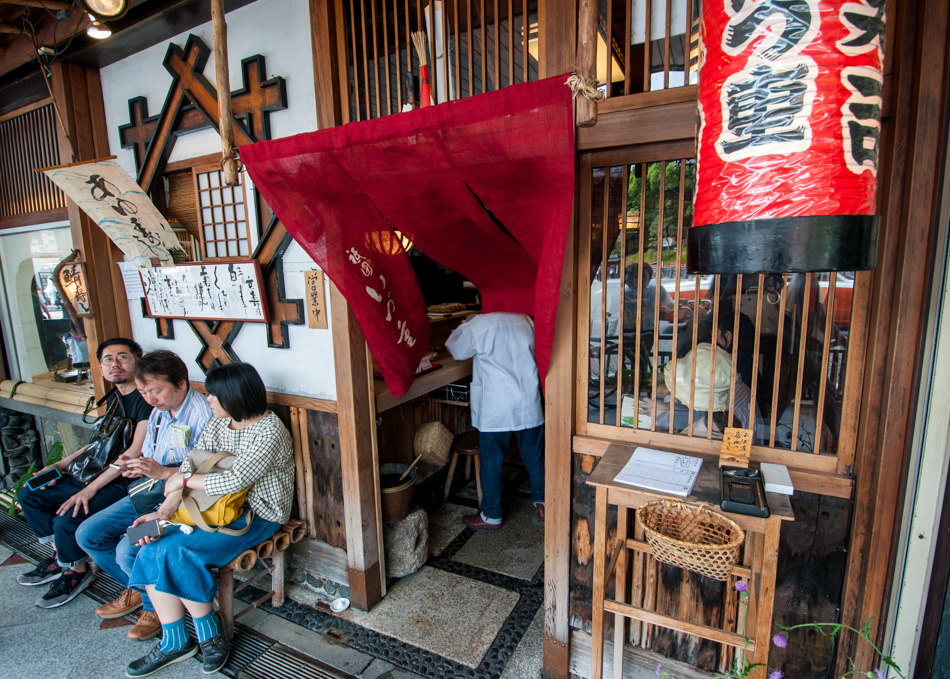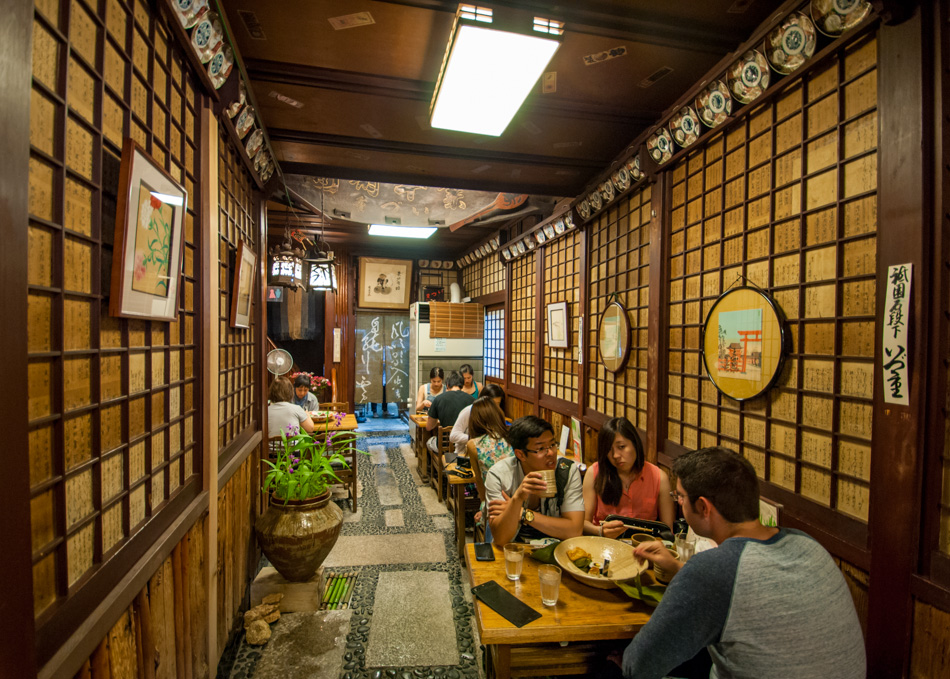 As Kyoto is a land-locked city, it is difficult to get fresh fish and therefore the city has developed a special kind of sushi where the fish (often mackerel) is slightly pickled in salt and sushi vinegar. My sampler, presented in a square shape, was a definite novelty and a very unique way to eat sushi, loved it!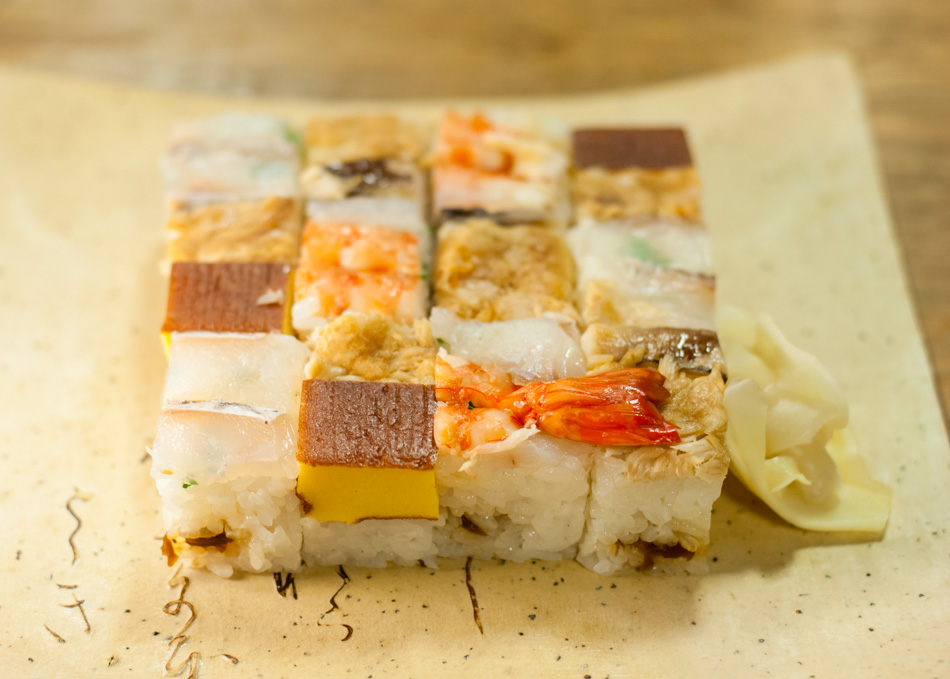 Directly across the street from Ijuzu Sushi stands the entrance to the Yasaka Shrine and Maruyama Park.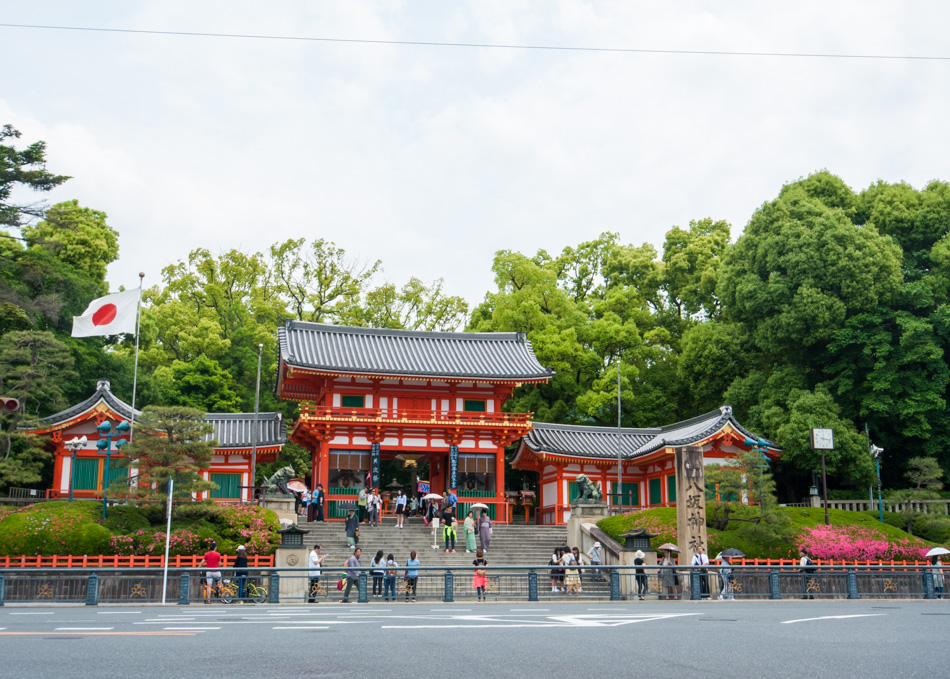 The shrine is mostly famous for the giant Gion Matsuri festival which takes place here every July and the Honden (spirit hall, pictured below) where worshippers wake up the god with a rattle of the bells at the front of the building, then pray before the altar.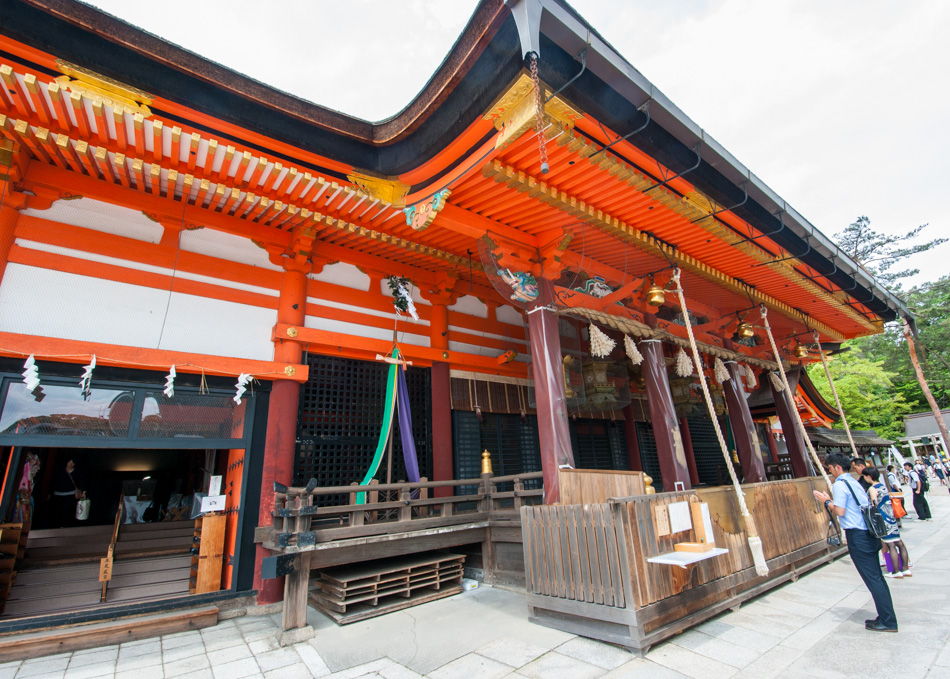 Next to the shrine grounds is Maruyama Park, Kyoto's most popular spot for viewing cherry blossoms in the spring and a nice place for a stroll any other time of year. You'll see ponds, gardens, water fountains and a few other temples and shrines as you make your way north.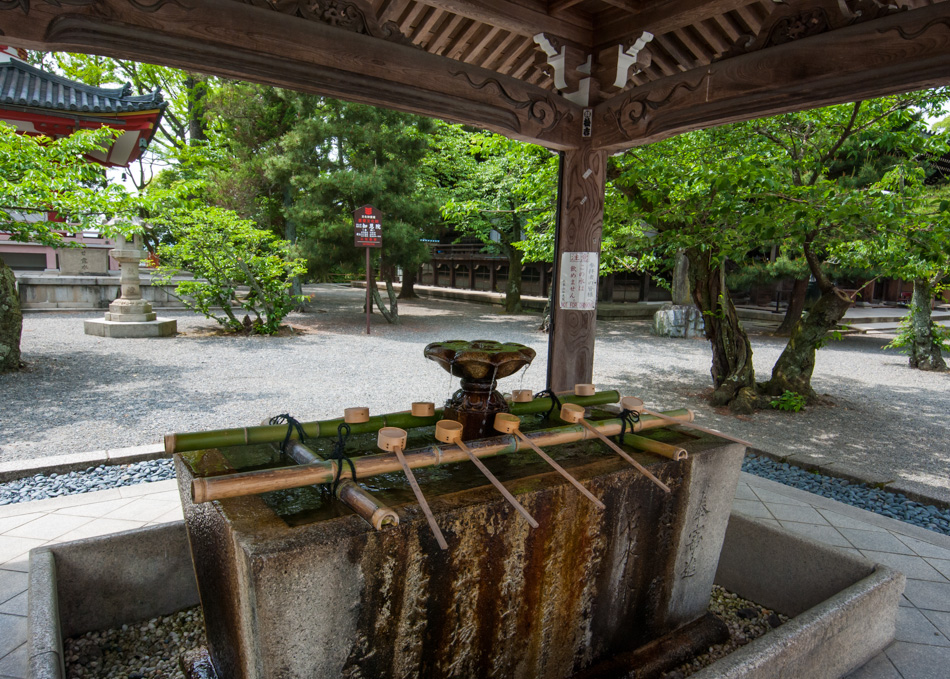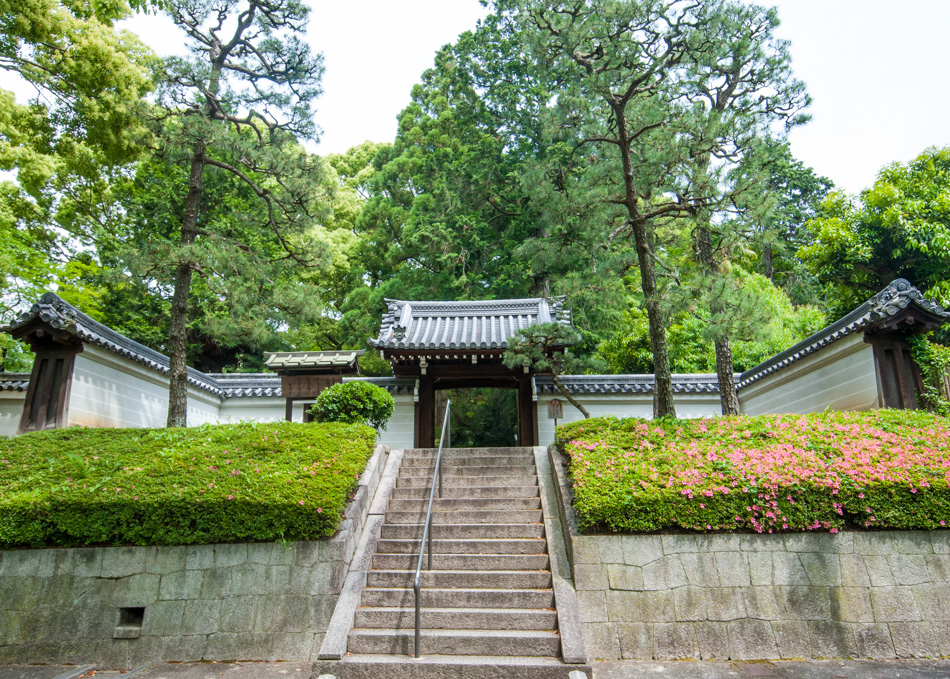 Once out of the park, continue walking north on Jingu-michi street, passing the National Museum of Modern Art and the Municipal Museum of Art (in front of which I saw these adorable barricades around a construction site…gotta love the Japanese use of mascots and cartoons everywhere!)…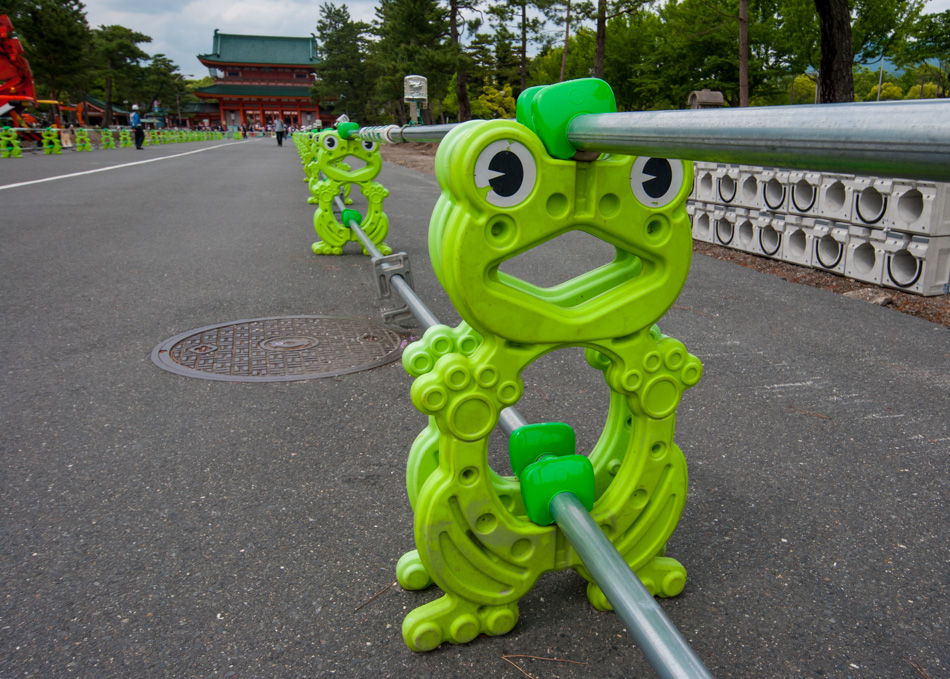 …and you'll arrive right in front of Heian Shrine. Although fairly young at just over 100 years old, it was built on the 1100th anniversary of the foundation of the city (Heian was the former name of Kyoto) and the orange, green, and white buildings are intended to be replicas of the old Kyoto Imperial Palace (destroyed in 1227), at two-thirds the original size.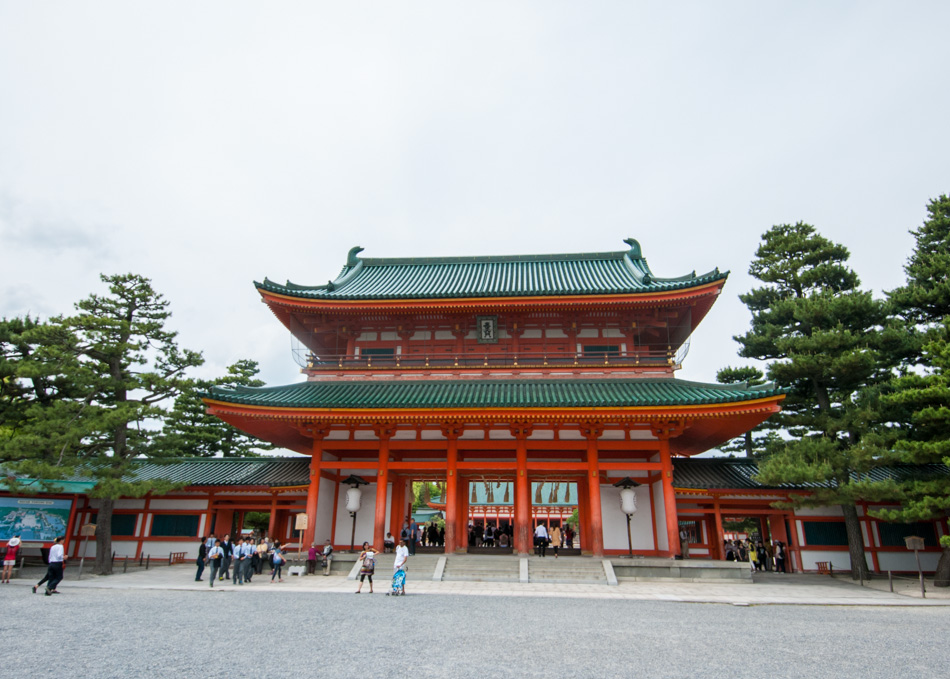 Heian shrine is also famous for its four gardens which can be accessed via the large inner courtyard.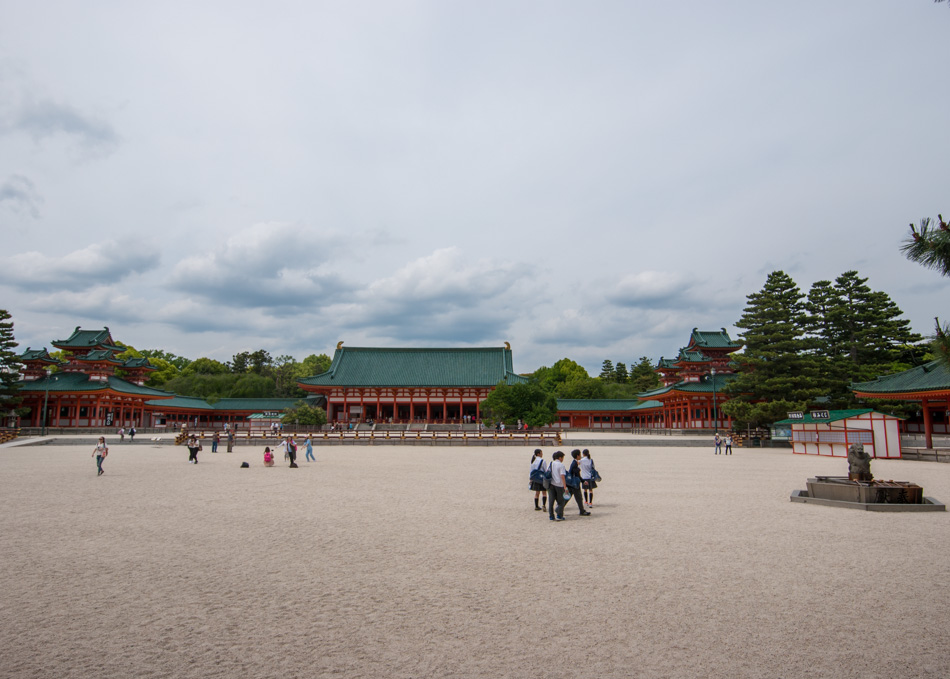 Heading back east towards the hills, a 15 minutes walk will bring you to Nanzen-ji temple, one of the most important Zen temples in all of Japan.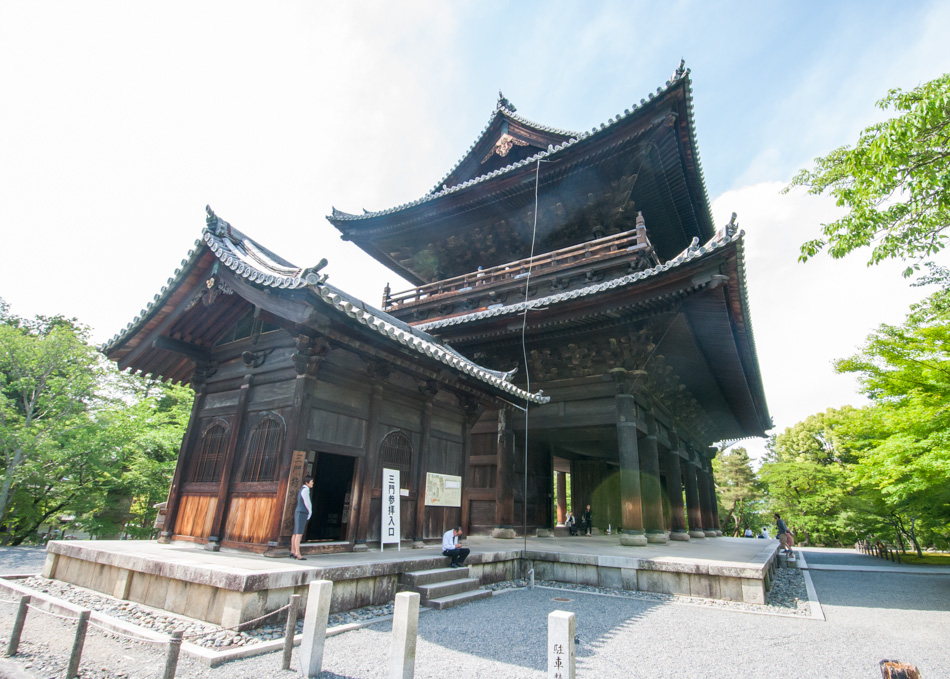 The massive Sanmon entrance gate is standing tall at 22 meters and its balcony offers great views over the city.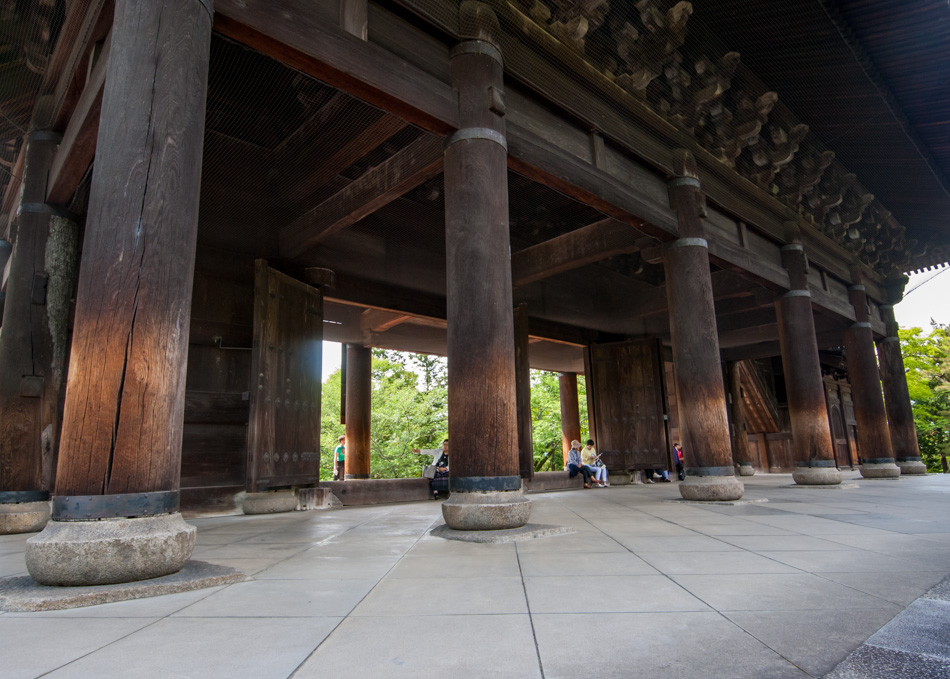 Besides the usual temples on the grounds, there's a large brick aqueduct that passes through, part of a canal system that was constructed to carry water and goods between Kyoto and Lake Biwa.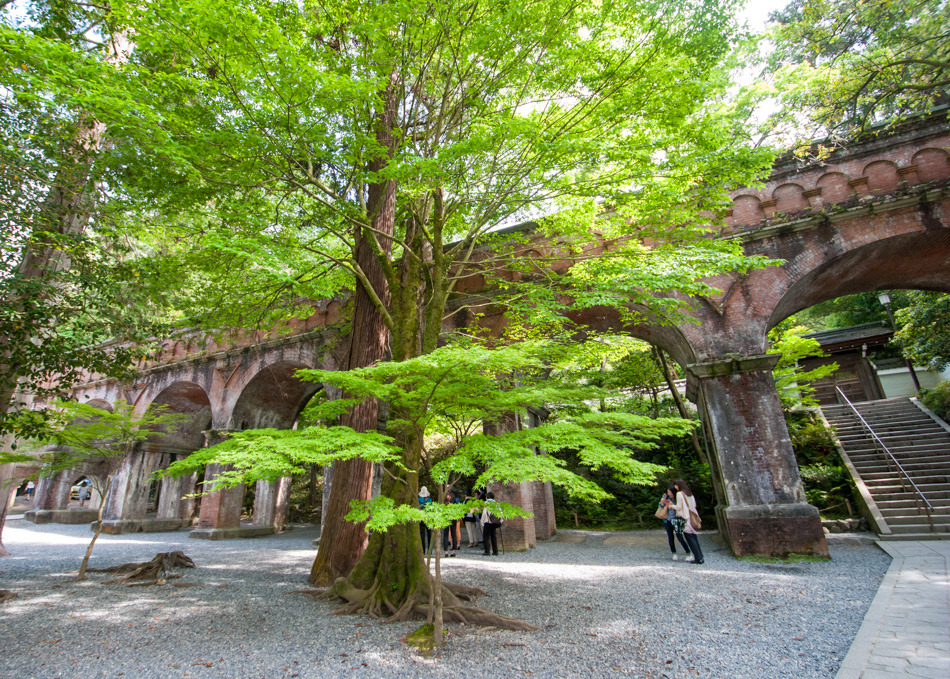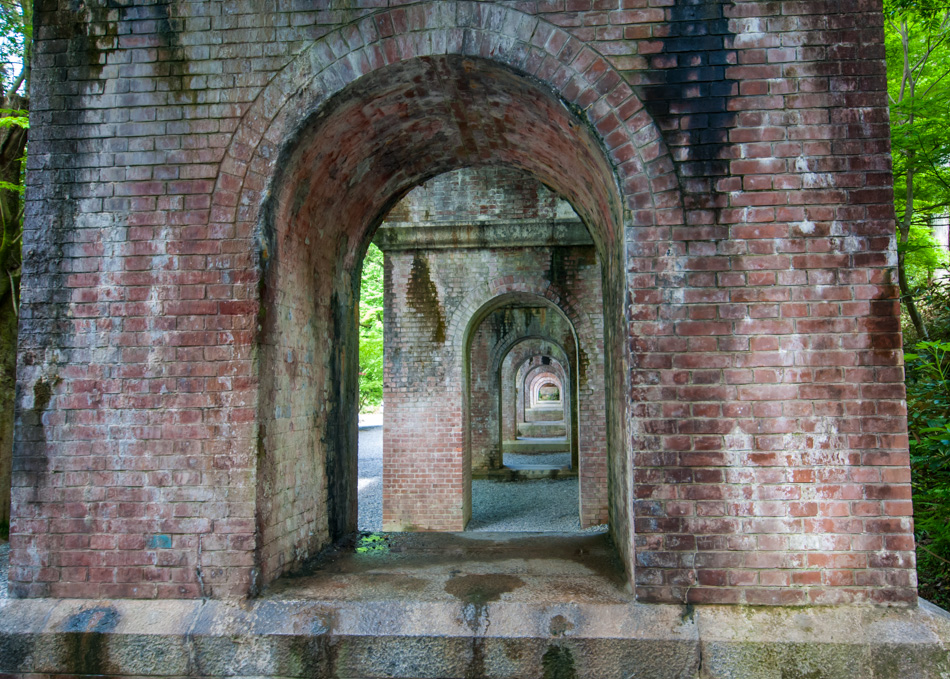 Climb up the stairs behind the aqueduct to see Nanzenin Temple which is open to visitors and feature an attractive garden and pond.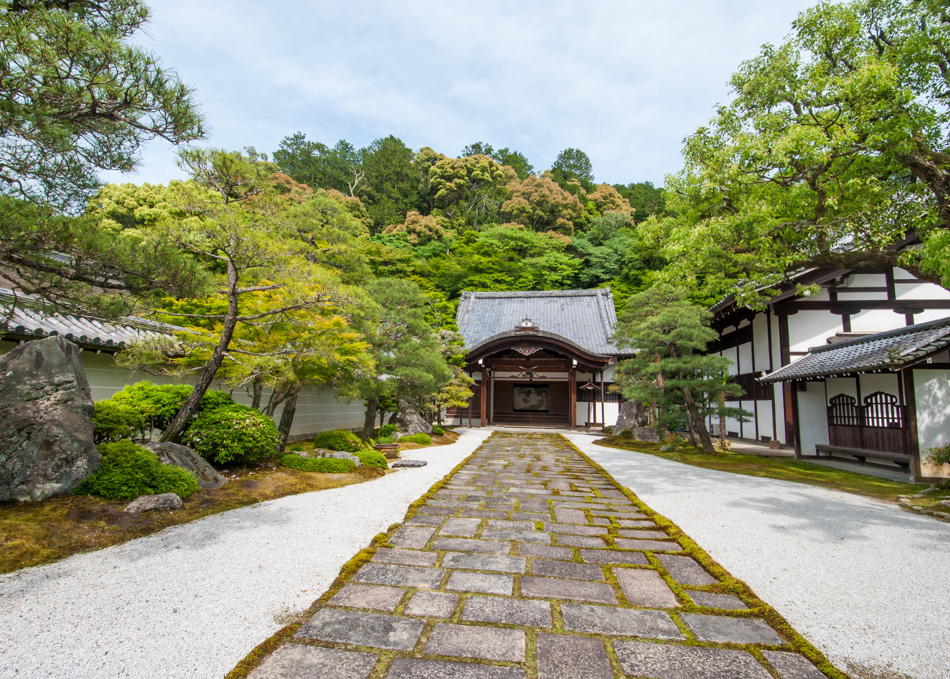 A few more minutes walk and you'll find yourself in one of Kyoto's most quaint setting – The Philosopher's Walk. A beautiful pedestrian path lined with cherry trees alongside a canal, it got its name from Nishida Kitaro, one of Japan's most famous philosophers, who was said to practice meditation while walking this route on his daily commute to Kyoto University.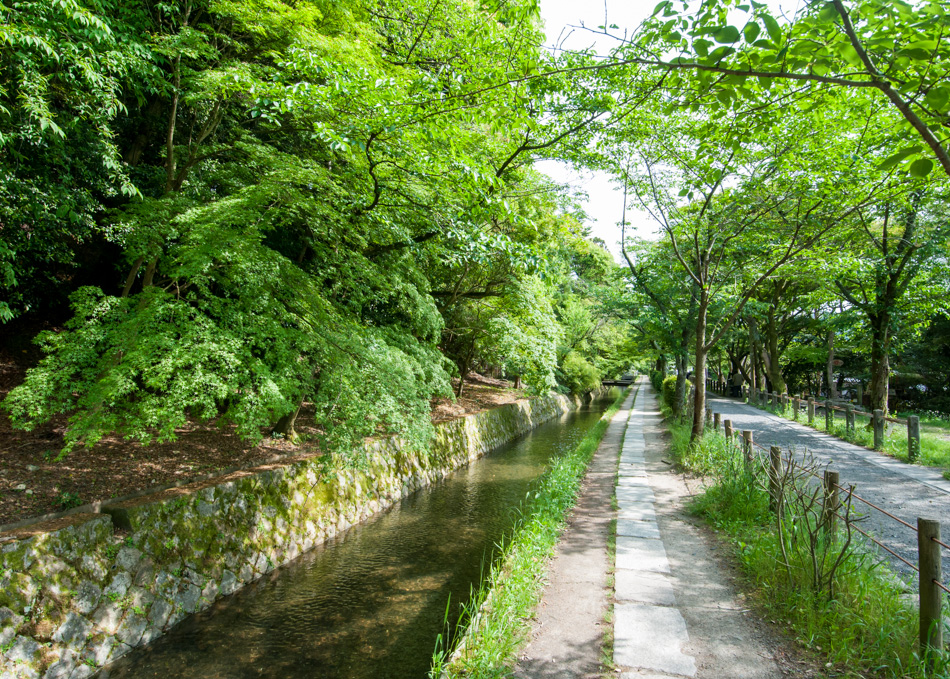 Do the same and walk the 2 kilometers pleasant stone path lined with cafes and boutiques for a restorative stroll.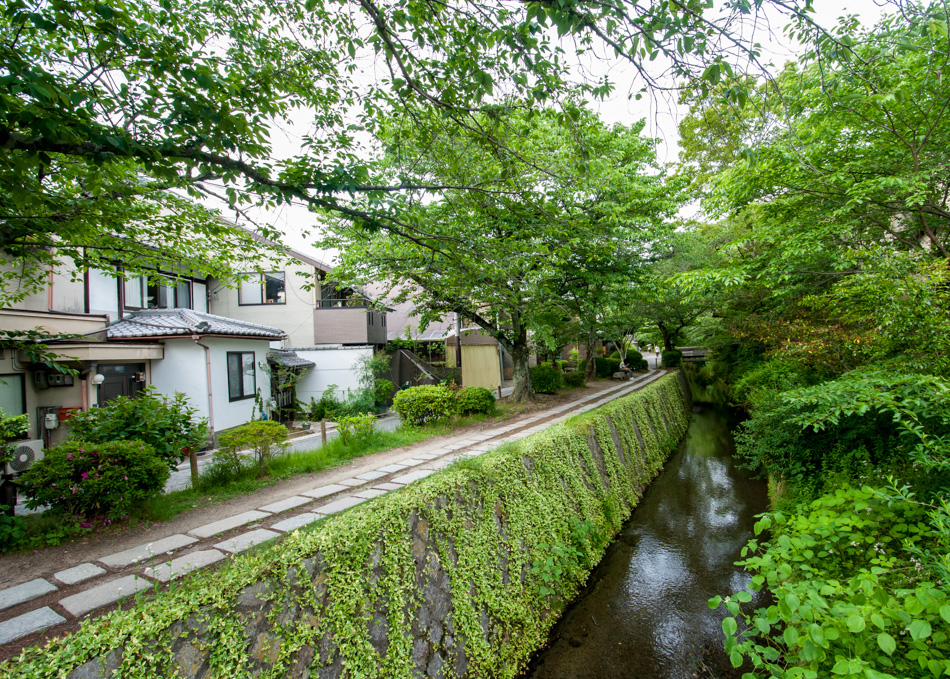 A number of smaller temples and shrines are just a short walk from the canal and worth exploring, letting you into picturesque residential neighborhoods and intimate settings. The impossibly cute Honen-in is partially hidden in the forest and feels like a magical discovery from the moment you pass through its moss-covered gate.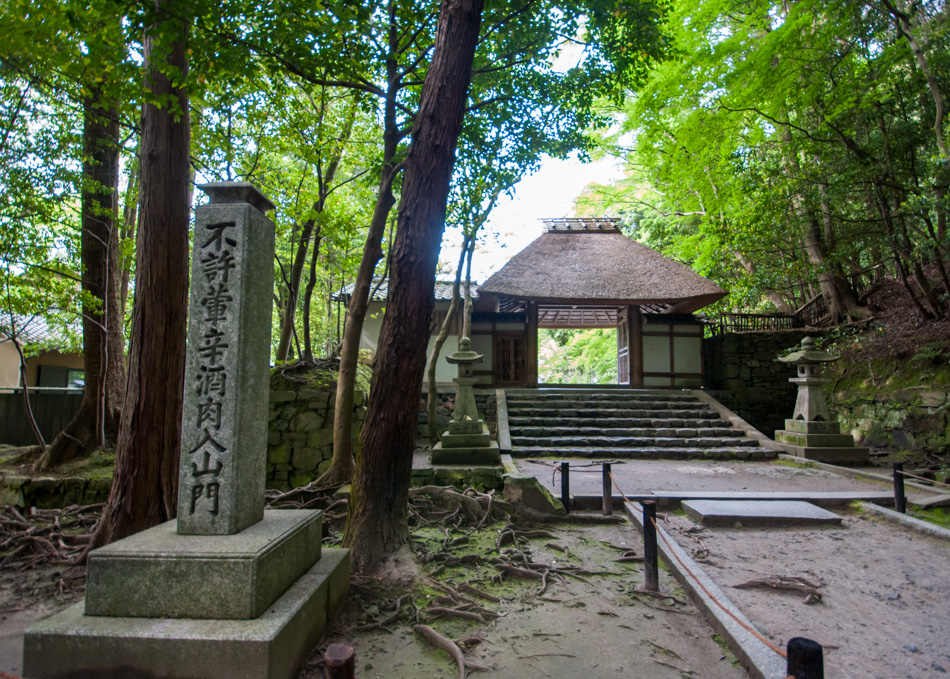 You'll pass between two sand mounds that are said to purify the visitor before entering the gardens which you can wander around for free. There are art exhibits in the small storehouse and a few sculptures on the grounds, lending creative flair to this enchanting secluded enclave.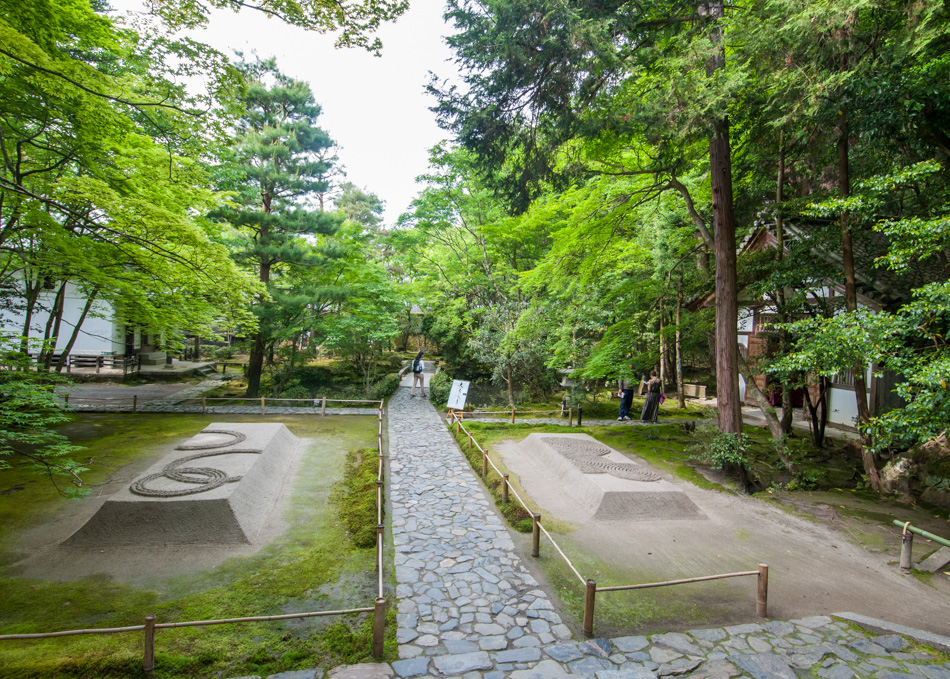 Come here for a bit of piece and quiet before moving on to more permanently crowded temples…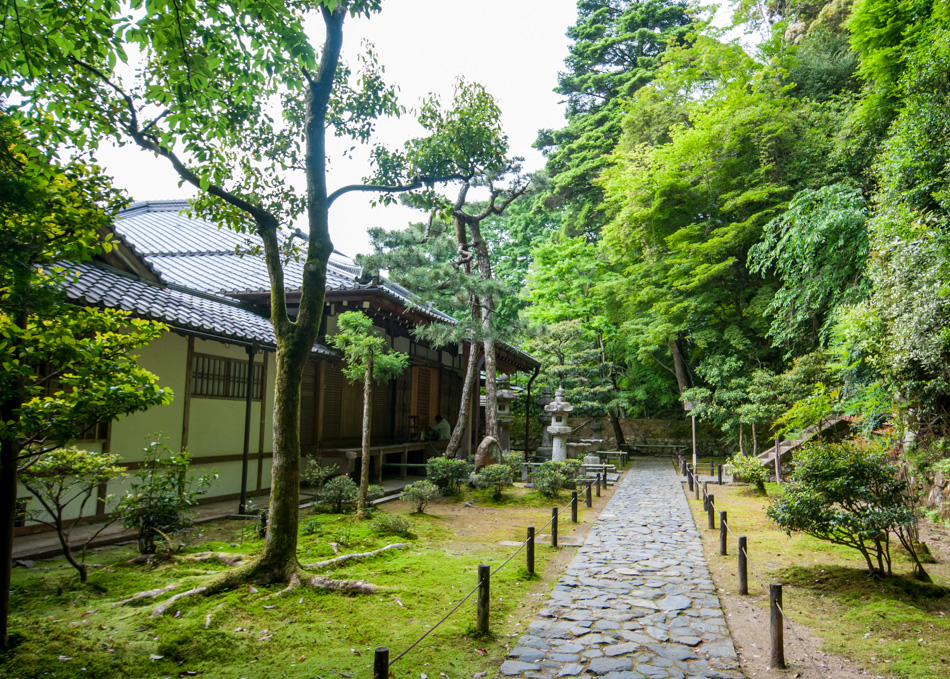 Speaking of which, the next one you should stop by is right at the end of the Philosopher's Walk – Ginkakuji (or silver pavilion).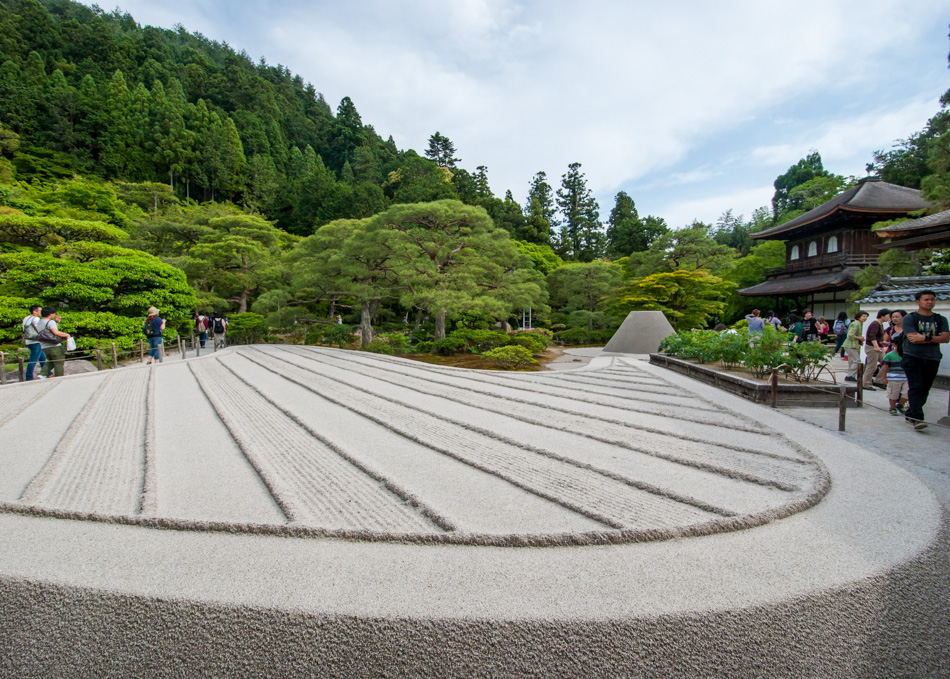 Although not a trace of silver can be found, the combination of the pretty raked sand garden, reflective pond, manicured trees…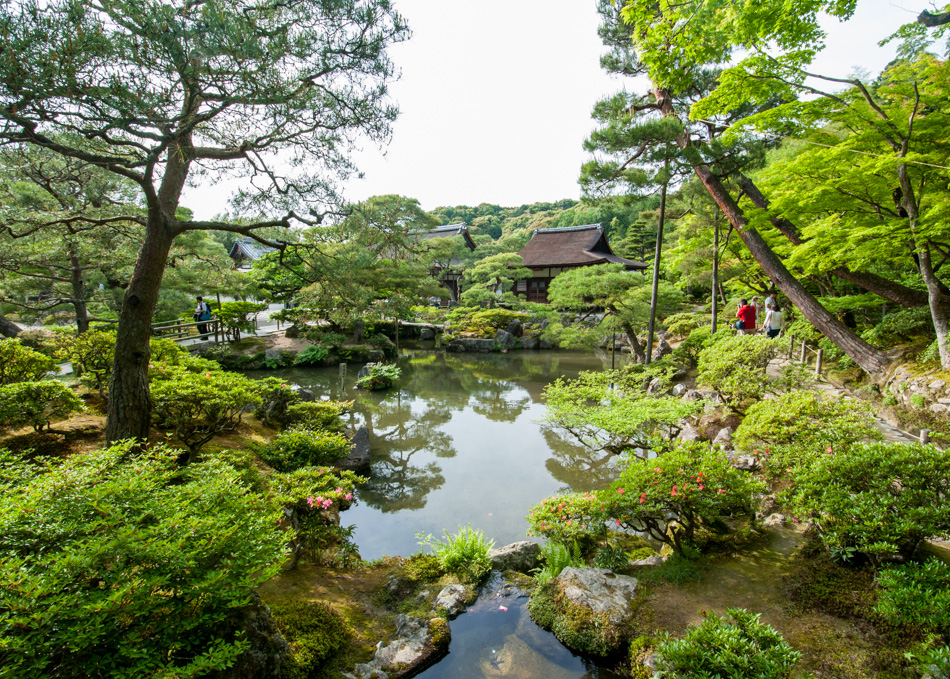 … and the view from the wooded hillside climb all make for a pretty spectacular setting.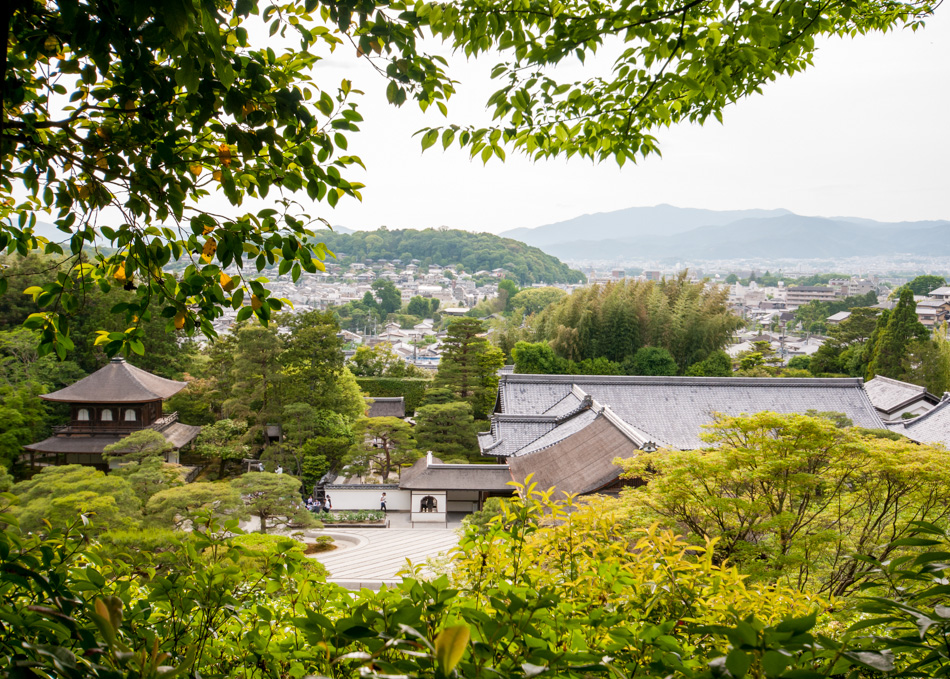 From there, you've reached pretty much the end of what can be walkable on the east side and as the day nears its end, should jump on a bus or in a cab to go back south to where more action awaits – the famous Gion district. Located right next to the Higashiyama district from earlier with the cute lanes and shops, Gion is almost as picturesque with well-preserved wooden buildings and narrow alleyways.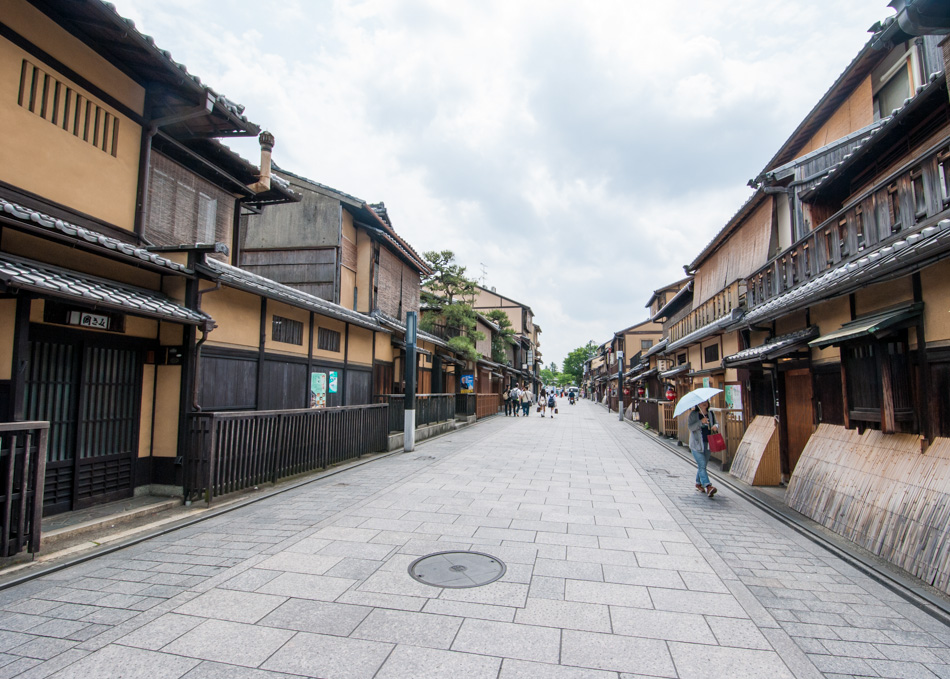 It's mostly known though for being geisha central and was made famous by Memoirs of a Geisha. It is by far the most famous geisha district in Japan and half the fun is wandering the area in the evening in the hopes of spying a geisha shuffling between teahouses in her platform zori sandals and stunning kimono.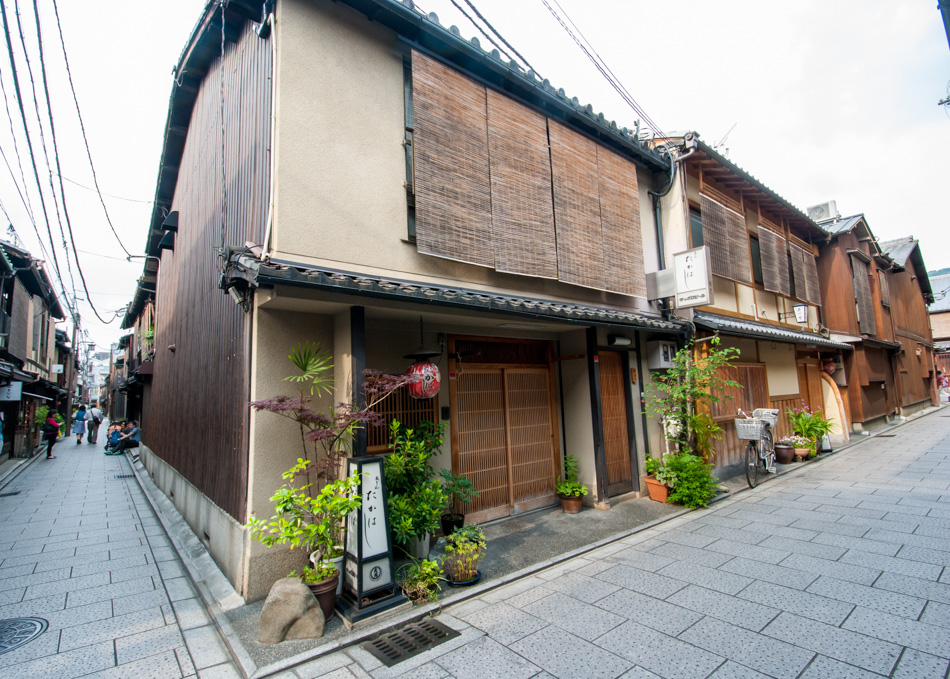 I barely had a glimpse of her white face on this street for the few seconds it took her to walk from the taxi to the door, not leaving me time to raise my camera sadly. It adds to the mystery surrounding them and a great way to uncover some of their secrets is to join an evening walking tour, highly enlightening.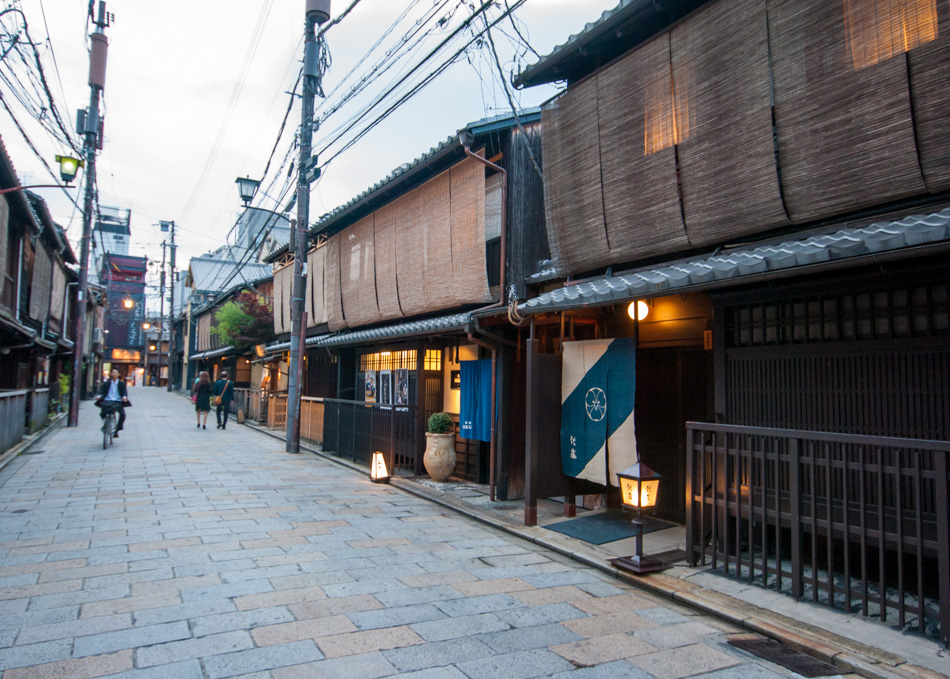 The Shirakawa area is a very scenic part of Gion which runs along the Shirakawa Canal parallel to Shijo Avenue.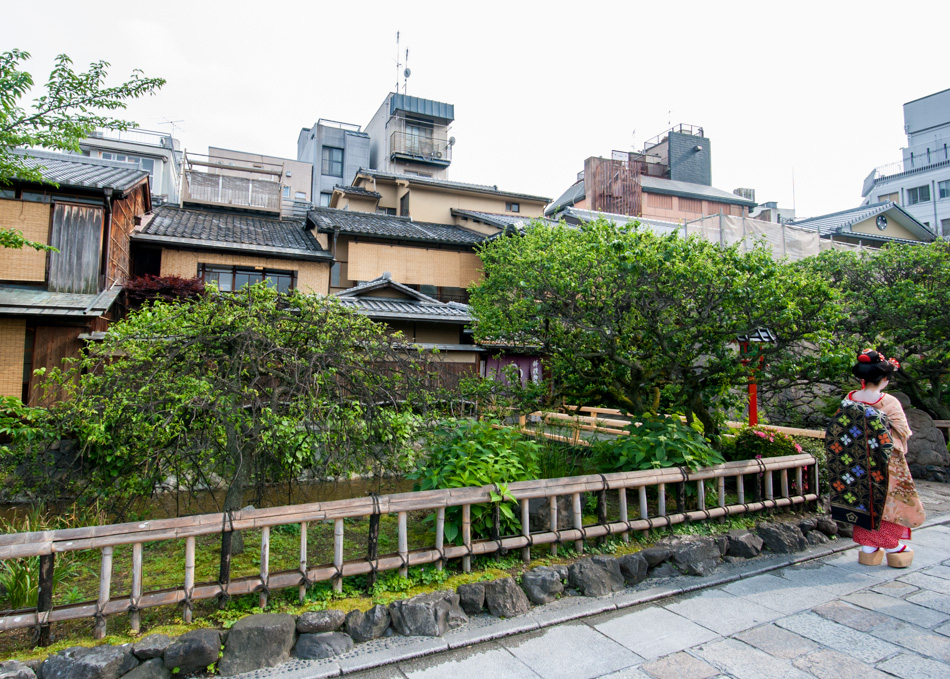 The canal is lined by willow trees, high end restaurants and ochaya (tea houses), many of which have rooms overlooking the canal. Since it's a little bit outside the main Gion district, it's usually a lot quieter here and you'll find again that 'movie set' quality with all the traditional merchant houses and geishas walking around.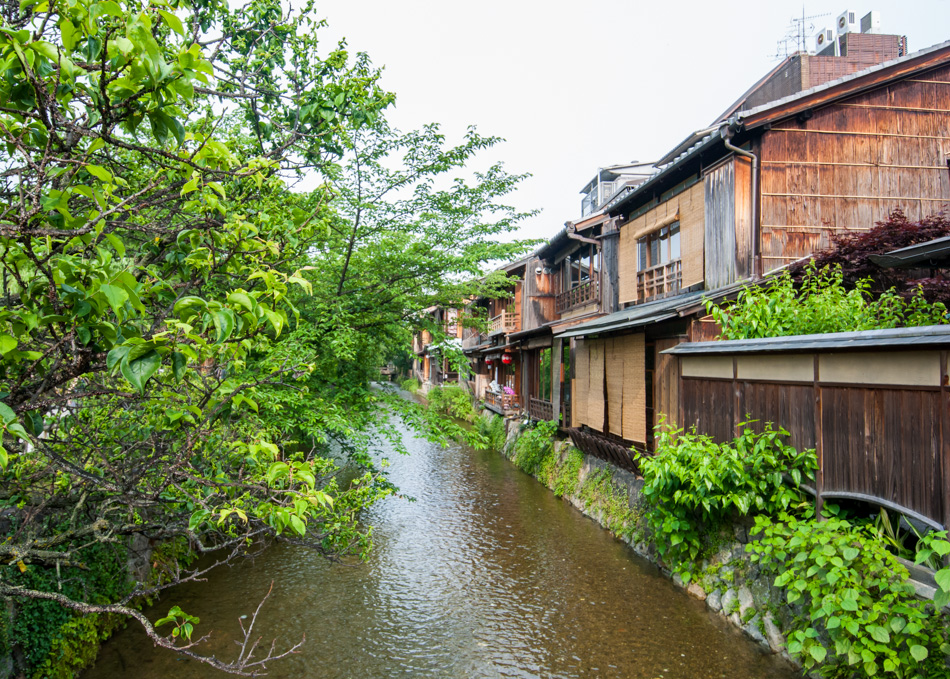 This time, the movie set feeling is real since you'll be passing by the bridge that was featured in the book as well as the movie Memoirs of a Geisha as the spot where the main character Chi-yo meets her benefactor – the Chairman – for the first time.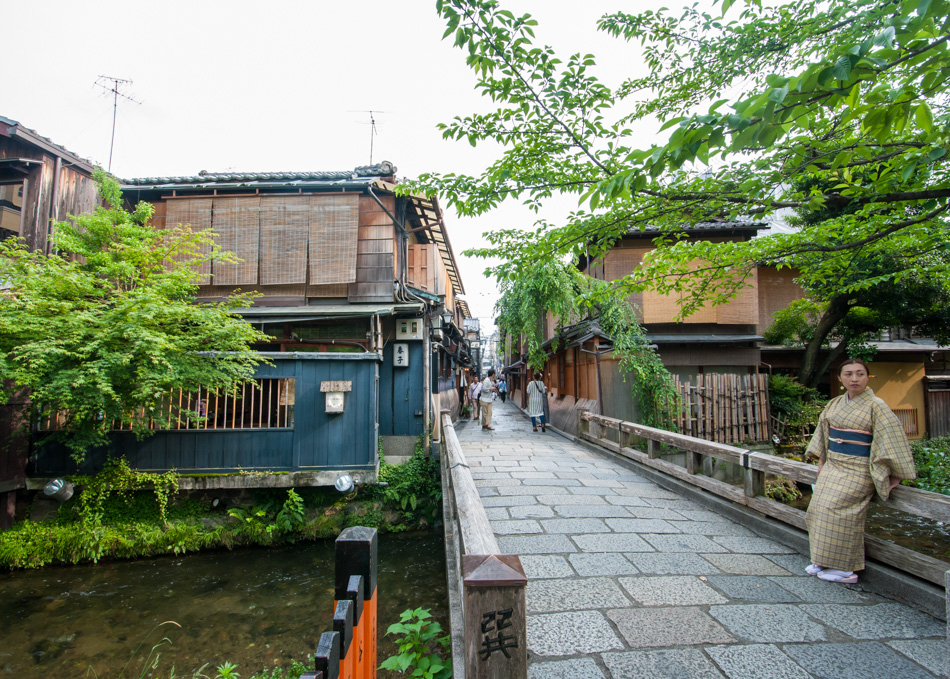 Unsurprisingly, every 'geisha for a day' needs a photo on that bridge so you're likely to see quite a few shoots if you stay for a little while…which you should as it's an incredibly beautiful spot.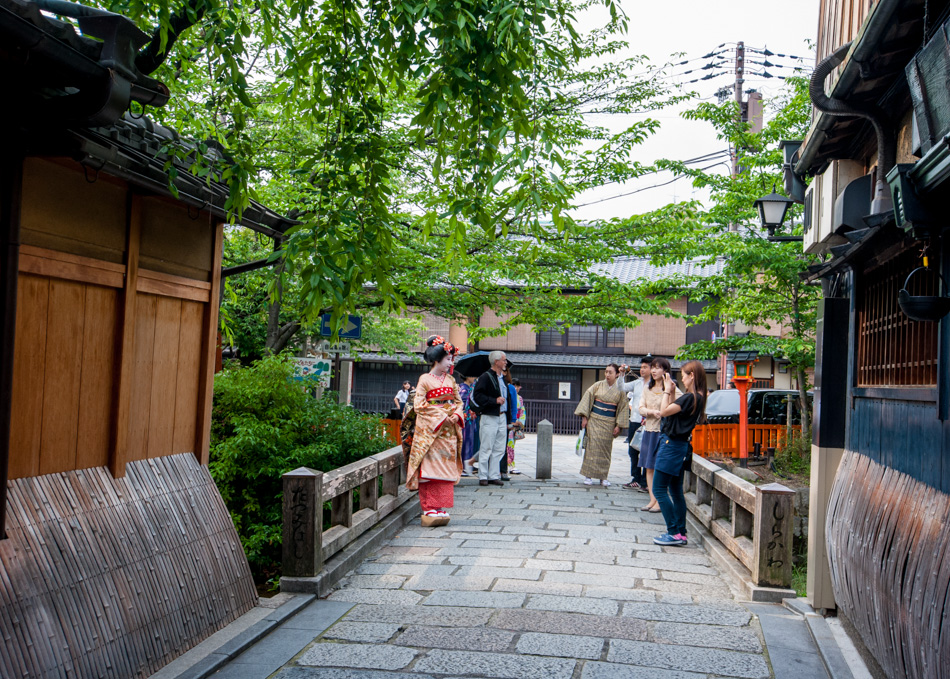 Sundown brings even more enchantment to the area…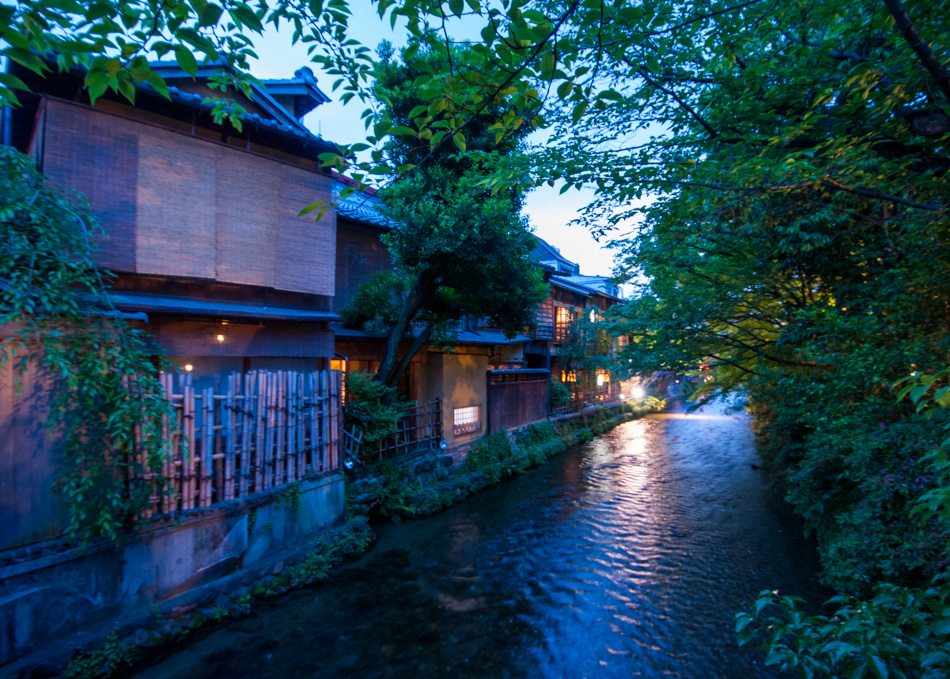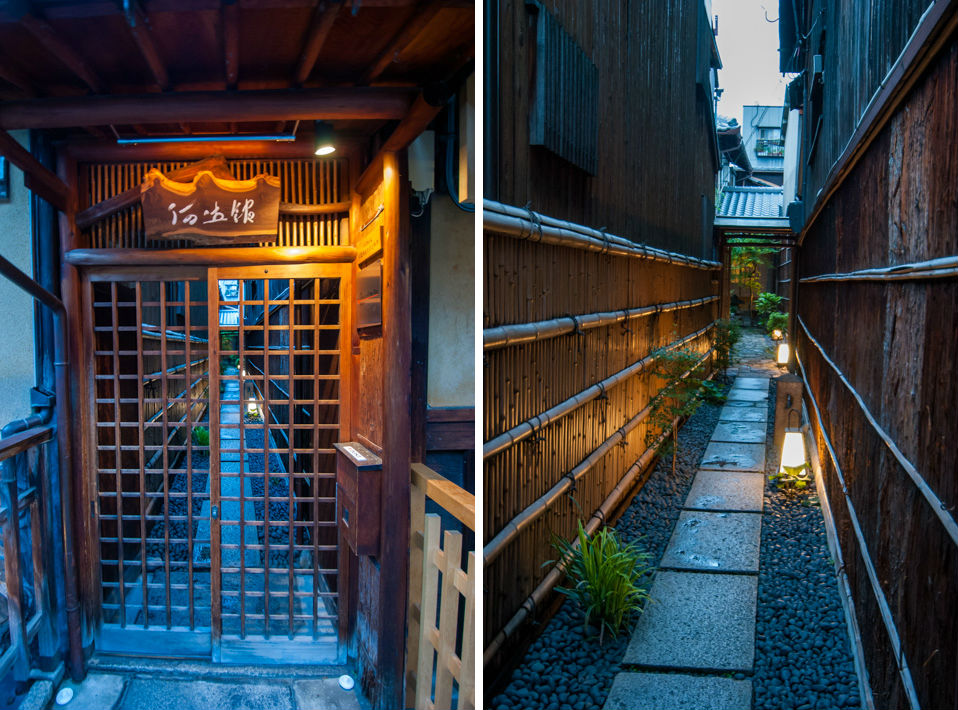 The main artery nearby, Shijo Avenue, is teeming with life at this hour (and traffic).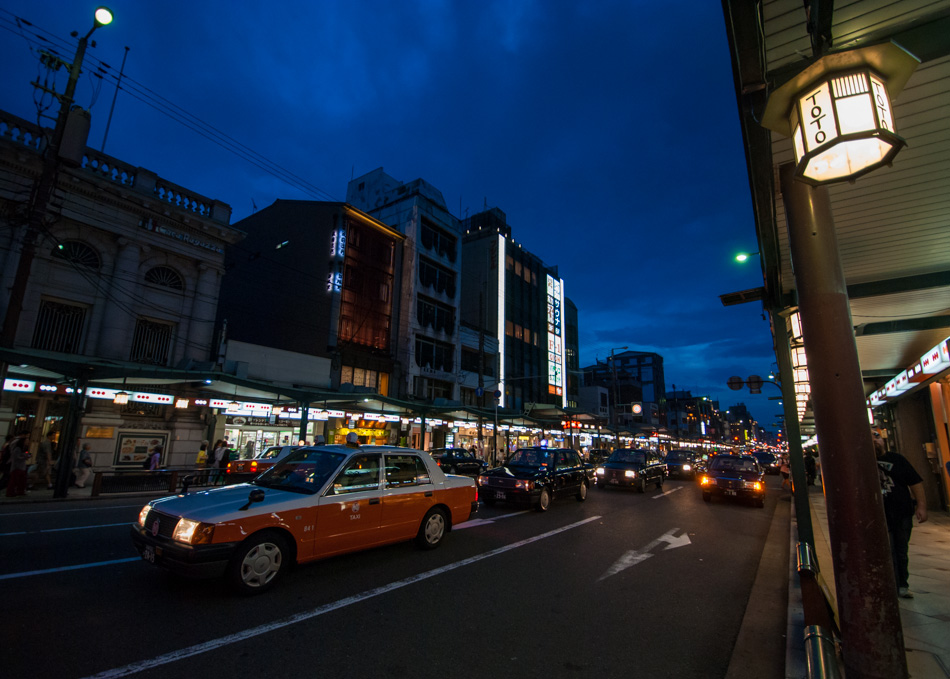 Evening is when the action really starts to happen around here as tourists and locals make their way to dinner and geishas scurry between houses.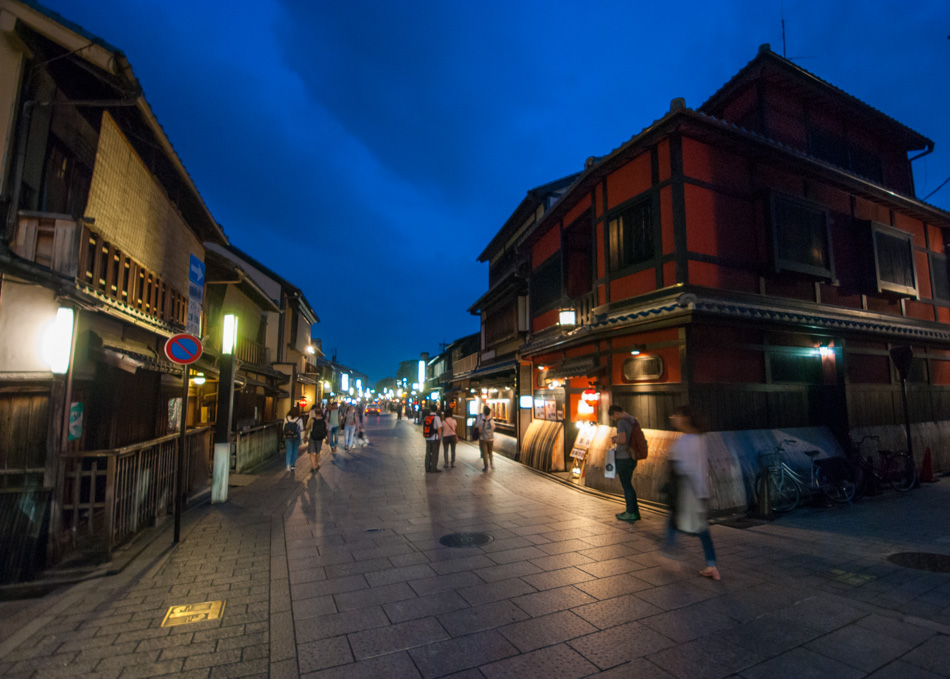 This is one of the most famous 'entertainment houses'… you would need some very high connections to get in, or an extremely big load of cash!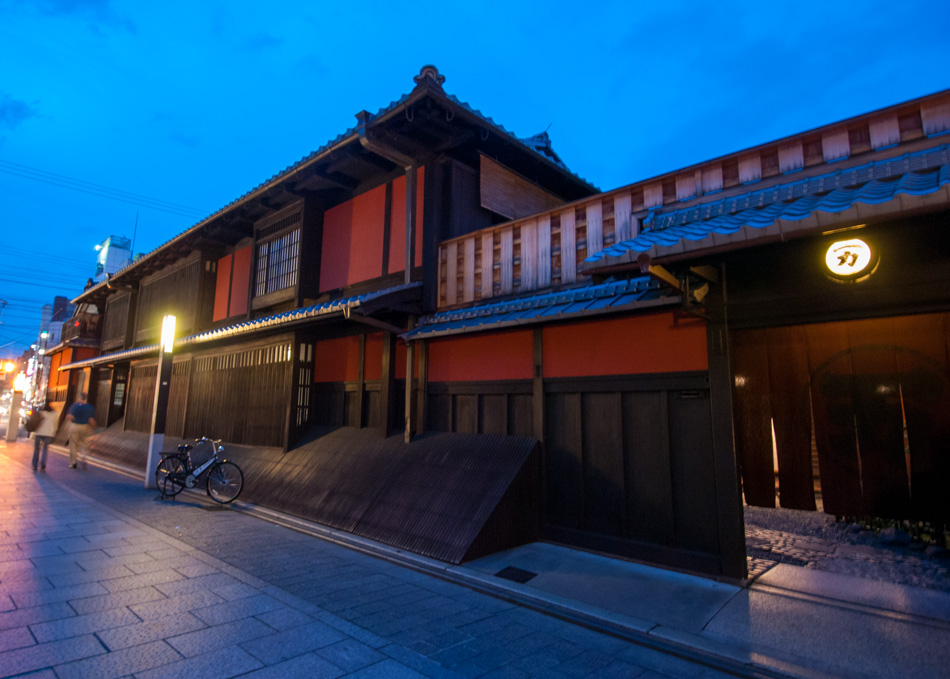 Outside of the main street, little alleys of Gion are hiding some of the best restaurants in the city and rooms where geishas and their apprentice are showing a good time to wealthy patrons. While you can't be in on all the secrets behind these doors, it's a pretty wonderful neighborhood to wander around at night, the very essence of Kyoto, and who knows what your eyes might see if you end up at the right place at the right time…?