Crisp fall mornings have always meant a return to baking for me (well, baking more than usual that is) and satisfying breakfast treats to accompany the big mugs of hot coffee my shivering body yearns for. Crumbly scones are a favorite so when I saw this very unusual variation with carrots and coconut, I knew it was the perfect entry into fall. These bright orange flecks peeking through hinting at the coming change of colors (or Halloween – both omnipresent these days!).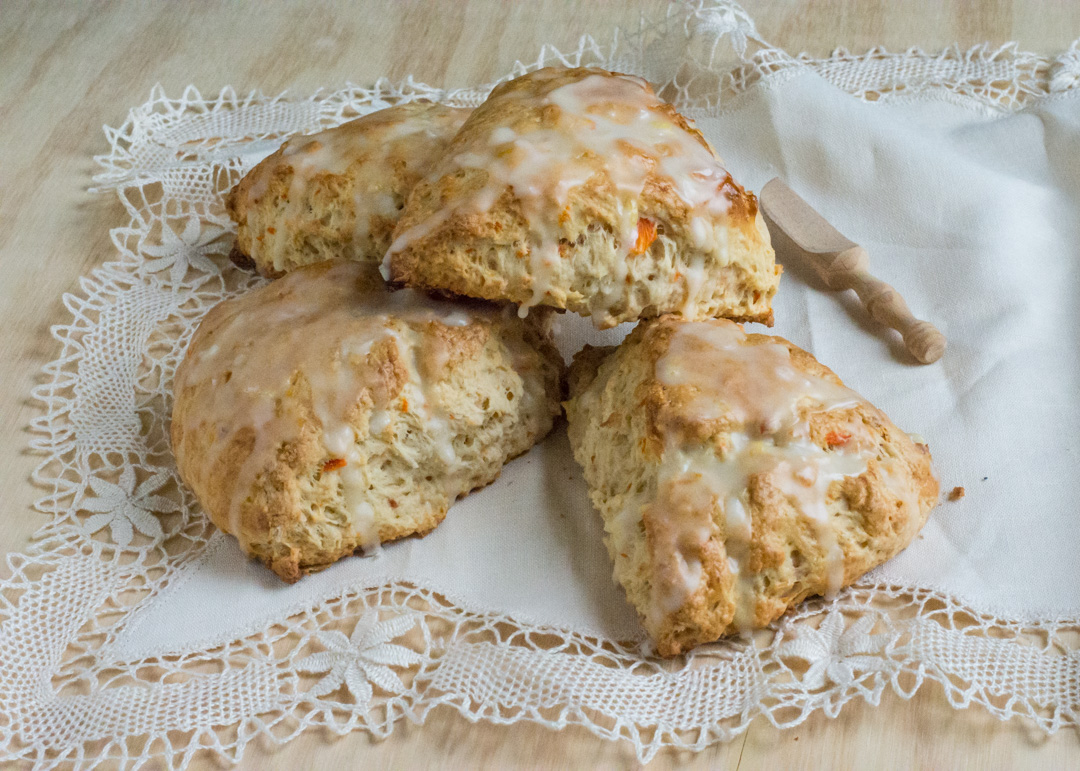 The recipe is similar to any other scones except for the addition of a carrot puree – a simple blend of carrot and orange juice.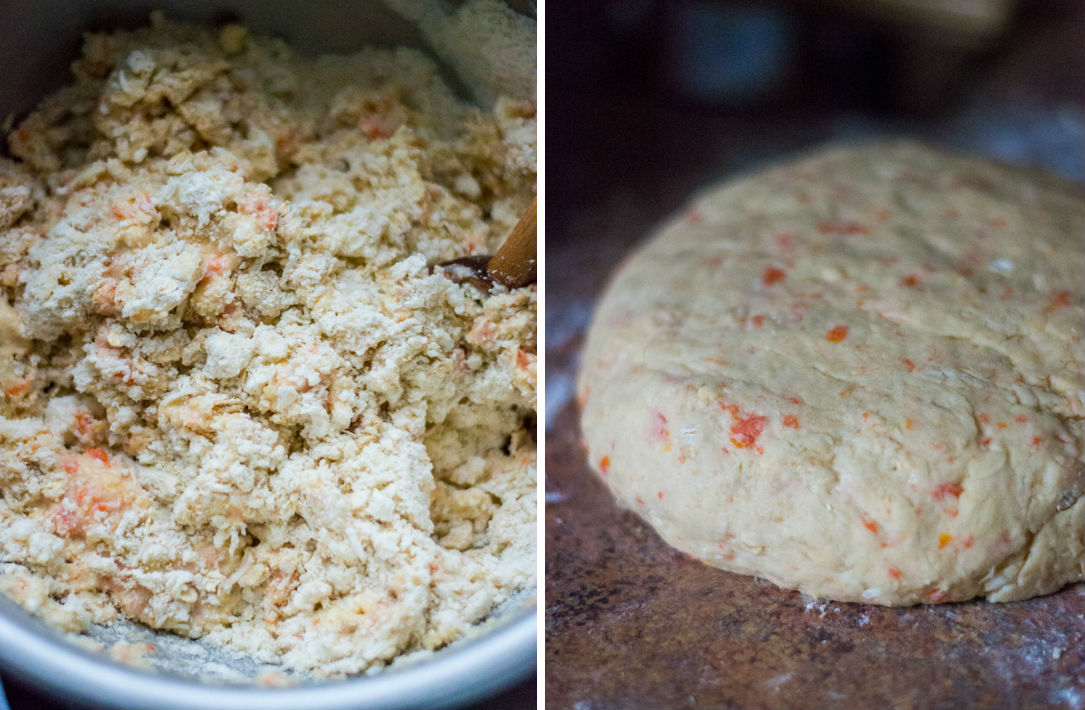 You'll end up with 6 generous portions, perfect for people like me who need a meal first thing in the morning! For the snackers out there, this can easily be split into 8 or even 10 small scones – just make sure you watch the baking time.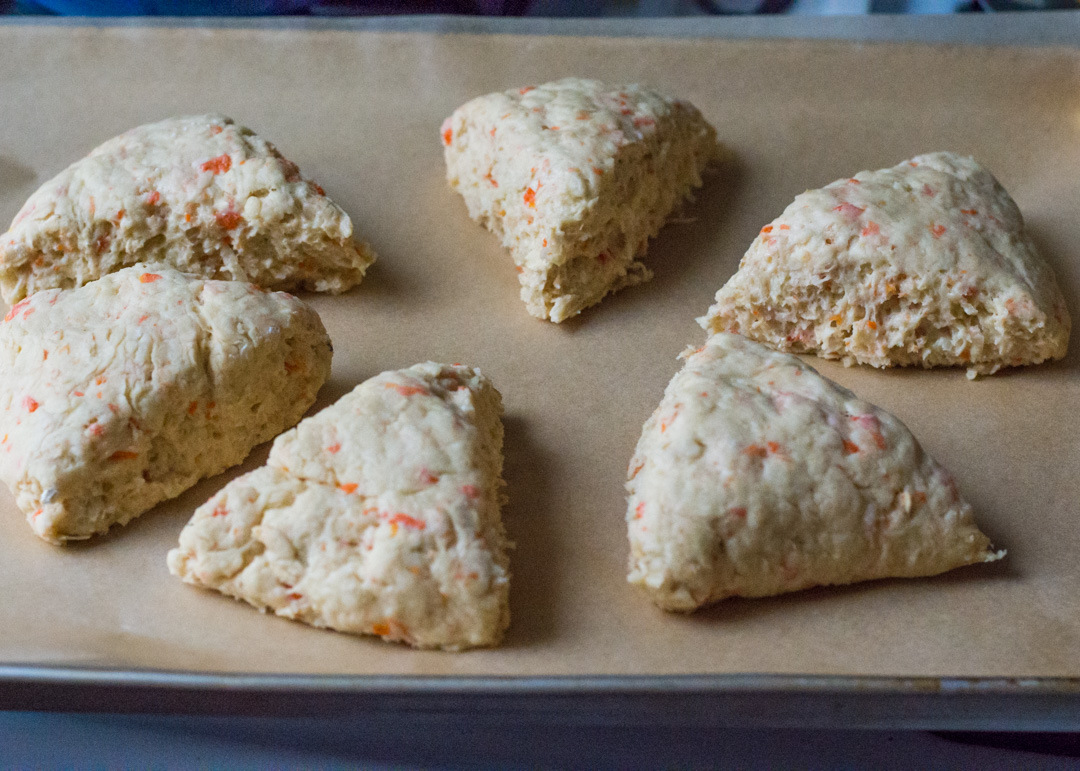 While these scones would be perfectly presentable on their own, the citrus glaze is the star of the show here and pulls everything together so don't omit it! It adds such an interesting sweet and tart element – these scones just wouldn't be the same without it.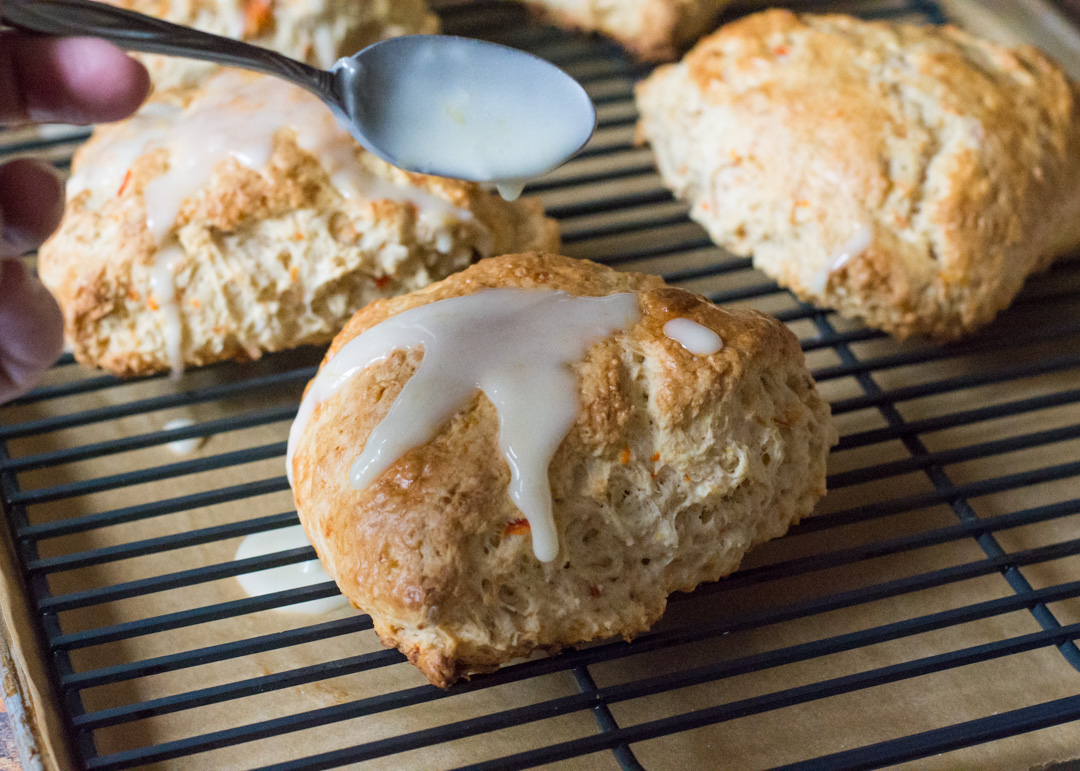 Big, moist and chewy, they are definitely more like a cake than your usual scone so a pleasant surprise for those always craving dessert for breakfast!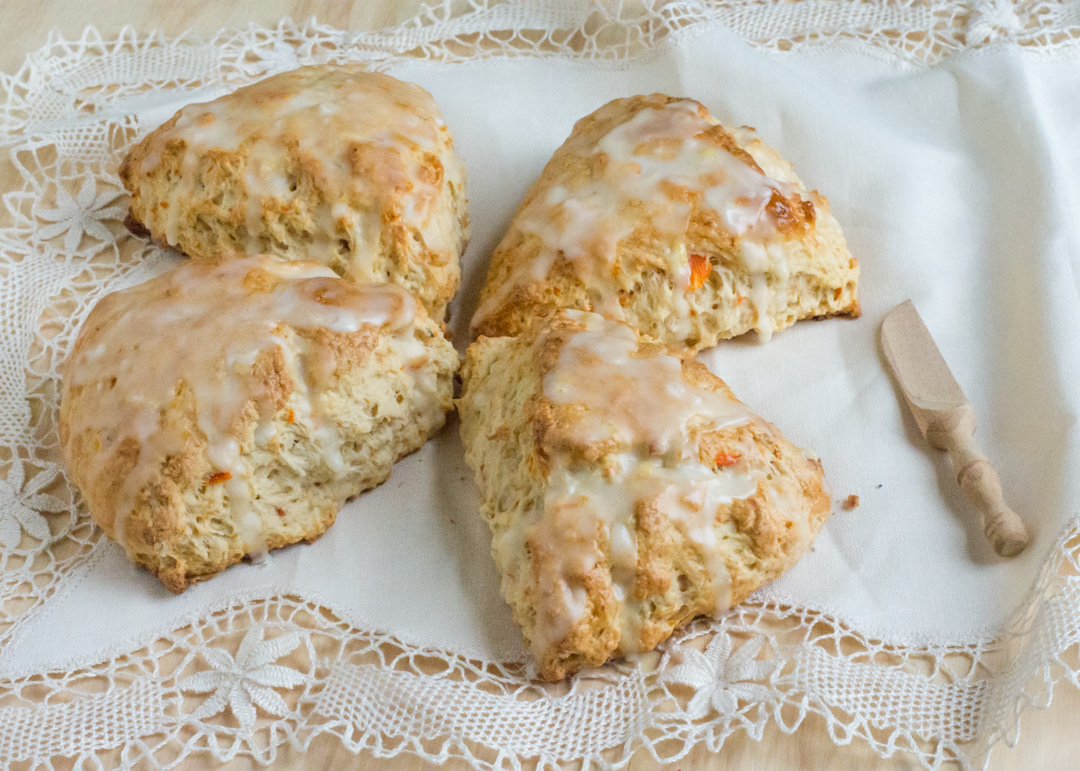 Between the shredded coconut, oats, and carrots, there's a lot of texture going on while still being light. Don't be fooled into thinking though that everything with carrots is 'healthy'… 😉 I'd carry these for a nice hike to see the fall foliage or road snack while going apple picking. Happy first day of fall!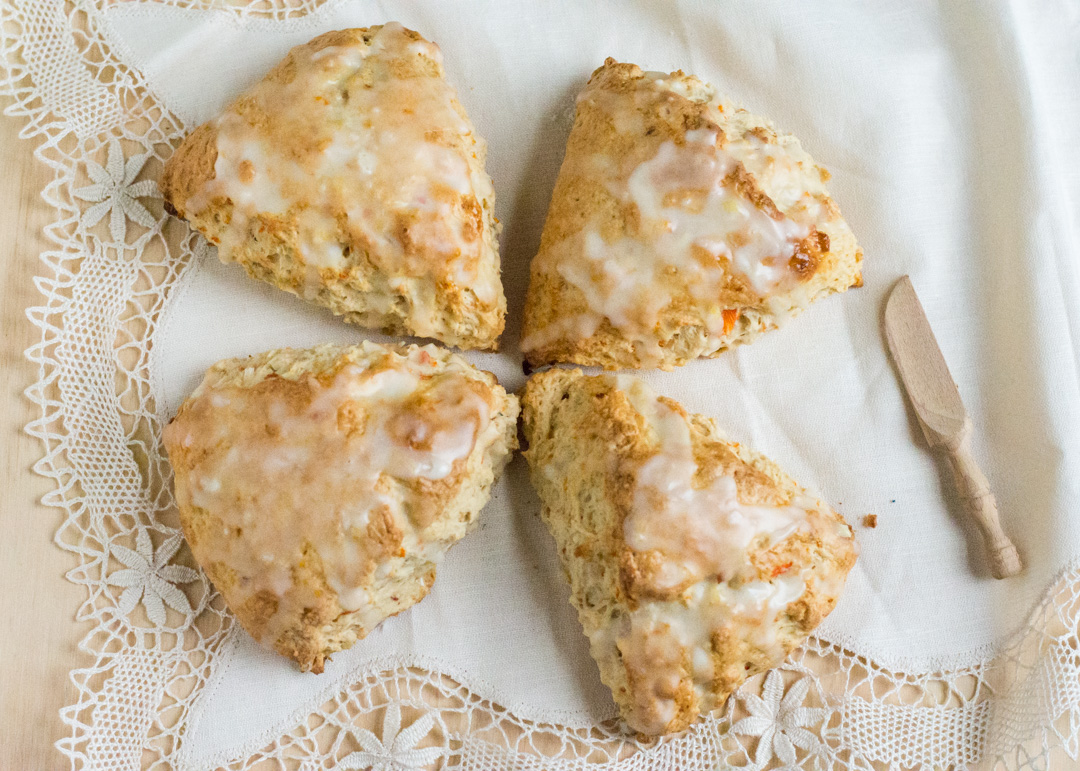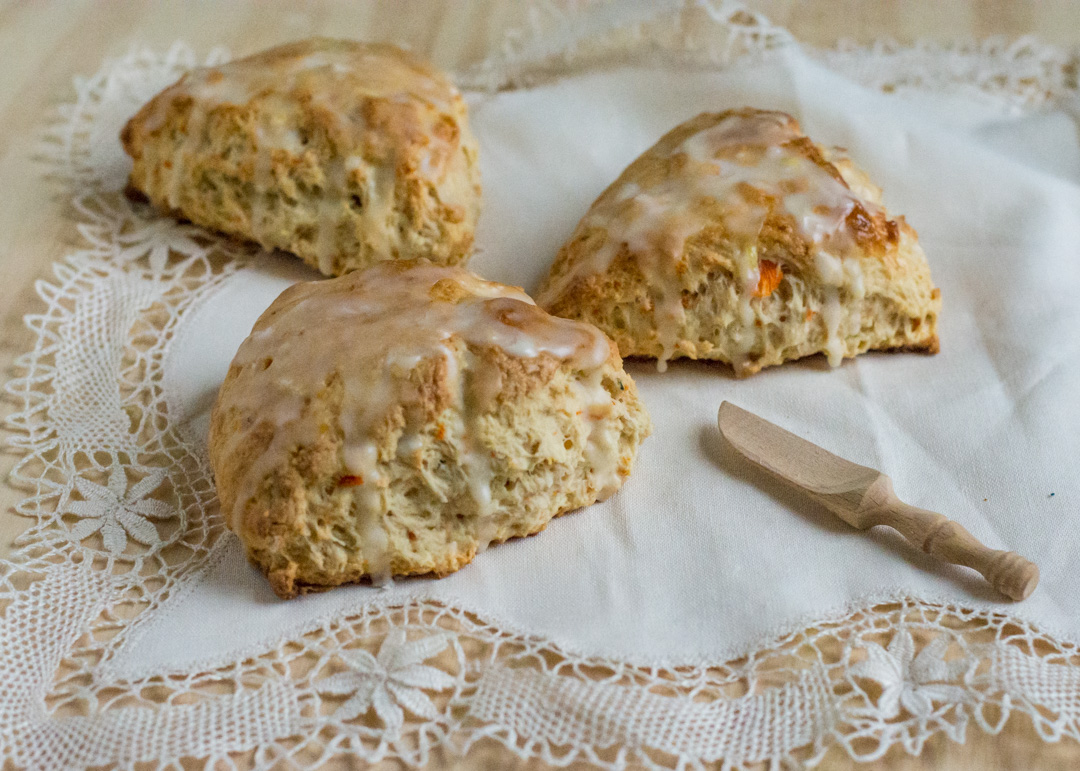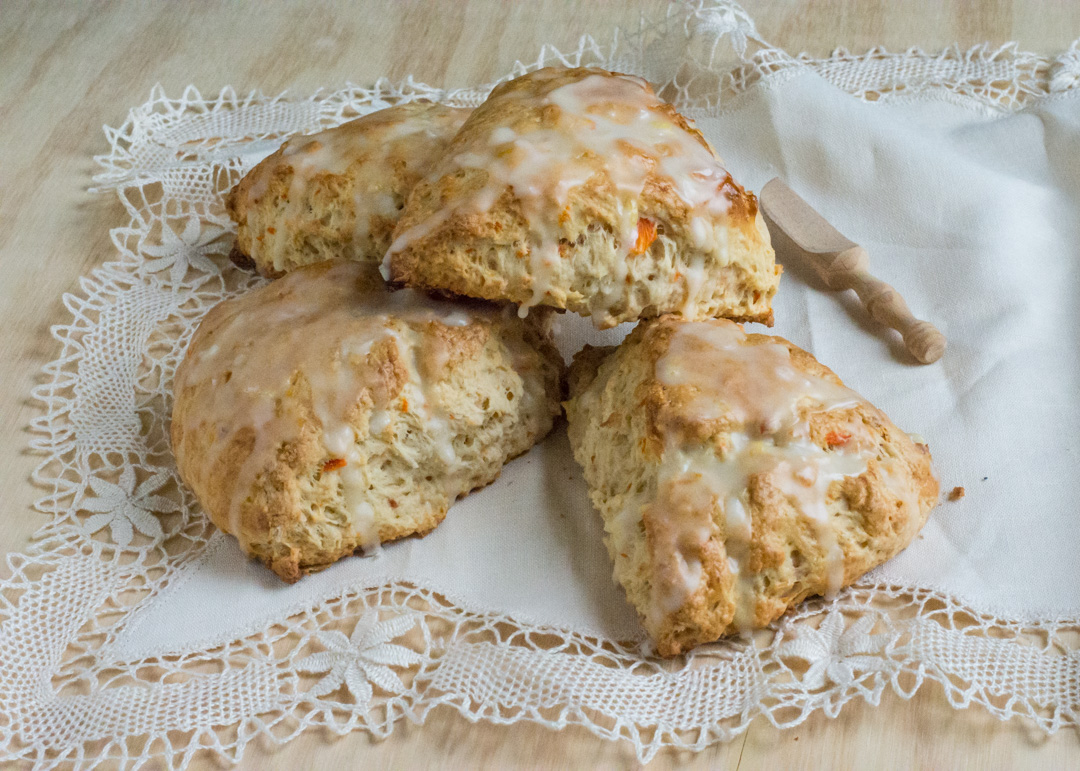 Carrot Coconut Scones with Citrus Glaze
2017-09-18 05:26:24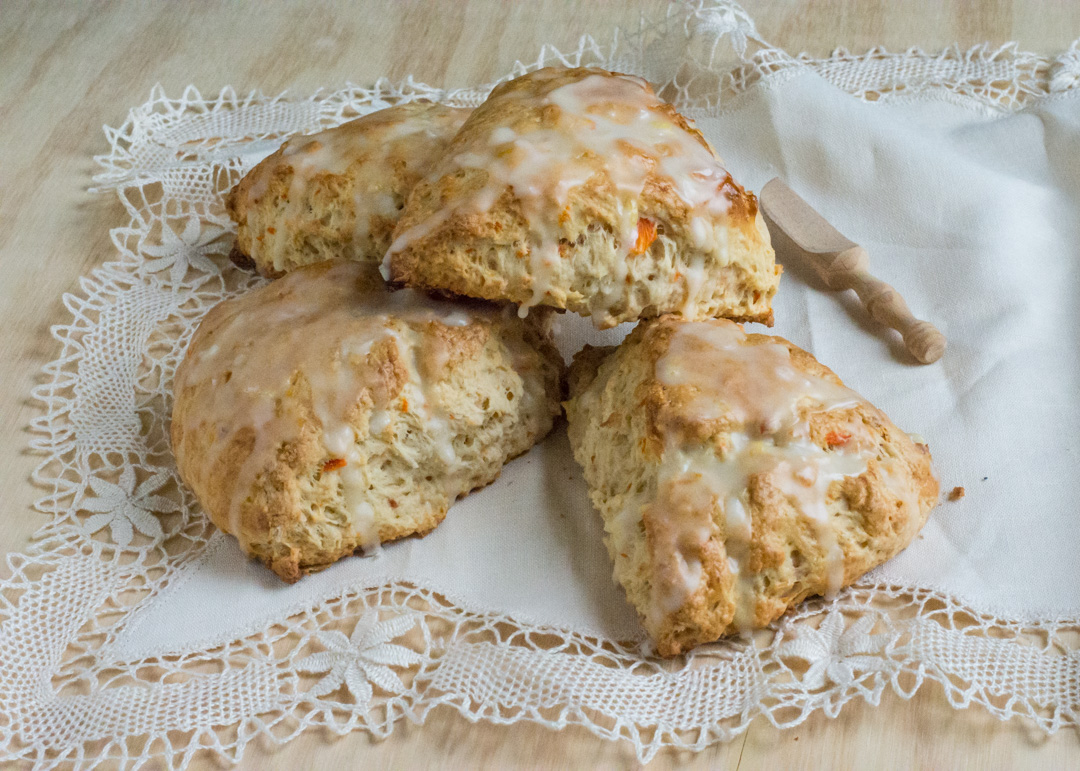 Serves 6
For the scones
2 3/4 cup all-purpose flour
1/2 cup granulated sugar
1/2 cup rolled oats
1 tablespoon baking powder
1/4 teaspoon salt
1 cup shredded sweetened coconut
1/2 cup (1 stick) cold unsalted butter, cut into 1/2" chunks
1 large egg
3/4 cup buttermilk
1 tablespoon pure vanilla extract
1/4 cup carrot puree (recipe follows)
1 egg white, beaten
For the citrus glaze
1 tablespoon fresh lemon juice
2 tablespoon fresh orange juice
1 cup confectioners' sugar
Make the scones
Preheat the oven to 400 degrees F and position the rack in the center. Line a baking sheet with parchment paper.
In a large bowl, whisk together the flour, sugar, oats, baking powder, salt, and shredded sweetened coconut.
Add the butter. Use your fingertips to rub the butter into the flour until the butter is pea size and the mixture is coarse.
In a separate bowl, whisk together the egg, buttermilk, vanilla and carrot puree. Slowly pour the wet ingredients into the dry ingredients and stir until the dough just comes together. Gently and briefly knead the dough with your hands. The dough will be sticky and may need to be sprinkled with flour.
Roll the dough up, turn it on its end, and gently flatten it into a disk about 1 3/4" high. Do not overwork the dough.
Whisk the egg white with 1 T water. Set aside.
Cut the dough into 6 or 8 wedges and place the scones on the prepared baking sheet. Brush the tops with the egg white wash. Bake for 18 to 20 minutes, rotating the baking sheet halfway through, or until a toothpick inserted into the center of a scone comes out clean. Do not overbake.
Transfer the scones to a wire rack to cool completely. Place the baking sheet, with the parchment still on it, underneath the rack.
Make the citrus glaze
Whisk all ingredients together in a medium bowl. The glaze should be loose enough to drizzle. If it is too thick, add a little more oragne juice. If it is too loose, add a little more confectioners' sugar.
Drizzle the glaze over the scones and allow it to set before serving.
To make the carrot puree
1 medium carrot
1/4 c orange juice
Place the carrot and juice in a medium glass microwaveable bowl. Cover or wrap tightly in plastic wrap.
Microwave on high for about 5 minutes. If the carrot is fork-tender, it is ready. If it is not fork-tender, continue to microwave in 30-second bursts until it is.
Blend (in blender or food processor) the carrot and orange juice until smooth, or alternatively, mash with a potato masher until lump free.
Adapted from Baked Explorations
Flying Fourchette http://www.flyingfourchette.com/