Long, dark and cold winter nights call for convivial dinners with friends. Impress them with an easy to prepare beef roast as the centerpiece which will leave you free to socialize! This Martha Stewart recipe can be made with a nice piece of tenderloin for a special occasion or an eye of round roast (or similar roast).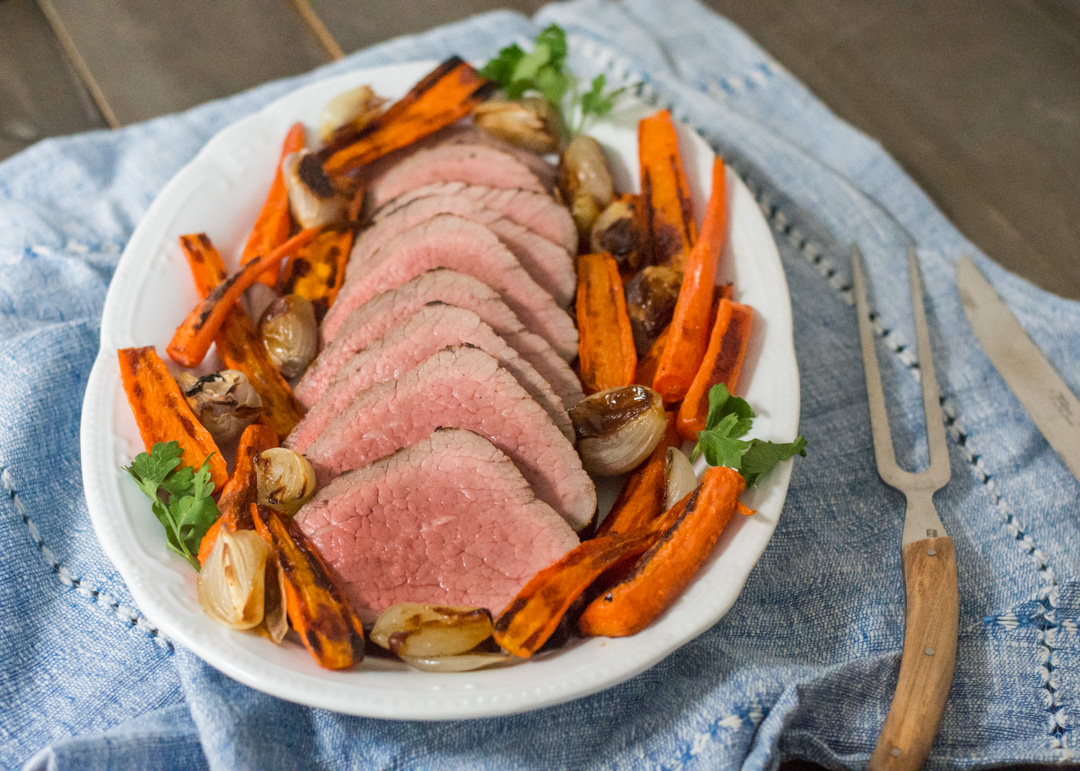 My favorite thing about this recipe is the no fuss/no mess method of cooking by broiling which is incredibly simple. After marinating the meat in a Worcestershire marinade – which helps tenderize and flavor the beef – a quick high-heat broil with plenty of butter (!) will create a rich crust and enough residual heat to finish cooking the meat outside of the oven, letting you enjoy the company.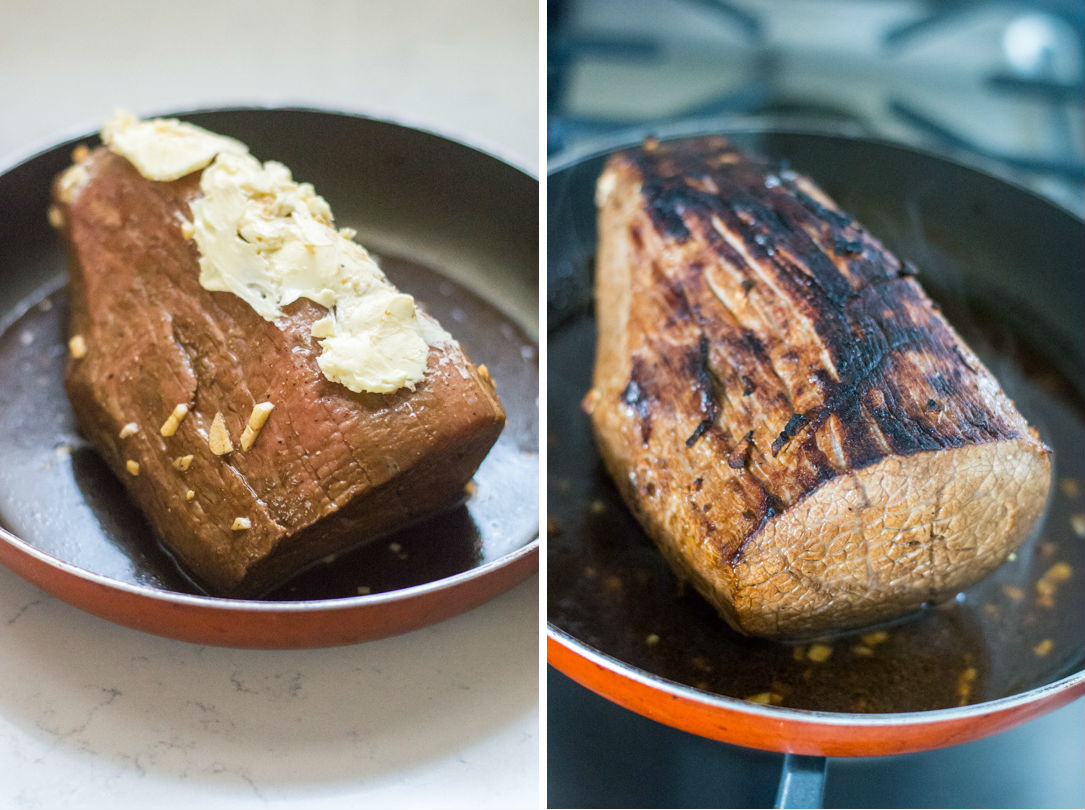 Just be sure to let the meat rest 45 minutes or it will be underdone. Mine came out perfectly rosy like I love them.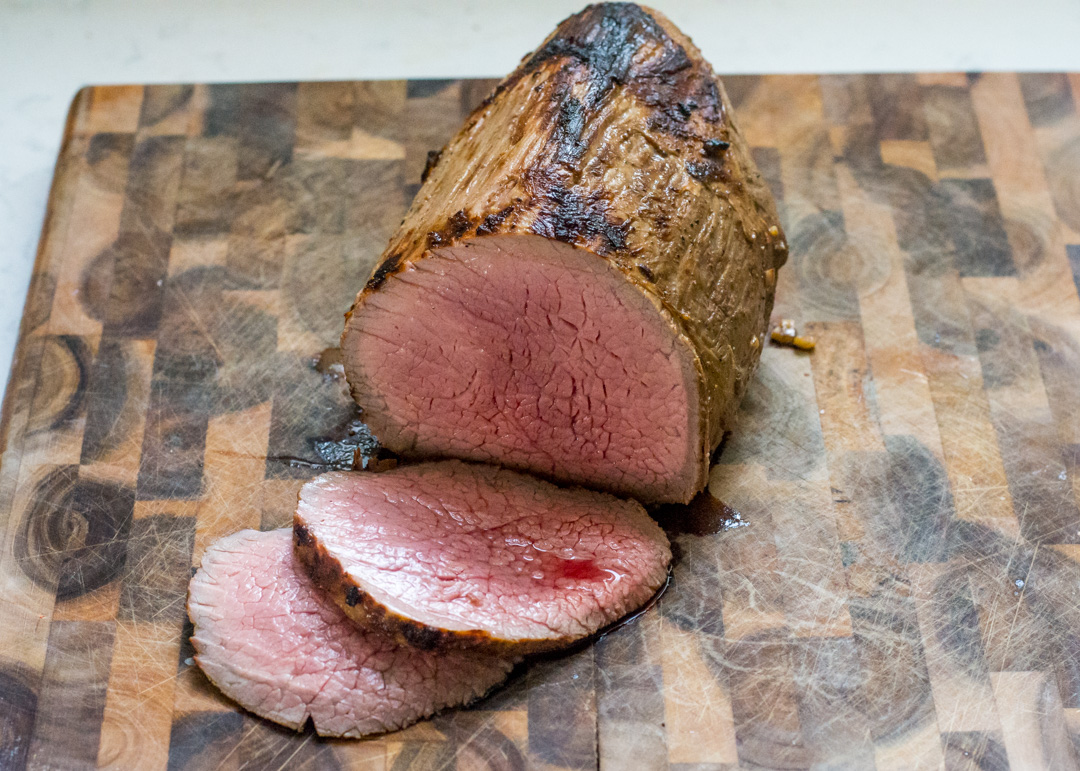 You'll want an equally easy side dish to accompany it such as roasted carrots and shallots. A simple toss in olive oil and a sprinkle of salt is all that is needed to elevate these humble vegetables to caramelized and colorful sidekicks.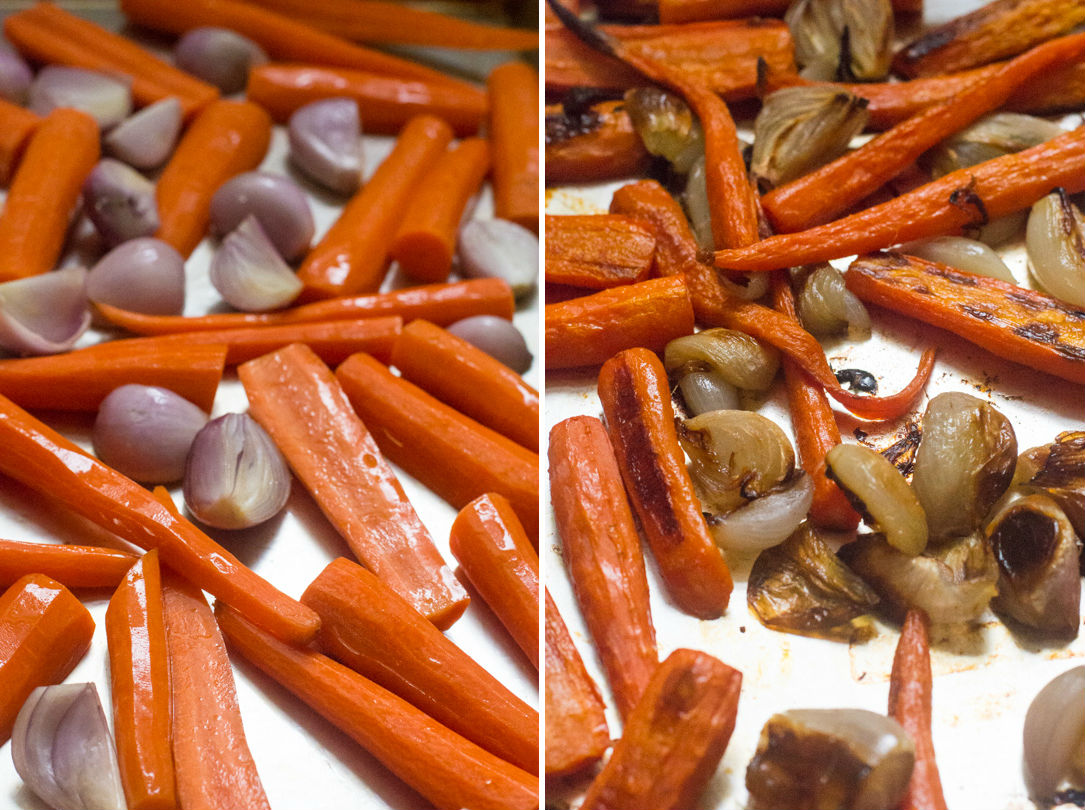 All you'll have to do is slice the roast and surround it with your sweet veggies for a beautiful presentation with minimal efforts!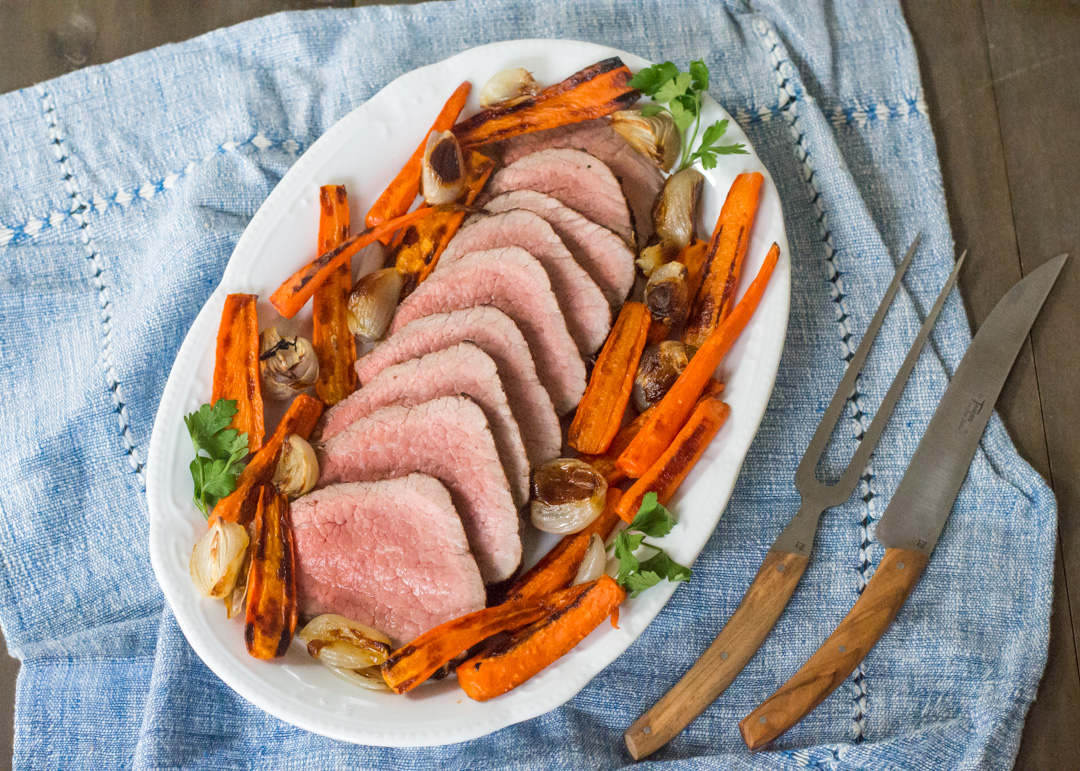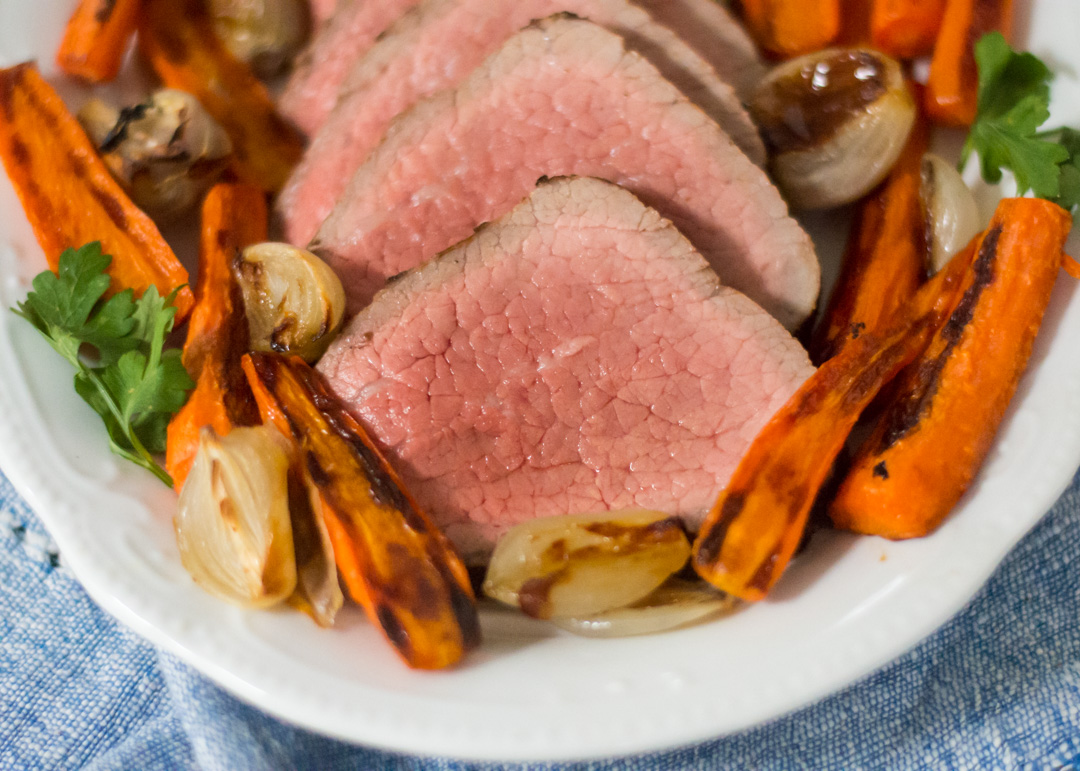 Drizzle the leftover pan juices when serving for the final touch to a surprisingly easy and stunning looking group dinner!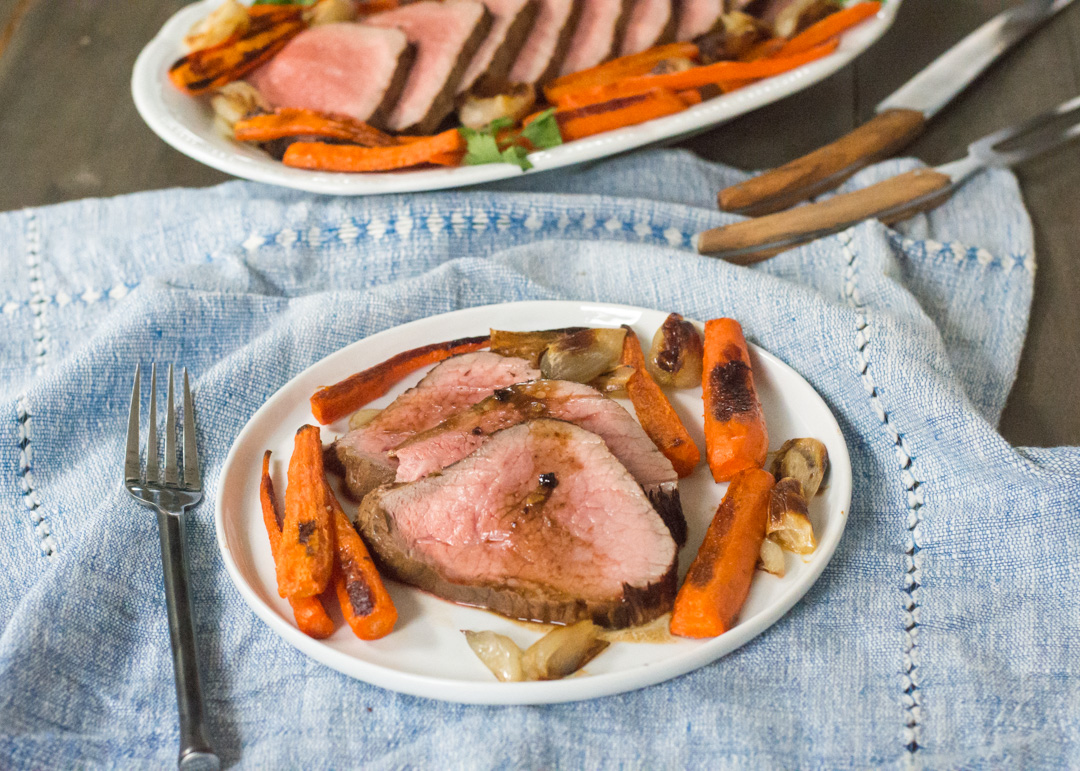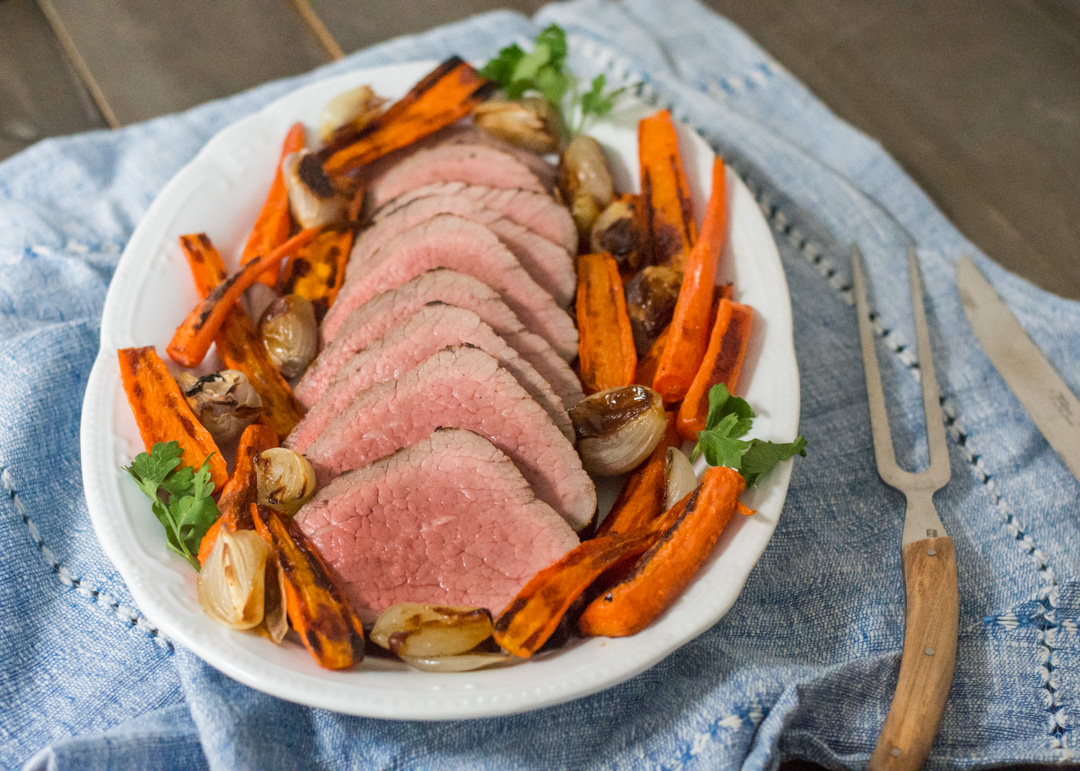 Marinated Beef Roast with Roasted Carrots and Shallots
2018-01-30 18:44:23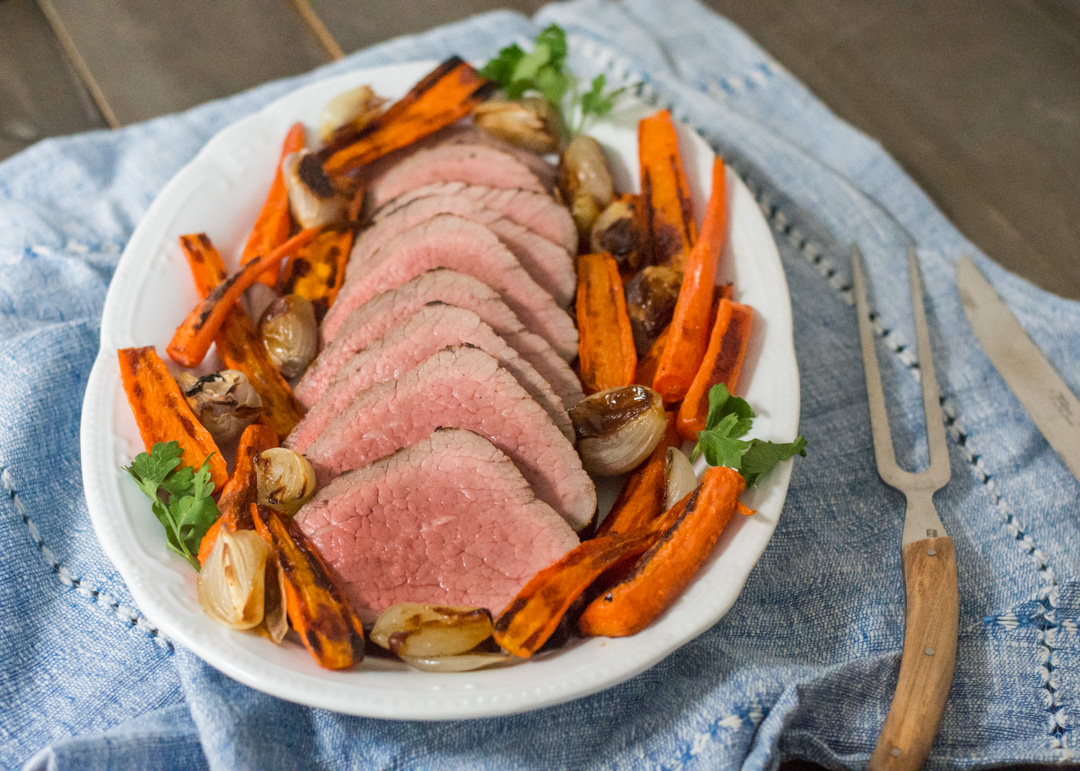 Serves 8
For the roast
1 beef tenderloin or eye round beef roast (3 pounds), silver skin trimmed
1/4 cup Worcestershire sauce
Juice of 1 lemon
2 tablespoons finely chopped garlic
2 teaspoons coarse salt
2 teaspoons coarsely ground pepper
1 teaspoon safflower oil
1/2 stick unsalted butter, softened, divided
For the carrots and shallots
2 pounds carrots, peeled and cut into 3-inch pieces
8 ounces shallots (about 6), peeled and cut in half lengthwise
2 tablespoons extra-virgin olive oil
Coarse salt and freshly ground pepper
For the roast
Place beef in a resealable plastic bag. Whisk together Worcestershire sauce, lemon juice, garlic, salt, pepper, and oil, and pour over beef. Tightly seal bag, and let beef marinate at room temperature 2 hours, turning bag occasionally.
Preheat broiler with rack 4 inches from heat source. Transfer beef and marinade to a heavy oven-safe skillet just large enough to hold the beef. Spread 2 tablespoons butter over top of beef; broil 8 minutes. Remove from oven, turn beef with tongs, and spread remaining 2 tablespoons butter on top. Broil 5 minutes more. Remove from oven, and cover skillet tightly with foil. Let beef in skillet rest 45 minutes. Thinly slice, and transfer to a serving platter. Serve with pan juices.
For the carrots and shallots
Preheat oven to 400 degrees. Place carrots and shallots on a rimmed baking sheet, and toss with olive oil, 1 teaspoon salt, and 1/4 teaspoon pepper. Spread in a single layer, and roast 40 minutes, turning a few times to ensure even cooking.
Place vegetables around beef tenderloin.
Flying Fourchette http://www.flyingfourchette.com/