For my last post on Bali, I'm adding further arguments and gorgeous scenery as proof that Ubud is a wonderful base to explore the region. There's so much to do and see within its vicinity that it really allows you to get the most out of your holiday time here. A 10-15 minutes walk is usually all it takes to reach yet another enchanting place and make an easy half-day of sightseeing.
To the immediate west and northwest of Ubud are the villages of Penestanan and Campuhan. To reach Penestanan, you simply continue on Ubud's main street, Jl Raya Ubud, going west until you cross the Wos river with a nice view of a small canyon below and a charming wooden bridge.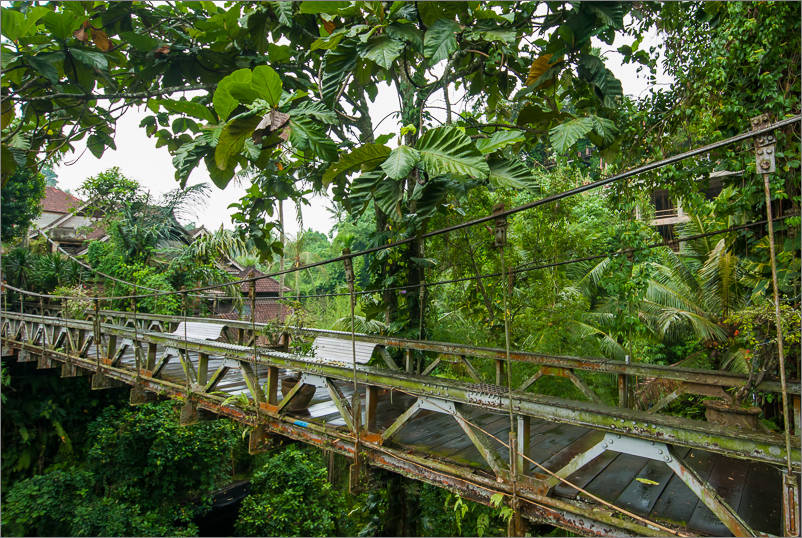 Make a sharp left on the road going up right after the river and you'll soon find yourself in a quiet village after climbing up for a few minutes.
Composting Balinese style…I like it!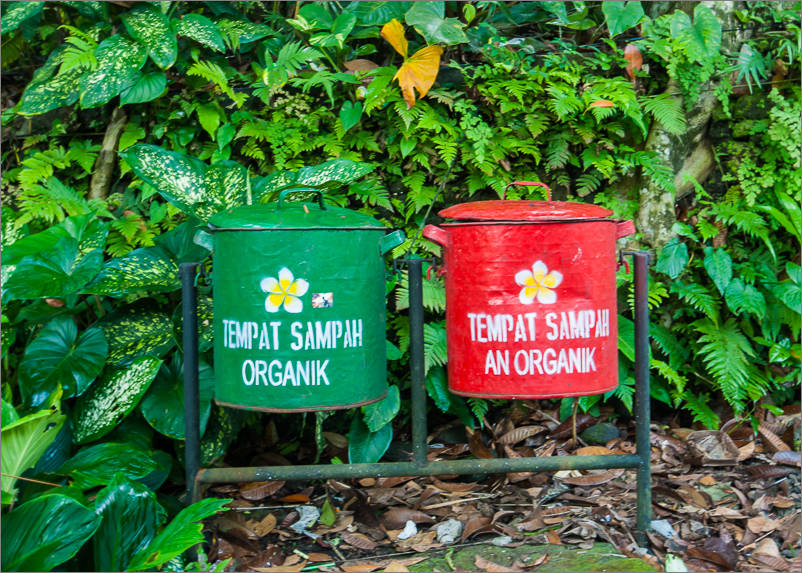 Penestanan is a bit on the sleepy side but so close to Ubud that many small hotels and guests houses are here as well as a few good restaurants and bakeries. Alchemy is worth a visit and makes a great pit stop as Bali's first 100% raw vegan cafe & juice bar, organic health food store, and holistic clinic all in one. There's a fantastic salad bar inside but the real draw is the juice bar which offers fresh and original combinations in attractive glass jars. You can also pick from a tempting selection of raw chocolates made on the premises and savor your snack on the covered terrace at the front with the other hippy yogis.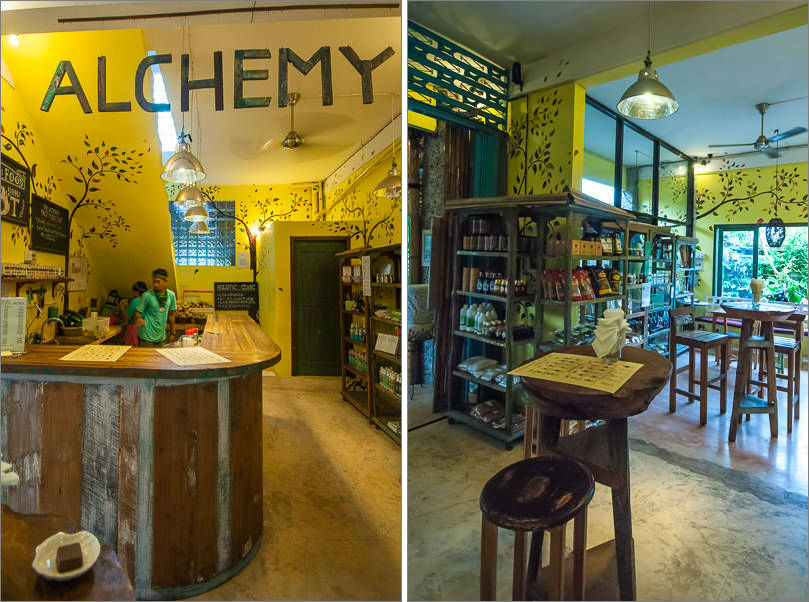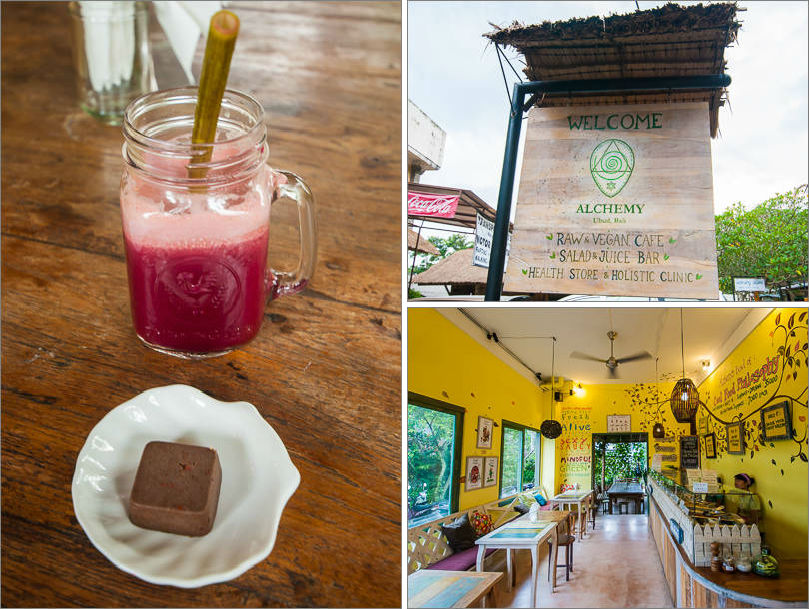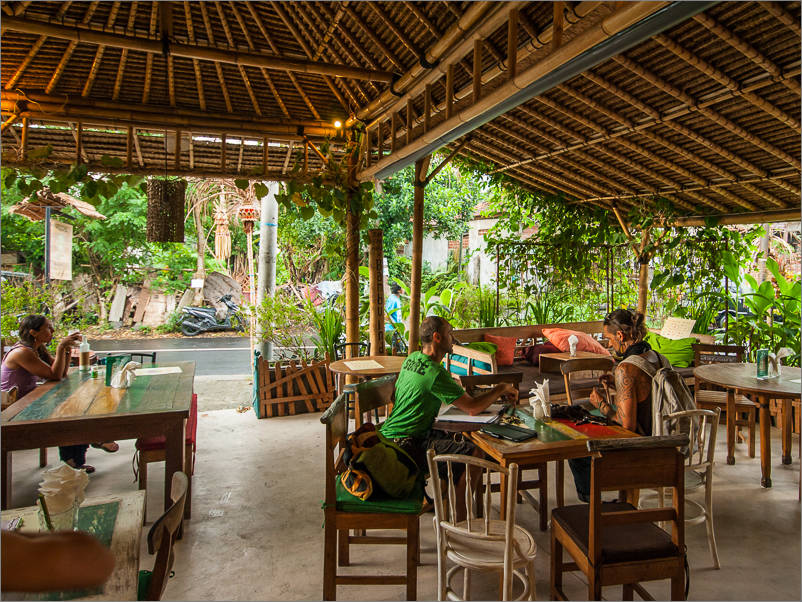 Campuhan is best visited in the early morning to beat the midday sun as it involves a long but lovely walk out in the open commonly called the Campuhan Ridge Walk. If you love walking in the countryside and seeing villagers in their day-to-day this is definitely a highlight of any trip to Ubud. The rarely crowded and pretty easy walk takes about 2 hours though you can as I did extend it indefinitely as it connects villages after villages and you'll never want it to end!
The trail head can be a bit hard to find – simply follow the signs to Ibah Hotel from the main road (Jl Raya Ubud) and just past its parking lot take the road on the left going down to the river. You'll see a clear path upwards right after this which will lead you to the ridge.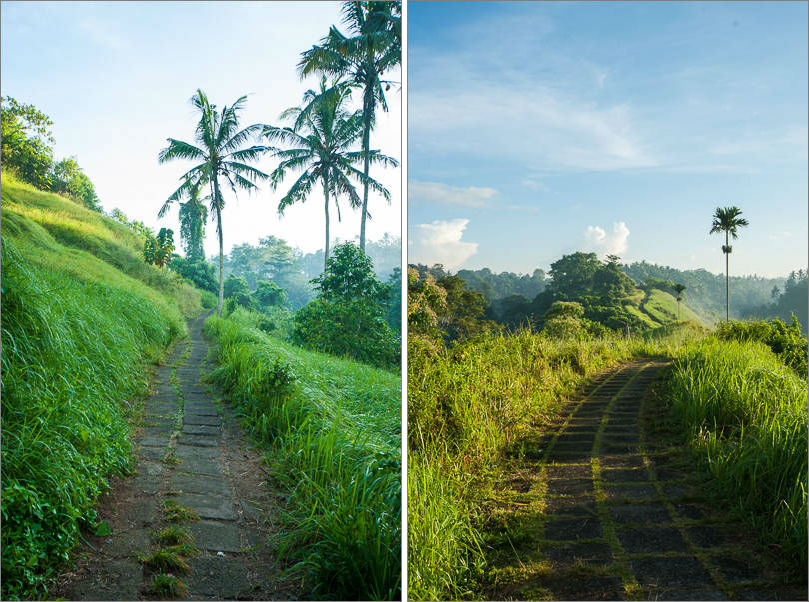 With rivers on both sides of you and villas perched high appearing through the morning mist, you'll be glad you got up early and think this is the perfect start of the day.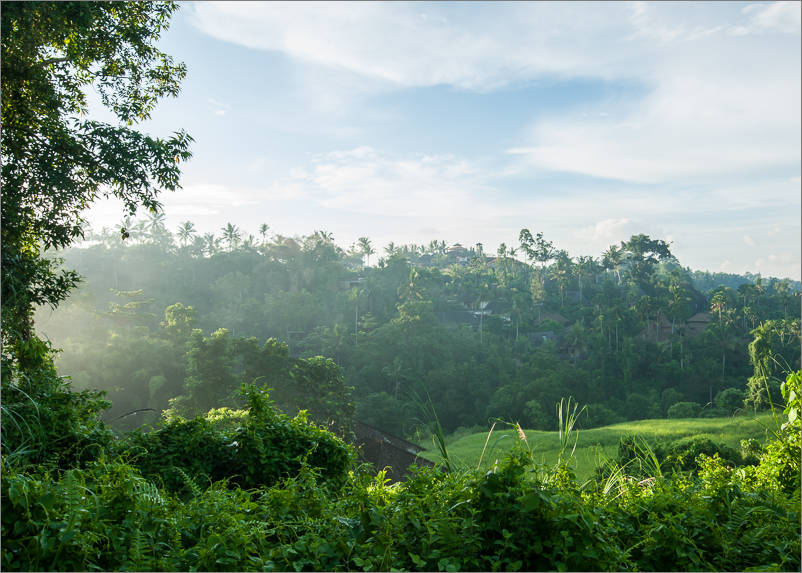 Once on top of the small hill you can enjoy 360-degree views and the freshest of breeze to cool you down with the sky clearing up and colors jumping in your face.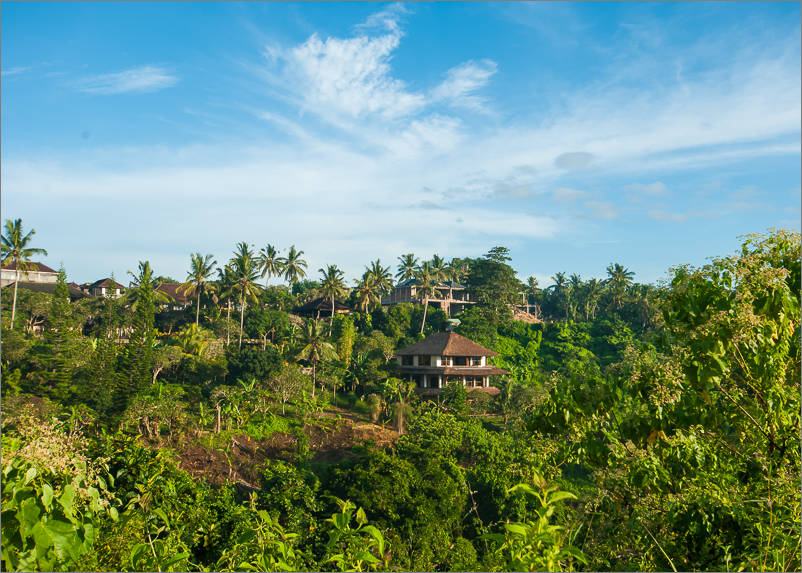 Continue further along where the rice fields begin and the breathtaking scenery only keeps getting better. You can't miss the scenic Karsa Kafe, perfect place for a morning coffee or snack with incredible views of local farmers working the terraces in front of you.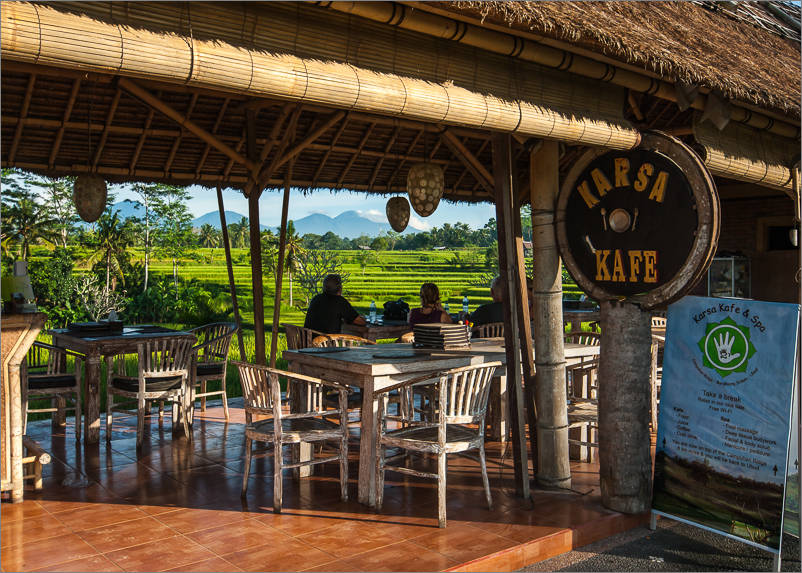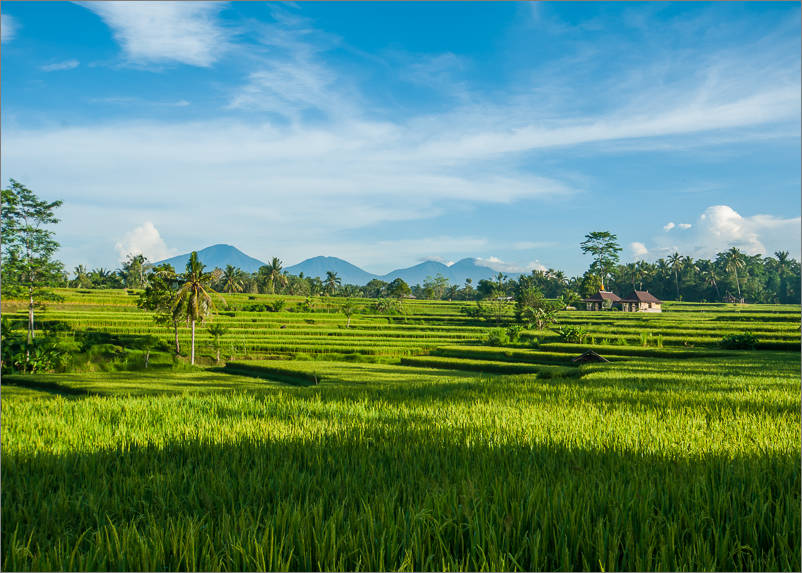 Back on the road, you'll end up passing through tiny and artsy villages, merely a few houses long, with galleries and resident artists ready to show you their craft. While they sell some of it in Ubud's central market, it's obviously cheaper and a lot more memorable to buy souvenirs here in their own studio.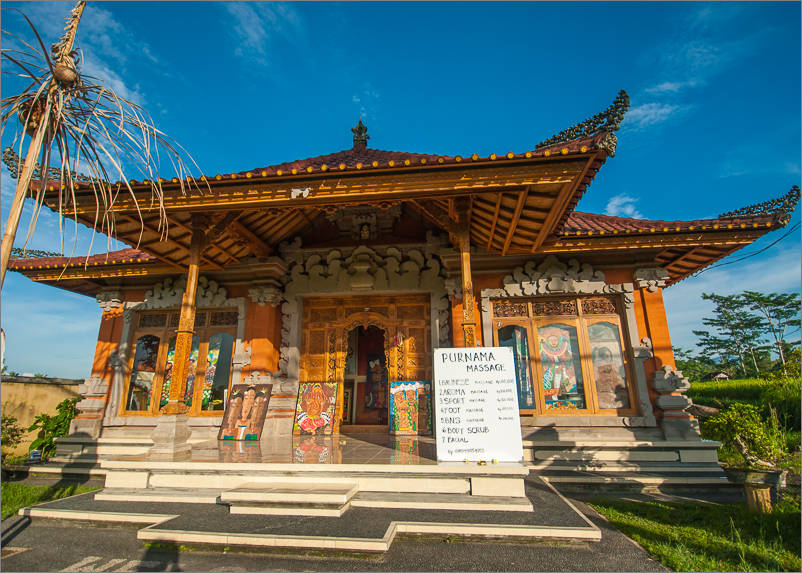 Egg painting, such a precise and delicate art form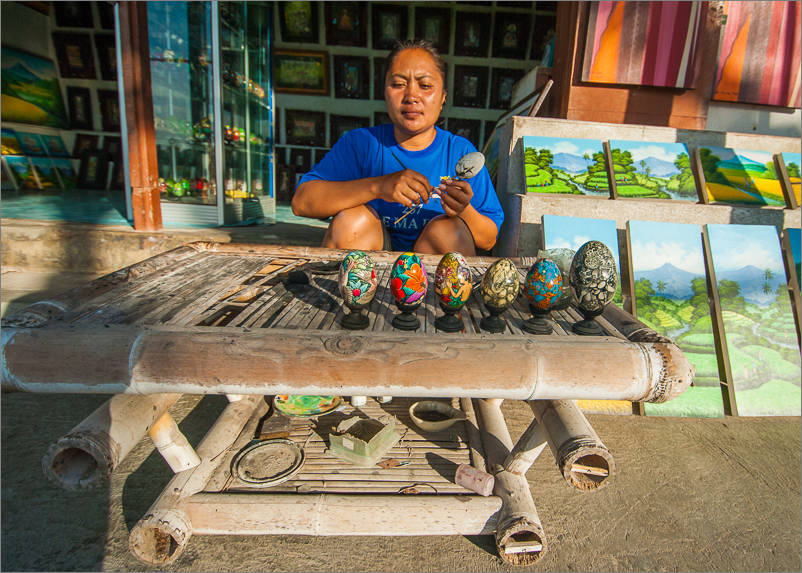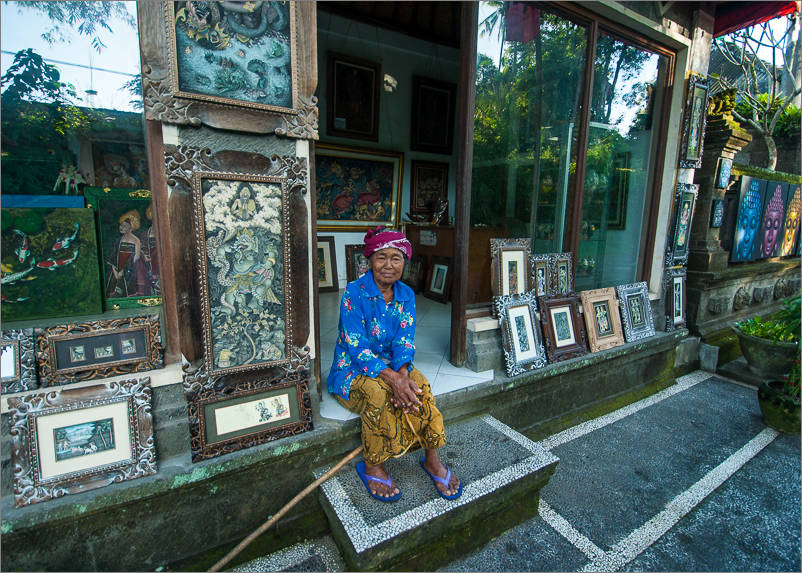 After passing a few villages, you'll end up at a junction where the left road will lead you back to Ubud, winding its way up and down for a while through more villages before ending on Jl Raya Sangginan. Make a left and in 30 more minutes walk you'll be back in the town center.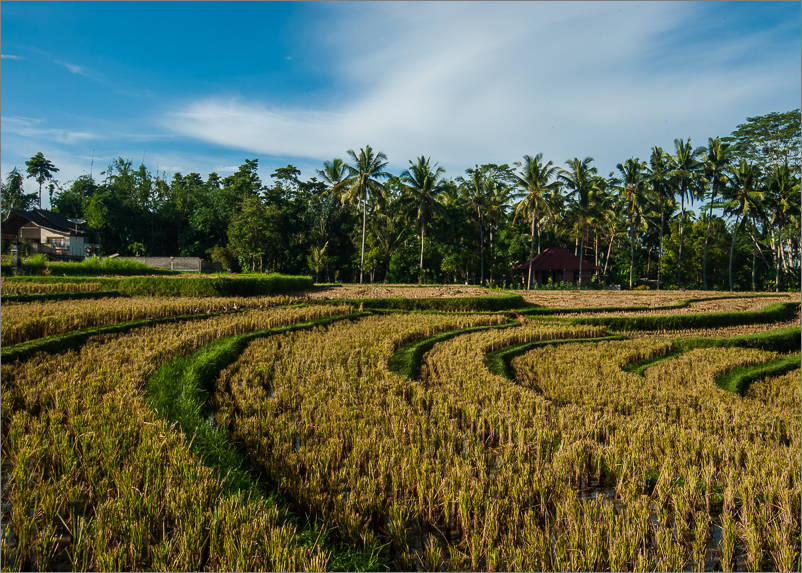 While the Campuhan walk makes for a fantastic morning, my favorite midday escapade from Ubud is hands down the walk to Sari Organik, an organic warung and farm complex set in the rice fields. To access it, you again take a path from Ubud's main road, this time well indicated just a bit before the path to the Campuhan ridge walk from earlier. Simply follow the signs to Sari Organik and walk for about 15-20 minutes in the middle of, you guessed it, always spectacular rice paddies.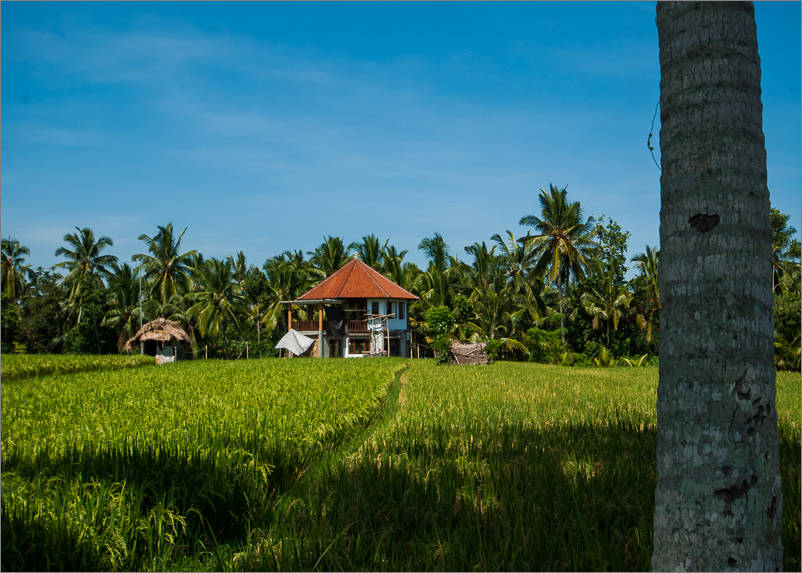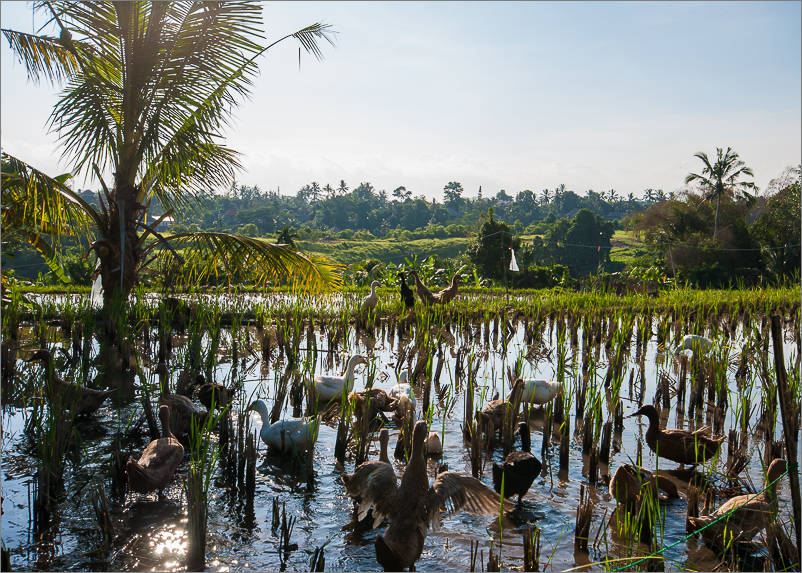 What makes this walk even more enjoyable is what you'll find on your way to Sari, such as one of the best spas in the area, Cantika Spa.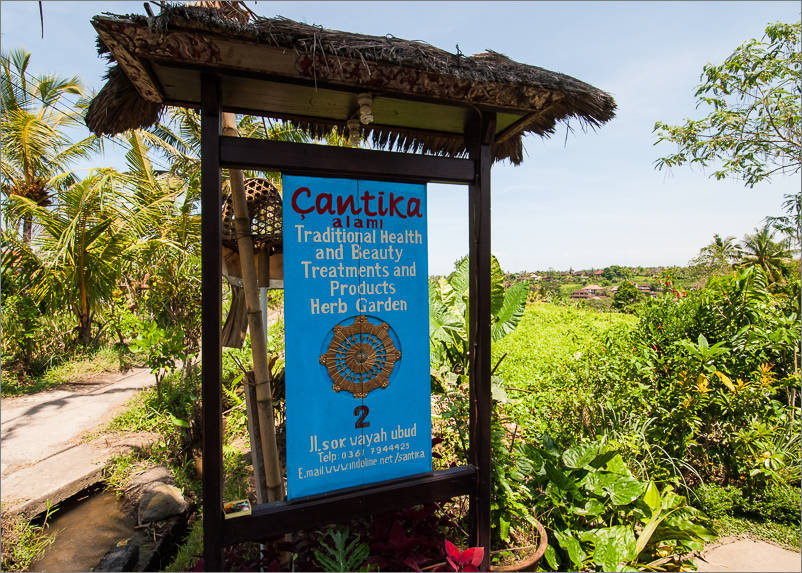 If like me you've already done plenty of massages in Ubud and Bali, the menu won't look like anything new but what makes this place truly special is the setting (right in the middle of the rice fields) and that they craft their own natural products using local and organic ingredients. I believe nothing will rev up your appetite more than a two hours massage + scrub + flower bath here so I highly recommend you stop here on your way to Sari…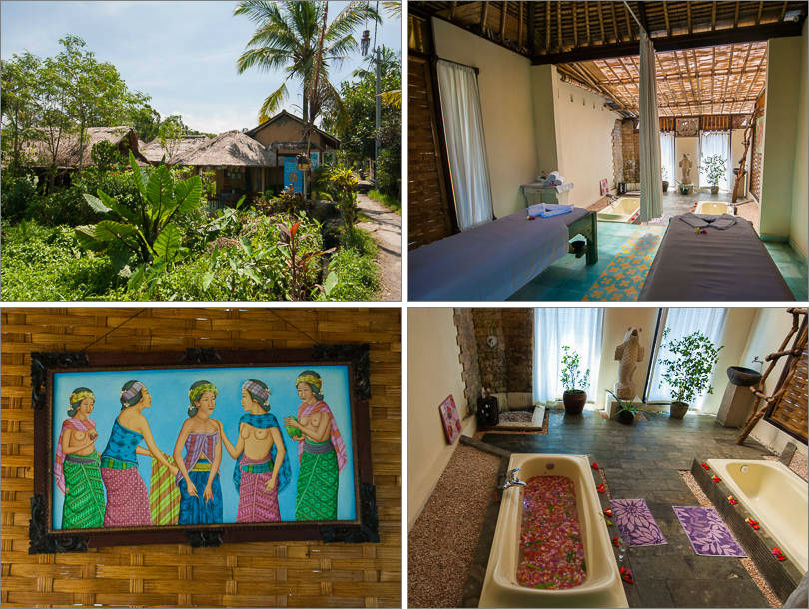 A few shops and houses are also on the way, and I was lucky enough to capture this portrait session of an old Balinese man on his balcony.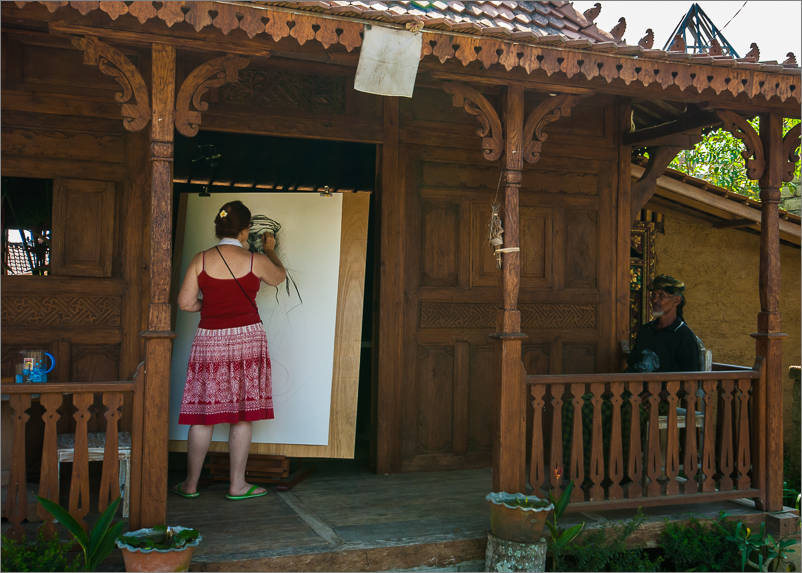 Finally you make it to Sari Organik, hungry and ready for a leisurely lunch you won't soon forget. There's so much jungle out here good thing there's a sign as you would have probably missed it. A short path on the left will lead you straight to my all-time favorite warung.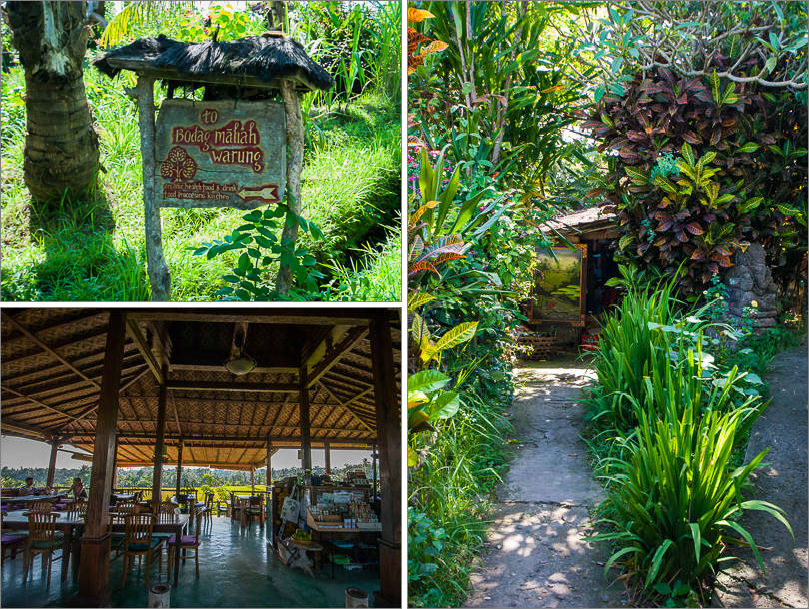 You can opt to eat and literally spend the day relaxing in one of the two thatched roof 'cabanas' out in the front, or make your way to the restaurant for a proper table.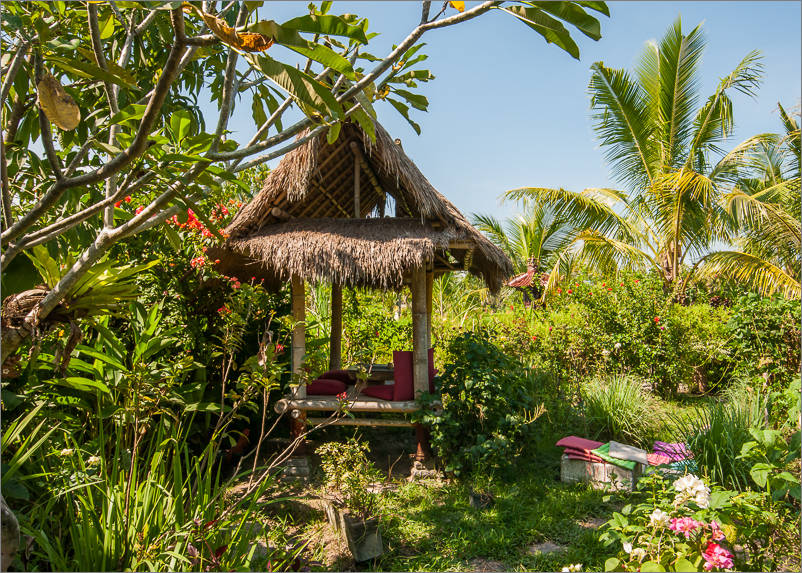 This is when you understand what the fuss is all about..I mean look at the view! As it was scorching hot I stayed in the shade, sitting on a pile of cushions with a good book and my iPod tuned into Better Days…cannot get any better than this.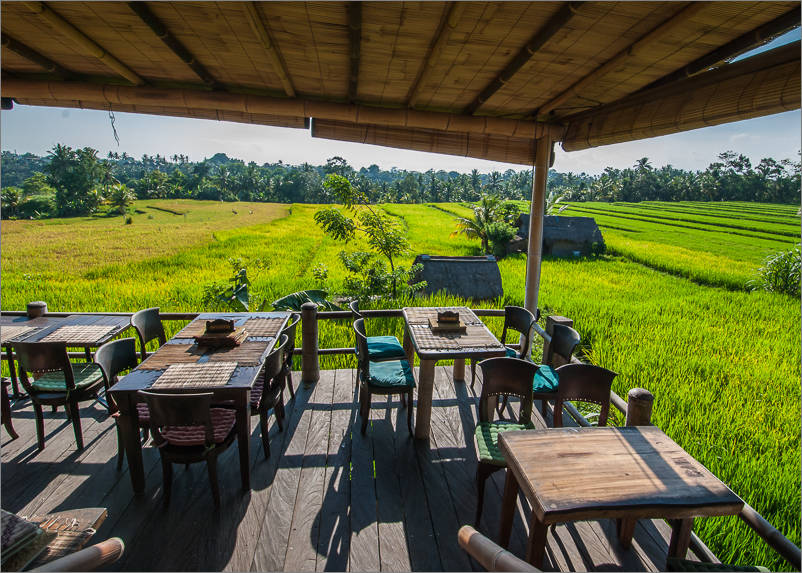 On top of the insane setting, the food is really incredible, especially considering they grow their own rice, vegetables, and fruits.
Raw Thai soup (cashew nut, cucumber, mushrooms, turmeric, pepper, coriander)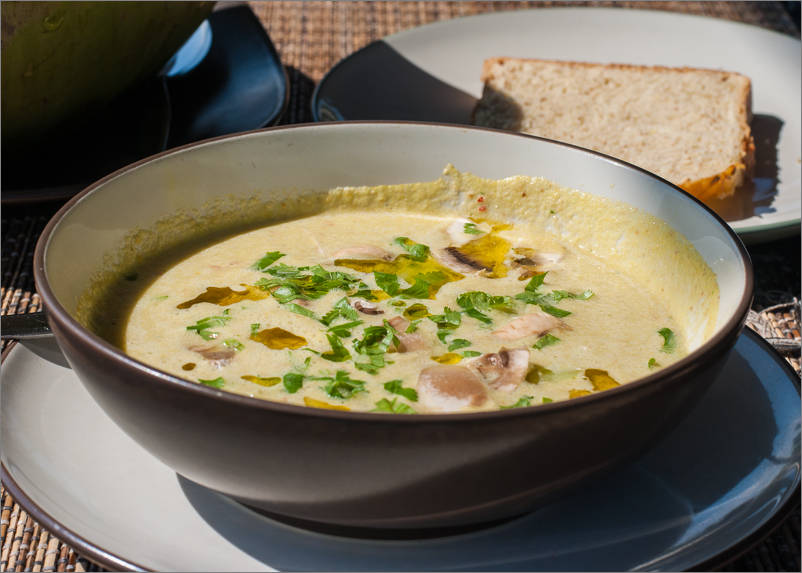 Lontong (rice cooked in banana leaves with vegetables, tofu and tempe in curry sauce)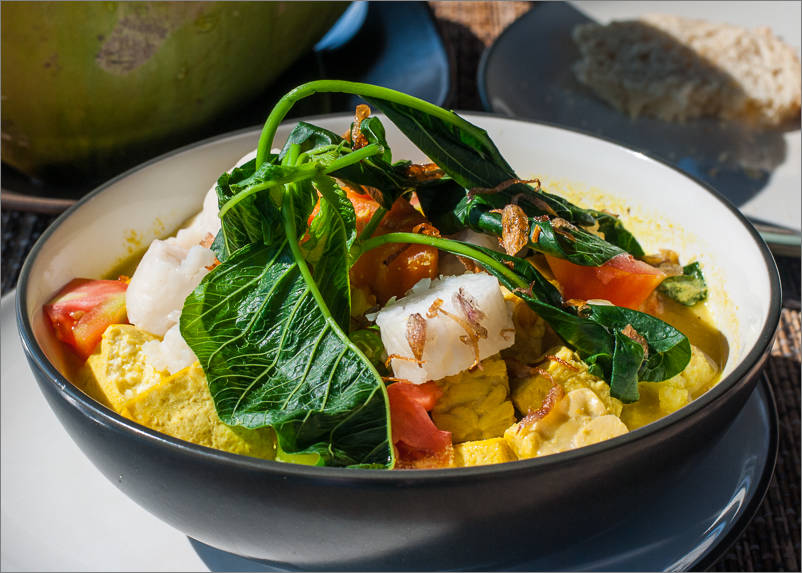 Fresh coconut to wash it all down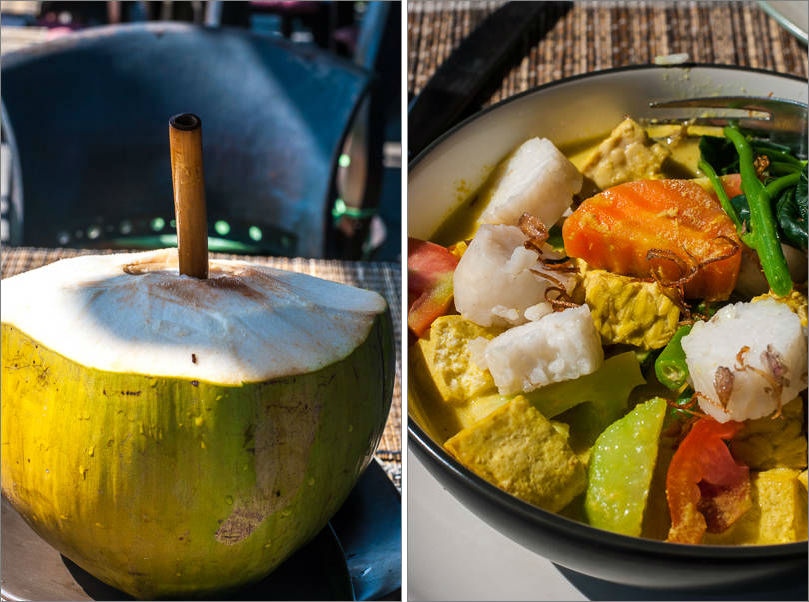 And finally, another worthy excursion nearby is the unmissable Monkey Forest. At the southern limit of Ubud at the end of Monkey Forest Road (!) you'll find an expansive nature reserve – a top tourist attraction which will put you in close contact (too close for some) with the local Macaques. A list of warnings and rules greets you as you enter the forest if the monkeys themselves haven't done so already, clearly hungry for whatever you might be carrying. They're certainly not shy nor scared and any food that's on you, they'll find! No need to worry though, they're harmless if a little too playful – one kept pulling on my skirt as seen with the lady below and another one literally slapped my arm as I walked by.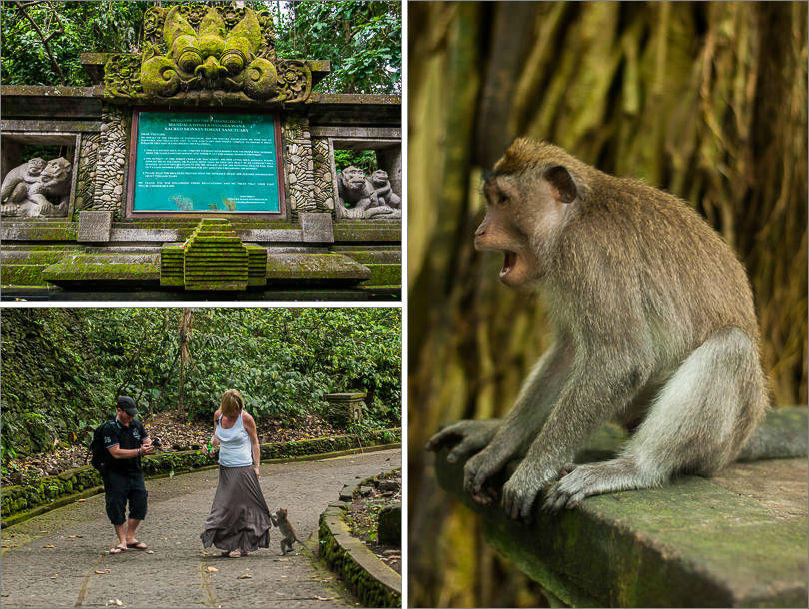 They're clearly spoiled in here as everywhere I looked they were being fed delicious lychees and other fruits.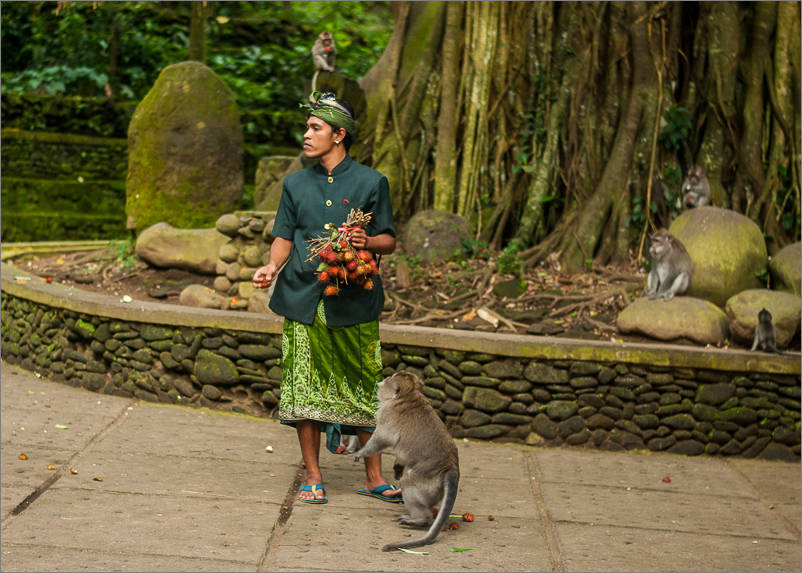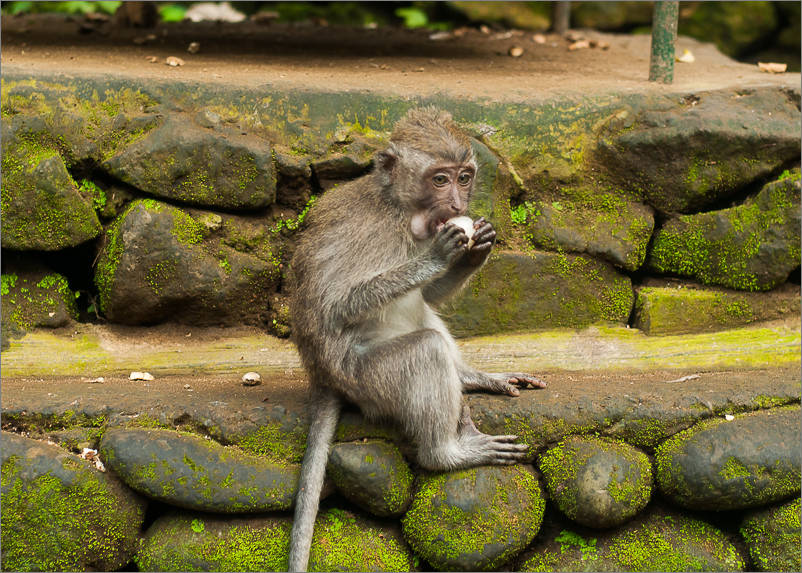 Over 340 Macaques roam the grounds so you're guaranteed a lot of sightings…and really close ones at that! I can't think of another place outside of a zoo that would give you such proximity to these fascinating creatures and all the time in the world to observe their ways.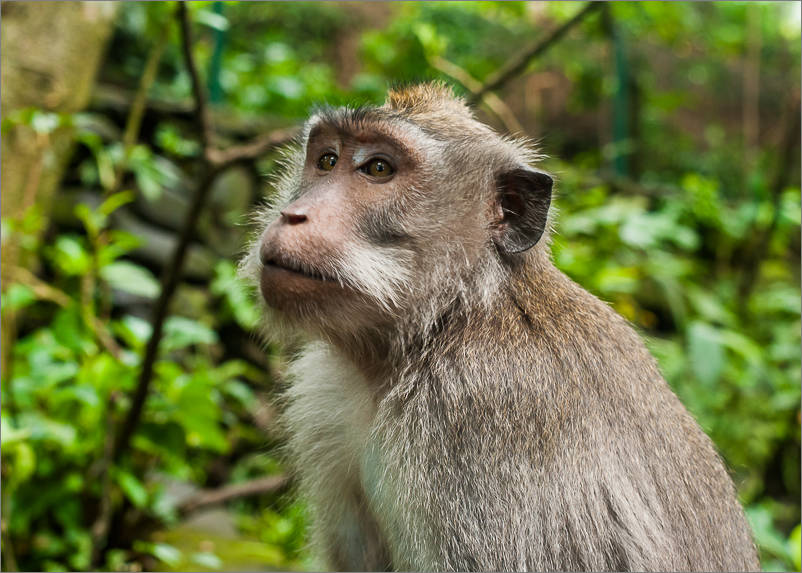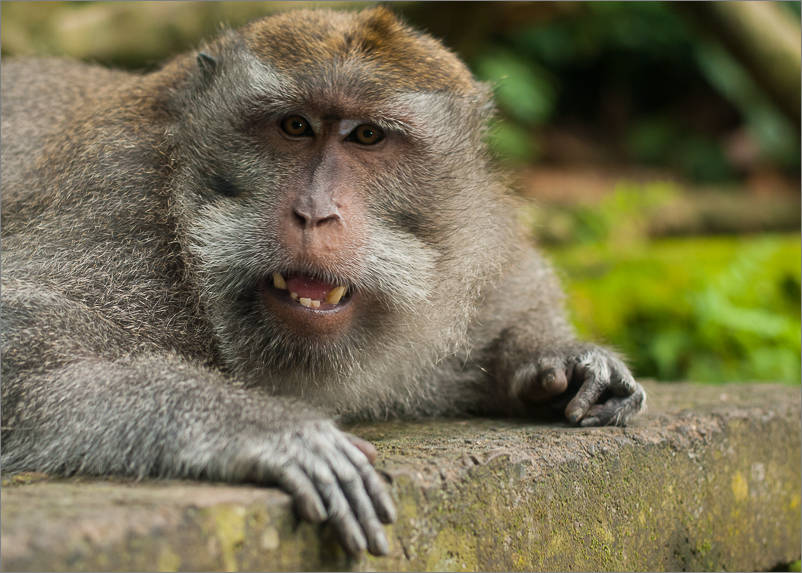 Even more captivating were the numerous babies hugging their moms and starting to make their first steps alone. A lot of 'Aww…' moments could be heard.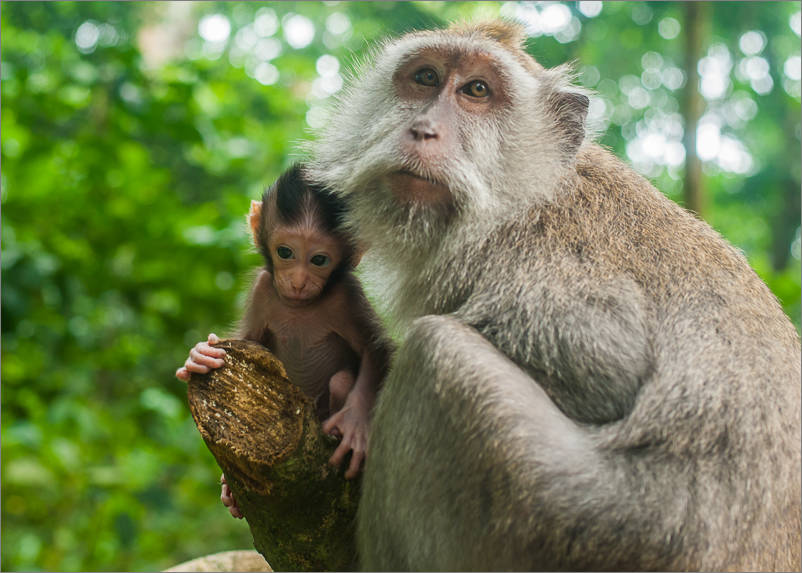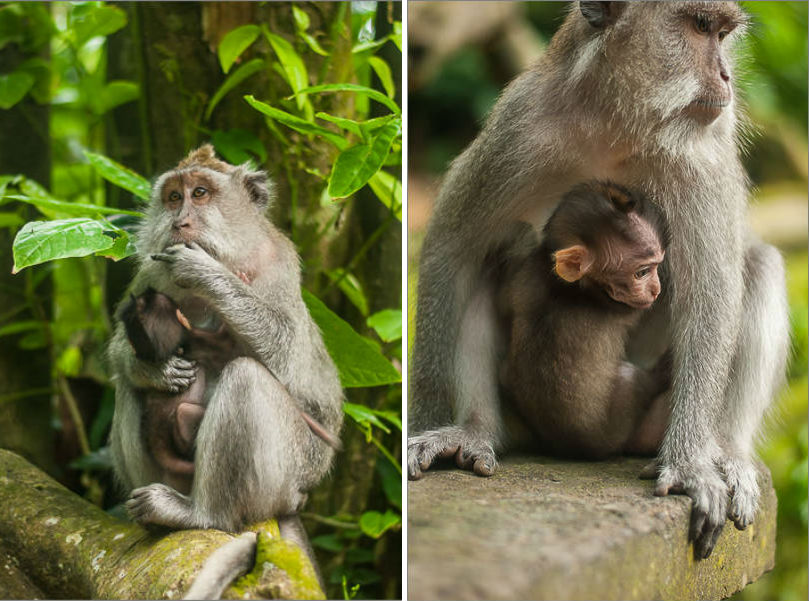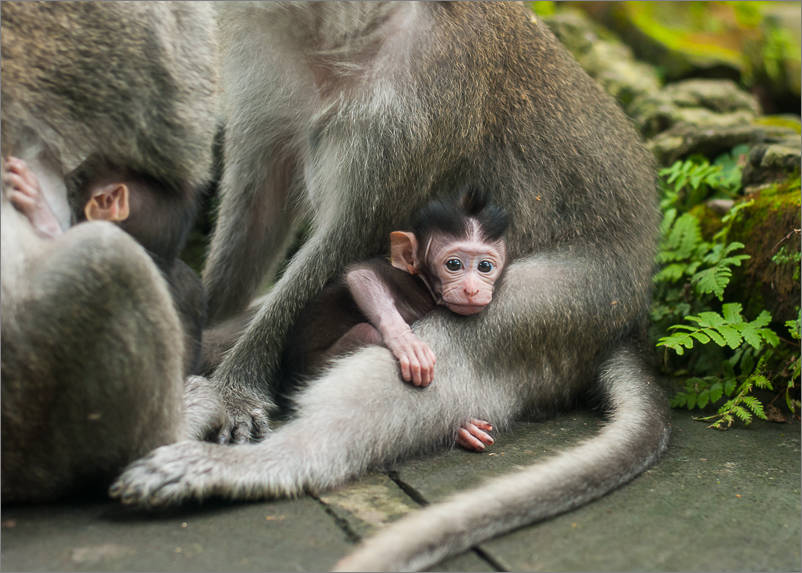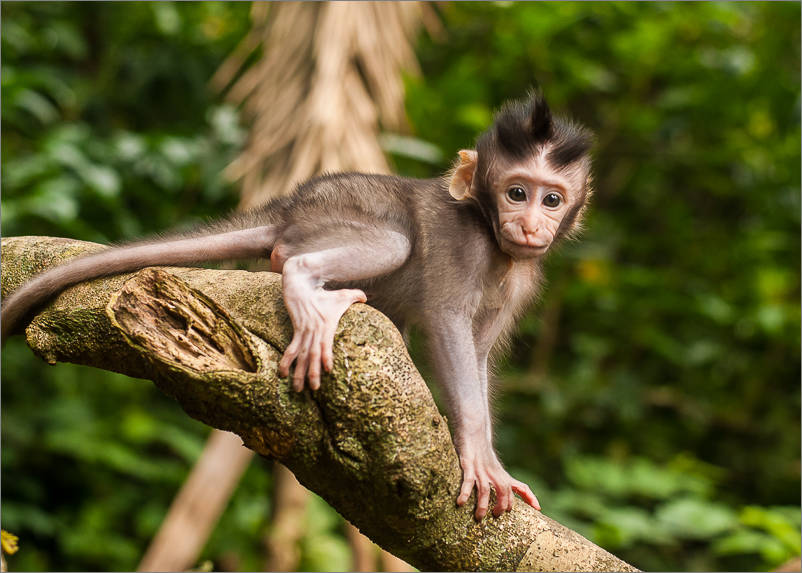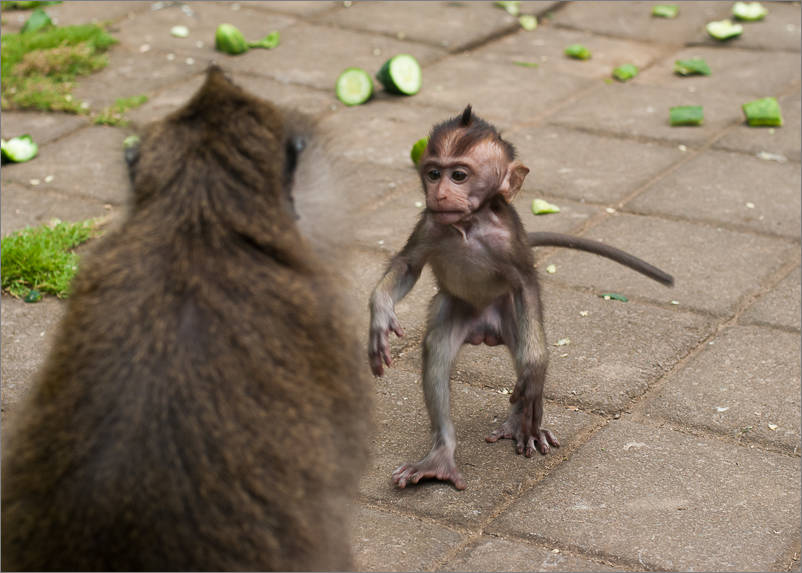 The forest also hides a few temples, creating a striking playground for the monkeys.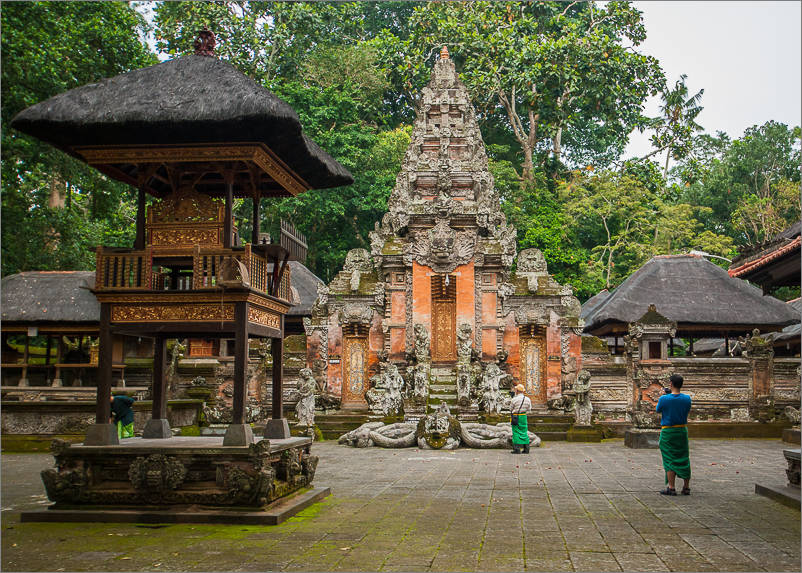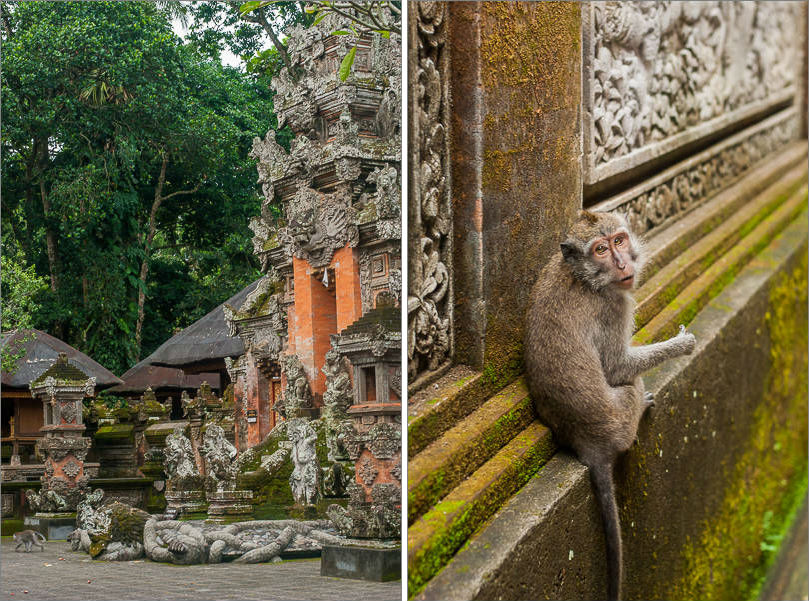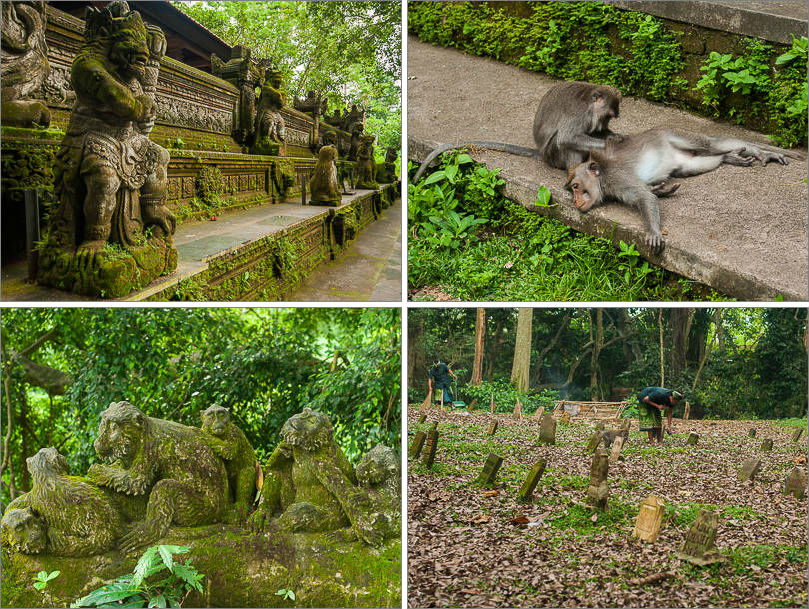 Once you've gotten over the excitement of taking pictures of every single creature, you realize you're surrounded by a damn fine looking rain forest and nature starts to take center stage. Bright greens, moss covering every rocks and stones, flowing rivers and tranquil pools are as close as one can get to the Jungle Book in these parts.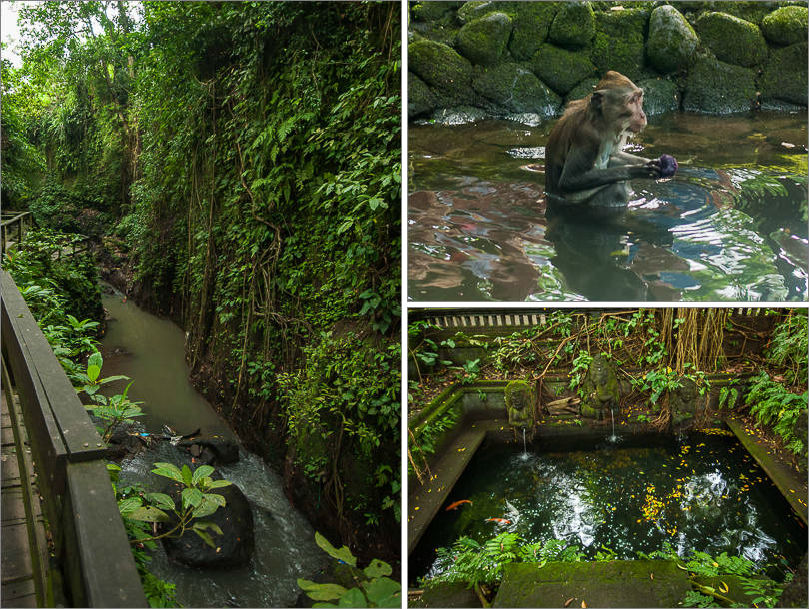 I ended up spending an entire afternoon wandering around the paths and observing our distant relatives in their natural habitat. Even if monkeys aren't your thing, this place is a wonderful break from the hustle of Ubud which quickly disappear as soon as you step into the dense forest. Just don't bring a picnic as it's likely you won't get to eat it… they will!